Premier Member
IBR Finisher
I wanted to get one more SS1600 in before winter arrived and I had intended to ride this from Canberra, but a quick trip to Sydney on the Saturday was in order to fix a minor problem with the aux tank, so that gave me the perfect excuse to start this ride from the warmer climes of Sydney. Pillion Piglet's plan was simple, sleep in!
Up and out the door at early o'clock I rode up to Crows Nest to collect my starting docket
It's warmer here in Sydney! Lets ride.
Heading north towards Newcastle the Freeway was quiet, so I had a good run. I stopped briefly at Heatherbrae to make a few adjustments and grab a quick coffee from Maccas.
Making some quick adjustments on the fly (Aux tank misbehaving)
From here, it was keep on keeping on, ride north until the sun comes up. By now there was a surprisingly lot of traffic about for a Sunday morning. Don't these people have anything to do?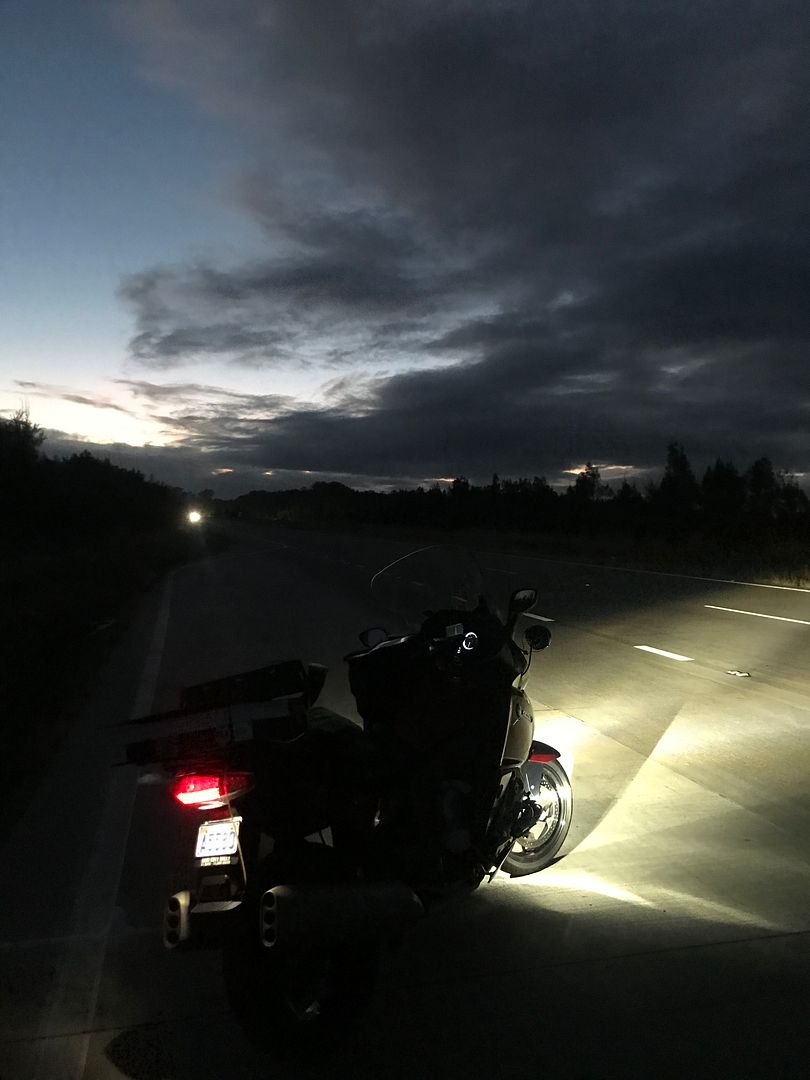 Sunrise on the Pacific Highway, just south of Coffs
I rolled into Coffs Harbour on fumes, I had miscalculated what I had in the aux tank, but all good, I was at the fuel pump with the engine still running! (What more could I ask for?)
The main tank took 24 liters exactly! Must do better with my calculations!
The temperatures were warmer now, so at Grafton I took the Gwydir Highway and headed up the escarpment towards Glenn Innes. Heaven!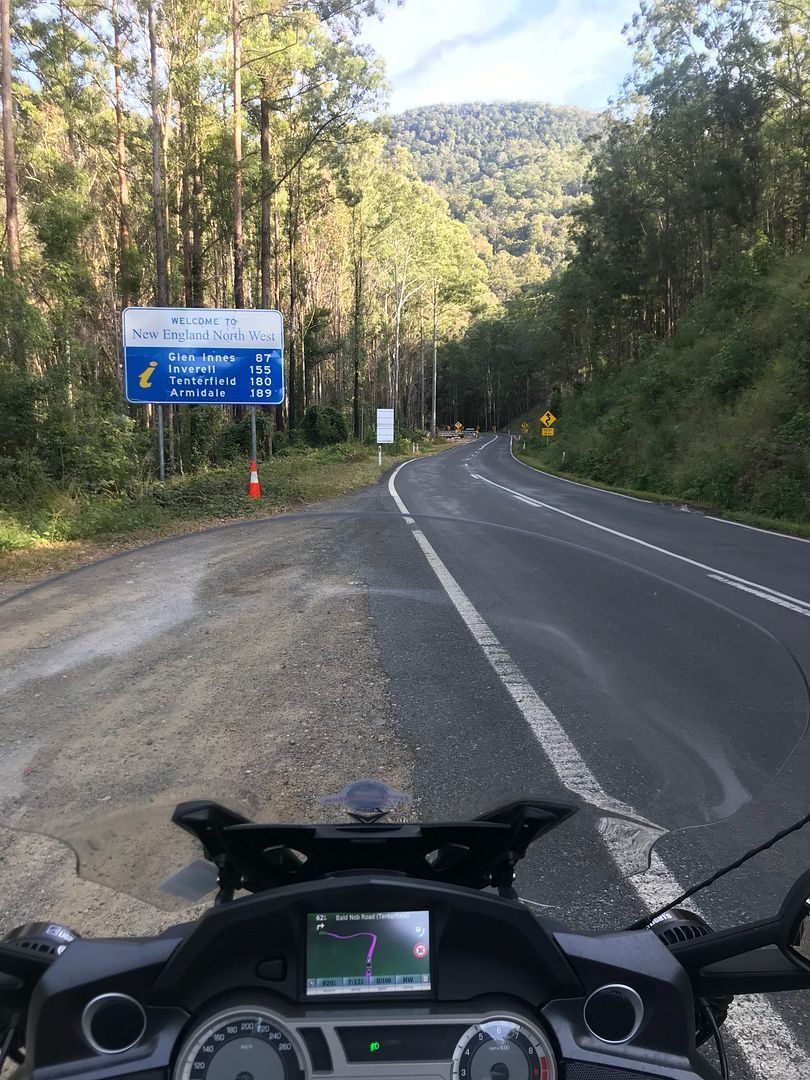 Enjoying the climb up through the Gibraltar Range
At the top, I decided to take the farm road called Bald Knob Road to cut across to the New England Highway. This has to be the roughest road in Australia, with the K1600 and rider airborne several times! Remind never to go back to this road again!
Bald Knob Rd....the roughest sealed road in Australia! Ain't never going back there.
Glad to be back on the New England Highway it was northwards to Tenterfield then onto the Queensland Border. I found some new artwork at the border!
Artwork at Wallangara,
I collected my Qld receipt from the General Store and turned the bike southwards to Glenn Innes. There I rejoined the Gwydir Highway and headed west to Warialda, where I joined the Fossickers Way and headed southwards to Tamworth.
Barraba, NSW and the clock is ticking on a sunny Sunday afternoon
Mid afternoon I rolled into Tamworth and fueled up both tanks and grabbed some snacks for the tankbag. I stopped and grabbed a selfie with the Big Guitar.
The Big Guitar
This part of the ride is always hard, late afternoon, still warm and several hours still to go.
"Soon be home...only just few miles down the road"
The ride down Newcastle was great, setting sun, with the warmth ebbing away, I passed many pubs with people enjoying their Sunday afternoons.
Rejoining the Pacific Highway, it was southwards to Sydney. I stopped for a quick bite to eat at Ourimbah. Once done, back on the road and onwards to Sydney. I decided to take Northconnex for something different, as opposed to the old Highway. Rolled back into Crows Nest just on 8:45pm, collected my finishing receipt and a choccie bar.
Job done, 1,681kms for a Sunday daytrip to the QLD Border.
It was a good day out, I felt pretty good, not too many aches and pains and maintained a good routine
.
The route was a good one and I would do that one again
.

The Spotwalla record - this was a good route, great combo of freeway, twisties (Gwydir) and country roads (Fossickers Way)
Last edited: