Plan the ride – Ride the plan. How many times did I hear this before??
It might work for you, but I'm hopeless in executing a ride plan. For me, there are just too many variables that can change my plan, so for me it's essential to "think on my feet (Butt)" and make changes as they are needed.
When Wombattle, Ox, JP and I went on that stoopid not-so-right ride, Ox put a ride plan in my hand before the start. I thought it was pretty cool. Prior to that, I never planned a ride. I looked on the map where I wanted to go, plot it on google maps, add an hour per 1000 km and from there I determine my starting time. Never had a failure so far.
After Ox put that ride plan in my hand in the early hours back at Lambton in May (I think it was), I thought that from now on I'm going to do just that. I went to the FarRide to Bundaberg with a ride plan, didn't work out. For a start, Jeannie and I started late; secondly, I thought it might be nice to go through Buckets Way and Thunderbolts way (in the dark in the rain with muddy roadwork's on a GoldWing, not much fun. I planned to sleep at Toowoomba, made it to Warwick. Earlier start the next morning, etc, etc, etc, I won't bore you any further with my ride plan failures. There were more. But I made the check-ins every time.
This 50CCGOLD ride was in the making for a while. Personal circumstances had me cancelled it a few times before. This time I was determined. So I made a ride plan,,,,, again !!! It must have given me confidence when Skidoo told me at Nambucca Heads that I'm good-looking, Dunno if he left his glasses at home or what.
I planned my start from Wollongong, reading on the FarRider site that Davo posted that anywhere north of Batemans Bay should be "ok" to start from. I also read that Kwaka had posted the minimum distance for a 50CC. I thought it was ok until Ox asked me about my starting point earlier that week. Did I say that I worked for weeks on my "ride plan"??? So, I sent an email to Mike Kneebone who confirmed that a 50CCGOLD needs to be started between Sydney and Brisbane. So I thanked Ox, got in touch with Enterprise and rework my ride plan. I spoke to Kwaka and he confirmed that he simply converted miles into km and it was just his opinion. I thanked him for clearing that up for me.
Knave mentioned earlier in the week that he would sign me off (kick me out of town), whether it's Wollongong, Sydney or wherever else I wanted to start from. Enterprise told me that he will be there as well. He offered me a bed, lockup garage and his cats for company. Ox decided that he would ride down from Newcastle to kick me out of town as well.
I got at Coogee beach
about 4:20 am after riding from Wollongong.
The 3 of them were there waiting for me.
Ox gave me one of those little bottles they gave you at the hospital and asked me for a sample. Before I could react, he realised I'm not too sick (although that's open for debate about to ride across country in 2 days) and told me it should be a sea water sample. I got the sample,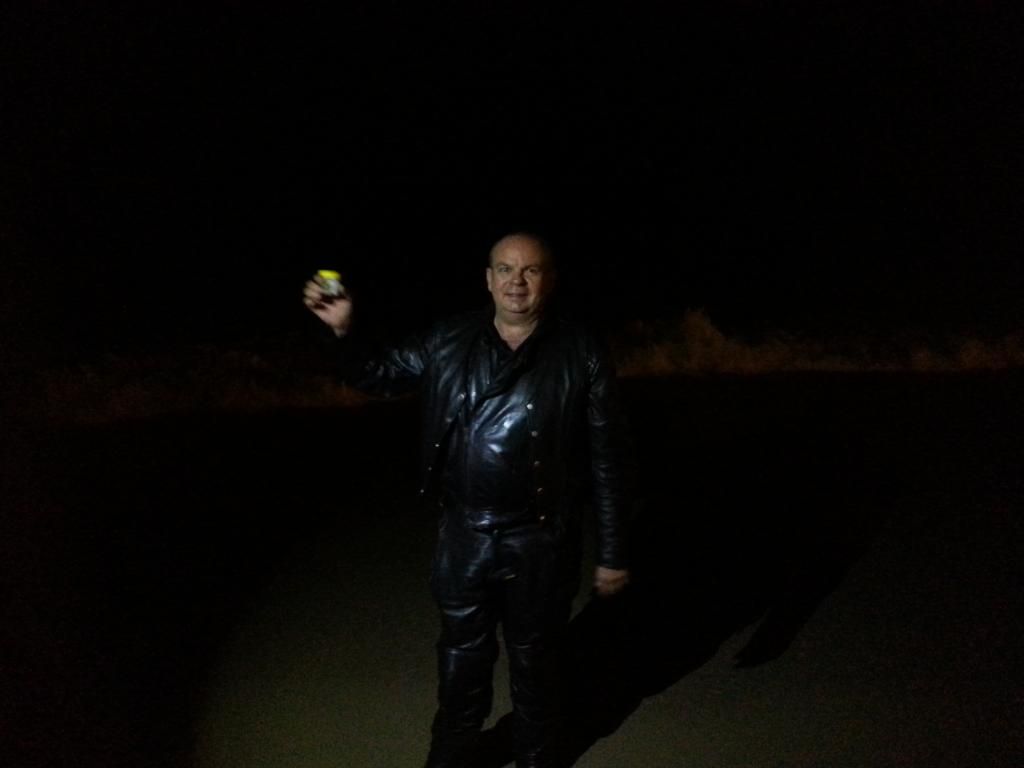 the boys took the pics, we went to the servo, filled up, got the starting docket at 4:42 and I got on the bike. Knave said he will ride with me to Picton. Enterprise asked if he can take a pic of my ride plan. I gave him a copy and was off.
The roadworks started at the airport and lasted till we hit the Hume Highway. Then the road west. Knave said goodbye at Picton and I continue.
I had a brief stop on the side of the road at Goulburn to take this photo.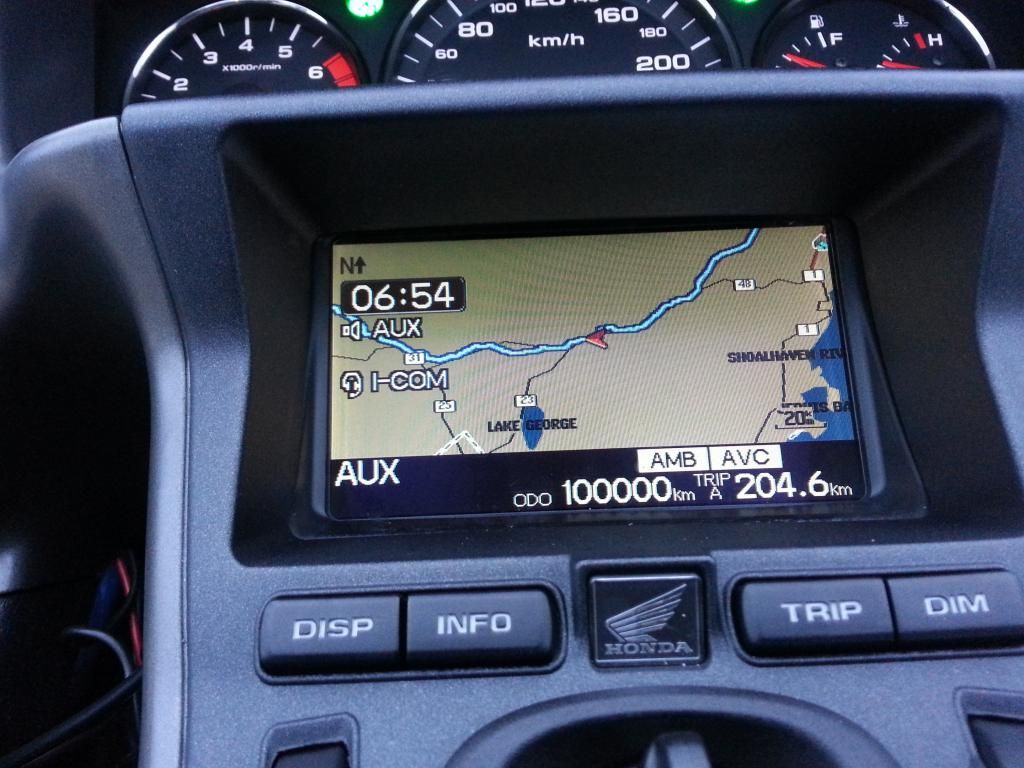 Another milestone on The GoldWing. 100,000km
I stopped at Gundagai, looked at my itinerary and realised I gave Enterprise the wrong one. I took a photo of the right one and send it to him and Ox. I continued and ran into more roadworks at Narrandera. I filled up at Hay, had something quick to eat and kept going. Now, I was hoping to ride to Ceduna in 21 hours, sleep 5 or so hours and then kept going to Fremantle. My itinerary said Scarborough, but that was not important to me anymore. I made changes on the go as I said earlier on. You might still remember that.
Just before I got to Mildura, Grey Gentry was sitting on the side of the road like a copper and took pictures of me as I approached him.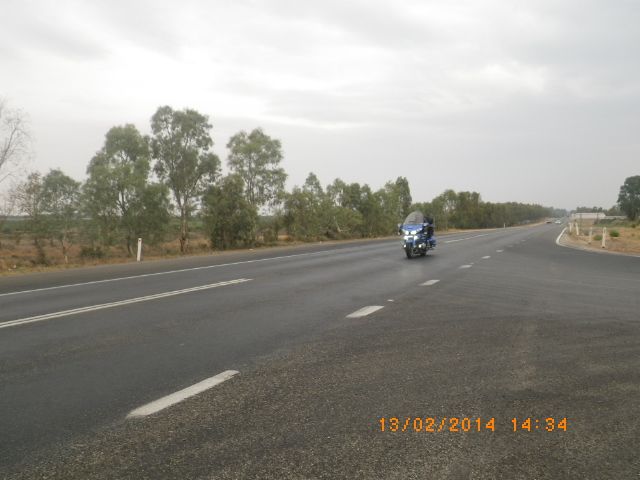 I didn't stop because my next fuel stop was around the corner anyway. He caught up with me and we pulled into the servo for a pic, fuel,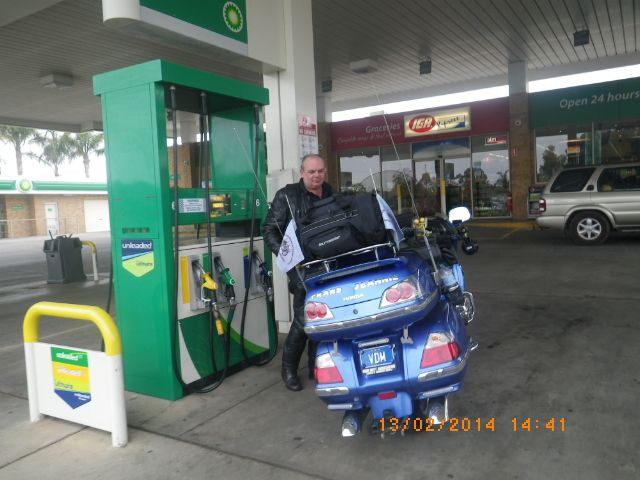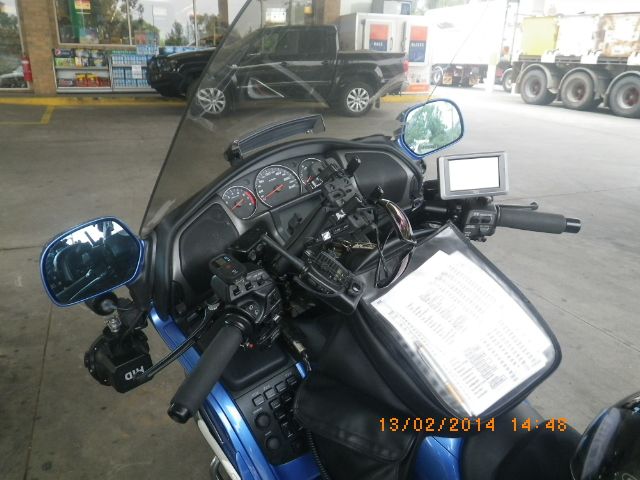 and I was off. Just out of Mildura it started to rain. I didn't worry to stop for the wets. It was warm and the rain was welcome. As long as I ride, the rain won't bother me, or so I thought. It wasn't until my bike went sideways that I decide to slow down quickly. I thought about FarRider (JRA) John Ainsworth (RIP) and realise that that part of the road is bad and I need to be careful. The rain stopped, but my leather pants were wet. I was also sitting on an airhawk cushion which kept all the water it could get and put it through my pants – wet iron butt.
I stopped at Renmark, filled up, put some 10l petrol in my 12 litre bladder and left for Port Augusta. I made the 400 km to Port Augusta without having to put fuel in the tank.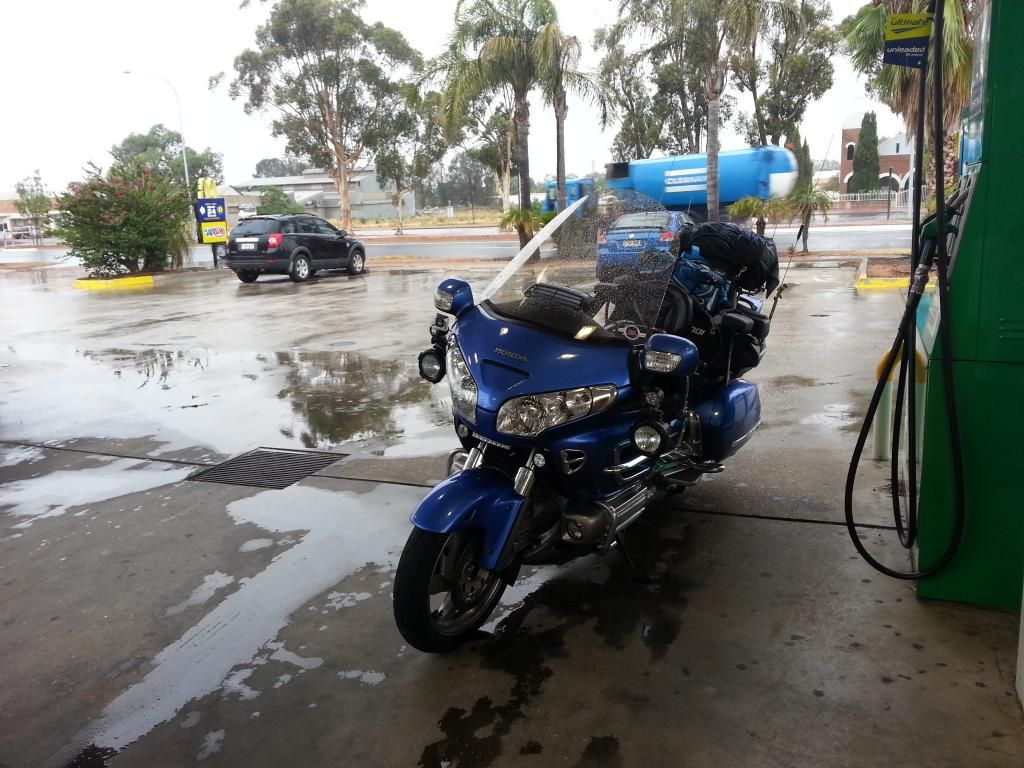 Did I say it started to rain again just when I left Renmark? I got to Port Augusta, in overcast weather. I filled up and kept going. Only 480km to go to Ceduna. I stopped at Kembla to wake up and kept going to Widuna where I dumped the 10 liters fuel in the tank. I reach Ceduna about 2:40 SA time. I filled up and went to pay. Ox told me earlier on that I can get a key for a room at the servo attendant. That might be true,,,,,,,,,,,,,,,,,, if they are not booked out. It was raining, so sleeping in the swag was not really what I wanted to do, and remember, my butt was wet !!
The servo attendant sent me to the caravan park. He said the people there would open for me. I got there and saw a sign that said to beep the horn 3 times. The GoldWing has a LOUD horn. I beep the horn 3 times and probably woke up half the town. I felt bad. The manager came out and I said that the servo attendant at BP told me to come and wake you up. Is this ok "Not really". "Do you have a room?" "Let's see. It's 3am. What time are you leaving?" "7" "Ok, how does $90 sound?" "Perfect."
I got a room. When I woke up, my pants were still wet, it was pouring rain, I got wet while packing the bike, and left. I went west. My GPS said I have enough time so I was happy. It was raining on and off till about Cocklebiddy where I stopped for fuel. I also stopped at Nullarbor roadhouse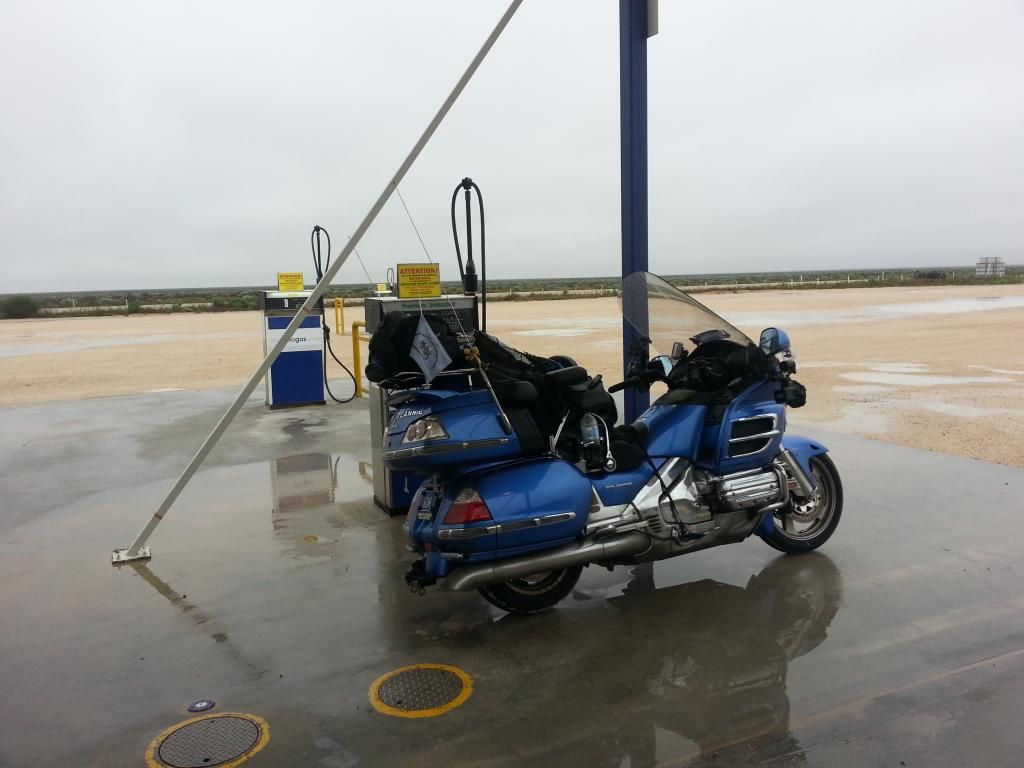 for fuel. Cocklebiddy wanted $2.20 for a litre of petrol. I paid them $65 for the fuel. We were both happy.
I eventually got to Norseman. By now, I didn't even bother with the times on my ride plan anymore. I just looked at the ETA on my GPS. And I had contact with Enterprise and occasionally with Ox by SMS. I wanted to finish the ride in less than 48 hours and had 1h30m up my sleeve when I left Norseman. For some reason, I thought that when I got to Norseman, I would be there. I forgot about the last 750 km. When I turned west at Coolgardie, the sun was right in the middle of the road. I decided to stop for my first meal of the day and allow the sun to set. I left for Southern Cross which would be my last fuel stop. I would have to top up from my bladder though.
I left Southern Cross. It's 388 km. With about 300 km to go, fatigue king hit (or coward punch – depends which part of the country you live in) me right behind the head. I was really tired. I think I stopped about every 50k or so. In the meantime, John 1958 from Perth has volunteered to ride me in and sign me off. He was waiting for me at "BP on the side of the road coming down the hill". I had no idea where that was, haven't been to Perth ever before.
I rode down the hill and there was the BP and the bike sitting waiting for me.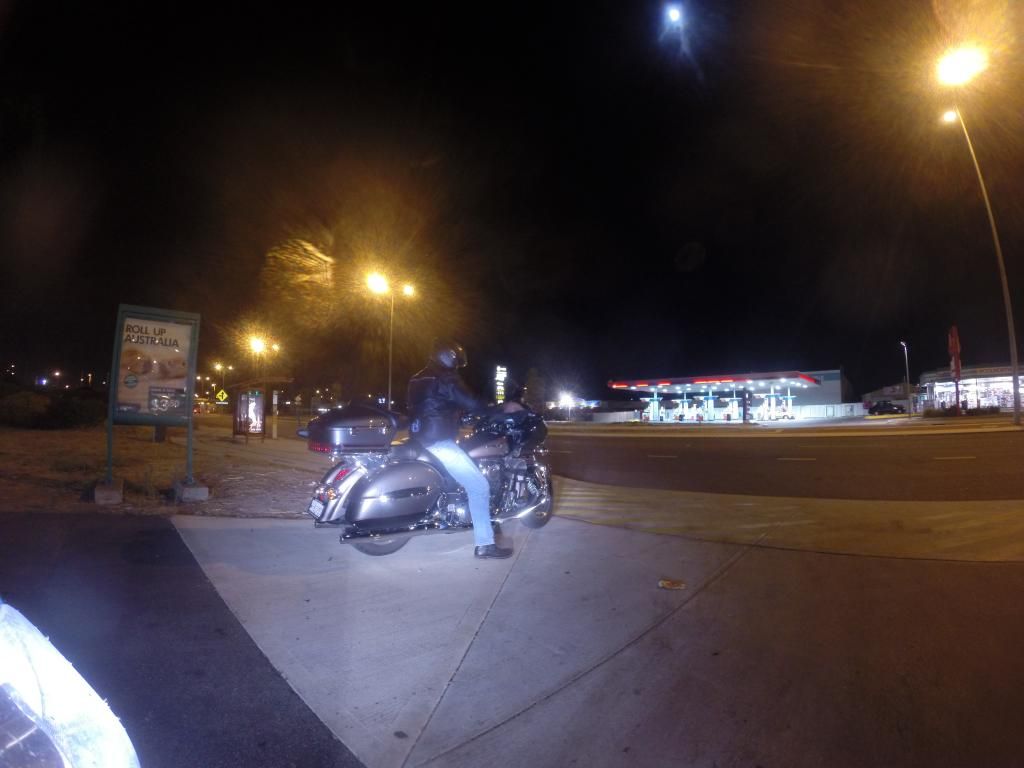 I stopped and we continue to the BP at Fremantle. I filled up,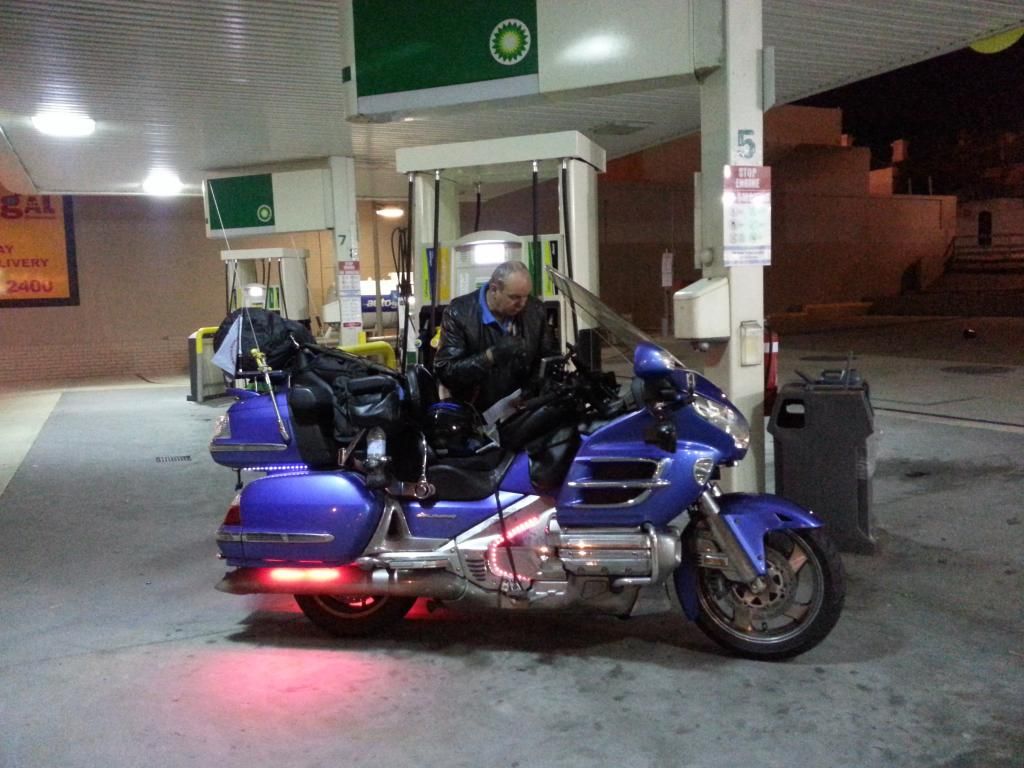 got my receipt, John signed off, the servo attendant signed off. I had about half an hour to spare for my sub 48 hours
Then we went to dump Ox's sample in the ocean. I did collect a fresh sample for Ox which I brought back with me (Do you want me to deliver to you?). John offered me a bed at his place "which is only about 40-50 k's away". We rode there, his wife, Debbie, sign as third witness and I was asleep in no time.
I woke up at 7 and off I went on the FarRide to Northcliffe. I went past a little town with a fuel station and thought I'll fill up at the next town. The next town didn't turn up !!! I found out that I can ride 426.8km on a tank of petrol and still have 280ml petrol left over when I finally reached Pemberton. I filled up, rode the last 30 or so km and meet the Westies. After check-in,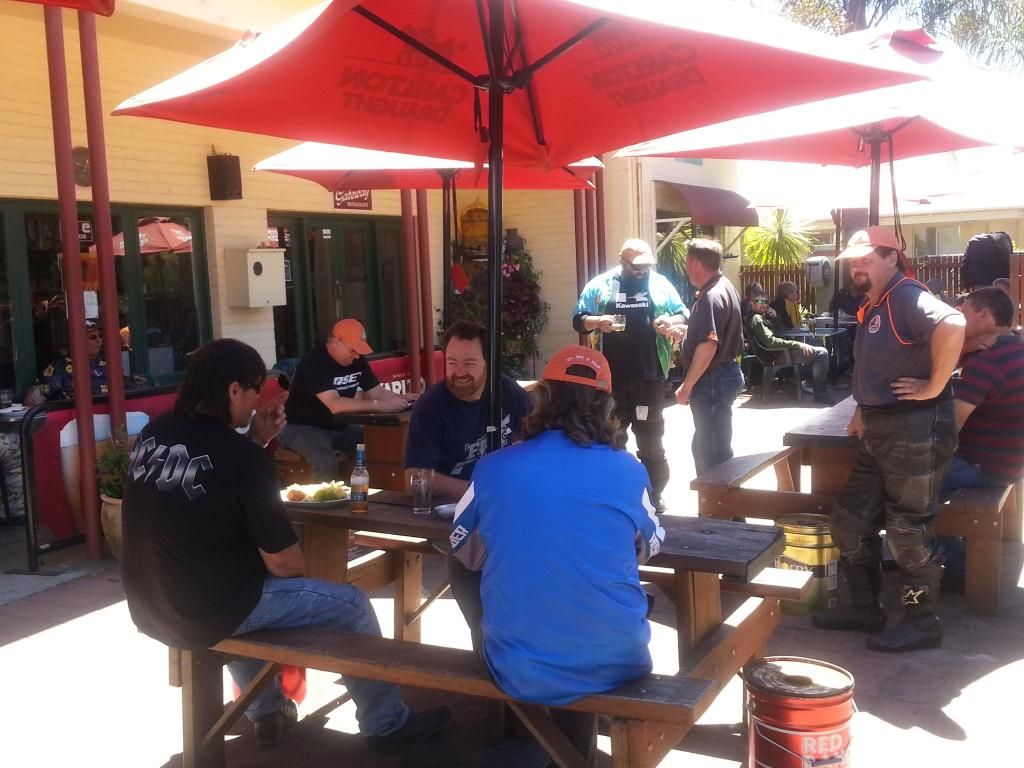 they took a few pics and I left at 1:15. I rode the nicest road down to Albany, nice turns, pretty view, just a nice relaxing ride.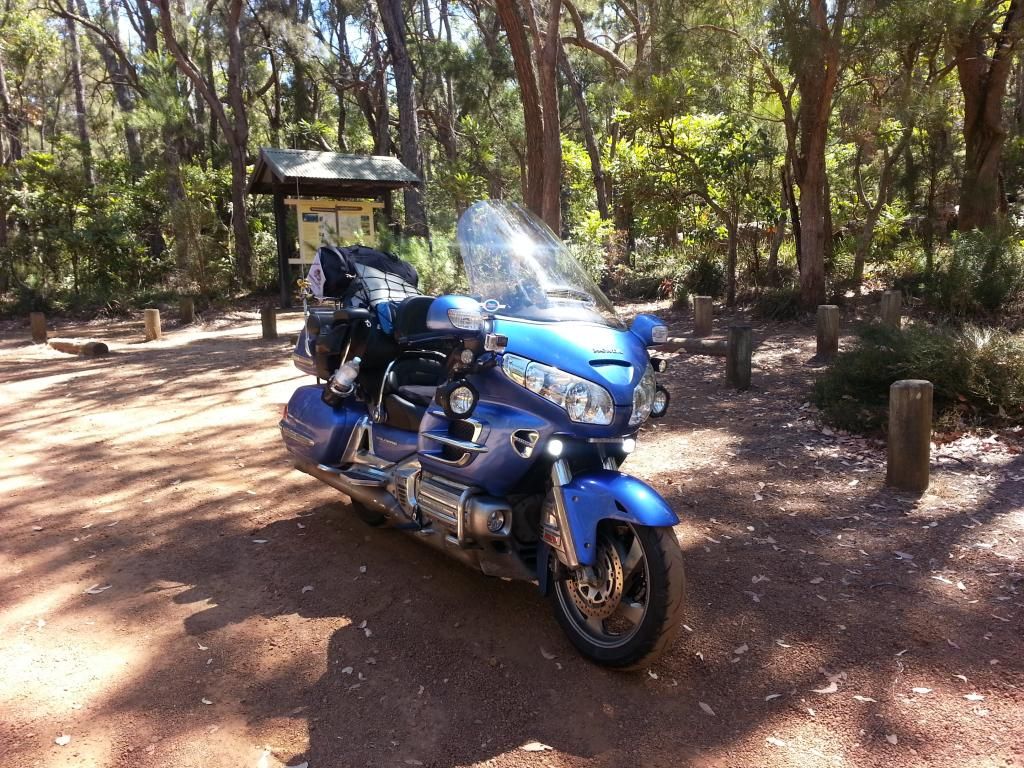 Filled up at Albany and kept going. I reached Norseman just after 11 at night. It's not easy to get fuel at night at the BP. I had to hand over $50 cash before I could get fuel. It wasn't until I said that I booked a room and you should have my key (Room No 1) that the servo attendant agrees that I can pay by credit card. I went to the room and was asleep in no time. In the meantime I have also discovered that my sleeping bag which is on a rack on the top box in a waterproof bag is soaking wet. No swagging.
I left Norseman after a sleep and kept going east. The plan was to get to Port Augusta then the next day it would be only 1600 to get home. It was about here that I realise that I might be riding a SS5000M. It hasn't crossed my mind in the planning stages. The 50CC was my goal.
I saw a dead Roo on the side of the road and remember that Skidoo was in the area a day or so ago. At the time he was famous for decreasing Roo numbers around the country.
The sun came up
I took a few pics and got to Ceduna where I fuelled up for the last stretch to Port Augusta.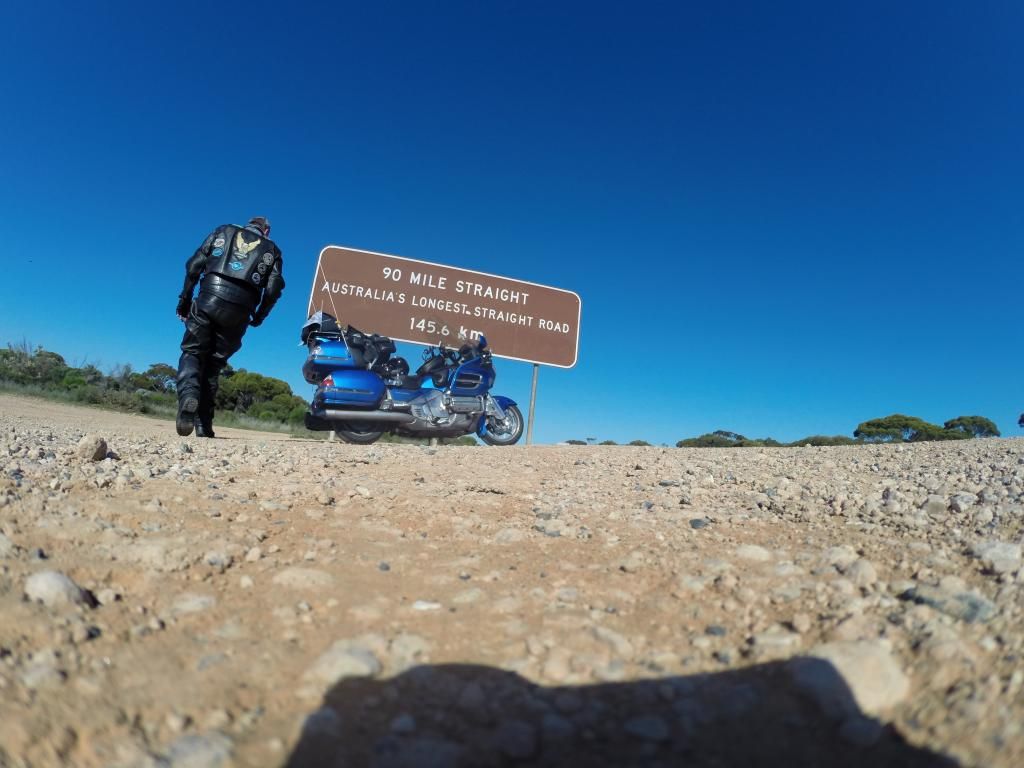 About 350k's from Port Augusta, I felt my left bum was getting cold. I felt it was getting colder and colder. Then I felt my right bum was getting cold as well. I took off a glove to investigate. You guess it – it was WET !! My camel back on the back seat on top of the swag was leaking the water at the back of my back, onto the air hawk thingie and my butt was wet. When leather gets wet, it stays wet for a long time. It wasn't until another few minutes (which felt like eternity) before I could safely stop on the side of the road. Bugger. I phoned and book a room.
I haven't seen any roos on the road since Ceduna. When I went past Iron Know, a roo came from nowhere and I hit it head on on the left side of the front wheel and the crash bar. The GoldWing didn't even notice it. I stopped and inspect the damage, not much, only plastics,
so I continued. I'm glad the airbag didn't go off. I thought by myself: "Where is Skidoo when you need him?"
I got to Port Augusta after 1am, filled up and went to sleep. The next morning when I got up at 6, my leather pants were still wet. I went to the Shell next to the Highway One motel to buy 5l of fuel, to make sure I get to Renmark. I paid and left my credit card in the eftpost machine. It wasn't until Renmark that I discovered that. I felt sad – it was my favourite credit card.
On the way to Renmark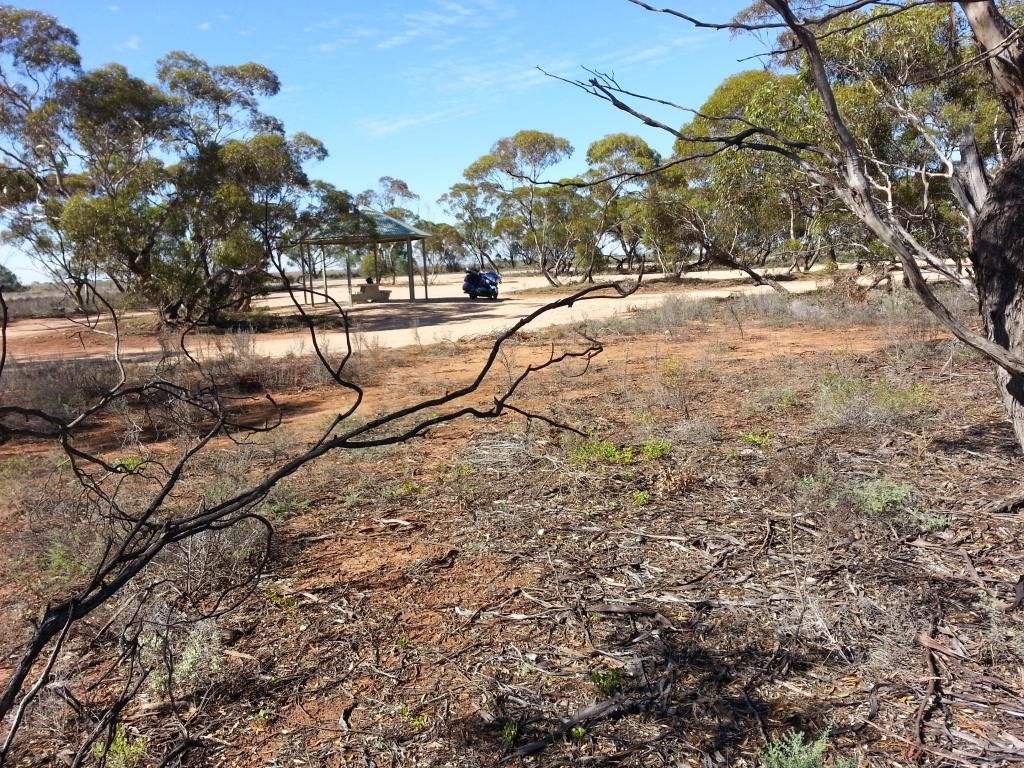 I got to Renmark, filled up and kept going. Next stop was Balranald,
Narrandera, Yass and I got to Pheasants Nest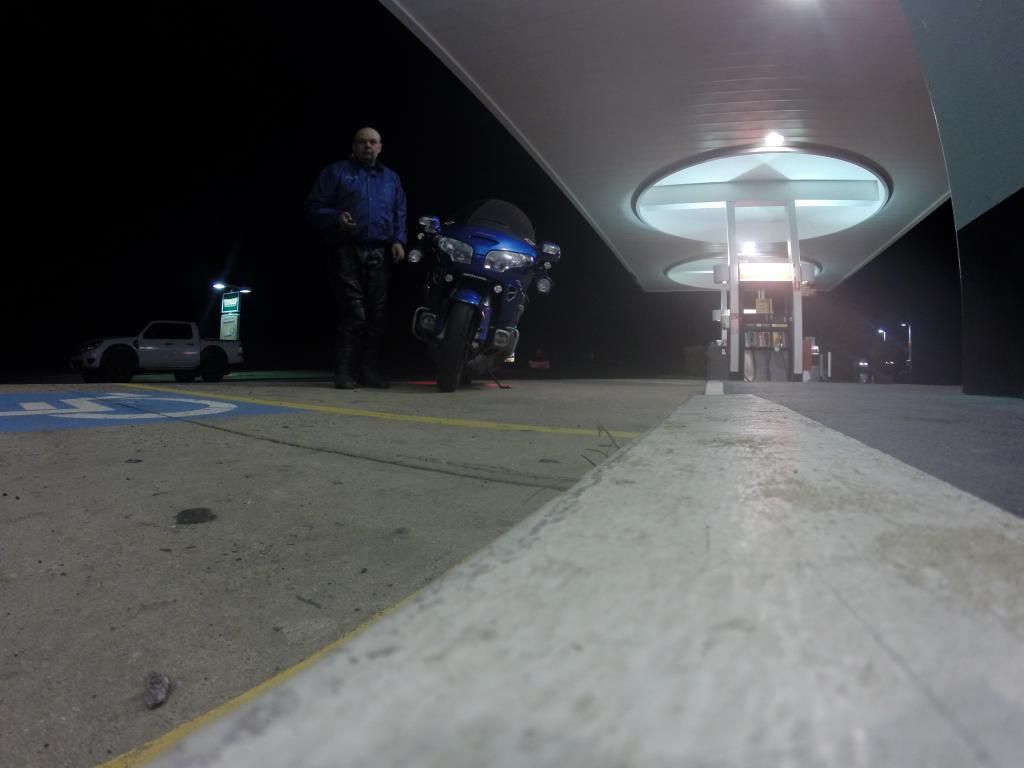 where I completed the ride and had the 2 attendants and a truckie signed off. It wasn't until then that I saw a SMS from Enterprise sitting and waiting at home to meet me wherever I want him to sign me in. Oh well, sorry, next time John.
I went down Picton Road to Wollongong where I got another docket for the fun. 50CCGOLD completed, SS5000M completed.
Safe and sound. Life is good
Speedometer at end of ride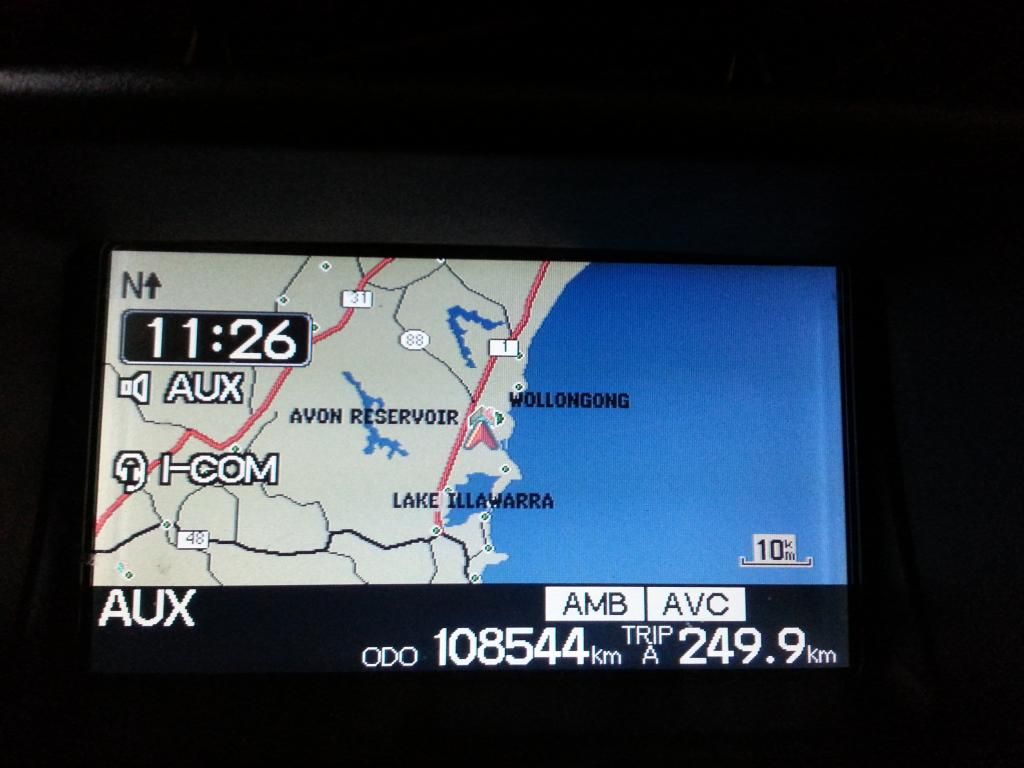 A special thank you to Knave, Enterprise, Ox and John1958 for all your help and assistance
Last edited: