When I received the invitation email from Mike
Kneebone about the ride, I immediately thought that
this would be fun. After about 2 weeks or so I decided
I'm not going to do this.
Over Easter Weekend, Enterprise came over for a couple
of beers and a chicken BBQ and we discussed this
again. I thought about it a bit and the Tuesday after
Anzac day weekend I bought this scoot in Brisbane. I
rang Clint who assist with the purchase and kept it at
his place. He took it for a ride and report back that
the "scoot is a hoot".
I bought a couple of lights, packed my bag and went
with Alan Joyce's public transport to Brisbane airport
on Friday morning. Ox was already riding and I was
checking his SPOT. I landed at Brisbane airport and
Clint picked me up and we went to his house. I
immediately started fitting the lights, GPS, airhawk
and IBA stickers. Surprisingly, it was not too hard
and everything works. I said to Clint that I did not
have a FarRider sticker and he peeled one off his
cabinet and stick it on the windscreen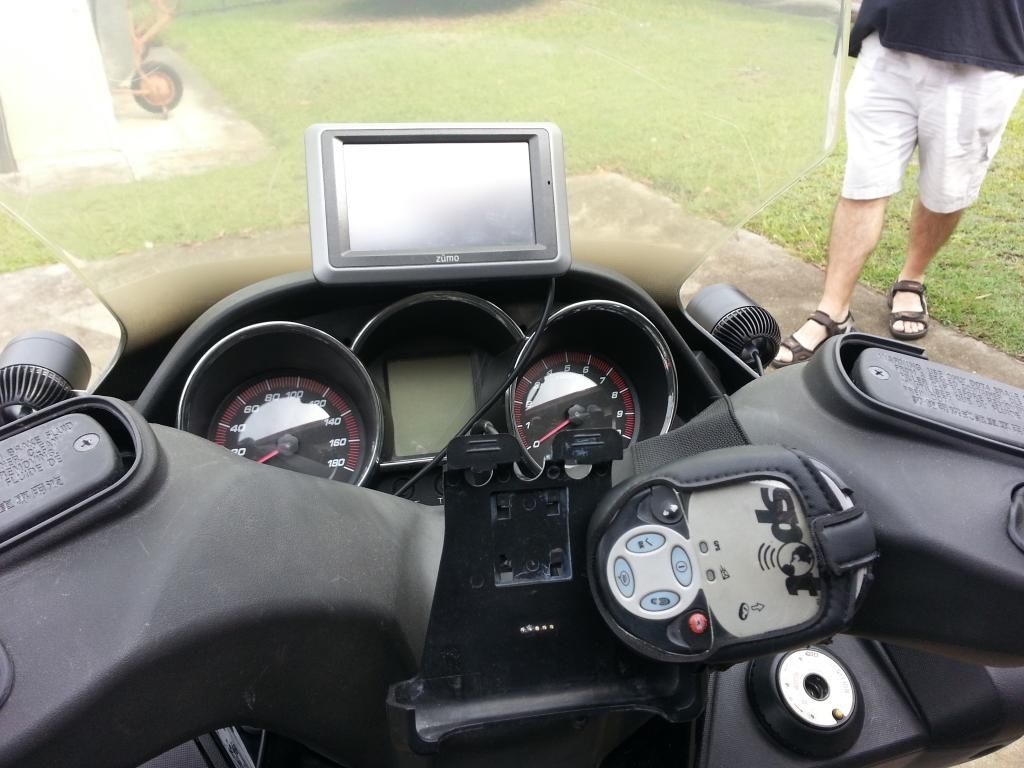 We hang around the gutter in Brisbane for the rest of
the afternoon
and I started at 1:50am Saturday
morning. Clint and Charleen signed me off and Clint
rode with me to the servo where I got my receipt.
ak-ash4/t1.0-
9/10259832_10152805226679348_6663324031879625698_n.jpg
">
I left onto the freeway and headed south to Australia
:facepalm :facepalm :facepalm
First stop was at Chinderah where I fuelled up to
check the fuel comsumption to work out the range.
I left and stopped at Grafton for fuel. The scoot was
running nicely, lights worked perfectly. Life was
good. It started to get cold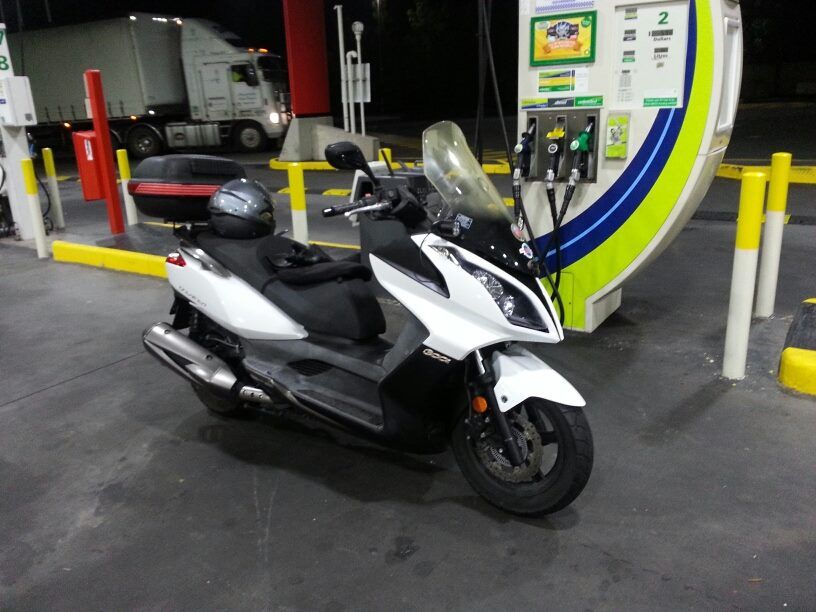 I stopped at Coffs Harbour for a coffee and put on my
wet weather gear. I wasn't really prepared for cold
weather.
Next fuel stop at Taree servo. I found a few Harley
riders who looked at me as if I'm something that the
dog brought home from the tip. I thought, this scoot
is going to do more miles today than all of you will
do together for the next month. I left without waving
to them.
***************************
Went down the Pacific. It was cold. I stopped for a
pic. It was windy, strong winds.
Next stop was at the twin servos north of Wyong for
fuel. Scoot was happy and running nicely. Still windy.
Just south of the intersection between the M7 and the
Hume Highway, Enterprise appears on my left as of from
nowhere. I wasn't paying attention to my rearview
mirrors much and saw him next to me. He rode with me
to Marulan where he turned back to Sydney. It was
freezing cold and windy.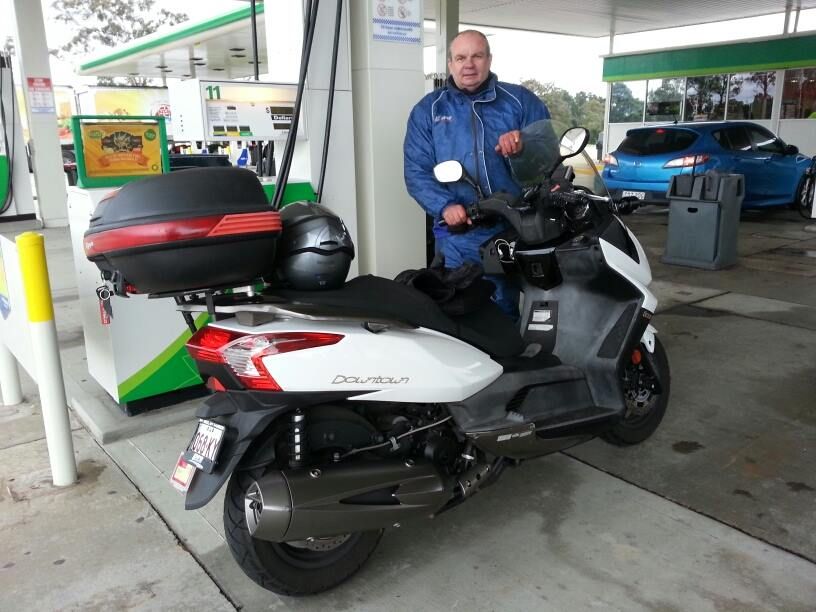 It started to rain and was COLD and windy !!! I
stopped at Yass for a coffee to warm up. I did not
have winter riding clothes with me (idiot)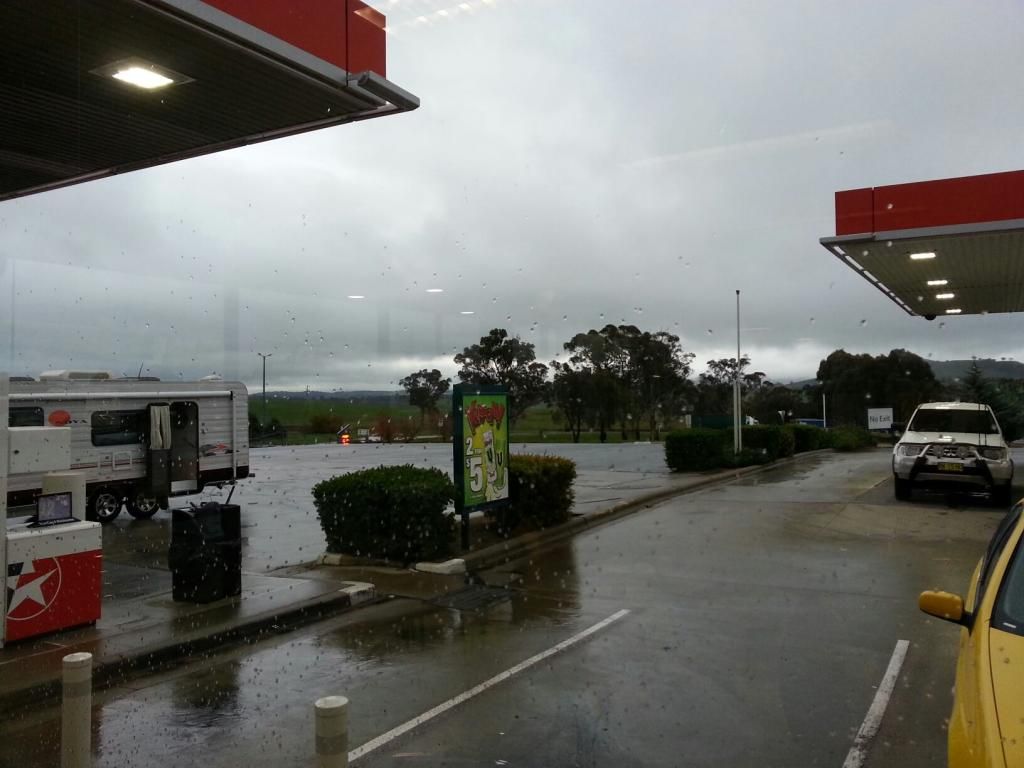 I left Yass and continue on to Gundagai where I was
going to turn around heading back home. At this stage
I worked out that I will do 1,620 km to Wollongong.
Earlier on I was going to go to Canberra from Goulburn
and then back to Yass for an additional 60 km.
Canberra is cold in winter and I decided not to do it.
I'll do something else to push the distance out with
40 or so kilometres.
Surprisingly, about 20 or so kilometres south of Yass,
it started to warm up a bit. The scoot was running
nicely. Still windy. 25 km before Gundagai, a red
light came on on the dash. It says something about oil
but I couldn't read it. I thought if the scoot can get
to The dog on the Tuckerbox, I'll inspect there.
Nothing I can do now other than to worry and think
about Wombattle and little mango's ordeal at Gundagai.
I got to the servo and the light said the Scoot needs
an oil change. I thought I'll do that when I get home.
Check the oil level and it was good. Nothing wrong
with the scoot.
The scoot blew a fuse and I lost power to my GPS. I
thought luckily I know where I live. Problem was that
I used the GPS to determine my distance. I filled up
at South Gundagai and turned around to get home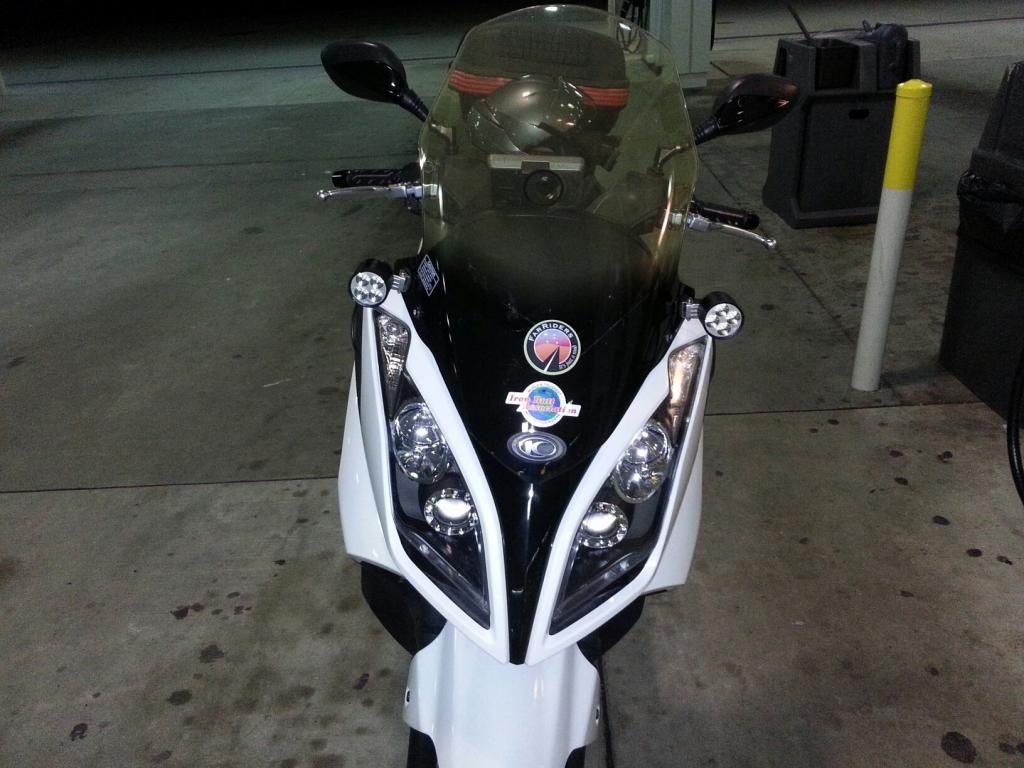 I left and the scoot was running nicely to Marulan
where I filled up for the last time
I stopped at Pheasants Nest for a corner docket, went
down to Wollongong, went passed home to Albion Park
for an additional 38 km it turned out to be. The wind
was so strong. I got to Wollongong and got my last
receipt. Asked the girl behind the counter to sign off
and she was happy to do so.
I went home and parked the Scoot next to the other
bikes. I had to tell the bikes that the Scoot is an
add-on and not a replacement. I don't want them to get
worried.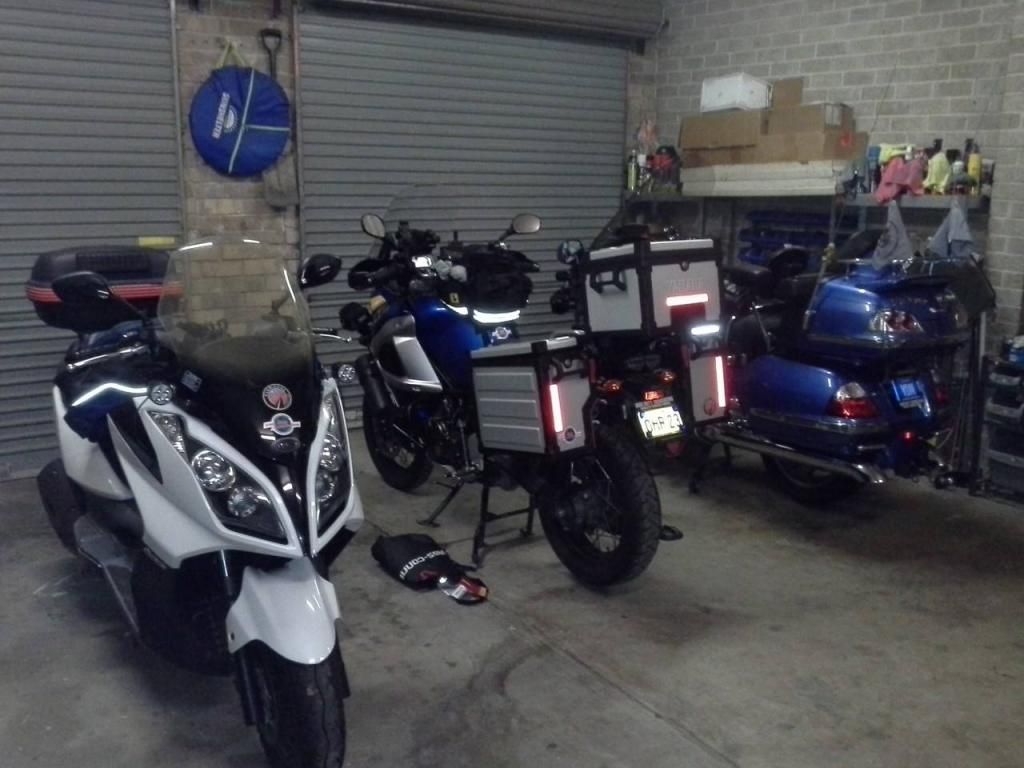 Ride completed.