Again, for the few folk in here who don't read the FarRiders or OzSTOC forums, here's my account of my second SS2000 with the certificate received today.
After a week riding around the western Fleurieu Peninsula and Barossa Valley, it was time to head home. We'd based our Barossa rides out of Nuriootpa, so at 6:24 CDT I departed from the BP 24 hour with my start docket. The sun was well in the ascendant, and the air perfectly brisk.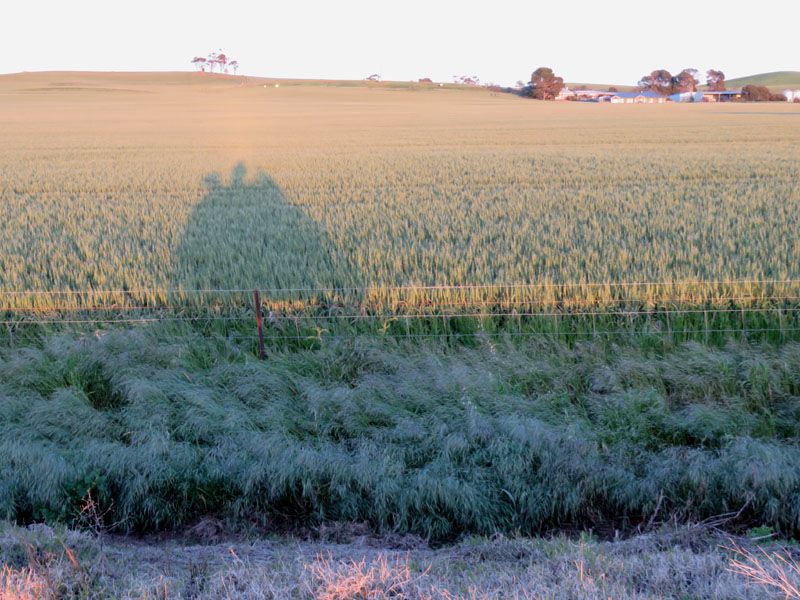 I had seen hundreds of these relics from when I'd entered South Australia, many much more picturesque than this, but all telling of the hard lives of the pioneers.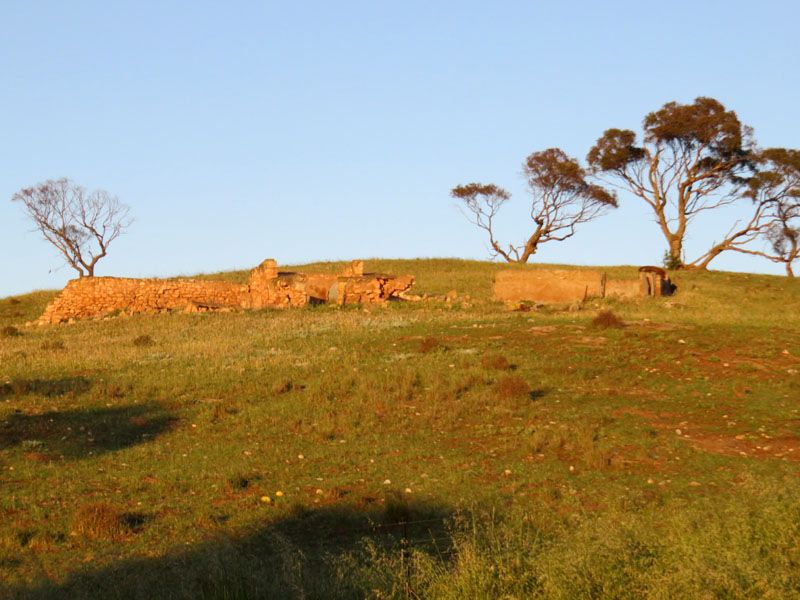 Many of the early settlers came from Germany, and the Lutherans have the best spires I've seen on country churches.
A little further up the road at Eudunda I came across this sign. "That's a worry," I thought. "Are they flat-earthers around here and the edge is up the road, or are there apocalyptic cults waiting to entrap me if I dare take that road?"
FarRiders aren't afraid to find out, and I soon met up with a friend not seen since Horrocks Pass, George Goyder. This time he was commemorated by a highway- previously I'd encountered his plaque on a cairn. In the country Goyder deemed unpromising for agriculture I rode through lush fields. But they had diversified, and now can be seen growing tall windmills along the stony ridges. They appear toy-like, until you encounter one of their blades.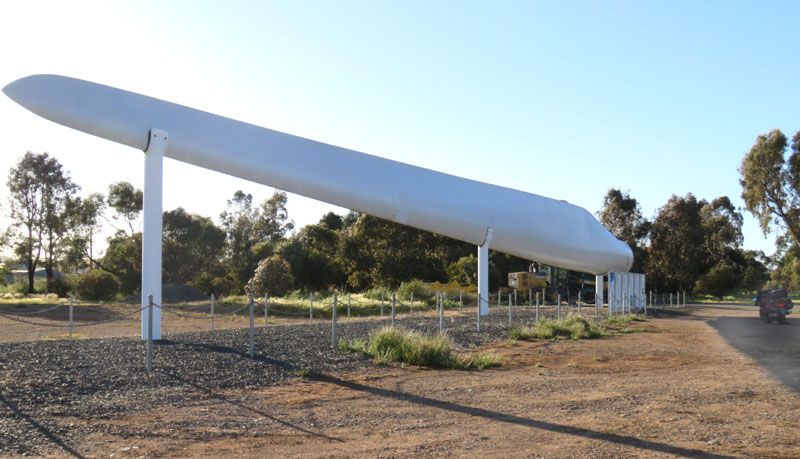 My fuel range meant Broken Hill was my next stop. However approaching Cockburn the low level light started flashing. While that was not in the plan, there were signs assuring me of fuel at Cockburn. I arrived there with the fuel count-down at 45 km to run. The bowser appeared to be a prop from a Mad Max movie. I asked the nice lady in the cafe that was transplanted from rural Mexico, if there was anyone in "town" who sold fuel. She said there was a chap who supplied small amounts to needy travellers, but he was on holidays at Bribie Island. How odd! Why isn't he here rather than near my destination? I pushed on, tucked down to reduce drag and doing 80 for best range. Just 20 km short of Broken Hill at -32.02194, 141.26465, Ruby 2sday ran out of puff and we rolled into one of the very few suitable roadside bays.
No, the moisture on the ground was there when we arrived, thanks in advance for the suggestions. I attribute the shortfall to a steady quartering headwind and possibly some enthusiasm to reach the end of the many 5 km straights out that way. My Ultracare RACQ membership eventually (after a long phonecall exchange) elicited $10 worth of Unleaded delivered by NRMA tow truck. That cost me the best part of an hour, not what I needed on this kind of ride. I avoided refuelling in Wilcannia and Emmdale, and almost had a deja vu on the final run into Cobar, with the low level light telling me I might have been wise to top up at Emmdale.
Google Maps suggests the best route is from Nyngan to Walgett, but a quick look on Streetview shows a slushy dirt road, no doubt sometimes firm and dry, but discretion dictates the longer route away from one's destination down to Nevertire, thence Warren. A bumper wheat season meant the birdlife around there is prolific, with several species intent on devouring every grain spilled on the road, and only reluctantly flying clear at the last possible moment. A pair of Wedgetail eagles made hard work of beating their wings to clear my head by a metre.
The Gilgandra Shell was a good place to rest, clean the visor and windscreen and have an Ironbutt meal- for me it's nuts and fruit.
Ahead lay the night and the usual misgivings about the current RPM (roos per minute). I caught up with a ute doing a reasonable speed and let his roo bar guide the way. He went straight ahead at the Newell junction north of Coonabarabran which left me to take on the Pilliga Scrub. Providence again took matters in hand and a fourby on a mission loomed up behind and overtook me. Impressed by his style, I fell in behind all the way to Narrabri. I soloed up to Moree, and still hadn't seen any wildlife. I was starting to look for an Ironbutt hotel, and the airport suggested itself to be a safe haven.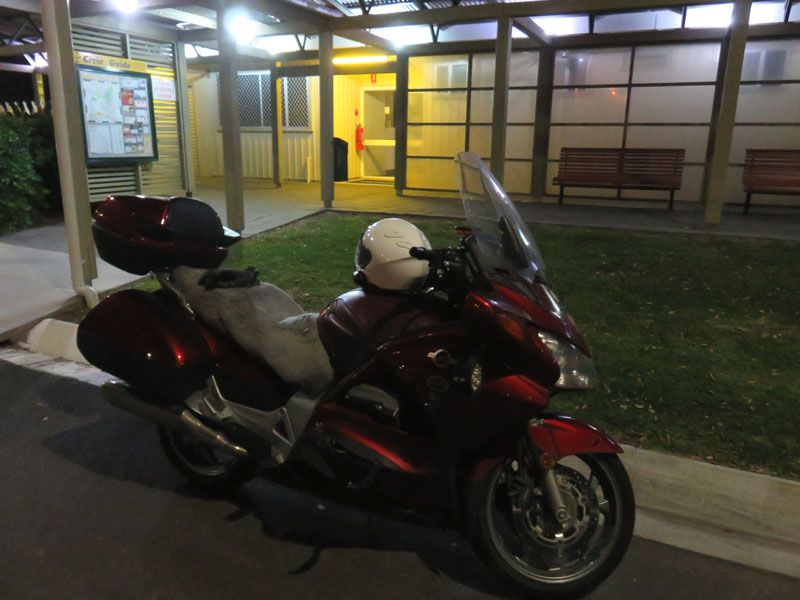 The entrance has a comfortable mat, and under the watchful eye of a blue domed camera, I had a powernap which fortifed me for the run up to Warwick. Another good break there (and a corner docket to cover the longer distance than the Toowoomba route) and I was set for the home run.
Climbing up to the Cunninghams Gap I entered cloud (manifested, of course, as fog). I'd passed a semi a little while before, and was now reduced to crawling along into worsening visibility. By the time I'd reached the crest, I could only see the double yellow lines beside me and two metres ahead. I was living in hope the semi wouldn't come charging into the fog, since I'm sure even my tail lights wouldn't have been seen in time to avoid my becoming a hood ornament.
About a kilometre down the mountain the fog thinned enough to get out of first and second gear and I had a clear run to my finish docket at the local Shell. I asked the lady to sign my Finish Witness form but she flatly refused to even look at it, saying my docket had the time and place and she never signs anything. So I went over the road to the 7-Eleven and the kind gent there did the honours.
https://spotwalla.com/tripViewer.php?id=128f057fc204aa7120