May 2013.
Rolling the bike up onto the footpath at the beach across from my place I recalled the first time I had parked there. That time was with Crackaz as we set off on our first 'big ride' the 100CCC to Perth and back – a couple of years ago now. We were very uncertain of our abilities and chances of making it back to this same spot.
This ride was different. Now I was confident that I could make the same run and skew the required parameters for my own training goals. Solo.
The 40 Hour Famine ride was planned using a few simple ideas. The time frame came about following a light-hearted jest I made to Wombattle in a petrol station forecourt one day at 0300am "I reckon you can get to Perth in 40 hours from here". The second leg of the upcoming Iron Butt Rally features a likely 50CC style cross country run – any bonus hunting is going to severely cut into any available rest time – so I wanted to do another practice run under similar conditions.
In Oz, the 100CCC is conventionally approached as 2 asymmetrical 50CCs: start at the east coast at 0400am, ride 20 hours to Ceduna, sleep 4 hours and ride to Perth in time to sleep before the 50 hour window, get a docket [50CC complete], ride back to Ceduna, sleep in because you can take longer than 4 hours on the way back, have a break at Port Augusta to rebuild the electrics on the bike, go shopping, have a nap or two, head back into NSW, chat at every petrol station and roll back to the coast in under 100 hours total. The asymmetrical nature of the ride is evident in the handful of previous successful rides here.
I set out to maintain the asymmetrical pattern by using a positive split pace, cutting 10 hours from the first leg and completely screwing the rhythm of the ride.
Docket at 03:57 in Newcastle with TigerBill as my witness. Heading west this is all familiar territory, out through the Hunter Valley and into the Hiluxes. Toyota will go belly-up if the coal mines stop. Corner docket (too early?) at Muswellbrook and Wombattle picked my strategy and posted it up. I had a target of a BBG2500K to pace me for the first leg, and a detour via Muswellbrook is the simplest way to reach 2512km by Border Village and the secret was out.
Paused short of Gilgandra out of habit.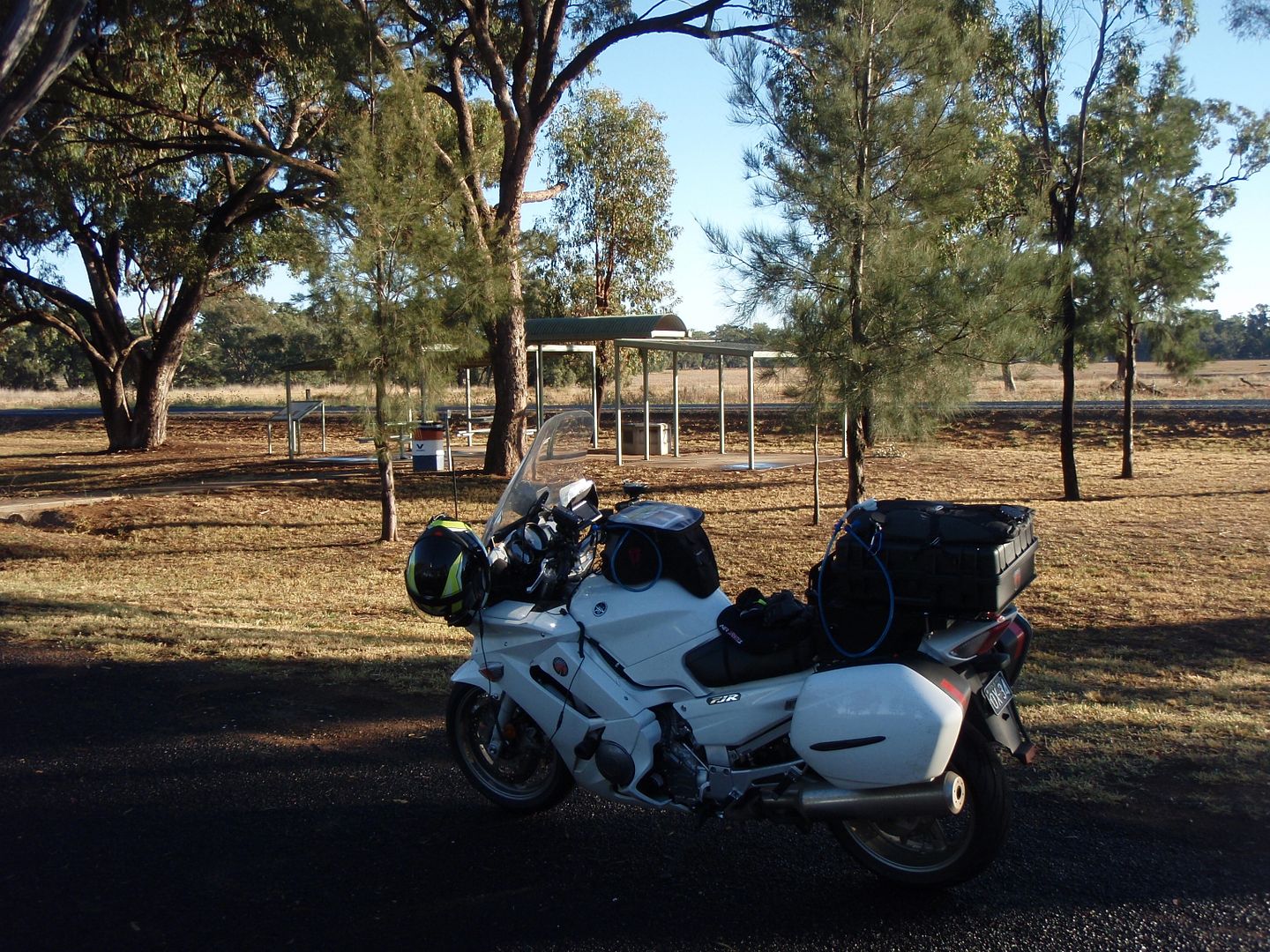 Fuelled at Nyngan (561km 09:42hr AEST), rolled straight through Cobar and just before Wilcannia hit the OA for the first time. I don't use MA, only OA. GPS-speak in some ways, these terms are at the core of LD riding when on the clock. Because I had set out with a positive split in mind, the BBG OA of 105km/h was the carrot. Slowly building through the day, I saw 105 after 8 hours on the road – now to just hold it for the next 16 hours.
Fuel and a drink at Broken Hill (1151km 14:51 AEST) and the time slipped. Onto the big sky country southward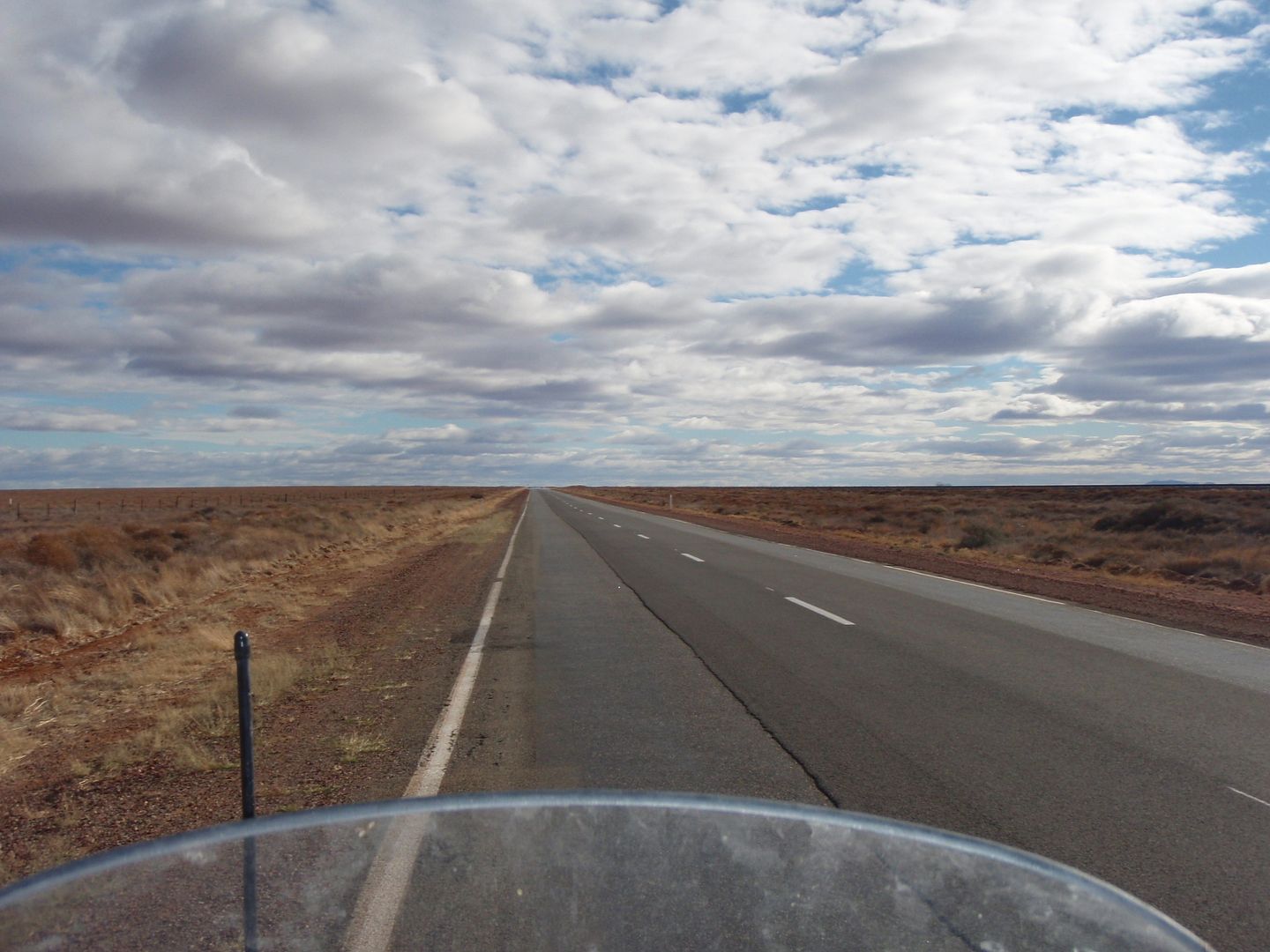 Right turn near Peterborough and into cloud. Then rain. Then approaching Horrocks a whiff of things to come as the rain was joined by fog over the pass. No dramas as the road is slow here and any roos would be small enough to bounce of the lightbar anyway. No wildlife this time.
Port Augusta (1560km 18:59 AEST) for fuel and a quick phone break. More mixed showers for the next 800km or so, but easy riding out this way. The PA to Ceduna road rides completely differently for me in opposing directions – weird....
Ceduna for fuel and straight back on. Across the Nullabor and holding pace, rolled in to Border Village with 7 minutes to spare. Topped up with fuel and grabbed a nap in the dirt. Sometimes Border Village seems friendly, not tonight for some reason........ As is my way, I grabbed a nap with my legs up, flat on my back. No alarm, the first urge to roll over and I'm awake.
Back on the bike, still in the fog intermittently (rain finally ceased) I headed into WA. Checking the numbers, I now had a buffer. Running the positive split 2500km into a 4000km run means a bonus 60 minutes to be spent in the next 1500km. Pulled in to an empty truck stop on the slope down the Eucla pass and down for a nap. First truck past wakes me and back on the bike, feeling very well rested. Down along the lowlands of Mundrabilla its all pretty lonely. Passing traffic is rare indeed. Up the pass at Madura and more fog patches. Approaching the longest straight the sun started to come up and the fog became worse – much worse. Straight road running with the sun behind me, a light trickle of road trains to overtake and a ridiculous number of cars driving out of the dark fog toward me without any lights. Idiots.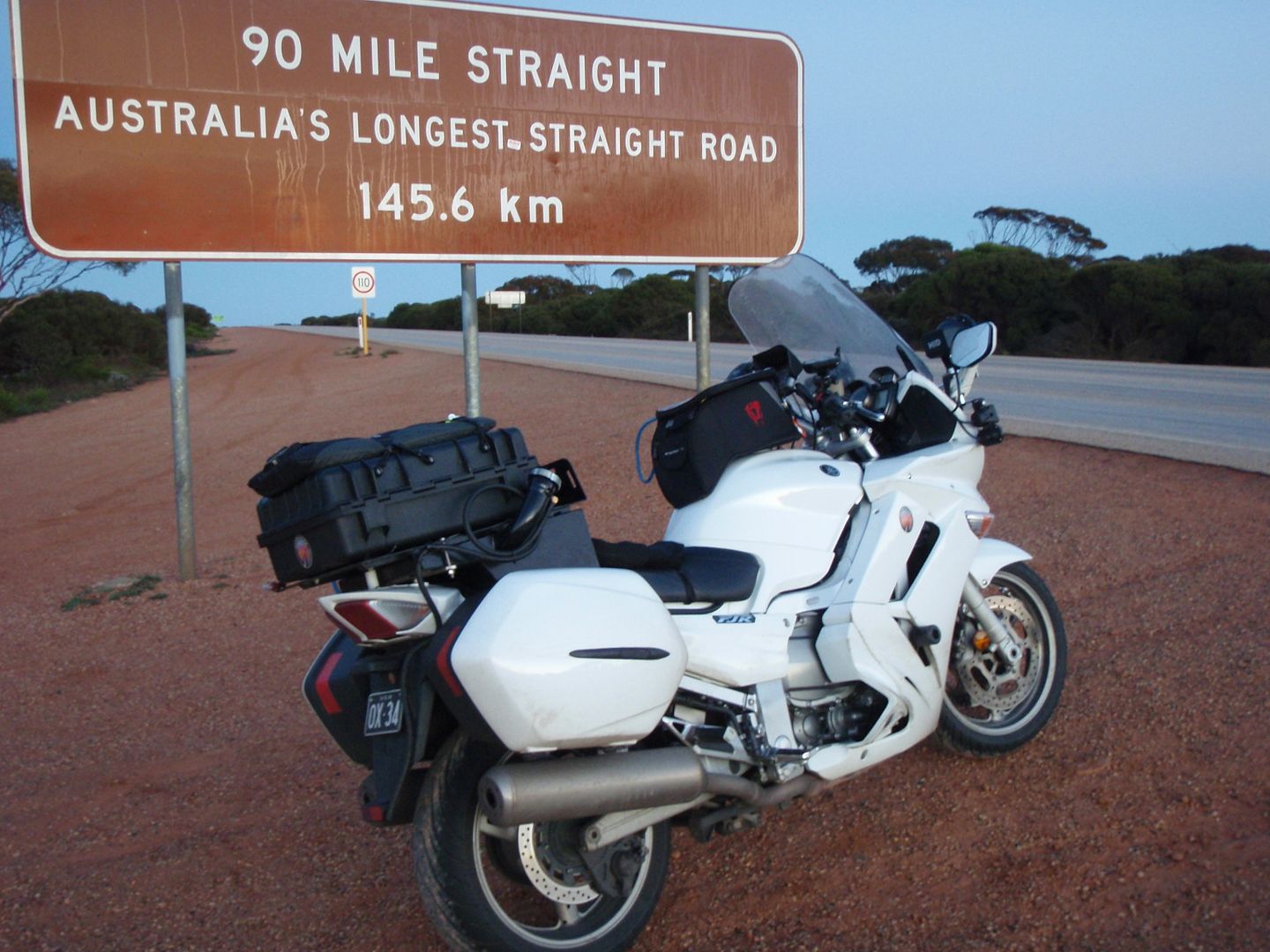 Balladonia (3044km 09:42 AEST) for coffee and a chat to Rus' mate (Mogs I think). He and a mate on a Tenere were making their way to Perth – but not today. Topped up fuel and on to Norseman. Quick FarChallenge pic and northward turn right. I still had a buffer, but I knew it would start to shrink from here. Great road north with lots of bends after the straight running of the last 1200km. The left turn at Coolgardie creates an illusion. It makes me feel like I'm almost there, but I still have 700kms or so to go.
I've planned the westward ride to the minute, but used 2 different methods: one based on my previous experience and one based on Garmin BaseCamp. BaseCamp was out from the start, overestimating the time by up to a couple of hours, based on an application of speed estimates on various types of roads using an unknown algorithm. My estimates have varied by 20 minutes or so through the ride so far. The eastward ride remained largely unplanned, so heading west approaching Southern Cross I filled my head with numbers and started planning the rest and fuel stops for the return leg. With a turn-around in Fremantle I wasn't sure where I would need to refuel way out here.
Yellowdine started to tout itself as a 24 hour servo. Southern Cross came next. Then a sign saying fuel ahead at Moorine Rock. Perfect. Pulled in to the little shop. Just a few minutes of buffer here. Tank bag off, cap off the aux, turn to the pump. NO FUEL. Thats right, all those signs back up the Eastern Highway were wrong – there's no fuel at Moorine Rock any more. Ok, a drink and docket then. Drinks ok, but then out comes the handwritten receipt pad. "Don't worry, keep the change".
Bodallin a few kays down the road for a proper stop and I'm feeling like an amateur. Technically this is a 50 hour leg, but that 40 hour goal is now vulnerable. Filled fast. Drank with one hand and pumped with the other, paid cash fast and on the road in a few minutes. Just up the road it seemed, Ziggy appeared. Holding his camera, I gave a wave and kept going. I knew that he would know that I would know that he wouldn't mind me riding on – he'd catch me quick enough. Regrouped at a leak break to plan the run in to town. Not the quickest way to the coast the way I was heading and about the worst time of the day to do it, but now with riding company I was feeling on a high. A bit of roadwork still in the sticks, then in to the commuter peak hour. No need to panic, I just stayed in the line. My initial target of a 17:20 local time finish slipped by with a double red light stop south of Fremantle, but soon my first glimpse of the sea. Well, the Indian Ocean I suppose.
Round the corner into Arundel Street, stand down on the footpath outside no 27. I'd made it. Inside the Freo Doctor Liquor Store for a docket – a local cider for Ziggy and non-alcoholic cider for me – a chat and witness forms and it was done.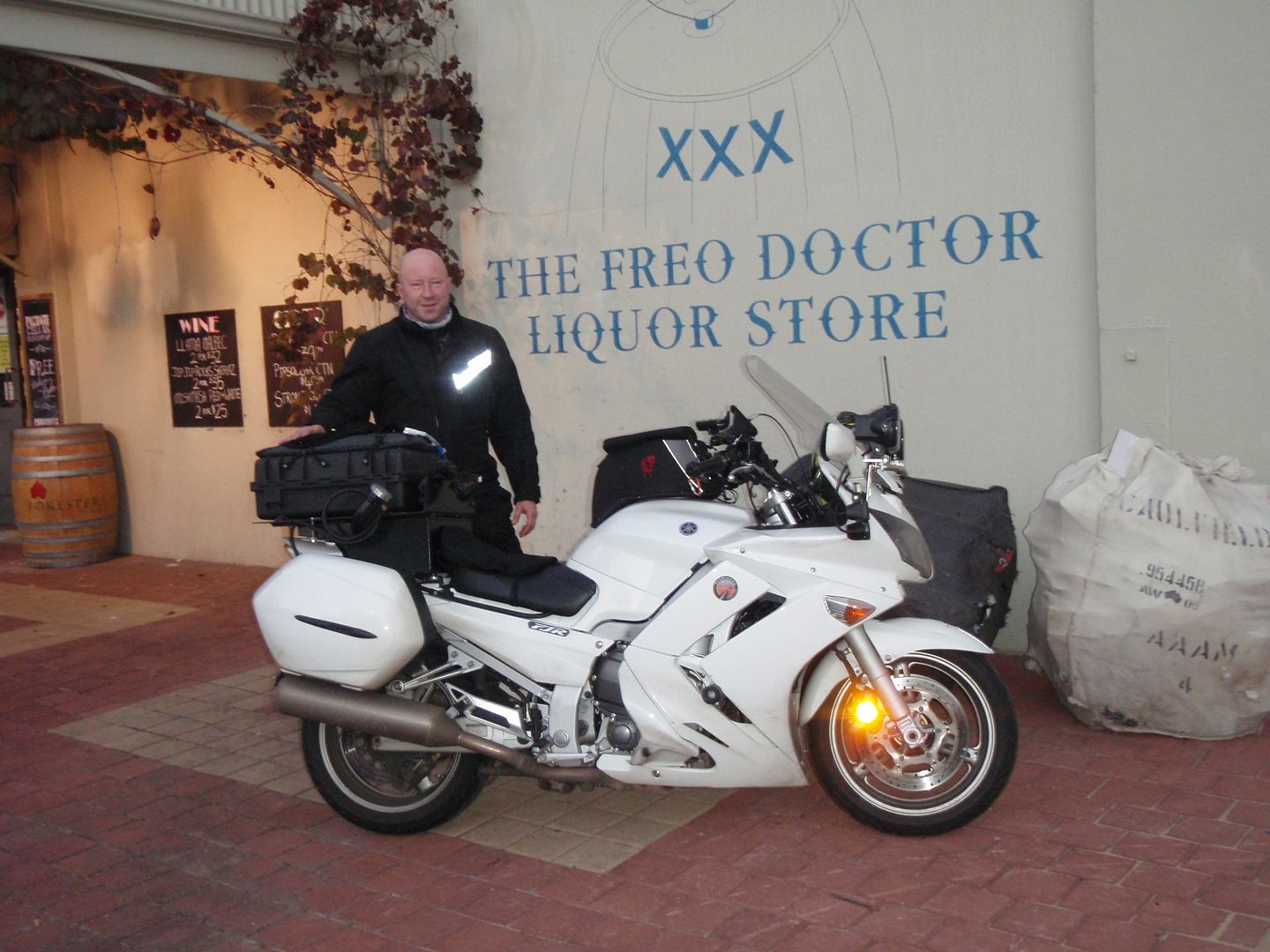 50CC Gold in 39:46h and nothing to eat on the 40 Hour Famine ride.
Now to turn around...........
Sand sample at Freo Beach, a few phone calls and time to start the planning for the return. At 6pm local time it was no time to sleep. 50 hours for the return Leg and the clock has already started. I'd eyed off a few spots for a sleep on the way in. Aiming for a few hours inland would give me a more normal midightish nap time. Long slow stop at the foot of the Greenmont Hills and finally headed out of Perth.
On a nice lefthander up the climb I saw some lunatic waving by the side of the road. It was Spokkie. Fresh from his first IBA ride, the ANZAC day SS1600 it was great to catch up and have a chat about LD things - he'll be doing many more rides. Those westies are a keen bunch and I love their enthusiasm – sorry I missed you in Freo Lindsay, the BP was never in my plans.
Out into the trucks and getting cool. I found a nice stop at Kellerberrin. Now nice is a relative term. There had been a few spots in contention along the way but Kellerberrin had what I wanted: about midnight my time, grass to lie on and an ATM across the road for a docket. 23:52 AEST, laid the poncho/sheet on the ground, helmet off this time, gloves on and soon asleep. No alarm, woke up, drank an iced coffee walking to the ATM for a docket (23:08 local) and back on the bike.
Nobody out but me and the trucks it was all pretty pleasant heading back east. Down to 3C at times, but ok in my suit. I'm wearing LD comfort longs, a sloppy joe, a duckdown vest and zipped up in my Aerostich Roadcrafter. I haven't changed in 44 hours......
Hot coffee in Coolgardie and back onto the nice road to Norseman. Sure, its bumpy but so are most roads. What it really is, is deserted. Not a soul to Norseman. Into the BP, don't need a docket, just a free coffee and a chat to the bloke for a minute. No customers for hours "good luck out there" and back into the straights. The aux tank on the FJR makes these rides easy. Over the Fraser Ranges and onto the straight: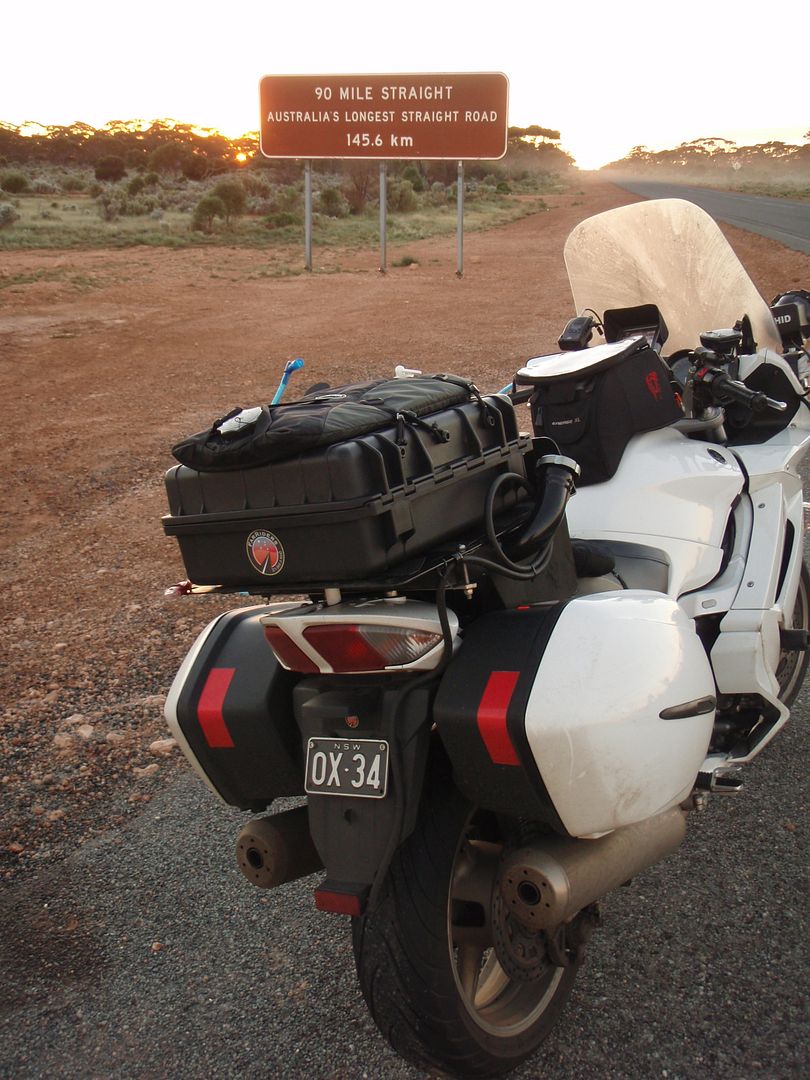 I didn't need fuel until Caiguna. Morning fog out here again – looking into the sun for an hour. Nice morning run. Spent a few minutes chatting to Davo at Madura, then down the pass. Perfect day for riding and a great, strange road.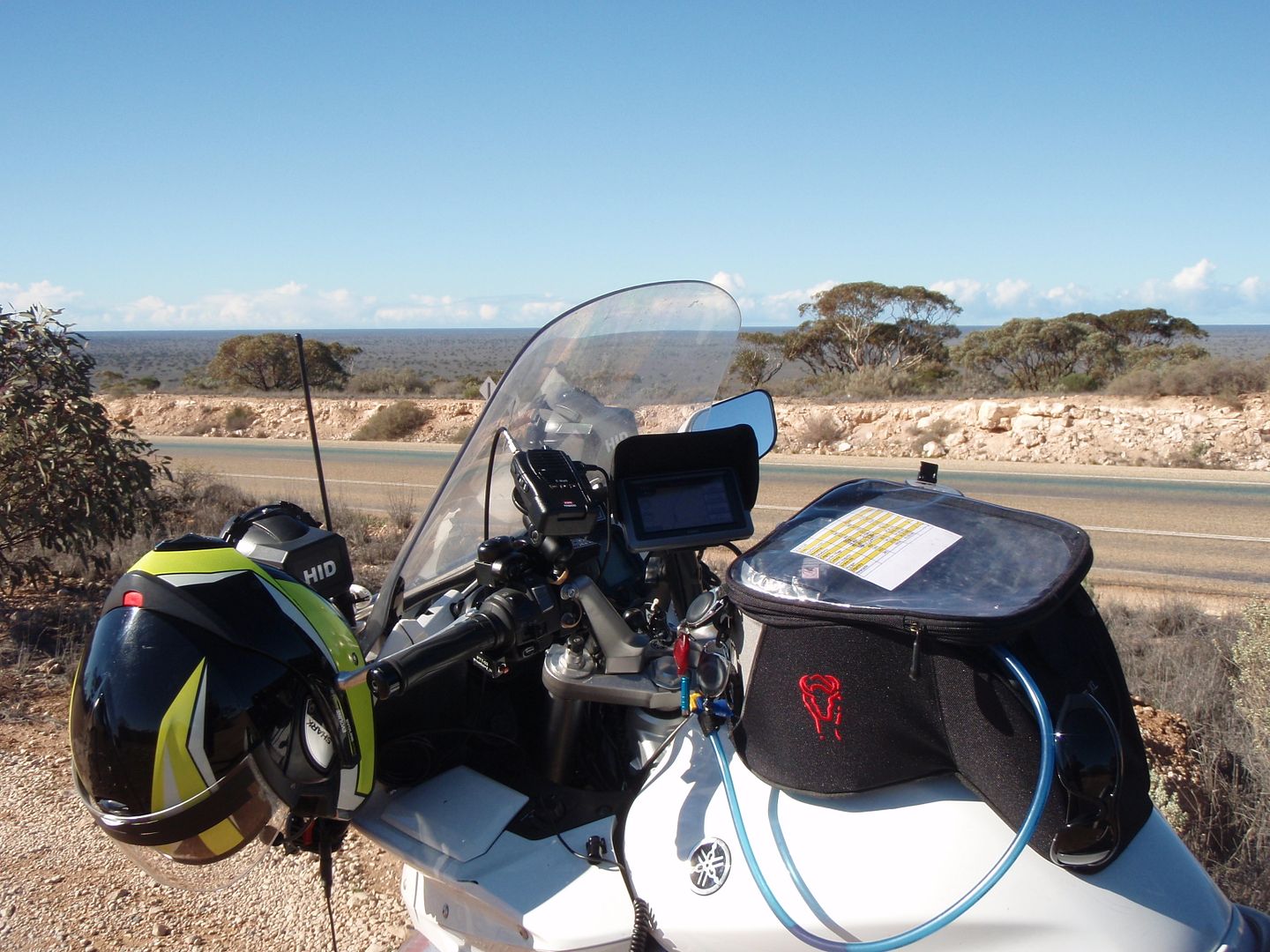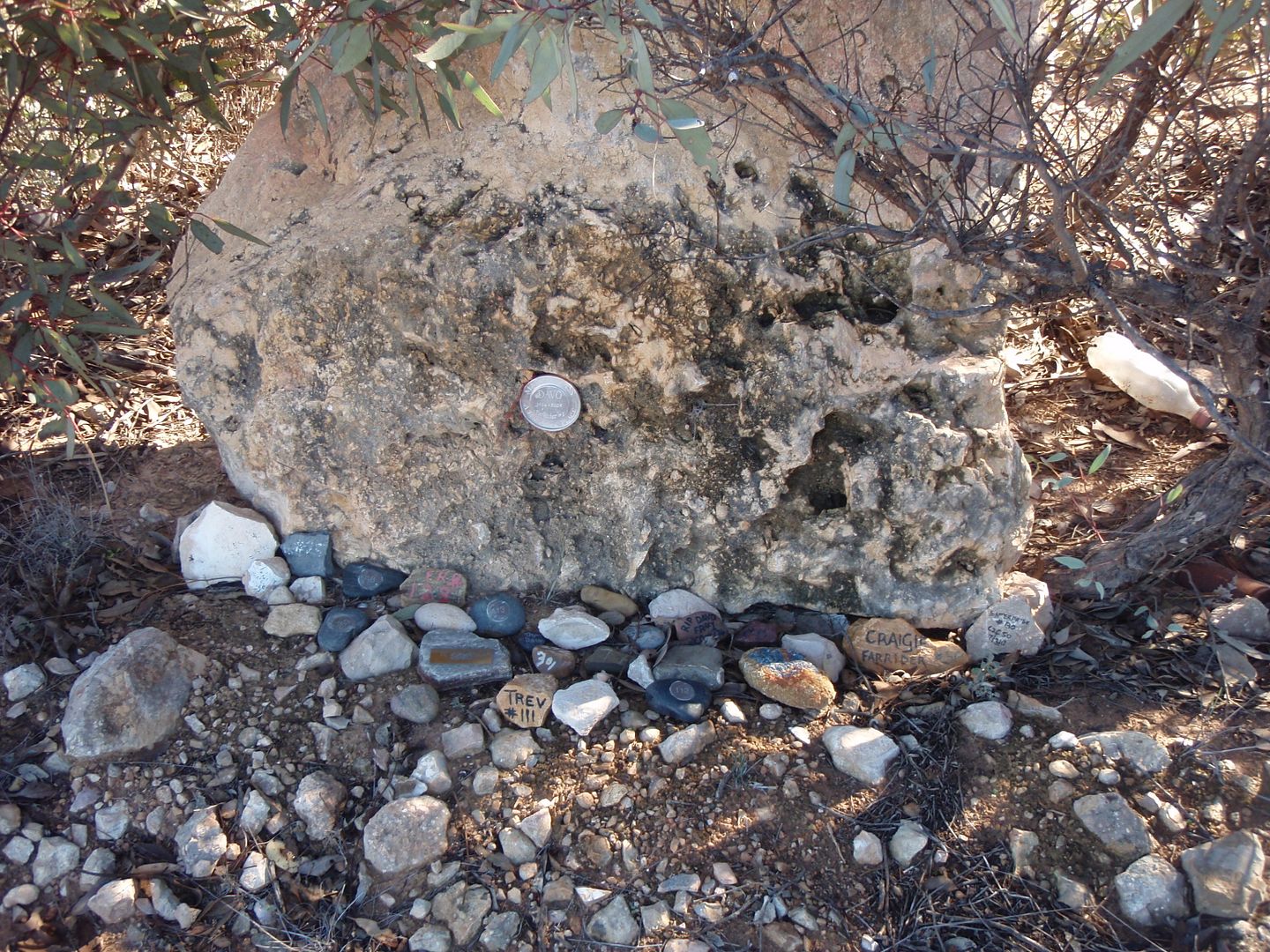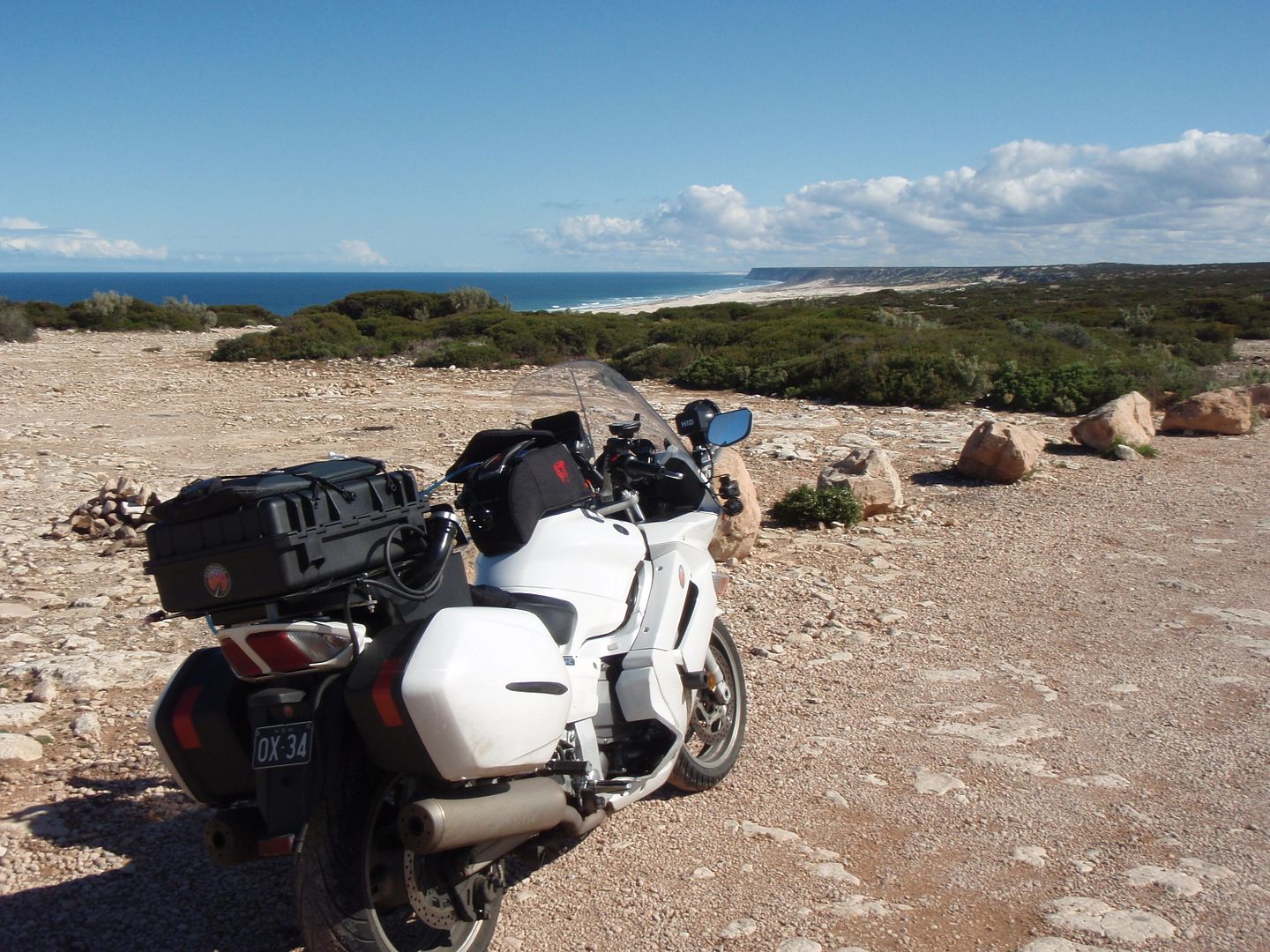 Filled at Border Village, stopped at the Bight for a bit, then rolled on to Ceduna. Finally back to a conventional run – its only 2000km home after all – I felt good so pushed on. A quick call ahead and the key in the door at Port Augusta Highway One Motel would be waiting.
But not yet. The road from Ceduna to Port Augusta in reverse. Sun going down behind me, dry conditions, few bumps, nice sweepers and no wildlife. There's been little to speak of so far. Sure, the Cobar goats and Broken Hill emus, but nothing on the road and haven't hit the brakes for any mammal so far. Hard on the brakes many times in the fog on the Nullabor, but that was for tumbleweeds. They look like wombat bums at a hundred, so I take no chances.
Pic at Kimba, and a slow trip into town at Port Augusta (6395km 23:20hr AEST).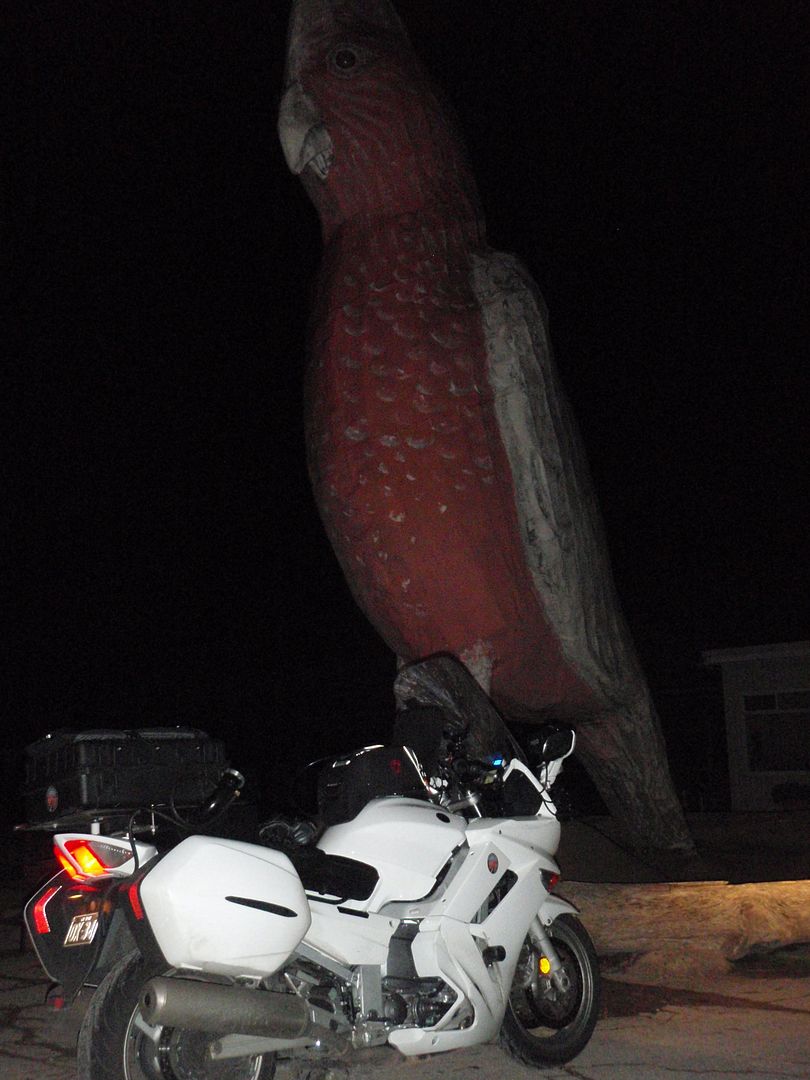 Set the alarm, had a shower and slept. Up for a fuel docket (03:45 AEST)and heading home. Nice trip through Wilmington and Peterborough and then it turned bad.
Fog. Thick fog. First gear, maybe second, visor up, visor down. Screen up, screen down. Intermittent but always bad. I pulled into Yunta in frustration. Maybe I should have stayed in bed for a while? Coffee was hot so I wandered around for a while. Back on the road and still in the fog – no fun here. I can see the stars are out but I can't see more than 10 to 20 metres at most. Truck lights appeared about 2 seconds before they thundered past..... At one point I pulled up in the middle of the road in frustration. Eyes almost bleeding and the GPS showing straight roads I'd had enough. Looked to the left. An emu 3m away looking at me. Looked to the right. A roo doing the same. 3 stooges out in the morning fog, too blind to move. First gear and off again, its got to get better.
It did.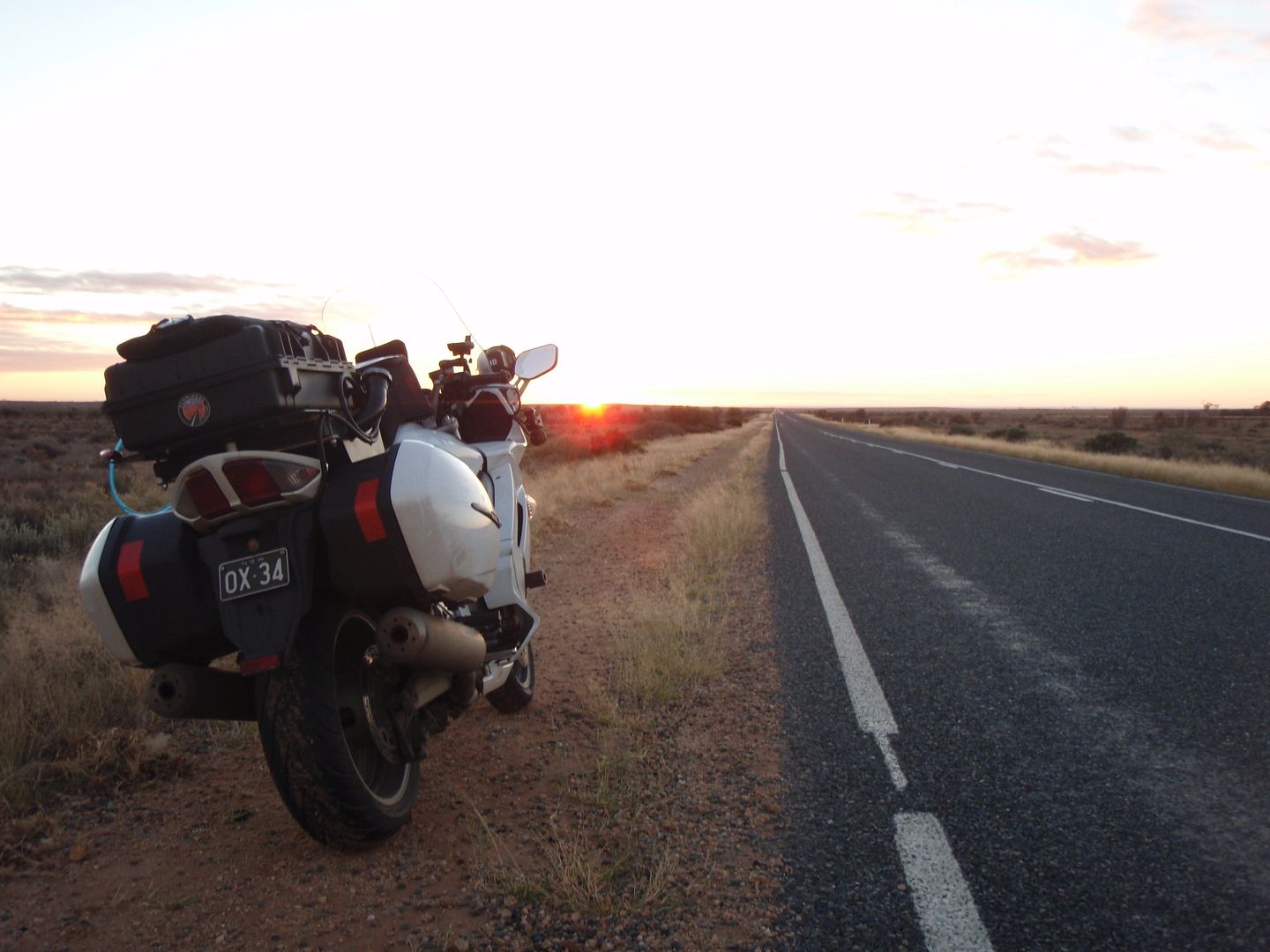 A glorious morning arose from the mist. Sun in my eyes all the way to Broken Hill, but now I was moving again. Fuelled at Broken Hill (6805km 08:24 AEST) for the final run home. Feet down at Nyngan (7395km 14:16) and on to Gilgandra. Nice run as usual along the Mendooran Rd and hit the Golden Highway on sundown. Beautiful evening for a ride this last few hundred was fun. Not much traffic and great conditions to finish.
Rolled into the BP in Newcastle to be greeted by TigerBill and Wombattle for a quick chat. Back on the road for the final pic at the beach.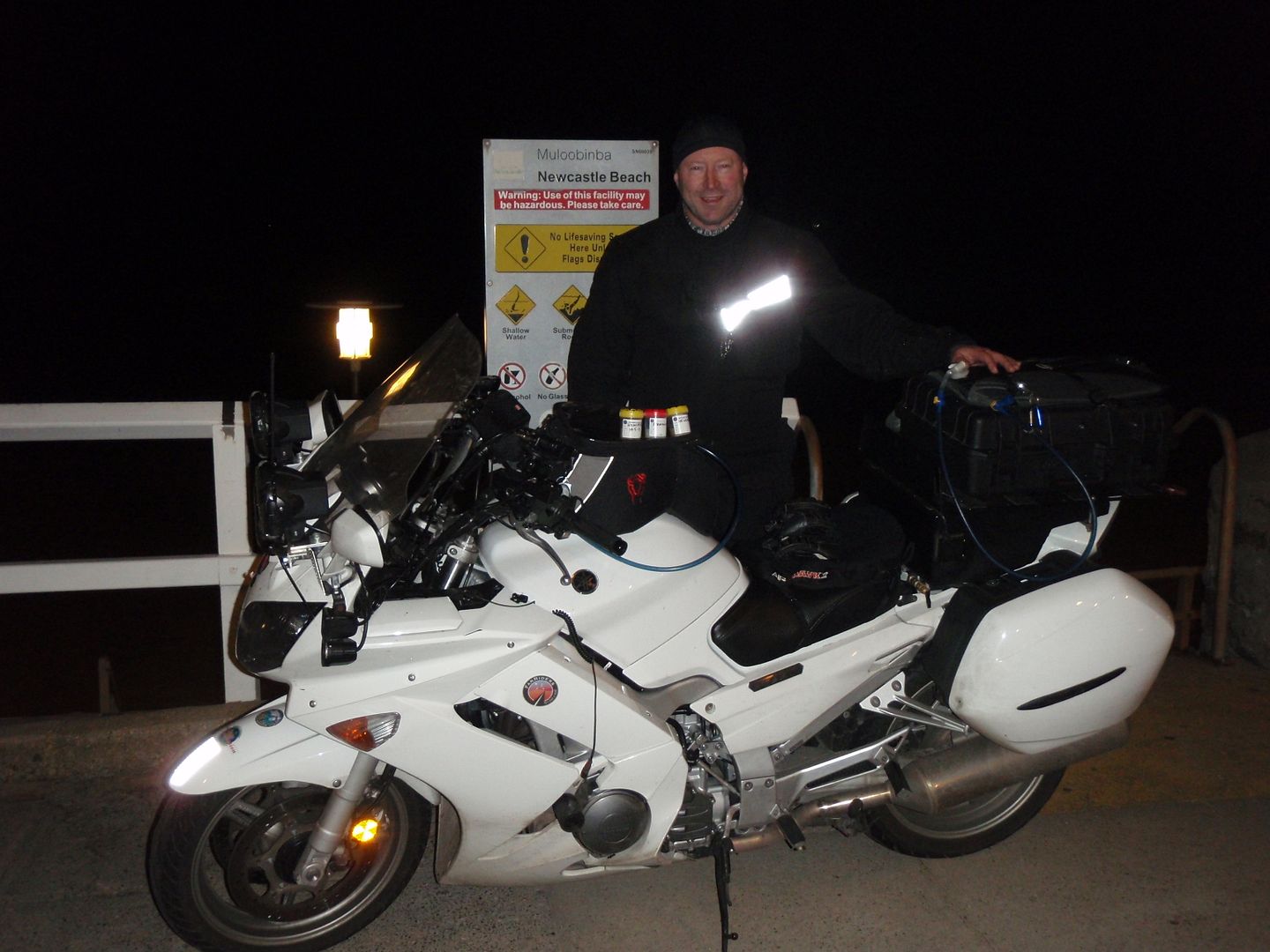 40 Hour Famine ride 100CCC done and dusted. 7944km in 88:32hr