"Looks like a unicorn".
"A what?"
"A unicorn" said Nevertire Nic.
He'd just entered the waypoints into Google Maps as part of his 'homework' and thought the mapped out rideplan looked, well, like a unicorn. Having very recently been given his IBA number for his first IBA ride as a pillion in May, nine-year-old Nic had been granted late entry to the Inaugural IBA Muster at Parkes, NSW. He lives 4 hours away from me and spending regular time on a bike is very difficult. To prepare, I'd sent him some homework. Spreadsheets and waypoints and fuel consumption and such.
As the pillion, he'd be miked up and able to participate with navigating, so he had to know where we were going. That and how far between towns so I left the refueling planning of the auxiliary-tanked FJR to him. He had his own GPS as a guide, a mini pannier full of chocolate, heated gear, an oversuit and a comfortable seat for the trip.
We met TigerBill at Wallsend on the outskirts of Newcastle at the planned time of 04:30hr, filled up (plus 10L into the aux) and headed west (odo 71064km, 0km GPS). Cold but clear enough skies, lots of mine traffic at that hour and a long day ahead. We pulled up briefly at Jerry's Plains to fix a minor comms issue and continued into the dark. Enterprise passed us at Merriwa, but not many bikes out at that way yet.
Right turn at Dunedoo after sunrise for that oh so familiar back road through Mendooran and filled up at Gilgandra truckstop to the north east of town. (09:14hr, 21.93L, 370km). Sunny and bright by here, but still single digits for temperature. As a last minute thing I'd bought an oversuit for Nevertire Nic and he was glad of it. Onto the Ox and into the 110s we propped for a quick snap at Nevertire:
Bill slipped ahead and we chased him up the straight, straight Mitchell through Nyngan only catching him finally 50km or so from Bourke, our most northern point (13:14hr, no fuel, 740km).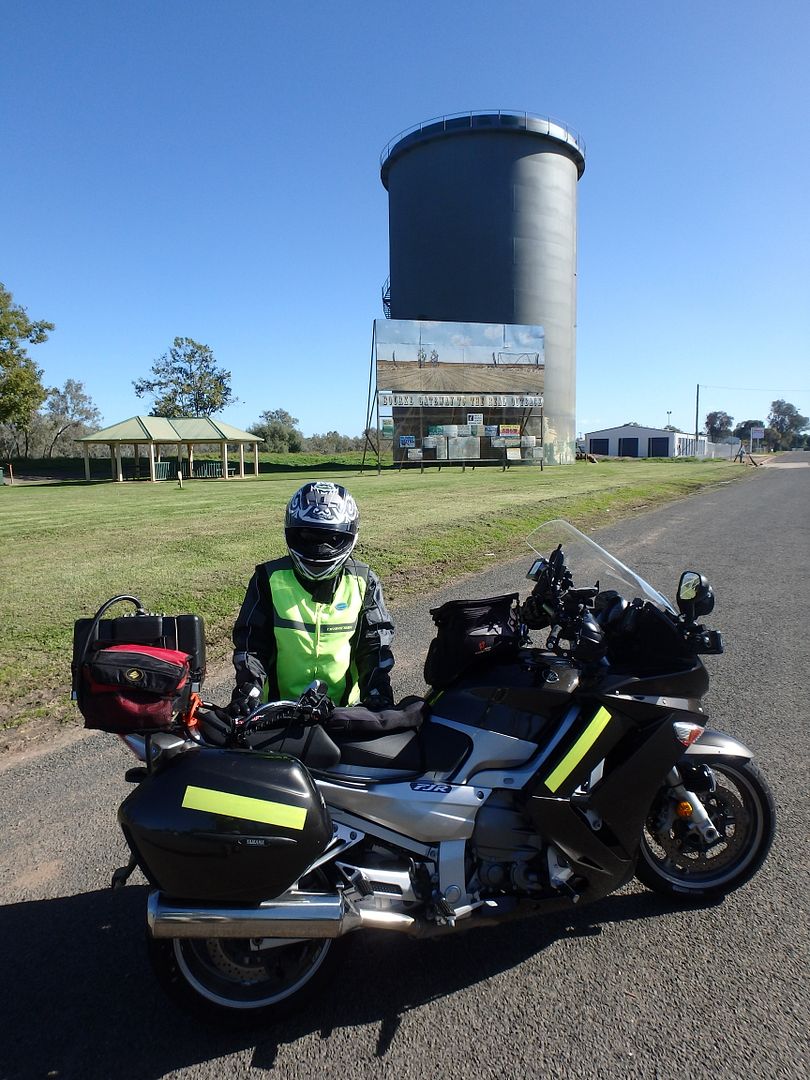 Just a quick bite and drink and fuel for TigerBill's Versys, then down the unicorn's horn to Cobar for a forced fuel stop. It's only 160km or so from Bourke but too far to make it to Darlington Point. (15:27hr, 34.54L, 902km). Stopped for the obligatory Cobar pic: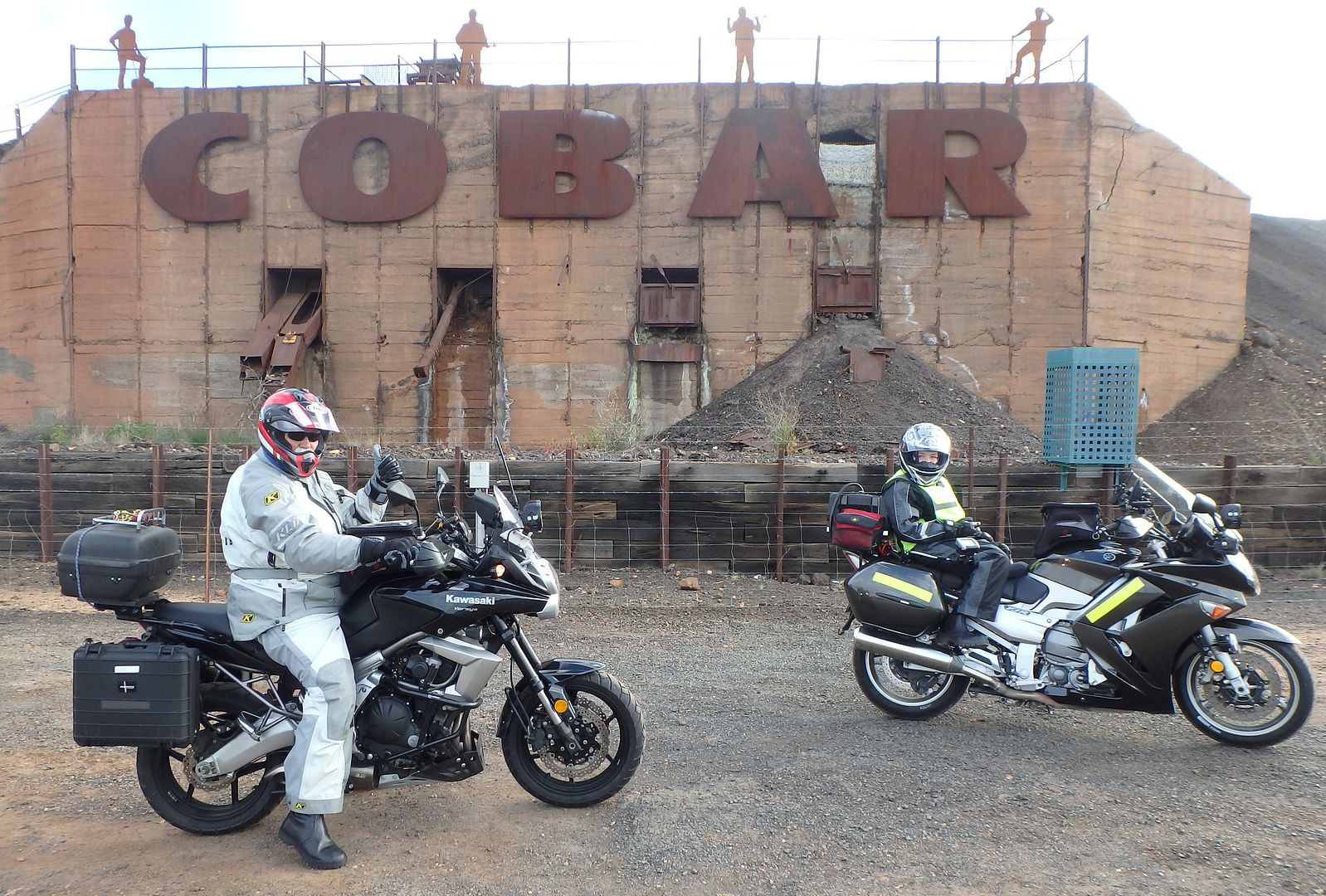 And then settled in for the 400km run down the manicured Kidman Way swapping the lead with TigerBill as we went along.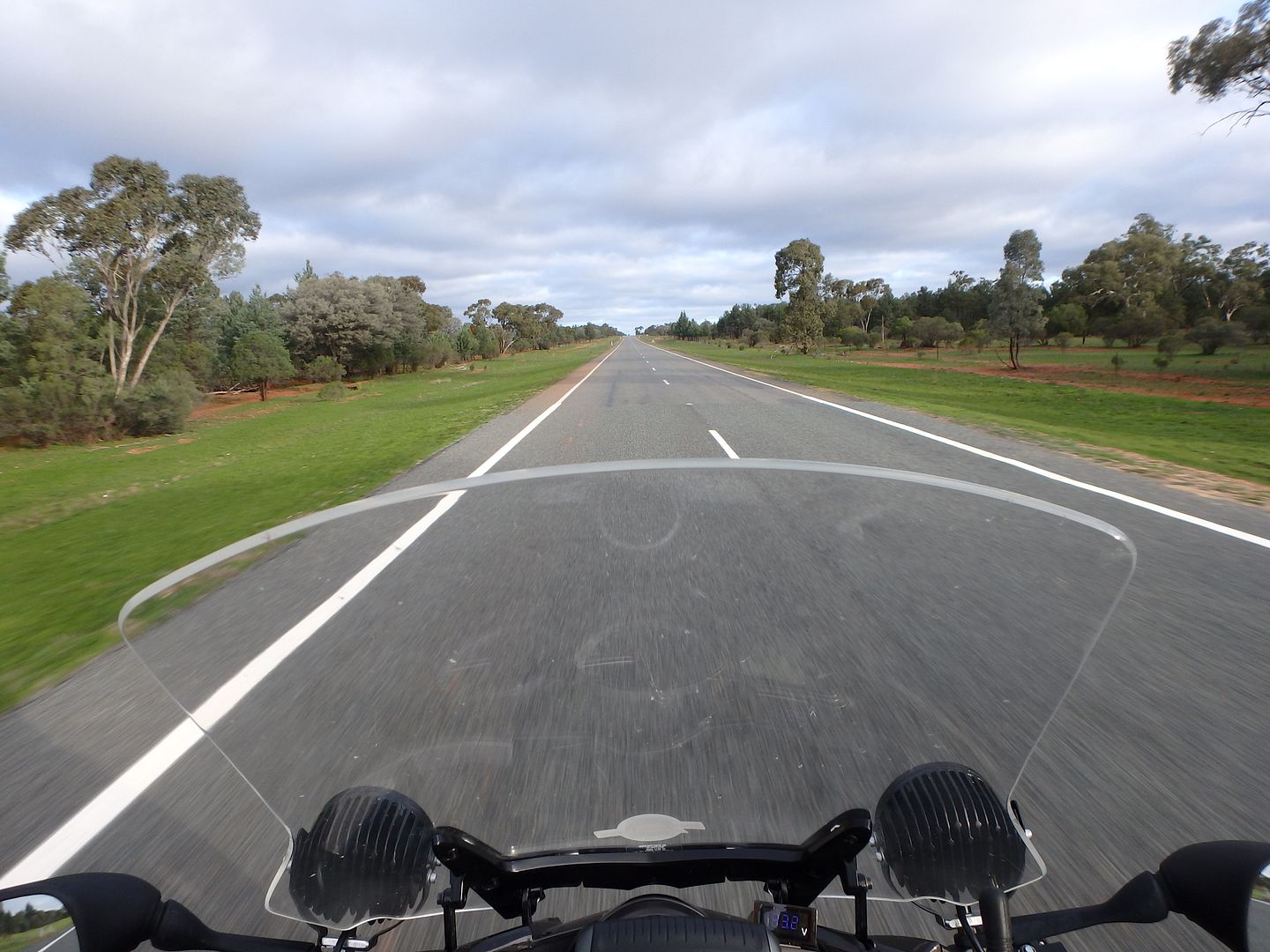 With lots of goats, a dozen or so emus and more alarmingly increasing roo sightings as the sun started to set I kept pushing along until that uncomfortable dark dusk time that I find hardest the to see the road. We'd made an early decision to stop somewhere to put 5 litres from a jerry can into Bill's bike and that was the perfect time. Far enough along that the 5 would fit, not so far that it caused a double stop. By the time we'd done the stop at a wide open parking area the daylight was gone and the 10 x LED lights we were using could do their thing. Through a couple of small towns, then the tedious Griffith before a short run in to Darlington Point.(20:18hr, 8.89L - aux not filled, 1305km). A quick commute along the Sturt before a corner docket at Narrandera (21:33hr, no fuel, 1361km).
From there it was just heading northbound on the Newell with a trickle of trucks. At one point the truck UHF chatter mentioned bikes "Lots of them, souped up ready to ride around Australia. There's a convention somewhere". Close enough. By that stage we'd picked up Gatey in our mirrors, but he soon overtook us after some roadworks.
Next stop was the finish in Parkes (00:49hr, 16.93L, 1637km), along with about a dozen like-minded LD riders scattered around the bowsers: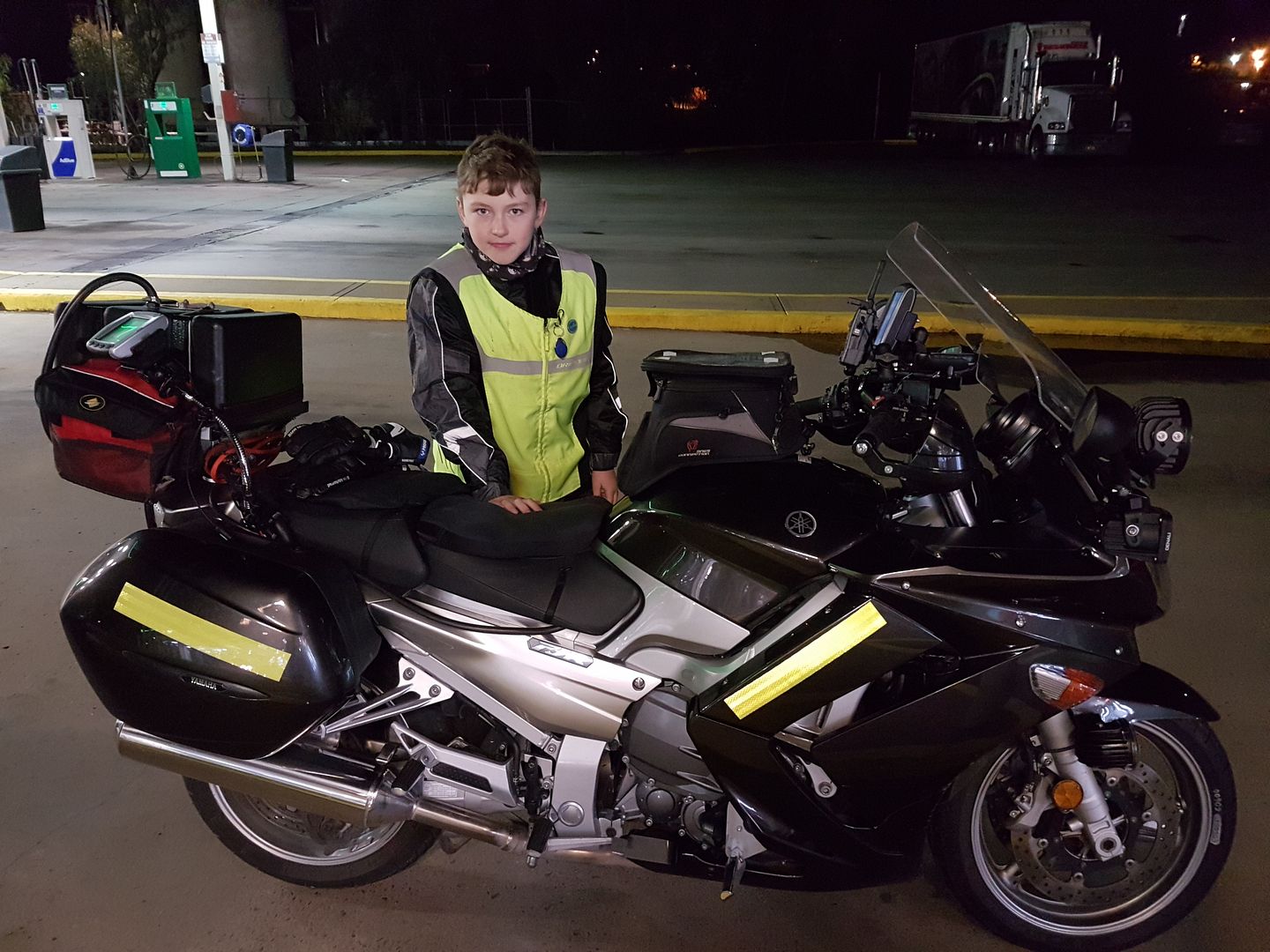 It was a great ride. Always fun with TigerBill along and another achievement for Nevertire Nic the youngest 1600km rider in town.
It does.