I haven't done much riding of late and had no rides planned when I received the call on the Monday at 1900hr: a couple of extra days off work – sweet.
I decided to do a run to Darwin.
I fired up BaseCamp and 11 minutes later had a trip uploaded to the GPS. A text to TigerBill and Wombattle to see if they were free to sign me out in under 8 hours time (Yes and Yes :bow) and then a little trip out to the storage shed on the Postie, loaded up the Tenere and rode it back home again. A couple of hours of bookwork and time for shut eye.
The last time I rode these roads was on the LoCo CoCo ride off the back end of the Renmark FarRide 18 months or so ago.
http://farriders.com/forum15/index.php?topic=5144.0
On that ride the first 50CC leg of 4525km via Renmark in 49:59 hours, proved to be the undoing of the 100CCC. After I rested in Darwin and then had to contend with the night of a thousand kangaroos on the way back, I could only manage 105hours by the time I arrived in Newcastle.
This ride from Newcastle (anywhere from Sydney to Brisbane would do) via Port Augusta to Darwin is one I've been trying to get Mike Kneebone to accept as a new 100CCC ride. Mike thought 60 hours may be more realistic for each leg, but I still reckoned 100 hours was enough for the out and back. So it remained sitting in my bucket list as the fourth 100CCC route for me to ride.
Familiar start. Up early, first gear to the start – the traditional sand and water sample at Newcastle Beach across the road from my place – a quick pic and then to the BP for a start docket (03:01 AEDT, GPS 0km). TigerBill was there and Wombattle arrived a few minutes later. Signatures and docket secured, a wave goodbye and up the Hunter Valley before the change of shift brings hundreds of white Hiluxes out onto the Golden Highway. I felt compelled to count roos – I often do – and was a bit surprised. Just short of Gilgandra I like to pull up at a particular roadside stop, changed the visor, downed a Dare and left myself a voice message "59 roos, a couple of cows, 6 sheep and 4 divebomber owls".
Running the auxiliary tank means bypassing Gilgandra, onto the Ox, past Warren and Nevertire and first fuel at Nyngan ( 08:55, 549km). I didn't have a precise spreadsheet like I usually do, so no real way of telling if I was behind or not. Wombattle asked me what the plan was and I said 'back here with an OA of about 86km/h'. All I really had to do was hit Darwin before 05:01 AEDT tomorrow morning. Hold on – the morning after. Seems like ages away.
Back on the bike and heading for Broken Hill. Glared at the fuel station on the Barrier Highway in Wilcannia and kept on rolling. These long rides mean lots of time just maintaining pace. I sat a little over and had enough company in the form of traffic to overtake that I was making good time. Broken Hill at 14:39, 1139km and time for a few work phone calls. I decided to take a few spelling shots along the way, so stopped at Olary and Manna Hill, then a few other places passing through Yunta, Peterborough and Wilmington for a banner shot and G'day to Davo.
Pulled up at the Shell in Port Augusta (1918hr AEDT, 1554) and was back on the phone for work. The downside of an impromptu ride I guess. Had a drink and headed north. Its weird country out there. Moonscape and wide, wide vistas, quite a bit of traffic (from where?) and only a dozen or so roos and into the dark. I'd usually have planned for a nap in Port Augusta, but having made no plans pulled up for a nap at an IBA hotel bang on 2000km from home. A little after midnight AEDT, flat on my back on a picnic table and happy to nod off. Well meaning he may have been, but the Irish tourist who woke me soon after wasn't really welcome. He'd woken me to ask if I wanted to borrow a tent for the night. "That's very kind, but I'm happy to just nap here, thanks" 'It's a spare one, and would you be wanting a beer with us, then?". :facepalm
Awake now, I thanked him again and gave him a wave as I rode off. 36 minutes off the road and I felt refreshed.
Topped up 29 litres in Coober Pedy (01:50hr Wednesday, 2092km) had a rare hot coffee and a chat to the locals and back on to the lonely Stuart Highway northbound. Not tired but no need to ride through the night, so I pulled up for another nap when I saw a rest area sign a couple of hours later. Assume the position up on the table, no alarm needed, and off to sleep. "Hey mate, do you want a tent? I've got a spare". Torch shining in my eyes this time. "No mate, I'm ok – just having a nap". I probably yelled a bit, what with the earplugs and helmet on. I gave him a wave as I rode back on to the lonely Stuart Highway northbound – again. A glorious night for riding, I was refreshed and glad to be out in it. A handful of roos about, the usual cattle on the road and about 50 or 60 clone-like brown with black trimmings horses to contend with and pulled in to the truly odd roadhouse at Marla. $2.09 a litre, but I only needed a dozen in the front tank and on it again, with a lovely clear dawn chasing me toward Erldunda. Wedgies galore, nice and green the few hundred kilometres south of Alice is a beautiful bit of country in the morning.
10:00 AEDT, 2785km down and a leisurely Dare breakfast and chit chat call home. I didn't notice the OA, but from those figures it was about 100 or so, fully fuelled and ready to tackle the newly unrestricted zone. ricky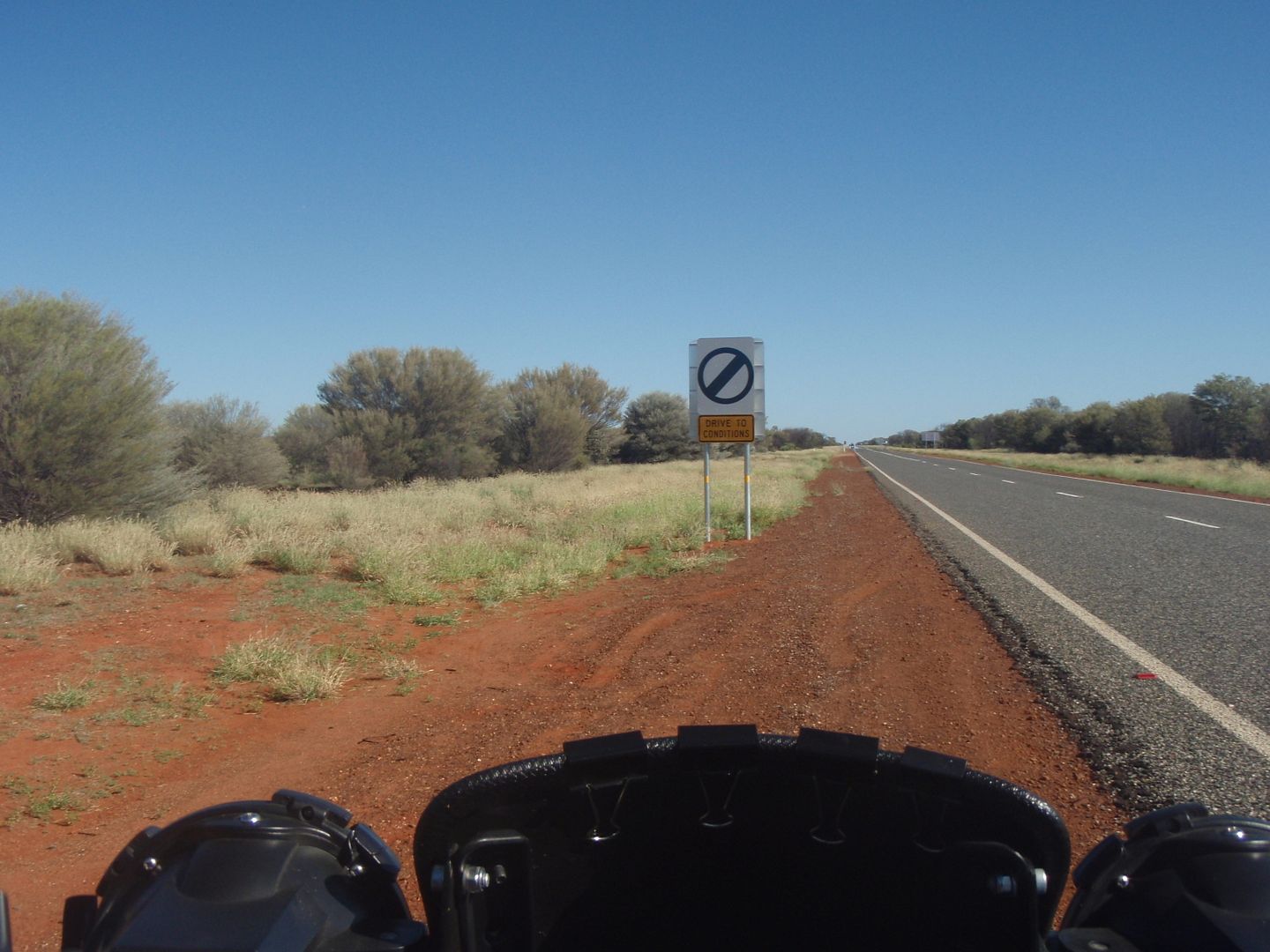 Not that it mattered that much. Plonked in an otherwise 130km/h state – sorry, Territory – this 200km long stretch is bogged down with roadworks currently. Upgrades. I let the Tenere stretch its legs up over 140 and used the fuel gauge and "instantaneous km/litre' on the dash to entertain myself. Prior to riding off I'd fitted an el cheapo throttle lock and found it worked really well. I'm a fan of the Kaoko bar end ones, but for this experiment I found I used the new glorified clothes peg one a lot of the time. Thumbs up from me. The Tenere is a great bike. Even all dressed up and close to 300kg, one of the benefits is it sips fuel at about 20km/L around NSW. Not so in the unrestricted zone. Large and blunt and packed with blocky cases, this section saw me down to 12km or s per litre at times.
508km from Alice to Tennant Creek. Usually allow a tad over 4 hours, but with my extended stop and the constant lollypop roadwork stops I took nearly 5 hours between dockets. Tempted to stop at Barrow Creek for a pic, the place looked deserted and creepy so I kept on going. Full fuel and drink (topped up both camel baks) and even bought some cashews at TC (1455 AEDT, 3289km) and headed north into the birds.
A thousand kays from here to Darwin, not even a dayride. I hit my first eagle just north of Renner Springs. In the Eddie-the-eagle stance myself – left foot on the rider peg, right foot on the pillion peg, standing up arms out wide and all 'king-of-the-world' I was divebombed by a smallish one and it bounced off my head.
A quick glance in the mirror and it was flying on, seemingly unaffected. A little later (300km or so) a fully fledged 2m wingspan adult launched from the grass on the side of the road. Just a flap or two, I veered into the clear oncoming lane but belted the fantastic bird pretty hard anyway. A quick check of the systems and a U-turn and I was back by its side. It was pretty mad. On its back and clearly not used to that, screaming and clawing and looking to kill me. I thought for a second "How do I get this thing to W.I.R.E.S?". As I put my foot on the ground a few metres away the raptor righted itself, screamed a few more bird obscenities and slowly flew away. Out of my hands now, into the bush and gone, I snicked first and headed for Mataranka. Daly Waters. That'll do. More Irish accents, but not at the pub, I put in 25 litres (18:35, 3687km) and headed off for Darwin.
A quick check of the numbers and I knew I'd make it to Darwin on the tanks, but after a boring truck-filled run in the dark I pulled up in a swarm of bugs at Hayes Creek for a docket to break the 589km leg to make sure. Not much to report here, but at least the drink was cold.
A little bit of roadworks and dodged the thunder and lightning all around and I rolled into the Darwin Shell to finish the first 50CC (00:49 AEDT, 4278km) a bit under 46 hours. A docket and some witnesses and around the corner to the Esplanade to find a hotel. Not much luck. Some big convention in the off season and all of the big towers were full – "Except the Novotel a few doors up" said the Irish girl on the desk. That'll do. A suite for five hours, a wash and a nap.
Back on the road before dawn and I planned a few "One Hundred Day War" pics. Fun enough, but really a debacle. A dodgy one to start, can hardly be 'clearly identified' in the dark; another one taken by a government security guard; a trip through the 'burbs to a place of incarceration; followed by a completely unsuccessful search for the name and view of a particular body of water. Oh, well it's a nice night for a ride.
While searching for the body of water I stopped for my sand and water sample. I've been up this way before, taking pics a Doctors Gully downtown just to take the piss, but I've never ventured onto the beachy mud flats at that locale in the dark. It's the top end and who knows what lurks in the mangroves at night?
This time I was near Dripstone Park, still black dark. Over the footpath and just onto the beach I bent down with my sample pot and scooped a teaspoon. Hearing a noise nearby I stood up and shone my torch – not really a torch, one of those single LED keyring things you pinch to turn on. All black, save for a single pair of eyes 5 metres or so away that looked like this: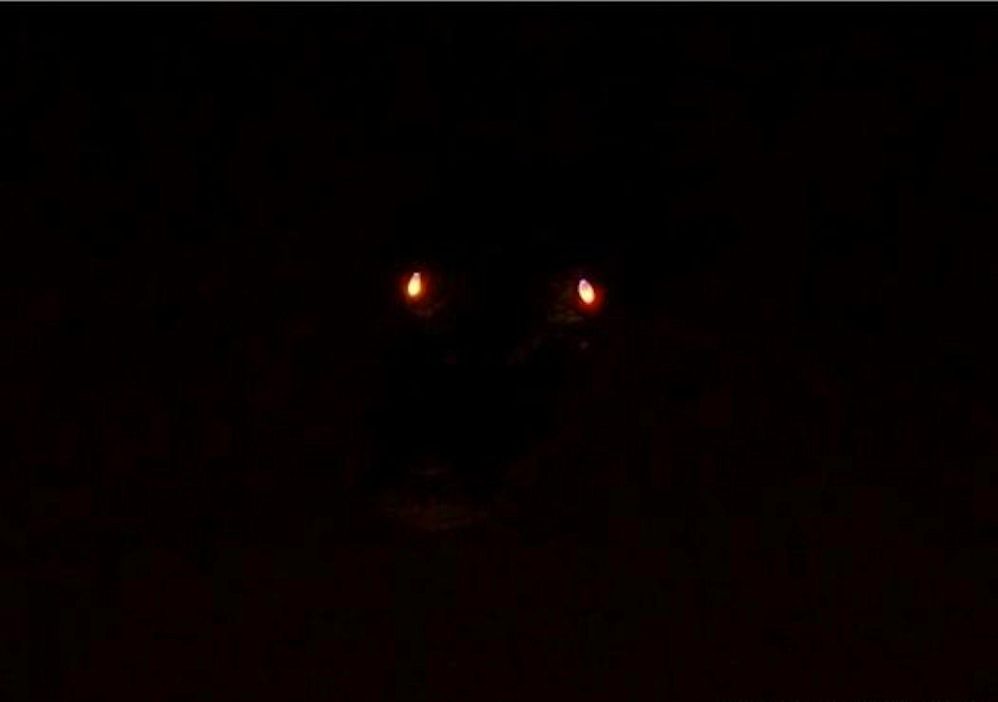 "G'day matey, its ok" I called to the 'dog'. No sound, no dog tags rattling, no wagging tail, no movement. Just the eyes. It's the top end, and who knows what lurks on the beach at night? I backed away, mounted up and rode back to the Shell.
A docket to 'start' the run home. The rules of the 100CCC allow the rider to grab a middle 'coast' docket, then sleep through the 50 hour mark when the clock starts automatically for the return leg and get another docket to log the stop. I chose that option. Hotel dockets logged anyway, plus a full fuel and docket and three more witnesses to just make sure. Sun up now and into the commuter traffic, retracing my steps.
Adelaide River, Hayes Creek, Katherine, Mataranka for fuel (12:42 AEDT –Thursday already? 4738km) and rolling 130s. High fuel consumption, I realised busy Tennant Creek would be tight. Approaching deserted Three Ways the bowsers were all empty – sweet – indicator on and up to the pump. Gloves, helmet and balaclava off, tankbag swung to the seat, both tanks opened, repeating the mantra "46872 / 5278 /46872 /5278 /46872 /5278" fuel log open, pen in left hand, right hand holding nozzle poked into aux tank. Nothing happening. 46872 / 5278. Replace the nozzle and take it out again. 46872 / 5278. Still no flow into the aux. WTF? 46872 / 5278… "Leave ID inside before filling tank". Or something like that written on the pump. WHAT!! 46872 / 5278. Nozzle back in the pump. Head into the shop 46872 / 5278. Wait for the guy to tell a few lies to the tourist at the counter, say g'day to him and hand the licence over, head back out to the pump. 46872 / 5278. Nozzle back in the aux tank. Nothing happening. Back into the shop. 'Ahh, can you please turn on number 3?" Back out to the pump again. 46872 / 5278. 37.98L into a 40 litre set-up. Tennant Creek would have been very tight indeed. Back in to pay and collect the ID. Back out. Plugs in, balaclava on, helmet on, gloves on, climb on, key on. Doh! Key off, gloves off, climb off, helmet off, balaclava off. Back in to the shop to get my fuel log. Crap! What was that mantra again? Back outside to the bike. Pen in hand log ready, key on "46872km bike, 5278 km GPS". Amateur.
530km or so to Alice Springs into the dark. Pretty uneventful. For a while. Lollypops gone for night, replaced by 60s. Lots of long sections of 60s. Rolling in to Ti Tree the first life for a while, I saw a Highway Patrol car on the servo service road. I'm ok - 58. Heading out of town I passed the "Open speed" sign but it was covered up, a speed sign of some sort on the ground leaning on the post. Ahh. 60 or 80 I didn't notice, but had cracked the throttle a bit. Backed off, tapped my brake a few times to signal the car behind I was slowing because he was speeding up. Blue/red/blue/red. Dammit. I got a friendly warning for the '65 in a 60' around about here: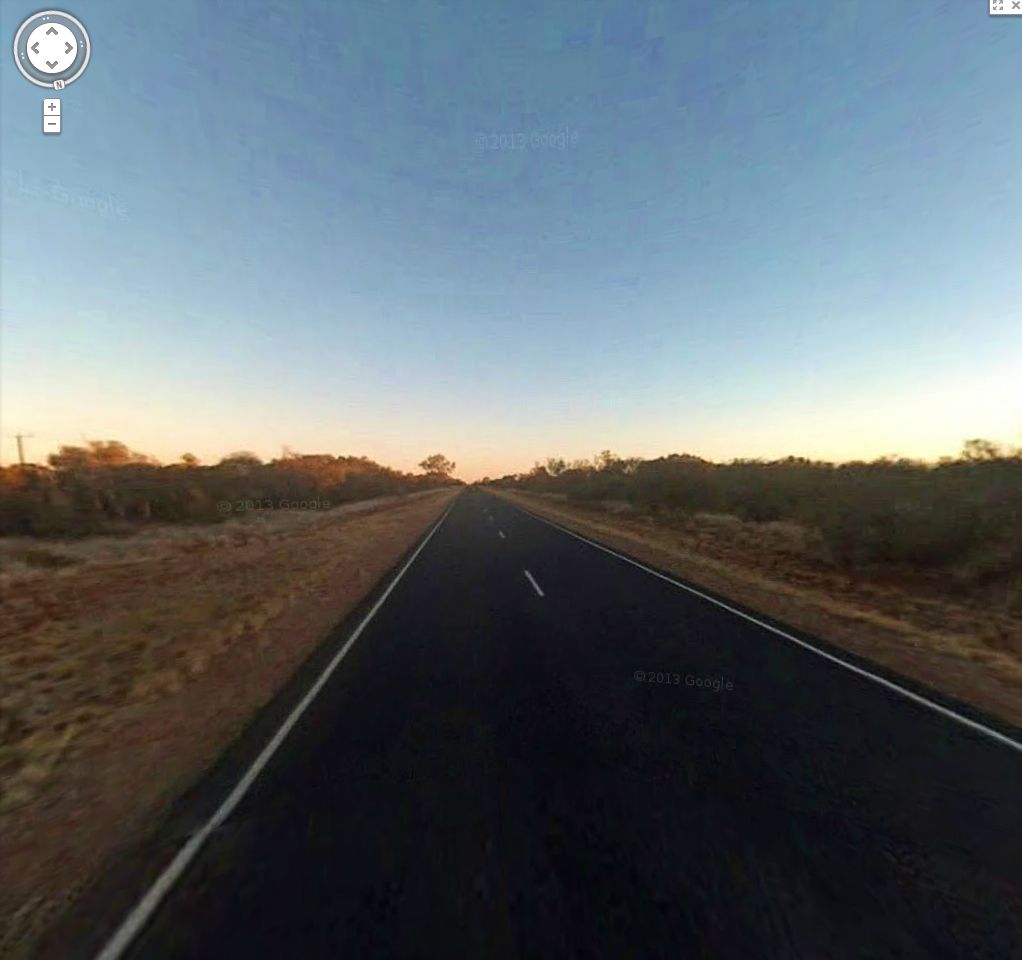 A replay of last trip south, just north of town a close encounter with a slow bounding big local roo, like an entertainment prop for the tourists or something. A quick progress call home and fuel and drink at Alice Springs (22:14 AEDT, 5805km) and south into the night. Marla again, Coober Pedy still dark. A glorious clear sunrise brewing what a great night for a ride. Until sunup. Look at a map. Sunrise around Glendambo or so, a few hundred to go to Port Augusta. A couple of hundred kilometres of dead flat open ground meandering its way into a vicious eye-gouging sun with no relief. Who planned this ride? Amateur. Stopped for a drink and a leak and a couple of old man strips of lecky tape on the visor.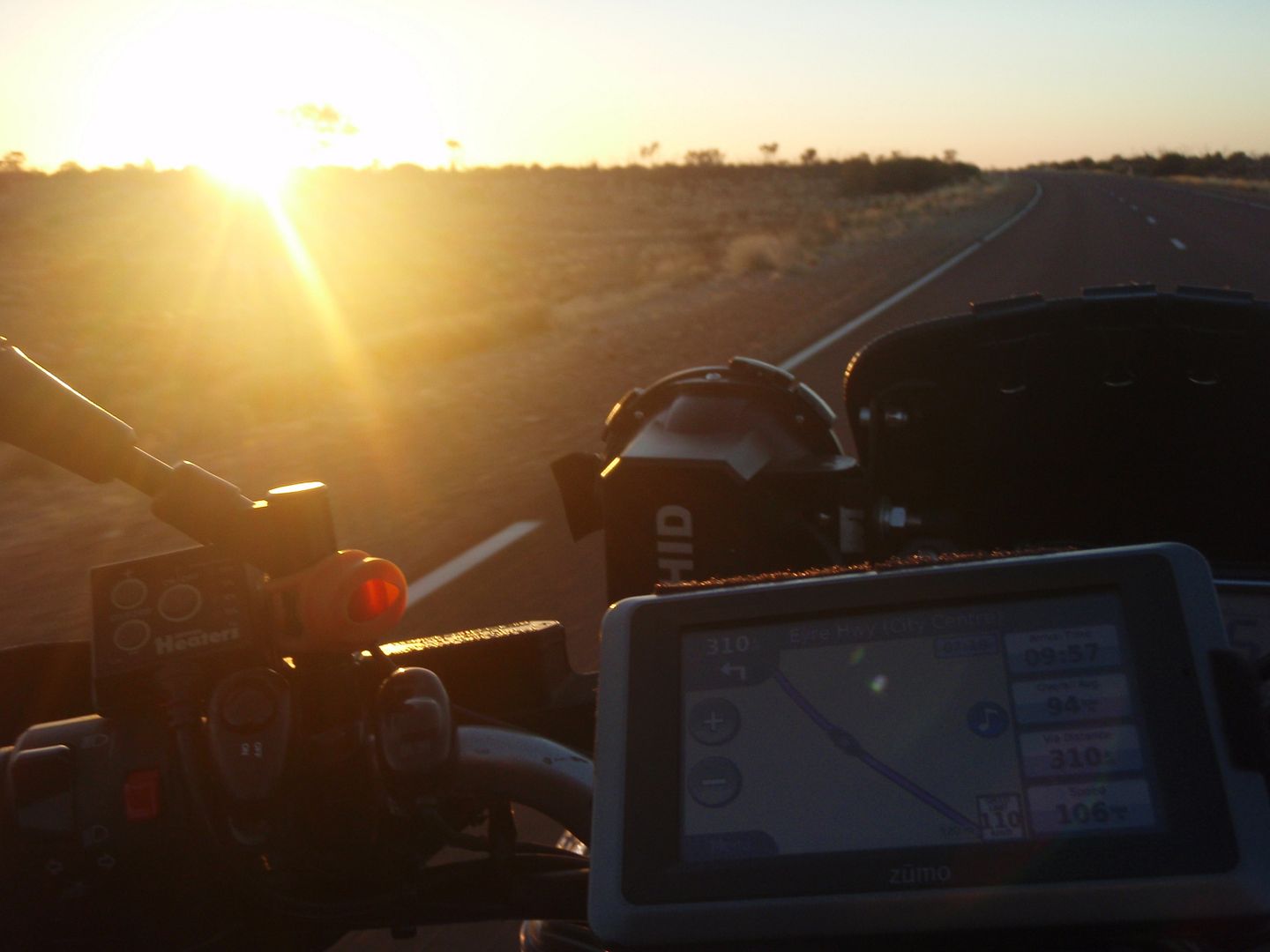 (10:57, 7033km) Port Augusta late morning. More calls to make. Its just a day ride east to get home. Nod to Davo, great run up through Horrocks and just a fuel leg to Broken Hill (15:07, 7444km) and then the fun started. I'm not sure why, actually clueless, but east of BH was carnage. Dead emus and roos everywhere (since Tuesday…..?) and many more roaming around. I picked up a travelling partner in the form of a red Ranger ute. Not my usual style to be escorted by a four wheeler, we were bonded by the shared experience of a fool in a Range Rover ($port, no less). Sitting on 90, never so far from a café before, the Range Rover was overtaken by the red ute with me following suit. No sooner had the ute cleared out to the front, then he veered left and pointed out the window for me (now in the right lane) at a mob of roos closing in from the right. I tapped the rear brake to signal the Range Rover who decided to accelerate instead, lane-splitting the ute now touching the left shoulder and me outside the white line on the right wagging my rear tyre in the air as he passed. Danger passed, he settled back to 90 in the 110s. Soon behind us again, the ute and I had a ball. Him picking up the birds for me and signaling left and right, me zig-zagging left and right to avoid the zoo of mammals out there. One thing I noticed was that I saw no live red roos in that sector, but almost all of the dead ones were red. Like they'd come from some place without roads or something. There were lots of greys and wallaroos all the way to Cobar and beyond, but only a couple were roadkill.
Not sure what else was going on, but there were emergency vehicles everywhere heading east and west. We were overtaken 3 times by the same Ambulance Hilux thing and I saw him parked with another one during that time…. A handful of police vehicles at the entrance to Cobar.
Fuelled up, had a drink and a visor change and waited a little while for it to get darker in Cobar (1942hr, 7905km). Uneventful run through to Nyngan, the ute following me now in the dark. Usual boring run down the Mitchell, getting flashed from ridiculous kays away along the dead straight flat road out there. Left turn at Nevertire, Warren and a slow old trip to Gilgandra. I stopped for while for a leak and a drink – no need for fuel - and a chat to the servo guy. "You on one of those Iron Butt rides?" Gold. Not a rider, just a regular worker at a well-worn IBA corner marker in the sticks. Nice ride along the back road to Dunedoo with an even split of a dozen roos on the road each side of Mendooran.
Then a fantastic ride along the Golden Highway. Hardly any oncoming traffic and nobody at all going my way for a couple of hundred kays of dry, fog-free wombatless Golden Highway bends. Easily the most enjoyable ride I've had along there and enough to tempt me to do an out and back one night soon.
Commute along the New England Highway from Branxton through a sleeping Maitland and back to the BP servo in Newcastle. TigerBill was there :up and a well-practiced IBA witness Perry on the cash register for a docket(04:30 AEDT, 8586km).
Crooked coast to coast to coast in 97:29hr.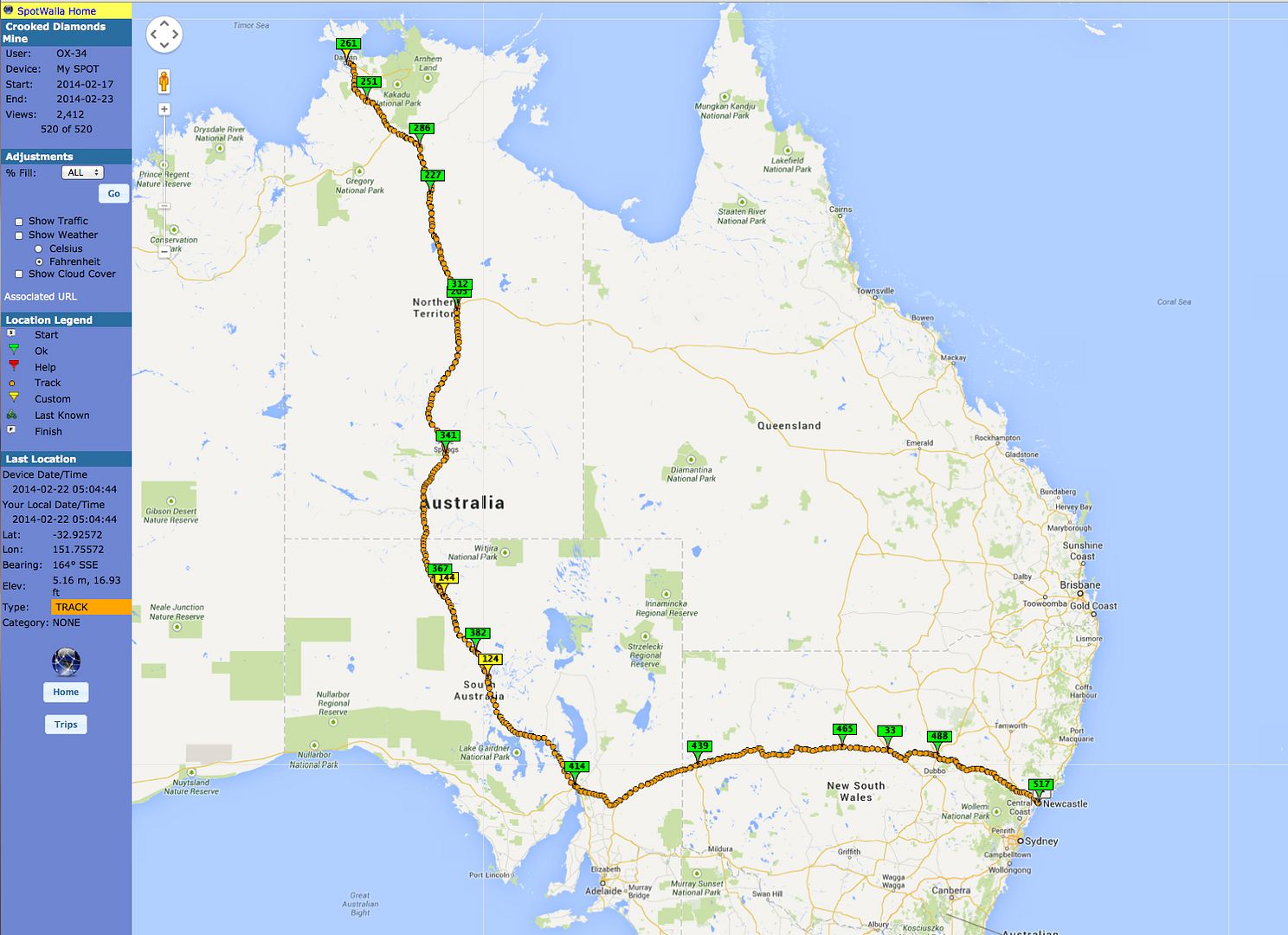 Nothing left to do but fill the third sample jar and first gear it home.