August 2015
I had a couple of days off so I hit the maps and found a route. Actually, it jumped out at me.
I grabbed a start docket at Wallsend on the outskirts of Newcastle at 03:33am and headed west. Nice and cool and easy travelling to get out of town these days I was soon onto the Golden Highway and picking my way through the light coal mine traffic. A couple of roos about, and then 'bang' full contact I collected a decent sized grey. He'd hopped across the road from my left just as I crested a little rise and paused in the right lane facing away. I gave the brakes a squeeze, headed for the left road edge and kept an eye on him. Unfortunately he whipped around and I wore him under the chin and right side fairings. The truck I'd just overtaken finished him off.
Not a good place to stop, I gave the brakes a nudge, wobbled the bars a bit to make sure they didn't fall off, checked the panniers in my mirrors and carried on without slowing down. A couple of kays ahead I rolled in to the Jerrys Plains servo and taped up the broken plastics.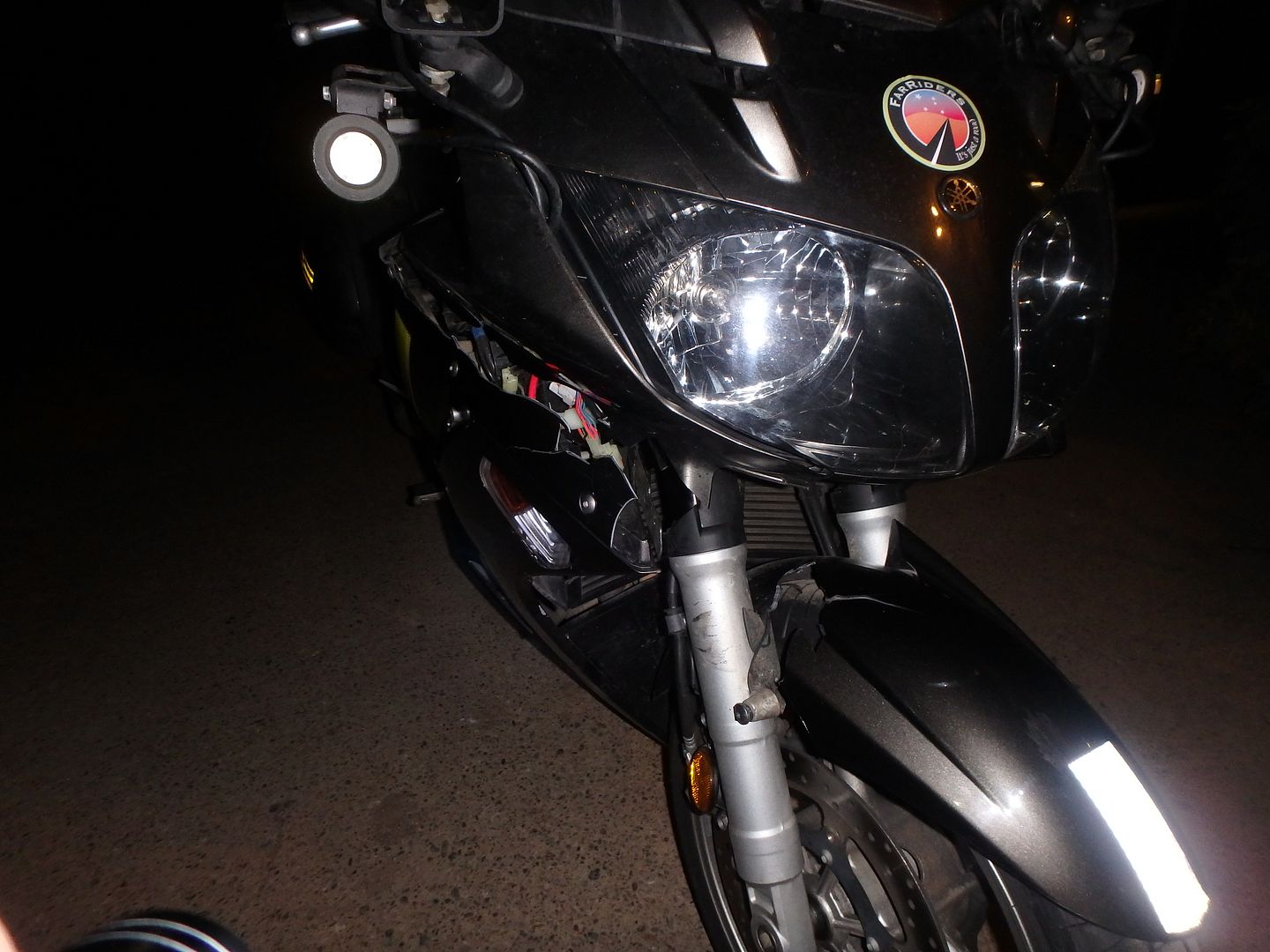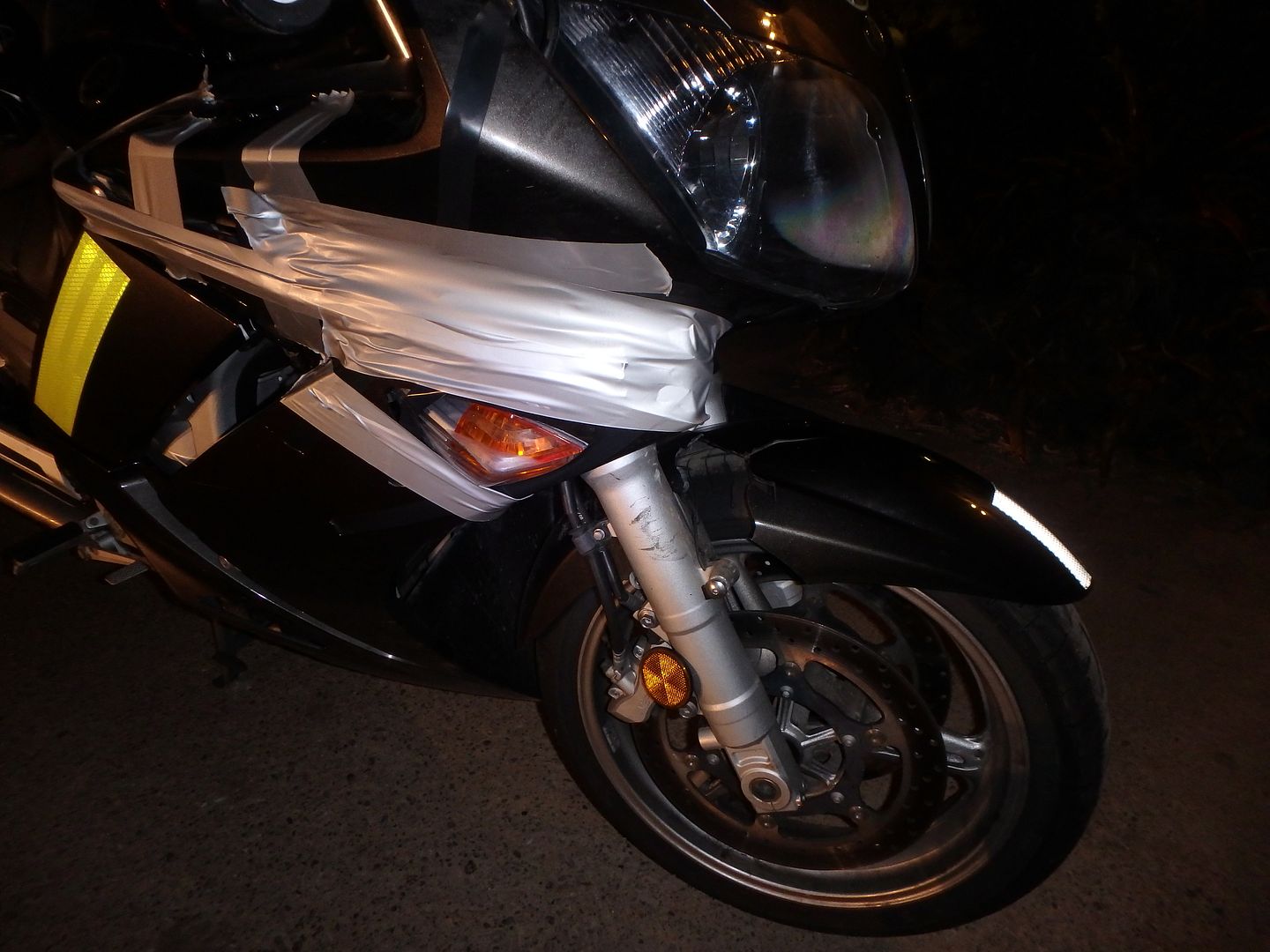 About an hour into the ride......I still had a couple of days off.
Getting colder, I saw minus 3 for about 80km west of Merriwa, where I'd stopped again to ditch the front guard. Heated vest, a couple of layers and my KLIM Latitude over the top I was feeling comfy.
The usual right turn at Dunedoo for the Mendooran backroad. Onto the Oxley Highway at Gilgandra and fuelled up at Nyngan (09:45hr, 536km). A right turn here for the straight run to Bourke. Sunny, though still cool.
Just an ATM corner docket here (11:49hr, 740km) before heading due south to Cobar for a top-up (13:23hr, 901km) to finish the shark's fin.
Westward again and never really warming up though I'd ditched a couple of layers. No traffic, no wildlife to worry about (goats don't count) and just a clear day.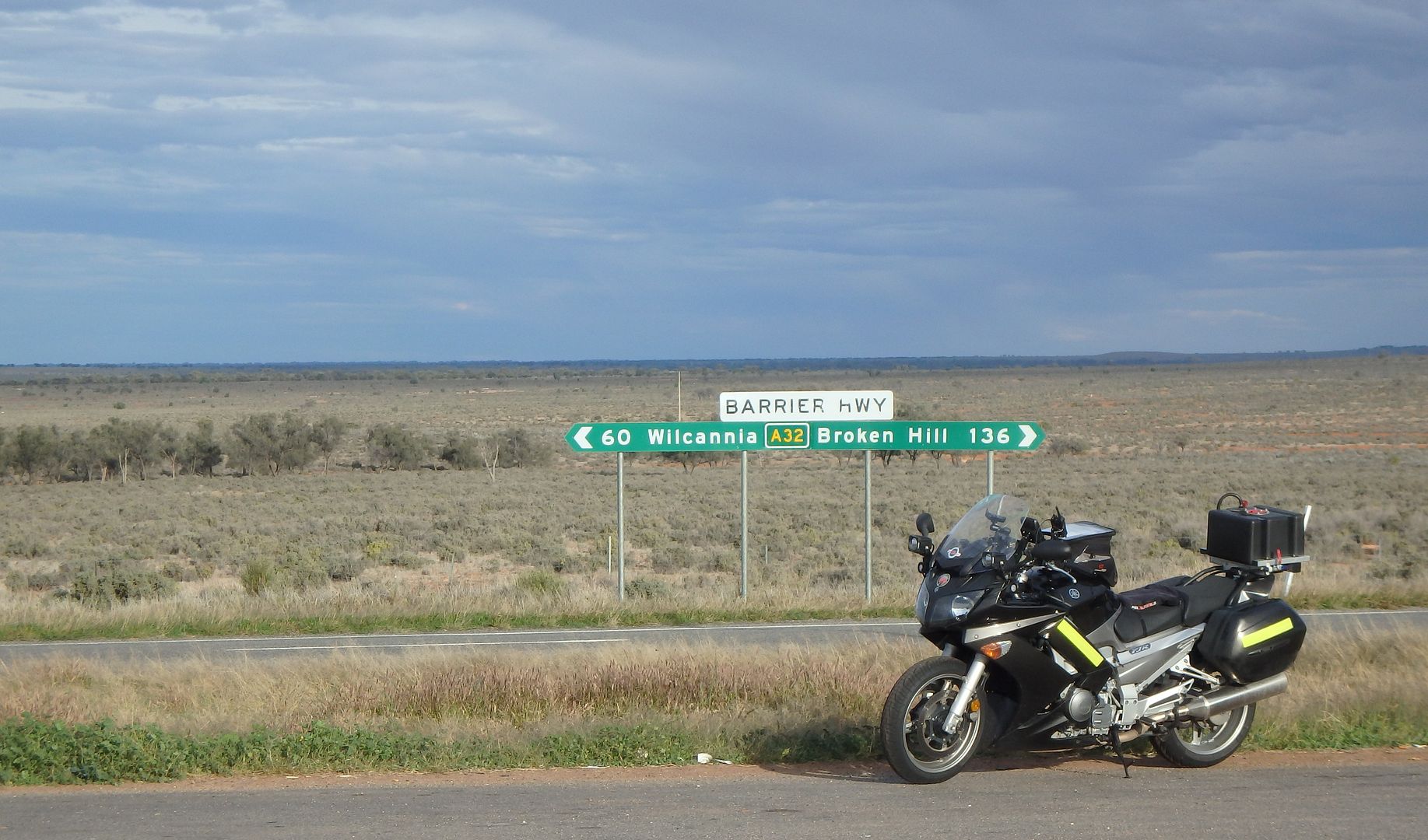 Fuel again at Broken Hill. Always the same servo, always the same pump (18:03hr, 1358km). It was right on dark so I had a drink, put the layers back on, Mr Sheened the visor and made a couple of phone calls.
Crossed the border into South Australia and had a nice time out in the sticks out in the dark. Right turn at Peterborough and on through Orooroo. A quick snap at the Wilmington Pub, but I wasn't stopping.
On over the hill and through Horrocks Pass, always a highlight. A nod to Davo in the dark and as I passed I noticed a car on the other side of the road so I dipped my lights and the 8 spotties went off. As soon as I passed - the car was patterned - he chucked a U-turn and followed me, no lights for while. On went the red and blues as I propped at the intersection heading north, but I ignored him and rode off, the police car heading south. Not sure what that was all about.
Fuelled the front tank and marked the corner at Port Augusta at the tip of the shark's tail (22:52hr, 1768km). It was a balmy 11 degrees so I had a nap next to the bike before moving on.
From here it was a cruisy run south with some light traffic even at that hour. I dropped into Snowtown for a pic.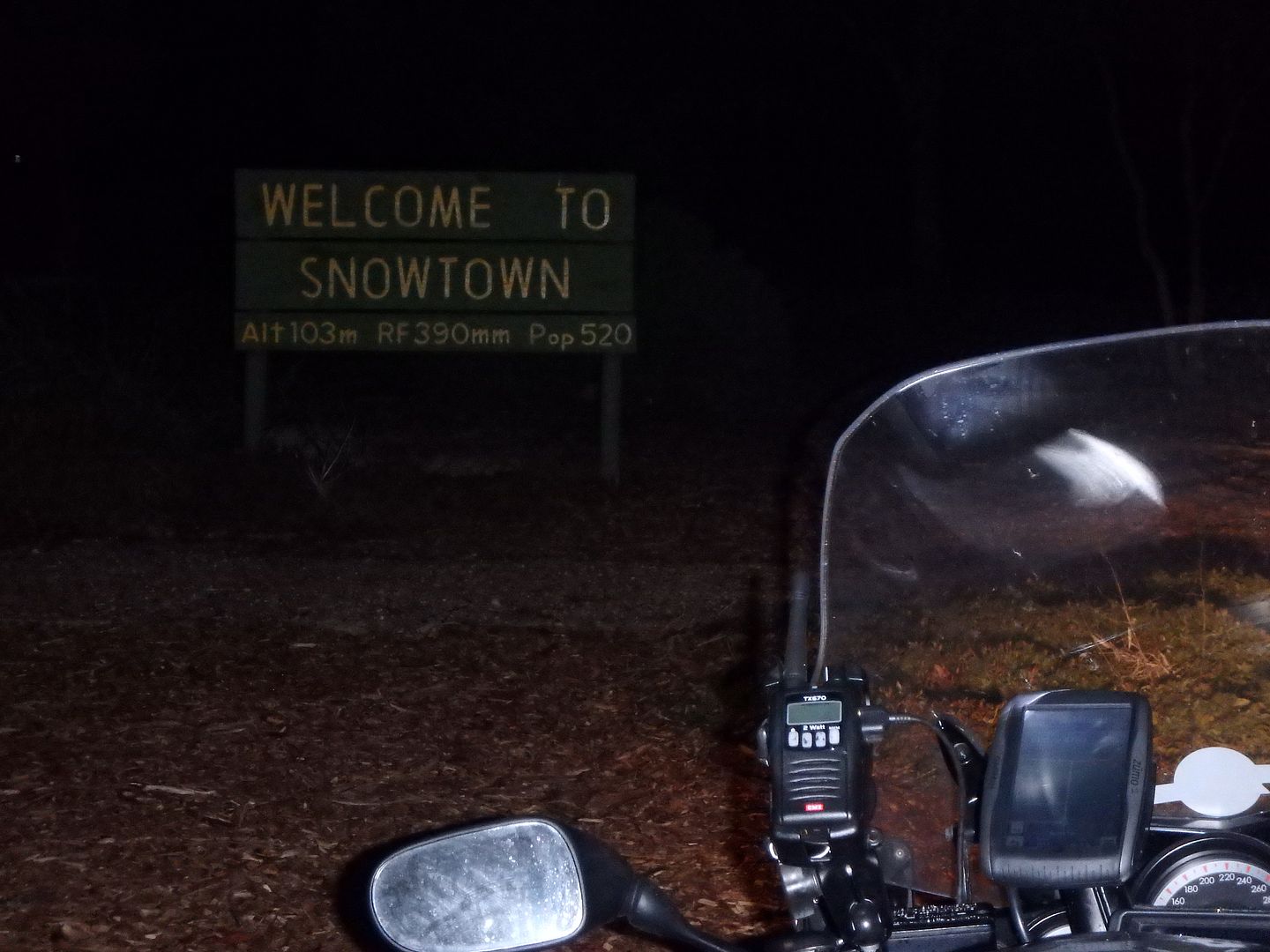 I've heard that the locals don't like people taking pics around here but I needed an 'S'. True to the legend, as I rolled to a stop in town a few heads appeared in widows to check me out. I politely moved on, back out to the highway and on south to Port Wakefield (01:17hr, 1975km). While I was there I had another nap on the ground before heading east on very quiet backroads. I was running two GPSs. An old Zumo 660 and a newer Zumo 590. They disagreed a bit through this section. I'd been in silence most of the day. My iPod seemed to freeze up about 1500km before, and my 590 didn't recognise the Starcom input it seems. So the GPS bickering was mainly wriggling pink lines as I chose my own way through to Burra (03:05hr, 2095km). It had been raining for a while, but not too bad. I'd covered 2000+ in the day and all was well.
Then I climbed up out of Burra toward Renmark and into the fog. No fun, no fair. I could see stars above me most of the way, but I was bogged down in the seemingly never-ending fog. I was wearing my Shark helmet for the ride. The Evoline3, I think. Its a versatile helmet in that I can flip the chin bar all the way over the back and the visor stays down in front like a Jet helmet. Good for eating and drinking on the run. Excellent for mucking about with paperwork and maps and rallies and such. But crap in the fog and rain. My mantra is 'don't open the visor, not even a crack'. I hate it when the inside of the visor gets wet. Back around Merriwa I had ice forming inside the lower edge of the visor. The Shark just can't vent fast enough without the visor open in those conditions. From Burra to Renmark I had a hat full of misery.
Filled up at Renmark (05:55hr, 2292km) nearly 3 hours later. It just went on and on. At least that straight bit was interesting heading for Mildura. Poor visibility and no way of breaking the speed limit, looking for roos, looking for roos.
It all burned off by Euston and what a glorious day drawing the shark's belly.
Across the weird Hay Plain and on to Darlington Point (12:17hr, 2884km) and the turn south for the shark's pectoral fin. I stopped somewhere south of there for a drink and looked at the numbers... first gear and back into the traffic I soon pulled up at the Honda Dealer in Shepparton (15:15hr, 3080km). I bought a keyring for a docket and bagged signatures for a SS3000K Gold in 36 hours. I'd been holding pace but hadn't thought of that in the plan.
Lots of traffic down here but it all flowed ok. I hit the tip of the fin and the turn for home at Seymour (Tallarook 16:28hr, 3174km). A full fill here and a 575km leg coming. I did stop at Iron Bark to put layers back on but this was a good section for holding the OA. Goulburn was my last fill point (22:21hr, 3749km). Pheasant's Nest was just a drink for a cornerish docket. Google Maps agrees.
Then for one of the highlights: into the jaws of the shark. The run up the mountain via Katoomba was great. Almost zero traffic and mostly good surface. Its marked 60k and 80k but just rolling long at those speeds was fun enough after a few thousand flat kays. I stopped for a while at Lithgow and hid in a Maccas to warm up. (02:16hr, 4032km makes for a SS4000K Gold I think) Another quick nap and down Bells Line of road. Drawing the upper jaw was even more fun. Faster and more flowing and maybe 5 cars in an hour I was having a ball in the middle of the night. The Saturday afternoon riders instead get frustration through here. A great way to finish.
Well, almost. Just a smiling commute back up the M1 to Wallsend for a finish docket (05:29hr, 4282km). I was signed in by Wayne, who'd signed me out just under 50 hours before.
Riding the Shark as far as a 50CC in the about the same time. Nice way to spend a couple of days off