On Friday FarRiders Wombattle, TigerBill and I Benzed it (thanks Mrs Wom) down to the big smoke in 40deg heat to go to the Sydney Bike Show. We ran into FarRider Rosco in the middle of the day and various people from our biking lives. The show was great. We each picked up some things, though nothing so heavy that it needed wheels this time. The ultimate tyre kicking day with great company. Being FarRiders and Iron Butt Riders much of the discussion with the show reps centres around such capers. They always seem a cog click or two behind in the conversation. We've come up with about another 100 worthy LD bikes.
It was good also having the company in air conditioned comfort in the traffic snarl on the way down and back home. Those poor buggers who have to put up with that...
Anyway, toward the end of the trip the topic of upcoming rides popped up. Lots of discussion of partly planned and 'concepts' so there will always be a trickle of rides out of Newcastle.
I said that I have a stack of 'envelopes' that I can just draw on as the rides are planned. They're really on the computer of course, but the idea is there. Got a few days spare? Select envelope 2. A beginner in the ranks - but not from round here? Envelope 4. A real tough 24 hour challenge? Envelope 6. Nothing original and I'm sure many of you have the same stash.
Wombattle dropped me off about 7pm. I said to my wife that we'd had a great day and I felt like a ride. "Why don't you go for a ride then?" she said.
Envelope 7 then. It didn't contain much, just this from some research I was doing for another envelope: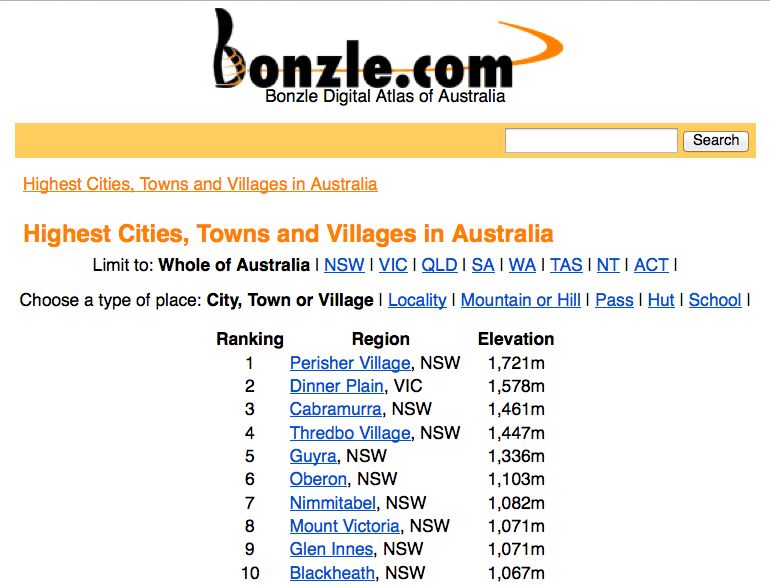 I set my alarm for 23:30 and caught some sleep.
With a servo start docket at 00:22 I hit the road heading south for the first town/village whatever. 'BONZLE' links come up every now and then for things I'm looking for. For the life of me I can't figure out how to search their website, rather I just get the end pages. Anyway, I don't need anyone to point out how to do the search, as I have my list. There are fifty, but that's too many. With ten it was easy enough to memorise them and ride off. No need for collecting them in order or anything, I just wanted to ride in the mountains.
I did a mental plan of the 'best rallying' way to order them, then I did a plan of the best planning way of planning them, then I just kept on riding, knowing which way I would ride them, based on the clock.
Nimmitabel first. First amateur mistake. I arrived early. They open at 7. For a previous ride plan I 'knew' they opened at 6.
Anyway, it was a nice morning for a ride. Yesterday, well 6 hours ago it was hot, real hot. Leaving Newcastle after midnight it was still hot. Not so much down the the other side of Goulburn. I pulled over and put on a spare tshirt, changed the gloves and it was ok.
Nimmitabel, number 7. The girls in the bakery had no idea that their town was in 'The Top Ten'. They were delighted. Nice coffee for me and the locals who naturally bumped me to 6th place after I'd been camped on the front step for 20 minutes or so. Everyone was happy. I had a docket, a good coffee and the sun was coming up on a splendid day.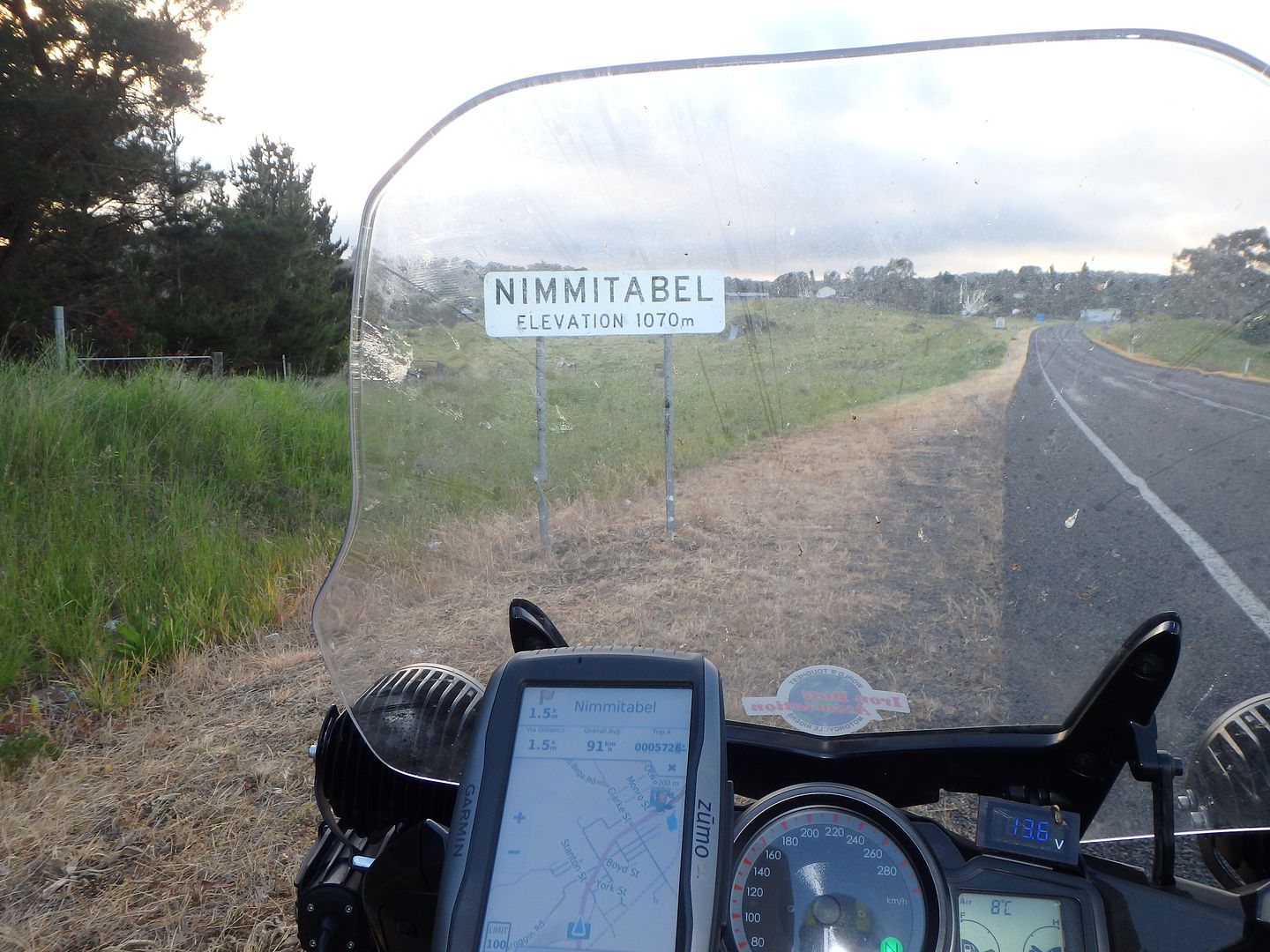 Not sure of the elevation though.
The BONZLE website and lists seem amateurish enough, but they do say that the use .gov sources..... Who knows what the definition of a town vs village etc is. I'm just using the list as a trigger.
Now into the mountains as I know them. Across some dirt to Jindabyne, then up the dead end to Perisher. I'd never been here. What a road... I bought my little pass just in case. Rode into the ghost town of Perisher and wondered... Who says this is a town/village? Big enough but lots of closed signs. At the ticket gate the lady urged me to ride past Perisher (forget the list for a minute) and have a look at Charlotte Pass. 11 more km of fantastic road and fantastic scenery on a glorious morning and just me and a few pushies out to see it. Ok then. Its higher - but I knew that from previous research, but is 'only' a resort apparently.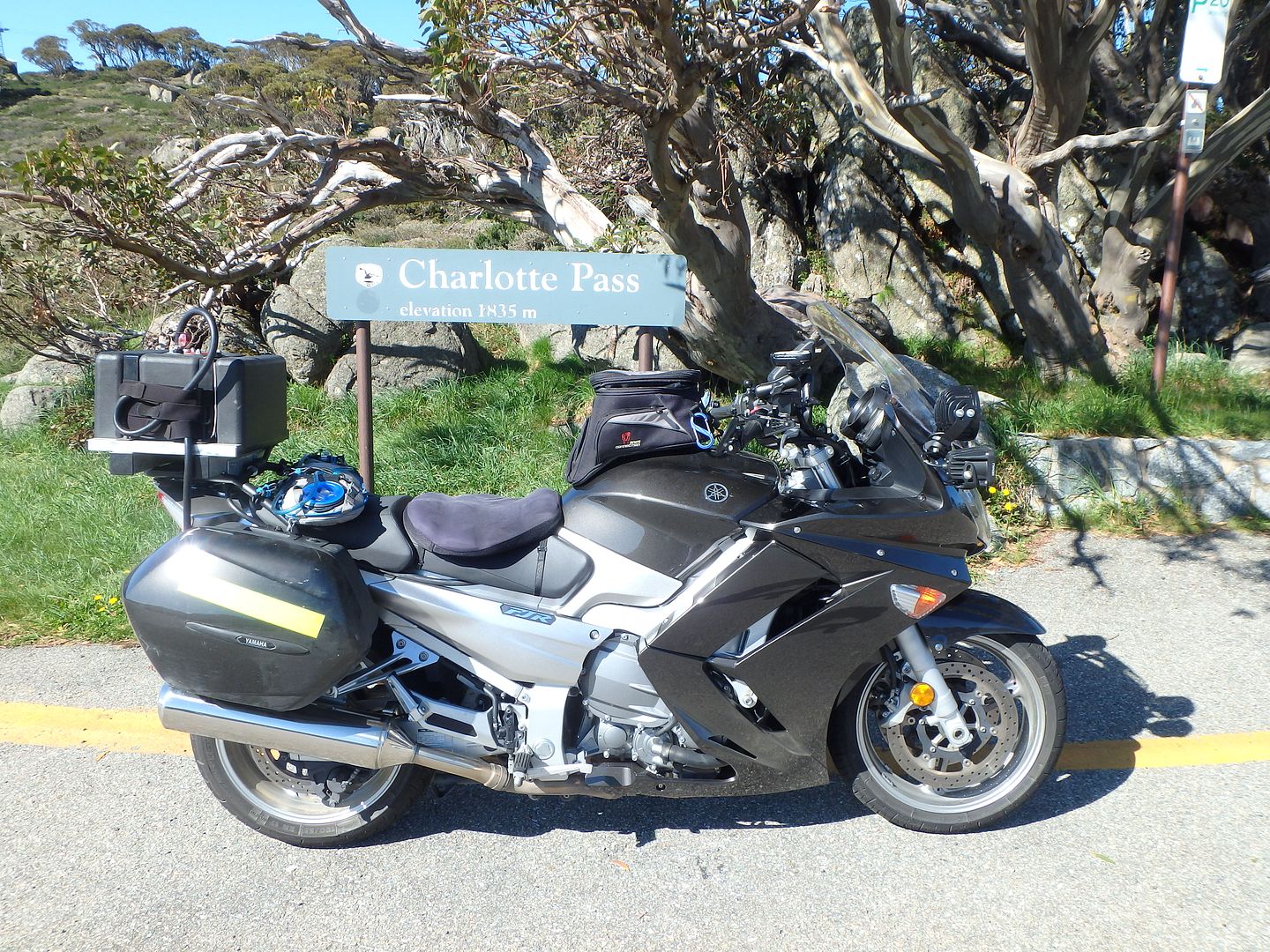 Back through Perisher for a pic, and a lame ATM docket from inside the huge, open, but otherwise devoid of people tube station.
I couldn't see anything else so the ATM will do.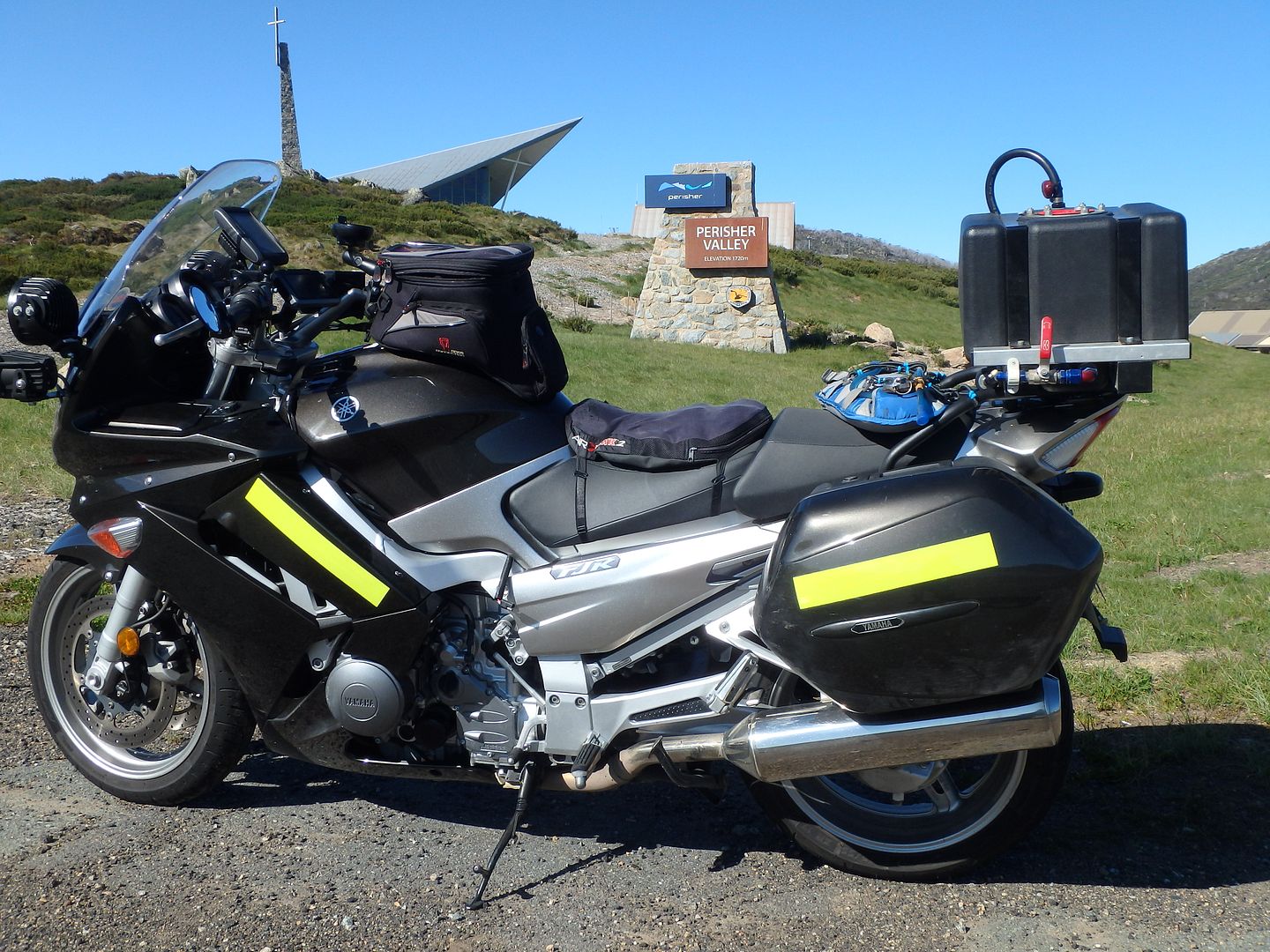 Down the hill to Jindabyne and back up the next valley to Thredbo. Thredbo must be a village, they call themselves that. Heaps of people, heaps of shops, a kit kat and climb back on.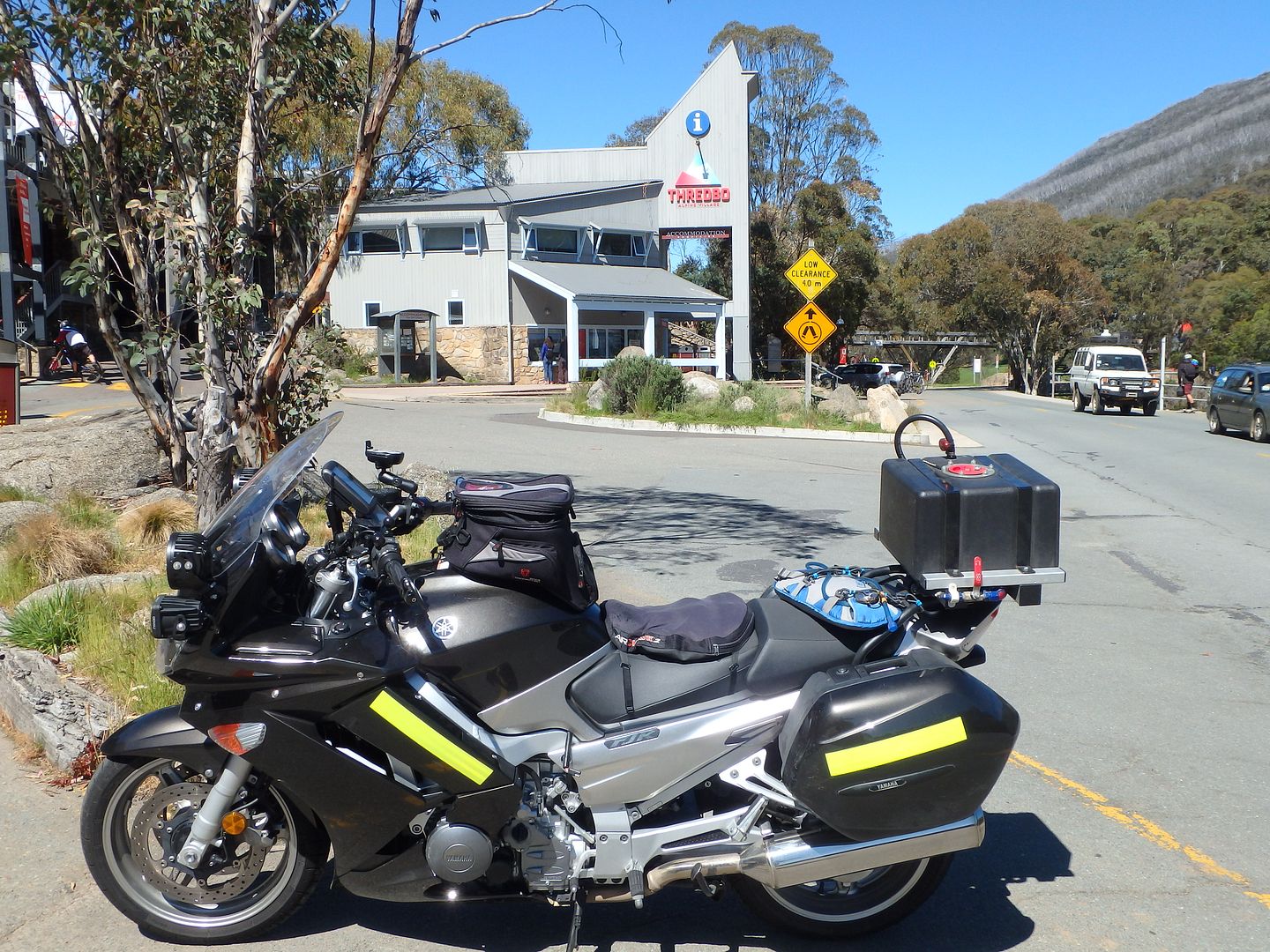 Then around the back of Kosciuszko down down down the lumpy bumpy bits to Tom Groggin before the swing back north through the cuttings to Khancoban. It was all hot by here. A group of a dozen or so bikes were being filled and riders fed, but I was all brief nods and Davo looking at the ground. Don't mention the aux don't mention the aux.
I'd planned to do the Khancoban/Cabramurra road again sometime this summer and today was a good one for it. Just the one car, and they pulled over. A weekday in the mountains, I suppose. All bends and no traffic.
The ex-highest town/village in Oz, Cabramurra.
It's always weird there, though. A quick discussion on KLIM with a Multistrada rider, a docket and then gone. Down the Eliot way this time, after a start on the Goat Track Road, followed by a wide arc back to Corryong. More open roads, more great views. What a a place to ride.
When I first saw the list I was surprised that there is only one Victorian town/village. Dinner Plain, just west of Mt Hotham. Hotham doesn't get a mention on the list. Nor does Falls Creek, despite its school. Doesn't matter, I have to get into Victoria. To Omeo, Hotham, Dinner Plain there are options from Corryong. I just selected the least dirt and twisted it for a bit of fun. Riddick would have liked me to go via Granya, but I took the southern Murray Valley Highway rather than the Murray River Road. Followed the signs toward but no to Mount Beauty and then cut up and over the twisties toward but no to Bright. A left turn and heading for Harrietville for a pause. A fluid exchange, a change of gloves and the always incredible climb up and beyond The Meg. Before I paused there had been a handful of cruisers roll into Harrietville before me. There were cyclists all over the mountains. There were big, big groups of clean 4x4s taking up space and pace here and there.
I rode from Harrietville to the top of the world, the sparse moonscope of Mt Hotham without a single motorised vehicle in my path. I wasn't in the path of another, for those that need to know. Just the trickle of pushies to share the road with. Like the Ox in the middle of the night or something, but this was on a gorgeous day with hundreds of cars and bikes about and me on the clock. Amazing.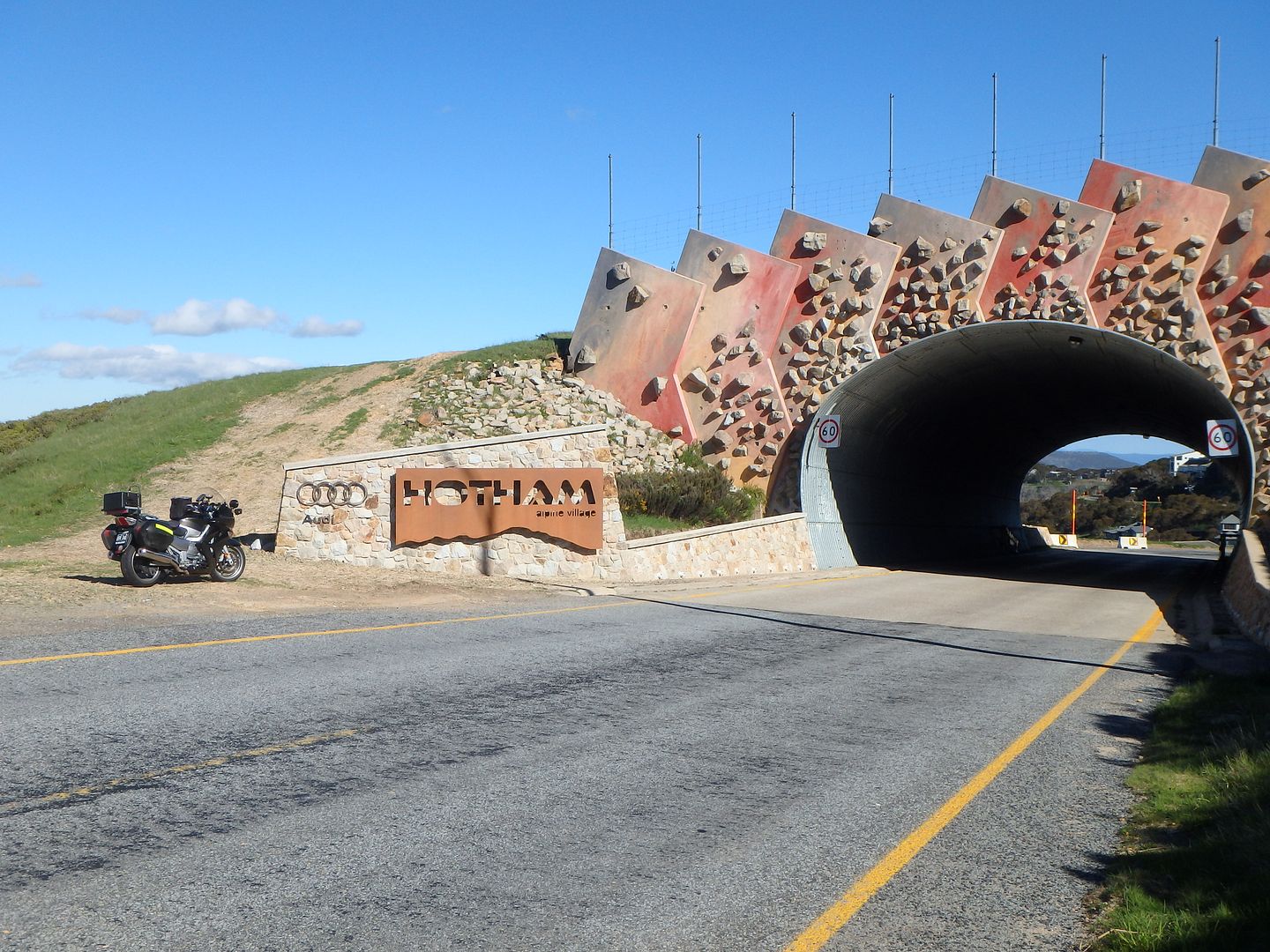 Then on just a bit to Dinner Plain.
The girl in the coffee shop knew they were 'in the ten'. From previous research, this morning's made up as I went plan had to be ridden this way. While a pic and a docket at 10 lofty places is not necessary on this SS run, I wanted to at least try. I knew that the middle of the night would be hard to find a docket in the villages, but as many as possible would do. In summer the shops in Dinner Plain have reduced hours. I'd called before and was told 1400-1900. I was there before that this day, but a closer to dawn start at the most southern point would be 'the best' from a planning point.
I didn't want to waste riding in the Alps at night. That was a requirement.
I've also ridden through the Alps at night. I don't scare easily when it comes to wildlife on the roads, but in the Snowy Mountains at night is close to madness. The first time I did I'd cut a wallaby in half in daylight and braked for 21 wombats on just one road at night. I missed horses by that much and lost count of how many kangaroos fell over as I slipped past them scrambling on the ground. The second time I rode the Snowy Mountains at night I hit an adult wombat hard and bounced over it, thought I saw a hippo(!) and while I was wondering what it was had a string of brumbies jump out of the opposite tabledrain to join the hippo. And the sea of eerie ghostlike kangaroos floating just out of bike light haunts me still.
How nice, the girl from the coffee shop unlocked the door for me and gave me a docket and an elderflower drink (I think)in exchange for $5. A quick lap of the village, a wave and I headed back west, to where I had come from. Not too much of that in the plan, but I had no time for a run through Omeo. It can't be true. Either missing Omeo or the fact that the run back down to Harrietville was also clear. Nada, nobody my way, not even the pushies. Wow, what great luck.
Time to head north. West first through Myrtleford, then zig zag backroads to the freeway, fuelled in Wodonga. Just on dark and aiming for Goulburn. I had to pick up Oberon. My first plan was to swing west through Young, then Bathurst to reach Oberon, but I had to make up time. I'm not sure if I did. The run to Goulburn is all 110s. But not the Taralga road. I've ridden that one many times in all conditions but leaving Goulburn this time at 00:03 I rode into fog. Wet fog by the time I'd climbed the 149km, and most of it slow. Anyway...
Oberon done. And more of the same.
Blackheath
Mt Victoria
Then down the Bells Line of road, glad to be out of that few hours of fog.
A quick pit stop at the Grey Gum Cafe on the Putty Road before they opened. Then some traffic avoidance around the mines before setting up the long leg to the north. I'd seen this sign before in the little town of Guyra: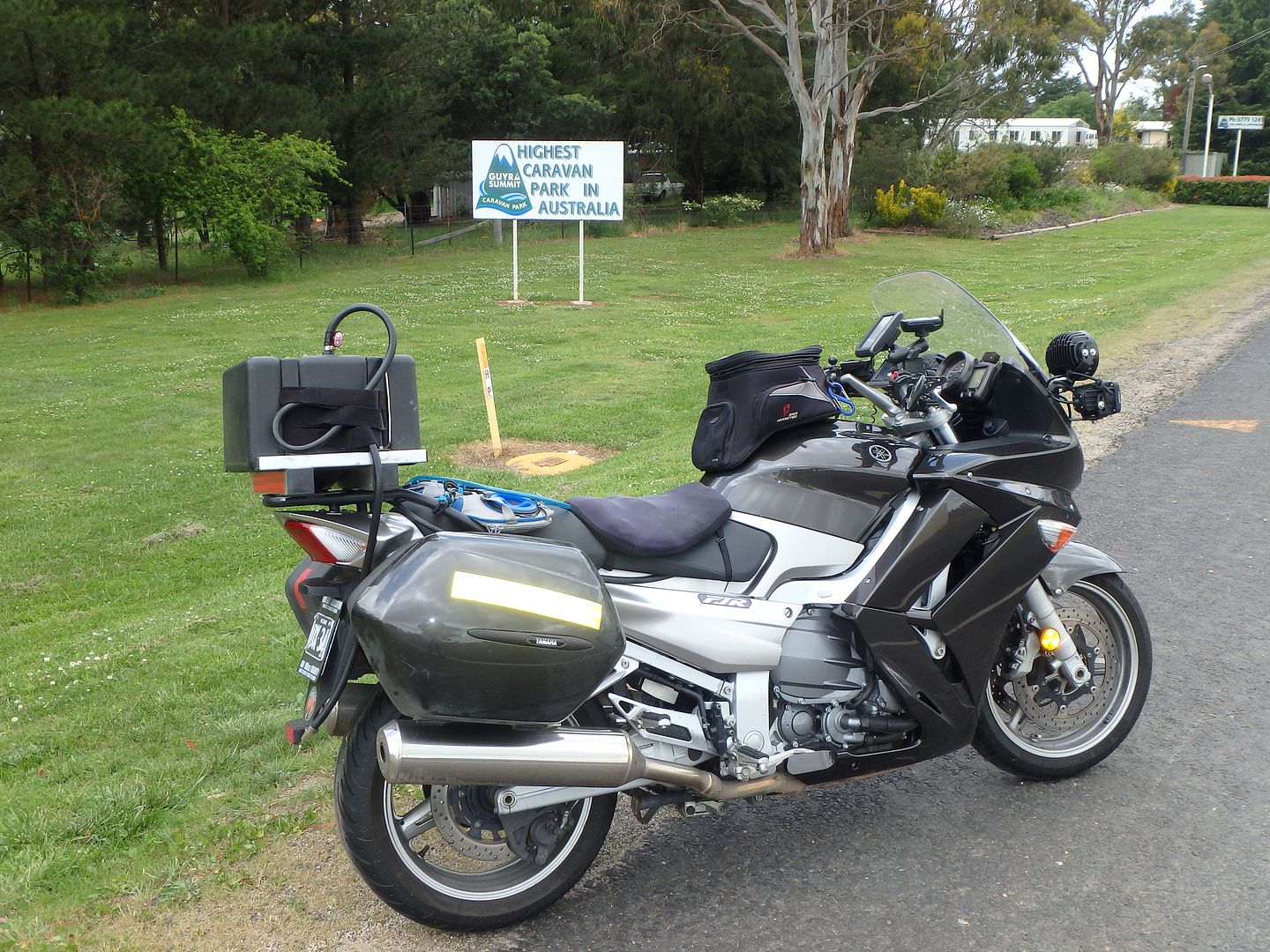 I seems so unlikely. But knowing what BONZLE had learned me, today it made sense. I was zipping armpits opened and closed on the run with each climb up and down for each town on the New England. A couple are very high. That BONZLE list is longer of course and most of the towns up that way get a mention in the top 50. Even a few QLD ones get in. Just Dinner Plain for VIC though in the larger list.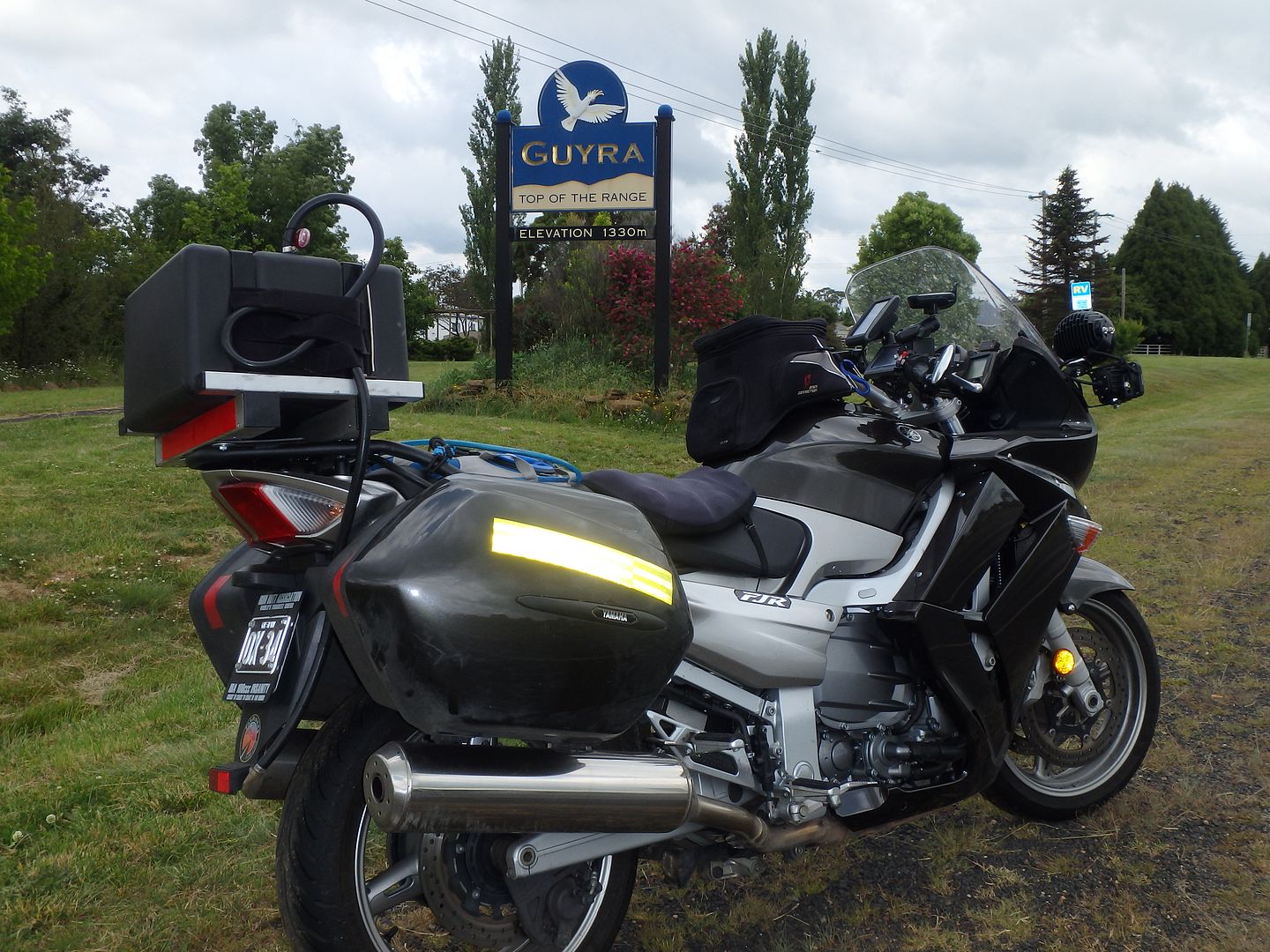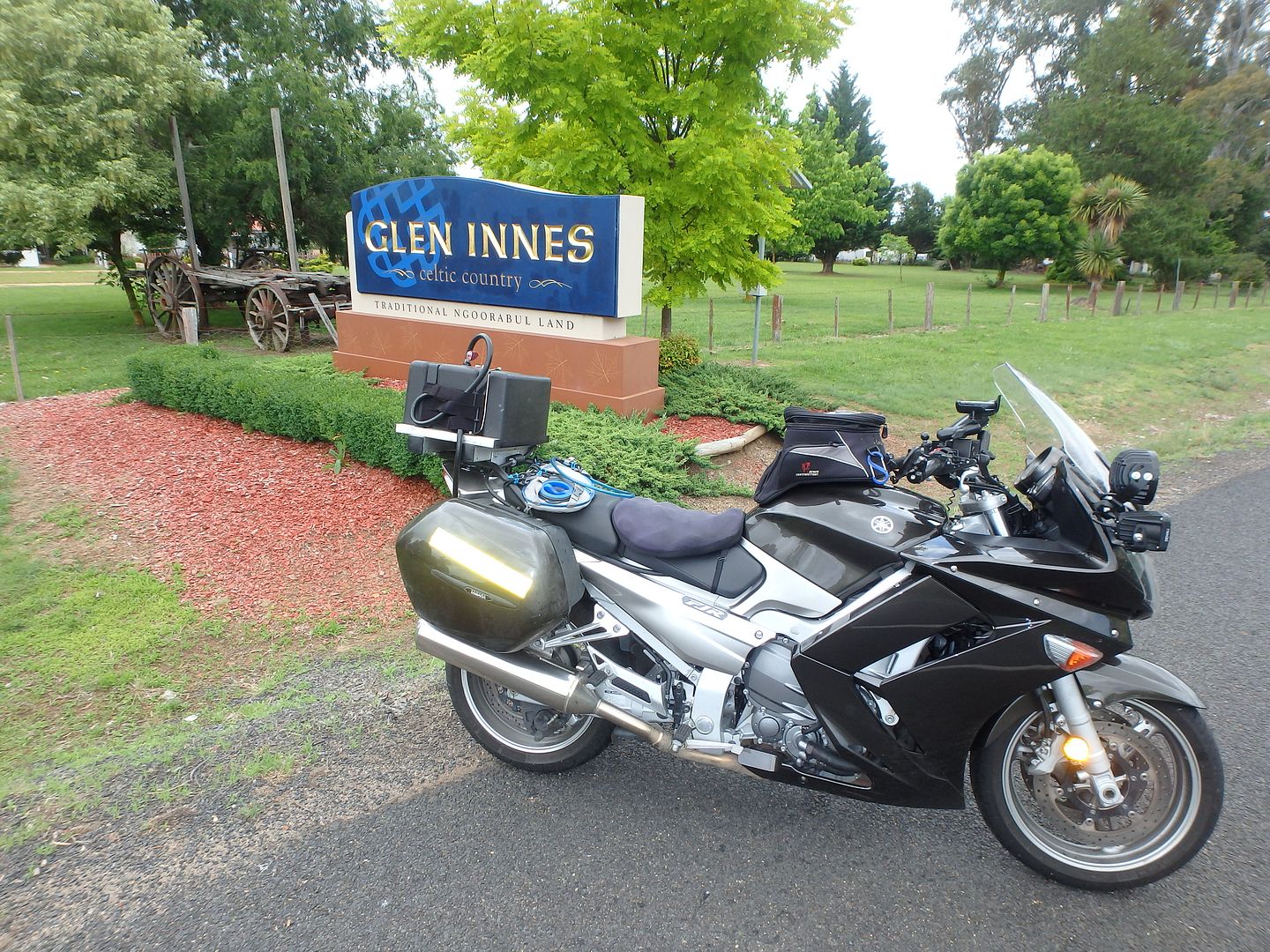 My northernmost point was Glen Innes. High for sure and to Crackaz it's the coldest place on the planet. Today I thought it might snow, it had that feel. Half an hour before the temp was high in the 30s somewhere or other as I made my way north. Ahh the road works, that's where it was. Armidale has some rippers if anyone likes that sitting in the sun, sinking into fresh tar kind of caper.
It makes the big list.
An impromptu ride selected from my stash and planned on the run.
3072km tour over 42 hours of some wonderful roads linking Ten Top Towns