I had been planning a big IBA ride for a number of years; since 2009 actually. I was going to be doing the Melbourne to Darwin run and asked advice from Derrick Sutton and others. With their input, a plan was begun.

Years passed and I was no closer to the big ride. I would like to say that life events conspired to hold me back but the truth is I did not feel I could commit to the effort. I knocked out 1600s and 2000s with ease but never the multi-day ride. Last year I felt I could conquer my multi-day demon on the FarRide to Eungella. I had plans for at least a 5000klm ride. Then I had a bad attack of Kidney Stones and I was off the bike for months.

This riding season (winter) came along and I was determined to do the ride. I was going to tie a 50cc into the Border Run but unlike Ian Macpherson's ride last year, I was going to do the ride first and then make my way back to the Border. The budget was set and put away. I was making token efforts to get fitter by going to the gym but I don't think it was making much difference.

On the Sunday I rode to Sydney to the start of the ride with the plan to sleep most of Monday ready for a 11:30pm start at Coogee Beach. I knocked that ride out without a single ache, so I should have been pumped. I am not one to get anxious but late Monday, I was ready to pull the pin before I started. I spoke to a few people who actually knew I was doing the ride and tried to get enthusiastic about what I was going to attempt.

I was going to do this ride "under the radar" for various reasons. Foremost was I didn't want to impose my timetable on people who had their own lives to get on with. Secondly was the fear of failure. I preferred this ride to be my ride without feeling the pressure of being somewhere on time to meet riders. I fitfully got some more sleep until I could sleep no more. I was going to do this thing! I had planned the absolute shite out of it and I was going to do it!

I don't know what time I left the motel but I arrived at Maroubra Police station at 11:20pm. Very little convincing gained me my start witness form and I was off to get the start docket at the Caltex Coogee Beach. It was very quiet there at the servo and I took the chance to have one last nervous toilet stop. I was all kitted up in my new Klim Latitude jacket with plenty of layers, I was ready to go. I fuelled the bike and was allocated my start time of 11:54pm on the 1st August 2016.

I was happy that I had practised this transport section the night before as I road past Randwick Racecourse and out to the Freeway. The route came back to me very quickly. I negotiated the correct lanes and was passing Pheasants Nest in just one hour. I don't know if that is a good time for that distance but I was happy. The kilometres just passed under the tyres with very little effort. Traffic was kind and it was a clear night.

It then started raining somewhere south of Marulan and I decided to keep toilet stops separate to Fuel to cut down the stopped time. You don't have to undress except for one glove for a pee stop. My first was at Derrick VC near Towrang. I had to be very quiet because there were a lot of cars parked there with occupants asleep. Quickly back on the road after four minutes, I sneaked out of the carpark and kept heading south. It was around here I saw my only live roo standing under the cliff face looking very sad and wet.

My first fuel stop at Yass was fourteen minutes and I was on the road at 3:15am. I left the Hume and travelled up the Sturt Hwy through Wagga Wagga heading East. I had intended to stop at Gumly Gumly to get a corner docket but forgot all about it when I was on the road. It was wet but the new jacket was keeping me warm and dry. You only really get wet on a Goldwing when you stop, so I had no intentions to do so. The traffic light gods smiled at me through Wagga Wagga, so the next time since leaving Yass that I put my feet down was at Narrandera for a fuel & snack stop at 6:00am. This stop took a bit over 30 minutes but I appreciated the chance to get out of the rain and to have a good coffee.

The rain stopped after leaving Narrandera and it was around this time that I realised that my doubts about the ride and my abilities had evaporated as well. I was zoned in and thinking of the next stop. After a fast relief stop at Willowvale, I arrived at the Caltex Balranald at 9:30am for a nine minute stop. While the sun never popped it's head out for long, the lack of rain and occasional blue sky was lifting my spirits as well as the temperature. I took the south detour through Mildura and re-joined the Sturt Hwy out near the Mildura Airport. Next was the crossing into South Australia and the start of my time conversion calculations.

I decided on a longer stop at Renmark to have a sandwich and drink at the servo. I also took my first photo for the day.



I left Renmark at 1:15pm to head to my "corner" docket at Port Augusta. This was going to be a long stint and I had filled the Jerry can (Rotopax) at Renmark just in case. Now I normally don't go this way to Port Augusta. Because of where I am based, I find it just as easy to go through Adelaide. So I may have taken a road that is not the norm and found myself in Jamestown after riding past some wind farms.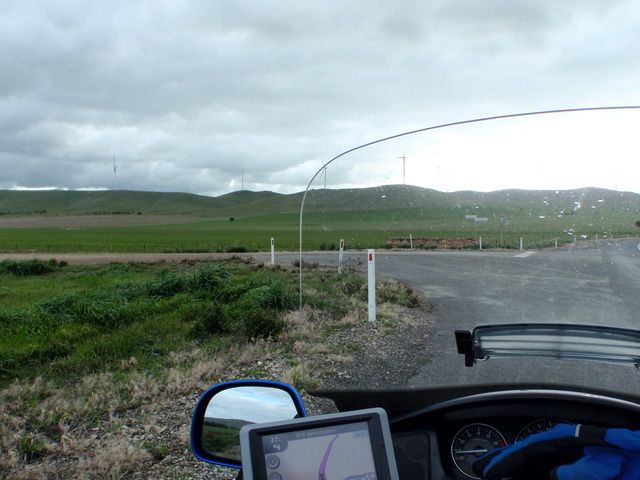 Finally back on track near Port Pirie, I arrived at Port Augusta at 5:50pm with 1560klm completed. I made a call to the family and had a bite to eat before the night push. Twenty minutes later I was travelling to make the left hand turn west into the sunset. Well not in to the sun because of the cloud but the sky was getting darker. This section was one of my scary elements due to the number of moving wildlife in the area I had come across over the years. Travelling it at dusk was not an optimum timing but I had traded it for riding past the Mungo National Park in daylight. As it was, my fears were unfounded. Plenty of feed and rain made for an animal free zone. Still, I was very happy to climb up the rise and turn left into the Kimba Wheat country. It was just before 8:00pm and the Roadhouse was open so I performed a ten minute fuel stop. There was a few eating in the restaurant but I wasn't sure whether they were having steaks or the really strong curry that I could smell. Now fuel was not a worry, the next feet down would be at Ceduna.

It was an uneventful ride from here although there was a bit of a fog settling in the gullies past Wirrulla. It was quite disturbing as it made the sides of the road close in and it took little effort for me to imagine being back in the Sydney Airport tunnel. It was at this stage that I caught on that I was tired. Not weary or sore, the Goldwing is too comfortable to feel sore. No, I was starting to get fatigued. I tried the mind calculations and they seemed to be working. I put it down to just not being fit enough. I travelled with a guy towing a large moving trailer for a while. I was just staying behind him for a while and eventually slow passing him. With him behind me, I kept him in sight and that helped me concentrate for a while.

Then I saw the Ceduna Airport lights followed by the town, a couple of turns and then the BP Highway 1. I parked the bike in the car park at 11:20pm and went in to get my room key. Sonya had upgraded the room for me and had put the heater on. The upgrade was appreciated but really wasted on me. A burger from Hungry Jacks for a receipt and I went back to the room to relax and get some sleep. My trouble is, no matter how tired I am, it still takes a while to wind down. I turned the TV on as that works at home but I didn't get to bed until 12:30am on the 3rd.

As a test of my new KLIM jacket, I would have to give it two thumbs up! The lightness of the jacket as well as its ability to repel water is a huge positive. Strangely, I didn't have to remove layers even as the day got warmer. I am wondering if the insulating qualities worked both ways. This is my new favourite bit of gear, even above the Erica LEDs.

Day One Map

Day Two Map



For ease of understanding,

I am going to make all times mentioned Eastern Standard Times.





I woke up for the second stage of the ride, got ready and was on the road at 5:20am with a start receipt from the BP Ceduna tucked away in the top box

.

It was cool but with only fog predicted, at least my gloves were going to dry out. My gloves are great for winter riding in the rain but are a real pain to pull off and put back on. The inner lining tends to stick to the fingers and get all skewed inside the glove. Today should have seen an easier time of it at the servos.





With Border Village around 490klm away, I needed to slot in a fill-up to get there.

Fuelling at Penong would only leave me under 420klm to the Border and according to my calculations, doable on one tank of fuel. An hour later saw me leaving Penong filled up and ready for the long stint.





The section from Ceduna to Nullabor is another of my wildlife zones but I did not see any activity at all.

There was very little roadkill as well, so that lifted my spirits. The temperature range around Yalata was dropping, so I knew dawn was coming.





I know that riding in the dark comes with its own dangers but I really enjoy it. There is something about being cocooned in a little pocket of light, surrounded by the secure restrictions of good fitting gear that makes me feel safe. Time seems to just pass! Riding in daylight, I just seem to be trying to ride to the next destination. At night, I am just riding!





Travelling that last section of forest through the rolling hills before the last drop onto the plain, had me chasing the sunrise

.

I really wanted to get a photo of the sunrise on the Nullabor Plain with its vista stretching out before me. I was successful!


I do enjoy the open country through this section of our country. All doubts and apprehension about completing this ride were gone, lost somewhere out there behind me. While I still knew I was on the clock, the pressure had evaporated. However, a bit of that pressure came back around 200klms later. The fuel gauge had gone past the line under the E some time ago. Every little wind gust felt like a surge in the motor but it served to make me more awake. Then I spotted the wind generators over the trees and I knew I was there at the Border.

I spent some time at the Border having some food and talking to the girls. They were getting ready for the 40th Border Run on the weekend.


I kitted up again ready for the next push and left at 10:55am. I made it through the Border inspection five minutes later caused by due diligence of the female officer on duty inspecting all the panniers and top box.

I dropped on to the old sea floor after Eucla and started to see some road kill. At least this section was living up to expectations. Maintaining a steady legal speed, I was passed by no-one but did spot a LEO travelling the other direction. I climbed out of the sea floor and waved at Davo's Memorial at Madura Pass. I would be stopping on the way back!

I managed a six minute stop at Caiguna leaving at 2:14pm but stopped at the Tourist sign just up the road.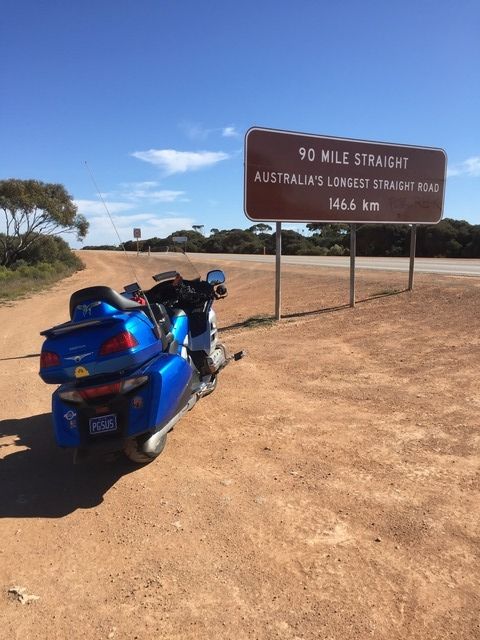 I sent that photo to my daughter to explain where I was on her birthday.

After taking the mandatory photo, I was on to the next stage. What can I say? Not much about the road as this area seems to be special although I did notice a gate and driveway to a property that seemed to be in good use. I guess there is farming out here but how would you give directions? "Just take the right hand bend and then drive straight for 75klms! You can't miss us!!"

I indicated at the left hander at the end of the straight which gave me some strange looks from the car parked at the sign. I rode past Balladonia and kept riding to Norseman. I had picked up some road train traffic after the straight and just played responsible rider with them for the next 180klms. I was used to running the tank down until empty and I wasn't worried at all. A wee stop before Norseman and I was set up for another quick fuel stop. After arriving at the BP corner at 5:54pm, I was held up at the counter with another driver getting served a meal. Eventually I was away at 6:06pm and feeling that I should be pulling my finger out a bit.

Everyone knows what happens when you are in a hurry! I pulled around a corner on the Norseman/Coolgardie road and came across the flashing lights of a train crossing. There was no train in sight as I approached so I thought maybe it had passed. No! Not my Luck! I had my feet down and visor up before it started to crawl across the road. A bloody big ore train heading south! I should have taken a photo but it would not have done it justice. I kept looking at the clock and it kept crossing. I was tempted to get off the bike! Finally, after an extended four minutes of stopped time, the end of the train crossed without fanfare. I was on my way again.

The Coolgardie stop occurred at 7:43pm and I was away again in nine minutes. Dusk was starting to set in and I lifted the concentration a bit looking for wildlife. Traffic was still thin heading to Perth but increasing a bit heading East. Shift change at the mines? I would like to say that I could remember this leg of the journey with the same clarity as the start of the ride but that wouldn't be true. Combine scenery of little interest with increasing fatigue and I was just performing the ride. I did appreciate the culmination of the roadworks on the Great Eastern Hwy because the result is a showcase for all Australian Road designs. Wide single lanes of smooth road with what looked like six metre cleared roadsides/drains. I remember the Moonie Dalby road looking like this back in 2009. A great road to be riding day or night!

The traffic got a little heavier past Southern Cross but was thinning out by the time I reached Merredin at 10:36pm. A shake down and a readjustment of the gear had me leaving for the last 280klm at 10:50pm. My mind had started to get fuzzy before my last stop but I resisted the urge for a coffee. However, I did succumb to a couple of roadhouse potato cakes with a coke chaser. Not good food at all! The temperatures were still kind or at least I thought they were. Maybe it was the Klim jacket. There was now a fair bit of traffic coming east making the use of the Ericas very difficult. Out on the open road, they are sunlight on a switch but with constant traffic, dips and bends then they are just too much.

It was somewhere out here that fatigue really hit me in the guts. But I was too tired to realise that! A post-mortem of the ride showed that I should have stopped and rested but during the ride, all seemed fine. Except that the Sydney Airport tunnel effect had come back and I seemed to be riding downhill all the time. So much so, I flicked the Garmin over to check the altitude. It was staying steady but I was sure I was on at least a five degrees slope downwards.

I was also now starting to worry about the time left. I was running calculations all the time now and had punched in the two finish service stations available into the GPS. The plan was the BP Westgate at Fremantle because Fremantle Police Station was a 24 hour station. The alternate was the BP at Scarborough. I kept punching the two locations into the Garmin but there was only ever five minute difference between the two. I knew that an increase of speed ran the risk of a police intervention which would cost me at least half an hour, so that never entered my calculations.

I kept noticing that there were two ways into Perth on the map. Use the Great Eastern Highway or there was the Goldfields Road. This shows how tired I was but it made perfect sense to me at the time. It should have been

Plan the Ride, Ride the Plan!

But I turned left at Tammin and joined the Goldfields Road.
It turned out to be just what I needed! A narrow country road with washouts, hills, blind bends, trees and a 110kph speed limit. I did not see another car until I re-joined the Highway and I have no idea if I saved time or not. But God! It was fun! Parts of it reminded me of the Great Ocean road but on steroids. I am glad it was dark and I was tired because I would have ridden it far differently in a better state of mind. A Goldwing that is allowed to do its thing is a wonderful bike and I basically just hung on. I did not speed or cross lines but it felt so smooth and quick. And it woke me up and gave me a natural serving of endorphins.

Back on the Highway, I was still on the same arrival time than when I had left it back at Tammin. That felt pretty cool! I decided to go with the plan and finish in Fremantle. As I passed the BP Bellevue, it started to spit rain. A fitting end to this ride. I followed the GPS and it took me quickly to the last Servo stop for the ride. I threw $20.00 worth of fuel into the bike and went inside for the receipt. 11:50pm local time or 1:50am AEST. I had completed the ride with four minutes to go before the 50 hour deadline.

Garmin GPS directed me to the Fremantle Police Station and a very happy and encouraging lady officer signed my witness form for the end of the ride. From there it was back to the Motel and bed.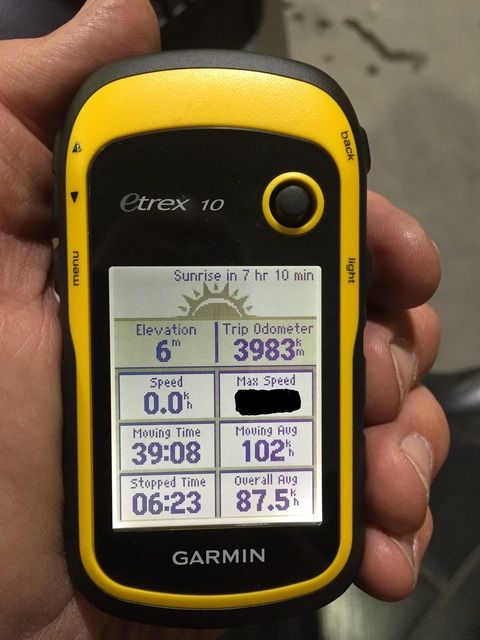 The max speed is blacked out because I had to pass three B Doubles near Balladonia. Did I say I ride a six cylinder motorcycle?

Sleep came a lot easier that night! But not until a very scary experience. I had unloaded the bike and was back in the room. I didn't need the TV that night and I was getting undressed to have a shower. Then I heard the Top Gear theme "Jessica" playing. As it is one of my favourite tunes, I thought that it was my phone playing the song. I checked that and it wasn't playing anything but I could still hear the music, every note, just playing quietly. So I checked to see if the GPS was playing the song. Once again, it was off but I could still hear the song. Fatigue affects some people differently and I guess I hear music. At least it was a song I like.

My Goal of achieving a ride that I had planned for years was over. I had finished just 26 minutes later than my plan for the ride, so that pleased me.

Would I do it again? For the last couple of weeks my mind has become more flexible to the option. Straight after the ride, I was never going to repeat that folly. Now? I think I should never say never!

PS: I left Perth the next morning at 8:30am AWST. That was after playing in peak hour traffic from Fremantle to Midvale in the rain. I was going to ride to Caiguna to set up a SS5000k. It was a serious attempt with only just over 1000klm for the day.

Well, it didn't stop raining all day. I was tired, wet and not in the mood. After fighting with my gloves at Coolgardie again in the rain at 2:30pm AWST, I decided I was not needing to push myself anymore. The last 200klm was going to be in the dark without a guaranteed bed at the end. I rode to Norseman and pulled the pin while it was still daylight. I also thought I had lost my camera that had become detached from the lanyard around my neck but it ended up being swallowed by one of the internal pockets of the new Jacket.

I enjoyed a meal with a trio of Westies that night at Norseman. The fact was not lost on me that none of them had been born in Western Australia.

These arrived in the mail today!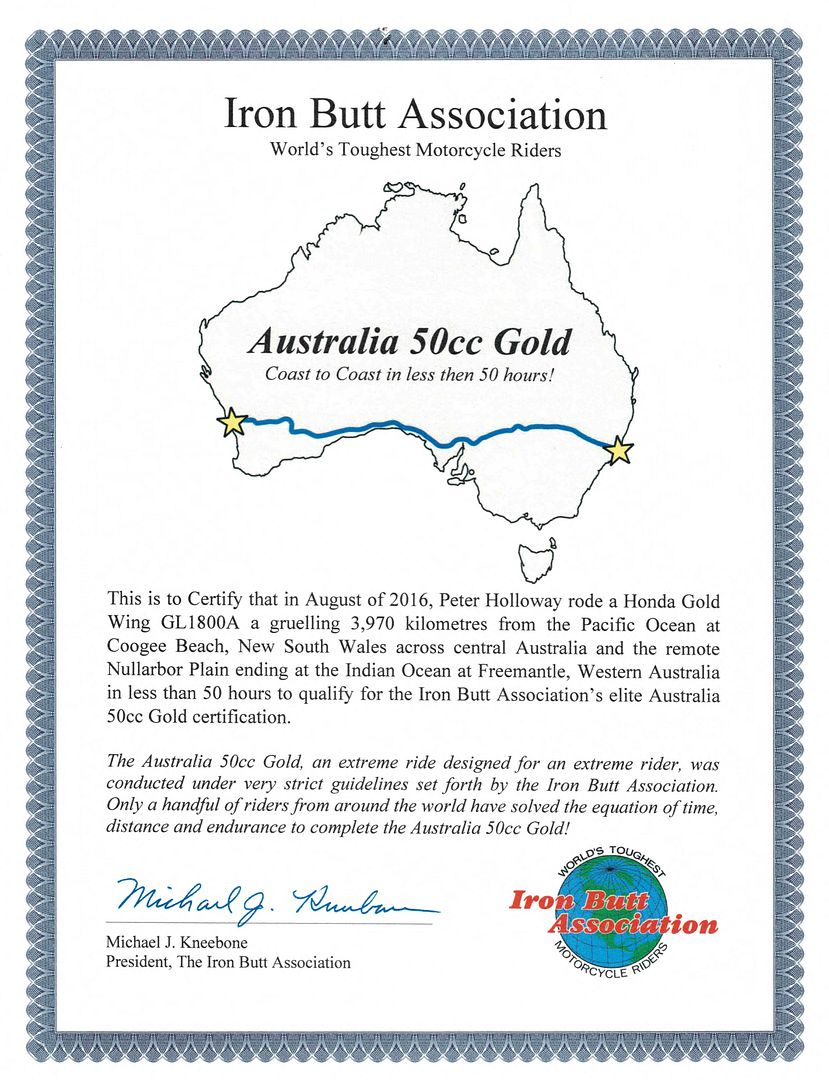 Now I am thinking??? An SS4000K would be pretty easy to do!!!
Last edited: