I've always associated motorcycling with travel. Discovering new places, meet new people and learn more about this wonderful country and the people who make it what it is. We are extremely fortunate to have a landscape Australia offers, from the beaches to the outback to the snow and the mountains.
One of the big reason for my newly found love for long distance riding, is to be able to see all of it in a day while riding a motorcycle – that has been quite an integral part of me, where I come from, what I stand for and believe in.
When Karl created a thread for 50CC EOI, I was thrilled to participate. But not having done a longish ride, the most have been 1300kms, I doubted myself to even finish day one of the ride. This doubt combined with much needed nudge from Karl made me pull my finger out.
I left work at 5pm Friday, went home worked on the route for about 30 minutes, setup the bike and luggage with essentials, showered, light dinner, shared the route with my wife, read a book to my little one till she slept and set the alarm for 1:15am.
I didn't need the alarm, got up at 1:13am, my wife was up too, and she signed the witness form with a concerned look on her face. It was heart-warming to see her supportive of this madness. These rides are as much of theirs as it is ours. Their sacrifices form the glory that comes.
Bike all setup, passenger on board
I hit the road with a starting docket of 2:03am. Goulburn, Yass and Wagga Wagga later I felt the need for a power nap - 15 minutes at a rest stop and was off again. Needed another power nap again not much after, and another at Hay Carltex. I ended up with 6 power naps throughout the ride, all varied between 15 and 35 minutes. Unsure if that is normal among long distance riders but weeks of limited shut eye leading up to this ride were clearly felt.
View from IBA motel, straight after my second (or third?) powernap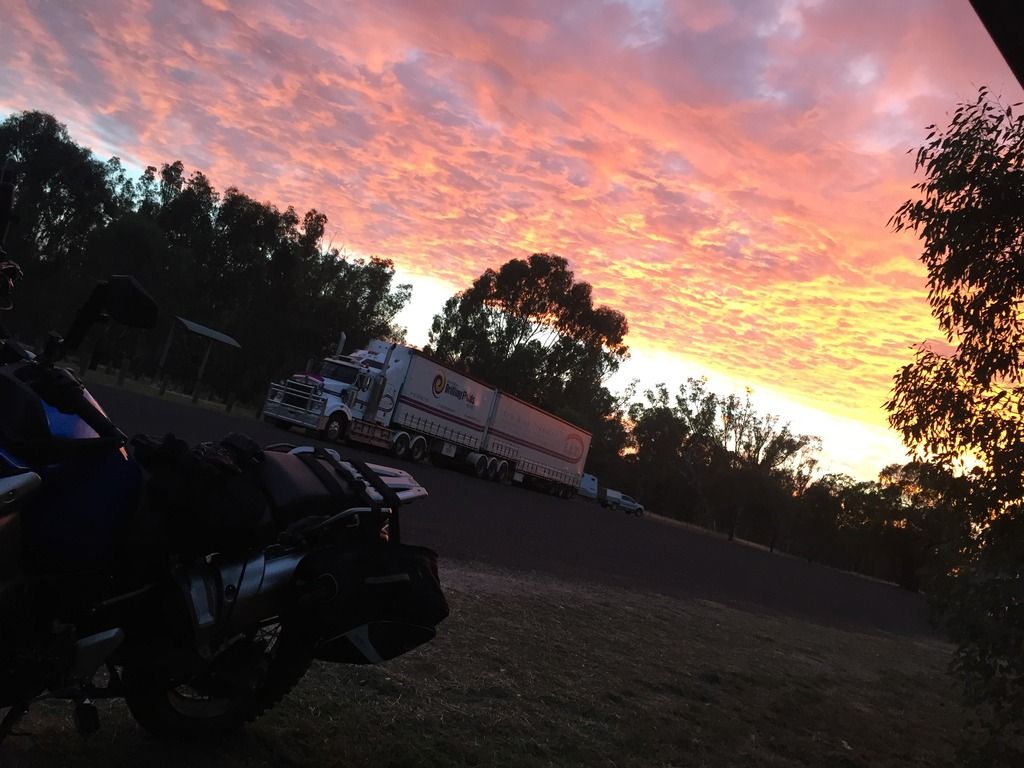 Another quick check-in and check-out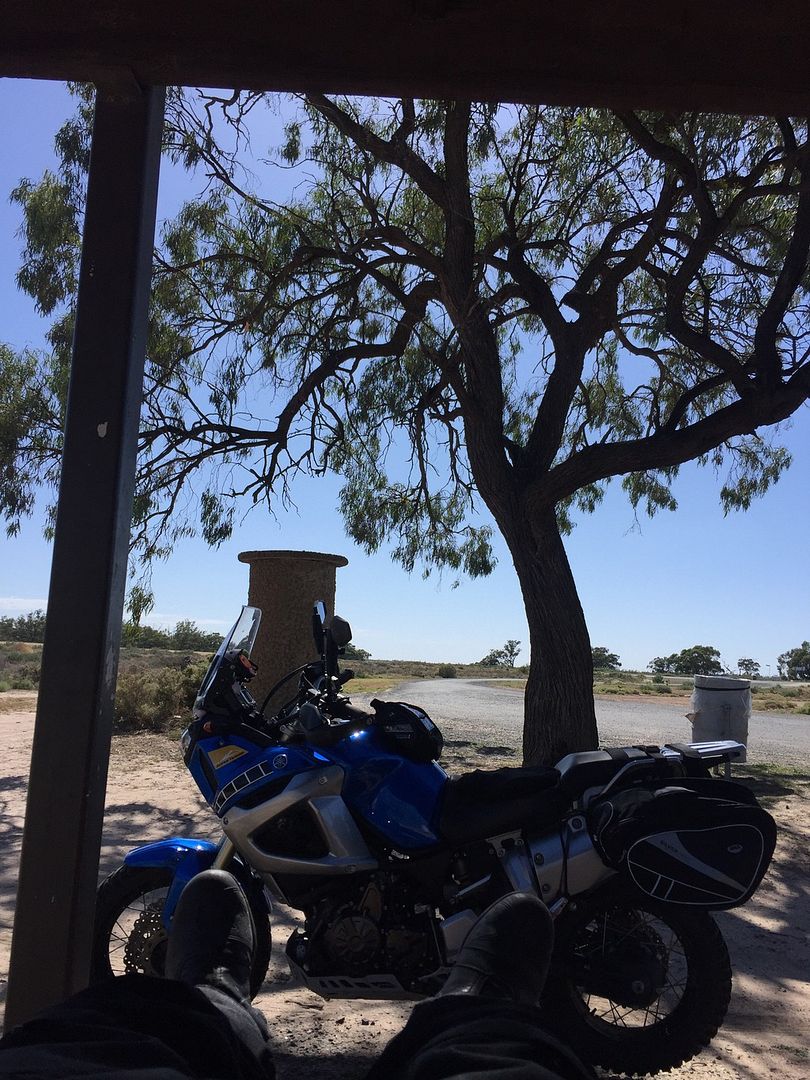 I improved the timing by keeping fuel stops to 6-7 minutes and by eating/drinking on the bike. Roasted almonds, seedless dates, a picnic bar was pretty much all I ate. I'd thought my fully filled 3 litre hydration pack will see me through the ride. But I ended up re-filling it few times, consuming about 7 litres!
Hay plains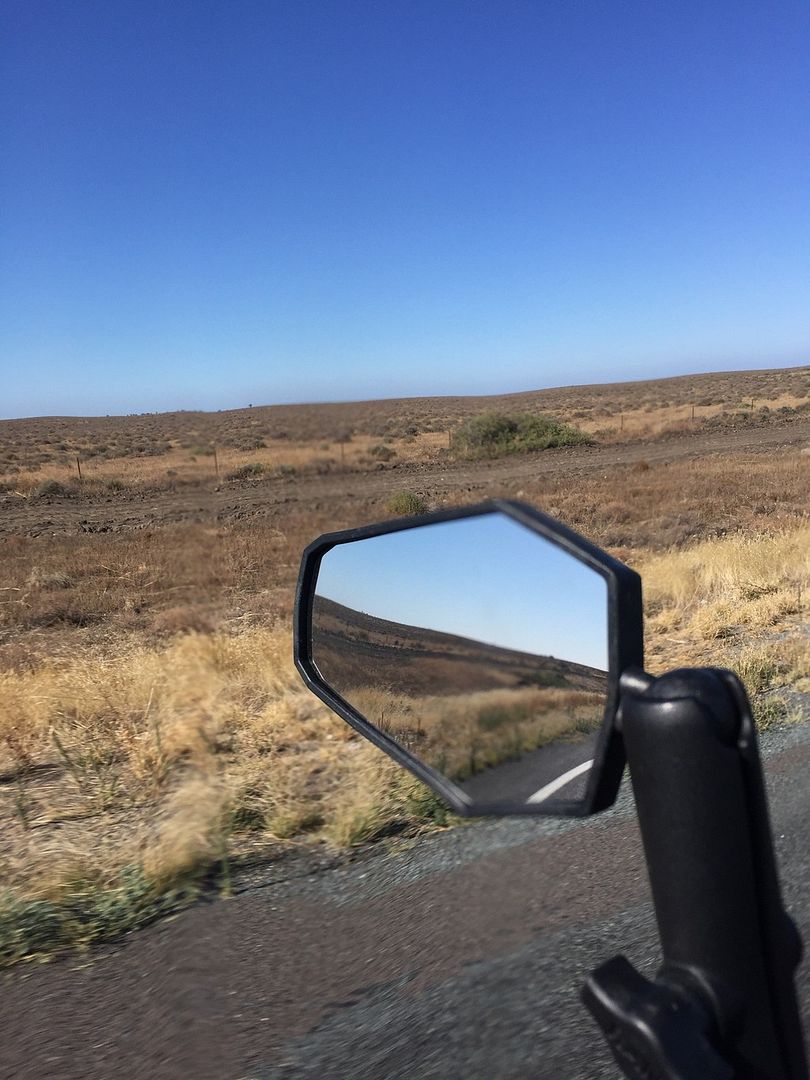 Wee stop
The hardest part of the ride was between Hay and Mildura, the roads are straight and not much to see. The nothingness was beautiful in its own regard but after a while, it was difficult to maintain concentration. Next ride, I'll add music.
The monkey in the mirror
My bike, Yamaha Super Tenere performed exceptionally well, an outstanding piece of machinery, there were absolutely no issues with it but equally importantly, I never felt that there would be any. I was thinking about Nick Sanders' world record setting ride from Alaska to Argentina and back and how well the Super Tenere performed.
I finished the ride in 19 hours, ended up with 1722kms (odometer). It crossed my mind to push for SS2000 but decided against it. The road from Yass to Canberra was well lit by thousands of road sings, dividers, lane markings and of course cars' headlights – all of it making it hard to concentrate on the next curve. Many of the drivers didn't care to switch back to low beam, making it quite difficult. I felt my mind was operating at ~60% at the time. I wanted to go home.
I was welcomed by my excited 3 year old daughter, asking how her monkey behaved on the ride – he accompanied me all the way, without complaining. I also got a call from Karl congratulation me on the ride, I didn't expect he'd be watching the Spot link closely, it felt good.
My ride has been approved. I've been assigned IBA# 64108. Hopefully this is the start for many more rides to come.
Thanks for reading.