I really enjoyed this ride.....
Not much in the planning, this one. Click clacked for a minute or so on the computer and found a route. Packed the bike. Changed my mind and spent 2 minutes packing the other bike. I'd fitted a couple of extra spots a day or two before when I realised there were two bolts that didn't already have spots on them.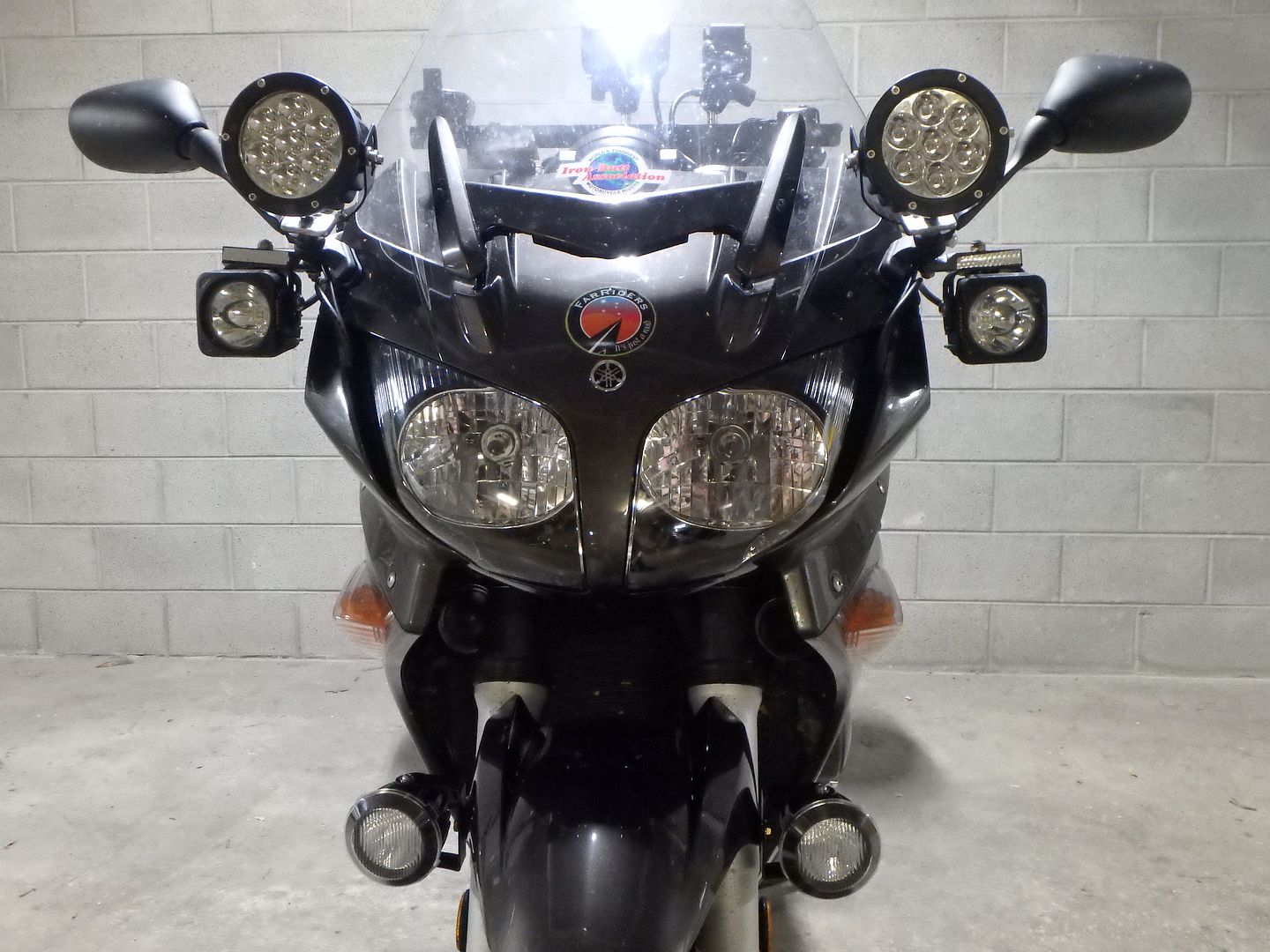 Had a nap and rolled out the door about 22:00hrs, heading north out of Newcastle.
Just up the road (and absent from the beginning of the SPOTWALLA track) is the famous/infamous "The Rock" service station. Once owned by the Leyland Brothers Mike and Mal, this is replica of Uluru is now a bit run-down, but still has that essential ingredient for a long distance rider: 24 hour fuel. I filled up both tanks, hit OK on SPOT and wandered in to pay and have my IBA witness forms signed. (Odo 62483km, GPS 0km 23:11hr 13/4/16) I explained to the young fella on the till what I was doing and where I was going in the next 36 hours. He seemed unaware that the lumpy edifice above us as we spoke was somehow related to my trip to the centre of Australia.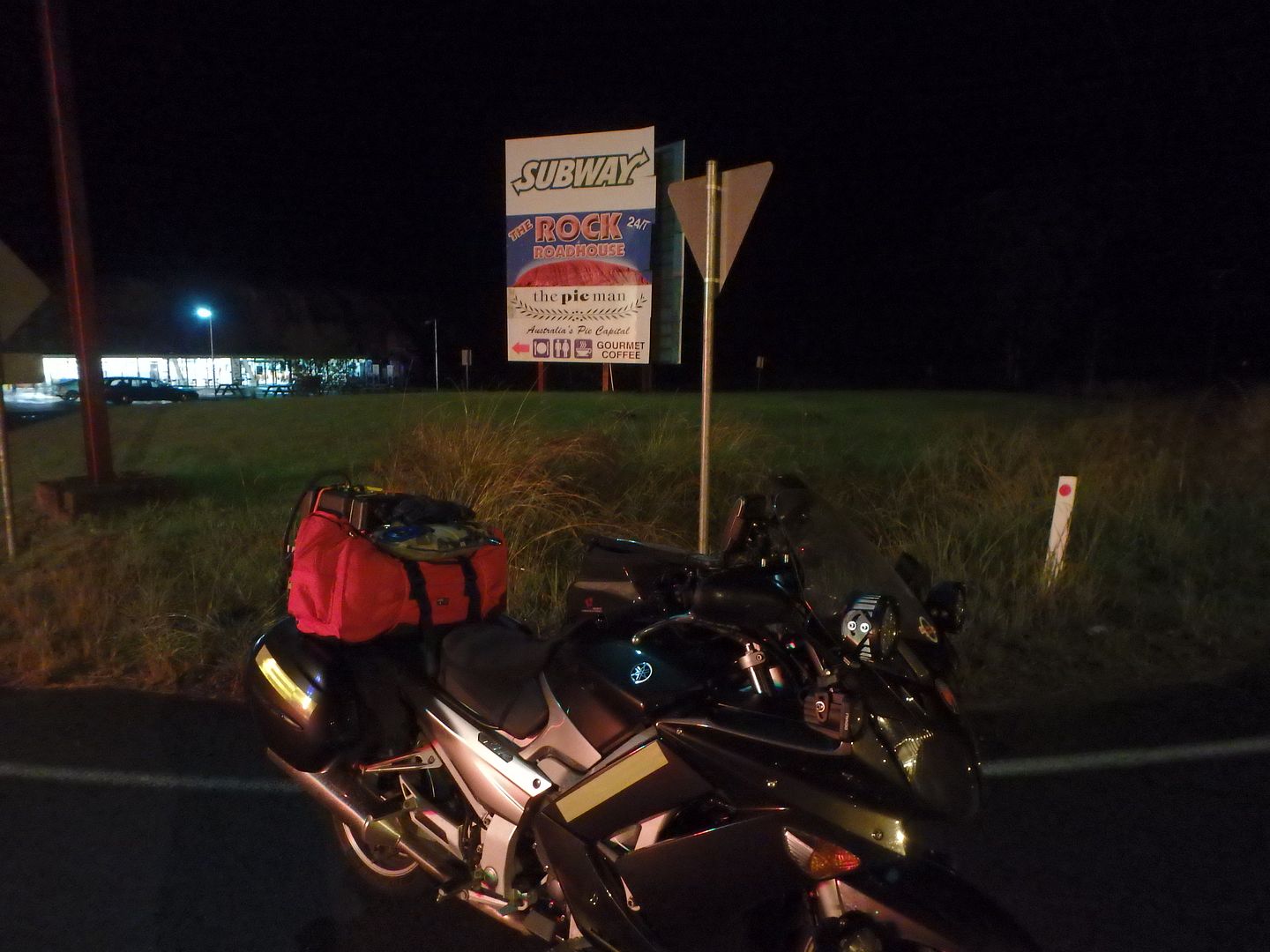 Oh well.
Pushed 'track' on SPOT and headed back south the way I had come flipping out the now 6 footpegs I have on the FJR1300 and preparing for some big miles to come. Approaching the twin servos near Wyong I had no need for fuel. With 44 litres on board I can get at least 700km if needed. No, what I had was a red flashing SPOT tracker and a need to stop and change batteries - amateur - a bit over an hour into the ride.(113km, 00:42hr 14/4/16 )
That done it was back out and into a truly unremarkable night. Not cold, not hot, not windy, no fog. How easy is this? I stopped at Yass for a drink to break up the trip (476km, 04:32hr), then headed west with the sun now rising behind me and filled up at Wagga Wagga (654km, 06:30hr, 38.48L) . The Rock - the town - is just south of Wagga but I correctly doubted that there would be a servo, let alone one open at that hour. Minimal planning and all of that stuff. I waited a few minutes for the little supermarket to open a bit late (684km, 07:16hr) and snapped a pic to fill in time.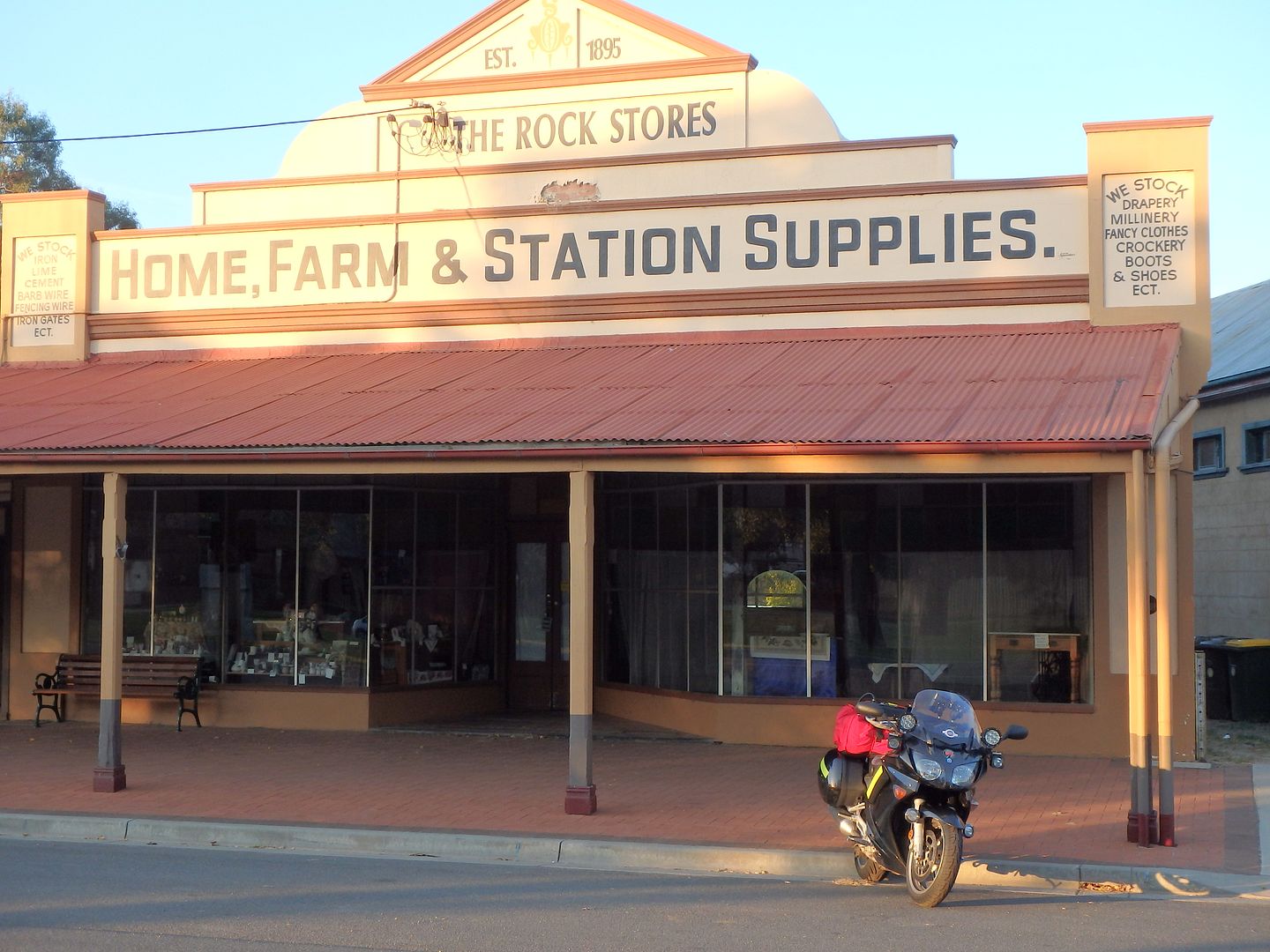 The Rock to The Rock completed, now time to ride to The Rock. It seems a long way looking at the map but all of the next 8 hours or so is just the Hay Plain to me.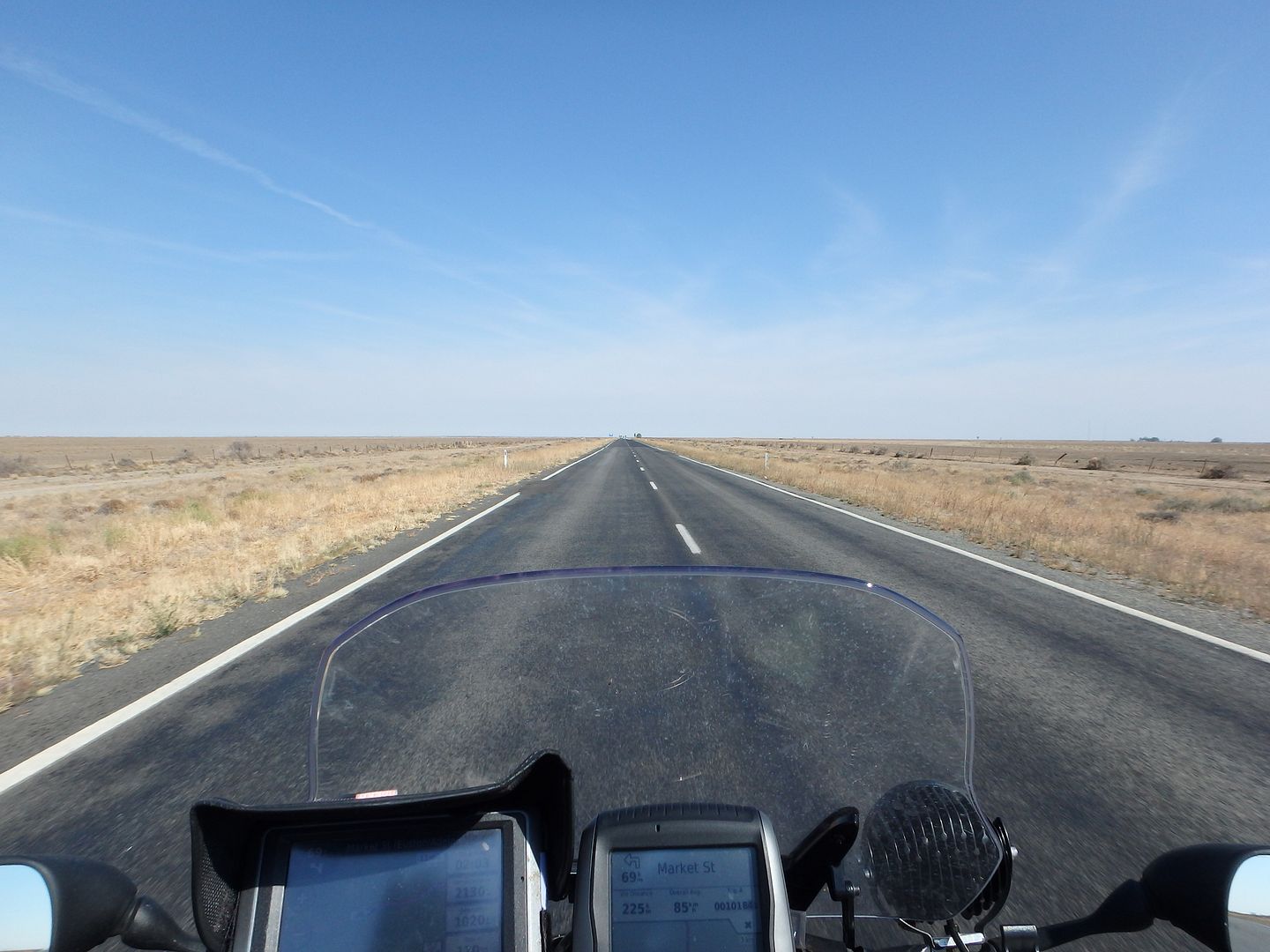 I stopped for a weird pic, having watched this space develop over a few recent rides: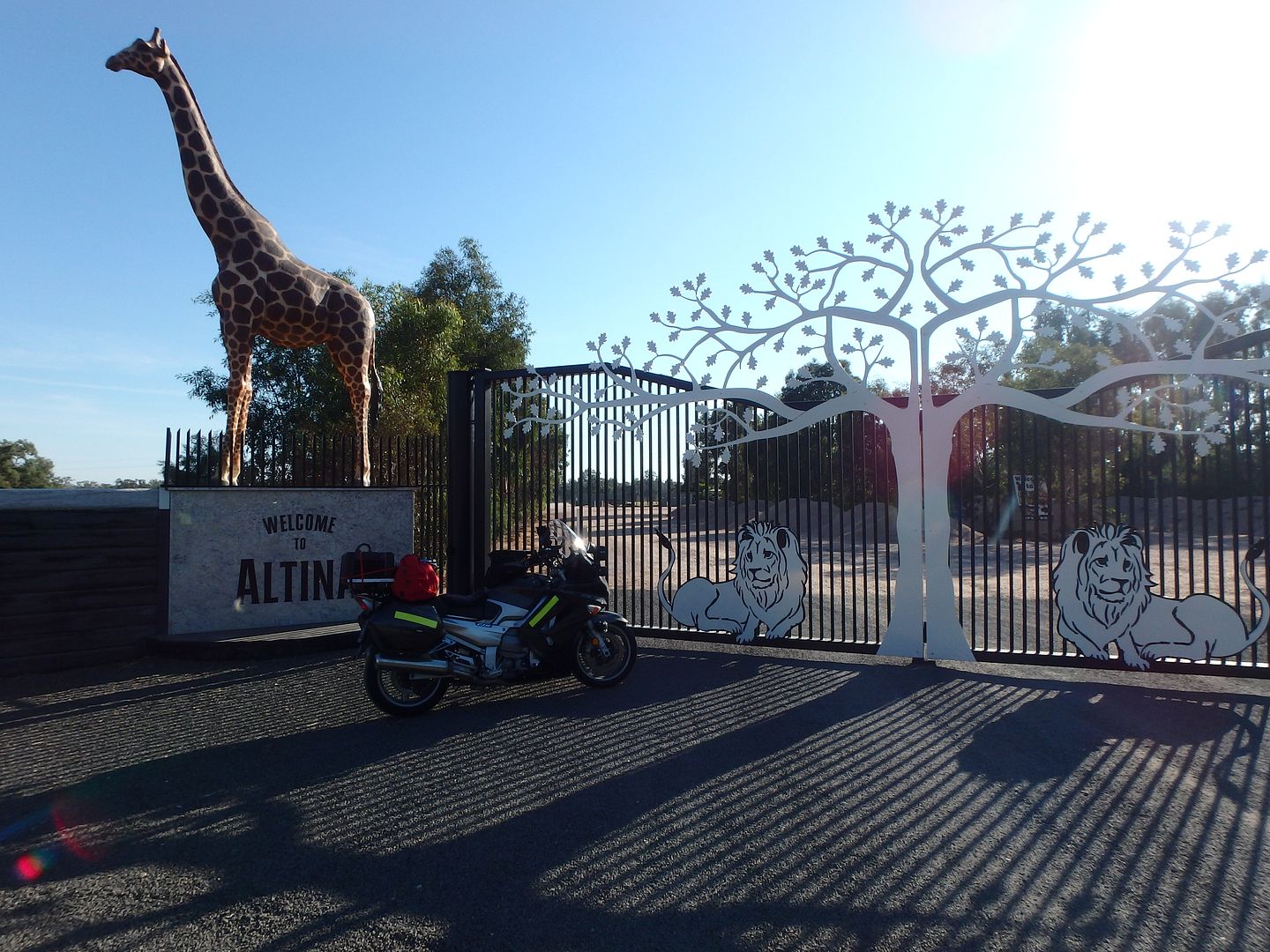 It was a nice day out for riding. My plan just needed a few 2000km days back to back, so just keeping moving was all that was required so after a fill at Buronga (1242km, 13:27hr, 30.35L) soon enough I was in South Australia. Another weird pic at Renmark: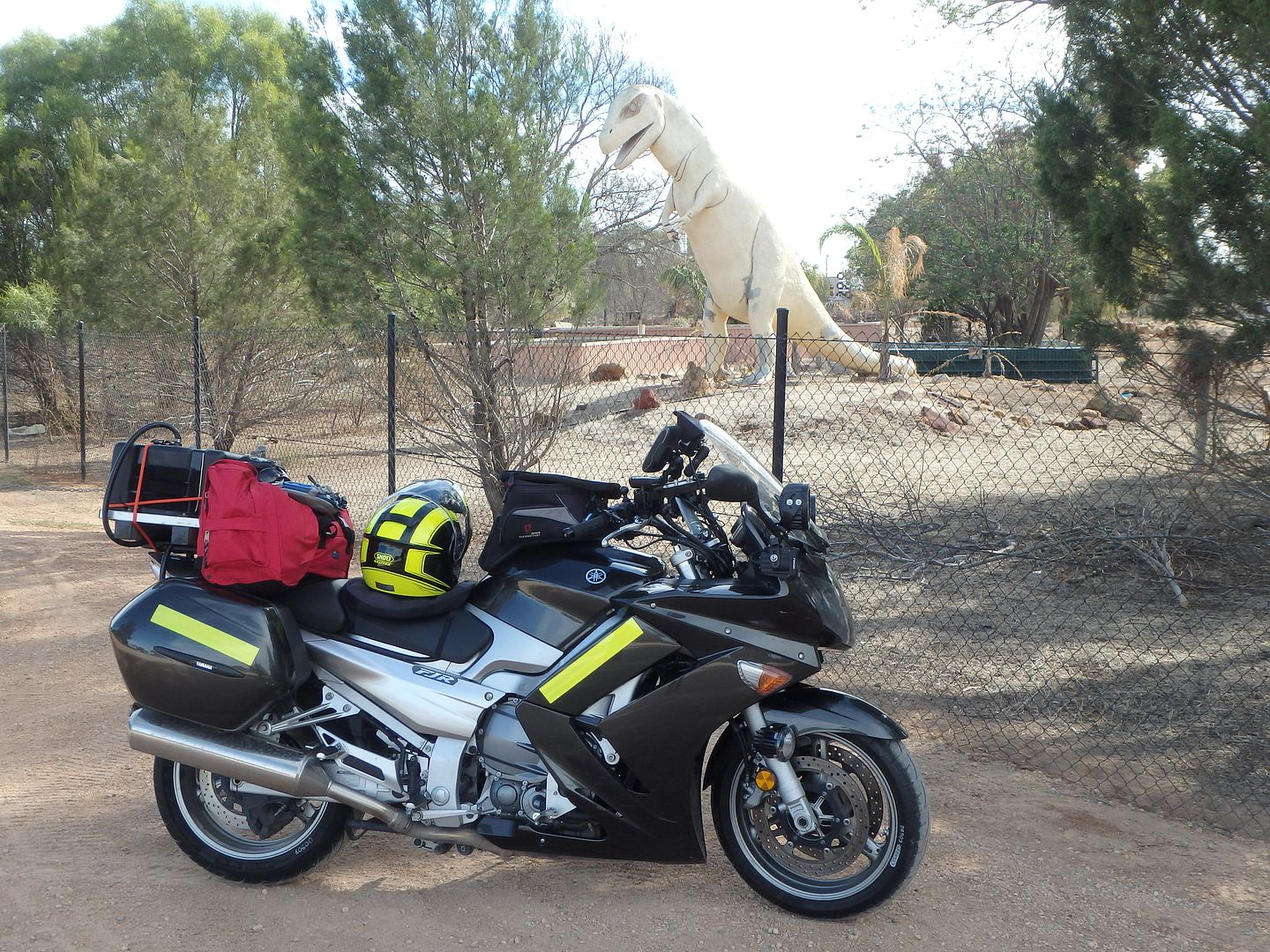 Then a fantastic run through the zig-zag roads that can be found between Burra and Port Augusta. I stopped for a quick break and a chat in some small town to a truly hardcore rider on his fully loaded DR650, camping and back-roading 'until he gets sick of it' before I found a nice sunset on a lonely road somewhere: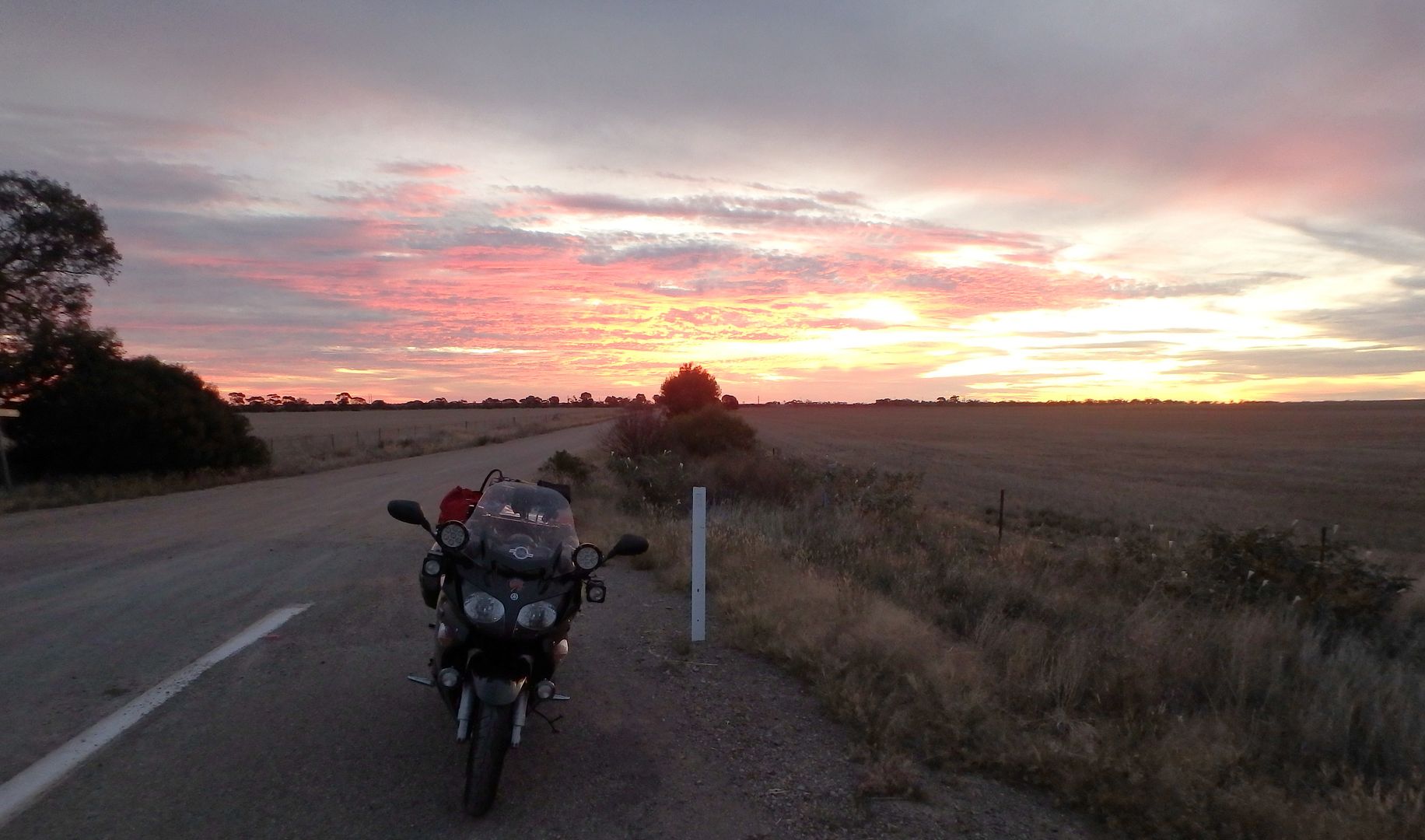 From here it was just a commute, back in the traffic again and approaching Port Augusta for a right turn (1784km, 19:43 AEST, 30.87L). I was a bit concerned about the next leg. Last time I headed up this way in the dark I head counted exactly 200 kangaroos between Port Augusta and Coober Pedy. Recently FarRider Lionel hit one, barely out of sight from town, and had his ride ended. But The Rock is north of here and there is only one road. Right turn at PA onto the Stuart and pretty soon I was into the roos.
There was a steady steam of traffic heading towards me that made for poor visibility. As many of us have experienced when running aux lights, the oncoming cars and trucks like to flash from kays and kays away, urging us to dip our beams. At such a distance my lights can't appear offensive. They can't be dazzling the oncoming vehicle. They can only be causing offense to the oncoming road user by my mere audacity of being on high (aux) beam within sight of said road user. Because when those (generally) trucks hit their beams from kays and kays away its hardly blinding to me. I can see they've put them on but I don't care. Good on them. We're out in the sticks with mad lights in order to see wildlife (me the roos and he the cattle I suppose because they sure as hell don't worry about hitting kangaroos). Flashing wildly to make everyone put their lights away in such an environment is just plain stoopid.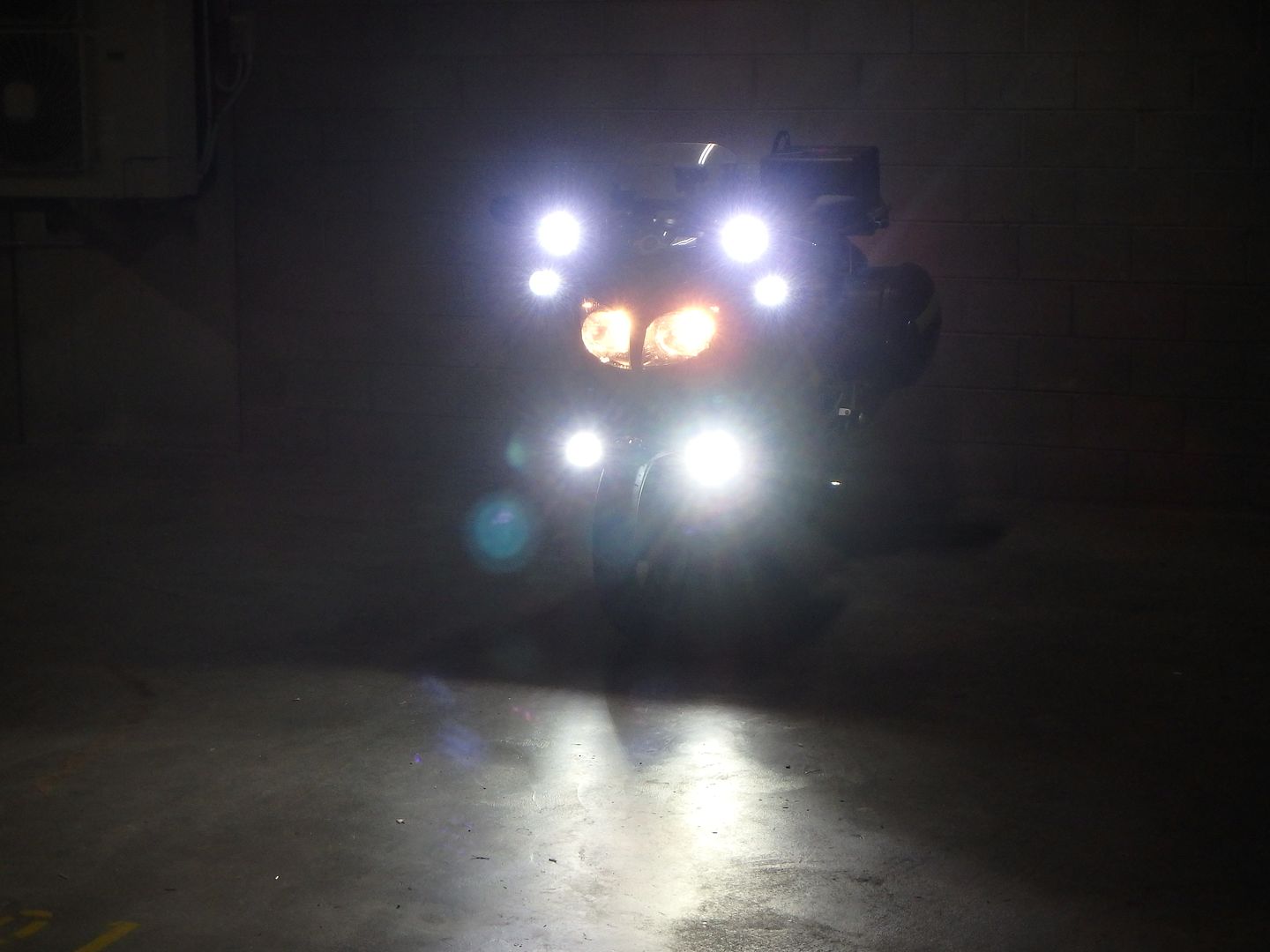 There were only 7 roos in the first 50km heading north so I started to relax. But not for long. Its 540km on that leg and I had 199 in my tally (none for the last 160km) until one lone red boinga boinga'd across the road in front of me 3 kms from Coober Pedy (2327km, 02:16hr 15/4/16, 27.33L).
One day I'll have to come through here in the daylight. 9 trips so far now and I've only ever seen this sign and the Shell servo....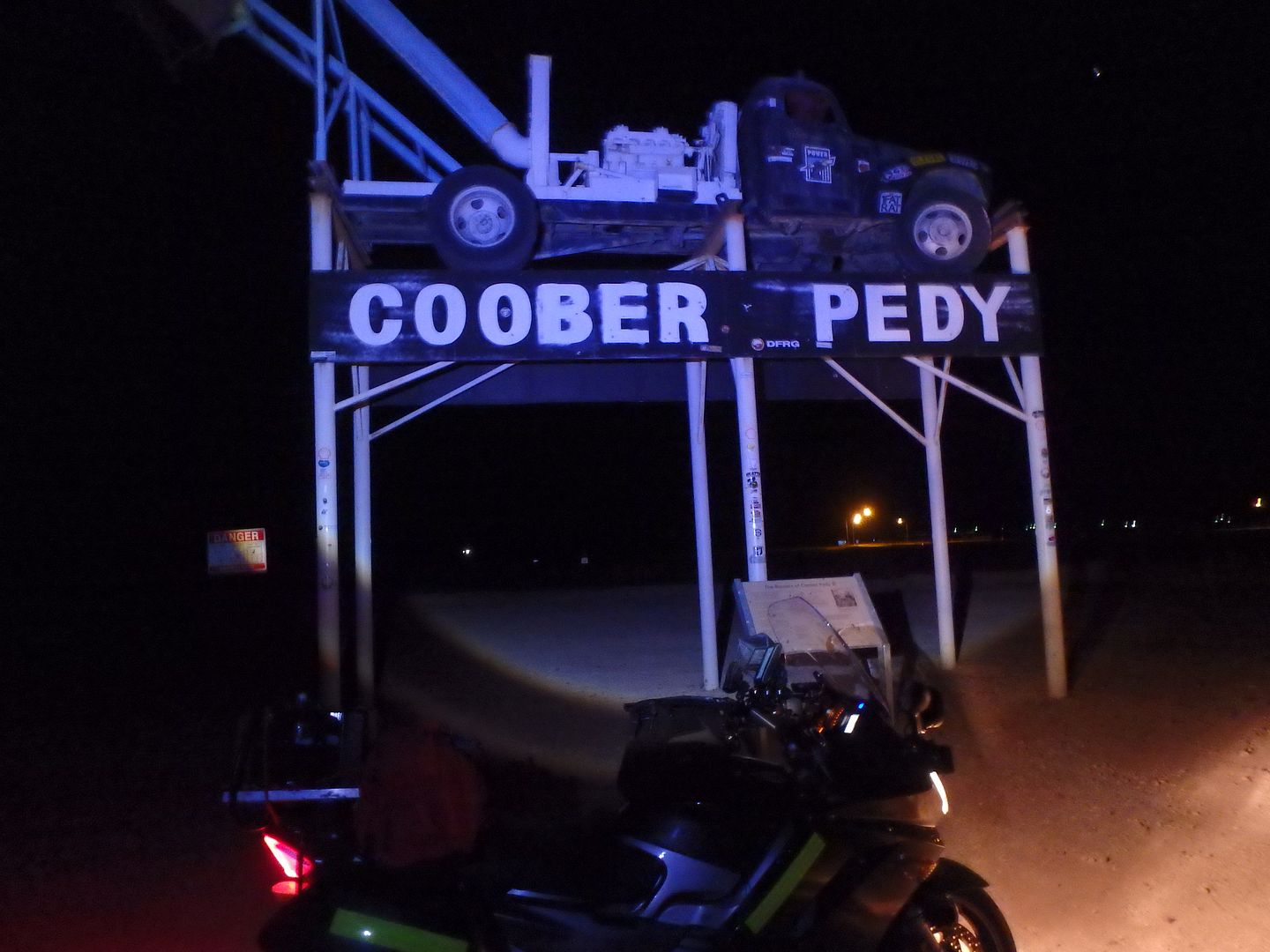 I grabbed a few minutes of nap time but thought I'd better find somewhere to rest. Sleeping a bit of the night meant more time in daylight so I rolled off the highway into a rest stop at Agnes Creek and found a comfy concrete table to sleep on for a while. I'd done a lap of Marla Roadhouse but saw and remembered the huge and annoying bugs that fly around under the lights so moved on. From Agnes Creek it wasn't long before I crossed the border and reached Erldunda (2815km, 07:51hr, 28.27L).
Minimal planning but with the sun at my back I turned on to the Lasseter Highway. Its crazy, but this road just feels like a short access road to the Rock, despite being 250km or so. It must be the anticipation I suppose.
Not fooled by Mount Connor this time, but I was shocked as always at the first glimpse of Uluru as it appears out of nowhere, bookended in the visual field by Kata-Tjuta on the right some 25 or kilometers apart. These Rocks are huge.
Rolling up to the Park Entrance I'd covered 3064km in 35:14hr (10:25hr AEST). That's just 1km, but well over the 32 hours more than Google Maps estimate.
Even so I was very happy. This place is magical the day was great for riding and I just meandered about the park for an hour or so and took a couple of pics: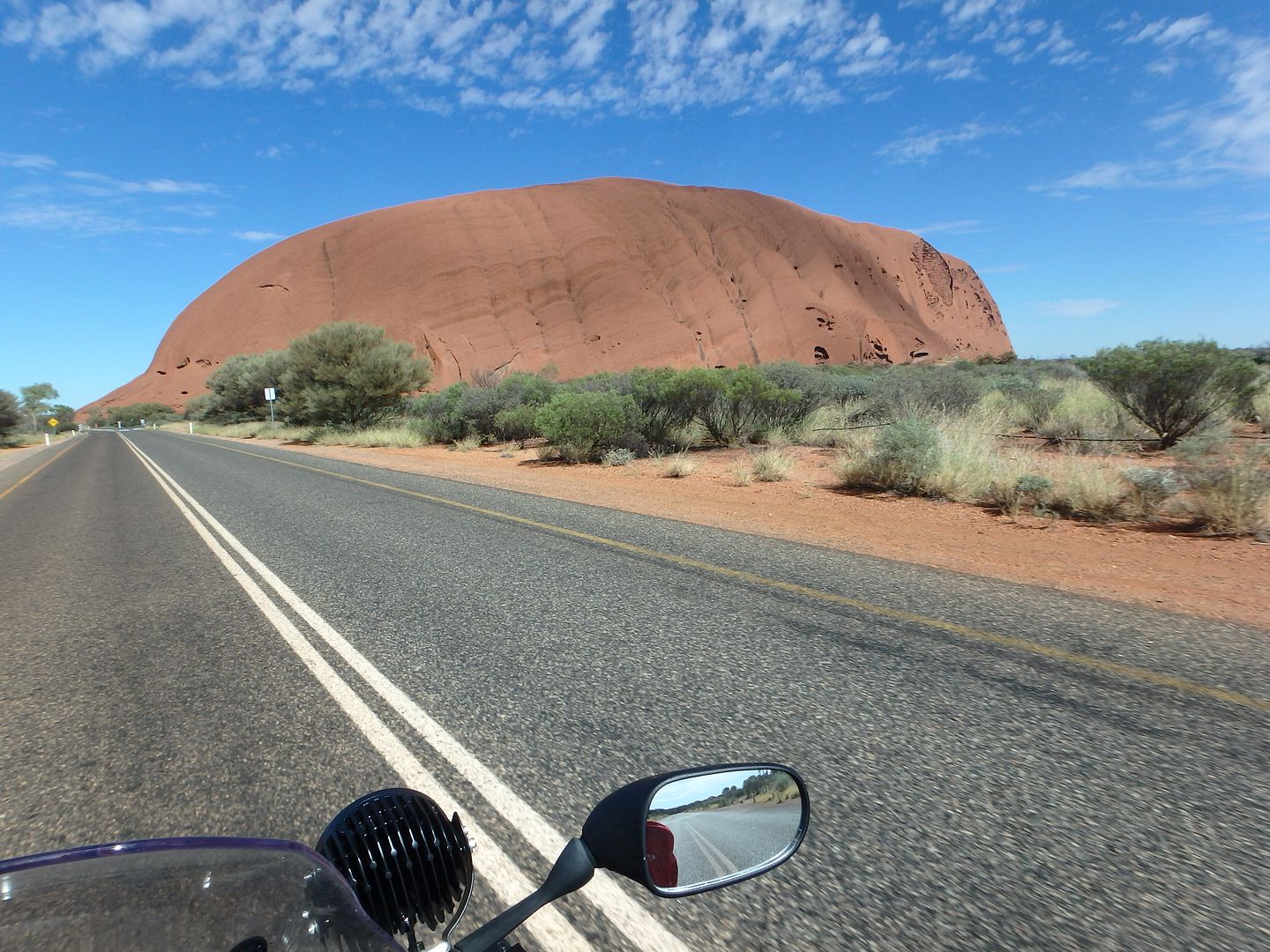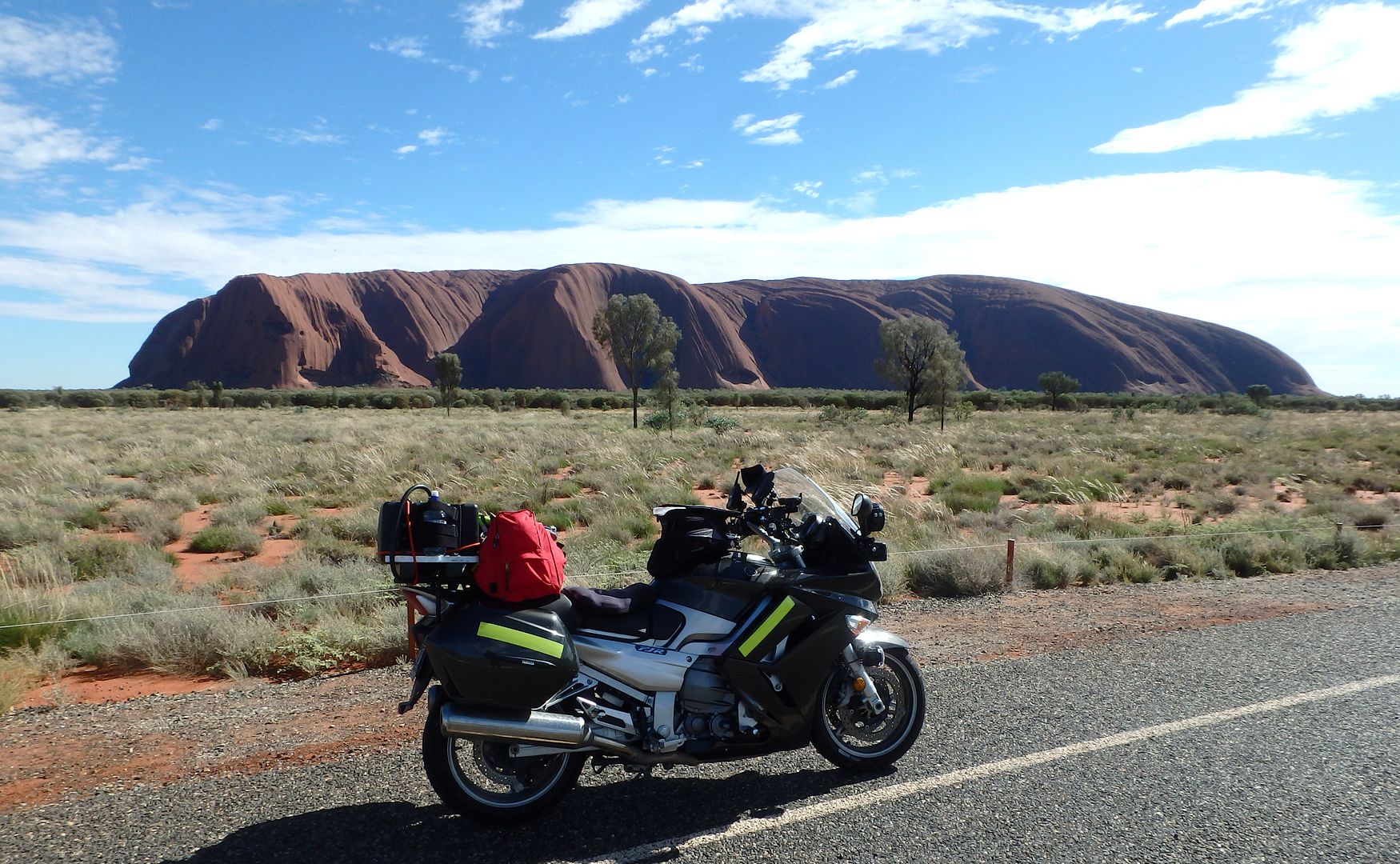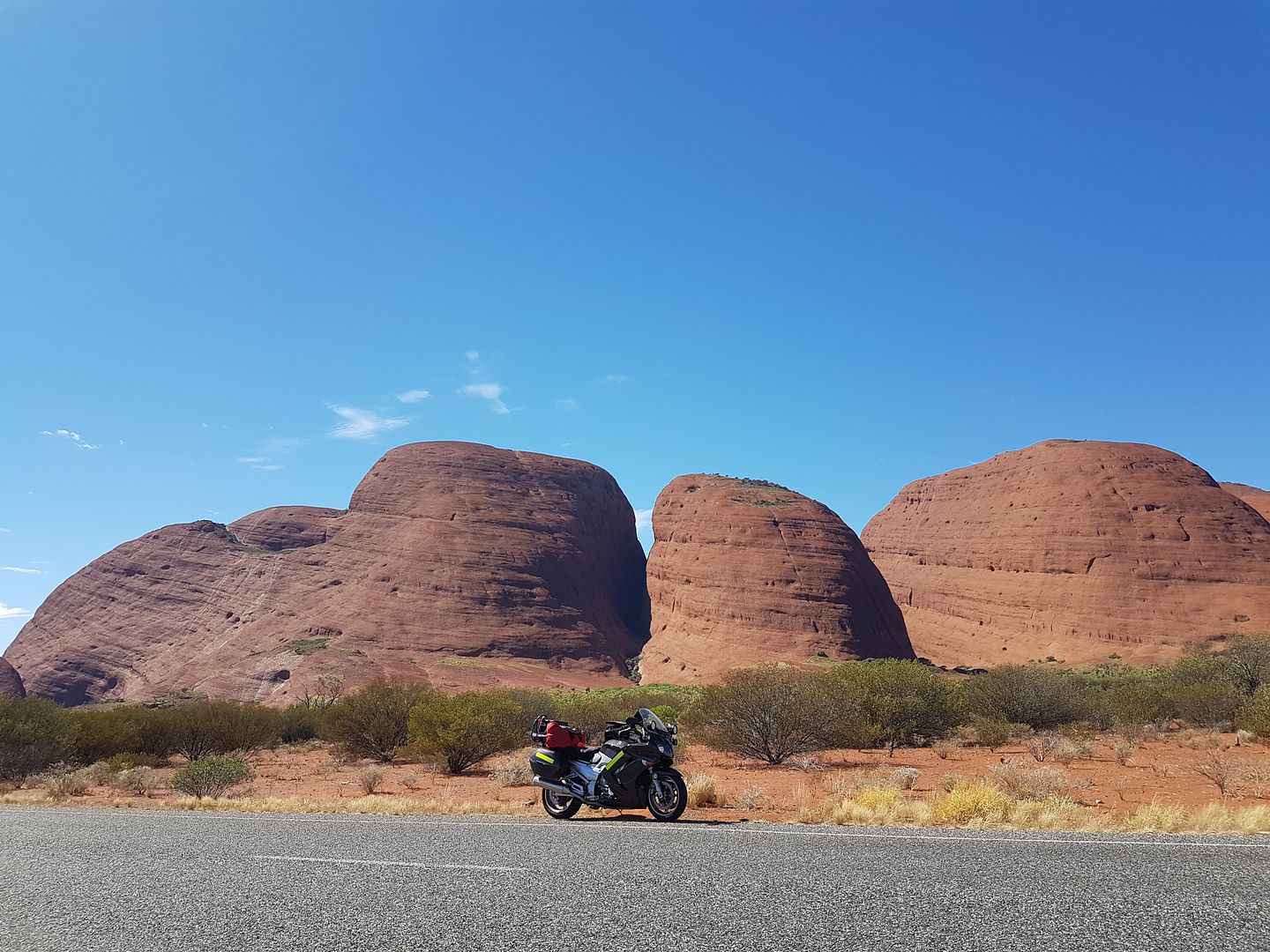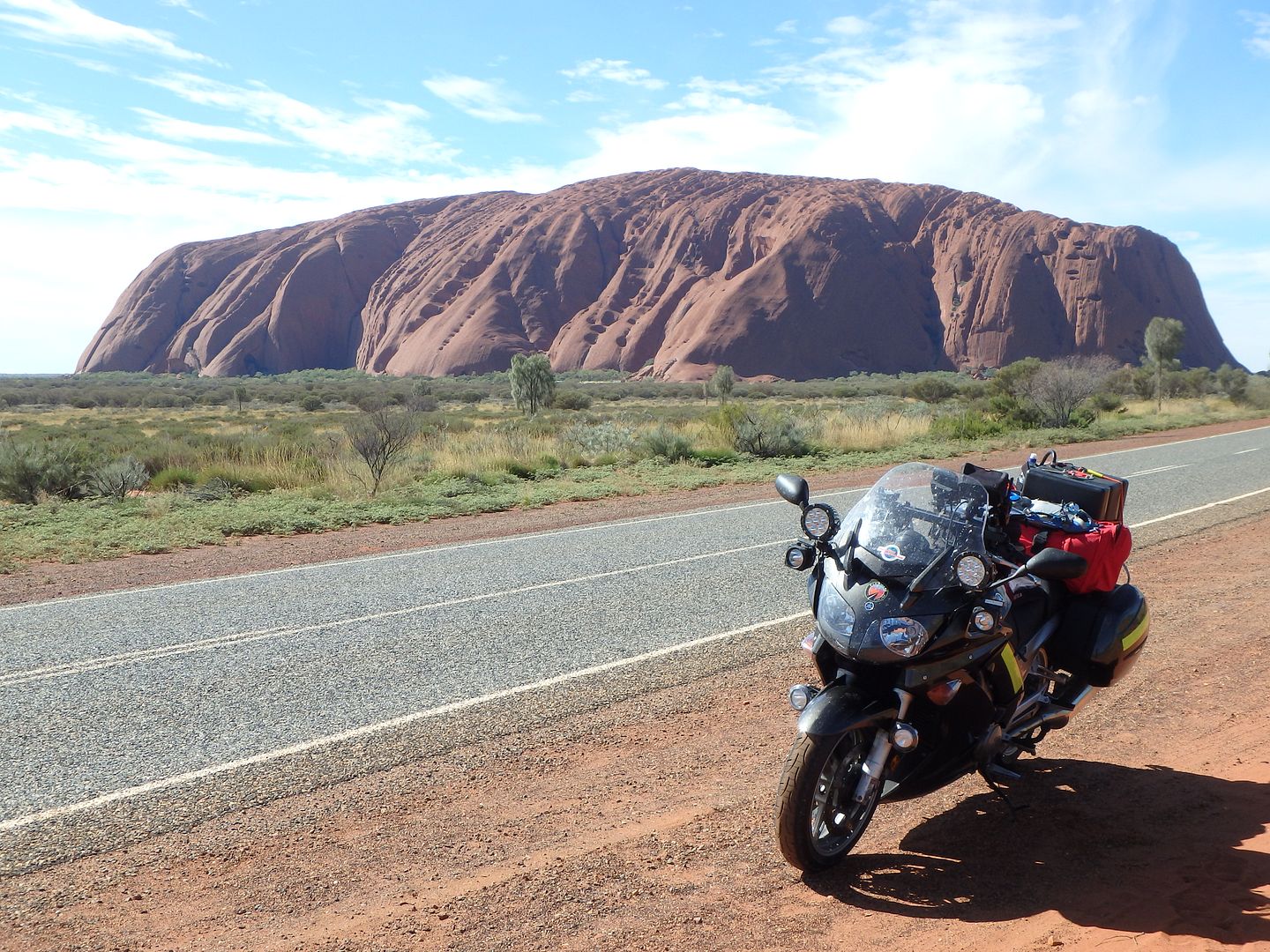 But I was still a long way from home and had to be back by midnight tomorrow...
Filled up at the crazy busy Yulara servo (3198km, 12:42hr AEST, 13.02L), phoned home and started to back-track along the Lasseter. Its a pretty enough road, with some welcome elevation changes and a handful of places to stop when in touring mode. But being 'on the clock' I had to keep rolling. Erldunda (3445km, 15:20hr, 20.59L) for a planned long stop to have a drink, take on supplies for the night, clean the lights and visor and ummm. Couldn't think of anything else so headed off early.
This part of the ride was fantastic. Like Coober Pedy, the northern part of South Australia is somewhere I have been several times before, but either in the dark or very early in the morning so I hadn't appreciated the colours of the country.
It was also a an opportunity to see what can't be seen at night. Lonely night trips through this neck of the woods are spent gazing at two staccato fringe lines of low bush, one on each side of the road, just outside the mesmerising white lines and with a finger hovering over the brake lever 'looking for roos, looking for roos'. Well, that's how I do it... Seeing it in the light shows that beyond the roadside fringe there is very little to see and very little to hide the roos. I often stand on the pegs on such nights, for seemingly hours on end to see up and over this fringe on guard for any movement. Full moon nights make it easier, though sometimes scarier with the wriggling mass of macropods out there on occasion.
But not this afternoon. Nothing but glorious Aussie outback out to the horizon.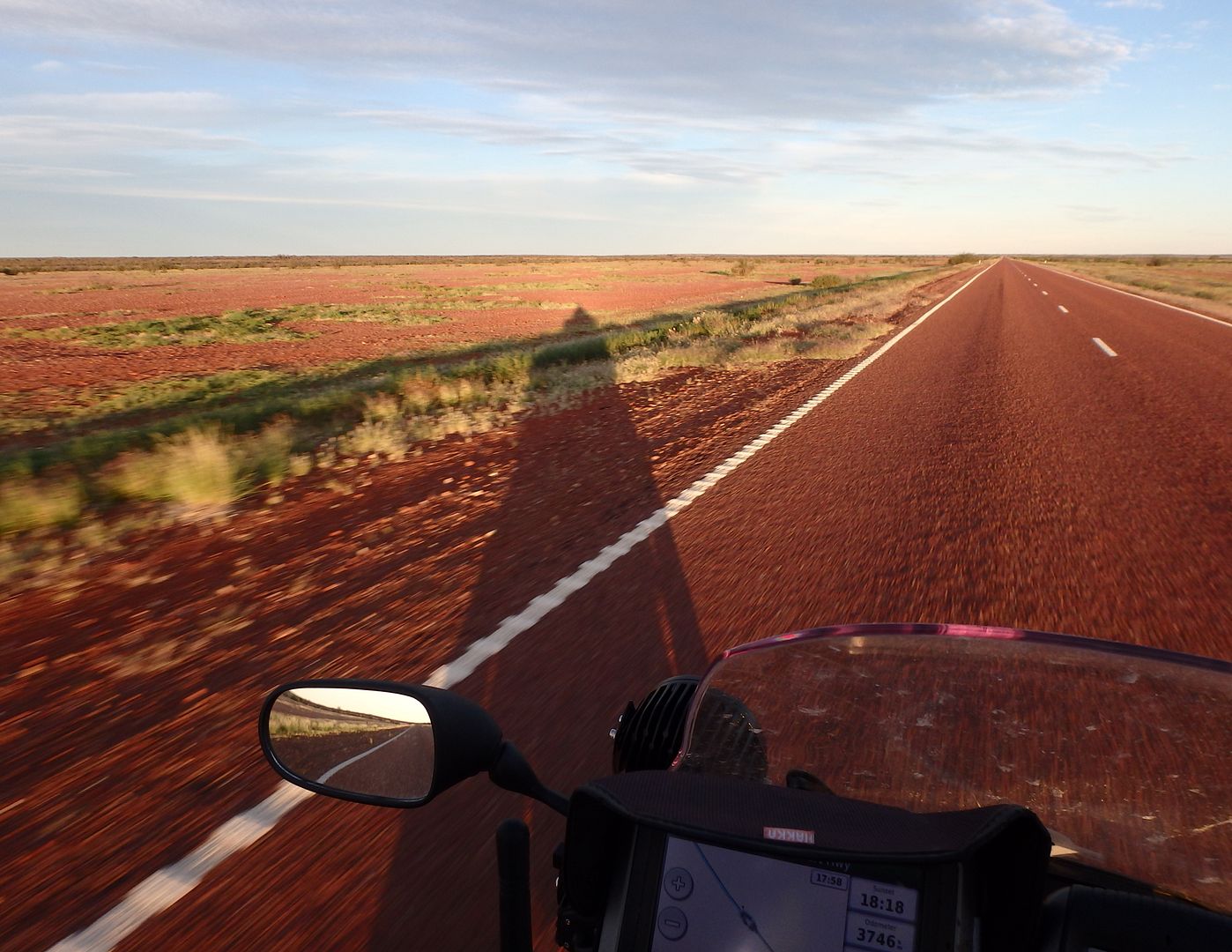 Another nap and Coober Pedy, but maybe only a few minutes before the rowdy locals woke me up - bonus, no alarm necessary. (3920km, 20:33hr, 28.87L).
The ride a few years back with 200 roos between PA and Coober Pedy was followed by a night of a thousand roos between Alice Springs and Coober Pedy on the way back. With the same (flukey) 200 just last night I didn't know what to expect. Only a handful to CP on this ride I was primed for a tough time down to Port Augusta, but only counted 64. It is so random.
Port Augusta (4471km, 02:25hr 16/4/16, 28.98L). I wasn't tired, but found a spot around the back of the servo, laid down next to my bike, put my legs straight up the wall and had a good half hour nap. Gold, that's worth 1600km - easy. A drink for a docket and back on to empty roads. Not quite. A huge grey roo was standing next to (maybe leaning on?) the sign at the far side of the bridge. Just out of town. The next few hours were a nightmare....
A quick nod to FarRider Davo at the plaque, dodged a few through Horrocks, lots more to Peterborough and like a guard of honour when I turned left onto the Barrier Highway there was a kangaroo on the side of the road every 10-50 metres for about an hour. All thoughts of OA and maintaining momentum were completely out the window until about Olary where the rising sun finally dispersed the mobs.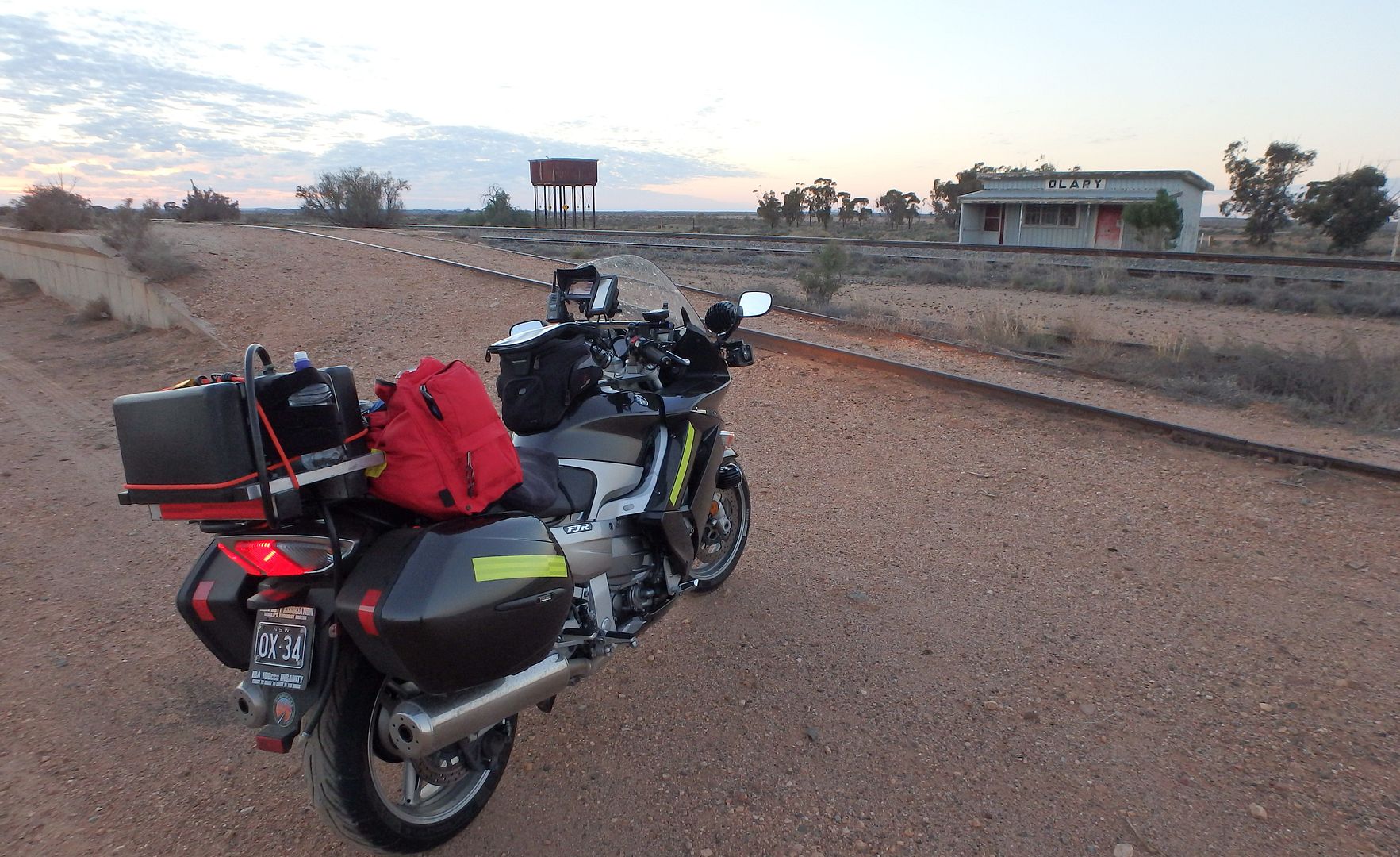 In their place was a few hundred kilometres of dead kangaroos and random chunks of meat with attendant flocks of birds, well beyond Broken Hill (4886km, 08:19hr, 22.76L). After that things returned to normal, the Barrier arcing as it does north east and then due east through spectacular outback.
Skipping Wilcannia, I fuelled up at Cobar (5344km, 12:41hr, 25.59L) then, having run a few numbers in my head, turned due north to Bourke (5506km, 14:22hr) for a docket before rolling in to Byrock just to take the piss. The Rock to the Rock to the Rock to Byrock.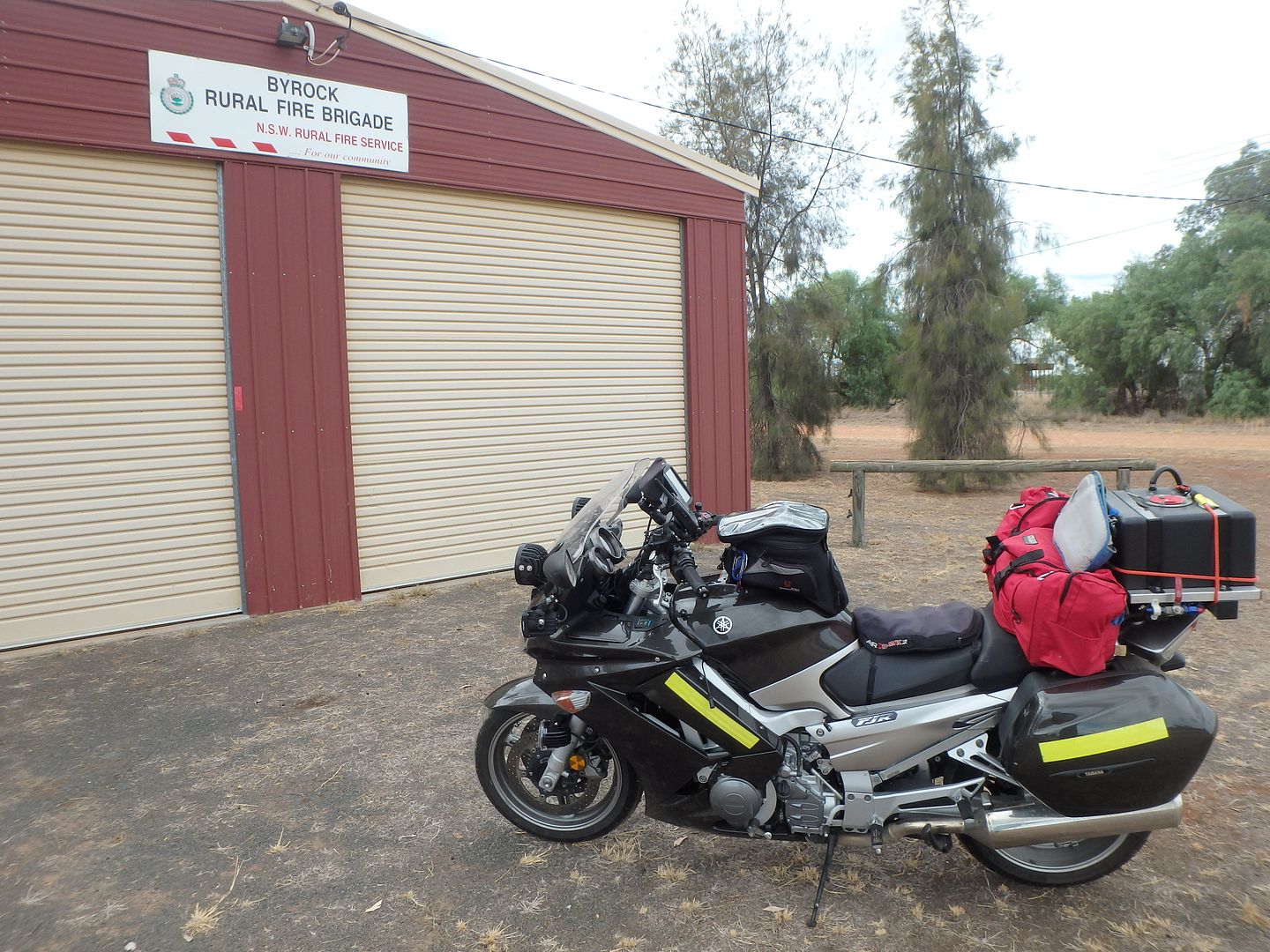 Nearly home. Like so many rides, it was a real sense of 'home' when I turned at Nevertire onto the Ox. Usually, like this day, it is with the sun setting behind me, the road - though flat - slowly meandering back and forth through farmland heading to the fork in the road at Gilgandra (5877km, 18:22hr, 17.01L just into the aux). A quick stop here and the beginning of another favourite road combo: the back road through Mendooran and onto the Golden Highway at Dunedoo and beyond. Almost no traffic, no wildlife in sight and just a lovely undulating few hours of spirited riding through the Hunter Valley.
Not much more to say, really. A left turn and up the Pacific Highway for a bit before pulling up at the same pump a little under 3 days from when I last visited The Rock (6296km, 22:54hr, 19.2L into the aux).