Requested by Management.

Please Note This report was added to encourage others to share their riding experiences whilst attempting an LD Ride, but were unsuccessful.

Note some may have read this already on FarRiders

(Edited. Deleted some other riders replies that I copied across by mistake)

December 28, 2015
December 29, 2015, 07:26:20 AM
Well that finished a bit earlier than expected..
But it was a day to be impressed about.
We were impressed by Enterprises and wife Carol's hospitality and for Enterprise escorting us through the maze which is Sydney to Coogee and then out onto the M5. Thank you guys.
We were impressed that Kimmie, Rob and Knave were waiting at Coogee beach to see us off, and impressed that Cuddles rode down from Taree for the start. Then all rode with us for the first 100km before peeling off at Sutton Forest. (with hindsight maybe we should have joined them the a Maccas brekky?). Thank you.
Until the rear universal joint had let go 20km west of Narrandera I had not felt/noticed that anything was about to fail, but you get that with machines from time to time. We were making good progress out of Coogee and down the Doom Hwy to our first stop at Gundagai 15 min ahead of schedule, which impressed us. The need to be forced to stop was something we were not impressed about.
After looking at our towing options and realising it was a public holiday we chose to get the bike towed south to Tocumwal (180km which was the same distance to the closest BM dealer) and from there new FarRider member AusRally (good friend Ian) drove up from Bendigo with a trailer to tow us from there home to Melb, we were impressed by Ian's help. He stayed the night and has just left. Thanks Ian
Impressed that I get a call while waiting on the side of the road from Philmor who as it turned out was waiting with his son Scott to meet us at our next fuel stop at Hay. He then decided to ride east to see us and to arrive as the bike was being loaded onto the tow truck, but they did deliver 2 more Gatorades as ordered, not bad roadside delivery I thought. Thanks Philmor and Scott.
Impressed that Grey Gentry and Marls were going to meet us and see us though Mildura later on but we contacted them to advise them of the news.
We were really looking forward coming down the last hill into Perth and seeing Gus and Lindsay's faces at the end of the ride, Impressed that they would take the time out of the sleeping time to greet us. Bugger , next time guys.
We were impressed by the offers from some FarRiders (I wont mention names) who were willing to loan us their bikes to do the 50cc on. That is impressive and very touching.
And lastly (and I apologise if I have forgotten anyone) all the posts on this thread and phone calls we received with support from you guys. Lynne and I are both very impressed by the support and well wishes.
So I have got to go now and pull apart the drive shaft and see what damage has occurred, get the old girl going again. I am still on holidays for a while, never know where we may end up riding if I can get it back on the road soon.
Thanks all
Fatman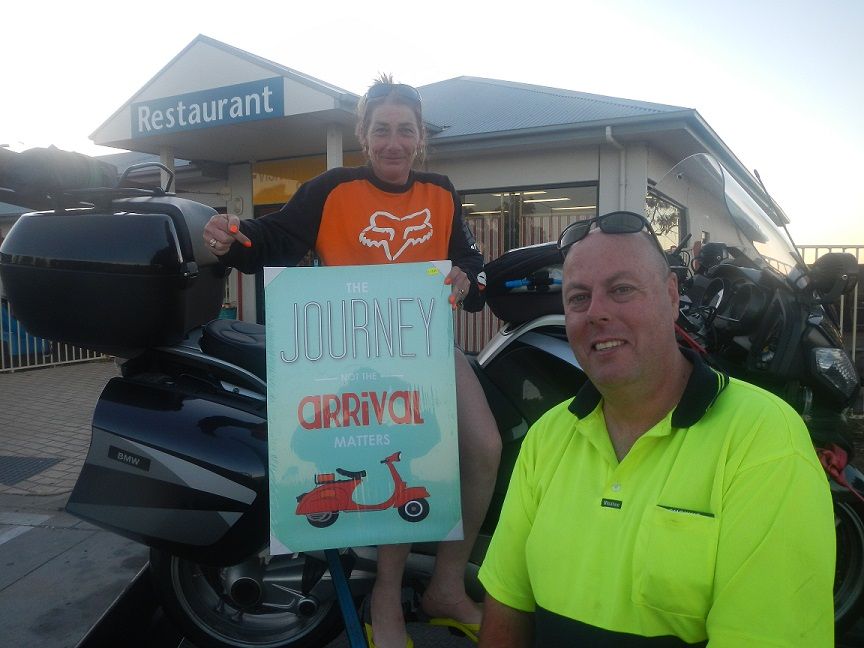 December 30, 2015, 07:13:54 AM
Update on repairs..
Stripped the rear swing arm and associated parts off to get the damaged now 2 piece drive shaft out. No damage to the swing arm to speak of but crap everywhere inside the hollow swing arm, took ages to clean all the old needle rollers and rubber boot parts.
After ringing around wreckers and finding no one open, we ordered a new shaft and rubber boot (Damaged in the explosion) from Southbank BM. Parts should be here tomorrow, a couple of hours to re assemble, hopefully back on the road sooner than I expected. Stay tuned. I need a ride and that last refuel at Gundagai seems to last a long time.
Lynne shows how to fill in 5 hours whilst waiting for roadside assistance?
Whilst waiting a bloody big roo came through the scrub on the opposite side of the road bounding our way so we picked up some rocks and threw them at him to scare him off. There's not much entertainment on the side of the road in the scrub and we wondered what we could do. It just so happened that we had purchased a cool vest for Mick and he was so looking forward to trying it out so when the temp got to around 30 degrees he decided to put it on. With his Hi Vis shirt and the vest over the top he looked like a coppa with a bullet proof vest on. So we decided to have some fun, Fatman stood beside the bike with his glass case in hand and pointed it like a radar at oncoming cars and yes they did slow down. That novelty wore off quick so we started to discuss our possibilities of getting a part and repairing the bike.
As Fatman mentioned in his post, unbeknown to us Philmor was waiting down at Hay but he then rode up to us delivering a couple of PowerAde's as we had run out but still had plenty of water in the camelbak. Upon his arrival I asked if he took eftpos, with that Philmor took the card, bent forward and swiped the card along his bum crack
! Yep all good processed, I didn't want to ask for a receipt, who knows what he would've presented!
We had a fun trip down to Tocumwal the tow truck driver was like a pogo stick where I was on a fold down hard seat and my bum was aching, nowhere near as comfy as the BMW. Then the transfer to Ian's car the seat was more comfy but as Ian mentioned in his post a bit of a tight squeeze. So between the two of them I have been told I need to lose some weight, cheeky buggars.
We had been up since 2am and by the time we arrived home at 11.30pm I said to Fatman and Ian that I wasn't this knackered after our 50cc to Darwin. My body was aching and just wanted to sleep so off to bed we all went, I can't remember my head hitting the pillow.
So the bike is in pieces in the garage and we await the arrival of new parts. Bags are still packed ready to go on the bike, so let's see what happens next.
"The road to Hay"
"Fatman looking like a policeman"
"BM on the tow truck to No where"
Anyway we reparied it quickly and were ready to go again ..... refer to Coast to Coast series rides, certified ride reports - 50CC Gold Coogee to Scarborough for full report
http://forum.ironbutt.org/index.php?threads/50-cc-gold-coogee-to-scarborough.81/
Last edited: