After weeks of planning by Des and some input by myself, we were ready to set off on our lap of the paddock.
Leaving Berwick on the 4th April 2017 at 2.30am and waved off by Michael, Lynne and Philmor.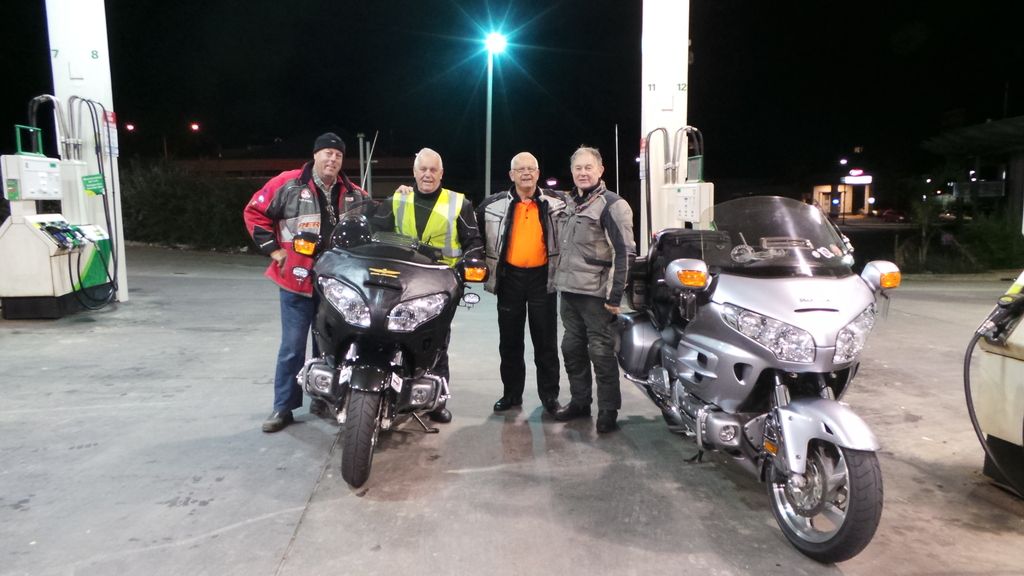 Travelling West due to Cyclone Debbie up North we implemented Plan B. First stop Ceduna arriving on time at 10.30pm on 4th April 2017. Today was great, no dramas, the weather was good for riding.
Left Ceduna early hours 5th April for our trip across the Nullabor. We were diverted after leaving Esperance due to bad flooding in the area and we then found ourselves on this temporary road that had been made out of soft sand and gravel....not quite what we expected and what the Goldwings are not partial to
This cost us some valuable time and we lost 2-3 hours from our schedule. Our speed was down to 40km an hour and due to the trucks passing by and nearly running us off the road, it became a dust bowl. Arriving at Ravensthorpe early hours in the morning. Managed to get a couple hours sleep.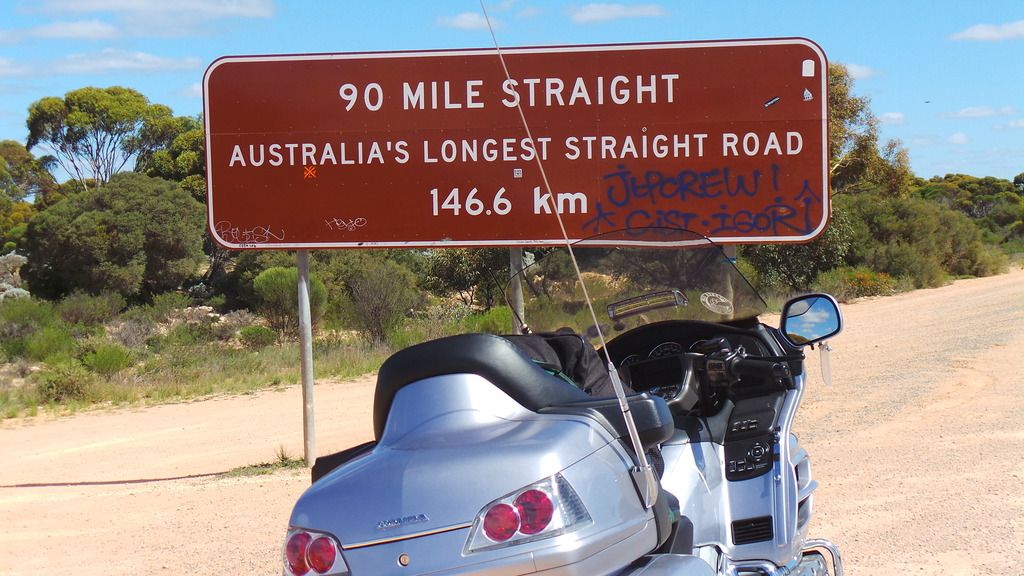 Left Ravensthorpe 6th April we were now on our way again and stopped at Rockingham to obtain a docket to say we were still on Highway 1, I purchased a door stop from Bunnings (thought it would come in handy for the caravan...lol). As were travelling through we were met by Gus (far rider from WA) who guided us into the Swan Valley where we said our good-byes. Heading to our night stop at the Billabong Roadhouse....no rooms available at the Inn. Next plan was to head to Carnarvon and try our luck there. The roadhouse at Carnarvon was a good stop to take a nap with the truckies. Here we basically lost our few hours sleep
7th April and still travelling well and both still in good spirits. We are now heading towards Roebuck Roadhouse but about 50km before here we were bombarded with insects. We figured this was our welcoming party as they escorted us all the way to Roebuck. Managed to get a room, something to eat and lay our heads down for a few hours.
8th Apil leaving early hours and heading to our next destination which is Darwin. Travelled through Fitzroy Crossing, Halls Creek, Kununurra and Katherine. There are some beautiful riding roads through the Kimberleys which made our journey most enjoyable. Today was a great day feeling good and the weather is now getting quite warm with temperatures hitting 37 degrees
Arrived in Darwin 12.30am
9th April - What a day this turned out to be. Very Unexpected.
Leaving again early hours as per our normal routine and back down to Katherine, Daly Waters. Stopping here for fuel we enquired about the road to Borroloola and was told it was all clear and good to go
.....WRONG!!!
About 120kms in and no warning signs we were greeted with a row of vehicles including caravans and a collapsed road which made for a river crossing (not in our plans
)
A massive grader was trying to repair the road and having stopped to talk to him I asked the question was it safe to cross with our bikes to which he replied "You're a rider aren't you!!!" and my response was "Yes but this is not a Jet Ski". He said if I stayed in front of the grader we should be ok.
How to best describe this....I think you needed to be there.
I took off very slowly and soon found he was filling the collapsed road with large boulders
(he didn't think to tell us that) The front wheel of the Goldwing was wobbling all over the place and the water was up to our knees. I managed to keep it upright and saw the white road line under the water which told me I was almost out of the deep water and nearly on the tarmac.
On reaching the other side I hopped off my bike and couldn't stop shaking as I was convinced at one point I was going swimming with the Goldwing. My concern was to watch for Des to make sure he came through safely which he did. This was one experience we will both never forget. Had to take photos as no one would have believed we actually crossed that section.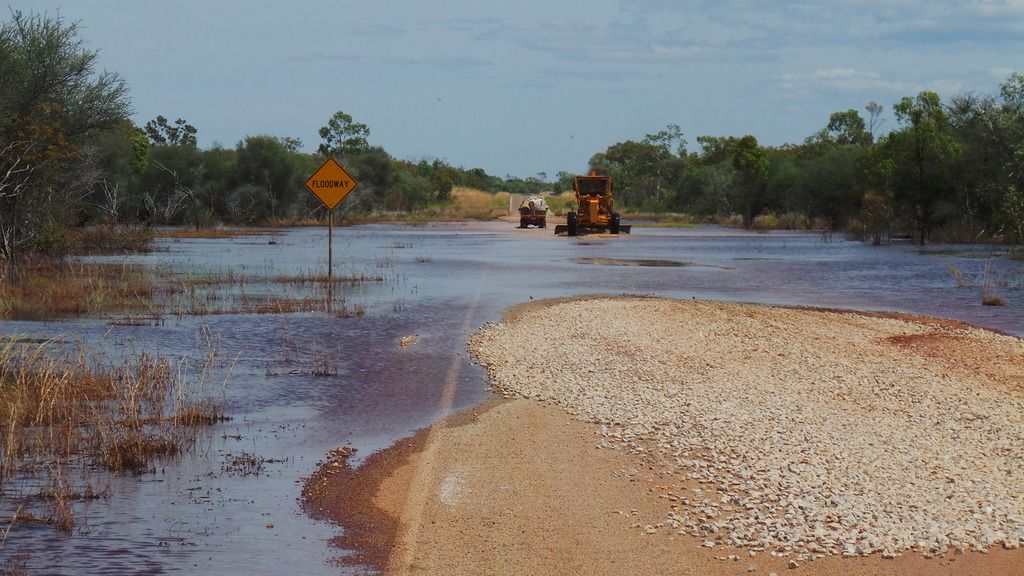 The remainder of the trip to Borroloola was uneventful and we stopped here for fuel and our corner docket. We now headed back to Heartbreak Hotel to refuel and get another corner docket and heading on the Barkly Hwy where my next incidents started to happen.
Having survived the river crossing I thought it couldn't get any worse but it did
First came the small kangaroo which I hit, shearing of the ABS ring on the front wheel and thinking this was all the damage but my day running lights had also gone. Next was the snake which I tried to avoid but Des informed me later that he wasn't happy and curled up on the side of the road.
Arrived at Barkly Homestead 10 pm and now 3hrs behind our schedule
10th April - usual leaving early hours of the morning and into Camoweel and onto Mt Isa, Cloncurry where we turned and headed to Normanton where we reconnected with Highway 1. Stopped to chat with the Big Croc and I think we were having a better day then he was...lol now onto Georgetown, Mareeba and Cairns.
Picked up our docket at Cairns to say we were still on Highway 1 and headed south towards Townsville. Leaving Townsville and it was just breaking dawn. I was coming around a left-hand corner and the local bird population was having breakfast on the side of the road and decided to all take off with one of them shearing off my left-hand mirror/indicator. Complete clean break and no sign of my mirror!!
Apart from this, the weather was great and it was a great riding day.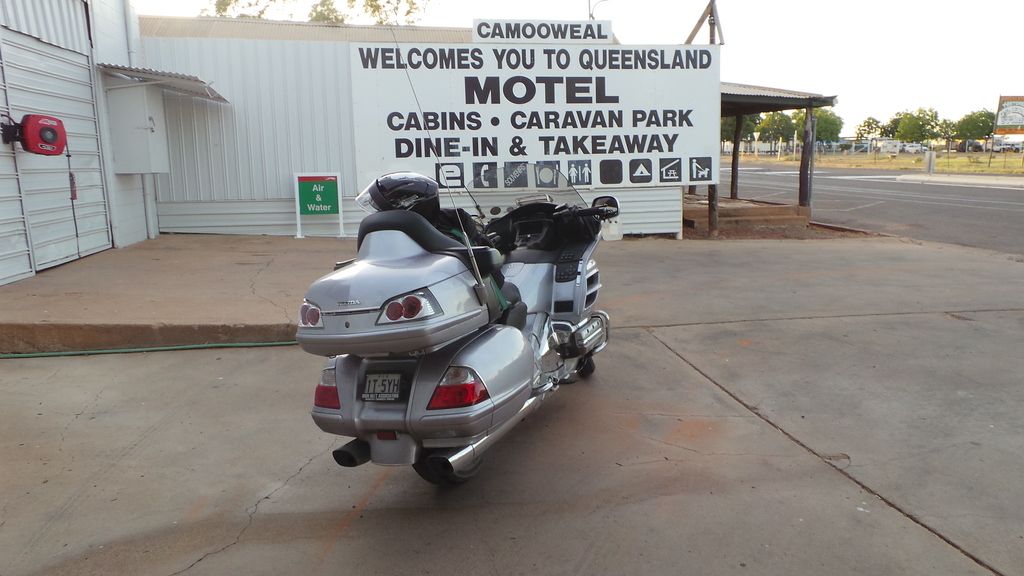 11th April - We didn't have a motel the night before so no early starts just kept riding. Cat naps at the roadhouses. No problems encountered going through Rockhampton after the cyclone, alot of road repairs but for us all ok. The weather was great and we are both still in good spirits.
12th April - This is our home stretch, Brisbane came and went and now time to tackle Sydney. We lost a number of hours here due to traffic and the tunnel
Giving that it is school holidays and coming up for Easter the roads and traffic are horrendous. The weather has now turned nasty and it is cold and very wet Leaving Wollongong and travelling down the coast our speed had dropped to 40kms due to the conditions. There was alot of traffic and due to my lights not working and I was starting to get blinded by the oncoming lights and everyone flashing me to turn my high beam off which was the only light source on my bike. I had already adjusted them as low as I could.
After almost being knocked off my bike twice I decided that as much as I would have liked to finish and continue in our designated time it was time to bring in Rule#1 Come Home Alive.
I pulled up at a place called Milton and waited for Des to catch up. When he arrived I told him I was too fatigued to go on and it was time to rest. I did say if he wanted to continue on he could but he also decided it was time for a rest
This journey with Des has been an amazing experience travelling on Highway 1 and has been a personal challenge for us both. We have both arrived home safely and there will be time for another far ride when we have had a well-earned rest. The bike needs to have a few cosmetic repairs and a bit of TLC
I would like to thank Des for all the hard work he has done to make this ride happen and I was very happy I was able to join him for this journey of a lifetime, many thanks again Des.
Thanks also to Lynne, Michael, Philmor, Gus and Hackle for intercepting and cheering us on