AN AVERAGE RIDER'S YEARLY MILEAGE, IN ONLY 5 DAYS! OR 4 NIGHTS IN THE IRON BUTT HOTEL
My name is Mark Anderson and on July 5th 2014, I set off, attempting to become the first British rider to complete a Saddlesore 5000 in Europe. (For those of you who are wondering what a Saddlesore 5000 is….it is a little bimble to complete 5000 miles in under 120 hours as per a verified route by Iron Butt Association)
The clock started at my first fill up, and would finish at the last! This would hopefully be over 5000 verified miles, (shortest distance taken between each documented stop) and within 120 hours.
So how did this all come about? As per normal alcohol was involved, and it seemed like a great idea at the time.
I'd previously ridden the RBLR 1000 in 2013, which was 1000 miles in less than 24 hours, which I found fairly easy, for which I raised over £1000 for the Royal British Legion (Riders Branch).
So I thought, how do I better that, whilst raising funds for the Royal British Legion? 2000 miles in 48 hours maybe, found out this had been done before, so to make it a challenge, I chose the SS5000.
According to the stats, the average motorcyclist does between 4000 and 5000 miles a year, I was going to attempt to do it in under 5 days. (Taking Wilf and Sergei with me as companions…..)
So I got on Google maps to sketch a rough route, I wanted to include John o'Groats to Land's End, but then where would I go?
Hmmmmmm sunshine was calling, and as I'd been before, and loved it, how about Portugal, more to the point, Cape St Vincent, the most westerly point of Europe. That gave me a rough total of about 3000 miles, so avoiding Paris I chose to go down past Dijon, Reims, Lyon to Marseille, then along past Montpellier into Spain, Barcelona, Seville, past Faro in Portugal, to Cape St Vincent, then Lisbon, Salamanca, Bordeaux, Lemans, back to Channel Tunnel, finishing in Rutland to visit my friend.According to Google maps this was approx 5086 miles.
Planning and preparation, erm.....had my bike serviced week before with new tyres, booked Channel Tunneland that was basically it.
The IBA UK (Iron Butt Association UK ) had what's called a Ride to Eat at John o'Groats, at 12o' clock on July 5th, then another Ride to Eat at Land's End at 13.00 on the 6th, the idea being, you make your way, at your pace, hopefully in under 24 hours, thus gaining an End to End Ride.
For the more adventurous Riders, you could go via Clacket Lane Services on the M25 and Gordano Services on the M5, thus proving you had done over 1000 miles, this would earn you the End to End Gold Ride.
So that was the ride I chose, E2E Gold. My mate Malc also decided to do this E2E ride, so we would ride that part together. Malc however was starting at John o'Groats, I was starting a few hours earlier in Carlisle.
0300 on the morning of the 5th, my alarm went off, surprise surprise, it was raining. I started to get ready, huge bowl of porridge, big mug of tea, got into waterproofs and set off at 0345. My first fill up was at Tesco Carlisle, which was my official start time. However the time on the ticket was an hour fast, typically no one was around to sign to say it was 0415 not 0515, oh well, I'd hopefully be back in plenty of time, and that's it, I was off on my journey.
Fairly straightforward ride up to Glasgow, where the rain stopped. There was no time to stop so the waterproofs stayed on. My first fuel stop was in Dalwhinnie, where I became a tasty meal for the lovely midges, quick peestop, and back onwards.
It was nice seeing the snow in Glen Coe still, and it was such a nice day, I love the Highlands especially when the weather is good.
Without too much drama I made it to John o' Groats by about 10.30, feeling good and fresh.Said hello to all the Iron Butt Riders who had made it. Got some water down my neck, and some nut mix.
At 12 o'clock, we had a group photo taken under the John o' Groats sign, then went for sandwiches and soup, and a cuppa. Around 1315 me and Malc said our farewells and set off, first stop Wick for fuel, (and for my receipts) then back down the A9 to Inverness, Edinburgh, Berwick upon Tweed (fuel stop for receipt) then down the A1, before we pulled into Clacket Lane Services around 1am, checking in to the Iron Butt Motel. As it was raining we got under some trees and got some sleep.
About 2 hours later I woke Malc up, packed bikes, filled up, (bloody receipts) and off in the early hours to Gordano services, on the m5, when we got there we had another hour or 2 in the Iron Butt Motel, but it was not raining now, so laying by bike, (later got likened to slugs by a fellow Iron Butt who had seen us)
The Iron Butt Motel.
Occupancy: 1
About 0730 we set off for Land's End, a nice ride, not much traffic, not too warm, perfect. And when we got on the road from Penzance to Land's End, again not much traffic, so was a good time to enjoy the bike a bit.
Arrived at Land's End about 10 o'clock, meeting up with a few of the riders already there, more nut mix and water, couple of photos, but I was itching to get going, so, said my farewells, and Malc and I left, (Malc was riding back to Manchester)
We parked bikes up for obligatory photo in front of Land's End hotel, shook hands, kitted up and got on bikes.
Turned key.........NOTHING..........lights on, everything working, just not turning over.....kill switch checked, nothing, gear switch checked, nothing, side stand switch checked, nothing, battery off too reset everything, nothing.......BUGGER.
That's it I thought, 1500 odd miles in, and that's the journey over.
So we pushed bike out of way, whilst I got iPad out, just too see if anything on forum, and lo and behold, it's quite common for interference from motion sensors to cause immobiliser to prevent bike working, put key in....YIPPEE it worked, looking around we saw a light sensor near where my bike had been parked. Phew
Back out of Land's End to Penzance, along that lovely road, I really got to enjoy my new tyres before they became too square, another fill up in Penzance, said my farewells to Malc, as I would be peeling off to go down the A303.
Was a lovely day to be riding, but every now and then the enormity of the ride ahead encroached into my helmet.
I'd plotted the ride into my sat nav, but I'd done it in 3 stages, Carlisle to Tunnel, Tunnel to Cape St. Vincent, and Cape St. Vincent to Rutland, as I decided early on, I didn't want the pressure of an arrival time on my sat nav.
I had wasted quite a lot of time in England, standing around chatting etc, I knew I wanted to have a moving average of 60 mph, (needed a minimum of 42mph overall average), my sat nav was saying moving avg of 70mph so very happy with that, but I was still starting to be concerned about time already, only a day and half in.
A fairly uneventful ride to the tunnel followed, got there a little early, was offered an earlier train, for a fee, I chose to wait the 2 hours for my train (would I regret this idea???) and got my stove out, had a cuppa and some hot food, (took some military rations) made some phone calls, and before long, I was on the Tunnel train.
Luckily in front of me was a guy on a bike, as I hadn't crossed this way before, and didn't know the loading protocol. Once loaded I got chatting with him, (bikers like to chat) he commutes everyweekend to Belgium on his bike, to do some work for military.Told him my plans, and got the response "thats mental"!!!
After a bit more idle chat, I pulled my woolly hat over my eyes and grabbed 20 mins by my bike (a position I would be doing a lot over the next few days) (the Iron Butt Hotel, the cheapest around!!)
Upon unloading, I bid the guy farewell, (sorry useless with names) and onward I rode, towards Dijon.
The sun was setting, gorgeous pink sky, and the miles were being eaten up, so approx 1am French time I found a service station, filled up, more tea and nuts, and got into my dossbag, for 3 hours sleep.
Blerghi, 4am, I'm up, making hot food, and more tea, (I do enjoy a good cuppa) (even took a proper mug, coz it tastes better)
By 5am, I was back on the road, it was raining now, a steady downpour, which slowly made its way into my clothing. My music started to play up, so that got turned off, and I then realised I was behind schedule, quite badly. I had only done 1800 odd mile in the last 48 hours, so of course, I started to panic a bit more.
Coming into Dijon, the rain increased, as did the bad driving and accidents, but I trudged steadily onwards, tolls,fuel and tea and nut mix, all passing in a blur.
On leaving Dijon, the road split, sat nav was playing up, had choice of right or left, as left signposted Marseille, that was the route I chose.....DOH! I immediately knew I had gone wrong, so came off at next junction, crossed over bridge, entered the road, came off at the next junction,toll (3 euro) crossed back over bridge, toll (2 euro) and headed the correct way, towards Lyon.
I don't like driving in Lyon, never have, and today was no exception. Lots of roadworks, lots of traffic, lots of spray. But head down and I got through it, phew, next stop Montpellier.
Just by Montpellier, out came the sun....bliss, the clear blue sky was lovely, and as I watched my thermometer rise upwards, (top temp seen was 42 degs) at my next stop, I removed my waterproofs, hoping I wouldn't need them again.
I carried on, feeling tired, my rest stops were becoming longer, I knew I would need to stop soon for a sleep, and just by Barcelona, I knew I had to sleep, it was about 1600. So, sleeping bag out, quick brew, and then got my head down, in the vehicle shelters, most Spanish services have.
I awoke about 1 ½ hours later, to a horrendous downpour, which was running under my sleeping bag, and around my boots, I did have a laugh at that, albeit a slightly manic laugh.
Anyway, no point laying in water, so packed sleeping bag, had another brew and food, and felt pretty good, so decided to continue.
The rain had made it cooler, but the roads had become quite slippery. I carried on, until again, I thought I'd better get some sleep near to Seville.
The next day, on Tuesday I was due to meet Wolfgang at his bratwurst stall at Cape St. Vincent, I was hoping to be there by 12 o, clock.
So head down (the good old Iron Butt Hotel again) and up about 4 am again, brew food fuel and off.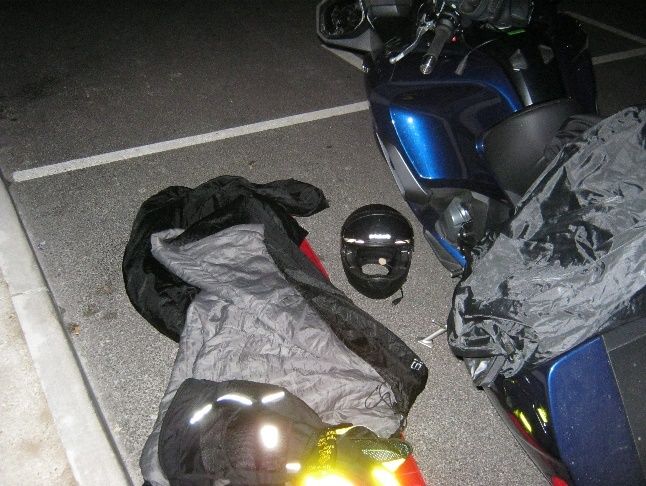 Entering Portugal, I entered the tourist lane, and paid the tourist toll, (no sign as to amount they charged) andonwards, heading towards the Cape. Eventually got there, I believe about 1130, had a lovely bratwurst, had a chat with Wolfgang, obligatory photo, with Sergei and Wilf, (the mascots i was carrying) and off again.
Loading my last route into my satnav, I saw I had 1700 odd miles left, and about 40 hours to do it in, but I wanted to be at the tunnel by 6pm the following evening, so I had to get from the bottom tip of Portugal, all the way to the Channel Tunnel, in about 27 hours. (luckily the screen on my sat nav is quite small, thus not showing the enormity of the ride left to do).
The ride to Lisbon was very quiet, no one on the toll roads at all, so, cruise control set, music blaring from bike, I enjoyed the ride.My life had become a repetitive circle, toll, petrol, tea, pee, ride, toll, petrol, tea, pee, ride........
Was feeling good, riding well, had an interesting chat with a Spanish policeman, who had a great sense of humour!!!
Somewhere near Burgos, I got my head down, for what I hoped was the last time in the Iron Butt Hotel, set my alarm for 3 hourstime, (about 2 am)
2 am, alarm went, sleeping bag packed, again for hopefully last time, I now had about 1000 miles left, and about 26 hours to do it in.
Quick cup of tea and some food, it was drizzling and very windy, so I thought I'd better put waterproofs on.
Off I rode, feeling great, the road was quite busy at this time of morning, the trucks throwing up a lot of spray, but I despatched the first 100 miles in no time at all, well that's how it seemed to me, however, crossing back into France, I suddenly felt tired, really tired, so had to stop again, for another sleep in the I.B hotel.
About 2 hours later, I awoke, in rain, sleeping bag wet, packed it away, had some nuts, got on the bike, my deadline to the tunnel of 1800 was seeming an impossibility now. I motored on, but started to panic.
My next stop, I made a few phone calls to friends, feeling low, they all cheered me up, they were all watching my progress via my spot tracker, so they actually had a better idea of what I had done than me. Off I set again, feeling happier.
Mid afternoon, I entered Rouen, to join the road for Calais, the signs said to follow yellow signs for Calais, so following them, I realised Rouen was having major roadworks, however, in central Rouen, the yellow signs vanished... ok I'll follow satnav, which then proceeded to try to take me on the road that was being dug up, so eventually I got annoyed, moved into motorbike courier mode, got through the traffic, and used my common sense, eventually joining the correct road.
I arrived at the Channel Tunnel, just gone 1815 only to hear that ALL trains CANCELLED.
OMG, now what.
I was already planning a route to do the remaining 300 odd miles required, when they announced that trains now running, so I joined a long queue as I had a reservation number, got chatting to some fellow bikers, who had ridden through some horrendous rain (their words not mine) in mid France.
When they enquired where I had ridden, I got the customary "thats mental"
Finally got to the ticket booth, only had an hour's wait, upon riding towards the parking area in Cite d'Europe, I got stopped by customs, when the customs officer asked me where I had come from, I explained I was on the last few hundred miles of a 5000 mile 5 day trip, he looked at me gone out and waved me through.
Waited for boarding in Cite d'Europe, did some calculations, hmmm my satnav was telling me I was going to be short of miles, so I decided I would ride the long way around the M25, head up to Oakham, and see how the mileage looked then.
Loaded on train, got chatting to a couple who had a bmw 600 scooter thing, and they had rode 700 plus miles on it, and they were drenched, so we exchanged stories, before I closed my eyes for 5 minutes.
Entering Britain, my mate Malc phoned me, asking how it was going, was nice to hear a friendly voice. I phoned my friend Marion who I was going to see in Oakham, just to warn her that I may go past Oakham, before turning round to go back to add the extra miles. Got into England about 730pm, so knew now I had plenty of time, and set off.
Traffic was sparse, so good time was made, I stopped at Cobham services, to fill up to prove I had rode round the M25, met up again with the couple on the BMW, who were heading for Wales, or Bristol, or somewhere like that.
Off again, started getting dark, but it was the last hundred odd miles, so I was cruising, quick stop at South Mimms, to prove I was going up A1, then off again.
But now, my mind was playing tricks, had the bike always made that noise? Did it always vibrate that way, is my oil ok, my tyres ok, what if???
I became super conscious, coz most accidents occur in last part of a journey, when you relax.
Fortunately the bike behaved, and before long I was nearing the turning for Oakham, satnav said 5060 miles, dare I risk it, so I filled up, as no station in Oakham would be open, and headed too Marion's.
Just before Marion's house, I stopped at a Co-op to get cash out, just for the receipt, (later turned out was no store location on receipt so useless) and turned into Marion's road.
Whilst on this ride, I had been deciding which tune to play on the bike's stereo as I pulled up, I had so many choices, Radar Love, Silver Machine, Bat out of Hell, Superman theme, but as I turned onto Marion's road, I chose the only song it could be.....I want to ride my bicycle, I want to ride my bike...I want to ride my bicycle, want to ride it where I like.
As I approached her house I could see Marion was waiting with huge smiles which put a lump in my throat, that woman has done so much for me towards this ride, and the look of pride, happiness and relief on her face choked me up a little. (gonna get some flack for that!)Pulled up, that was it. Finished. Turned the bike off, got off, patted her tank and said "that'll do Pig" which is now my bikes name.
Lots of hugs followed, from Marion and the kids, but the enormity of it didn't sink in, I'd just ridden, according to my satnav, 5086 miles, in 115 hours, at a moving average of 71 mph.
First thing in Marion's house, yep a big mug of tea, followed by a bottle of beer that she had bought for me, lush.
Next thing I wanted, was a bath, I hadn't changed clothes for last 5086 miles, so needed to get out of them sharpish.
Whilst in the bath, I had another beer, this is the life!! Followed by (Marion had asked what I would like as a finishing meal, steak, kebab anything, I chose the only food there is...) cheese on toast. YUMMY.
Eventually about 2am I said I needed sleep, so Marion gave me her bed (the woman is unbelievable) and very quickly I was off to sleep.Woke about 7, gagging for a cuppa, so crept downstairs and made one. Then went on internet to inform my friends I had done it.
But now I started worrying, most people who do 1000 miles normally do about 30 miles more, just in case, as I've said, the verification team, take the shortest possible route between each stop, I'd only allowed for 86 miles over 5000 miles.
I knew I had done the miles, my satnav told me I'd done the miles, but the verification team could say no. I'd face that possibility when it arose.Later that day, after a deep tissue massage, arranged by super Marion, I rode back to Carlisle, it seemed strange only riding Pig 200 odd miles, I felt like I wanted to ride more.
A few days later, I started the arduous task of compiling all the paperwork, thank god for my spot tracker, ID marked each stop, so just had to correspond each ticket to the number on screen, easier said than done on some of the toll receipts.
But whilst doing this paperwork, I actually got to look at the route I'd done, and how huge it was. After emailing that all off to the verification team it was a horrible wait. Had I done it? Had I become the first Briton to do an SS5000 in Europe? Or had I failed, due to not doing a few extra miles, coz I had been impatient.
Eventually, the email came back from Mike of the IBAUK verification team....
I'D DONE IT!!!!
The official stats, 5044 miles in 115 hours and 9 minutes. Which I worked out as an overall average of 43.86 mph. The relief was unbelievable.
So that's my story, I hope you enjoyed it.
Id like to say a few thank you's:
Huge thank you for Triumph, for making Pig, oh and paying for the service ;-)To Urban Glow, for the reflective vest they made and customizedTo Wolfgang, for the Bratwurst and the welcome
But the biggest thank you has to go to my rock, Marion, without whom, this wouldn't have happened, she tirelessly helped fund raising, writing to and phoning companies for sponsorship, and giving me loads of moral support. Love hugs and cuddles Marion, words can't say thank you enough.
And the last thank you has to go to the Iron Butt Association, who dangle these stupid rides in front of me. Damn you.Now to plan the next ride.10000 in 10 maybe....
Last edited by a moderator: