Lately I've just been riding short rides and having fun in the dirt with TigerBill and Crackaz, seen here with my Tenere and KLR650: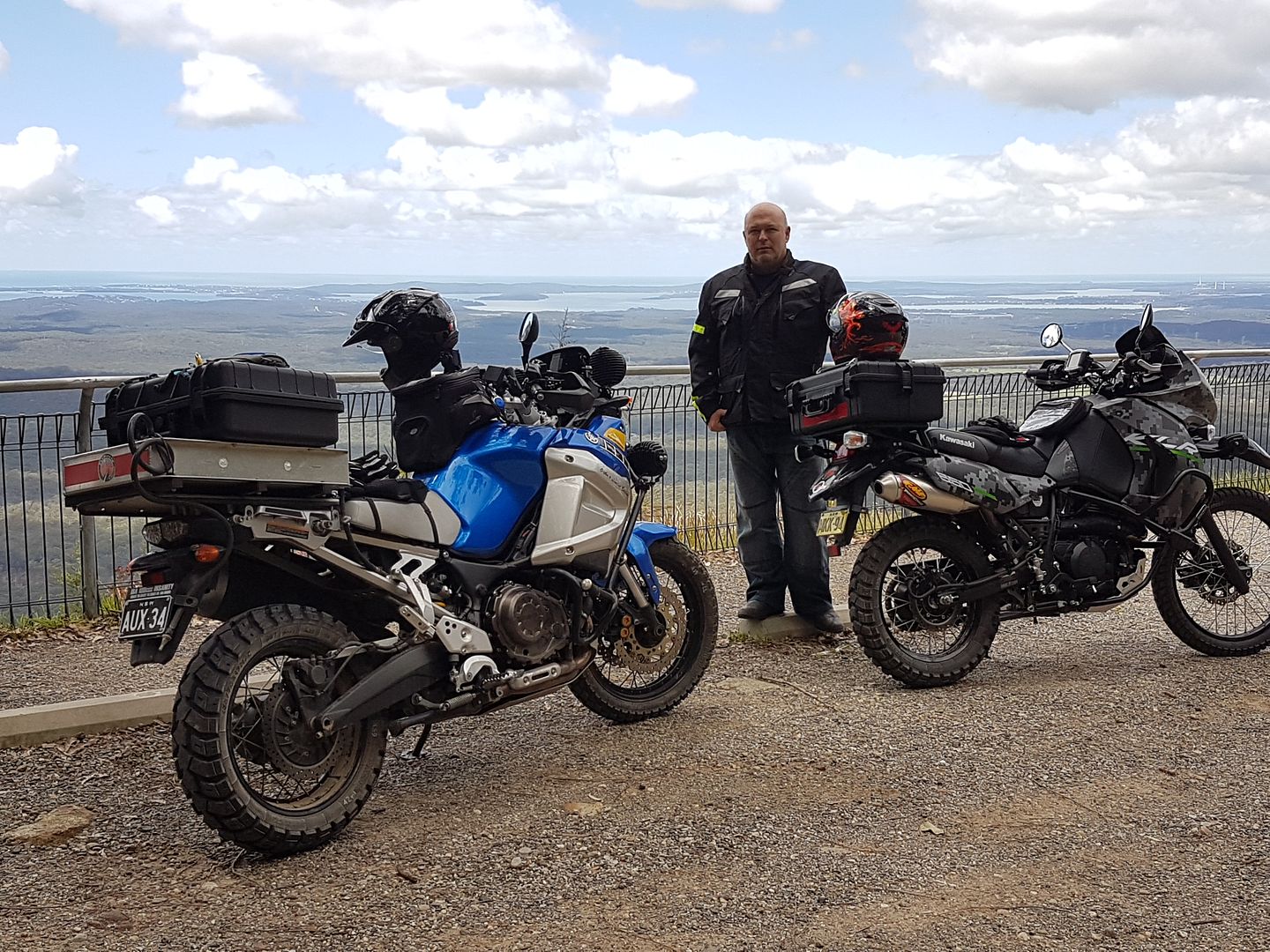 But I was feeling the urge for a good leg stretching dayride. I called TigerBill about 6:00pm to tell him the plan - a simple as a plan can be - had a nap and met him at our local servo at 9:30pm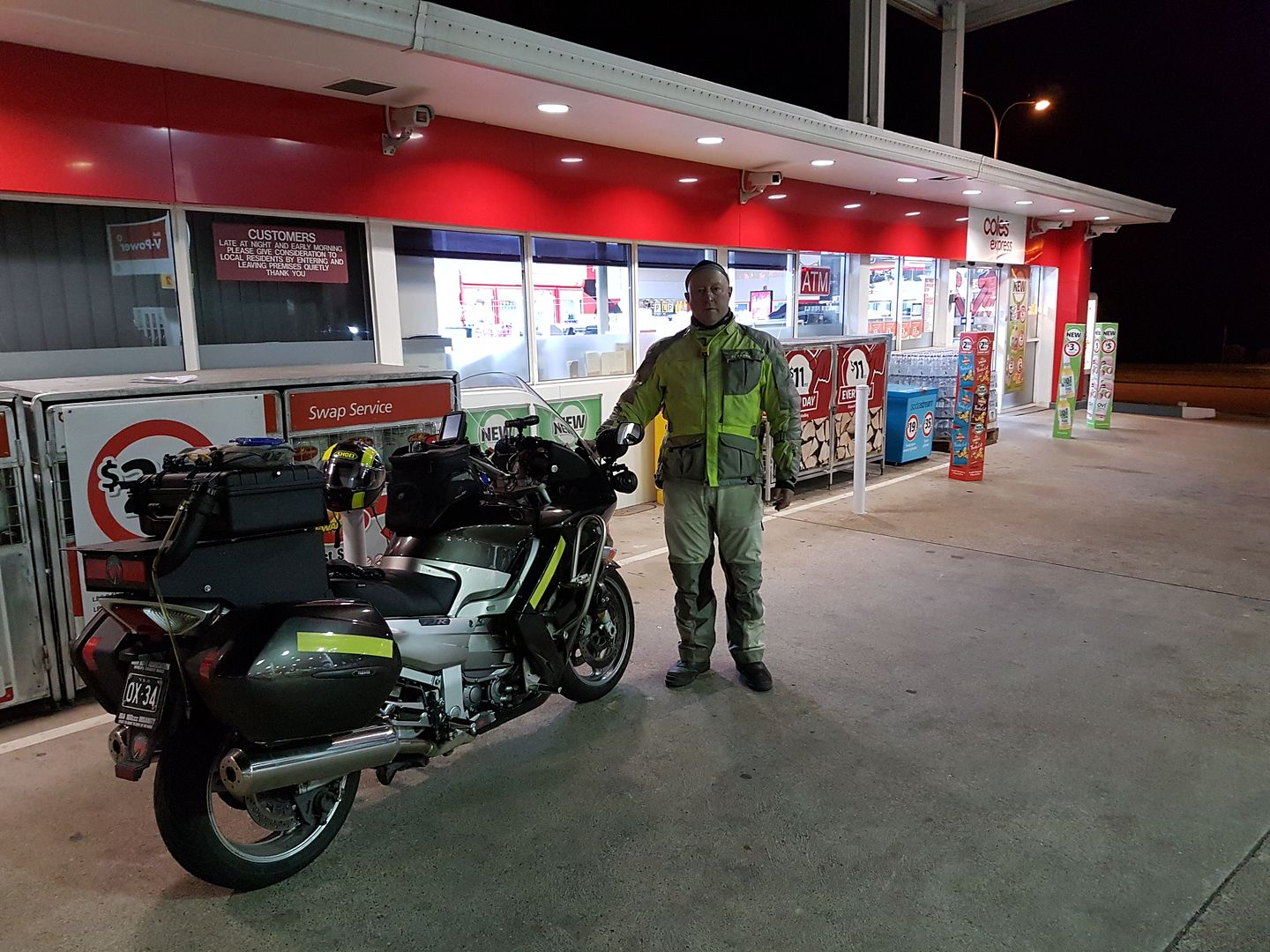 Start location Wallsend, NSW; a couple of tanks of gas; FJR1300 odo reading 96276km and the GPS zeroed. Down the freeway toward Sydney in constant traffic, but it was moving along just fine. Warm enough but with another layer underneath for later I settled in for the night and scrolled up the OA. It will be a great thing, the freeway connection bypassing Pennant Hills Road to allow unfettered access to all points south. But not yet. Now it is just another rolling obstacle trying to keep me from maintaining 105km/h for the ride.
But not for long. Fiddling about with my six footpegs, tooling along for an hour at a time no hands and lighting up the world with my crazy lights I passed the time on the Hume Highway with ease. A couple of 'roos about still upright and lots reduced to chunks of meat it was enough to keep me awake. Swinging off the big road onto the Sturt, I pulled into Gumly Gumly for a refill (03:03hr, 590km, 33.03L). Fuel in the tank, but nobody home. I wandered about calling out and eventually Khan made his appearance. He'd been 'out the back'. Fair enough at that hour.
Back on the road with a slashed OA I started to run the numbers 2000km from home. I love the illusion of varying time early in a ride compared to later with a few tanks burned off. Early on you can get that OA to rise (and any pause see it fall) later on it's more stable, whether that's good or bad. I just kept pointing west as the light started to appear in my mirrors. A quick stop just on dawn for Kimmie: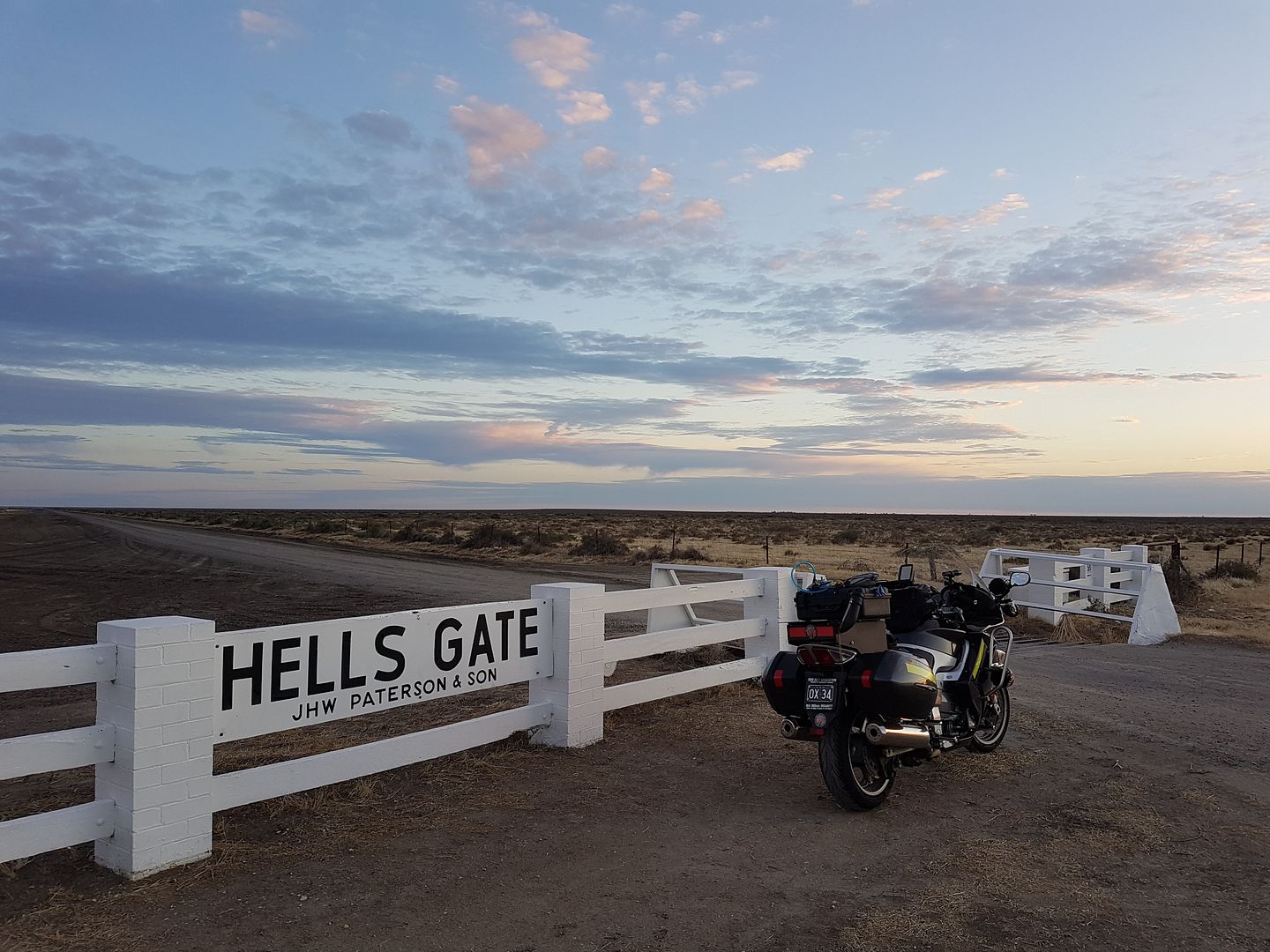 I was riding very familiar roads and enjoying the scenery. Into Buronga (8:26hr, 1148km, 19.63L into just the front tank) I donned my balaclava and saw 22C on the dash. Right turn up the lovely Silver City Highway with hardly anyone about I saw that same gauge rising relentlessly as the latitude dropped. At 11:00am I pulled over for a Remembrance Day minute silence about here:
And started to sweat. The jumper was off, the temp 33C and I needed a plan. Into Broken Hill servo already 3 minutes behind time and I lost more here (11:17hr, 1442km, 33.3Litres into both tanks). I took out my cooling vest and filled it full of water and for good measure iced up. I bought a bag and filled all of the many internal pockets of my KLIM jacket and got going again with a another brief stop on the way out of town: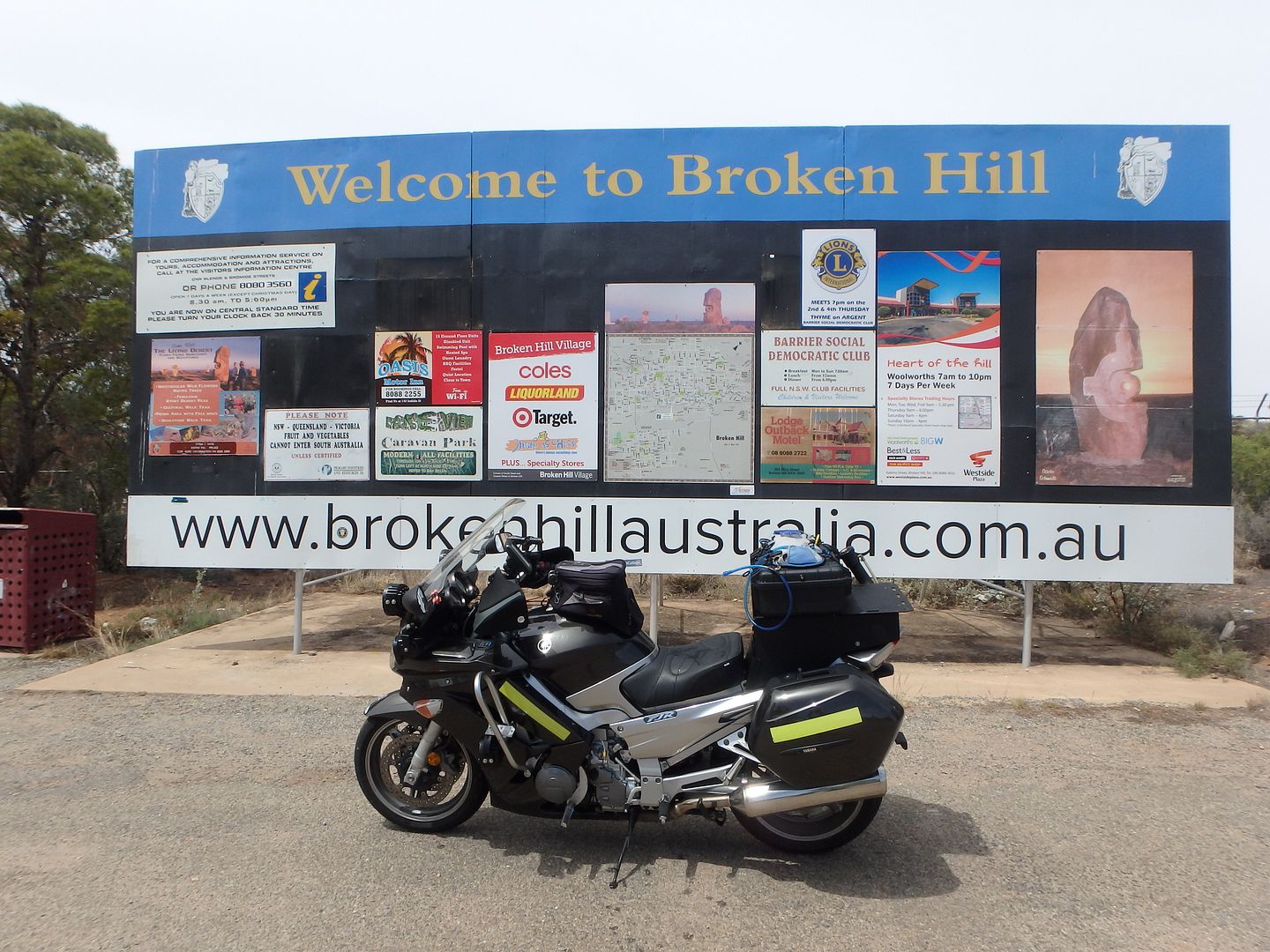 Then I entered the killing fields, now heading east. Dodging roadkill and birds for a few hundred kays I kept cool with the ice and kept an eye on the OA. It took hours but it crept back up to 105 with me watching the 'distance remaining' and planning ahead in 30 minute chunks of fifty-two and a half. I was having fun with the roadside wildlife just like that little fella on TV: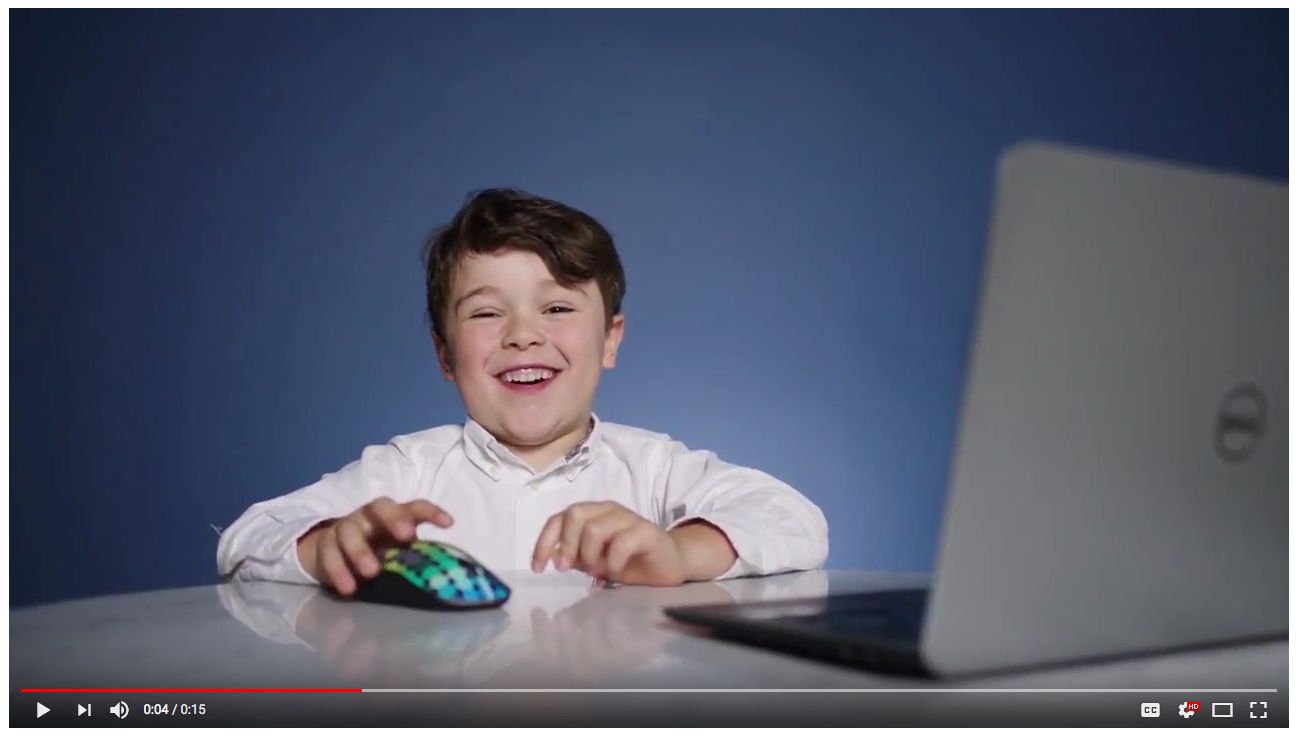 Nyngan for fuel (17:02hr, 2035km, 32.5L) then down the Mitchell to Nevertire and didn't even stop (sorry Nic). Onto the Ox and the numbers didn't stack up. I'd been hoping to cover 2500km or so in 24 hours - an IBA metric BunBurner GOLD. Crackaz was going to meet me up ahead at Greta for the finish, but I'd be a couple of minutes late......... I pulled over. Cleaned the visor. Ate a couple of nuts. Had a drink. Had a leak. Thought about the scant few towns up ahead. Made a plan. The IBA also call 2415km (1500miles) in a day a BunBurner GOLD - imperial style. Gold is gold. I hopped back on, setting sun at my back and had a glorious ride almost solo along the Golden Highway.
Ooh, nice to see the wombats back, I haven't seen them out here for a while. Plus a few roos or more but didn't need brakes. I'd done the sums and pulled into Sandy Hollow servo and still on the bike called out "are you still open?". "What would you like"?" was the reply as I parked in the gravel. I only needed a receipt and a chat. Heading in the doorway I heard a crunch. "Was that my bike falling over?" "Looks like it" Megan said. Doh. $3.80 for a Wombattle finish Cherry Ripe, a couple of witnesses and thank you very much.(Stopped the clock at 21:04hr, 2432km, no fuel needed).
Those FJRs sure are fat, lying all beached whale-like on the ground. But they're easy to pick up and dust off. A couple of character scratches on the right pannier and a few turns on a spanner for one twisted spotlight was the total damage, the huge crash bars having paid for themselves then and there.
I had quick chat to Crackaz on the phone then more chat 100km later at the Greta servo. TigerBill called having watched my SPOT. Great mates. Nice end to a good leg stretching dayride.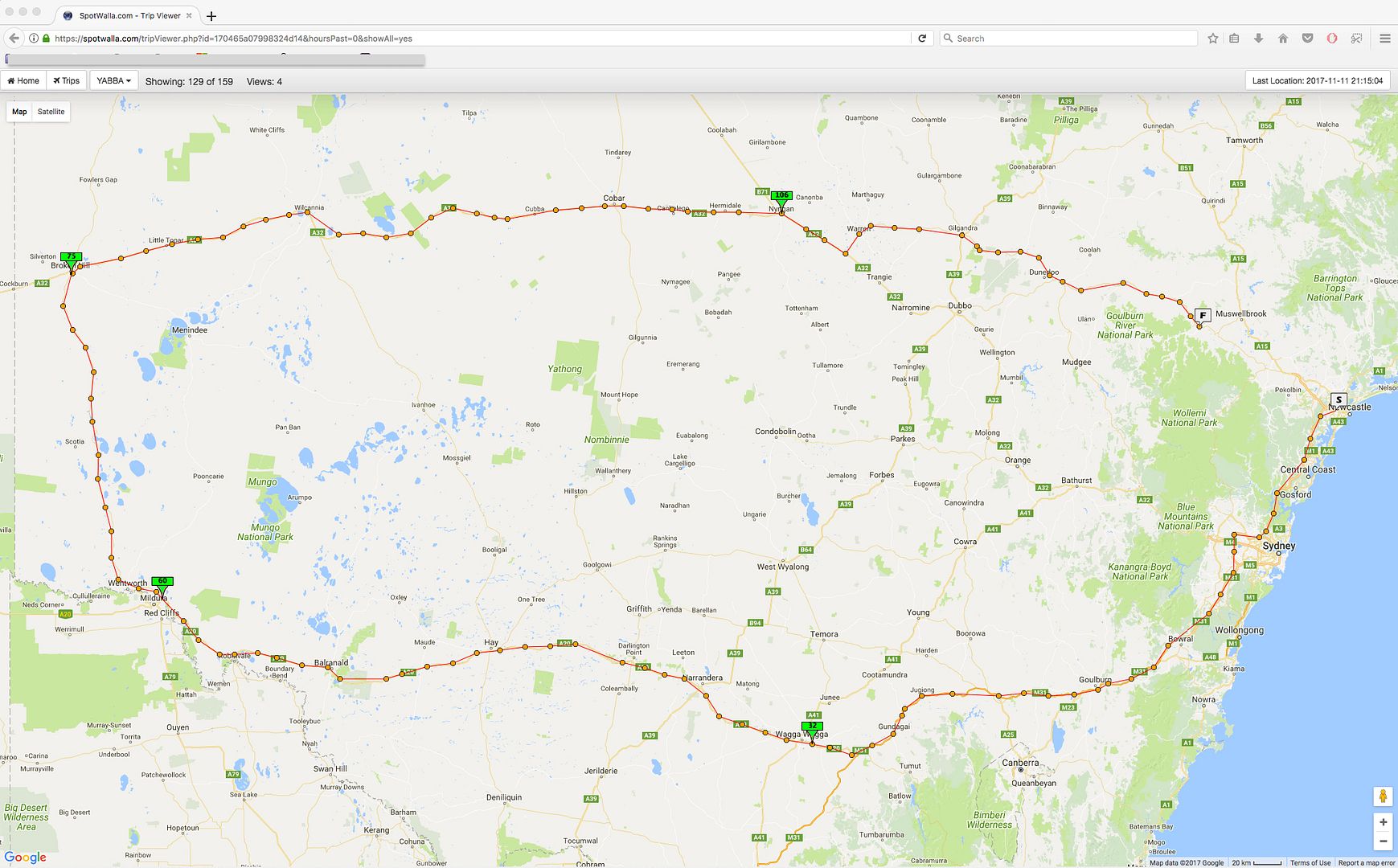 Last edited: