A couple of months ago I bought a KLR650. It was stock apart from a noisy 'FMF' pipe, a K&N air filter and it had been re-jetted to suit. Oh, a tiny stick on Oxford brand clock that was impossible to read and died the moment I pushed its buttons.....
Then TigerBill and I messed around with it so that it is ready for the Zombie Apocalypse or a ride around the world - whichever comes first.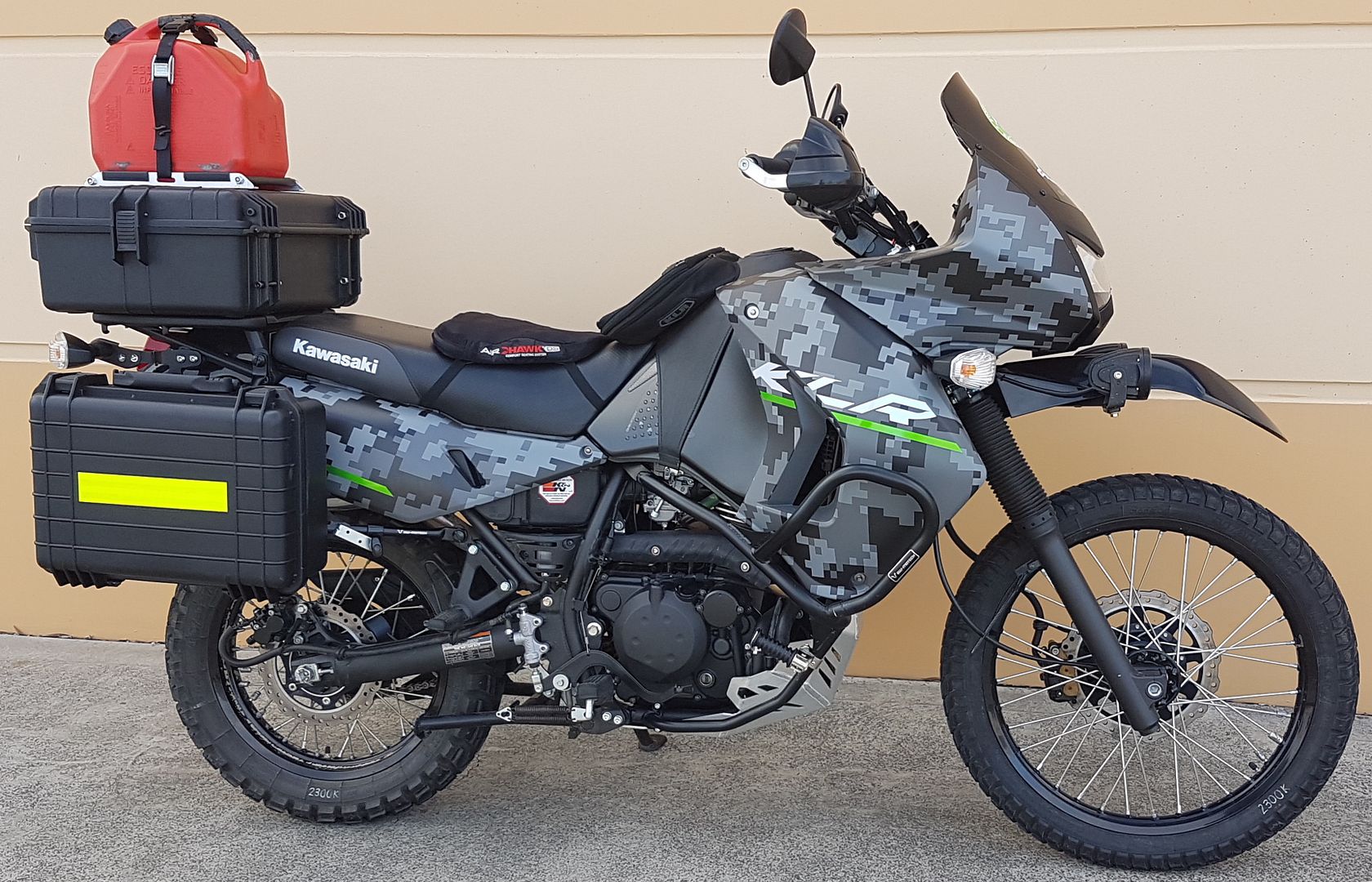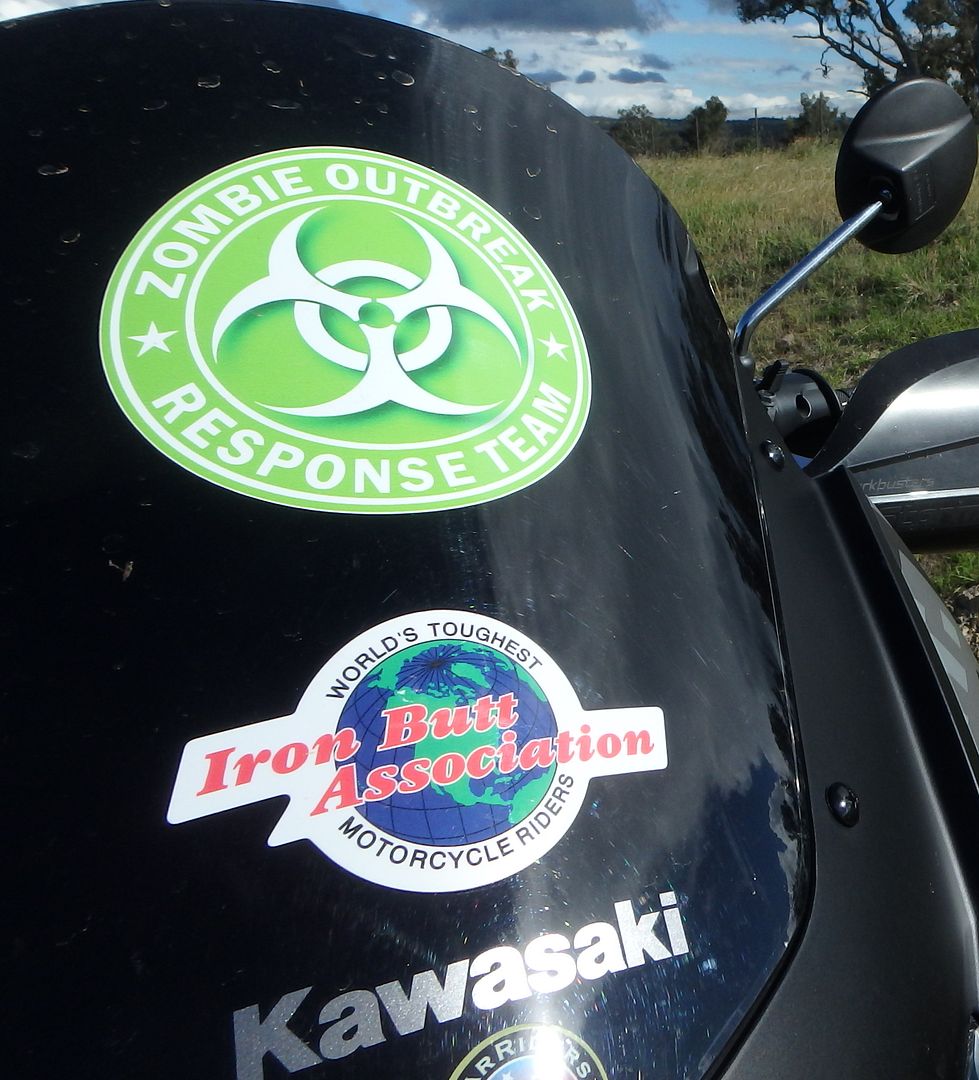 Crackaz and Bill and have been dabbling in some gentle dirt road rides with me to help me get some basic skills.
With that in mind TigerBill exchanged a couple of texts on Friday morning to see if he was around for a ride, but he wasn't available. I thought I'd take the little Kwaka up to Armidale to ride two specific roads: The back road joining Kempsey with Armidale and the Brackendale road that runs parallel to Thunderbolts Way from Walcha to Nowendoc.
With a start docket (all dockets at the end) at 10:29am I made an unusually late departure from Newcastle West (2840km odo, 0km GPS) but the 'planned' loop was only 800km or so.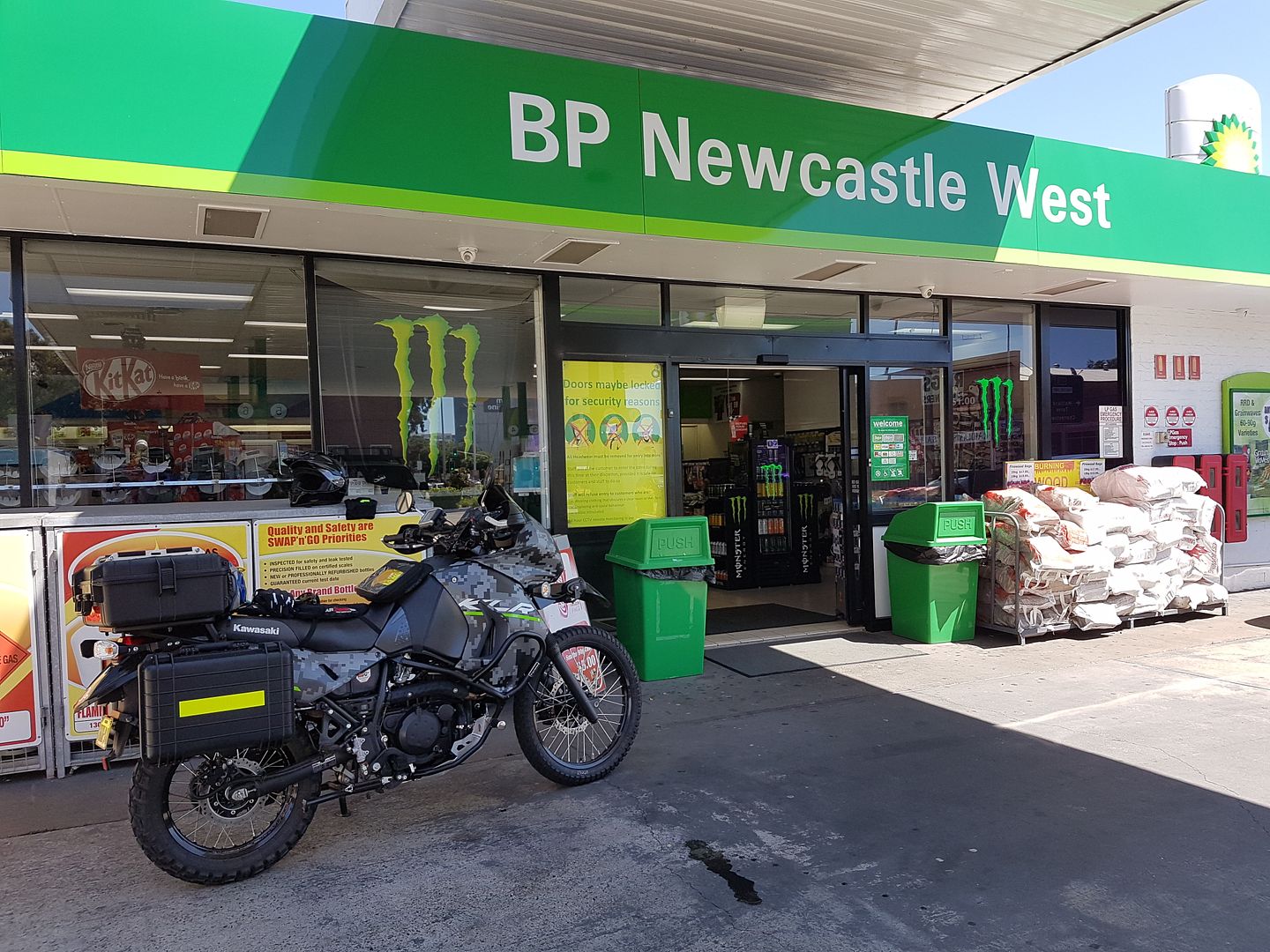 Half an hour north of Newcastle I got in the groove by detouring via Booral. Anyone who has drudged up from SYD/CAN/MEL etc and has had enough of the freeway for a while this is a nice little run. Turn north up the Bucketts Way, east at Booral and after some lovely little twisties you pop out at Buladelah. That's what I did. It sets up a run through the Buladelah Bends of the Wootton Way - but not this morning. The road up that way has improved again with Telegraph Point now bypassed.
A bit farther up I had my first little incident. A cough from the carbureted bike indicating it had reached reserve. At 248km? Surely not. I reached down and turned the tap. This bike has a 22 litre tank. I was expecting up to 400km. Maybe the reserve is huge.
Pulling in to Kempsey (13:34hr, 276km) I put 20.67 litres in. Crikey. That makes 13.35km/l. Turning inland for the first time I was soon at the little village of Bellbrook, near the end of the tar.
Then full of excitement and anticipation, 200m from the start of the dirt I was hit by the first of many passing storms for the afternoon and greeted the first of several drinking kangaroos. Bugger. I only slid once though on a particularly greasy clay section, but other wise the road was great wet or dry. It meanders northwest along the bank of the Macleay River through some very pretty country.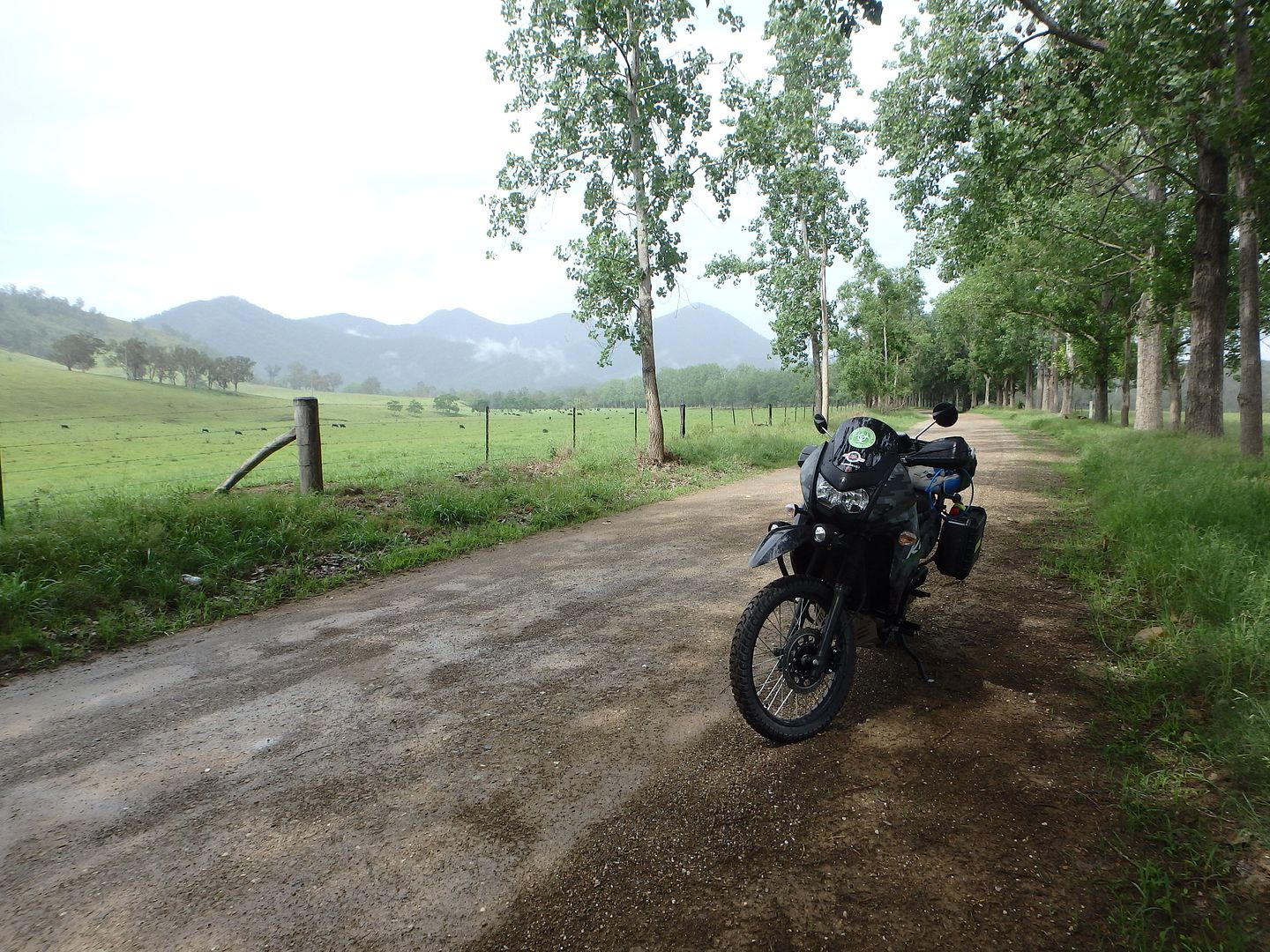 .
It ends with a nice stretch of bitumen twisties before joining the Waterfall Way near Wollomombi Falls.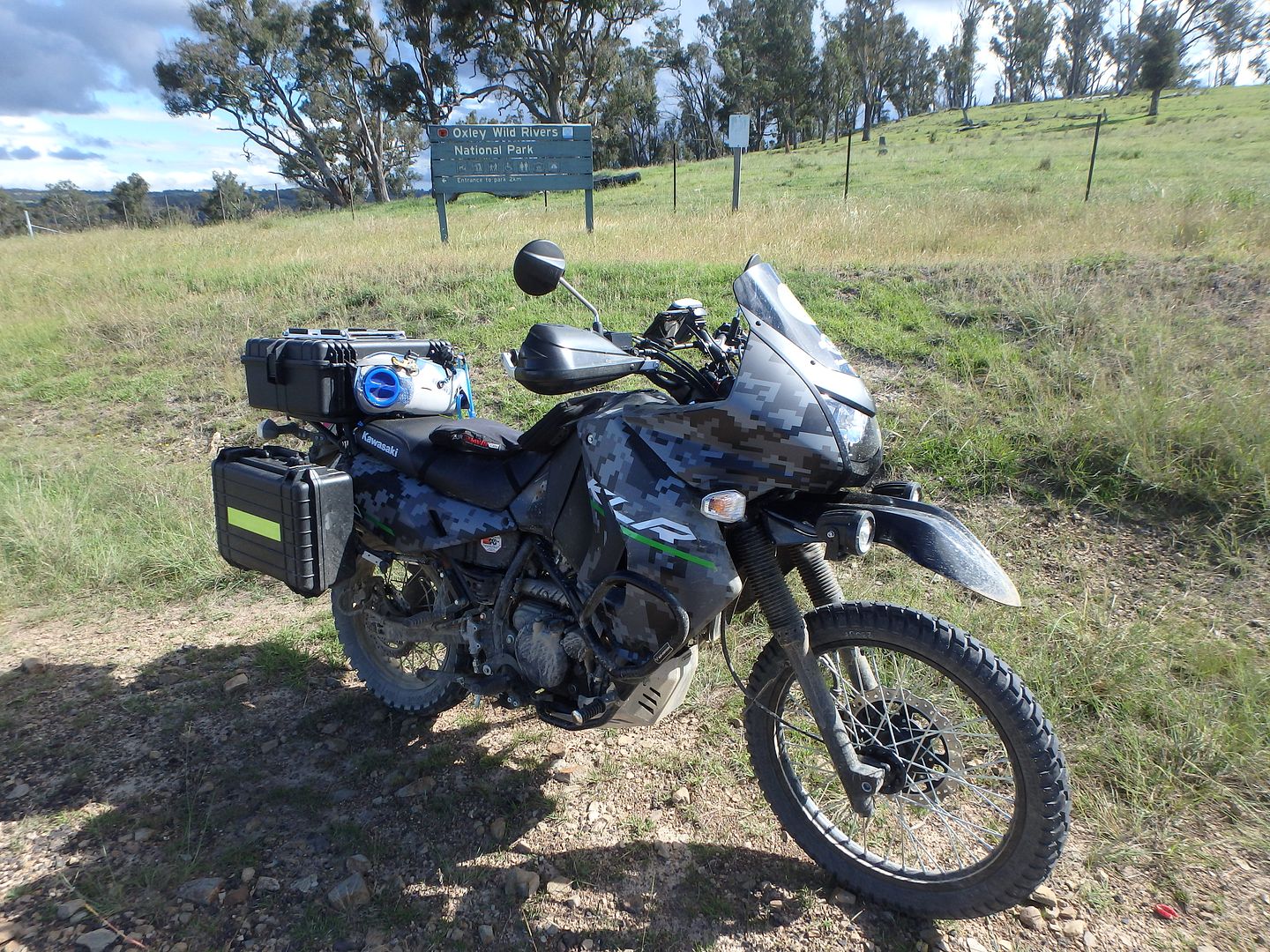 Next stop for corner docket at Armidale (17:10hr, 466km), then down through Uralla to Walcha to recheck the fuel consumption. (17:57hr, 524km, 17.32L so 14.32km/l). Now onto the second planned road. I've seen the 'Nowendoc' sign 5km east of Walcha on the Oxley Highway a thousand times, but I've never turned off. Big mistake. This is a lovely road. Sure it has the New England bumps for much of the tar, but not the endless pockmarked surface that Thunderbolts has, just over to the west. Lovely. The dirt section kicks in after 30km or so, and is wide open for much of the way. It gets closed in by forest and kangaroos at the southern end, but not too bad.
A quick pause at Nowendoc for a pic before rejoining the tar of Thunderbolts.
I made a stop at the lookout to just look out.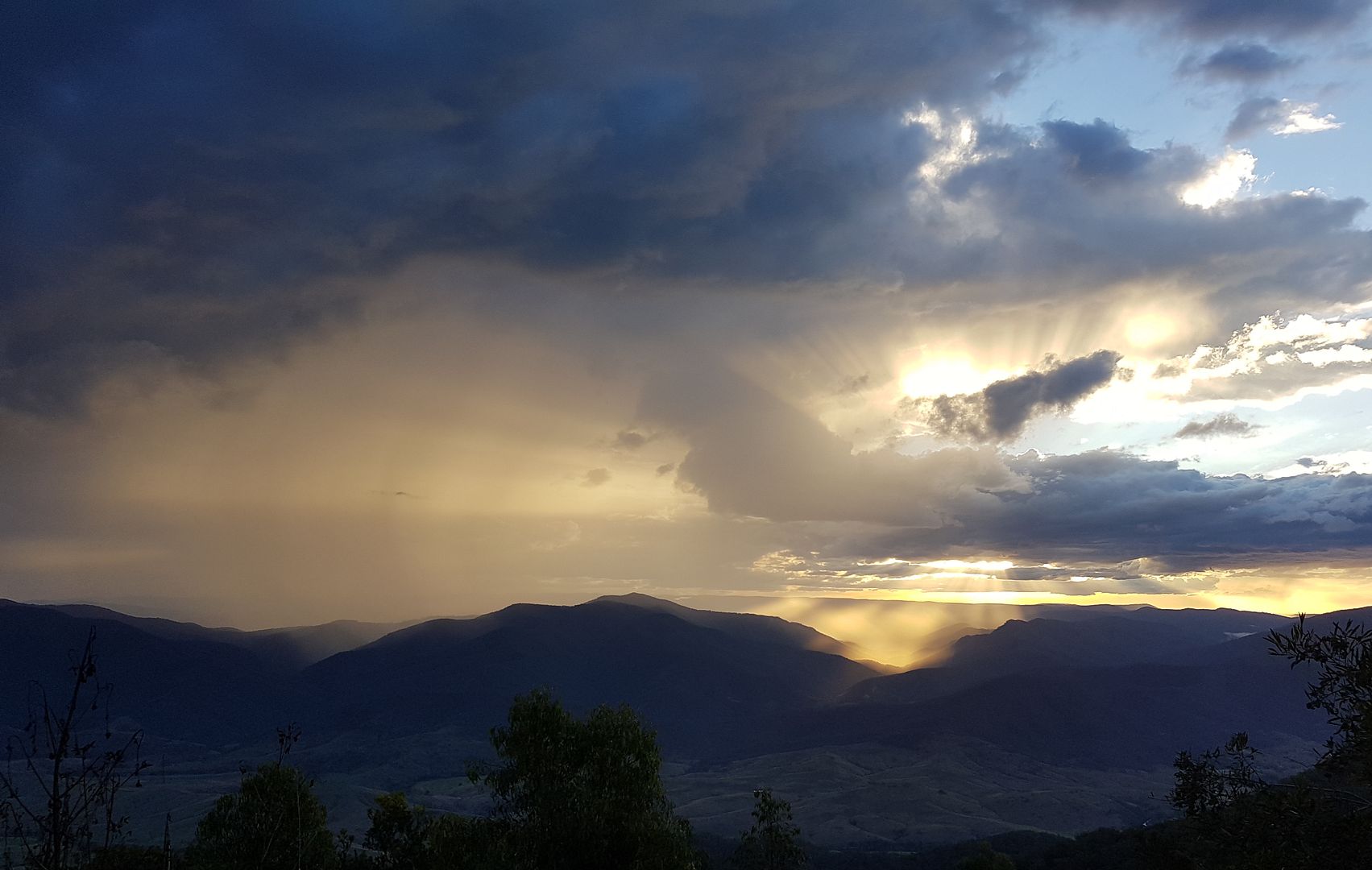 Then down the hill into Gloucester to rejig the plan. Last time I was out this way on a learner legal bike I'd planned to ride the back road between Singleton to Dungog in the middle of the night was on the little Ninja 300. I was getting so smashed by weather that time that I chickened out and stayed on the highway.
But tonight was fining up and I turned off for Dungog (21:14hr, 736km) and then had heaps of fun up through Eaast Gresford, Gresford and Glendon Brook before rolling into Singleton ready to turn for home (22:36hr, 808km, 17.41L - hey that's 16.32km/l!).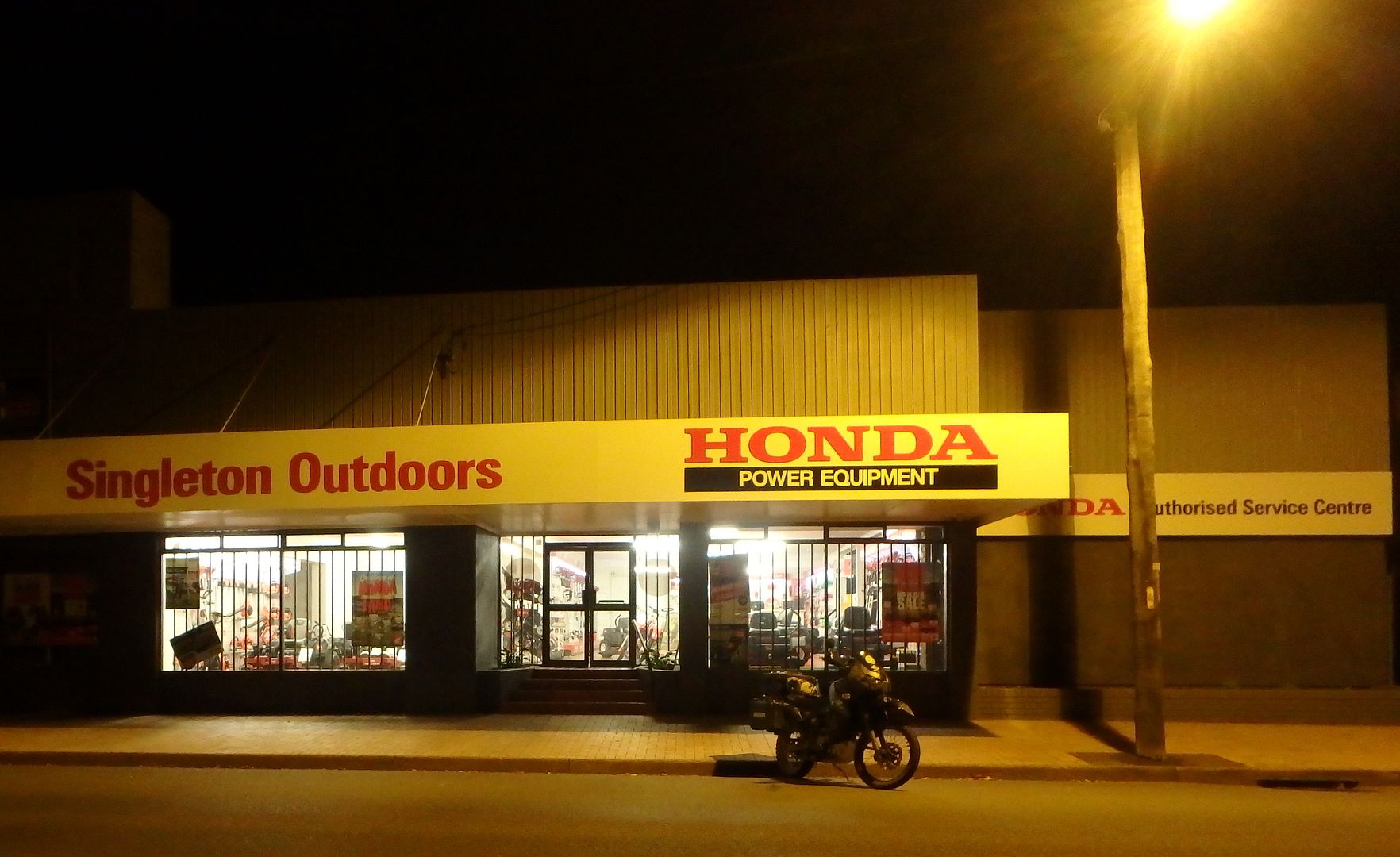 Hmm. I'm at the start of The Putty. The Putty Road that is. What a treat I thought. And what a great run. Nobody about just me and the popcorn popping KLR and just a handful of hoppers to contend with. It was a nice little bonding session with the bike.
I hit the most southern point at Windsor/McGraths Hill (00:52hr, 984km, 12.01L - 14.65km/l) and headed straight back north looking for another rare riding delight. A free ride at Wisemans ferry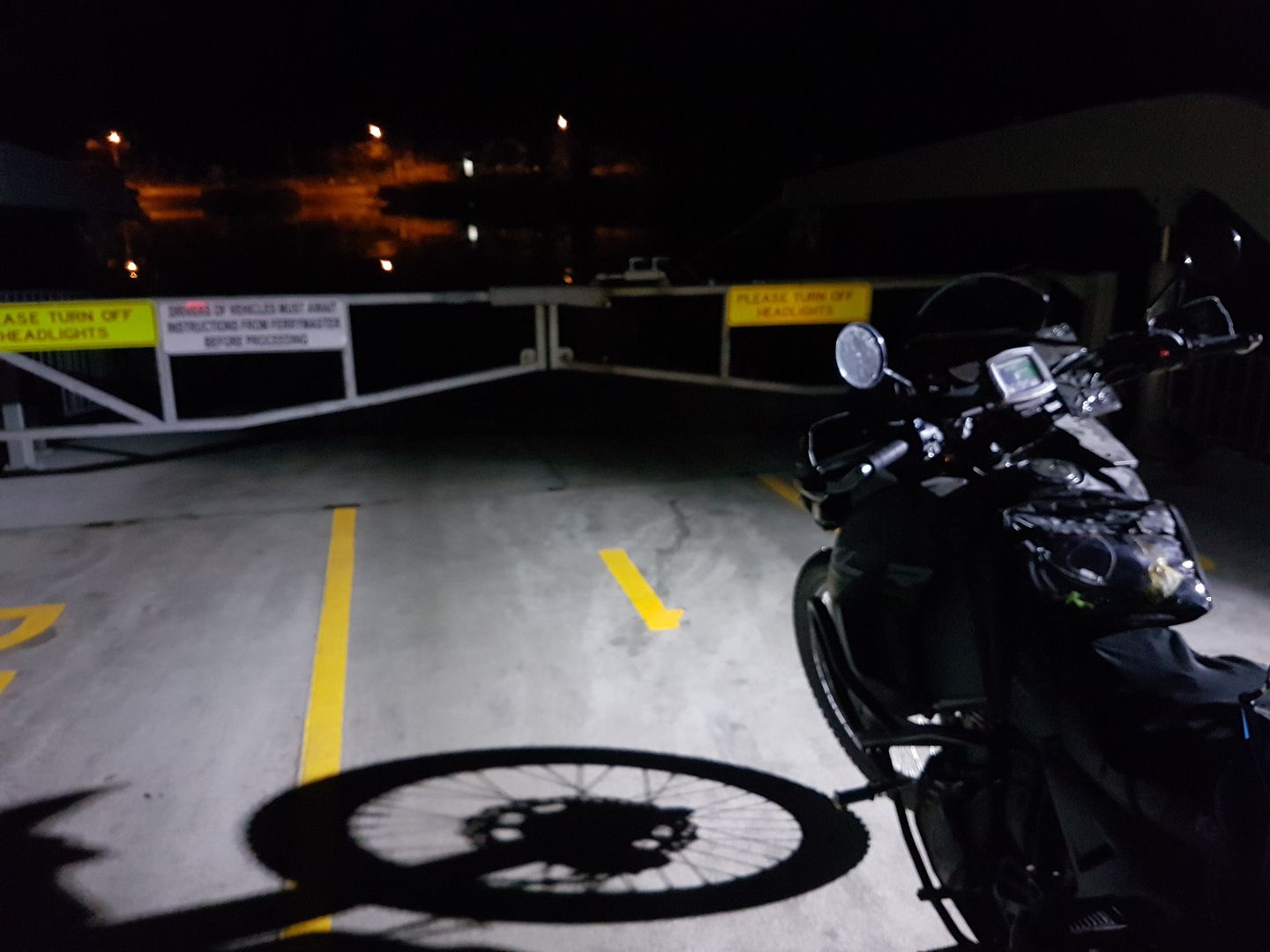 Then nothing but twisties all the way following the Hawkesbury River then up to Mangrove Mountain. I thought about heading home, but thought 'why not keep going?'. Up through Kulnura, past Jerry's Cafe and Lemming Corner for a quick break at the Wollombi Tavern.
From there it gets quite tight in the dark heading north, but I had no dramas. Broke, Bulga then soon enough back into the bright lights a Whittingham, just east of Singleton. (04:08hr, 1188km, 11.97L. Tops, my best yet 17.04km/l). I realise that there are many variables when it comes to fuel consumption. Speed, load, tyres, road. Even the fuel itself. I don't usually worry too much about consumption, except that it inevitably affects range. Just before I left for this ride I took the 10L jerry can off the bike and left it in the shed. Stoopid move. Standing in the servo at Whittingham I realised that I had a good opportunity to rerun the 110km/h test from what was now yesterday morning. The Port Macquarie BP at the Donut was about 270km away. Based on yesterday's "cough" at 248km I thought it would be a good test. East then north was the plan then.
A stop for breakfast and a freshen up and a glorious morning was washing away the LED array I'd been accompanied by since Gloucester.
Minding my own business rolling with the flow northward the KLR had other plans. It coughed at 210km leg length. Change of plans as the reserve won't last until Port. Left turn into Kew (06:52hr, 1438km, 19.48L - 12.83km/l, my worst yet). Never mind, data is data. A U-turn at Kew, a detour down the private road that is the Wooton Way and soon I was back into the summer heat of Newcastle where I started (09:26hr, 1650km, 14.13L @ 15.00km/l).
A great day out sampling some very fun roads.