This ride may well have been called signs on sticks. Many of the towns/villages/locations have little to offer as a 'location' pic beyond a white sign on a stick and some don't even have that.
But that's an aside. The trigger for this ride was noting that "Long" is the surname of Justin who recently hosted me on his internet podcast site "Long Riders Radio" (
www.longridersradio.com
). "Long" is how far we all ride around here and "Long" is the last syllable of a heap of towns in Oz. I know because I looked.
So I combined the lot and set off to ride a 'Long Ride. I did this in Rally style ie pic of bike (part or whole) with a sign identifying the location. I created a .gpx file from a whole bunch of 'longs, figured out a rough circuit, entered the waypoints in a sensible order, uploaded them to A Zumo 590, posted up a SPOTWALLA link (
https://spotwalla.com/tripViewer.php?id=145ce5920478002828
), then set off, knowing that I'd struggle to find some signs.
This report is little more than the bunch of pics I took along the way.
I left Newcastle with both tanks full at 04:42hr Sunday with the Tenere showing 60971km on the odo and 0km on the GPS.
Down the freeway in the beginning of nearly 5 hours of fog, cut west for a bit, then looped back north and turned off the main road into the first of many little roads for the day.
Quorrobolong at the first opportunity: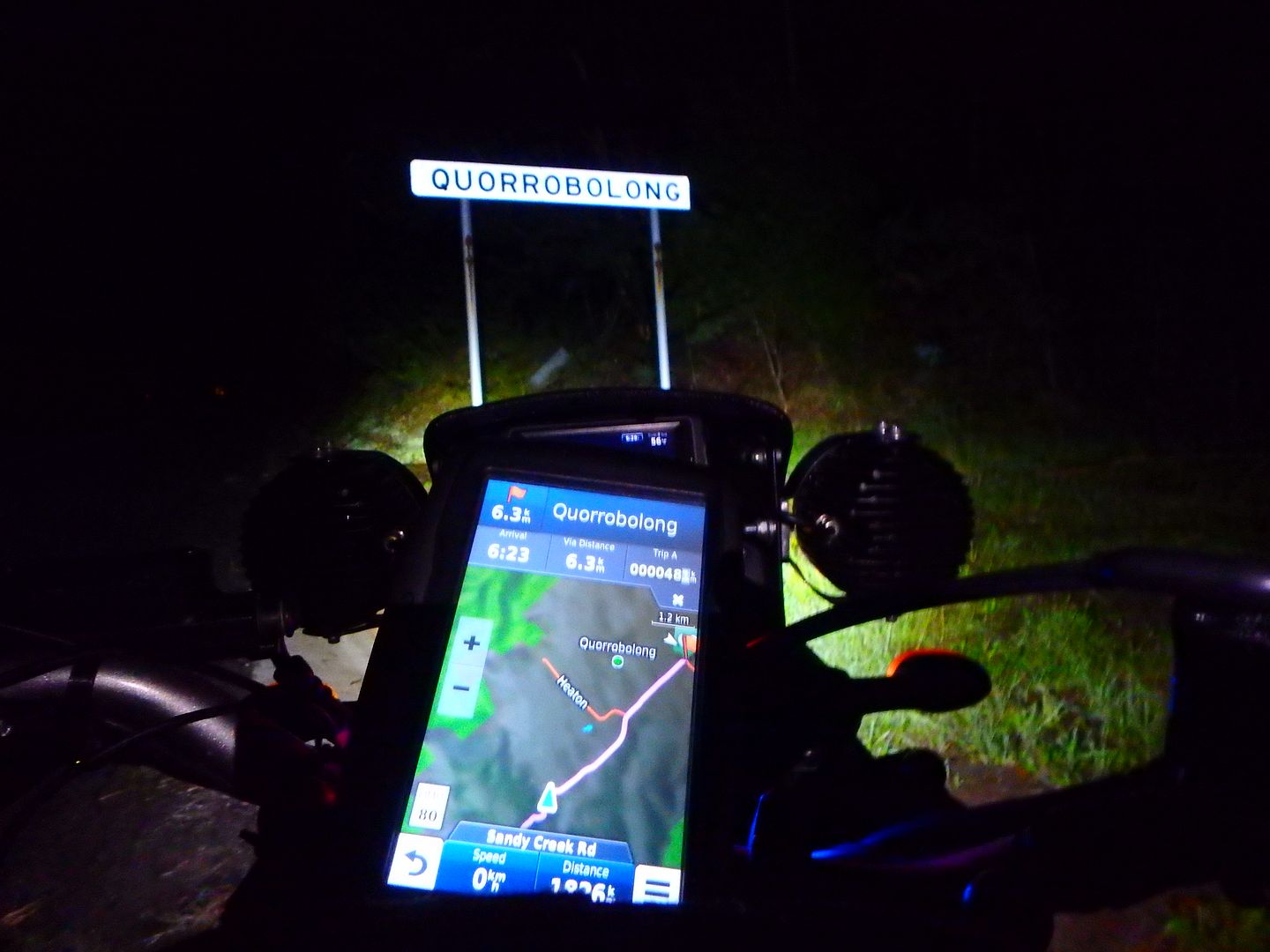 Ellalong just a few kilometres farther for a dodgy pic. Saved by the www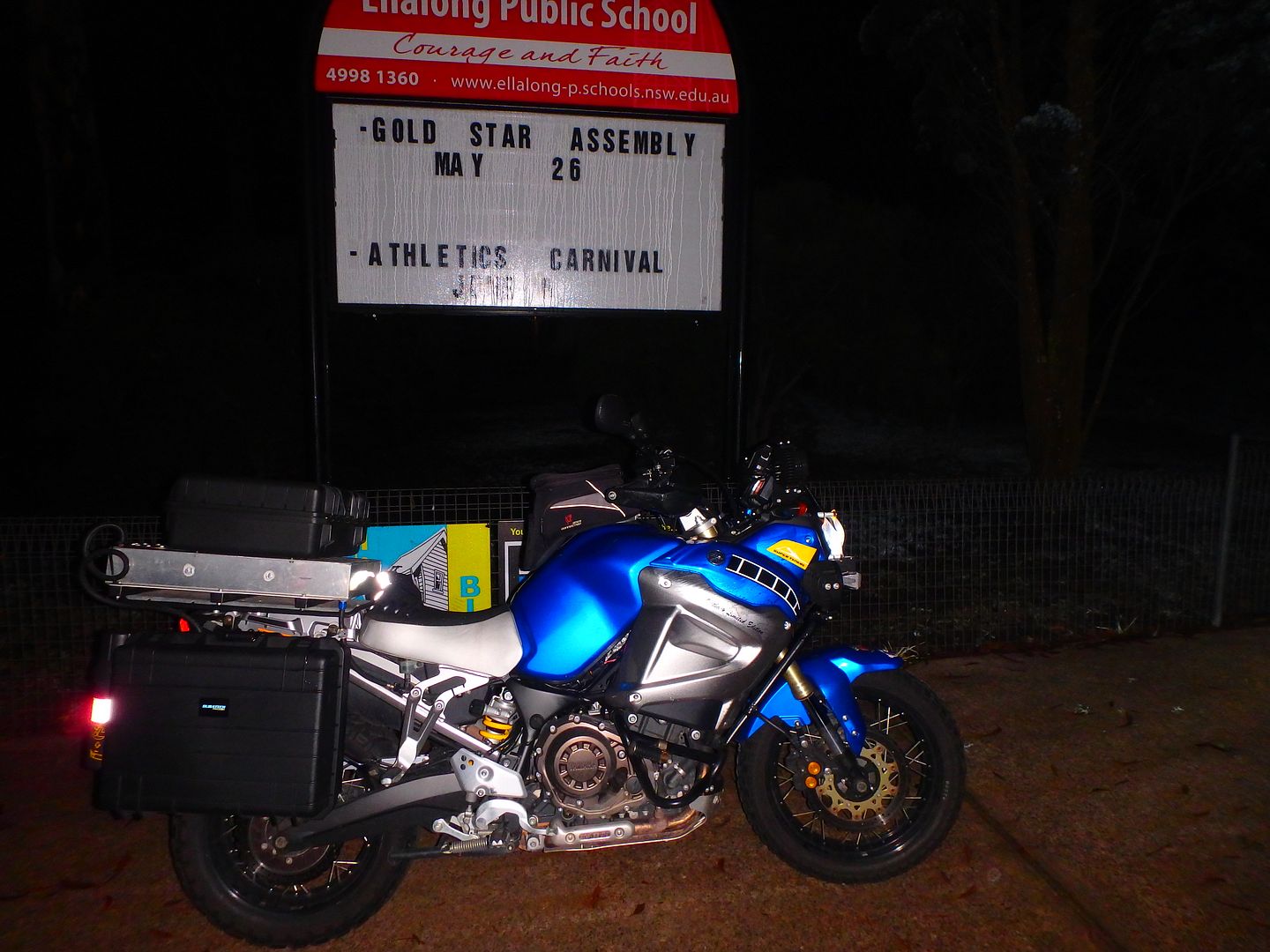 Then I slipped through Cessnock, onto the end of the Hunter Expressway and settling in to a pre-dawn run west on the Golden Highway and all felt very familiar. A nice time solo down the Bylong Valley Way to the closed genreal store: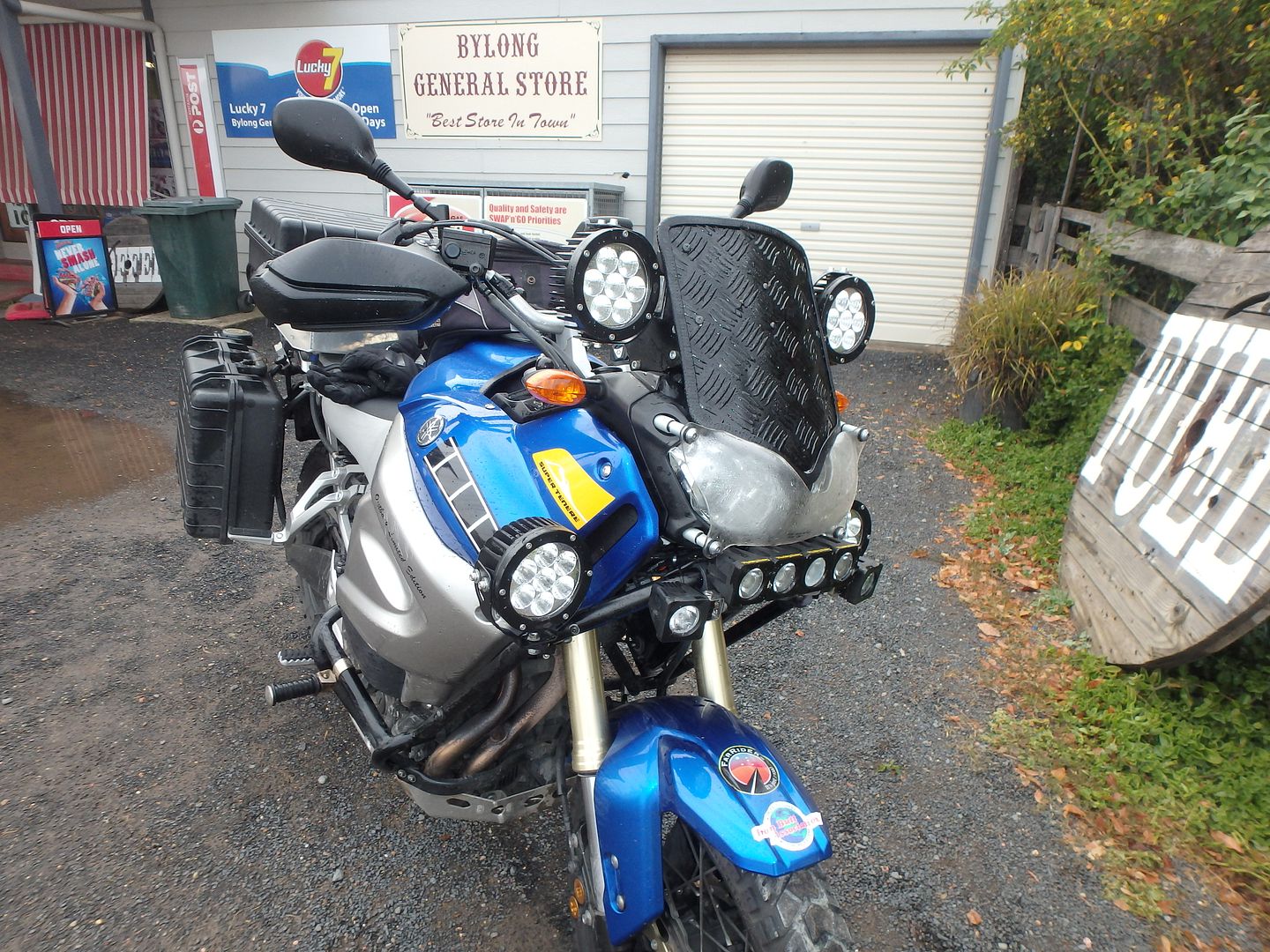 A u-turn here, then on a new-to-me dirt road west through Wollar to Ulan, then to Gulgong for a docket (09:16hr, 331km GPS). Another nice new-to-me back road cut a corner and I was back on the Golden Highway for a pic at the tiny village of Elong Elong: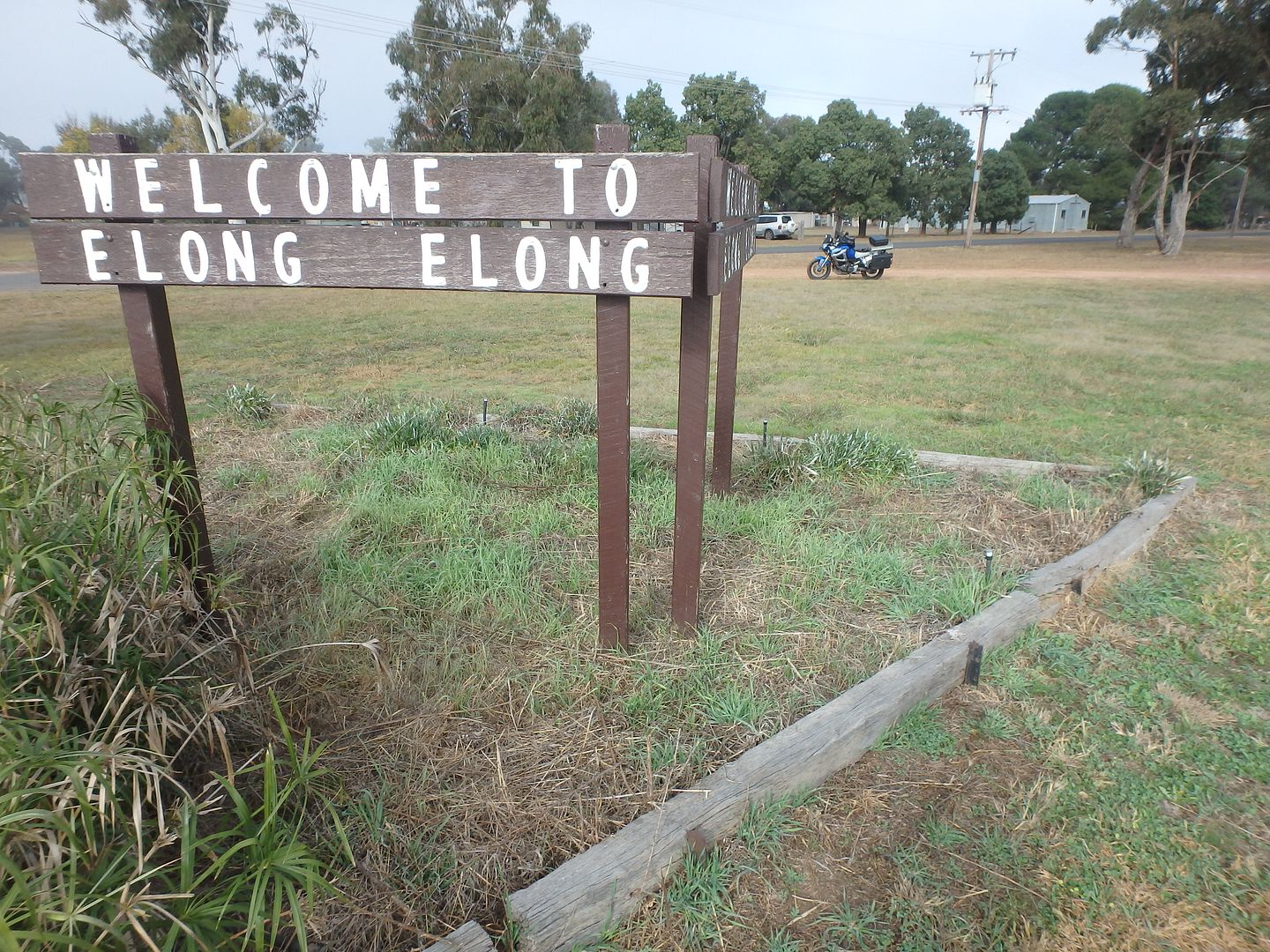 Yet another new road heading south before I picked up the Mitchell Highway at Wellington before propping for a pic at Molong (11:31hr, 520km):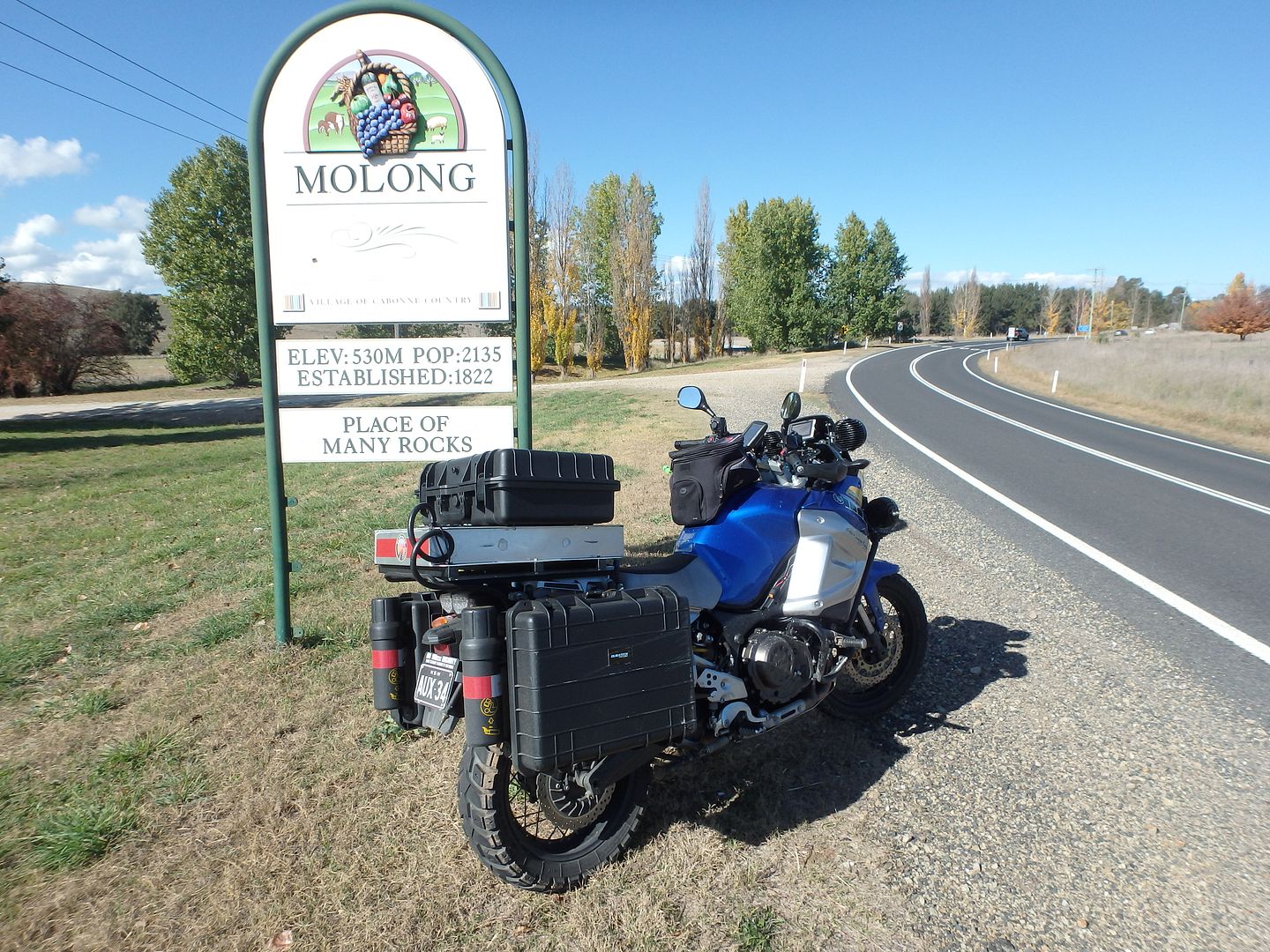 Down south a bit more before arcing west through Forbes and onto the Lachlan Valley Way for a stop at Jemalong: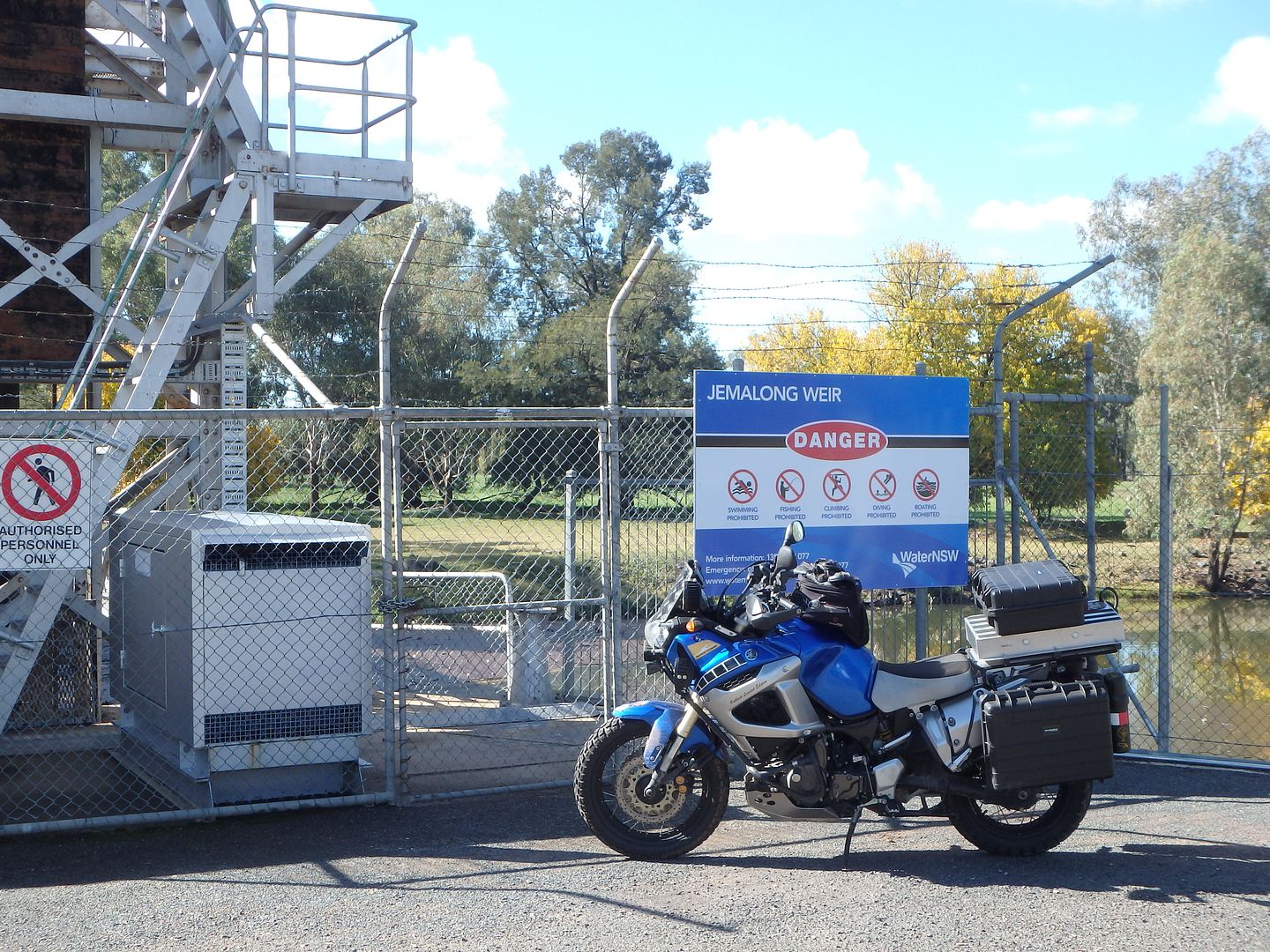 Nice and warm out here in late autumn, no wind and great riding conditions. Straight out west, skirting Condobolin and onto 60km of gravel out to Euabalong: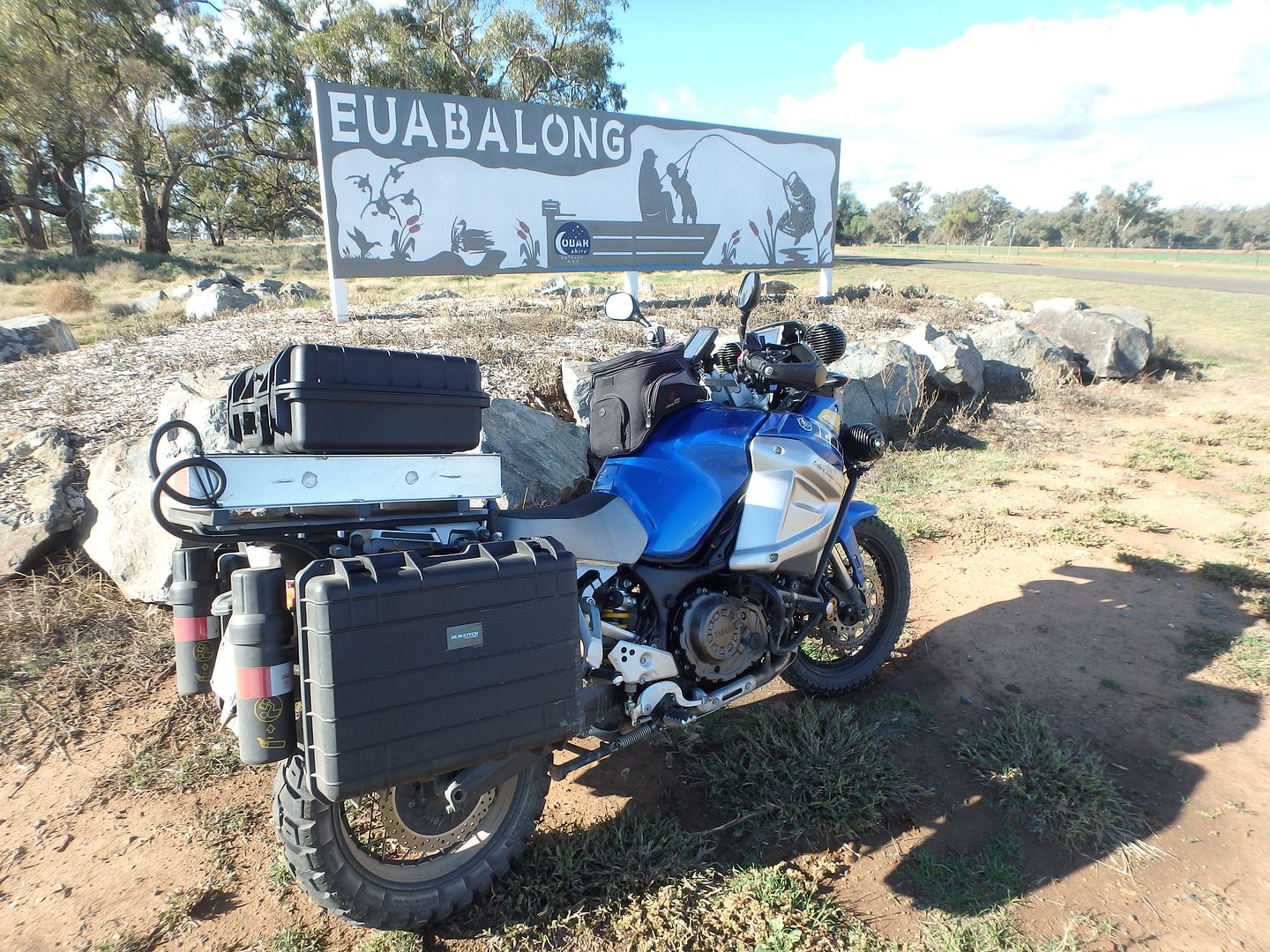 A bottle of water for a docket at nearby at Lake Cargelligo (15:15hr, 821km), then with a lowering sun behind me south east to Wyalong (16:40hr, 942km):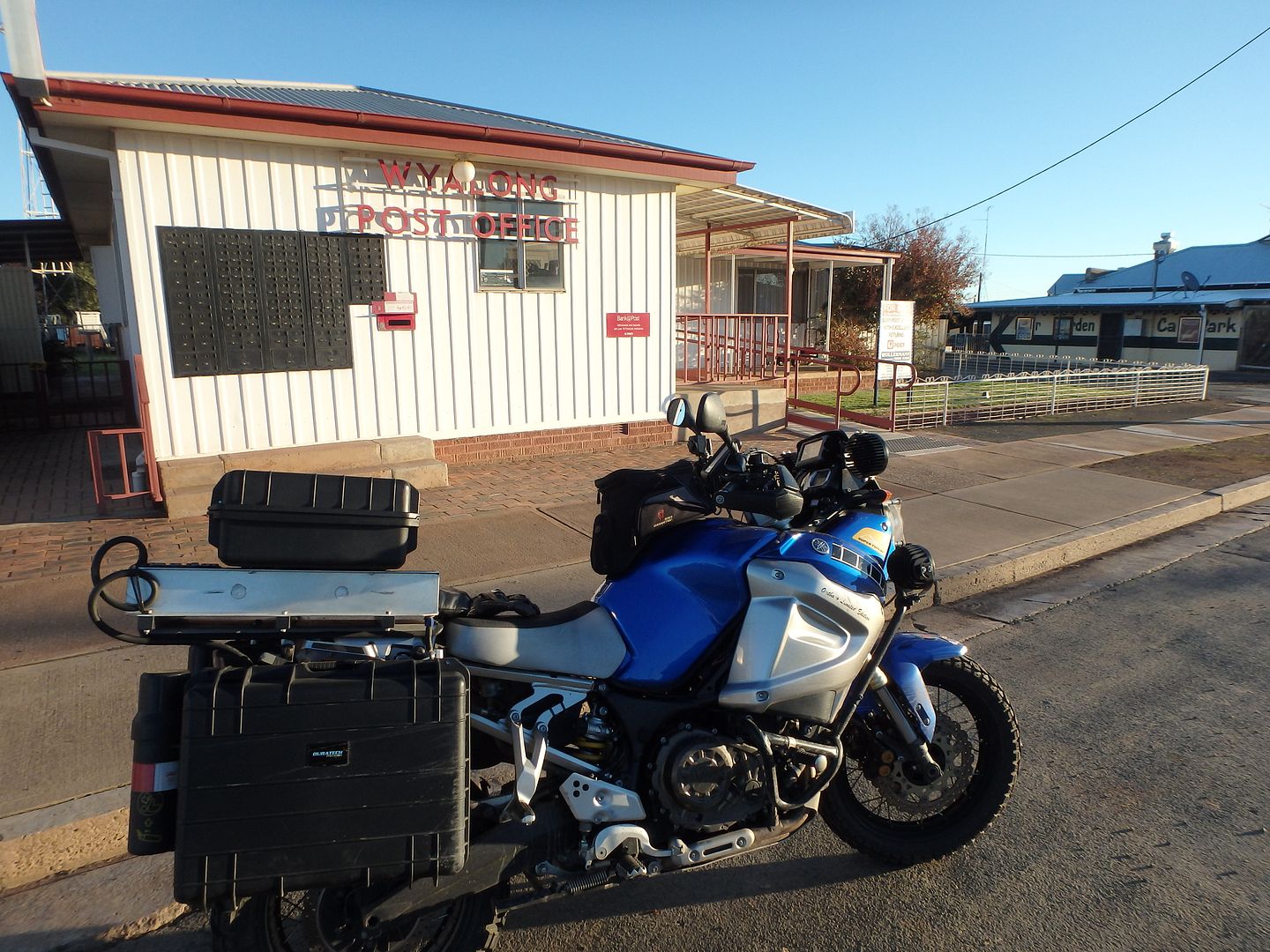 Goldfields Way through Temora to Junee, then bumpy little roads in the dark before I crossed the Hume for a turnaround point at Adelong (19:14hr, 1140km):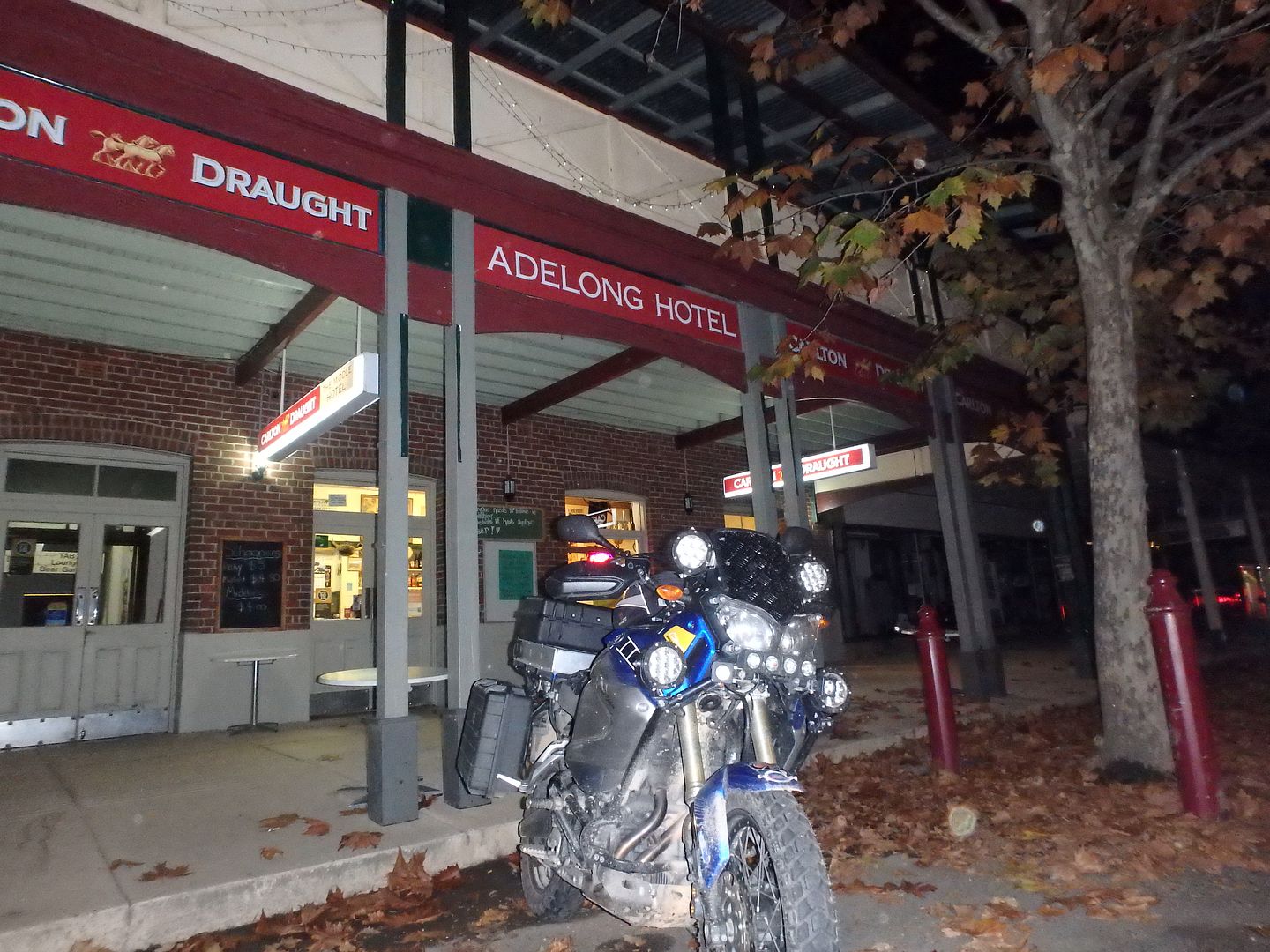 Backtracking I went looking around Tumblong and found the Tavern, but couldn't see the word "Tumblong" so had to settle for a white sign on sticks: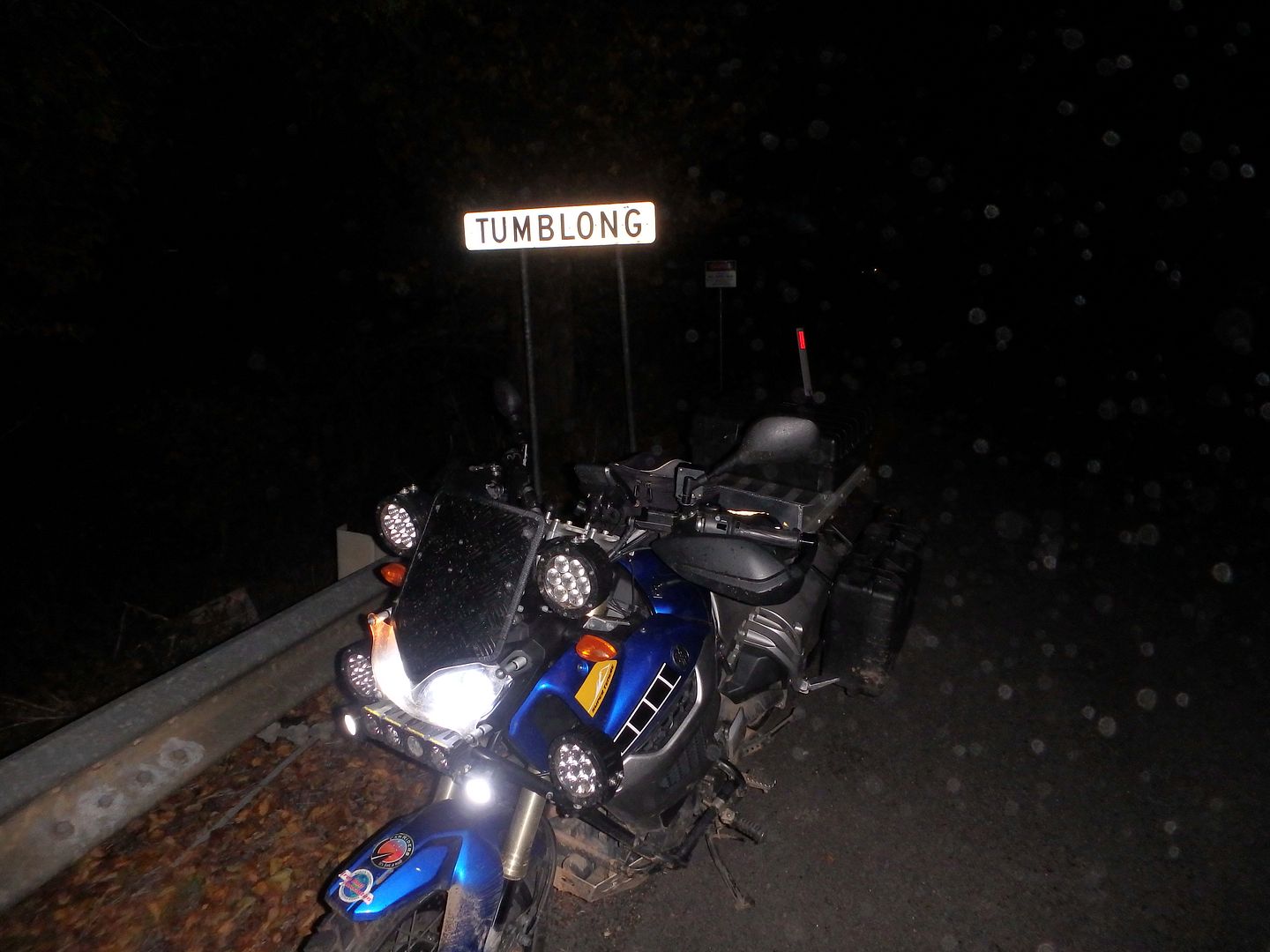 Just up the road was the same at Gobarralong:
Taking a detour off the Hume at Bookham onto road I'd ridden before (Ilalong Road) I couldn't remember seeing a town called Illalong. AT the end of the road, on Burley Griffen Way I found a white sign on sticks, protected by a catte grid for some reason....
Due west to the historic (apparently) village of Galong, I rode around as quietley as a Tenere can for a while looking for any sign (historic or not) before finally spying one hidden by bushes at the railway station: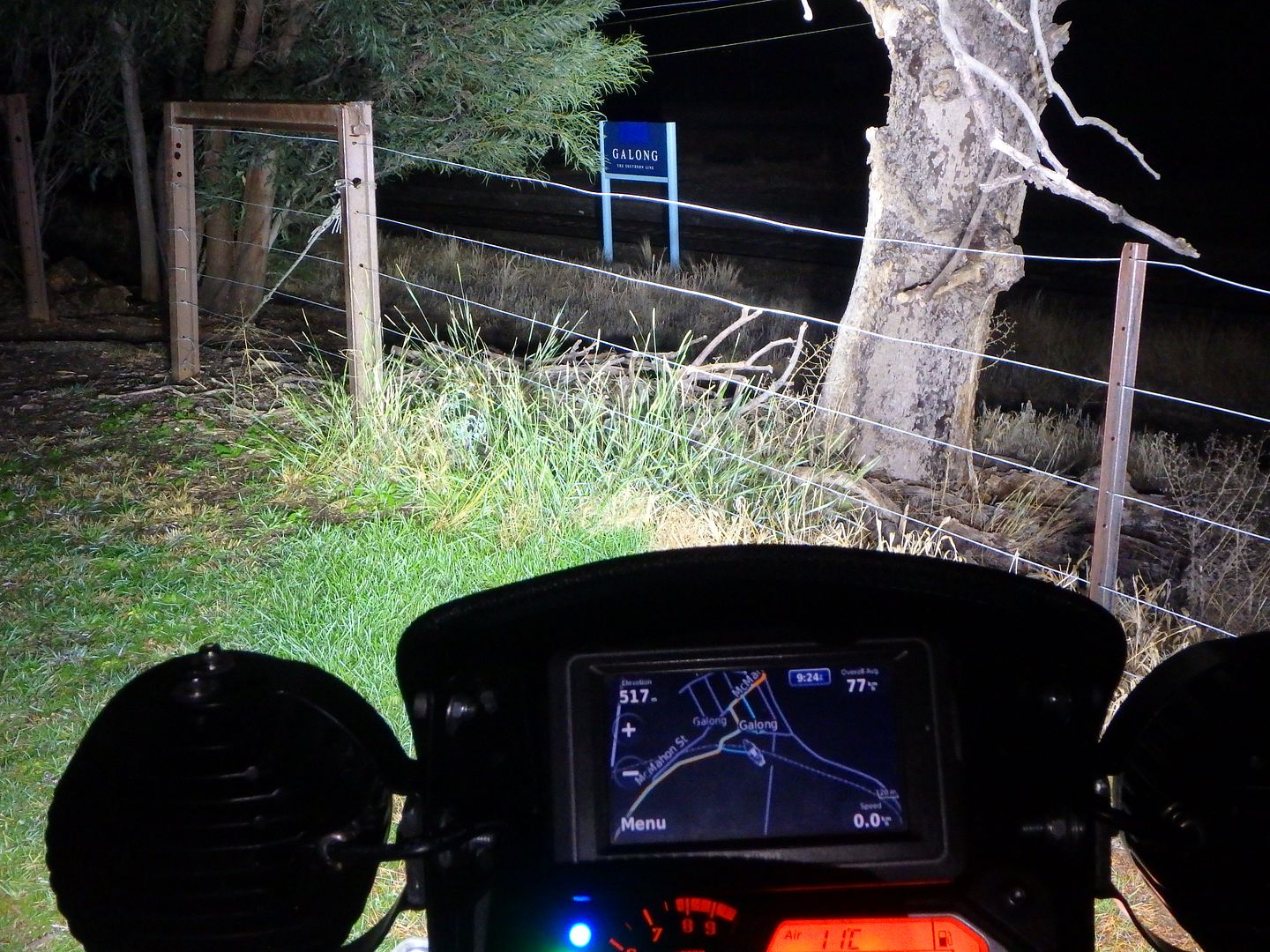 Backtracking to Binalong I found an interesting old style garage sign: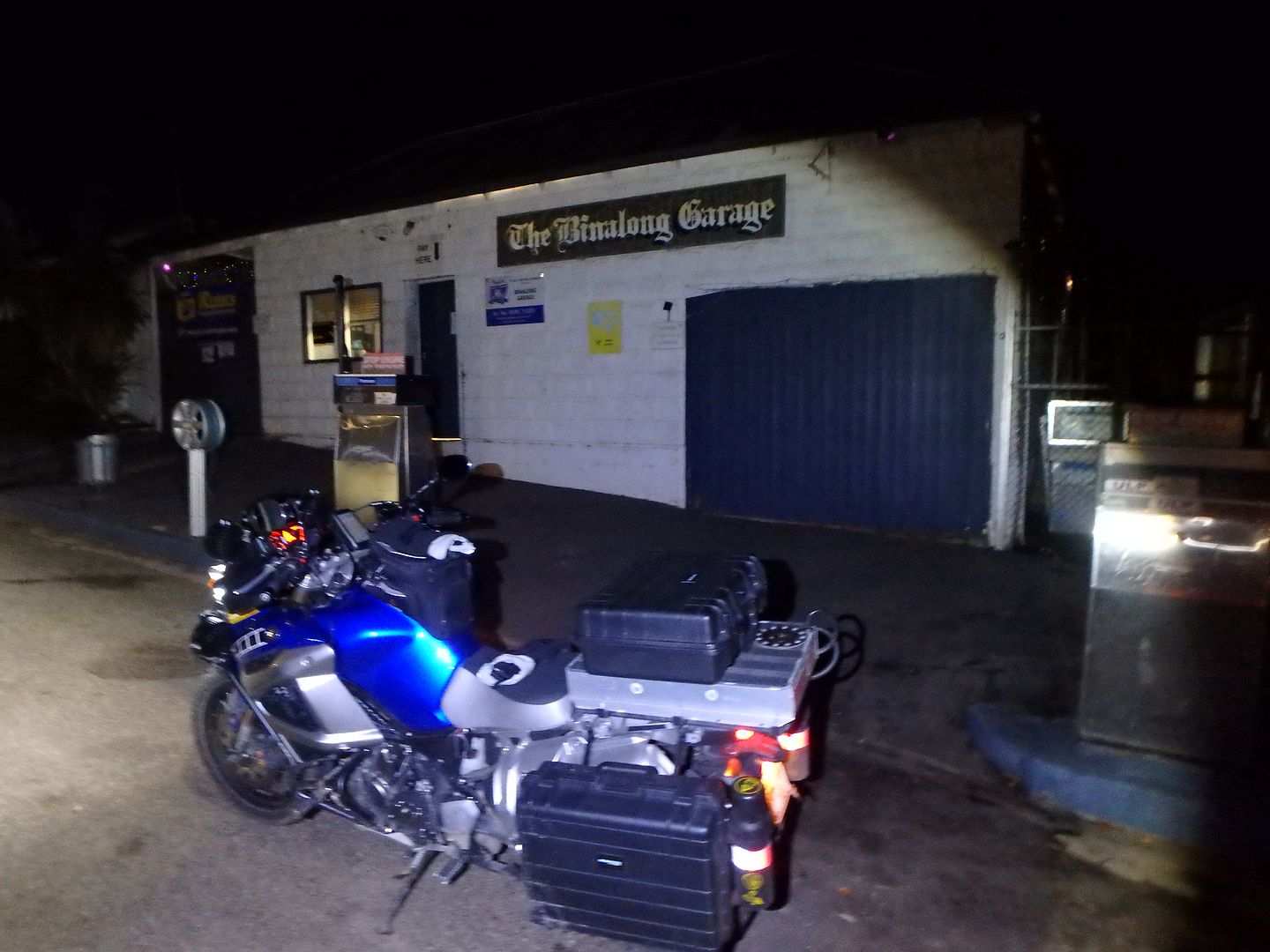 The back north on the Hume. Months ago mucking about on Google Maps I'd scoured streetview around the locality of Oolong. It seems there used to be an important railway siding there, but that was dismantled in the 80s. Nevertheless I turned off and went looking up the dirt road in the dark for a few kays to no avail, before coming back to the Hume for a lame sign: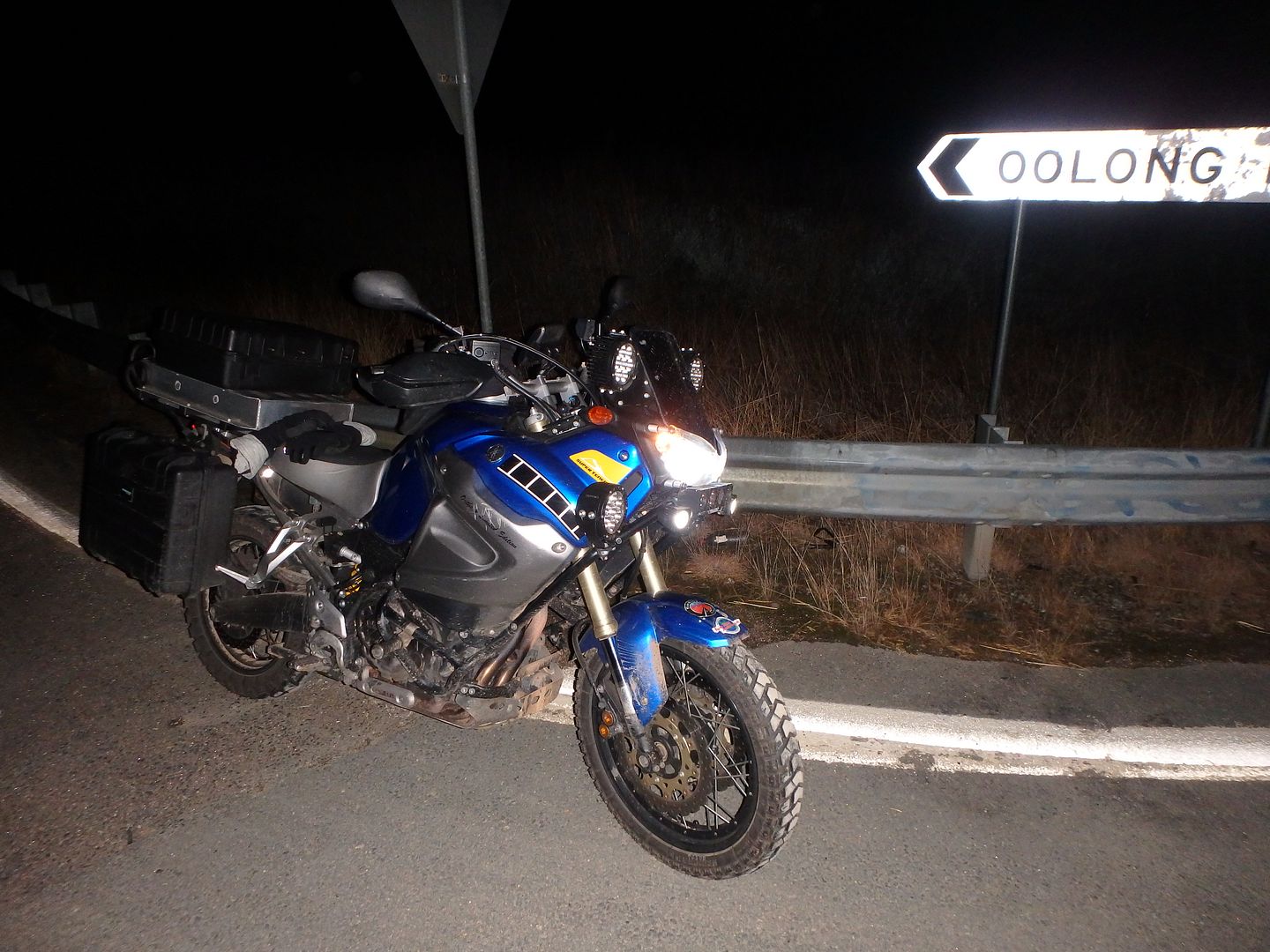 Now it felt like a simple run home up the Hume in the fog for hours with just a pause at Pheasants Nest servo (00:08hr Monday, 1530km).
Having passed through Sydney, I detoured down onto the Central Coast for a stop at Ettalong (02:13hr, 1692km):
Backtracked to the M1, but only briefly. Backroads then down Bumble Hill to Yarramolong:
Then up the next valley to Dooralong:
Before yet another dirt road in the deer and dark to Mandalong:
Nothing more to do and all out of 'Longs I headed home to Newcastle for a finish docket in town at 04:24hr having ridden a Long Ride of 1834km.