Premier Member
IBR Finisher
Hard to believe but my last IBA ride was in January this year. Needless to say, there has been a bit happening since then, but spring is here, and the planets seemed to have align so a SS1600 was in order.

A
I rode out of the garage just after 2:00am, collected my starting docket at the local ATM and pointed the K1600 north towards Sydney. It was a beautiful spring night with a full moon. I had expected to have the night to myself but as I crested the hill above Lake George, I could see a conga line of taillights ahead of me, streaming northwards on the Federal Highway! Hmmm, had I missed something like an evacuation order from Canberra? I flicked the iPod over to ABC, and other than the usual talkback chatter life was as is it should be.
Time to get riding
I was happy to let the km's tick away in the cold night air and before long I was on the Hume, which now combined with the normal truck traffic was quite busy. There was no chance of using the Clearwater's, too much traffic around. Just after 5, I rolled across the harbour bridge, pulling into Kirribilli for a quick photo. Good IBR practise, riding into a major city at dawn to collect a bonus and get out before the traffic builds! About this time Tele called my mobile but being bumble fingers I couldn't walk and chew gum (ride and answer the phone on my Senna at the same time).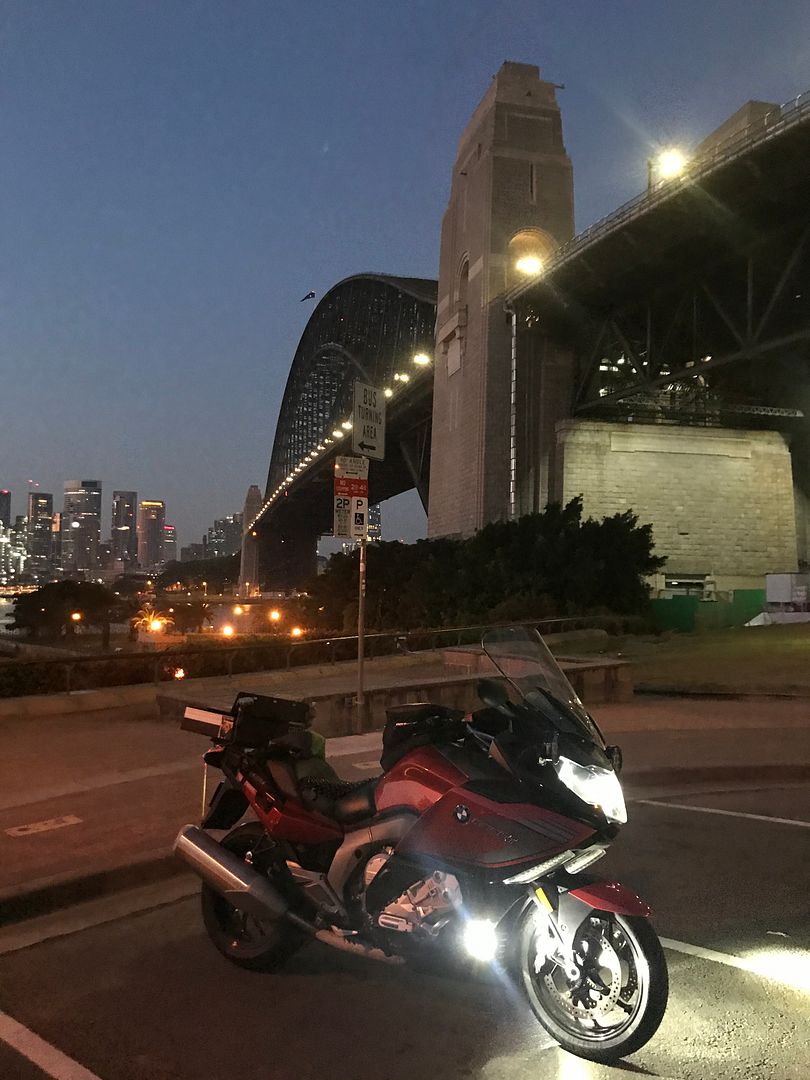 Sunrise at Sydney Harbour Bridge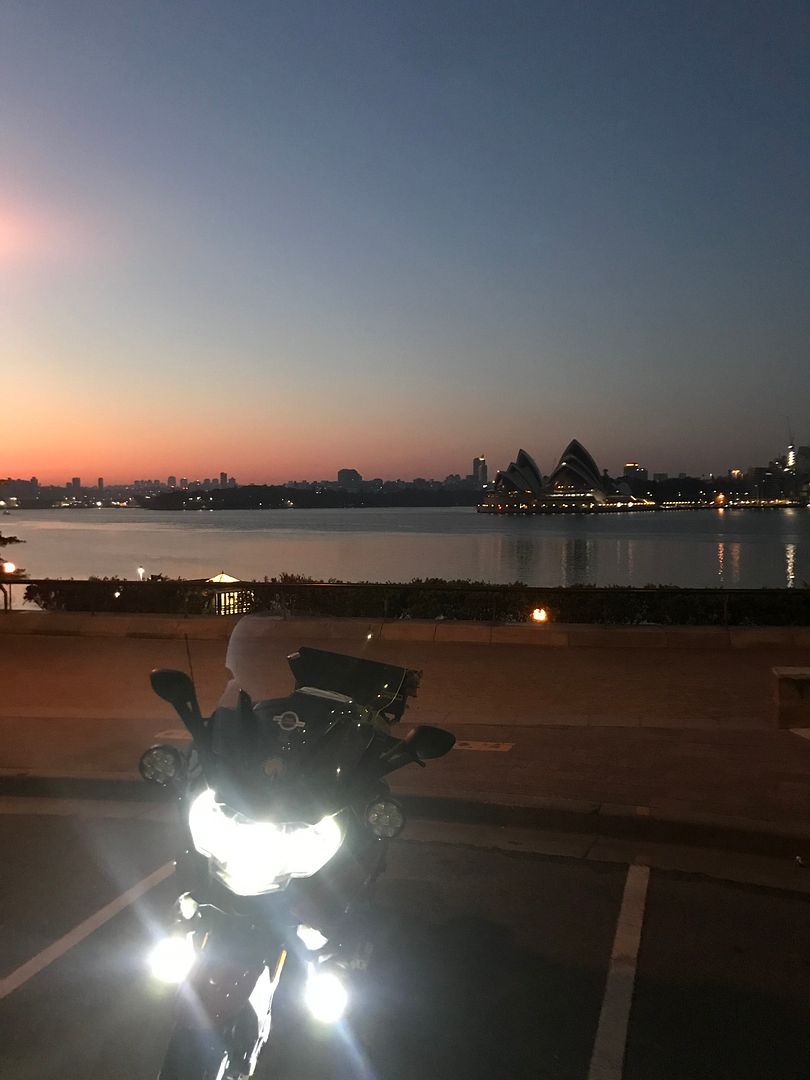 This would make a great bonus photo (daylight only of course!)
I chose to ride out of Sydney via the Pacific Highway (as opposed to Pennant Hills) and stopped for a quick coffee and muffin on the upper North Shore. My ride plan included plenty of planned stops. I cleared my phone messages, thanks for calling Tele, who was calling to say gidday on his way home from his nightshift. Back on the bike and not too much longer I was on the M1 heading for Newcastle. The ride north to Thrumster was relatively low key, the km's rolled by, the sun rose higher in the sky. Traffic was steady for the long weekend, not too heavy but plenty of people heading north. I had calculated I would have enough fuel in both tanks to make it to Thrumster, but I was out by about 30kms. Rather than risk it, I fuelled up the main tank (leaving the aux empty) at Nabiac, and then stopped at Thrumster as planned for my corner docket. The service station at Thrumster was a heaving chaotic mess, so I checked in at Macca's grabbed my docket and bugged out.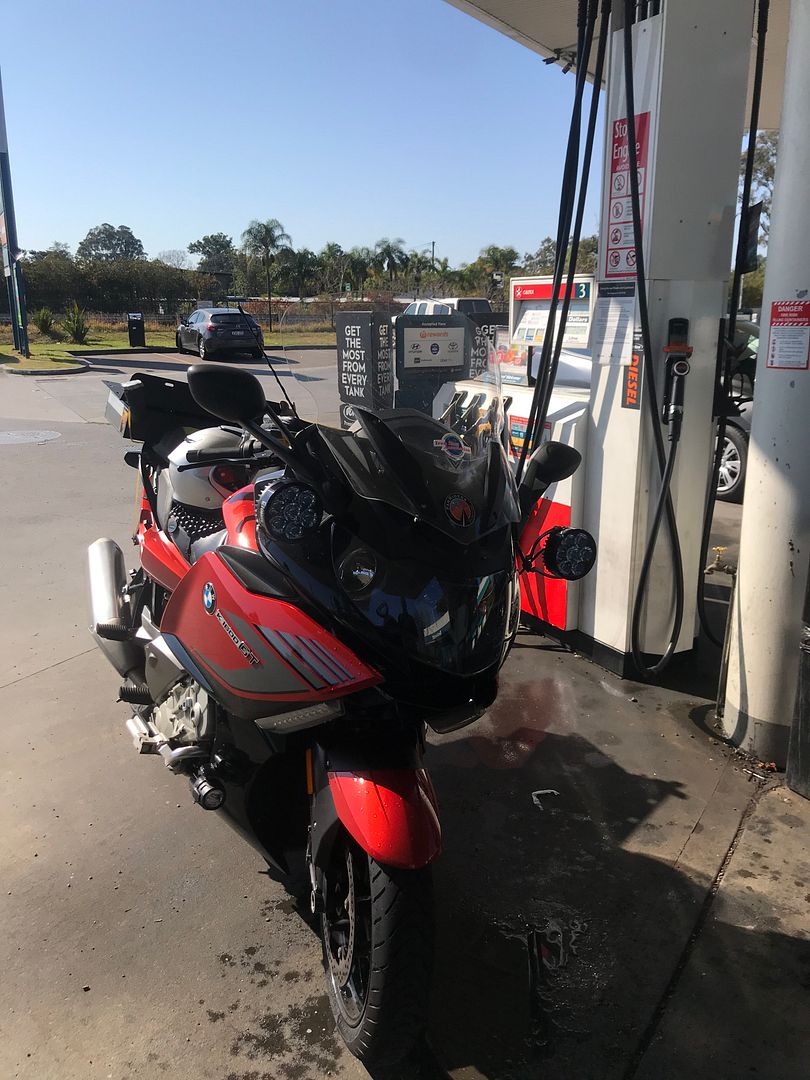 Fueling up Nabiac
The ride up the Oxley to Walcha, was great, there was a bit of traffic, but progress was steady as the corners flowed by and soon enough, I was at the top of the climb with the bike back on cruise control for the section through the rolling hills towards Walcha. Temperatures were now in the mid-twenties and climbing. It was starting to get warm! I stopped for a cold drink at the Royal Café, before continuing onto Tamworth. Hardly any traffic now and progress remained good. Tamworth was to be my last fuel stop plus a lunch break. I filled up both tanks and then grabbed an avo/chicken roll, which I wolfed down as I cleaned the lights and wrote up my log.
The Wauchope Clock Tower

Taking a moment in Walcha - its warming up!
Southwards on the New England Highway towards Newcastle, it was now 31 degrees, which after a long winter was uncomfortably hot. This section of the ride was a real slog, with fatigue and the heat. I stuck with my plan to manage this, including a couple of short stops, and as I neared Newcastle, the temperature dropped back to the mid-twenties. Back at Newcastle I joined the M1 for Sydney and into the setting sun. This was tricky with the holiday traffic around, causing plenty of slower traffic moments as drivers struggled with the sunstrike. Near Berowra, a car fire on the M1 was causing massive delays and I was fortunate to time my arrival for stoppage just before the off ramp onto the old Pacific Highway, which allowed me to bypass that traffic jam. This was short lived as once I got onto Pennant Hills Rd, traffic was super heavy, and it took 25 minutes to cover the 7 kms to the M2. Once back on the M2/M7, I farewelled Sydney as I rode into the gathering dusk. Pheasants Nest was my last planned stop for the day, which was a longer one to rest, eat/hydrate/clean lights etc.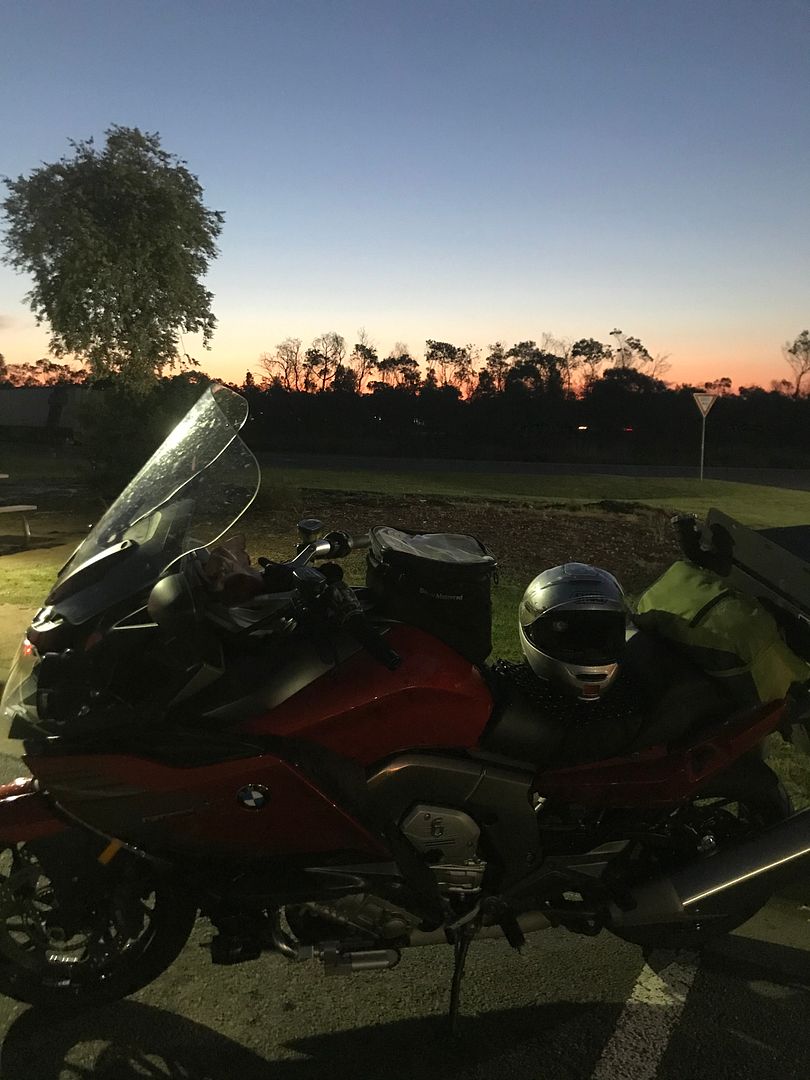 Sunset on the Hume (Pheasants Nest)
It was a beautiful evening, but the temperatures were dropping into the mid-teens. Dinner was salad sandwich and 4:20 pie, delicious! As I was finishing up, a trio of motorcyclists right out of Easy Rider pulled up and parked beside me. The riders had finished work for the day and were off to Tumut as part of a Snowies ride for the long weekend. They had the whole Peter Fonda/Dennis Hopper look down pat, on their cruisers with the jeans/T Shirts and half face helmets. They were extremely excited about their 'night ride" down to Tumut as we chatted about their plans. Their enthusiasm was great, I loved it and wished them well for the evening ahead as I rode off into the night. They did look envious when I fired up the K with the Clearwater's on low.
Easy Rider lives on!
Now it was a couple of hours to Canberra, the stars and moon were out as the temperatures slowly dropped in single digits. I thought about the young guys behind me on their cruisers and in their T shirts and jeans. We were all young once! Of concern was a noticeable increase in fresh roadkill. With the recent rains, there was plenty of feed about and I hadn't seen any wildlife so far, so this seemed really odd & disconcerting to see so many freshly dead roos lying either beside or on the Hume Highway. Back on Federal Highway and it was getting cold. My battery died on the Senna headset, so I flicked on the speakers and let the music boom its way out into the night. Coming up behind a large fuel tanker, the driver misjudged a corner and ran wide across both lanes, just missing a car that had just overtaken him in the outside lane. Close call!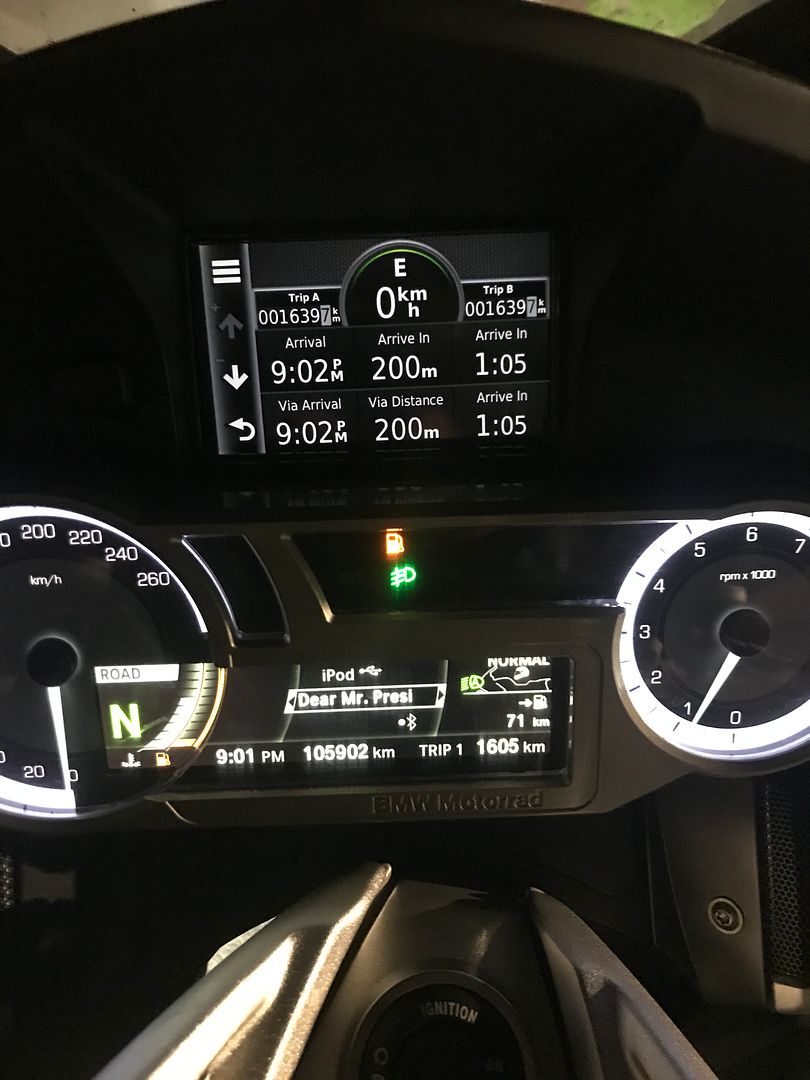 Done & dusted! 1,639kms on the GPS for the day
Pulling back into Canberra, I collected my finishing docket with 1,639kms on the GPS and then headed home. The dogs were super excited to hear the bike pull up and the garage door open. Pillion Piglet was out with her parents, and they glad to have some company, even more so to have the stink from the bike. I was tired, with the heat in the low 30's having taken its toll, but the ride was done and I had ridden to my plan, and I was satisfied to be back riding a saddle sore after 9 months off. I celebrated with a choccie bar and cup of tea!
A choccie bar & a cup of tea to celebrate!
Last edited: