[
This ride was born as the Six Star Ride, then later the name was changed to Australia Southern Cross Insanity
and is now on the IBA list of rides
.]
I'd been looking for a longer ride to do despite having done three 100CCCs in the last year. TigerBill and I discussed it a bit and I wasn't keen on doing a lap on Highway 1. Mainly because of the time required especially these days with increased traffic volumes compared to the classic runs in the past.
I recalled Roadbandit's Six Star Ride and sent him a PM for info. That ride seemed to fit the bill and by its nature allows for a huge variety of ride plans as Roadbandit and Davo hadn't set any particular order for the stars to be completed. . For those that don't know the Six Star, it involves stitching up Brisbane, Sydney, Melbourne, Alice Springs, Darwin and Perth. When placed on a map they lay out a crooked version of the stars on the Aussie flag.
Clint and Charleen kindly volunteered to be witnesses in Brisbane, but with the BR11 coming up very soon after it looked like Clint would be on the road heading south by then. I re-jigged the rideplan and turned it around and I'm very grateful for the send-off and escort Charleen and Clint gave me in Brisbane in the middle of the night.
I also realised that the Six Star could be approached as a series of IBA bite-sized chunks that make the ride plan more manageable.
Here's the ride report.
Day 1 – Byron Bay to Port Augusta – 2115 km
After a transport leg up from Newcastle the day before and a good few hours sleep, I filled up near Byron, grabbed a witness and headed into town for the real start. As I pulled up for the start docket at midnight young Israeli bloke rode up for a chat. He was all excited because I was one of those "Iron Guys" and was only too pleased to witness for me. He followed me to the beach for a sample and photo and followed me out of town for a while.
Out onto the Pacific Highway and into rain and the first farkle trouble. When Clint called me my Starcom/ Garmin Zumo set-up froze – including the basic GPS speed and trip meter of course. I'd trialled running the iPhone through the Garmin via Bluetooth previously, but it didn't want to work tonight. Each time I got a call I had to pull over, turn the Garmin off and back on and get going again. It would let me make a call, just not take a call.
One of these time I pulled up under an overpass to find the breakdown lane already occupied. A young girl in her Astra had a flat and needed a hand. To her credit, all I did was loosen the wheel nuts ("stupid air tools") and she made quick work of the tyre change.
Back on the road I eventually rolled up to the meeting point to see Clint and Charleen had set up a photo shoot overlooking the Brisbane skyline, Goldwing nearby festooned with light.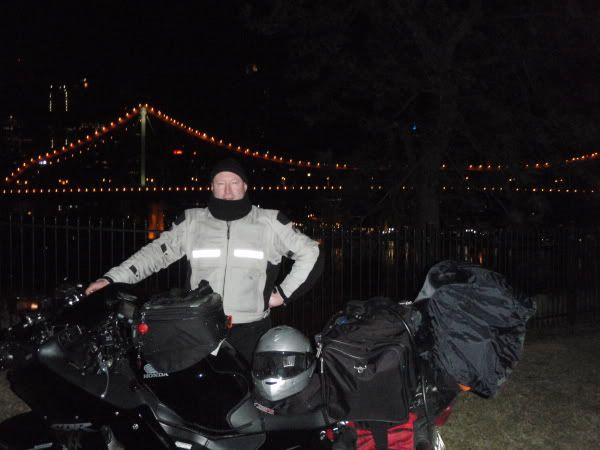 Round the corner for a witness and docket and I follwed the 'wing westward and out of the city. A quick farewell on the fringe and I left Clint and Charleen behind.
Transport leg mainly out this way until a moving roadblock approaching Towoomba. A wide load with police escort front and rear and about 20 vehicles stuck behind. I hit the UHF and called the pilot
" Mate, I'm on the bike at the back of the queue. Mind if I come round?
"No worries mate. Come round."
The police moved aside and I cruised around the lot and off into the distance. Victory for the farkle.
All pretty familiar stuff out here. Goondiwindi for dawn. Walgett and Moree. Left turn at Bourke for Cobar. Through Broken Hill and on toward the SA border.
At one point I pulled out of a rest stop and realised I had no lights. Almost dark, that's no good. Turned the bike off and back on. Lights. Weird.
Wet and windy as I approached Wilmington. Nod to the cairn through the Horrocks twisties and over the hill to the gutter it was windy hot and dry.
Key was waiting in the door of the Highway One Motel. Service station next door. Filled, showered and into bed by midnight.
Unclaimed SS2000 completed.
-----------------------------------------------------------------------------------------------------
Day 2 – Port Augusta to Perth – 2401 km
On the road a bit after 300, I'd seen a bit of traffic on the forum guessing which way I'd go. Hit "OK" on the Spot, left "tracking" untouched and headed west. Nice early running but that came to an end at Kimba.
Fog.
For the next hour and a half I sat in second gear, changing up to third just twice. Thick fog.
What a drag.
Ceduna for fuel at dawn and a nice day followed.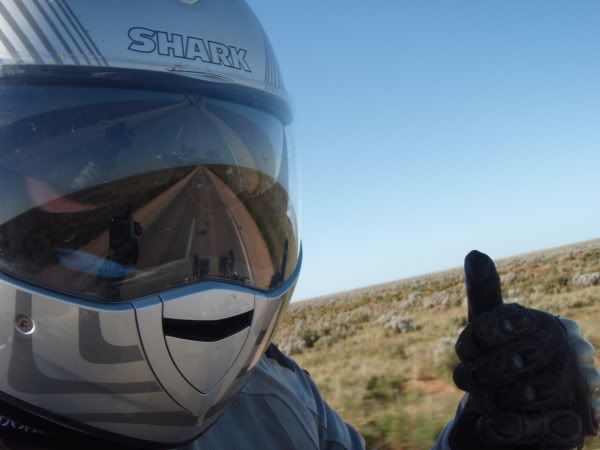 Uneventful crossing through the Nullabor with a stop at Border Village as planned.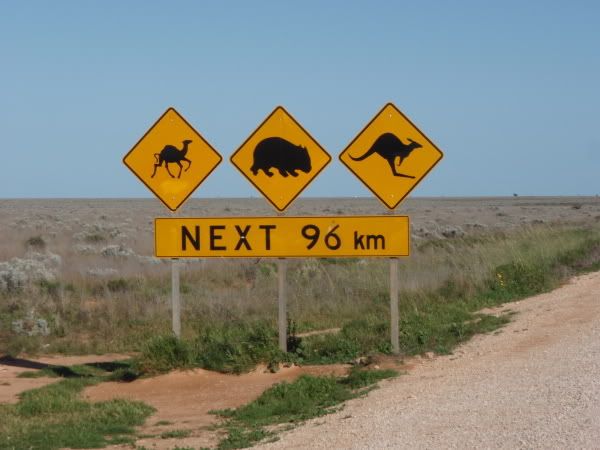 I also spent a little time with Davo overlooking Madura.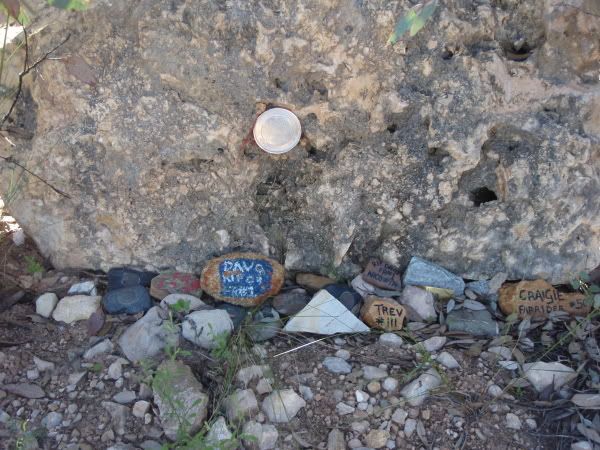 Mileage through this area has been atrocious on each occasion for me. Some say it's the wind. I say it's the rubbish fuel they serve up. I lose a 100km a tank through here. I'd planned on different fuel stops: BV, Balladonia, Coolgardie and Perth. Had to change to BV, Caiguna, Norseman and Southern Cross instead.
Through the undulations heading into Norseman I passed a blue trike heading east (BR11 maybe?) I gave a flash of the lights hello but realised no high beam had come on. Stopped the bike and checked. No lights. "Passing" switch flashed high beam so I knew the bulbs and fuse were intact. Had a drink. Cursed quietly. Checked the multitude of wires up front but all looked ok. Turned on and off a few times and had lights again. Weird.
Norseman for fuel. 1 km later on a nice left-hander I lost all lights. Black-dark now, not weird. Bad. Made it to the roadside safely, re-started and had lights again. All my crazy lights to blame, I wondered? Seemed unlikely as I hadn't been running them. Taped an LED torch to the lightbar as an emergency fix and hopped in behind a ute running a sweet pair of Lightforce HIDs. I stayed on low beam, ran in 2nd and 3rd, and hoped the higher revs may charge the battery if that was part of the problem.
Rain and more rain on the westward leg. In waves it seemed. I stopped to put on wets when I found a bit of cover, only to punch out into the dry a minute later. This bit of road seemed to drag on forever. I was hanging out for the bends above Greenmount for hours. I came upon a bloke out of fuel and topping up from a jerry can. He said his car had conked out and he hoped it was fuel. We turned off at the next town and he made it to the servo for a full fill. I made the mistake of asking the GPS for a shortcut to Greenmount and spent the next 15 minutes doing laps of some little town, passing the same point 3 times.
Back out on the highway and continued on. I'd run my calculations all afternoon. With the few delays I knew the 50CC from Byron was out, but I still had another plan. At that point I came upon Gus sitting by the side of the road waiting for me. Legend. He'd seen me coming on SPOT and came out at some ridiculous hour to greet me. I told him I had to go to downtown Perth.
Through the Greenmount bends at last and into the quiet suburban streets. Just me, Gus and the police were out it seemed. Into Perth for a quick pic, I told Gus I had 25 minutes to make it to Cottesloe. Duly delivered, I checked into the hotel 49 hours and 51 minutes after leaving Brisbane.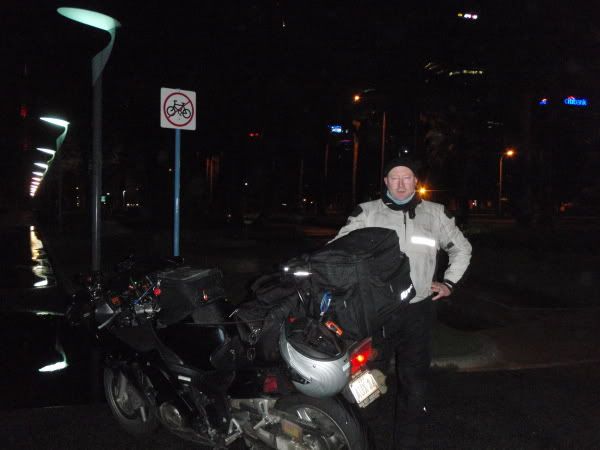 Gus made the generous offer of his workshop if needed for the electrical repairs the next morning. Into bed for 4 hours off the road.
Unclaimed SS2000K and 50CC Gold from Brisbane.
----------------------------------------------------------------------------------------------------------------
Day 3 – Perth to Carnarvon – 1175 km
Next morning was terrible. Gale force winds to Geraldton the forecast said. Gale force it was.
I had a hunch my light problem was switch-related. Showered, dressed, packed the bike, swung a leg over and used my spare key instead. Lights.
I'm outta here.
Just me and a few joggers (mad) in the tempest I put a few miles in before stopping at little GinGin for fuel and a drink. Felt like I was in Bowral with most people dressed in jodhpurs for a fox-hunt or something. Anyway……
On northward through some nice countryside and quite a few bikes out and about on the Sunday morning. The wind had settled by Geraldton. Now it was hot. Fuel and fluids and a quick detour to Bunnings. Despite having 42 litres on board, I bought a 5 litre jerry can for just-in-case. My ride plan was sound, but my experience yesterday with poor fuel economy had me worried about a couple of the upcoming legs.
Left turn toward Shark Bay into a low sun. Its all a bit eerie out there. Stopped in Denham. Fuel, a drink and witnesses for a Trans Australia (Byron to Denham in 66 hours).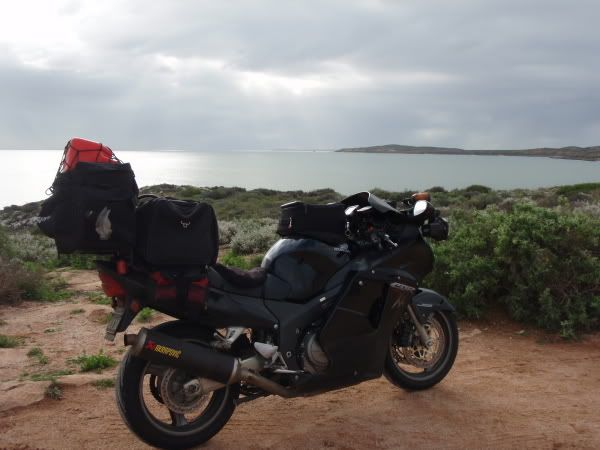 Turning eastward again I played out my first plan "B" . In the middle of the west coast there is a major fuel supply problem. Namely, the 870km of no late night fuel between Carnarvon in the south and Port Hedland (my target) in the north. Minilya shuts at 2100hr, Nanutarra shuts at 2200hr. At 1830 in Denham I wouldn't make either. The choice is between fill-up in Carnarvon and sleep in the driveway at Nanutarra from 0230hr until they open at 500, or find an early bed instead.
Roos galore on this road. Maybe a hundred or so, further slowing my progress toward Port Hedland……
I let the door close on Port Hedland, pulled in to Carnarvon to a hotel and pulled my bike apart. I found no fault, stuck with my key/switch hypothesis and slept for 4 hours.
--------------------------------------------------------------------------------------------------------------
Day 4 – Carnarvon to Fitzroy Crossing – 1787 km
Lonely old roads with hours of low, thin fog as company until Nanutarra for an iced coffee soon after dawn. So flat and wide out here the dawn seemed to take hours to break. I tried a few pics, but they were just lame compared to the real sky……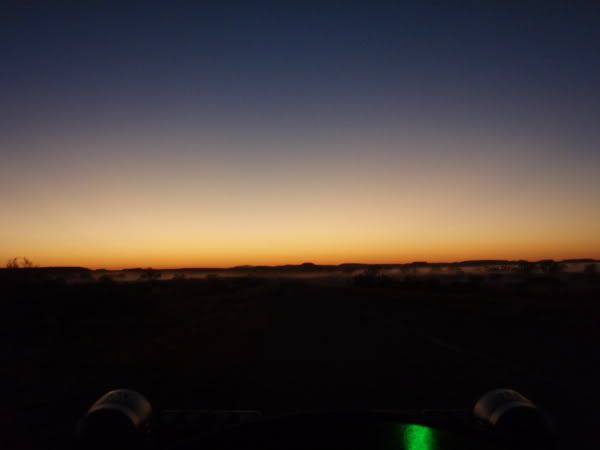 On toward the traffic jam of Hedland. Wall to wall trucks and white Hiluxes with fluoro stripes out here. Signs off to mines and people driving all around. I didn't like it.
Fuel at Port Hedland, a quick word to TigerBill and on up toward Broome. 80 mile Beach? No sign of beach to speak of….. a huge grass fire and hours of great red soil and struggling vegetation. A handful of cattle and a few goats looking like they were trying to find Cobar.
My fuel use was back to normal, the jerry unused. I stopped Roebuck, just east of Broome and considered options. Well short of my original target after a few delays in the last couple of days, an improved ride plan evolved. Blocked again by no 24 hour fuel, I called ahead to Fitzroy Crossing and bought a room for the night and planned on topping up at Willare Bridge so I could make Halls creek in the morning.
A drink and some cashews (first solid food for 5 days or so) and a chat to a Harley rider. He'd just come from where I was heading and was wide-eyed with disbelief. "Three times as big as your bike – some of them!" Cattle. All over the roads. "I wouldn't head that way tonight if I were you."
360km into the dark with a room waiting for me. There were cattle alright. Lots and lots of cattle. At one point I pulled over for a leak, checked my mirrors and saw flashing yellow circles behind me. Nose-rings and indicators combined - I had cattle faces flashing all around me. Creepy.
First gear and slowly pulled away, the urge having passed. Willare Bridge as planned, more fluids and still very slow going. Arrived at Fitzroy Crossing Lodge at 2230hr local time, donger number 12 out the back. Shower and into bed for 4 hours sleep. Nice.
Unclaimed SS1600km
-----------------------------------------------------------------------------------------------------
Day 5 – Fitzroy Crossing to Darwin – 1484 km
Into the rhythm of it all now. Prepacked and on the road before dawn, a few solo hours in the dark ahead of me. Easy travelling, very light traffic of roadtrains mostly, no dramas.
Tipped in to a lovely right-hand sweeper I saw the eagle take off. Wedgie. Good, he's gone left. Then the other one popped his head up. Bad. He flapped a couple of times to the right and bang I hit him hard. A puff of feathers and me still leaned over. Broken plastic flapping about the right fairing I pulled over to check the damage. It wasn't a real safe spot to turn and from the impact I knew he was killed so I didn't go back. Killed a wedge tailed eagle – a big one. Felt bad for days.
Easy running and great outback scenery in this neck of the woods. Fuelled at Hall's Creek and stopped for a few minutes down the road for a morning iced coffee and to tape the fairing on.
Traffic picked up a little around Kununurra, along with the temperature. I had a few minutes to spare so made a few calls I needed to then switched into "Roo Killing Fields mode". Ozrider, ROLSN and CC had had some action through here recently and I was on guard. Just couldn't remember how far short of Katherine the "fields" were. Never mind its only 500km so I'd find out soon enough.
Great riding through here. Fantastic vistas and some great sections of winding roads. I'd love to come back again. Minimal traffic around, sun at my back, wide verges mostly and not a live roo to be seen. A handful of dead ones, maybe not the thumb. It must transform into something akin to the Singleton area after dark from the recent roo reports?
Eased in to Katherine for a fill-up. Said night-night to the SPOT tracker and left the forum options open. Commute into Darwin for a few hours and checked in to the hotel. Had a chat to a kiwi ex-racer on the front steps. He'd come out for a ciggie and to cough up his other lung. Nice bloke. Survivor.
The Novotel even gave me a 2 bedroom suite for the night. Nice. Handful of cashews, bag of chips from the minibar, laundry, shower, repack and bed. 7 hours off the bike and a good few hours sleep.
-------------------------------------------------------------------------------------------------------------------
Day 6 – Darwin to Port Augusta – 2716 km
Reception at 0430 was crowded so it took a bit to check-out. Witnesses and a visit to Doctor's Gully, fill-up, hit SPOT "OK" and roll on out of Darwin. Might try to catch it in daylight sometime……
A bit of traffic heading south but flowing well enough. With a plan for a "Centreline 24" it was full concentration and quick-stop mode. The distance is doable, but the full cleaving of the country in a day still seems a big task.
Katherine on time. Elliott the same, despite long stretches of fog. By Tennant Creek I was a few minutes ahead, the GPS lady agreed. Long drink break not needed so I left for the long haul to the Alice. Great day for travelling, sunny, warm and full visibility. A trickle of road-trains and the seasonal grey nomads for company. Even a few police cars along the way. Polite, too. I twice came up behind them and asked the UHF question: "I'm on the bike behind you. Mind if I come round?" "Go right ahead". Gotta love the Territory.
Paused just short of Alice for a layer change and spied coldcomfort up ahead. Didn't realise it was him at first, I thought he was on radar duty, but it was only his camera in is hand so gave a wave. He quickly rounded me up and escorted me in to the prime servo. 6 minutes ahead of the ride plan, we chatted briefly, topped up and headed south, into the setting sun. CC turned around 40 km out of town and I was back on my own.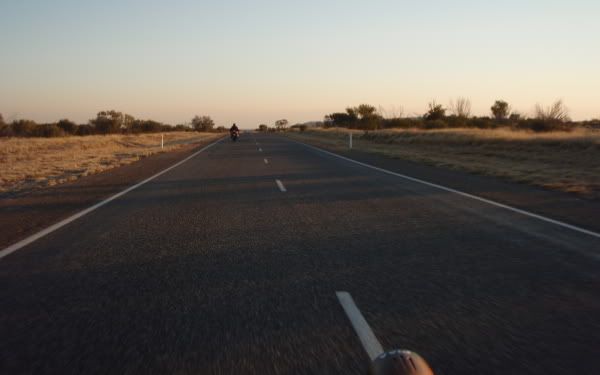 It's a nice run here, all the way to Erldunda and beyond from memory. Great sweepers and mixed riding. Its no Oxley Highway, but very entertaining at NT speeds.
Paused at the Cannonball Run memorial – seemed very fitting – and reflected on our shared love of what we do.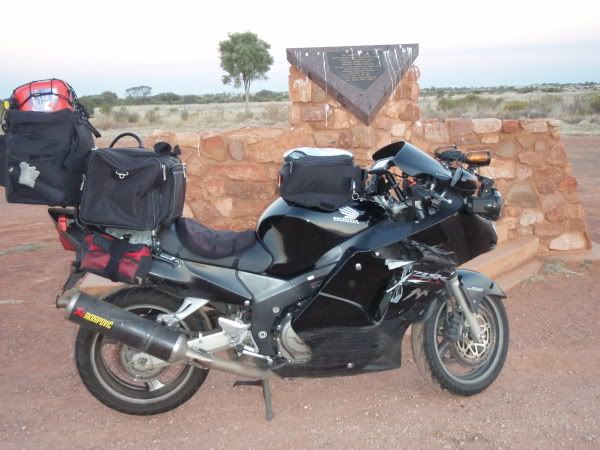 Into the dark by Kulgera, having seen just one live kangaroo, I left the Territory behind for the 110s of South Australia. At one point I saw no other vehicle for over an hour. If you seek lonely roads, try the Stuart Highway at night some time.
Marla for fuel, a few cows and not much else, I really like this section. MP3 player chillin' (a novelty for me), full lights blazing the trail ahead and just a steady meandering ever southward towards Port Augusta.
Front tank fill at Coober Pedy. The servo guy thought I was crazy out there. Well, he said I was crazy, so I guess that's what he thought….. On track for the Centreline by my calcs and also the GPS lady. Her best guess had only varied 30 minutes all day so I was happy to agree.
Getting cold into the night, I pulled over at 0300hr for another layer. Found a safe rest-stop and rolled in. A couple of vehicles were parked for the night, so I hit the kill switch and got dressed. Had a drink and a leak and repacked my bag.
Quietly paddled a u-turn and hit the starter. RRR-RRR click. RRR-RRR click. Oh no. RRR-RRR click. Doh – me and my stupid kickass spotlights. RRR-RRR click. Tried to bump start it in the dirt but to no avail. Donated skin to the cause by jamming my hand up the bike's nose – even pulling out the low beam light made no difference. RRR-RRR click.
Damn.
I'd picked a nice safe place to pull over. Off the side of the road, at the bottom of a long, flat hollow. I didn't bother pushing the bike. That wouldn't have helped. Saw a road train coming so got on the UHF. "Can't help mate – no jumper leads. I'm heading north, I'll ask anyone heading back this way if they can help".
The parked vehicles were empty. I'd turned off the engine so I wouldn't wake them. I stood and waited. One more truck in an hour. He couldn't help either. Thought I might as well nap so used the seat as a pillow and slipped into my poncho shelter. Woke to hear a car – heading away – I'd missed it.
Finally got a hand. And a jump start. From a full-bore 50m+ Northern Territory road-train. What a comical sight with 2 little wires coming out of the beast to spark up my bike. 24volts? Who cares? Fired-up in a split second, he hung around till I'd rebuilt my bike (thanks Crappy for the aux tank rules: less than 5 minutes and no tools) and I waved him goodbye.
Waved the Centreline 24 goodbye, too. 2 hours and 49 minutes lost to my own greed for light, 190km from the goal.
Rolled in to the Port Augusta servo at 0730 on fumes, not game to switch off the bike. Parked around the corner, filled the jerry finally and put in 5 litres. Crossed town to the Highway One and found my key in the door.
Shower and sleep.
Unclaimed Centreline 36
----------------------------------------------------------------------------------------------------------------------
Day 7 – Port Augusta to Wandong (VIC) rest stop – 1207 km
Tentative start to the day. Phone was ringing so didn't sleep much. Repacked and out to the bike. Will it start? Yes!
Loaded up, but something's not right. The Ventura rack has broken – who knows when. Can't ignore it even if I want to. Long way from home, I checked out and headed back the wrong way. Back into town to the bike shop. Trawled around the workshop and found a chunk of metal up to the task – trimmed with an angle grinder, shoved it into the broken Ventura pipes and headed south.
300km to Adelaide, half-black sky as a companion. What a tedious bit of road that is. The storm hit and hit hard, just outside the city, so at least the slip-sliding commuters were entertaining. I pulled in to Peter Stevens for a little look-see. Its huge. They even had Ventura racks in stock. Lots of them. Just not the one I needed. Anyway. I wandered around for a while, bought a slice at the café across the road, pocketed the docket and headed through Adelaide in the teeming rain.
Nice climb out of the city, heading for Keith. The road beyond here is mainly terrible. A8, I think. Bumpy through Victoria, still pouring down, foggy in patches and with a stream of oncoming trucks, it was a nightmare. Shocking visibility and on and off the throttle: Accelerate when past the truck, slow to 70 as the next one passes sending out a bow-wave, brace for the unseen pot-hole, hit the LEDs and throttle on for a few seconds and slow for the next truck 500m later.. For hours and hours it seemed. I even tried a McDonald's coffee as an excuse to get off the road for a while. I was that desperate.
Approaching Ballarat it started to get more civilised. Then it got very civilised as Nico had ridden out in the wee small ours to escort me through Ballarat. Great little combination of roads and a welcome relief after what I'd just come through. Dry now and twisties in sections. Nice.
Waved goodbye and on south through Geelong. Out to Bell's for a tank-ful and docket at Torquay. Witnesses too.
Unclaimed 50CC North/South in 45 hours.
But the night's not over.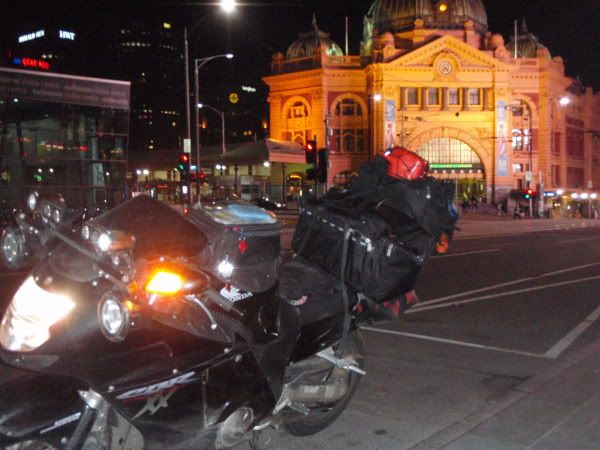 Commute into Melbourne. Just ticking boxes. Pic at Flinders Street Station and an ATM docket and I'm outta there, looking to sleep. 60km north I found a rest stop. Pulled up under the picnic shed, hit SPOT "I'm sleeping", grabbed the poncho and hit the deck. Ahh, asleep before sun-up. Gold.
---------------------------------------------------------------------------------------------------------------------
Day 8 – Wandong to Sydney Opera House – 895 km
Awoke to a great big blue sky nearly 3 hours later. Feeling great. Heading home. Just a transport leg, really. Cruising up the Hume at Victorian speeds, I filled at Benalla for the novelty of a side-street. The servo guy came out while I was filling up. "Where'd you fit it all in?". I tapped the aux and he smiled. "Never seen a bike take 40 litres before".
Back out onto the Hume and more of the same. Crackaz sent me a text saying I was making good time, but all day it seemed to be taking all day. Turned off past Yass and headed south East. Lame pic at Parliament House and a few laps around.
An iced coffee, 30 litres and 30 minutes later I joined the melee of Canberra people getting the hell out for the weekend. Thick traffic all the way north. Pulled in to Pheasant's Nest for a quick break and had a chat to another Blackbird owner. Not much of a chat, as I don't speak Japanese. He was one of a bus-load touring around and had taken a month to cover 3 days of my ride. It seems his 'bird is unadorned as he studied all the LD bits I have bolted onto mine.
Nearly there. Turned off on the M5. Lots of traffic, but I didn't care. We were all moving along ok, anyway. Then I had company. Kimmie pulled up alongside on Angel and followed along. Karl had me SPOTTED and I was easy to intercept. Right into town, just a couple of turns.
Kimmie and I rolled in to the Opera House to a security welcome. "You can't park here" they said as I parked-up for pic. They were good about it, though. Even signed my witness form along with Kimmie.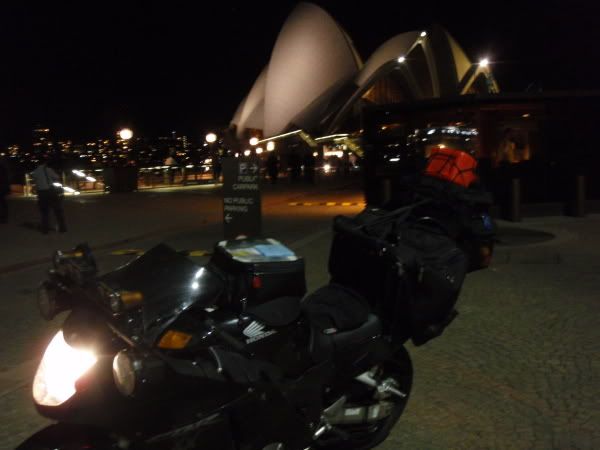 Six Star Ride done and dusted 13786km.
Out of the blue this certificate arrived today: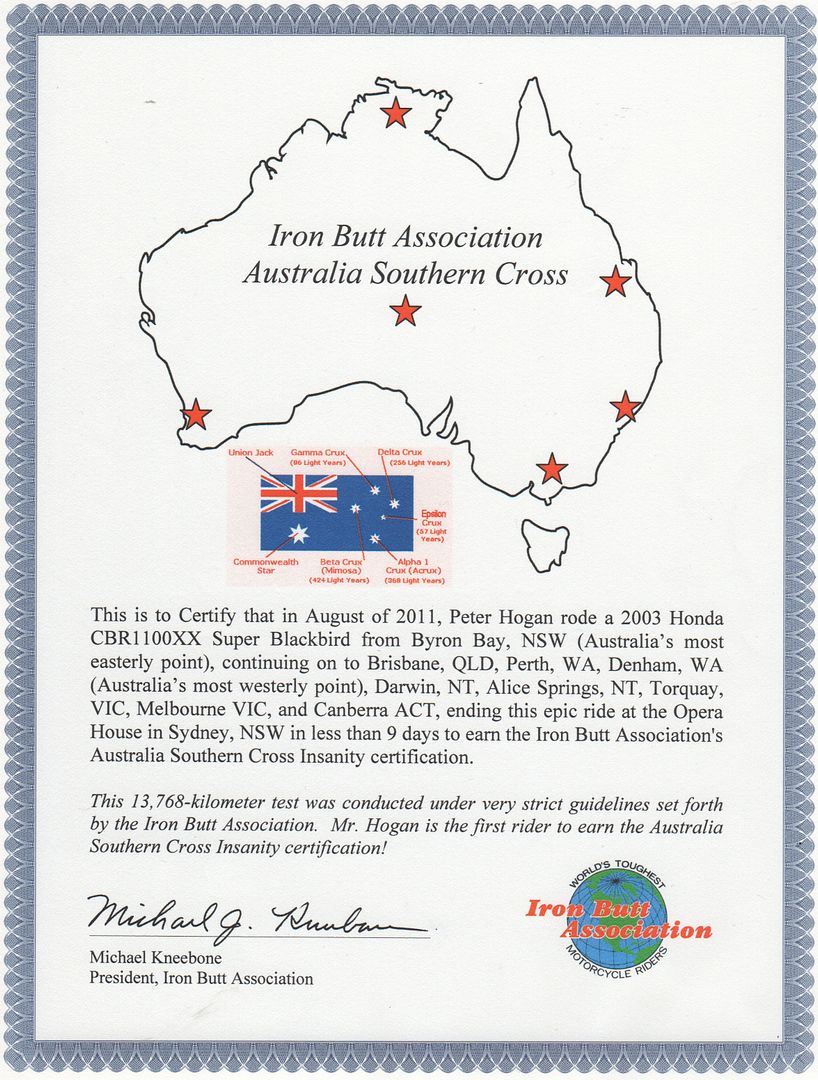 Its basically the same, but the ride has now been renamed "Australian Southern Cross Insanity Ride".
The insanity tag requires the 6 stars, the easternmost and westernmost points PLUS returning to the starting coast in under 9 days.
A while back TJ rode the 6 stars in the most efficient (shortest) possible route in 6 days.
Its a great ride, I wish more would take it up.