I had Friday off work
so I took the opportunity to meet with Wombattle's seat modifying motor trimmer. He's here in Newcastle rather than Goulburn or QLD - bonus. I'm hoping he'll be able to help me out with the Ninja 300 seat. I find it gets uncomfortable after about 2000km or so....
Anyway, I called TigerBill and we met up for lunch and a chit chat. Then I had a nanna nap. Woke up at 19:15hr! Crikey! Now I won't be able to sleep tonight.
Turned on the computer. Clickety clacked for a couple of minutes. Sent a text to Bill and a SPOT link.
20:20hr selected first gear and rode out toward the 'fast exit' servo at the western edge of Newcastle. With TigerBill's famous signature safely on my witness form and a docket reading '21:00hr' it was off into the dark and the last remaining traffic heading south.
I knew the route. I had 43 litres of fuel on board and was up for a challenge.
There's not much to this story really. First fuel at Gumly Gumly a scant few kays under the IBA 600 limit. Left foot down at the bowser being the first hard contact since waving bye bye to Bill.
Dark of course, first corner marked. Now a straight run west. It had been cool the last few hours but only down to 13 or so. I'd seen the BOM and knew that wouldn't last.
Just on dawn I pulled up for a Kimmie pic: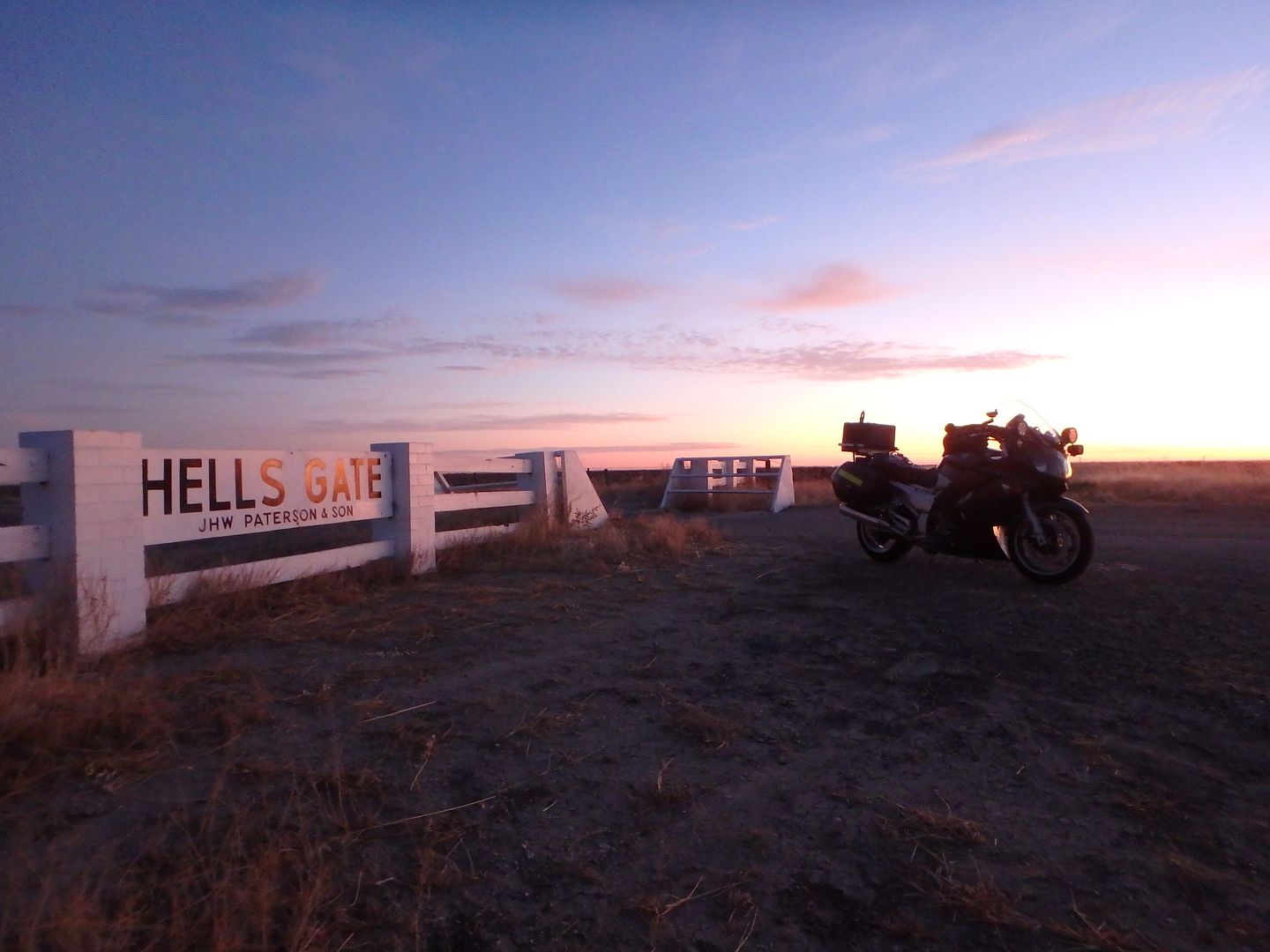 Then soon after a spelling pic:
Balranald = Bun
Though there wouldn't be much time for that sort of photo caper.
Watching the dash I saw 16c turn into 25c within a 3 minute window somewhere around Mildura. Fuel at what I always called the BP at Gol Gol which is now a Shell at Buronga to mark the corner and then headed up the Silver City Highway. I love that piece of road.
It gets real wide and open the closer to the Hill:
Corner docket here, then a 36C quick spelling pic on the way out of town:
Broken Hill = BunBurner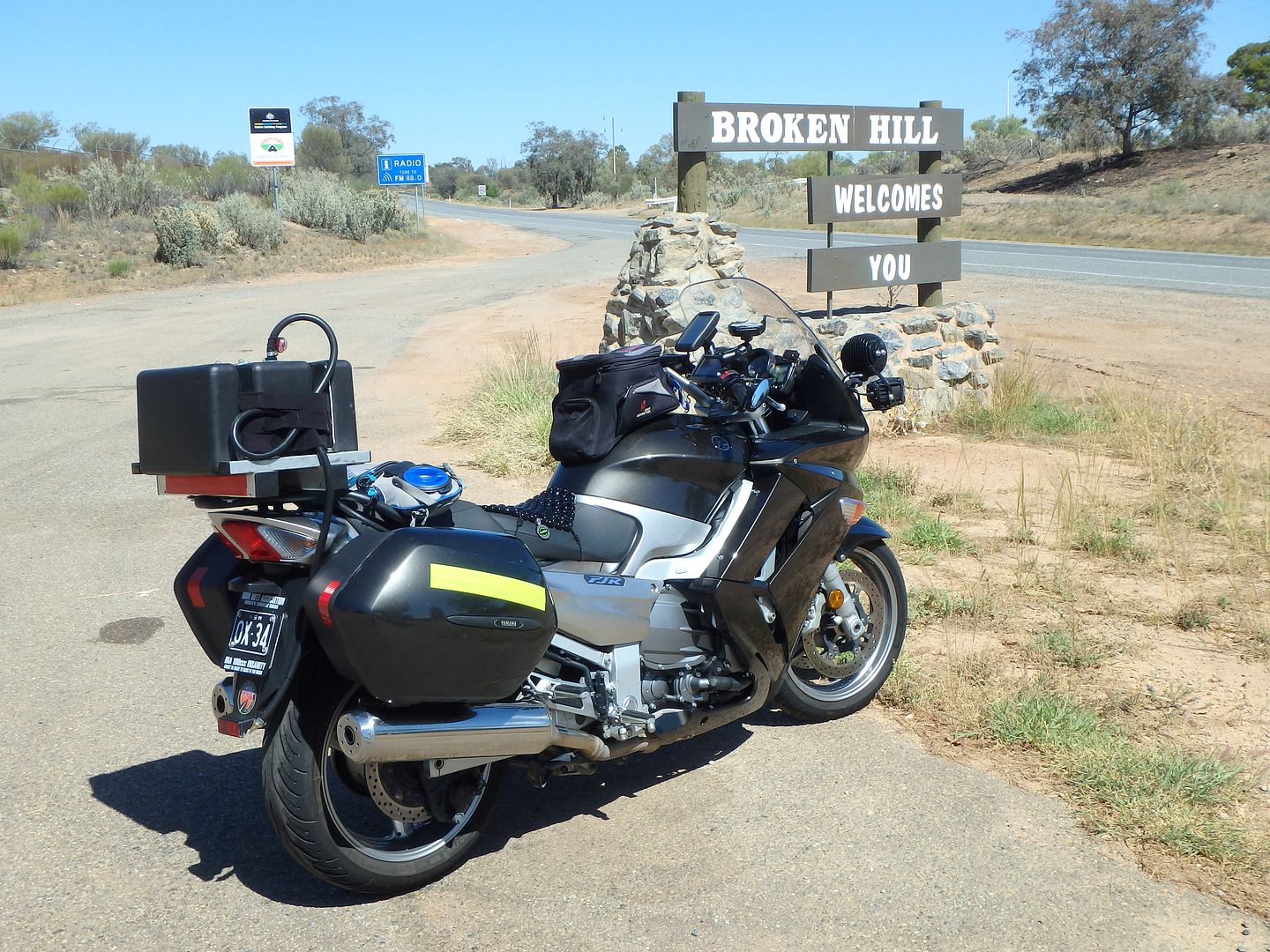 Then it got hot. I was intermittently swapping buttons between monitoring Temp get up to 40C and fuel use, entertaining myself by watching the effect of the screen and body position on fuel use and all the while saying "How about that heat,eh?"
That and dodging wedge-tailed eagles. I've hit a few of those on previous rides. One big one cost me $2500 in plastic, but he paid for that with his life. Felt bad for him for days, though I didn't mean to do it. Another big one was screaming blue murder at me when I rode back to check on him. Flat on his back and furious he just screamed again before flying off. Don't know how he did that, I hit him real hard. The third hit me in the head while I was no hands standing up on the pegs at 130. But no contact today, just me ducking and weaving around dozens of them.
And road kill. Not much live stuff about on this run. But lots on the road. Little clumps of cooking meat and little groups of big and little birds for about 1600km of the day.
Pulled up in Nyngan for a fuel docket 588km for the leg. Helmet on, unbuckled, just the right glove off, 2 $50s hanging out of a pocket, left hand filling the front, right hand closing the aux a bloke said an ear-plugged-muffled
"Two tanks, eh?"
"Yeah, two tanks"
"You don't really need two tanks though, you'd stop before that"
"I haven't put my feet on the ground since Broken Hill"
"..........
..."
Down the straight to Nevertire and the left turn 'home run' onto the Ox.
Still stinking hot, but I've adjusted the KLIM on the run with its many zips and combinations. I'm running a Camel Bak on the rear seat so I can even top up the sleeve and suit 'irrigation' and get the air cooling just right.
No hamburger for Wombattle at
Gilgandra = BunBurner GOLD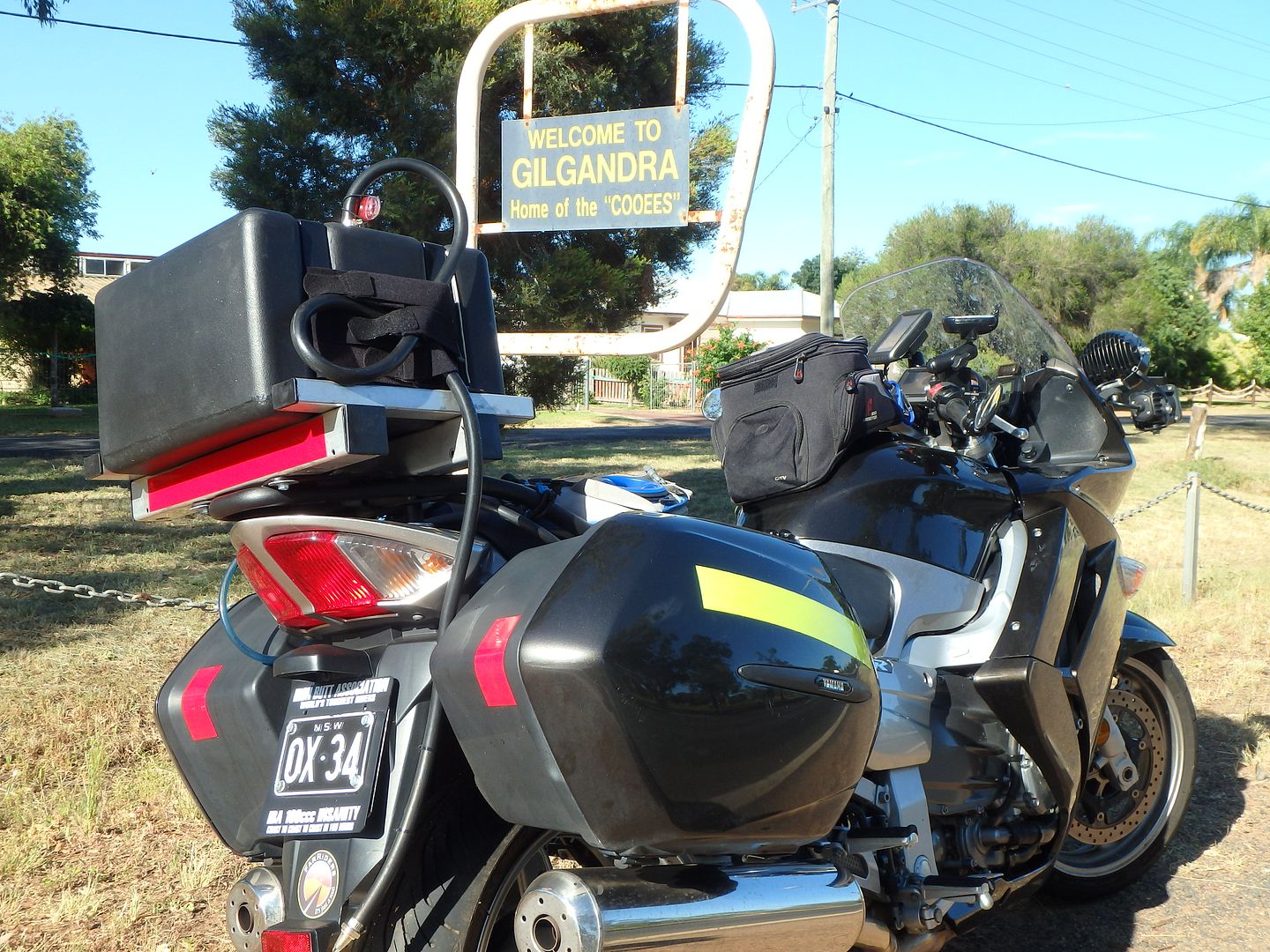 Just a simple run along the Golden Highway into the dusk.
I've had some fantastic runs through here, and this was as good as it gets. No traffic, sun behind me as it has been all day and the green and gold and blue of the glorious upper Hunter Valley to ride.
TigerBill was on the side of the road as I approached my final fuel stop. He'd been watching SPOT and figured out the correct intercept with 2 minutes to spare. Plus he had a chance to test out his new light up the world LED spots as a bonus.
Into the servo and ker-ching the register spat out 20:53hr in exchange for a couple of iced coffees. Ahh. Its good to see accurate clocks. With Caltex Cheryl and TigerBill having signed the form its done.
'Planned' in 3 minutes, a by the book 2528km in 23:53hr. That's a BunBurner GOLD
: