Here's an old report for the new forum.....
When I checked the calendar for the FarRide to Renmark I realised I had an opportunity for a longer ride. I had over 100 hours available so cooked up a plan…….
That sort of time frame allows for just about anywhere, but a 100CCC does beckon. I'd missed the Centreline 24 a year ago due to my own electrical stupidity, so I thought I'd combine the 2 rides. That meant Darwin. Not really a conventional coast to coast like Newcastle to Perth, or Melbourne to Darwin, but still coast to coast and at over 4500km a loco coast to coast in 50 hours.
I planned a leave time from Port Augusta northwards at 2300 local time the same night so I simply calculated backwards. With the Renmark check-in at 1100am local time Saturday 1300km from home, I had little room to manouvre.
To allow for a bit of FarChallenge pic hunting and a decent sleep in Port Augusta, I had to leave Newcastle as late as practical on the Friday.
Day 1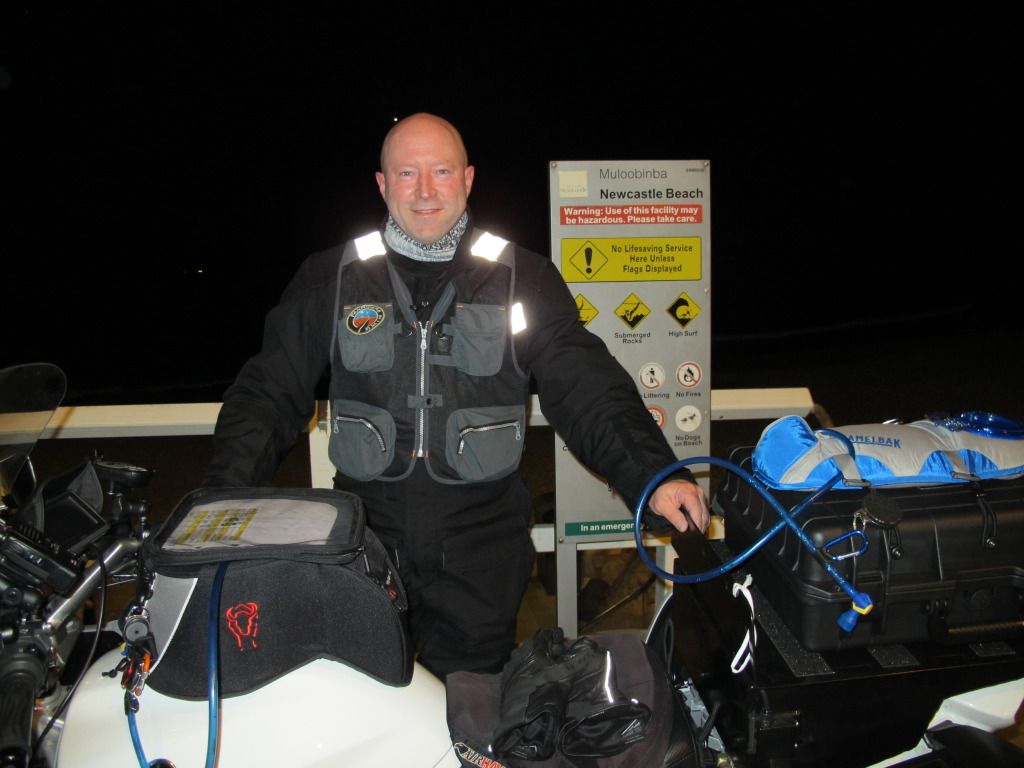 After a pic at the beach across the road from my place, I grabbed an ATM docket at 21:30 Friday night and headed south. A bit slow out of Newcastle, but ok once onto the F3. It didn't start raining until the Mooney Bridge just north of Sydney so that was a bonus. I was wearing a new Aerostich Roadcrafter suit, so this ride was to be just a long gear trial.
I had my trusty spreadsheet on the tankbag to guide me.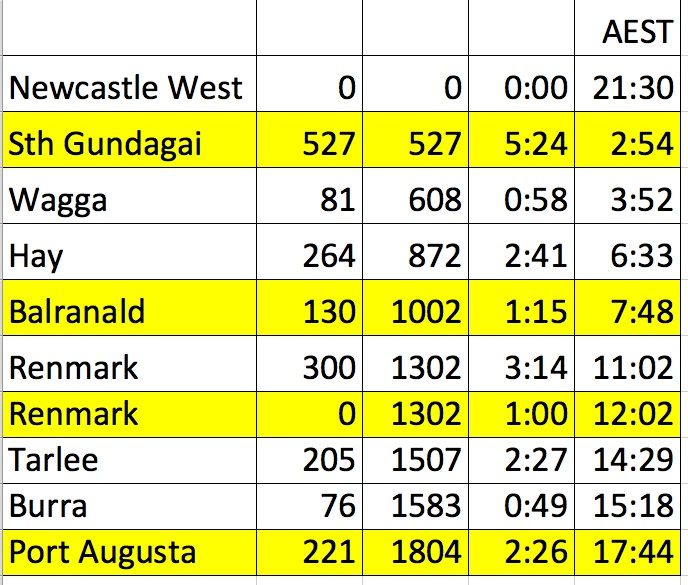 The travelling was easy, tucked in behind the FJR screen and completely dry. I wore my heated vest for the Goulburn section, but never needed to turn it on.
I thought there'd be more traffic through Sydney, but by the first fuel stop at South Gundagai I was 12 minutes ahead.
Turned off the Hume soon after and heading west. I thought I may have seen more bikes, but I guess I was the straggler. The rain stopped by Wagga Wagga and the next few hours were uneventful. Topped up at Balranald still ahead, but just by 3 minutes. Pic at the Yamba Roadhouse where I bumped in to Gaggs and Heather
Dockets and quick hellos at Renmark. Ghosty waved me through and I jumped the queue to check-in first and hit the road – thanks.
A detour via Tarlee and Burra for FarChallenge pics. The bends of Horrocks Pass, of course and a quick stop for a banner shot on the way to Port Augusta.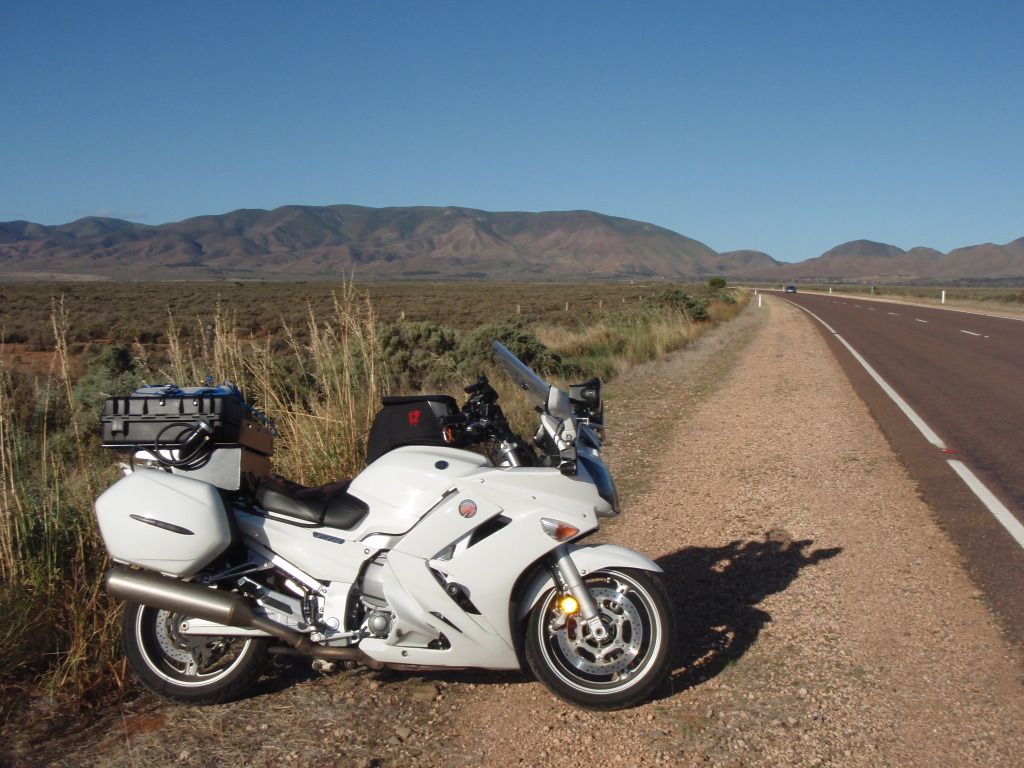 Fuelled at 1809km for the day, 13 minutes ahead and checked in to the hotel for a nap by 18:00.
Day 2
Woke up feeling good. I was a bit concerned that the leave time of 21:30 last night may have mucked me up but I was ok.
Across the road to the servo, docket marked 23:00 local, fuel log and witness forms filled in and GPS trip meter cleared. This leg was really the core of the ride.
At a bit over 2700km in a day, the "overall speed" is the key figure. With 950km of South Australia mainly in 110s, and most of the Territory in 130s I needed a skewed calculation to maintain my target of 113km/h. I planned to carry a "108" across the border, and used a goal of 120 in the Territory to hit, then maintain the 113. That was the plan, anyway.
First gear and out of the servo, turned right at the "DARWIN >>" sign and into the darkness. Very light traffic, of course. A trickle of roadtrains and just a few cars, I started counting roos for entertainment. By Glendambo my count was 108 roos on or next to the road. Mainly well behaved, they didn't cause much drama. I was mainly concerned about the car right on my tail, so I tapped away madly with the rear brake to let him know what I could see. At one point I pulled over for a leak and he stopped. I waved him on, but he said he'd wait. He was the Coober Pedy RACV/NRMA guy heading home and wanted to sit behind me so he could see. It seems his Falcon lights were a bit inadequate compared to the LEDs and HIDs I have upfront. I'd lost audio on my Starcom so I fixed it while stopped.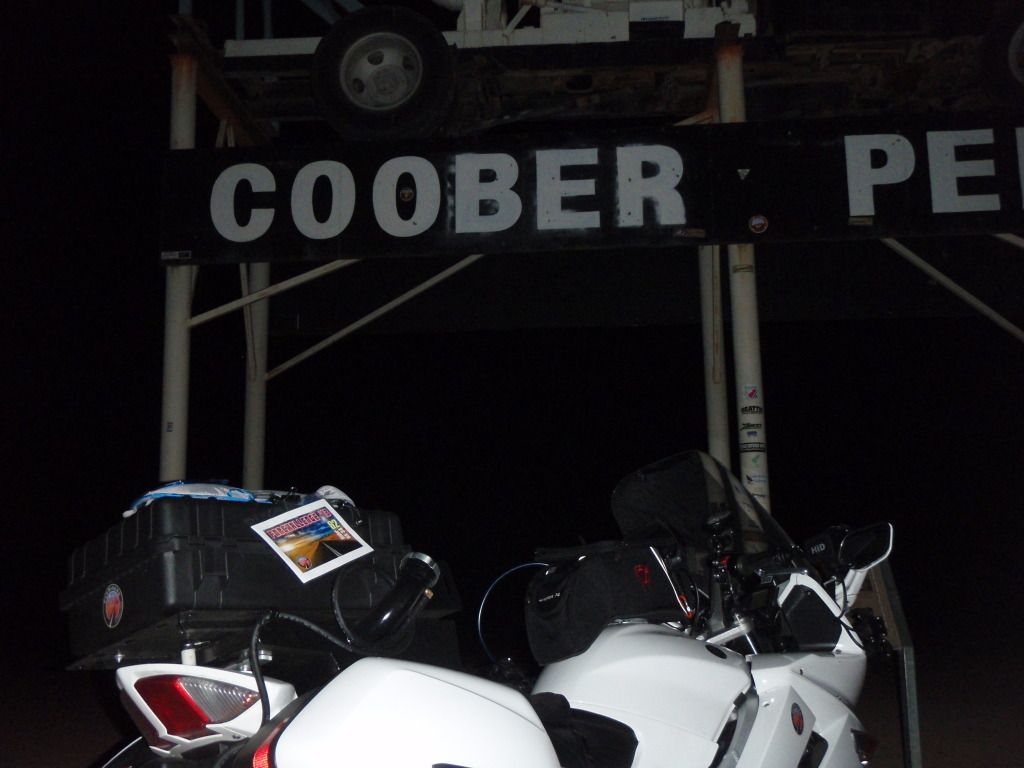 92 more roos by the time we hit Coober Pedy, but by then they were thinning. 5 minutes late, but all ok.
Nice sunrise brewing around Marla and soon after left South Australia with an OA of bang on 108.
3 minutes late by Erldunda, where I found my new camelback on my rear case had sprung a leak – bugger - and rolled through Alice Springs without stopping.
With the sustained 130km/h the fuel use rose – a lot. Even with the aux tank on the back, the dash read-out had me worried. I had to reduce speed to make the next stop at Wycliffe Well, 22 minutes behind. I was even overtaken by a Smart car – how embarrassing.
Although it only took 37.4 litres, I was uncertain of making one my fuel legs up ahead. The five I had planned were 540km, 488km, this one of 575km, then 539km and a final run in to Darwin of 590km – IBA legal but only just. I had to make the call….. I needed to slip in an extra stop. That final leg would be too close and I'd be a dill to run out within sight of the finish.
Back on the road I sat on 130 and re-jigged the plan: stop 92 km earlier at Elliott, then a front tank only splash and dash at Katherine.
Hot now, real hot. Unzipped the vents in the 'stich and rode on. No roos to worry about, a few cane toads to squish and the kilometres just piled up. 1983km today by Elliott and now 20 mins behind. By Katherine it was 2401km and 11 minutes behind.
The 130km/h zones keep going. Farther in toward Darwin than I recall. By Adelaide River I was close. 114km still to go, the overall had just hit "113" and I hit the roadworks. 2 sets of traffic lights out in the sticks – both red.
Back moving and just running the numbers in my head. I saw Rod Ozrider on the side of the road and gave a wave. I wasn't stopping. He knew that. In no time he was on my tail and it was good to have the company. About 10 minutes around Balranald yesterday morning was the only bike company I'd had otherwise.
Approaching Darwin I knew where I was going but waved Rod ahead. I signaled "time" on my watch and "I need a docket" the best I could. He knew what I meant and we headed to the pre-planned stop in downtown Darwin – the Shell servo on Daly Street where I have stopped before. Jagged the green light, rolled past the police at the bowser, hopped off and ran inside.
A pack of chewie for a docket: 22:59 – made it by one minute. The servo guy was loving it…… thought I was mad. The Centreline 24 of 2716 GPS km and the LoCo CoCo from Newcastle to Darwin of 4525km in 49:59
Yakked in the forecourt for ages with Rod. It was good to swap stories – he's done the run before. I was too tired to turn around and head back straight away, so I waved goodbye and checked in to a hotel at midnight for a shower and a nap.
I ran some more numbers before I went to sleep. A 100CCC was out of reach, at least via Port Augusta, another Centreline 24 was possible, but tough back-to-back, with a SS1600 tacked on after that. I set the alarm for 0800 and went to sleep.
Day 3
Awake before the alarm is a good sign. Iced coffee, a handful of peanuts, check-out of the hotel, a FarChallenge pic at the Convention Centre and back to the same servo for a tank and a docket at 0700 local.
Just a cruisy day. I picked different fuel stops and just enjoyed the scenery for a while. The big wet has arrived so 400km of rain on the way out of town but at least its warm. Stopped at Mataranka and the Devil's Marbles for FarChallenge pics and Three Ways for fuel.
Quiet in Alice Springs as I rolled through for fuel and some cashews. Then the roos started…… yesterday I'd seen just 2 in the Territory northbound. Today 4 before Alice, and here they were just near the airport. I had a nap to get ready at a spot coldcomfort showed me last time about 40 km south.
Its all pretty lonely out here. I passed 2 Hiluxes heading north in the last hour, then not a single vehicle in either direction for the next 600km. Very lonely.
20 roos by Erldunda and then I stopped counting. I was too busy dodging them, they were everywhere. In clumps and singles and boinga boinga all over the road. Down to 80km/h much of the time, I estimate 1000 roos to Coober Pedy and I braked for 500 of them. A nightmare.
I refueled at Marla and had a short break for a rest. Sometimes 20 or 30km would pass with none and I'd think they were gone, but then they were back. A bonus with the HIDs is they appear a bit greenish and are easy to see - 500 m ahead at times. Of them all only one got past my guard and shot fast from the side, but passed behind me ok. I had to brake to stationary a few times and still thought I'd be hit by one they were so bad. I've never seen so many on a ride.
Truly I was dreading the southern section where I'd seen 200 two nights ago.
Fuel at Coober Pedy, a nap somewhere south of Glendambo and it was morning. A handful of lazy Wedgies to avoid and then through the killing fields approaching Port Augusta with the road littered with dead roos all the way back to town.
Fuel and witnesses at the same servo. 2725km in 27:51 for a Centreline 36
Day 4
No rest for the wicked. Mount up, 1550km to go, just rolling home.
Horrock's Pass, Peterborough and into the heat. I stopped at Yunta for a drink and to wet my balaclava with the tap water – big mistake. The driest state in the driest continent and all that, the tap water is half salt, half crystals and half fish, so not much left for water. It cost me $7 in bottled water to get the stink out.
Broken Hill for a pic and some fuel. A few emus and roos to Wilcannia, but all well behaved. In the dark approaching Cobar I overtook a truck. I got on the CB and asked him to leave his high beams on, but he didn't reply. I pulled up along side, flicked by beams a few times and motioned "up" and he put his back on – bonus – and I rode off. Later he asked me if that's what I meant and I told him "yes, leave your beams on – I've got elbows for the mirrors".
Next up was a Troopy drudging along with just candles up front I suspect. I tried the radio, but no luck. Repeated the "up" signal, but as I came past him he dipped his beams. I hit mine and all I could see was a huge black pig run into my lane 10 metres ahead – straight out of the blackspot of the Troopy's low beam. Another pig a few kms later, but I saw him well ahead in the spotties.
Not so the troopy. At the servo in Cobar he told me that he had hit the second pig. And asked me where he could buy LEDs. He's an ambo from Broken Hill and has just started riding. We talked about the amount of wildlife around in the last few days. He said he'd done a work run from one of the smaller hospitals to Broken Hill Base and they'd hit 70 kangaroos with the ambulance along the way.
FarChallenge pic in the main street, on to Nevertire and turned east on the Ox.
Fuel at Gilgandra, 10 degrees colder by Dunedoo and bad fog from Merriwa all the way to Singleton.
Rolled into Newcastle with the commuters. TigerBill was waiting at the servo to sign me in…..
LoCo CoCo Darwin to home 4303km in 47:27.
Total distance 8828km in 105:27; 543 litres at 6.16/100km or 16.25km/L