Posted elsewhere, here's a copy:
This was a simple ride. About a week beforehand I realised that I had 4 days coming up that I could fill with riding. So I did
I'd put an aux tank onto the back of my BMW F800GT-P and ran a couple of litres of fuel through it to make sure there were no leaks. Tick. I had a fresh set of Michelin Pilot Road 4s fitted. Tick. It already had some lights, a comfy seat and somewhere to put some gear, so the bike was ready. I was ready already.
I rolled the bike to a stop at the beach in Newcastle. Actually, it was at the Sandbar Bistro located within my building at Newcastle Beach. I snapped a pic:
Then with a start docket at the nearest servo showing 03:03am Thursday (9625km odo, 0km GPS) I waved TigerBill goodbye and headed south. I've only ridden this bike a few times. 1600km the first 24hours I owned it, the odd 20km loop for testing lights etc and a 3000km/36hr loop out west a few months ago. I decided that I'd at least ride the familiar roads in the opposite direction. That's about it for the planning.
Down the Hume through the dark, fuel at Gumly Gumly (10226km, 598km GPS, 09:00am) and now heading due west. I propped for a pic, the first one for spelling:
_A______ ___ ____
Followed soon after by:
SA______ ___ ____
Then continued on for a quick 'Kimmie Pic'
It had been raining for a while, but not too bad and finally dried up by the time I reached Buronga for fuel at 15:08hr (10789km, 1158km GPS, 30.36L). From there its just a commute through the Riverland.
SA____R_ ___ ____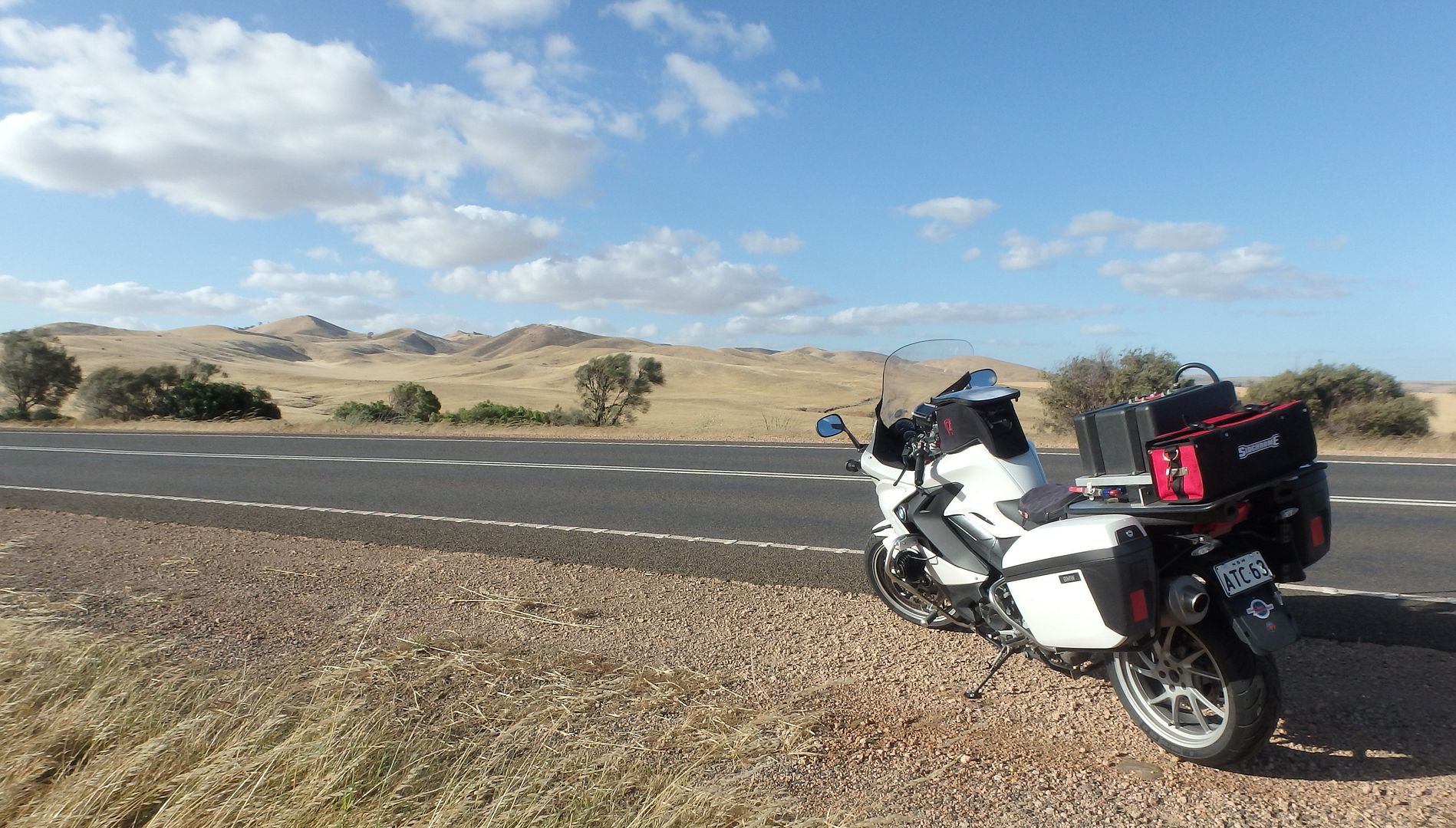 SA__B_R_ ___ ____
Then around some nice bendy bits in the middle and then the long, flat stretch from Crystal Brook into Port Augusta. Usually around the Wilmington turnoff I'm surprised by the sight of the lights of Port Augusta 40km or so away. In the failing light it now looks strange. Instead of the fairy lights on the horizon, I soon pass the dead skeleton of the power station, switched off since last I passed.
Fuelled and dark now I left Port Augusta (21:18hr AEDT, 11338km, 1703km 39.71L) then stopped just up the road for a 'white sign on a stick pic':
SA__B_R_ I__ ____
and simply meandered my way through towns known by fuel stations Kimba, Wudinna, Kyancutta. I never stop for fuel at those places anyway. Kimba also gets a mention, or rather gives itself a mention on the way through town with this eye-catching billboard:
Otherwise it is just a matter of keeping an eye on the wildlife and moving along steadily. Ceduna came up soon enough (02:41hr AEDT Friday, 11817km, 2179km GPS in one day, 22.51L):
SA__B_R_ I__ _C__
And straight out into the wilderness:
Next stop was at the Border (08:34hr AEDT, 12300km, 2658km GPS, 23.21L):
Then down the Eucla pass to ride along the old sea bed through Mundrabilla, then back up again onto the shelf via the Madura pass. I spent some time here with Davo, just like many before me:
Like a tourist I just kept on snapping:
SA__B_R_ I__ _CC_
SA__B_R_ I__ _CCC
Onto the longest straight and beyond.
I stopped for fuel at Balladonia (14:06hr AEDT, 3191km GPS, 24.42L) and undulated along toward the comical 'T' intersection at Norseman. Over three thousand kilometres heading west so far and the 'T' offers the choice of south or north. Comical. The next little stretch of road is a nice break from the long long straights. The gentle curves and constant elevation changes are a welcome relief. Left turn at Coolgardie for the short stretch into Perth is a deception (18:02hr AEDT, 3548km GPS, 12.88L). It is still 700km or so before I see the sea. It is hot out here. Hot enough for me to ice myself. I stripped off the KLIM jacket, emptied all of my many pockets and filled every nook and cranny with ice. Nice airconditioning for hours that way. Sipping on iced water for the next few hours it was all pretty pleasant.
I needed at least one stop before Perth. Merredin came up (21:38hr AEDT, 3843km GPS, 20.07L). I also needed to stop to reconcile my fuel use. The way I have the BMW aux plumbed is not my 'usual' way. ie with a hole drilled in the main tank and a fuel line with a tap to join the two tanks. The F800 has a tank under the seat. Directly on top of the main tank is the vent line and it is through that vent line that the aux tank is plumbed. The aux sits in series, with the aux vent venting the whole system. There is no need for a fuel tap. What there is is a need to make sure that the main tank is topped up first - fully topped up - then when the main tank cap is closed the aux tank gets filled. With both tanks filled that way as fuel is used from the main tank fuel is also simultaneously drawn from the aux down into the main tank. The aux gets emptied first, leaving a full main tank and so on until the main tank runs dry. However, if the main tank is say partly empty (which I suspect happened back up the road) but the rider thinks it is full, filling just the rear seems to provide an opportunity for a vapour lock to form. 'Burping' the main tank by opening the cap a crack is about the only way to test it on the road. I did a couple of blows up the aux tank vent with its cap open and closed and that was my conclusion anyway.
Back on the road with 2 full tanks then. Onward to Perth.
I hadn't had any contact with the Westies, but true to form, when I rolled down the bends of Greenmount I spied the unmistakable taillights of a Kawasaki ZX14R - Gus!
With a quick hello and handshake I told Gus where I was heading and tailed him through the traffic. I had a GPS on board and knew where I was going, but being a local, Gus did it better than the machine. I'm always surprised at how wide Perth is. On the map Greenmount to Scarborough only looks about 'that far', but it still takes a while despite the great network of fast moving roads. Soon we were at my target: the Sandbar at Scarborough Beach.
SA__B_RS I__ _CCC
Just wander down to the waters edge for a sand sample, a pic and a docket at the nearby BP:
Scarborough Beach 00:37hr AEDT Saturday, 13767km odo, 4117km, 11.8L.
In Iron Butt Association parlance, that's a 50CC.
__________________________________________________________________________
__________________________________________________________________________
Gus and I then turned straight around and headed back east. Up through the bends for half an hour or so before Gus peeled off and left me to head home.
Not needing fuel just yet, I pulled up for a drink and my first food for the trip at Wooroloo (02:46hr AEDT, 4190km GPS). I did a rough plan in my head for the next couple of stops. The final 2500km are easy as I know the stops by heart. Its just the uncomfortable distances from here to the border to sort. Never mind. Back along the same roads again, though this time with the light completely flipped. Southern Cross for fuel (07:20hr AEDT, 4499km GPS, 18.68L) before rounding the Coolgardie corner to head south again.
Back through Balladonia (12:48hr AEDT, 5042km GPS, 25.79L) and it all just so easy. Down along the strightest road, drop back down the Madura Pass, Mundrabilla, up on top again a Eucla. I did a quick change of 'plan' here and pulled in to Eucla Roadhouse for fuel. (17:31hr AEDT, 5561km, 28.04L). What a horrible and unfriendly place that is. Relatively neat and tidy compared to nearby Border Village, but so unwelcoming. I won't be stopping there again. AT least that fuel stop did a good thing: it set-up a glorious afternoon of riding. With the sun settled in behind me I had a great time crossing the spectacular landscape of the Nullarbor. I propped for a couple of pics:
SAN_B_RS I__ _CCC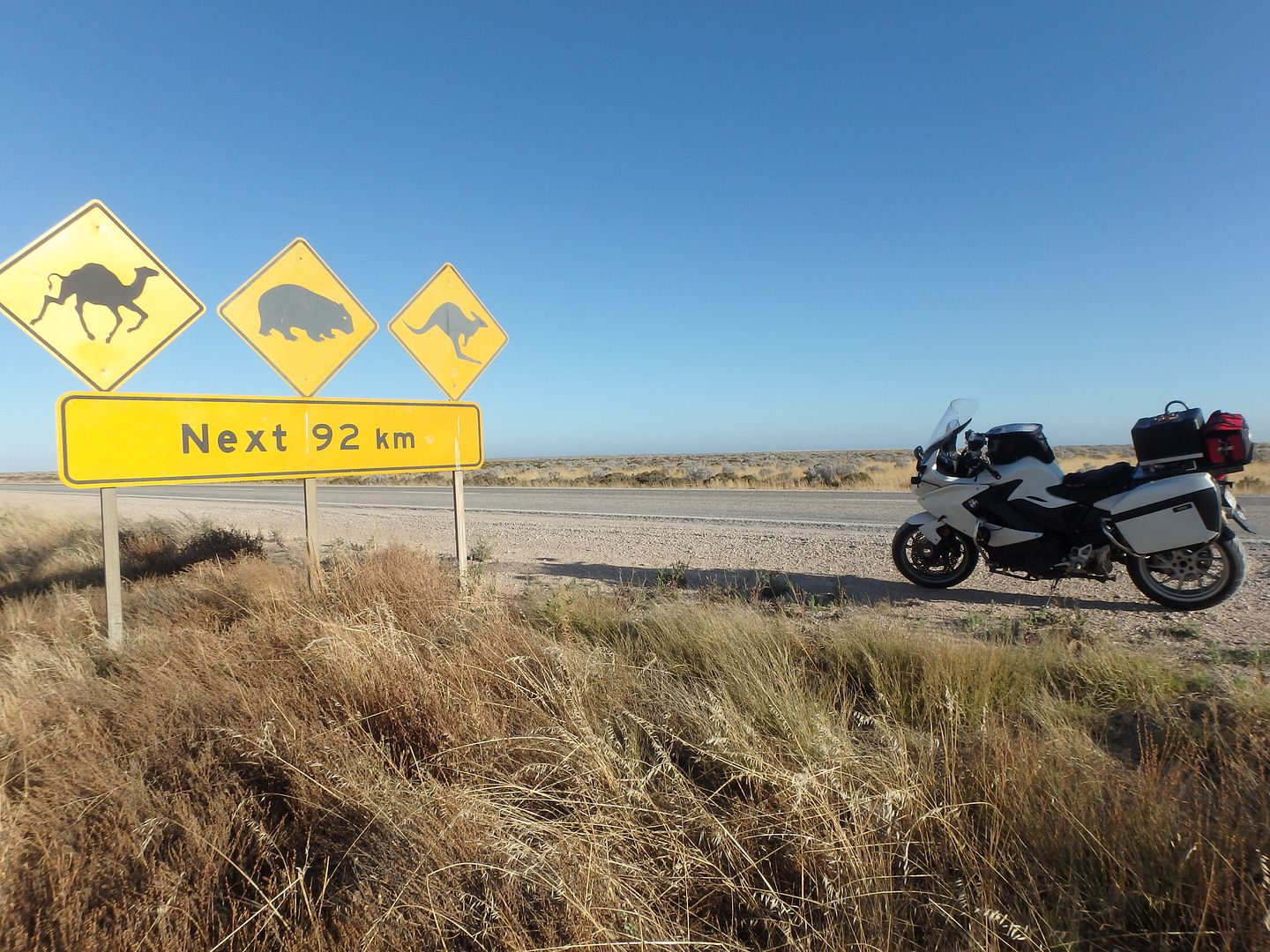 Then continued on into the twilight with absolutely perfect riding conditions. Cooling temperature, wind now gone, great visibility and just a trickle of trucks to pass. Those that I overtook universally flashed their indicators to welcome me past and all was good. I paused at Nundroo to put on layers and change my visor just on sundown and enjoyed the rest of the run across the Bight in comfort, reaching Ceduna again soon after (22:41hr AEDT, 6052km GPS, 27.34L).
The next section I didn't enjoy. Last time I rode and wrote about this section Nico posted a great leg-pull about the magnetic forces or something. Scam or not, this road feels different this direction. I welcomed the few towns for there lights and civility, but the trucks for the next few hours were a menace. For 400km I didn't catch or overtake any, but the oncoming ones were just a plague of high powered lights and bulged over the centreline into my lane at every opportunity. I was glad to reach Port Augusta - gale force winds and all. (03:27hr Sunday AEDT, 6525km GPS 23.86L).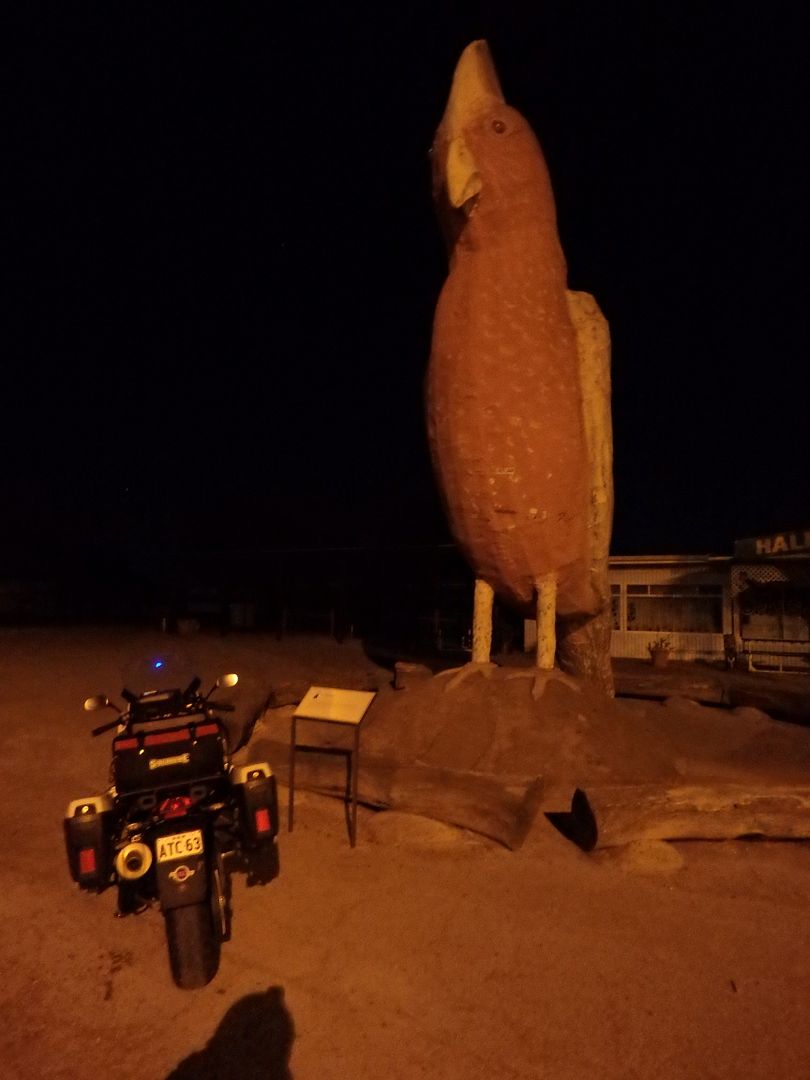 From here the roos appeared. Prior to that I'd seen 7 roos and 3 wombats crossing the Nullarbor westbound a couple of nights ago and a solo roo somewhere in Western Australia. My first homeward roo nearly hit me as I crawled along the Horrocks road looking for Davo's plaque. I hopped off a couple of times, but in the pitch dark I couldn't make out the landmarks. Reluctantly I climbed back on and continued eastward, through Wilmington, Orrooroo and Peterborough into the dawn. In the 110s finally with a bit of light around I hit a roo though, just south of Yunta. Slowed to 60km/h at an armco squeeze point I saw a few jump out of the grass heading away from the road. Good. Then from nowhere over my left shoulder a roo jumped the fence back onto the road, only to have me hit him on the full. Not good. Roo dead, plastics busted light bent.
Bugger.
A quick stop at the Amgoorie Tea tank
SAN_BARS IB_ _CCC
Broken Hill next (08:40hr AEDT, 6935km GPS, 18.05L)
SAN_BARS IB_ _CCC
From here it became a real grind. The usual wind, birds and chunks of dead flesh, a trickle of traffic and then it got hot. White hot.
Cobar for fuel and just riding home now. (13:10hr AEDT, 7395km GPS, 26.41L).
A Nevertire pic for Nic
A nonsense pic for the spelling task SAN_BARS IBA _CCC
Then Gilgandra for the last fuel stop (16:25hr AEDT, 7695km GPS, 13.69L).
SAN_BARS IBA 100CCC
Then the usual Mendooran back road to pop out at Dunedoo:
SANDBARS IBA 100CCC:
From here it really is just heading home. More traffic than usual, but heading home nonetheless.
I rolled into the same BP servo to be greeted by some cheerleaders: my wife Michelle, TigerBill and Tele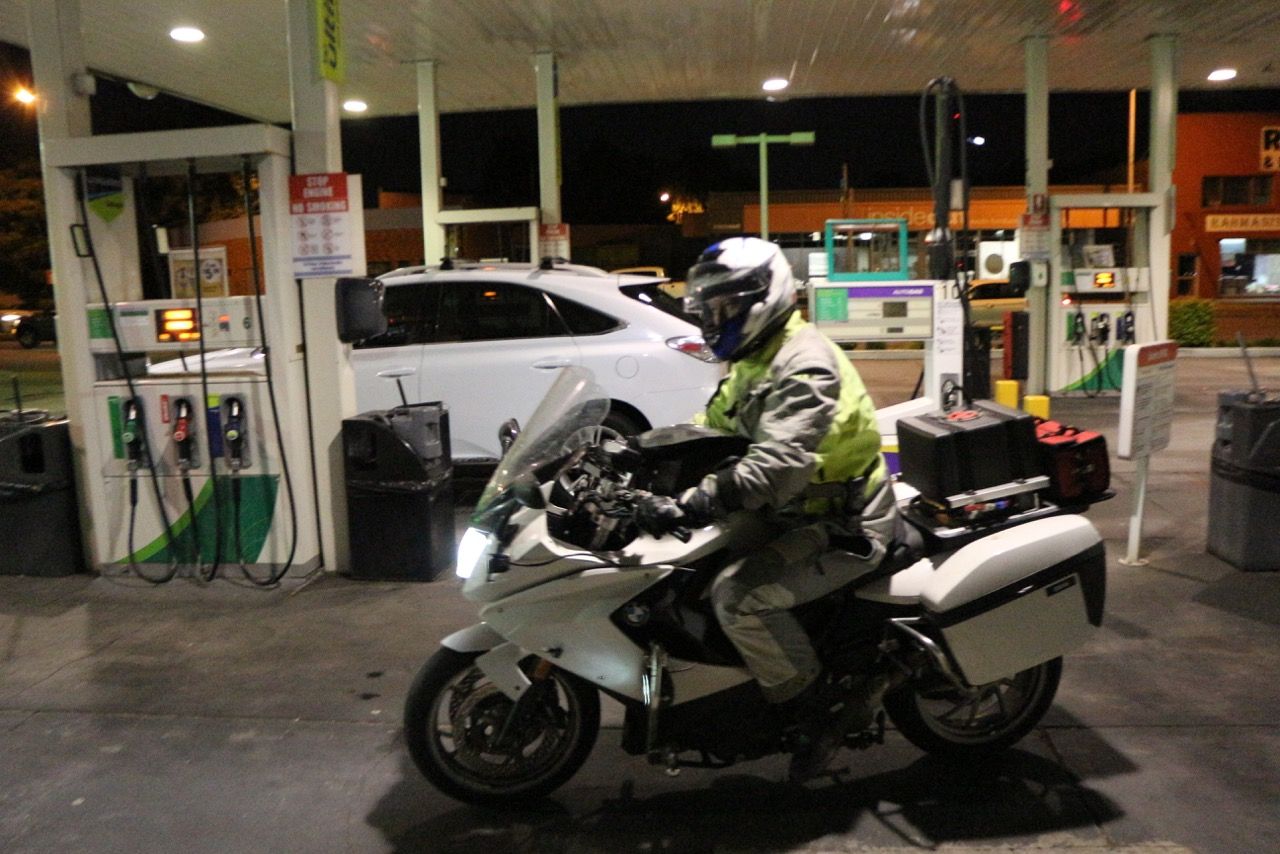 That's an Iron Butt Association 100CCC. 8093km coast to coast to coast in 89 hours 42 minutes.
With a docket pocketed in Newcastle to stop the clock (20:45hr AEDT, 8093km GPS) it just remained for the last trip down to the waters edge for the finishing pics: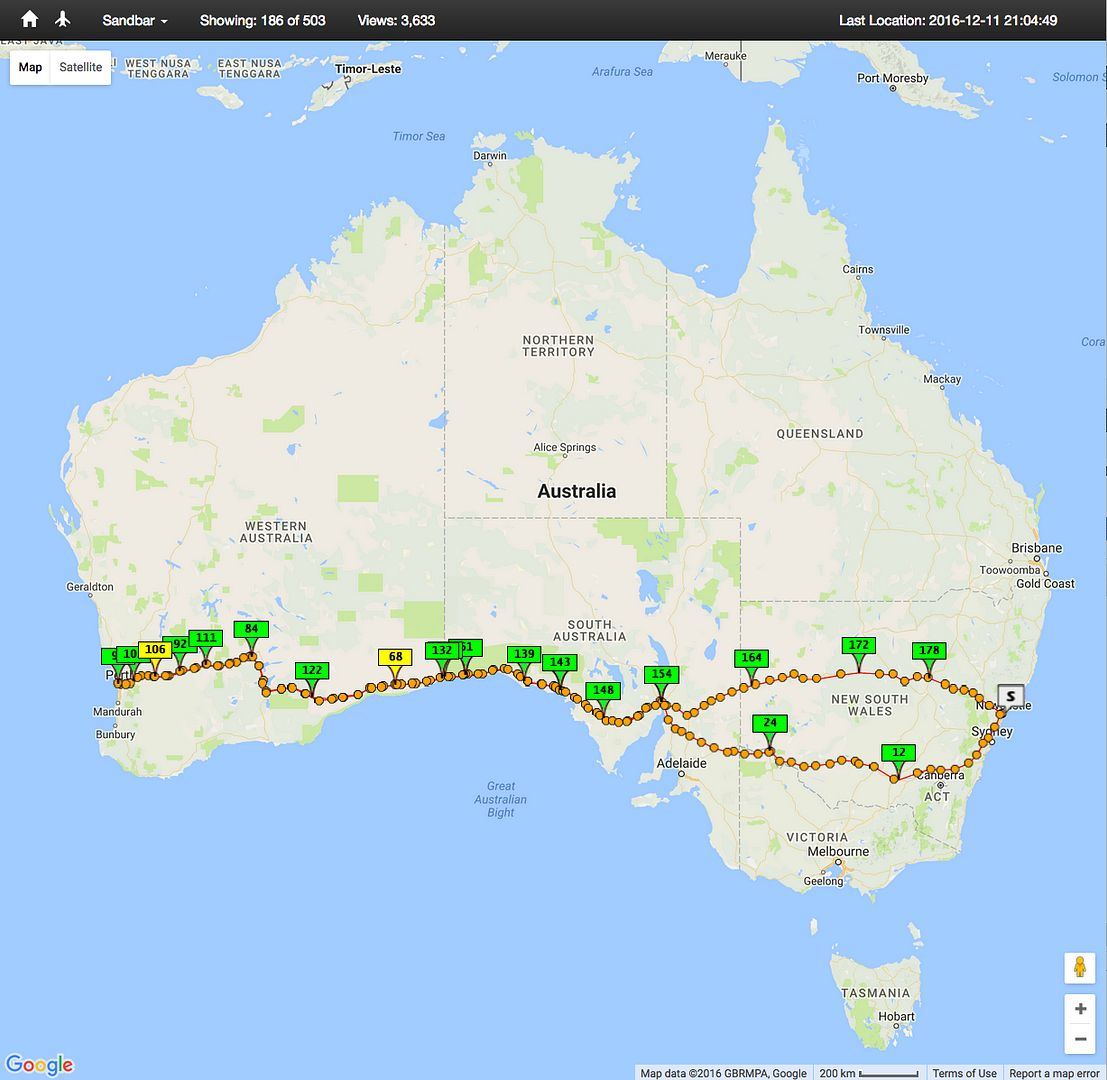 Last edited: