Since the little Ninja 300 left the building last week, there's been a hole in my shed. TigerBill and I have discussed over the years that it would be nice to have a smaller touring bike for say an 11 day ride at 1600km a day or so. Smaller, lighter, chainless.
To that end a couple of years ago I bought a BMW F800ST. Unfortunately, that bike had a few issues (mainly with the service manager at my local dealer) and before I really had a chance to test or fully modify it I sold it. I bought the FJR and have been riding that around.
Back to the F800s. A couple of weeks ago I saw one for sale up in QLD so did a road trip up to see it. The bike was fine, but registration hassles had me leave empty handed.
On Thursday I had a peruse of the interweb sales sites and saw I bike that I had enquired about previously was still for sale. I gave them a call about 11:30 and caught the 14:25 plane down to Melbourne. Bundoora BMW had the bike all ready for me, including a little welcome sign - its a BMW F800GT-P. The P is usually associated with police, but worldwide it is known as the Authority model.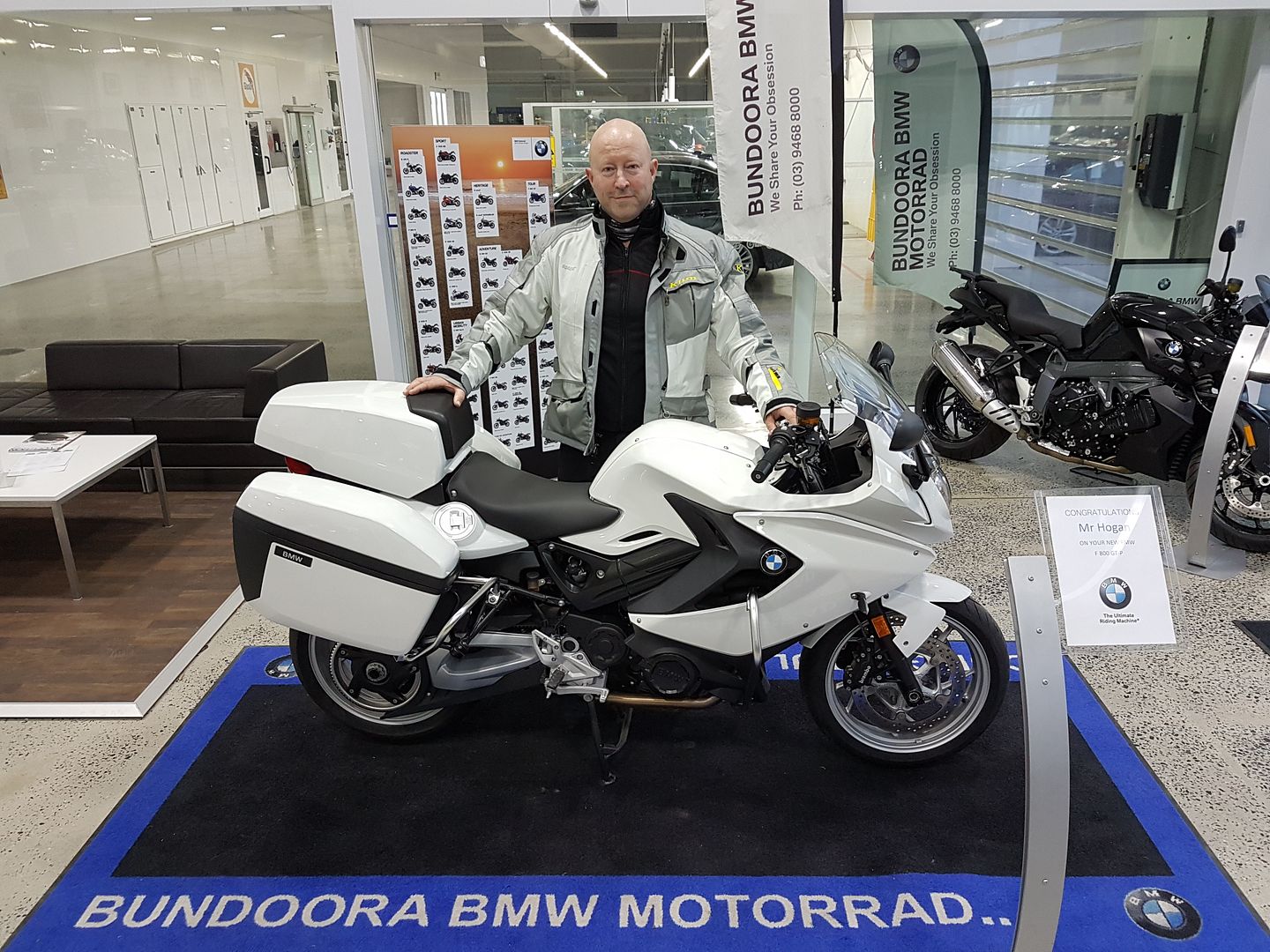 With the paperwork signed and the cash paid, I started it up for the first time rolling out the door into the Melbourne commuter traffic (Bundoora Victoria, 17:17 hr, 3666km on the clock). The dealership is located right near the northeastern end of the ring road so very handy for an exit. Filtered the skinny panniered bike through 50 or so cars, no feet green light and straight on to the ring and swung in to the first servo 10 minutes later or so. Phoned home, texted a pic or two, bought an iced coffee for the trip and put a throttle lock on while I was at it.
It was truly just a commuting delivery run to get used to the bike. Next stop was at Euroa (19:29hr, 151km) I needed fuel. The boys at Bundoora thought it was full. It wasn't. The bike only has a 15.5L or so fuel tank. It has a weird fuel gauge. We all get used to our own bike's gauges version of the truth, but this one is different. The gauge states '1/2' as its top level. When it is more than half full there is just an arrow kind of top bar. It doesn't move until the tank is down to half, then it drops pretty quickly, as it did by Euroa. 14:32 litres into the tank there.
With no GPS to tell me the 'truth' I just settled in to the thinning traffic and fiddled around with ride position, helmet and screen airflow and planned some mods for the bike. It started light rain that went on for 500 or so kms, but nothing too bad. Holbrook for a top up and added a layer for warmth. (21:55hr, 374km trip, 10.55L).
Then soon after a quick stop at Gundagai. Fiddling about with the buttons and knobs and a warning light came on the dash. An exclamation point in a triangle in a circular arrow warning light. I have no idea..... Into the warmth of the servo, downloaded a .pdf of the owners manual and discovered that I had turned off the traction control and the little light stays on until the bike is switched off and then restarted. Which is what I did, back out into the trucks heading north, hoping to slide through Goulburn without hitting snow or ice or just plain old sub-zero Goulburn in the middle of winter. The dash was showing 5.5C when I pulled in for fuel at the Big Merino (01:08hr, 667km, 13:00L). The girl on the register told me it had just dropped below 2C on their thermometer. Ok, worst of it over maybe? The rain had stopped at least.
Because the bike is the 'Authoritah!!' model some of the buttons don't work (lights and sirens kind of thing) and the high beam is a multi switch based on a Japanese flash to pass. The lights themselves are good. Much better than the F800ST if I recall correctly. High beam is fine, though it looks ponderous as it takes a few milliseconds to ramp up compared to the LEDs many of us run these days.
The thermometer undulated from 7.5C down to a flashing 2.0C just before I pulled in for my last fuel before home near Wyong. (04:11hr, 952km, 12.92L). I'd been cold on this ride, as cold as any time I've been on a bike. I even had a hot coffee and waited inside to drink it
.
Home in Newcastle at 05:05hr, 1022km.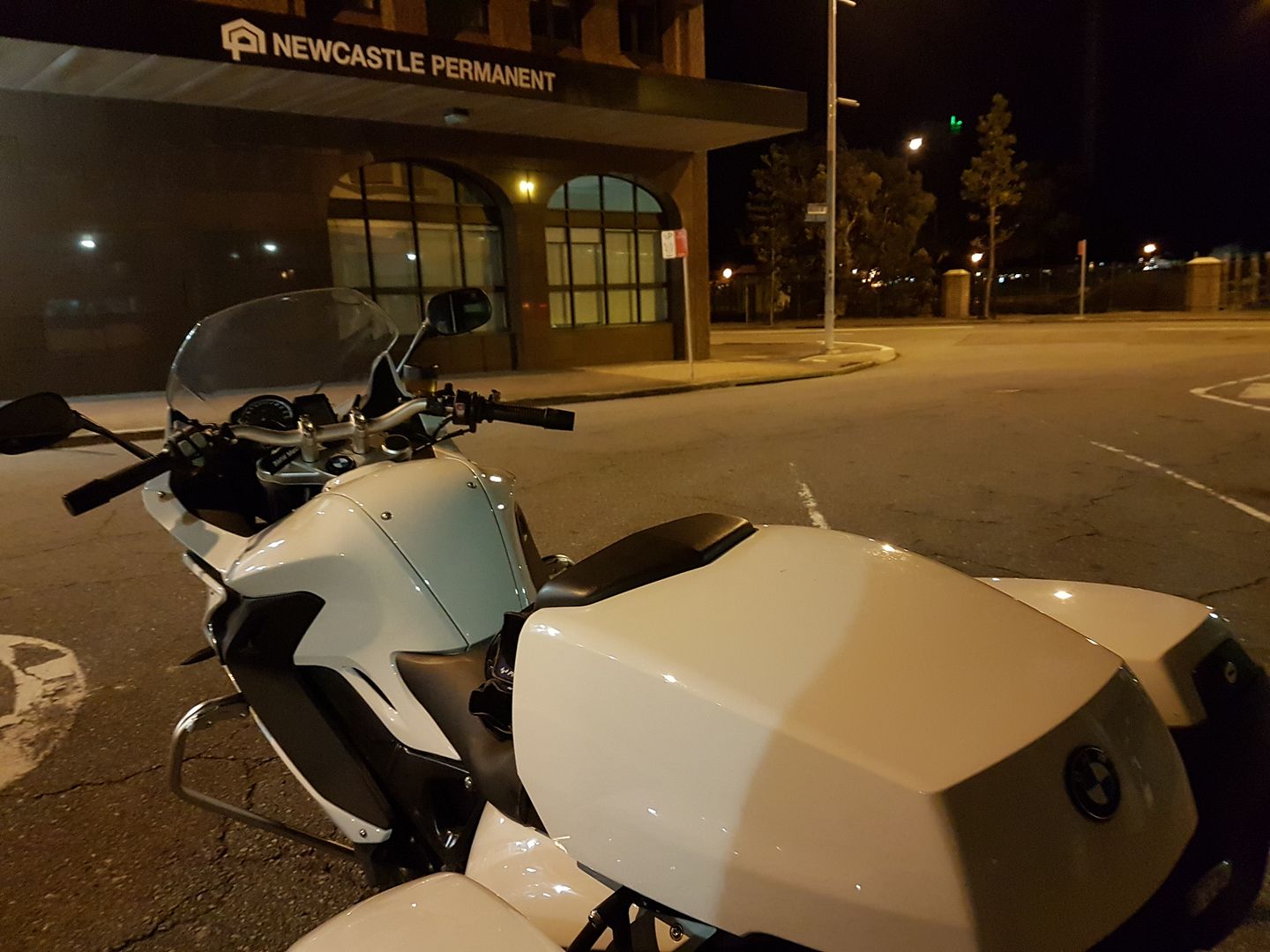 I hopped into bed and cranked the electric blanket up to full, shaking and shivering for the next half hour or so. Ran a hot bath and nodded off to sleep a couple of times before venturing back into bed again.
Beat the alarm, lovely day outside. Why not?
A nice run through the Wootton Way bends, then BP Gateway Port Macquarie (11:42hr, 1263km, 13:53l) then past Wauchope
Up the Oxley twisties
Then a scone at Gingers Creek (13:06hr, 1356km)
I tried to have a chat to a few Harley riders, but they were having none of that.... Oh well, nice day out for a ride.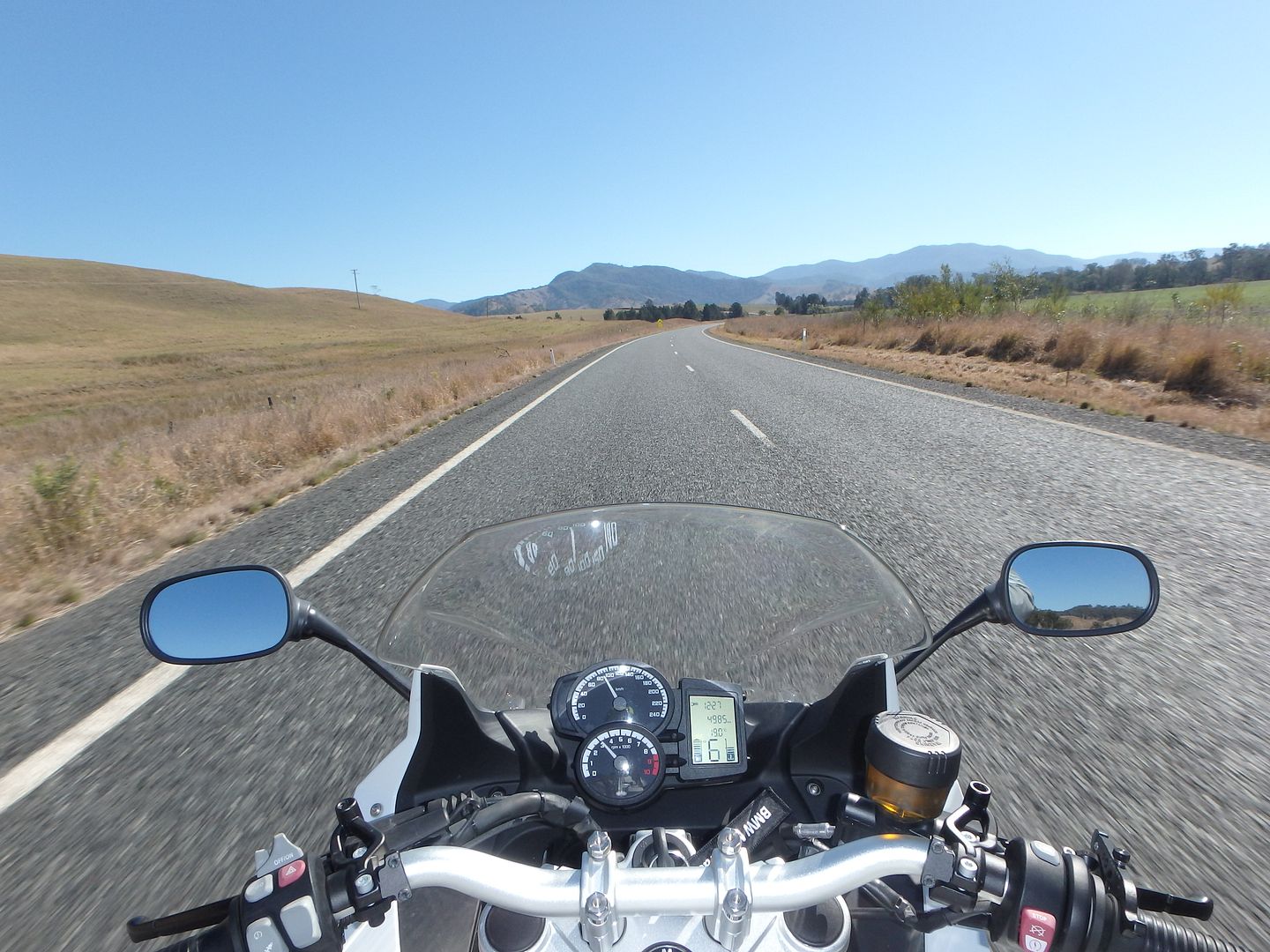 Right turn back down in Wauchope (14:32hr, 1437km, 7.80L) then a simple run south on the highway. TigerBill was waiting for me at the servo in town (Mayfield West, 16:46hr, [5331km odo] 1665km trip). Google Maps says 1625km.
Its a nice little bike, was comfy enough (the solo seat is great), but it will soon enough get some mods done like lights, a tank some more footpegs and maybe a bigger screen. Plus a rego plate. They kept the Vic one at the dealer, so the toll and speed camera operators will probably like me to get a NSW one fitted...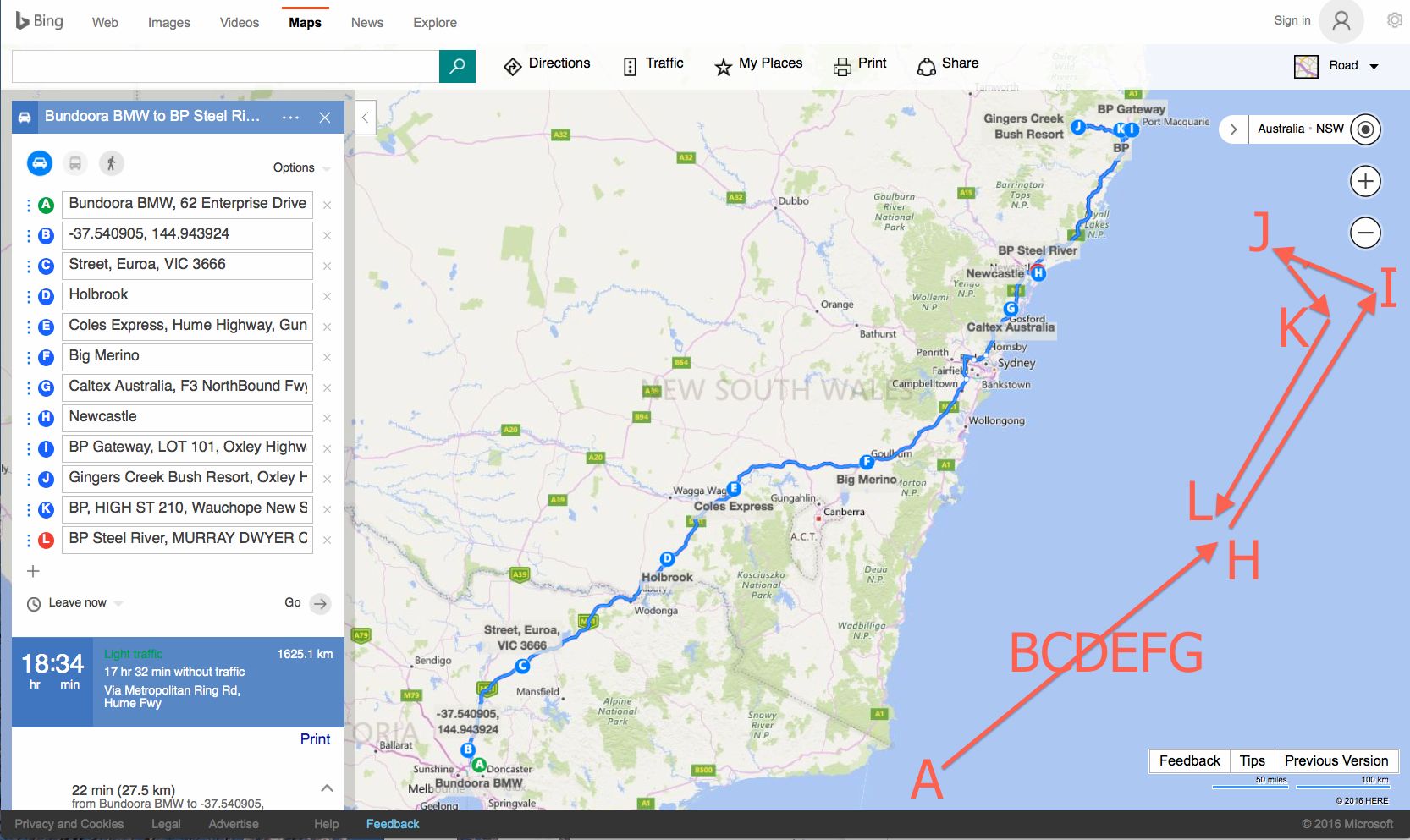 Ride Date: ...................28th July 2016
Bike:............................BMW F800GT-P
Distance:......................1625km
Departure Town:............Bundoora
State:...........................Victoria
Ride Name:...................Respect My Authoritah!!