TigerBill and I have been fiddling with my most recent purchase the BMW F800GT-P. I reckon it could make a fine long distance bike. Adequate power, comfy enough base ergos and about 80 or 90 kilos lighter than my FJR1300. That last point is not too relevant when just riding down the road, but with all of the stop/start and on/off activities on rallies I think it could be advantageous.
The bike's Achilles Heel is the tiny tank for a tourer at just 15 litres or so. Plus it has a tiny alternator pumping out only 400 sparks. But the bike is very fuel efficient, I'd be taking a 10L jerry can to increase the fuel capacity and my particular bike has 2 batteries as a bonus.
I'd already ridden a 1600km day on it - the day I bought it - but the Memorial ride out to Wilmington about 1500km from my place was an opportunity to go for a 2 day leg stretch.
To get the timing right I had to leave Newcastle at a weird 10.00am Friday. Mitchell, the young bloke at my local service station said as I walked in "Are leaving or are you arriving? You guys are usually here in the middle of the night...." TigerBill had come down to wave me off, and yes I don't think we've been there in daylight before unless you count pre-traffic dawn departures in summer I suppose.
It was a simple plan: Head west for 20 hours or so, meet up at Horrocks Pass for the Memorial gathering, ride back home via other roads.
Unfortunately (and rarely for me) I was feeling a bit crook before I started. What started as a sore throat had progressed to a cough. Never mind. It was a great day for riding heading out through the Golden Highway. Although I'd only ridden the F800GT-P once before it felt nice and familiar and I settled into a cruisy rhythm. With the fuel light on for a little while I opted to stop at the little store in Mendooran for a full fill, rather than a jerry stop. 15.6L into the 15L tank and back on the road in about 15 country store petrol stop minutes. (13:46hr, 329km)
Soon onto the Oxley Highway and into the more open 110km/h zones. A bit of rain through here, but nothing too heavy. I was wearing full KLIM Goretex and BMW Goretex gloves so not a drop got through. A quick stop for Nevertire Nic at Nevertire (naturally):
Then into increasing rain. I was getting a bit smashed at times and despite being on the edge of the 'outback' I ended up crossing water on the road about 20 times. In a few places the police were on hand to guide/direct traffic through the deeper sections. As I approached Cobar I was having second thoughts (17:47hr, 678km, 17.6L including the used jerry). Maybe I should cut due south to avoid the storms? I didn't mind the rain per se, just that the thought of tackling endless mini flash floods in the dark all the way to Broken Hill was not a pleasant one. As we all know, a floodway full of water on a lonely rainy night is invisible. As luck would have it, right on the horizon I could see a sliver of gold beneath the black clouds. Clearing skies. Topped up and straight back on then.
The Barrier Highway is always an adventure, but this time seemed remarkably tame considering the previous few hours. Only a couple of kangaroos, hardly any goats an no emus about.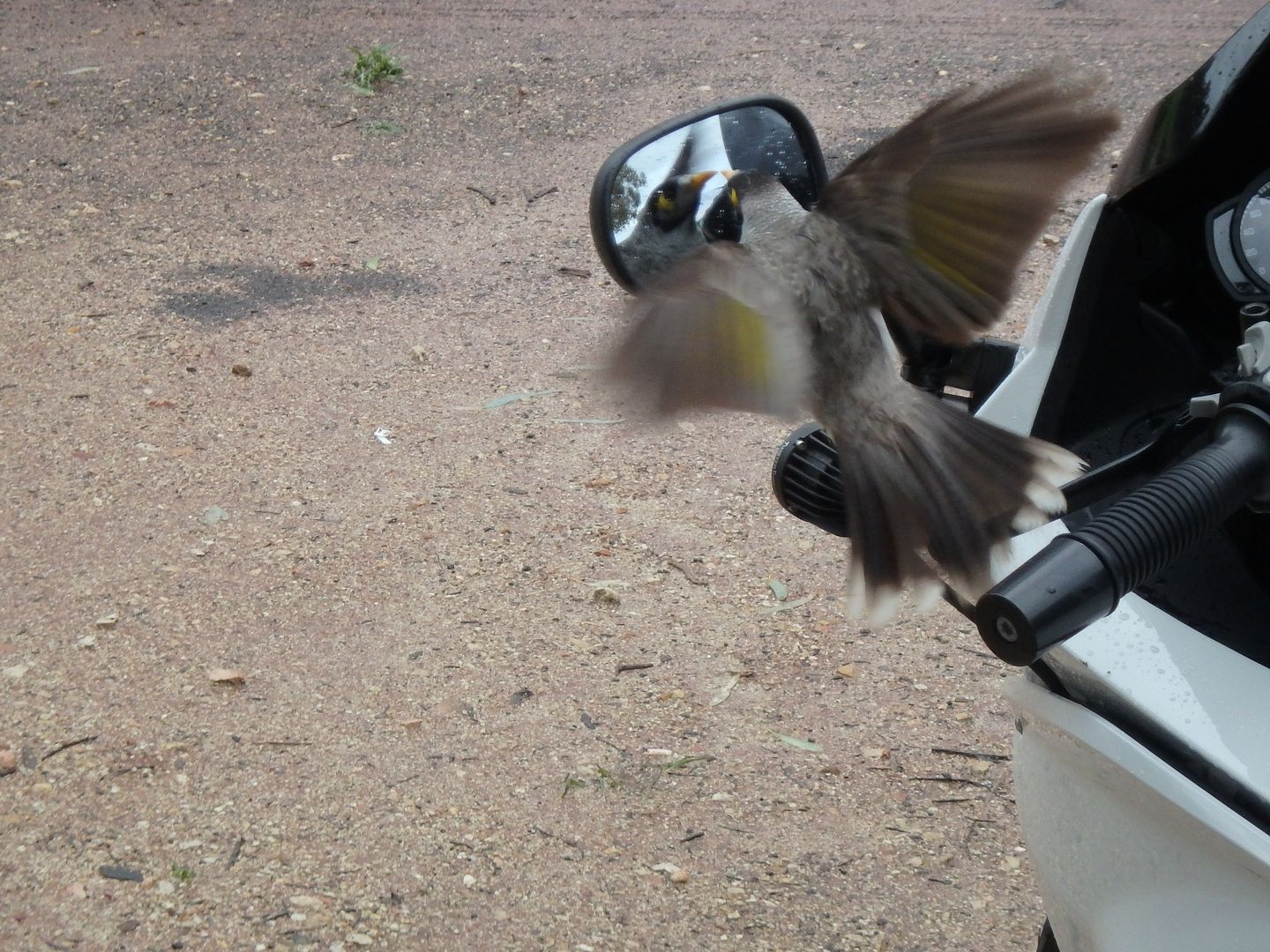 I had a good chance to try out my new lights and I'm happy with the performance. Running them hardly affects the voltmeter. Running the heated vest hardly affects the voltmeter. Running the heated grips hardly affects the voltmeter. Just so long as I only select 2 of the 3. All 3 sees the voltmeter drop from 14.1 or so down into the low 12s. The grips were the most optional, so they stayed off most of the time.
Broken Hill (22:41hr, 1136km, 25.46L into a 15L tank and 10L jerry can). I'd taken the effort to use the jerry can with the jerry-in-a-bucket routine and secured with just 2 click buckles so the roadside stops were quick. I used 2 keys so the bike stayed running just in case. Even with one of my other long distance bikes with their auxiliary fuel cells, if I pull over on a lonely stretch at night I don't turn the bike off.
A quick stop at the Yunta service station (00:53hr Saturday, 1333km, 9.59L) mainly to break up the trip. Soft. I had a bit of a headache and had been coughing for a while so I thought I'd just cruise along. This was a Memorial Ride and I was spending much of the time in my helmet riding with the fallen. Thankfully we have not lost too many from our community, but that's still too many. I often think of Davo on rides as he inspired me to get out and give it a crack. I once told him that I wasn't really interested in riding west of the Great Dividing Range. But I was wrong. I love it out here.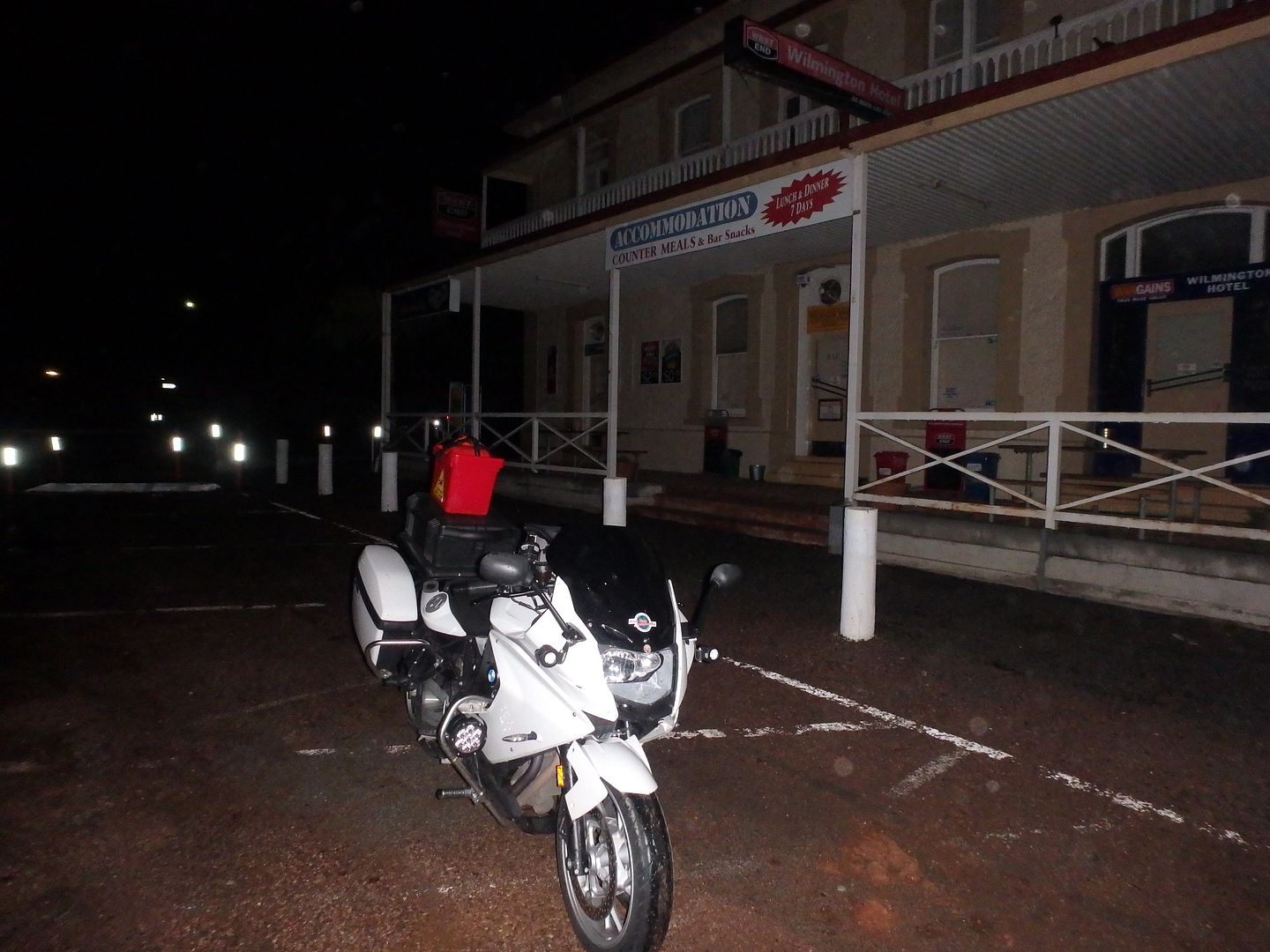 Knowing that the pub in Wilmington was half full of Memorial Ride Riders, I quietly snapped a pic on the way through and then made my way to the plaque over the hill at Horrocks Pass.
From there I just tootled up to Port Augusta (03:50hr, 1546km, 9.92L). I had one of my customary naps at the servo and awoke soon enough shivering. It wasn't really that cold lying on my back on the concrete so I was a bit surprised. Then I realised I was having rigors. Soft.
Initially I'd planned to head farther west. Ceduna was my turnaround, half way across Australia. It was always going to be tight slipping an extra 1000km in before returning to Horrocks by 1400hr. Then it was going to be tight to get back home another 1700km or so to hit a deadline Sunday morning. Instead I decided to limp home. There had been some discussion of the forums of ways and means to travel the next section so I thought I'd explore a little. Crystal Brook, Spalding and Euromina before stopping at the definitely 24 hour service station in Clare (05:59hr, 1741km, 9.31l). From here the short southbound leg was over and it was time to head east into a beautiful morning. Usually when I've passed through the Burra region it has been all brown and dead, but not at the moment.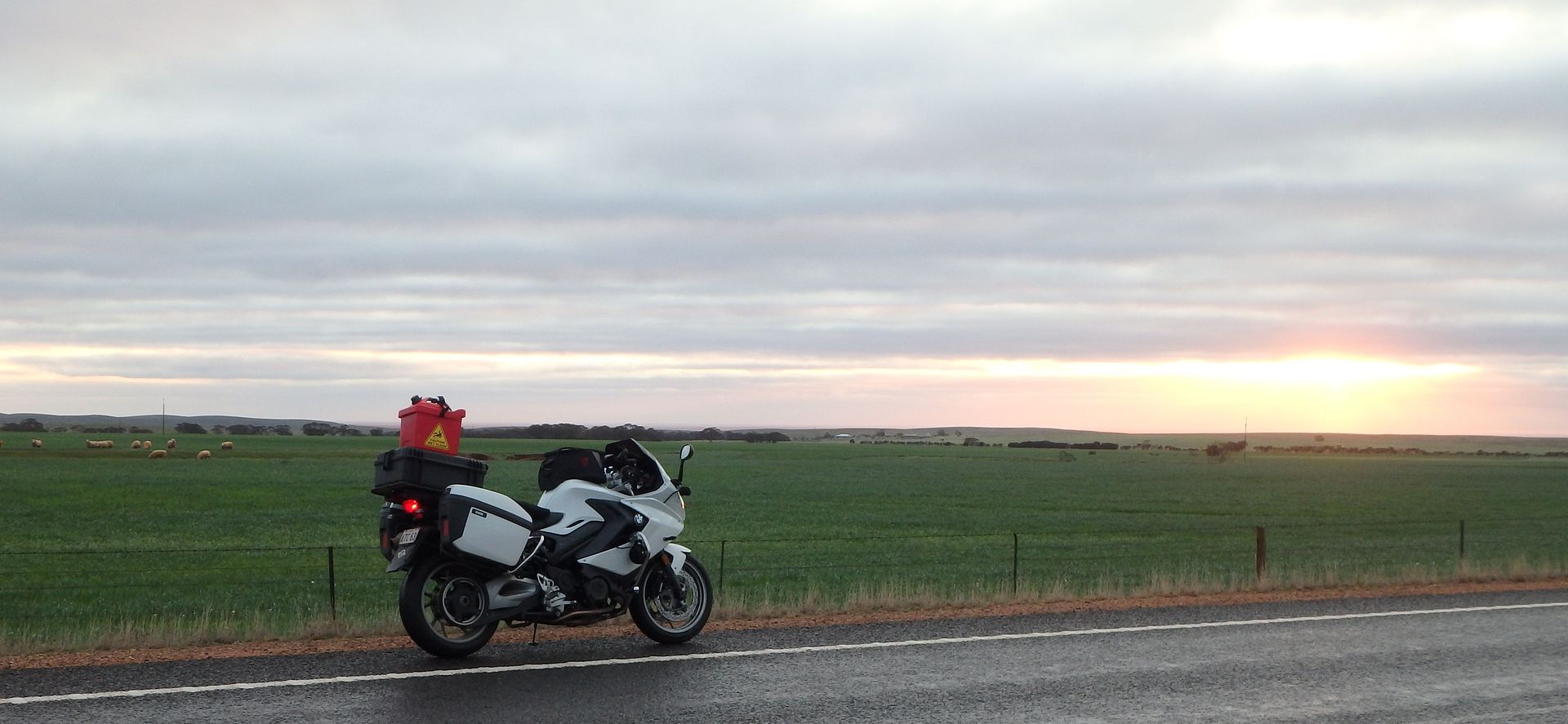 Another top up with the jerry can somewhere I don't recall as the familiar towns of Renmark, Mildura and Euston passed with me watching the machinations of the odo, GPS, crazy fuel gauge bars, average fuel, instantaneous fuel and then the running out of fuel 'count up'.
So somewhere through here I passed 2000km in under 24hrs I suppose………Balranald (12:22hr, 2283km, 25.46L!). I'd been looking forward to Balranald. I had a new-to-me bike and was hoping for a Kimmie pic in front of the "Hell's Gate" nearby. That wasn't to be. For a start there was a car parked in front of the sign, plus instead of nothing but brown grass as far as the eye could see there was mud everywhere and green green grass.
Bring on the Hay Plain, the flattest place on earth.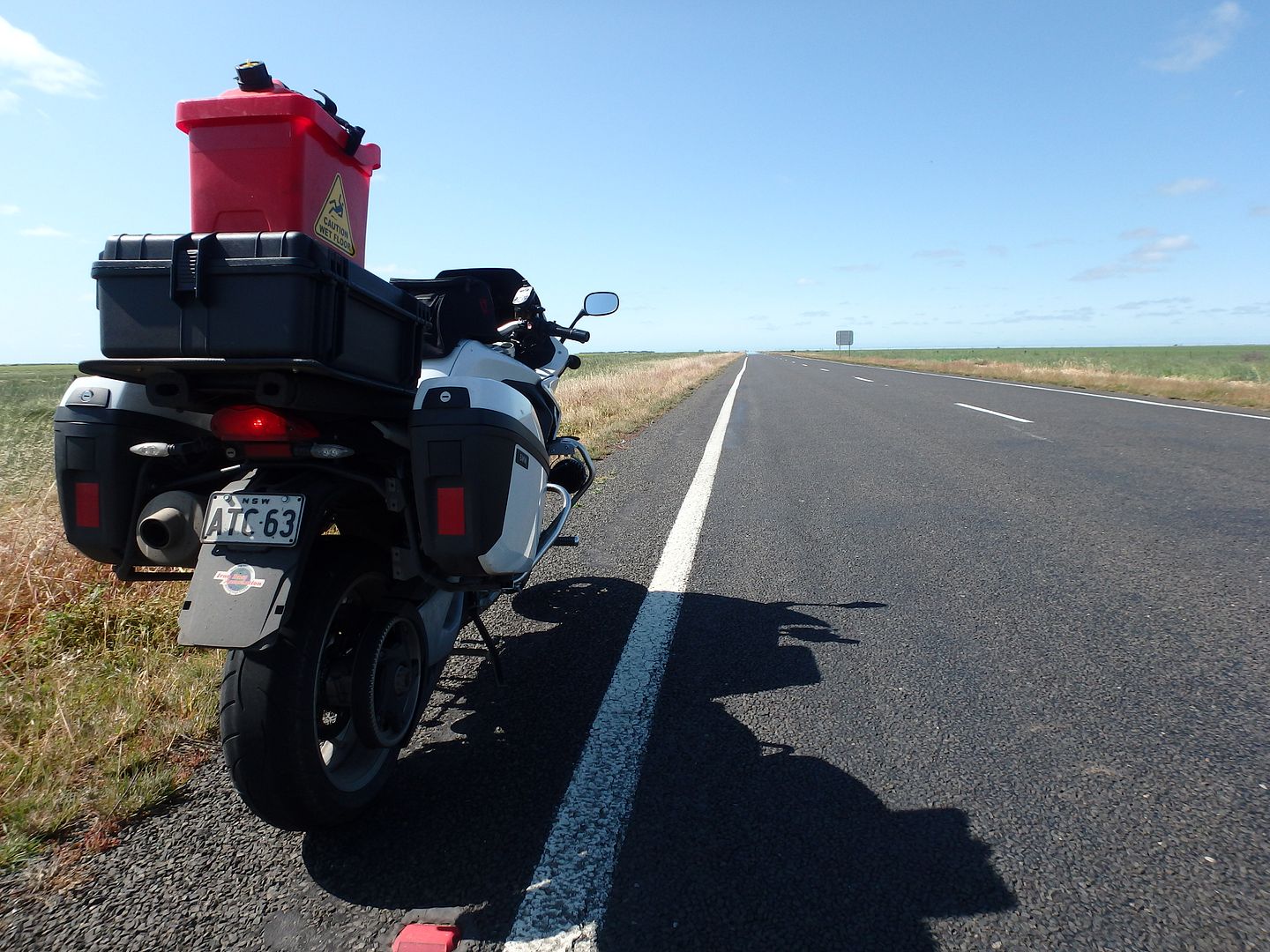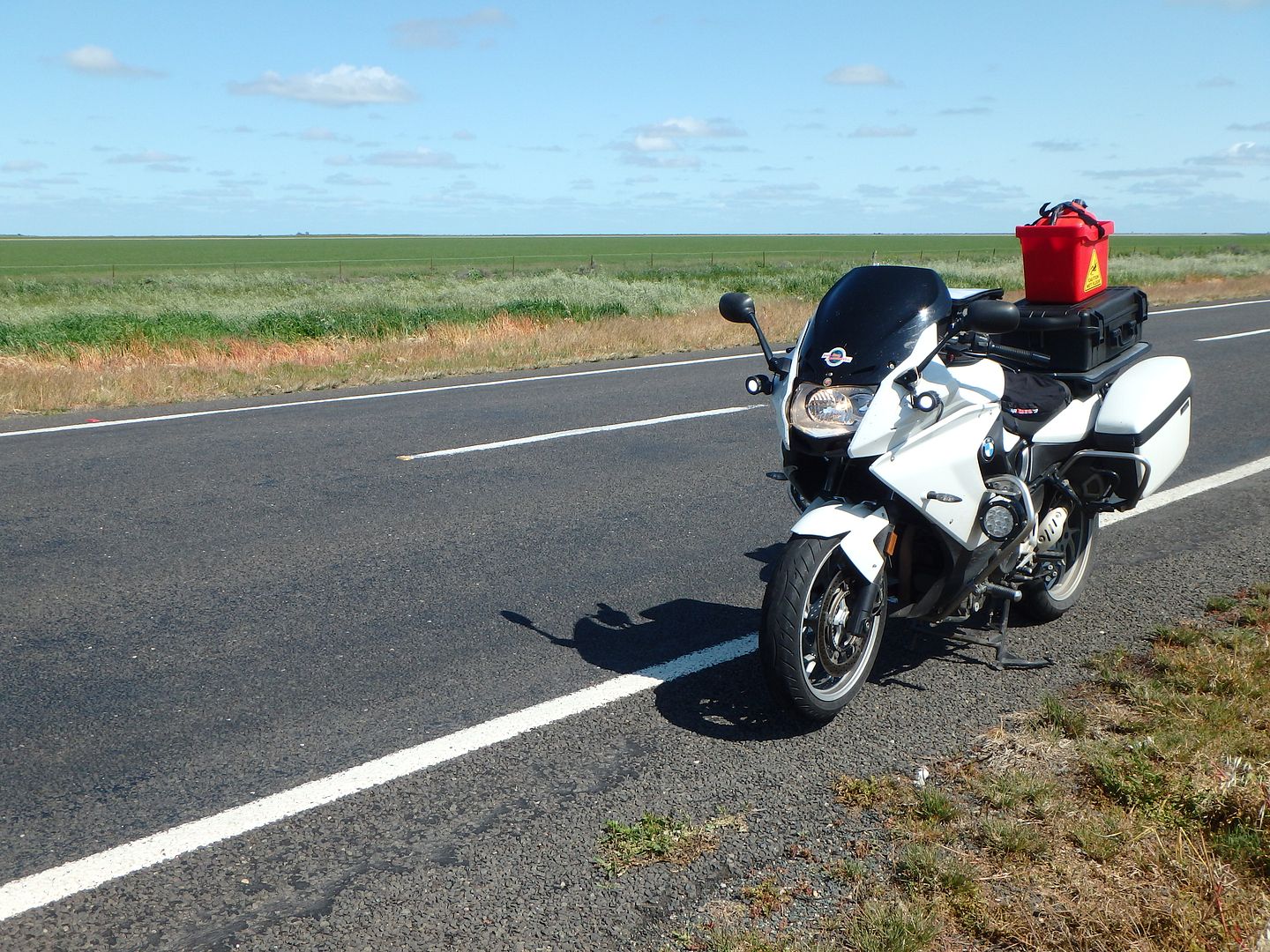 Back toward civilization brought some very unfamiliar sights. A few hours of hurt your eyes green grass with lying water all about through Narrandera , Wagga Wagga and beyond. Nice.
Gundagai before dark (1722hr, 2765km, 21.98l). I stopped for a good 10 minutes and even bought something to eat – for later. Some don't like the Hume Highway, but I still say I like it at night. Not too much traffic down south, elevation changes and sweepy curves and I always keep engaged by running the numbers in my head anyway.
Hours ago I'd latched on to a Plan B and ridden accordingly. With my dinner now a preferred lukewarm I stopped and freshened up at a roadside rest stop, had a bite and ran the servo/finish time options mentally as I re-entered the increasing traffic. It was clear and a nice temp, heated vest on, lights still useful and with a rough memory of the locations of the servos between Sutton Forrest and Newcastle opted instead for a soft and easy one, rolling out of the traffic light queue in Pennant Hills for a Wombattle Cherry Ripe finish (21:24hr, 3146km, no fuel). That's an Iron Butt Association SaddleSore 3000km GOLD in 36 hours. That'll do.