Just a day ride.
Recently I've had a couple of auxiliary tank woes:
a) the custom FJR tank bounced around so much while I was gravel surfing my way on my lap of Australia that it broke the rear mounts;
b) my old faithful JAZ tank bulkhead wriggled loose and leaked 19 litres of fuel over/through/under the FJR.
TigerBill's mate Peter did a great job rebuilding the broken mount and it will be back on the FJR soon.
The JAZ just took some thread sealer and an internal tighten up and was as good as new. Didn't have a bike to sit on though....
I was having a chat with TigerBill and Wombattle the other day about it and this is what I came up with:
I put it on the TMax scoot
May as well ride it then. I checked the BOM and realised that down Yass way would be very, very cold so I put these nifty hand guards on (plus a handheld GPS and a low tech ride plan gizmo):
Add in an AirHawk, a plug-in heated vest and a little throttle lock and it could pass for an LD bike:
I grabbed a a couple of tankfuls, a start docket at 02:59hr in Wallsend, NSW (Odo 8890km, GPS 0km)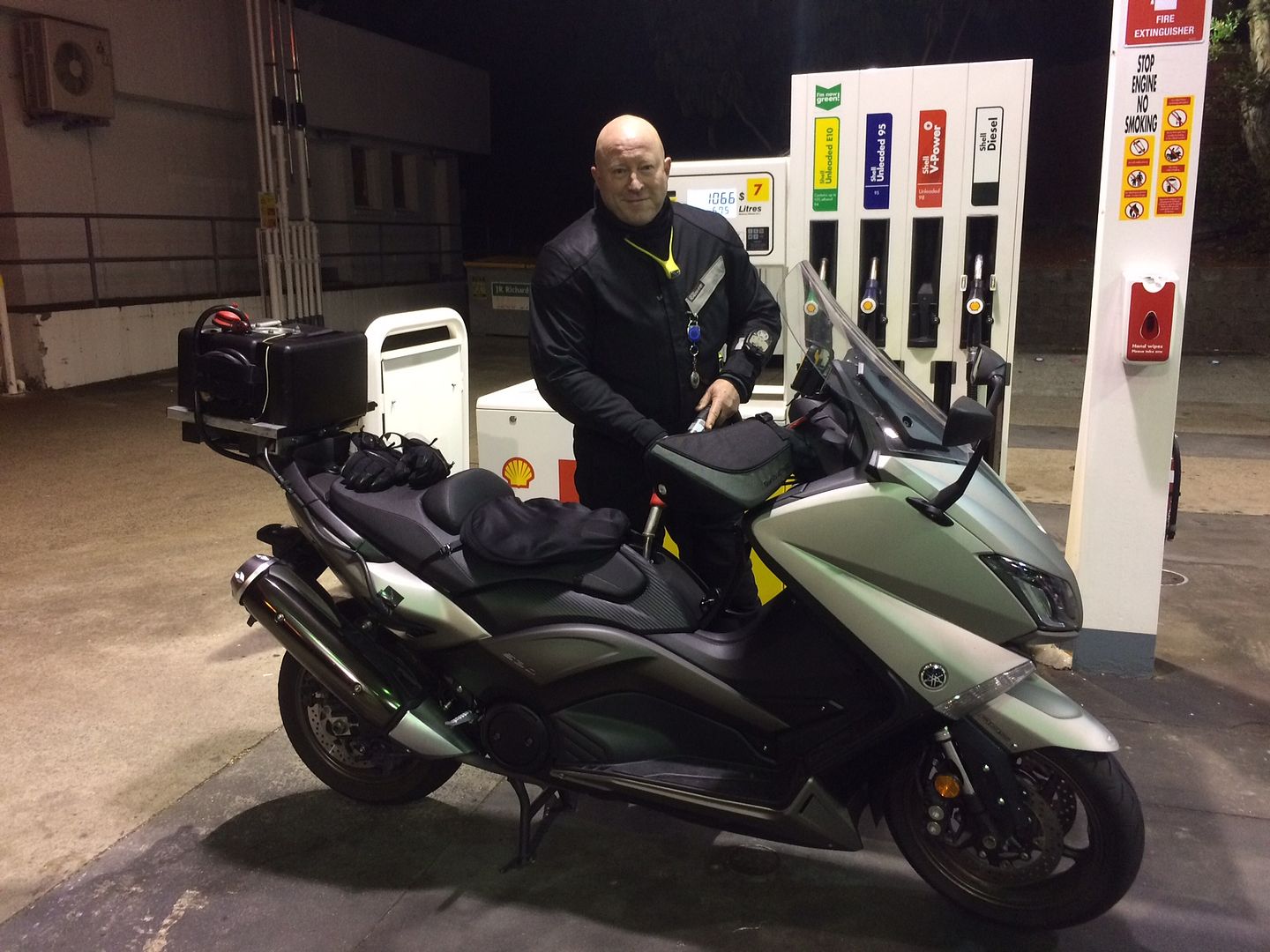 With a wave to TigerBill who'd come out to see me off (legend Bill
) I rolled out into the traffic with Bill laughing at the comical sight of a farkled scooter with a rider on a mission:
I headed south, chasing 110km/hr zones and into a lot of wind a little rain and full praise for those hand guards. Through Sydney with about 15 seconds at the only red light and settled in to the rhythm of shuffling my feet along the floorboards and to and fro on the pillion pegs. Anyone who knows this road knows it is efficient for moving through space. Next time I put my feet on the ground it was after the subzero predawn at South Gundagai (07:49hr, 518km, 27.21L).
No chit chat and straight back on, watching the OA, watching the OA. Down into Victoria the day had warmed up to double figures. I copped a bit of roadworks madness with the convoy unable to merge, so zigged and zagged and filtered the little scoot to maximum advantage and topped up at the end of the Hume in Epping 2 minutes ahead of schedule (12:21hr, 987km, 24.4L).
Back into the steady stream of traffic heading north and then hit a roadblock. A mobile roadblock. For about 50 kilometres it seemed. That caterpillar concertina kind of traffic jam that is at one moment stationary, the next moving ok and then back to a crawl again. Stop and Go guys can create this effect. Families of ducks crossing roads can create this. Or as in this case one huge very slow moving tow-truck kind of thing followed a few hundred metres behind by a vehicle with a "Slow vehicle ahead" sign on its rear can create this effect. 5 times I had to stop, feet down, on a freeway due to the knuckleheads up front unable to smoothly pass two slow vehicles.
I spent the time watching the OA tumble and running the numbers in my head....
And having a lovely time once the traffic jam was passed. The Hume was beautiful. Green and gold and better as the sun started to set.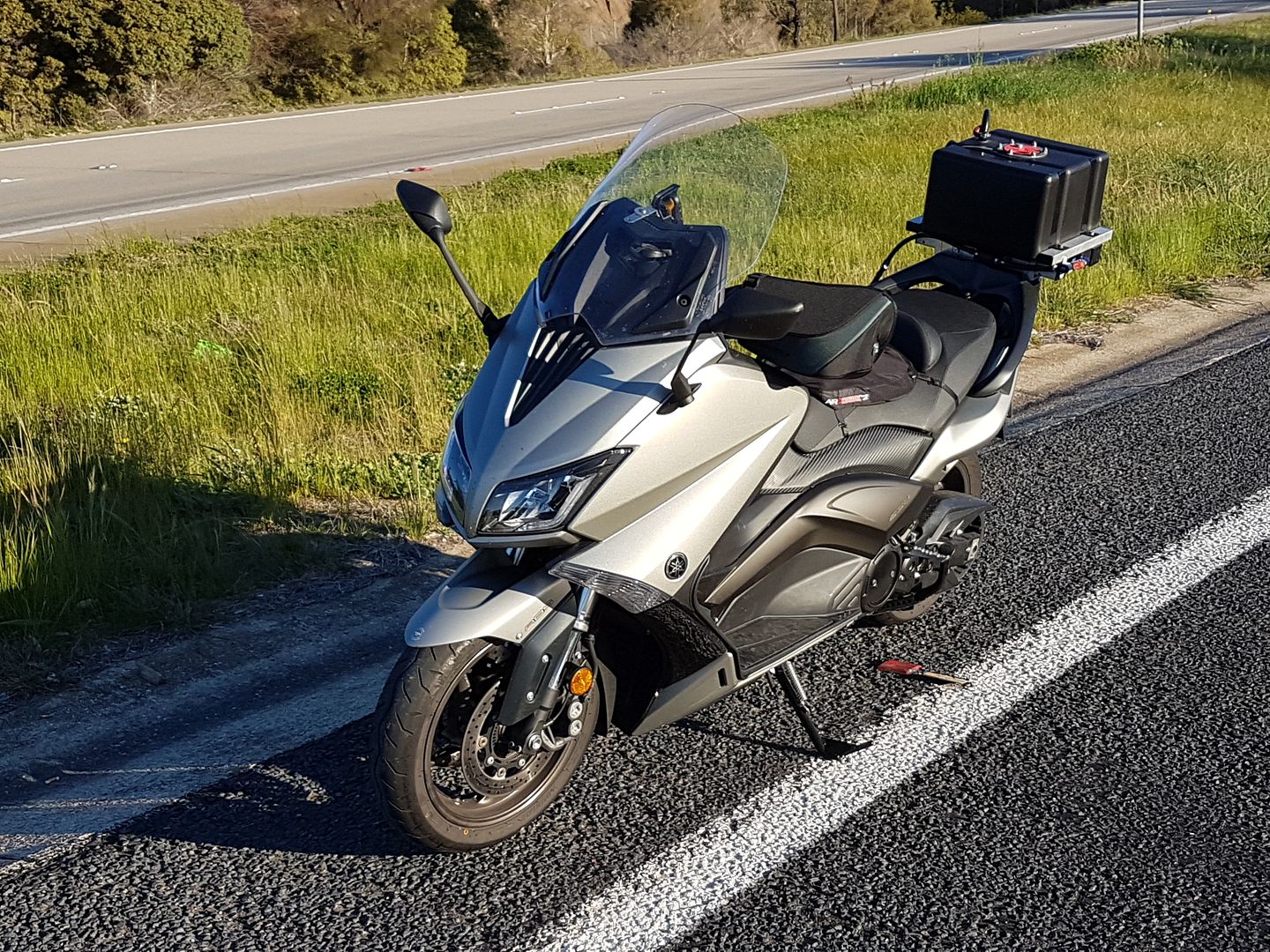 Both tanks filled at the Dog on the Tuckerbox at Gundagai (17:11hr, 1465km, 24.0L) then a short dash up to turn around at Goulburn (18:47hr, 1635km, no fuel) now 14 minutes behind schedule.
Then back south again into the chilly clear night. All pretty effortless, cruising along with the commuters commuting somewhere. To and from Canberra? Off to the snow maybe? Anyway I was enjoying myself. The scooter was scooting. It has adequate power, the lights are great and I was getting used to the seating , getting tucked behind the little screen and keeping my skirt held down with my gloved left hand.
Holbrook swinging round to the south, the newish Starmart. Its a quick access stop with lots of bowsers, little customer traffic and without the seemingly resident highway patrol car that was always present at the Caltex at the north end of town. (21:32hr, 1929km, 25.15L). Now its just a straight run home about 600kms.
My plan was generally working. I'd had no traffic where there usually is traffic, no sun in my eyes all day, all fuel stops to the left and in the albeit freezing night I just kept munching the miles. There was a little fog around Pheasants Nest where I stopped for a break. And broke my heated vest plug - bugger. Going pretty well. I got back to the numbers, it was going to be close. Pennant Hills, Kariong and Ourimbah were finish options. But TigerBill (
) was way up at Morisset waiting at the planned finish servo. My calculations left me short on time to get there, but the Wyong Twin servos would work. I pulled over and sent him a text, then rode the last couple of kays in 40 km/h road works to the finish.