Ok, I've cooled down...
Full confession, I thought I'd get a few days of riding done this week, each day heading back home to get another bike out of the shed. But I was drained by the heat on this ride so ditched the idea of a multiple day ride.
I started out from Newcastle West at 23:07hr with a couple of full tanks of fuel, 65849km on the Tenere odo and my Garmin 590LM zeroed.
Straight forward run in the night up to the Pacific Highway for a corner docket at the BP Donut at Port Macquarie (01:36hr, 237km) and then onto the Ox through Wauchope:
I'm lucky, I suppose, but I have lost count of how many times I've been able to ride this 170km stretch of road solo. Not a single vehicle in either direction from Wauchope all the way to Walcha. Gold. Quality helmet time, too. Just me and the bends and a few little hoppers not crossing - it doesn't get much better than that.
A top up in Gunnedah (06:08hr, 578km, 33.82L) where it was surprisingly warm. My bike clocks said 28C. It was sun-up soon enough.
Easy, easy travelling out this way meant that I was soon at Nevertire:
Passed a mob of sheep grazing the long paddock: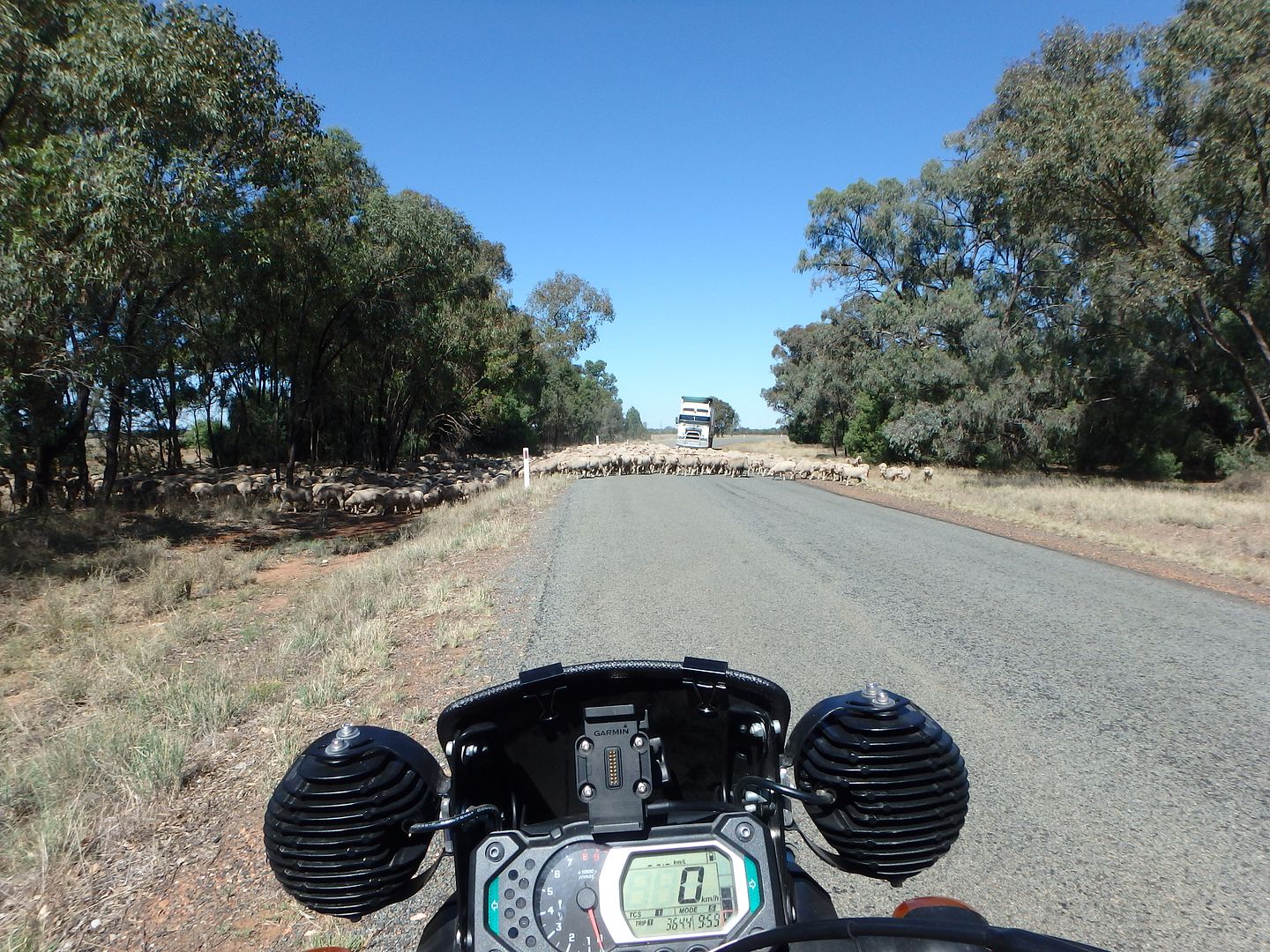 Then into the centre of NSW at Tottenham (10:15hr, 951km):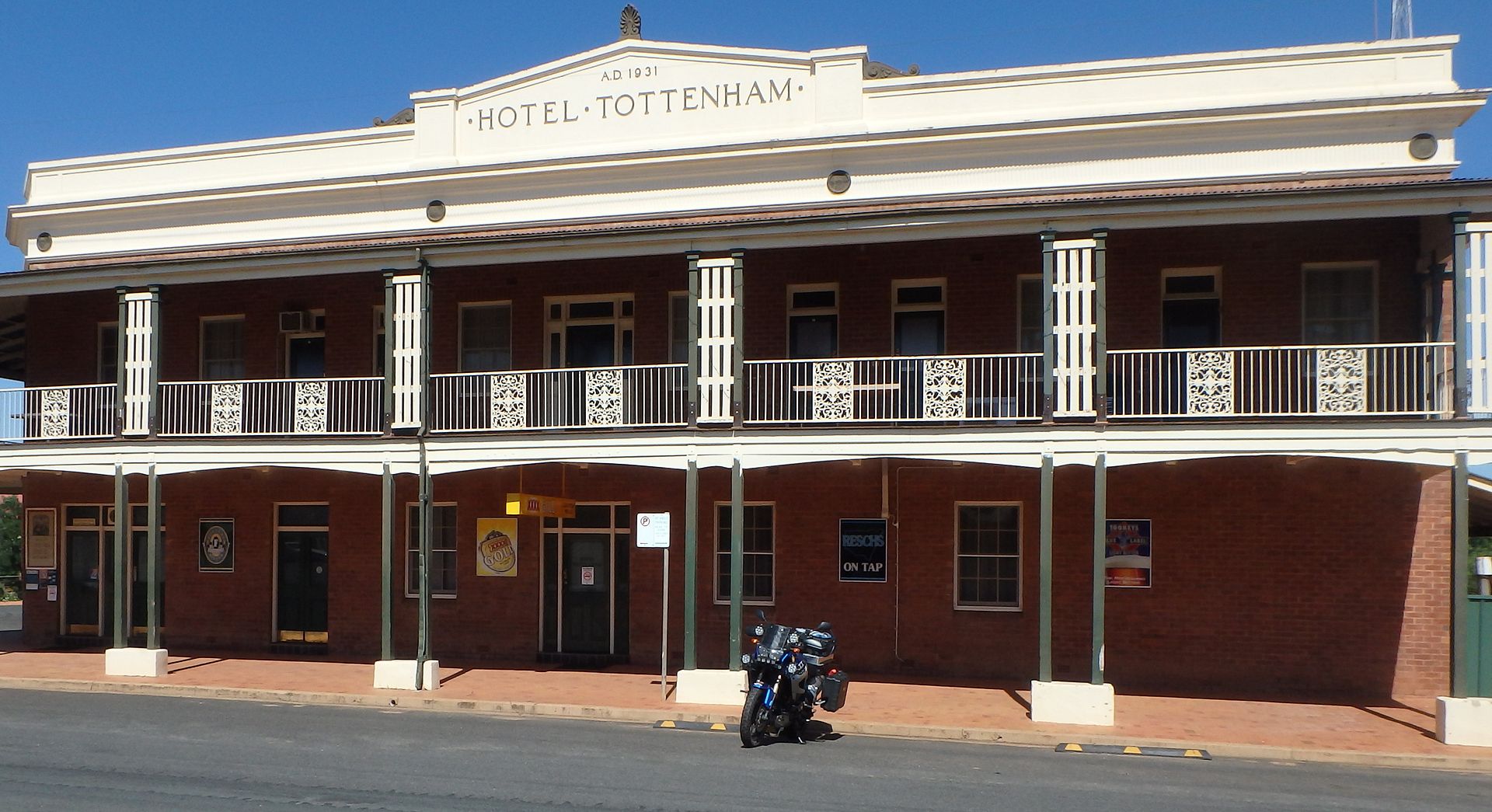 The bike said it was 33C. At 10:15hr. Mmmmm. I thought about icing. Instead I parked in some shade, poured 600ml or so of water into my cooling vest, a little up the sleeves and rode on.
Through Parkes: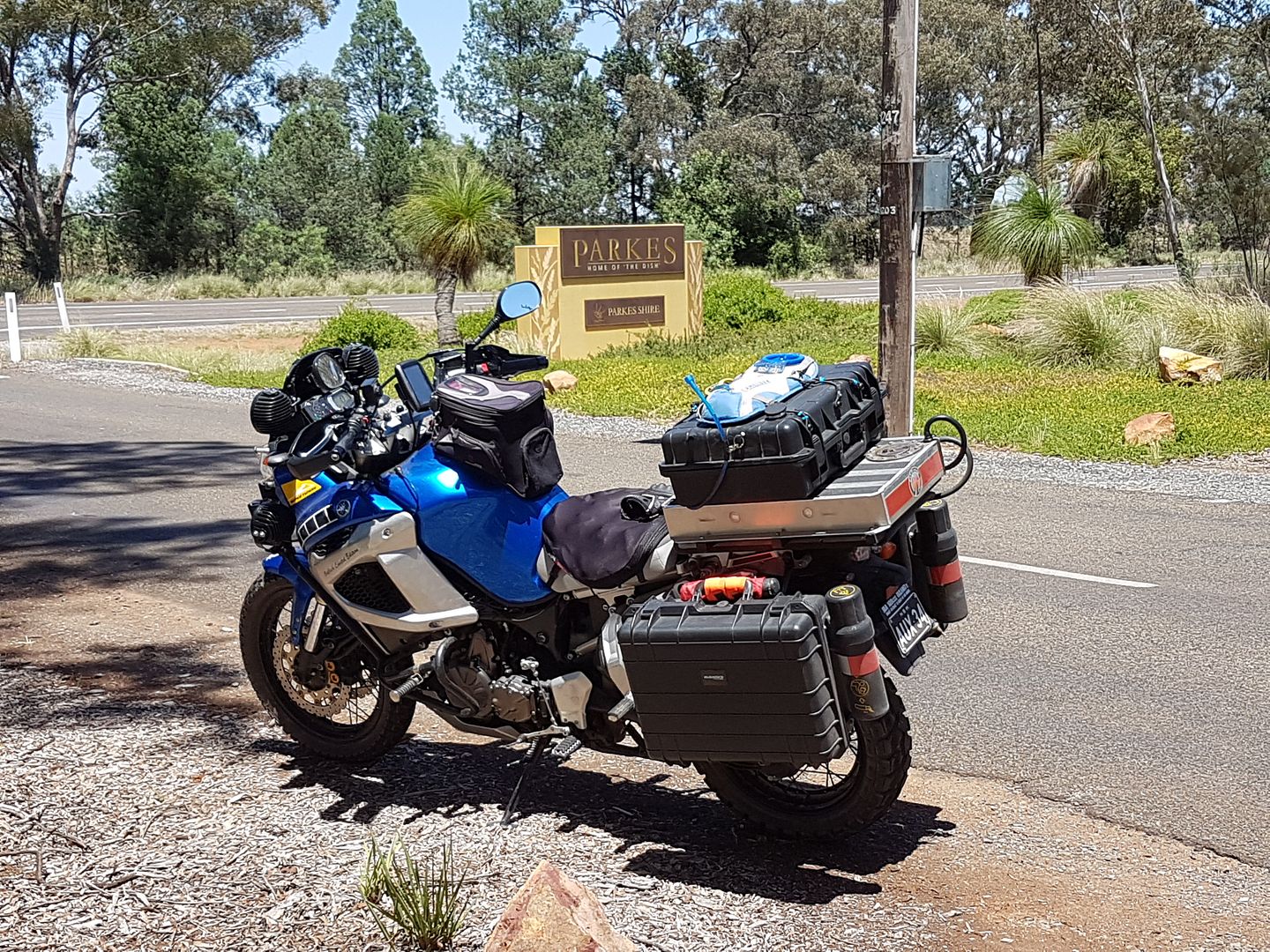 Into Orange for fuel (13:19hr, 1207km, 36.0L) and into a seriously drudging stream of hot hot hot traffic along the Great Western Highway or whatever it is called out there and questioning my sanity. With a right turn at Bathurst (no, not for the racetrack - I'm so sick of the Supercars fiasco in Newcastle that I never want to see a racetrack ever again) the traffic thinned and things improved.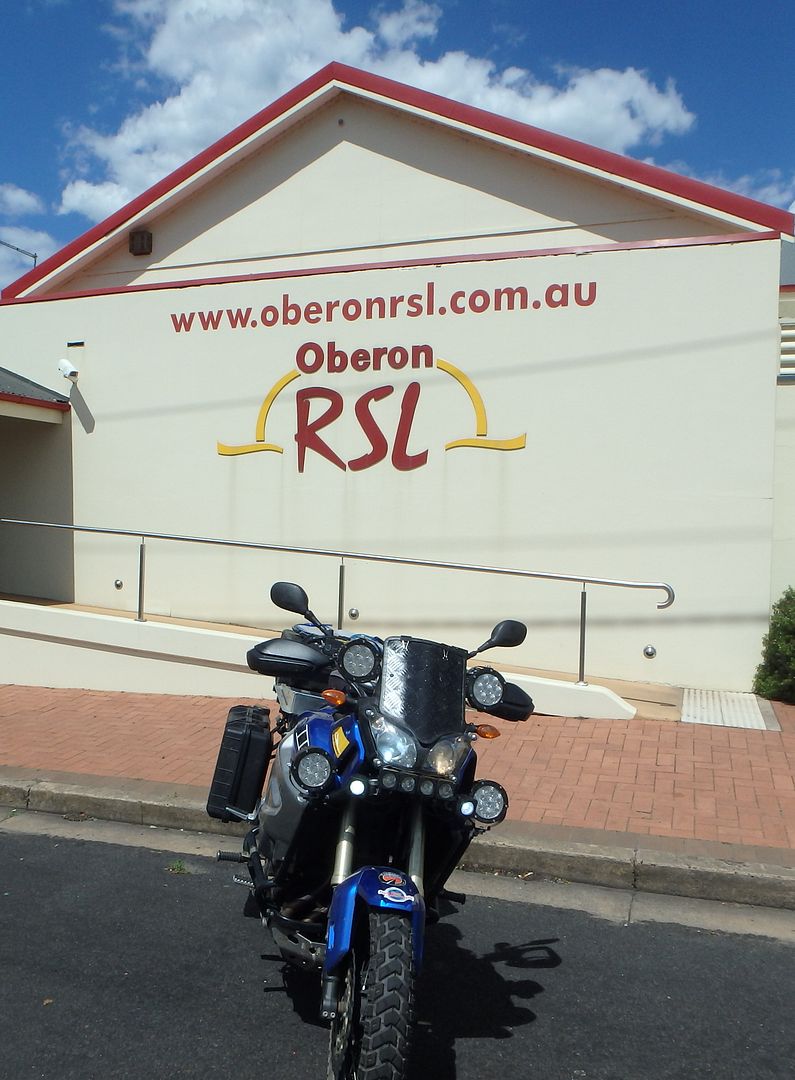 Oberon for a corner docket (14:42hr, 1309km) and onto some lovely backroads:
- Duckmaloi, Jenolan Caves and Coxs River Road
Then back onto the highway briefly before cutting across to Bells Line of Road and then onto the Putty. I look forward to the climb from the Colo river. This particular run was spoiled by a fool in a 4x4 (must need a 4x4 cos he's towing a little boat,see?). First he pulled out right in front of a little posse of us, now hard on the brakes. Then he proceeded to block the road all the way up the climb by sitting astride the centreline (I need all of the road cos I'm in a 4x4, see?). At 50km/h. (I can't go fast up hills cos I'm in a big fat 4x4 towing a little boat, see?). Past him at the top, he then overtook me at 120+ in the overtaking lane (I'm in a powerful 4x4, see?) before doing the 50km/h routine at the first sign of a bend.
Oh its hot. Please don't show 42C, Tenere clocks. Make it cooler.......please. 42C
Lets just say that at the next opportunity I passed him again and never sighted him again after he became nothing but a speck in my mirrors.
Ahh, the Putty. What a lovely road this is. Lots of variety, bumps and smooth, sweepers and twisties and ups and downs. Lovely.
I stopped at Greta at the Caltex that has become a bit of a secondary docket stop. It's a kay or so off the western end of the newish Hunter Expressway and a good spot to mark a corner and stop for a drink, though (19:07hr, 1623km). Still 30C+, though.
So now all that was left was really just a commute back into Newcastle West (19:54hr, 1676km) for a finish docket.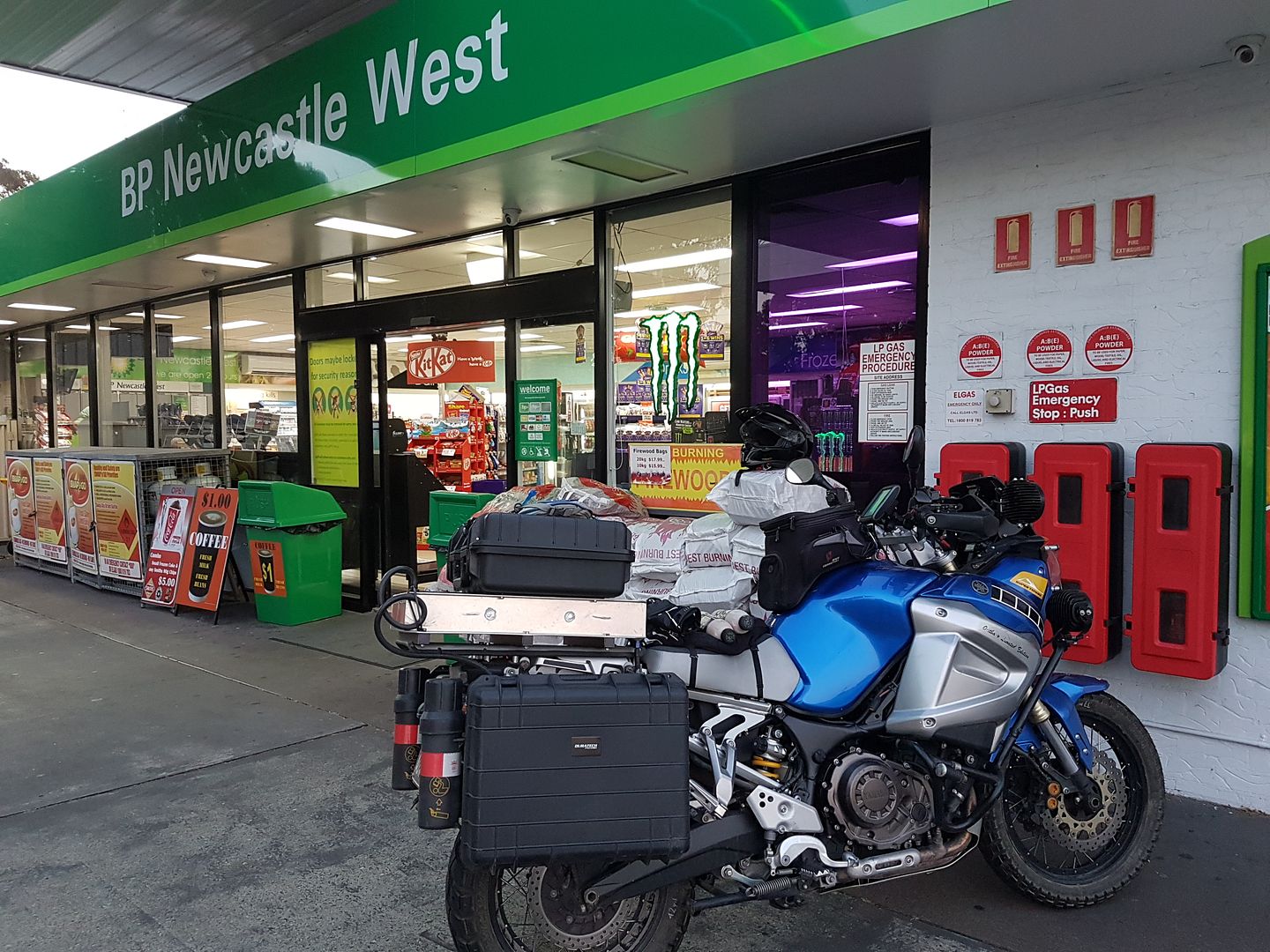 Then home and into the cool pool and into the cocktails