It must be nearly Christmas.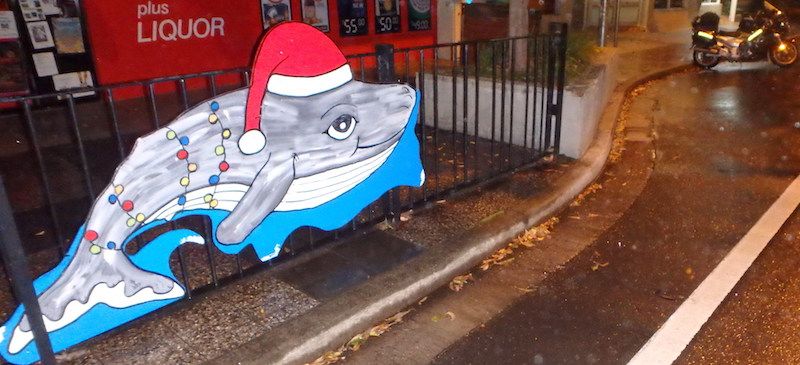 After resting up from my recent hot ride on the Tenere, I felt like mounting up again. I googled around on weatherzone and maps trying to avoid the heat and made a plan. The FJR is always ready to go, so I called TigerBill and soon I was at the start at Wallsend and filled both tanks(21:47hr, 98960km on the odo, 0km on the GPS).
Straight down the freeway for a couple of hours through a few little storms that came as quiet a relief following the very hot run a couple of days ago. Maybe twenty minutes lost south of Sydney at some roadworks on the Hume, but soon enough I was heading for the coast toward Wollongong with scanty traffic on a road I've not ridden this direction. Picked up the A1 and continued south. The last time I was through here things couldn't have been more different: heading north, warm and sunny, April, lots of holiday traffic and approaching the end of a 15000km Lap of Australia and being escorted that leg by John Negus, met along the way by other LD riders - legends all of them.
Tonight it was just me and a handful of trucks. Wet roads and Goretex gear, this was a lovely way to spend the night, meandering through quaint little villages.
I stopped for a docket at Batemans Bay and filled up, though I still had a few hundred left in the tanks (03:19hr, 447km, 25.75L), took the advice from the servo guy to avoid hitting roos and wombats and pressed on down the coast to Bega for a corner docket (05:24hr, 596km).
Then it was up Brown Mountain on the Snowy Mountains Highway. It was raining pretty steadily by now, but grip was ok. Approaching the mountain twisties of course it all turned to fog. I could hardly see anything. I could see the lights of a car right on my tail, so eased over and let him go, lest I be the rolling roadblock he'd be talking about at smoko later that morning. Then the fog lifted and with that my OA up and through Bemboka to Nimmitabel.
I'd made a plan that involved some drawing, so despite the wet conditions stuck to it. At Nimmitabel its onto dirt heading west, fog and all.
Passed some very athletic kangaroos doing standing jumps over farm fences for a morning warm-up and looking very comfortable in these parts.
I'm running Michelin Pilot Road 4s on the FJR and they did well as the one-handed speeds on the wet dirt road lifted along with the fog.
Through Dalgety and heading for the mountains I crossed the Snowy and conditions improved.
I grabbed a docket at the entrance to the Kosciuszko National Park (07:44hr, 771km) before taking a Wombattle pic at one of the many post-ski season roadworks sections:
But after that I was on my own. All the way around the back of Thredbo
Down the hill to Tom Groggin
And on it went, bend after bend after glorious bend before a quick stop at Khancoban (09:27hr, 862km).
But the bends don't stop there. Taking the Swampy Plains Creek Road, then the Tooma Road (that doesn't go to Tooma) up past the dam
and then down hill again past Cabramurra, Mt Selwyn and to the 'T' at Kiandra. What a fun way to spend a morning. But I'd forgotten how good the Snowy Mountains Highway is, right up high on the roof of Australia as the signs say. Beautiful, brutal scenery, great sight lines and that great and grippy alpine roadmix they use up there. Wonderful stuff.
I propped for a pic of the bike with the big fish at Adaminaby:
Then a roadside pic of the dash a little later:
Cooma for a docket soon after (12:14hr, 1041km, 32.82L) and a sneak preview of a 30C afternoon. The guy at the servo advised me that sticking to the Monaro Highway and sliding around the edge of Canberra would be fine at this time of the afternoon - even on a Friday. I thought I'd be better riding through Queanbeyan on the way to Goulburn, but he was right as it was all free-flowing through there. I stopped at Goulburn, just to mark my route (14:29hr, 1242km) then headed onto the Oberon backroad.
A quick stop in Taralga for running repairs. My right mirror was becoming quite wobbly. So I reached forward and pulled it off. I'm running dodgy Chinese eBay FZ1 mirrors on long stalks that give a great view, but this is the third one that has given up, the plastic socket split. Anyway, a metre or so of black tape and it was back in place and working like new.
Kelso for a front tank fill (16:58hr, 1432km, 20.57L) then still north climbing up to Wattle Flat in the rain, down through Sofala and back up again to Rylstone. In the last couple of weeks I've ridden some great roads, some little known, but others like this one feature high in rider's favourite lists - the Bylong Valley Way. Its a bit of a battleground these days with corrupt politician's back room deals leading to foreign coal mines in an otherwise beautiful valley full of farms, twists and turns and eye-catching rocky mountain formations.
Sandy Hollow next, just west of the junction with the Golden Highway (19:38hr, 1647km). A u-turn in the servo without having had the bike fall over this time and I was heading due east for home. Into lightning. I could smell it as well as see it. I checked the GPS to try to figure out if the thunderbolts I was seeing were on the little pink line on the screen, but couldn't really tell. No rain on me, some virga to see and soon enough I had lightning in my mirrors instead.
All that was left to do was to get a finish docket back in Wallsend, on the western fringe of Newcastle (21:23hr, 1787km).
TigerBill
was there to greet me, snap a pic and chat about bikes and plan our next ride.