Here's a ride from a while back, now certified:
I hadn't been available to do much riding lately, but I managed to sneak in a mid-week ride on the Valkyrie. Nothing flash, just riding around burning V-Power.
Starting at the regular Wallsend servo at 04:08hr with 19316km on the odo I reset the GPS and headed west.
I thought I'd test out how the big Honda handles a bigger day and tied a jerry can on the back to help with some longer fuel legs. Out through the Hunter Valley in the dark, poured the jerry can into the main at Mendooran and with sun up before Gilgandra I pulled over for a 'Nevertire Pic' for Nic:
A lovely day for a ride. Topped up both tanks in Nyngan (09:31hr, 532km, 34.65L). A straight forward run out to Broken Hill (14:49hr, 1125km, 41.59L):
From here I turned south onto the Silver City Highway and ran into this:
No, not the map, just the relentless roadworks that are accompanying the 270km water pipe project. I must have stopped at at least a dozen sets of traffic lights and some for 10 minutes......
A bit of a splash and dash at Buronga (18:27hr, 1420km, 19.65L into the main tank) before heading due east across the Hay Plain. I stopped for a Kimmie pic on the way through:
At South Hay I filled up again (21:23hr, 1705km 18.29L) then hopped on to join the stream of trucks out and about. Heavy fog started at Narrandera and hung around all the way to Goulburn. That certainly slowed my progress through the night. Last stop was at Sallys Corner (03:41hr, GPS 2287km, odo 21610km, 13.92L just into the main tank)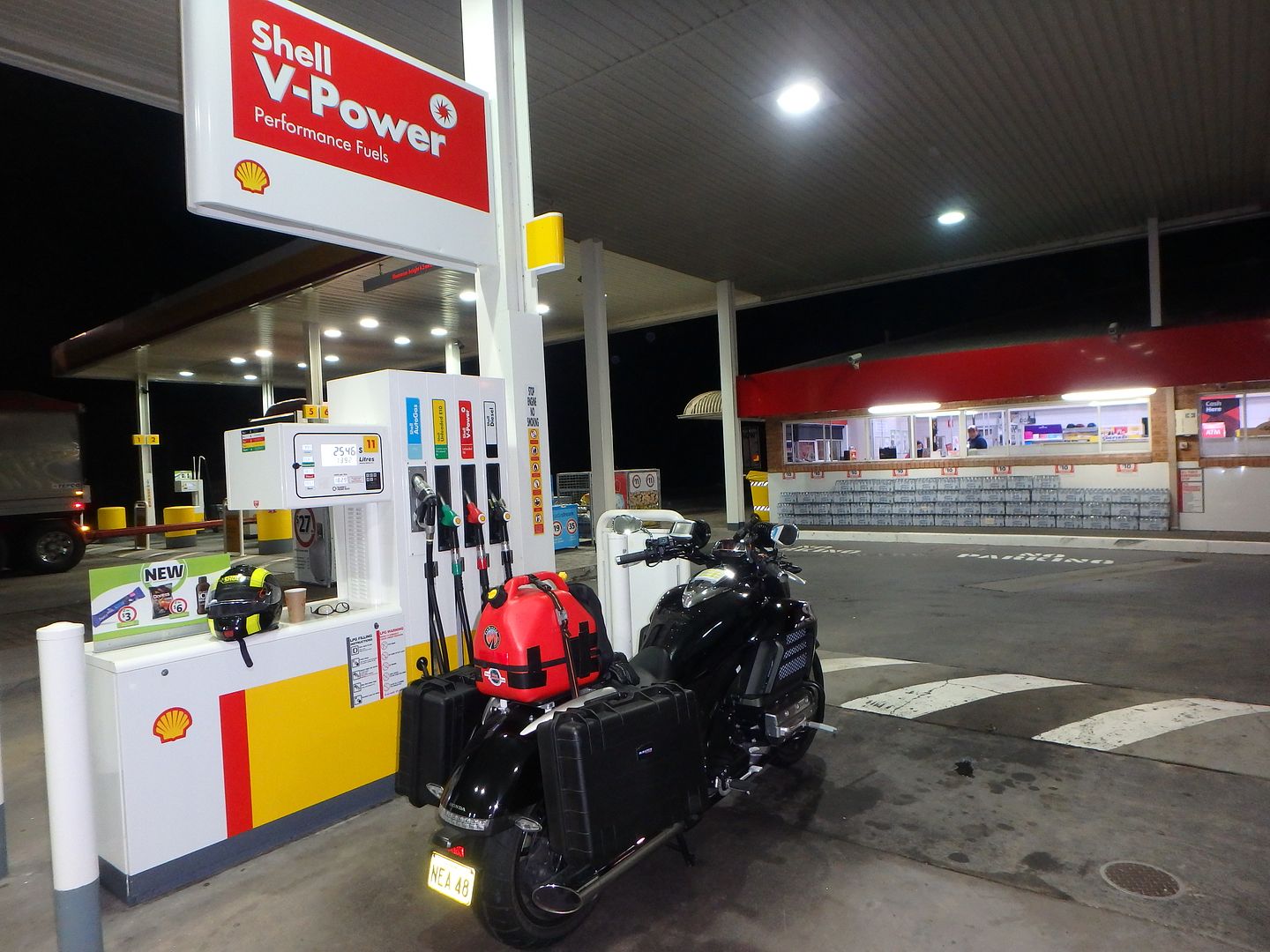 From there it was a simple arc around to the west of Sydney and a little squirt up the M1 back to finish in Newcastle (07:21hr, odo 21905km for a total of 2582km in under 30 hours)
_______________________________________________________________________________________
I'd bolted on some better lights for the trip, padded the jerry can so it doubled as a back rest, trialled an Airhawk - but removed it somewhere along the way - and had pillion, rider and highway pegs for foot position variety. Plus heated grips and a throttle lock thing and the bike seems capable of covering some distance. About all I need now is to take of the toasted Pirelli tyre and put a Michelin PR4 on the back and the Valkyrie will probably be ready for a decent LD ride.