First off, hi to all. Only recently registered on this forum, but some may recognise my user name from other bike forums. Certainly hope to to do more, but the below is an account of my first IBA, SS1600km ride.
It had been in my mind for some time to have a go at a SS1600km ride. I cannot count the number of routes I have planned, admittedly, usually on work time where I am on the computer all day. But it's a welcome break from the grind.
After much procrastination (once, I'd even gone to the stage of packing the bike for an attempt, but failed to get out of bed). I decided that I would attempt it on my FarRide to Lobethal. The distance there and back from my place in Pakenham only required a little deviation to make the required kilometres.
My intended start time was 02:30am to give me a little leeway to make the FarRide checkin at Lobethal. I had worked night shift for around 8 years, so this time of the morning isn't foreign to me, but that was some time ago, so it was still hard to drag myself out of bed to get ready to leave. But, I was up with my alarm at 01:30am and at the Officer inbound BP servo with a full tank and a start docket of 02:15am. With nothing left to do after filling in the log and having the start form witnessed, I was under way and feeling positive. Trying not to think too much, just relax and concentrate on the road and my surroundings.
The trip through to the other side of Melbourne was familiar and with light traffic, was easy going. My first planned fuel stop was Horsham, approximately 342km from my start point. The tank range on my R1200R is, according to the range to empty display, approximately 400km. I have never measured this, but subsequent rides had me aware of my usual fuel usage consistent at 4.5lt per 100km, so I had a bit of faith in it as correct. However, I had fitted a Ztechnik screen about two weeks prior and except for commuting where I hadn't noticed much change in fuel usage, it had crept up to 5lt per 100km on this ride putting my theoretical range to empty at 360km. I was carrying a 5lt jerry just in case, so not fearful of running out, decided to just see how it went. Approaching Horsham, maybe 5km's out, the range to empty went to zero, but made it to the servo without incident, the tank taking 16.8lt, so there was still a little in there, maybe..
Leaving Horsham had me heading towards Tailem Bend as my planned second stop for fuel. Somewhere between Dimboola and Nhill the sun had started rising, so I made 3 attempts to get the sunrise photo! A pair of Goldwings with some impressive lights (must have been FarRiders!) went passed and gave a wave whilst I was taking attempt number one for the sunrise photo. But, mindful of wasting time, I figured after attempt three that it would have to do.
The remainder of the ride into Tailem Bend was a little tough, I was starting to feel a bit tired, so after a quick roadside stop of a walk around and some food, I was feeling fine again. I'd been managing dehydration sipping from my camel back (well, cheap camping store alternative anyway). Filling up at Tailem Bend had my fuel usage consistent at 5lt per 100km, so the screen and luggage was my reasoning for the slight increase in consumption, to be expected I guess. There where a few riders having breaky here, I wasn't lingering after filling up, but looking at the bikes had be guessing maybe we were all heading for the same place..
I was going very well for time, so decided to pull up for a decent break at a rest stop just before crossing the Murray and have some more food and remove some layers, it was starting to warm up a little now the sun was out. Took just my fourth photo for the ride here, so nothing else in the way of pictures from here unfortunately.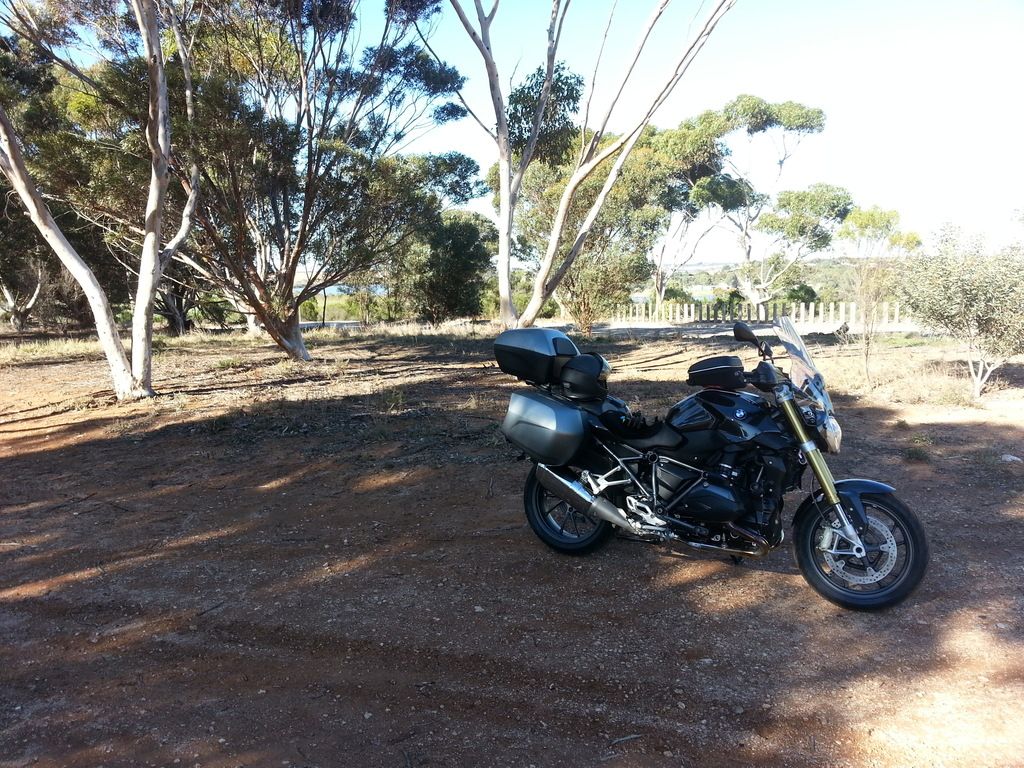 Continuing on to Lobethal was a leisurely cruise, arriving early for checkin a little before 11am. I took the opportunity before the rush to have a chat to Fatman (Michael) and introduce myself. A big thank you, Michael, for having a look over my ride plan and offering a few critiques, very much appreciated of course. It was great to meet a few more people and catch up with a couple I had met previously. I'm atrocious with names, so forgive me if I say hi next time and can't remember your name. I was considering hanging about for the group photo, but mindful of the clock and remaining hours of daylight, decided to push on and start heading for home.
Next stop was Keith for fuel and a corner docket, uneventful besides a wave to the gent on the new Africa twin I'd chatted to at Lobethal. From here it was onto Mt Gambier for the next corner docket. It was along here that I noticed in my mirror something streaming behind me, thinking what the hell is that for a second had me realise my el cheapo camel back had sprung a leak! A brief stop at the next roadside rest area saw me throw the bladder in the bin, but keep the backpack to put a replacement bladder in at a latter stage. My FarRide was completed along here at Padthaway (approximately 1037km). Arriving at Mt Gambier, this was just a quick stop for the all important receipt, so bought a turkish delight, no fuel. With the sun on it's way down now, I had eyes like dinner plates checking for wild life. I actually deviated from my plan here un-intentially. I had intended to make Hamilton my next fuel stop and stay on the A1, however, following the GPS had me take B160 through Casterton, which while a nice road, the nature was a lot closer to the verges kept me busy looking for skippy. Unfounded concerns in the end, I only saw one fox and one wallaby. Although with no additional lighting, who knows what was outside my beam throw?
Stopping at Hamilton for fuel, I sent my wife an "I'm okay and doing well, see you late tonight" message. I'd been snacking thus far, so was managing hunger and thirst, but with the last fuel stop done before the finish, I was starting to look forward to a meal and a shower, my helmet hair and beard starting to look pretty wild must have been starting to scare the servo attendants as they were happy to take my card, but weren't keen on a chat. Also, allowing myself to feel like I might actually finish this, it helped keep me positive. The run from here towards Ballarat was hard going, I was keeping my speed down to a little below the speed limit due to not being able to see very far down the road when on low beam. It wasn't too bad with no one in front and high beam on, but a few impatient 4X4's had me pull over to allow them past. It was quite welcome to get onto the multi-lane freeway once through Ballarat. And even more welcome once I was back in and through the tunnel onto the eastern side of Melbourne, the home stretch! Despite a bit of Saturday night traffic, it was a nice easy run back to Officer outbound BP for fuel and a finish docket. The docket show's a finish time of 10:40pm, so all up the GPS has 1663km for the ride, 20.5 hours with an OA of 81km.
Overall I am quite happy with the ride. It made me re consider the effective range of my tank, but always taking a 5lt jerry on longer rides, just in case, it'll be easier enough to plan around. I'll definitely replace the camel back bladder, although a bit of a squeeze getting it under my helmet and past the beard, it was nice being able to drink on the run. The ride has been submitted to the IBA for consideration, so I'll just have to wait and see now..
Report to moderator
130.194.73.183