Well, there's no BMW "F" threads on here (yet?), so I thought I'd share my LDR bike build!
A few years ago I bought a 2009 BMW G650GS to attempt to accomplish the Iron Butt Association's famed "Ultimate Coast to Coast" ride, which is Key West, Florida to Prudoe Bay, Alaska. I made it from Minnesota to Key West,
but the little thumper didn't make all the way
I went back to the drawing board and decided that a 2013+ F800GS would be a better bike for me to try again with (thanks to the input of everyone here). I was able to find said bike earlier this year, so this is the story of me setting up my new (to me) bike for some long distance riding. I've been fortunate to be able to complete a long list of Iron Butt Association rides – ranging from 48 states in 10 days, to the
Piston Diversity Challenge.
After all these miles and challenges, I feel like I know what works well for me and what doesn't. This will be the story of setting up this "new" bike for this adventure.
The bike was pretty well farkled already, but here's a list of things I'm going to do:
- Add two sets of aux. Lights (one set for conspicuity and the other set tied to the high beams for better down-range throw)
- Add a Denali CanSmart system – this will help reconfigure all of the auxiliary wiring that's on the bike as it's a mess currently
- Add a small top box
- Secure a way to carry extra fuel. I have a Best Rest peg packer already, but I may explore the Camel Tank
- Install a MCCruise cruise control system – this will be a big project
- Set up the suspension for proper sag
- Brake fluid flush – I did one when I first got the bike (the first flush that the bike has had since it was new AFAIK), but I like to flush my brake fluid in all my bikes each year. It - doesn't take long and prevents some very, very expensive parts from having problems in the future. Also, it could reduce the likelihood of becoming a hood ornament.
- Install Scottoiler – reduces the time I need for chain maintenance during long rides
- Replace steering head bearings because they already have slight notches :banghead
- Replace wheel bearings – reducing the chance for more problems
- Repack the swing arm bearings? Haven't decided yet if this is necessary
- Finally I'll add some reflective tape to the back bags to increase conspicuity
Now, I fully understand that I probably don't need much of the above list to go out and ride, but I have big plans beyond just Alaska for the rest of the year and 2021
How the bike came home: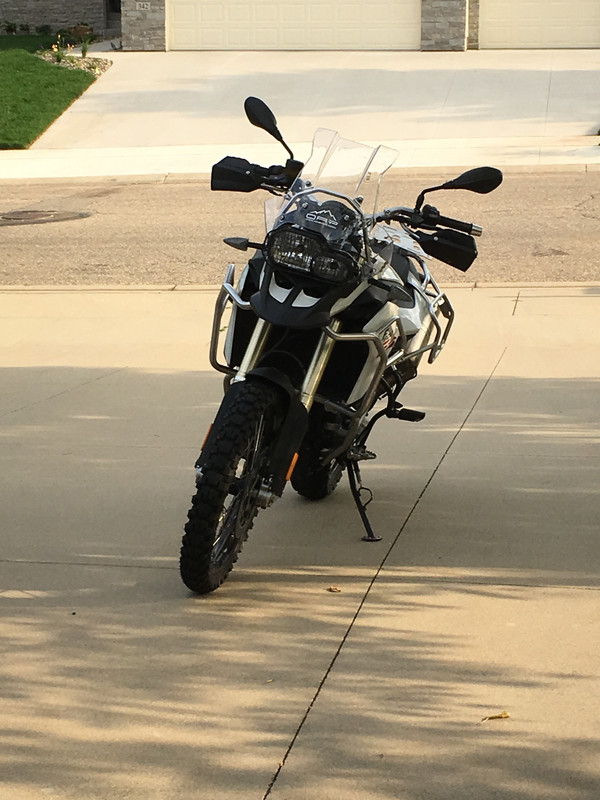 The bike before I begin: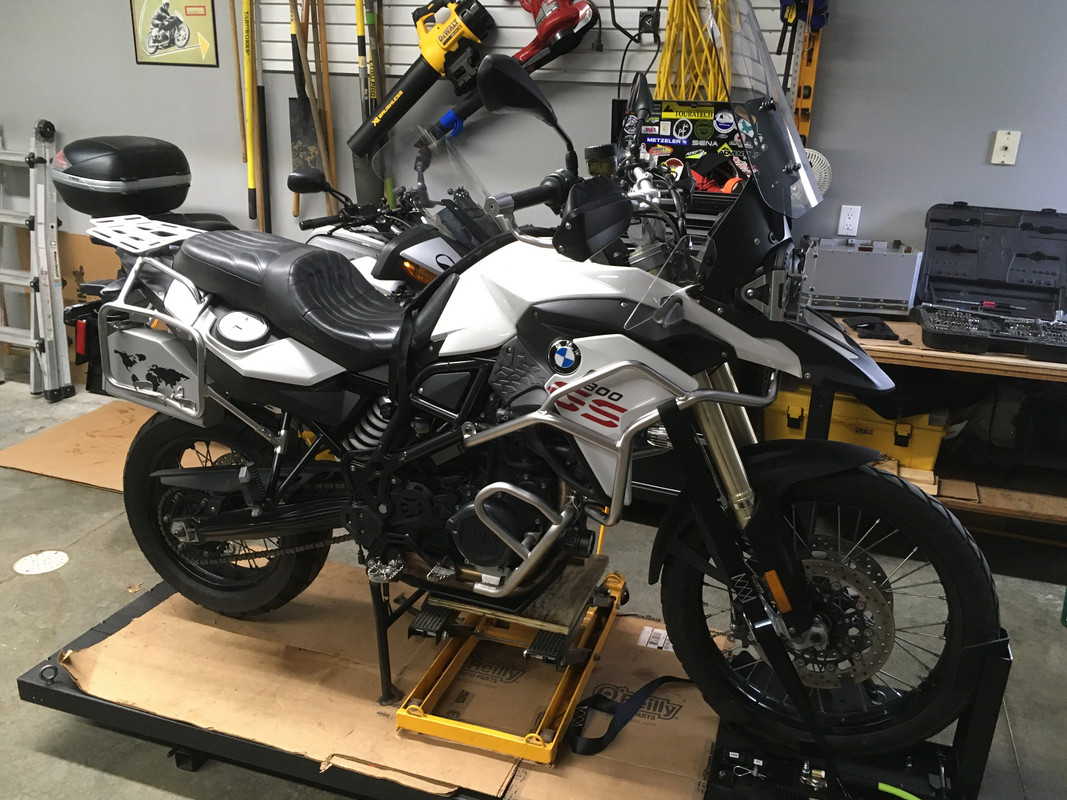 The current state of the bike: