Another certificate in today's mail...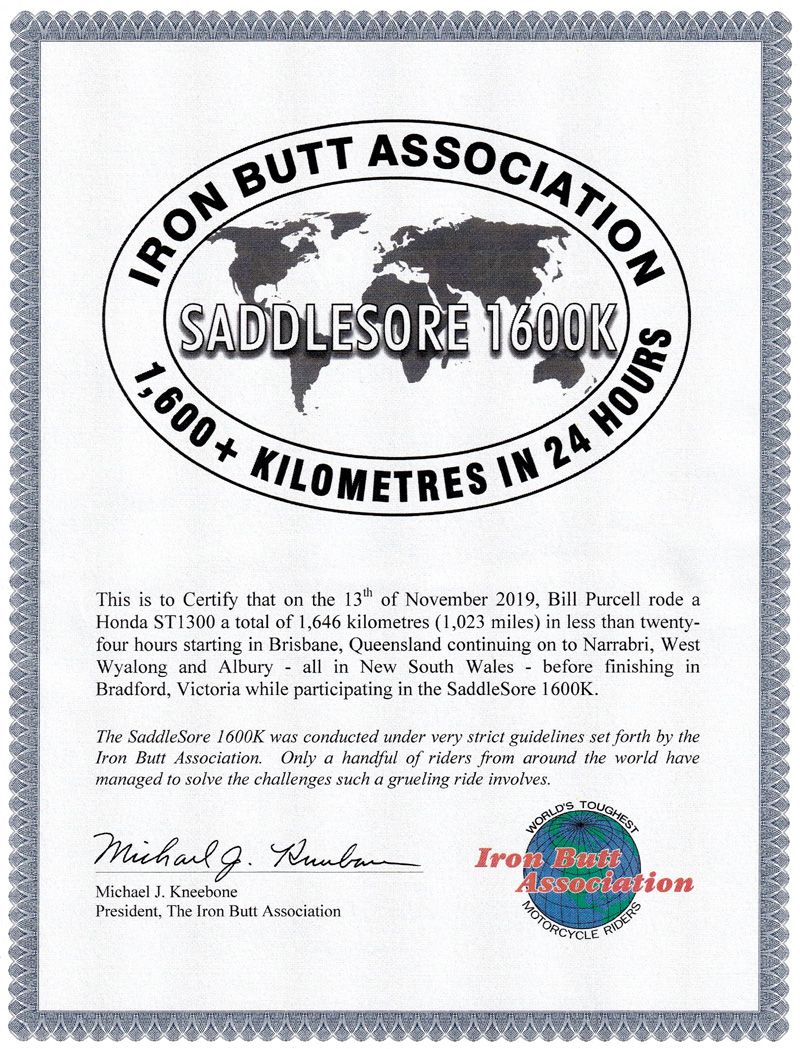 The OZSTOC (Honda ST Owners') Rally this year was in Port Sorell, Tasmania. Since it was only two weeks that I was home from my previous trip south, I wanted to do something a little different, so planned a straight run through to Broadford instead of the twice-completed Seymour destination. From there it would be a casual day's ride to the Melbourne Station Pier for the ferry.
I had been monitoring the news about the fires blocking the "Pacific Coast Way" near Taree, so planned to travel via the Newell Highway. It is the shorter route, but involves a much higher roo-strike risk at night than the PCW. I transited the Airport Link tunnel only to be informed the Legacy Way tunnel was closed and I needed to find an alternative route. Fair enough, but when you're on a bit of a mission, these impediments aren't welcome.
Once established on the Ipswich Motorway I got this sign:
Now this is the third time my preferences were being decided for me, but I was happy to go via the exceptionally smooth Toowoomba Bypass, especially while it's still free. The run down through Millmerran was incident-free although there was plenty of smoke in the air, as evident in the dawn shot.
I pulled into Boggabilla, my usual refuel after the first stage. The GPS clock had leapt forward an hour just after crossing the Macintyre River, one of the few in the area with a bit of water.
The Moree Bypass is another pleasure for travellers uninterested in 50 kph shopping centres. But I think I have yet to get a green light at the annoying Gwydir Highway intersection.
The pub at Gurley seems to be still open- it's just a year since I stopped there when they were all excited about their Halloween party.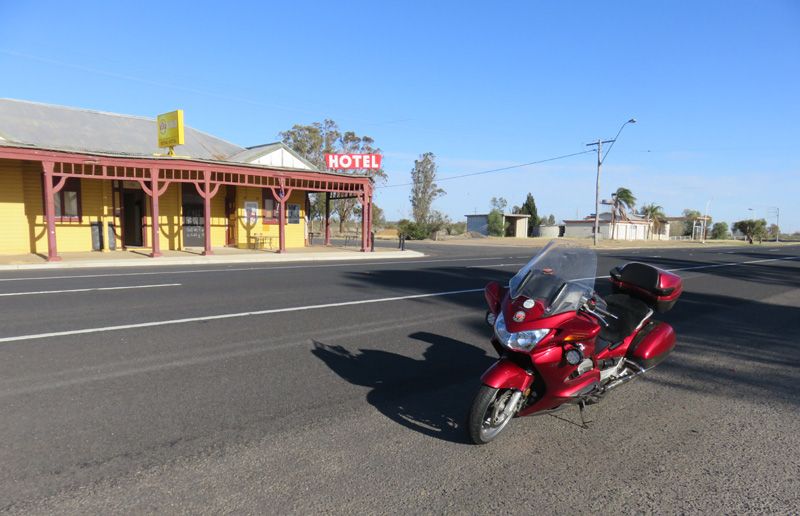 My next fuel stop is Gilgandra. The distance works well; my low-level light has usually been flashing for 40 km by the time I pull in there (which still gives me at least a 40 km buffer).
Dubbo has further embraced their hippo motif.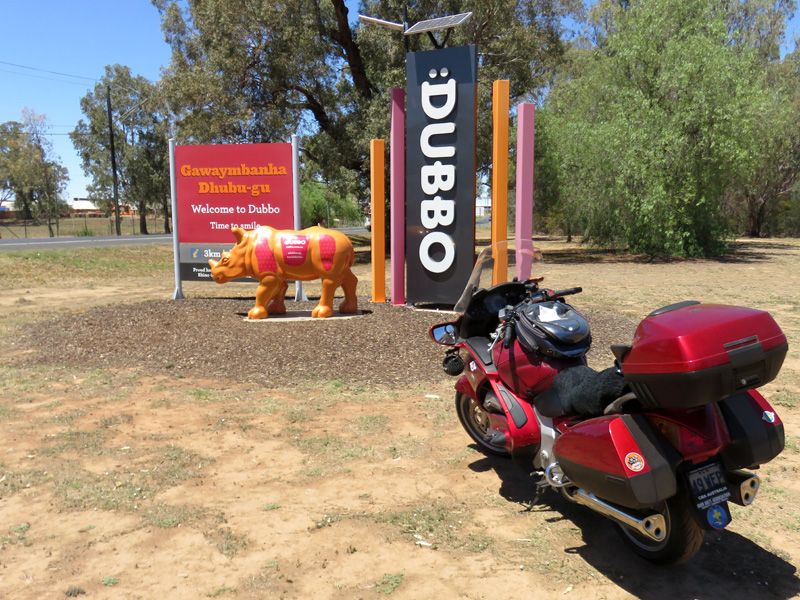 Whenever I've ridden through Peak Hill I've felt I didn't have the luxury of a tourist diversion to see the open cut gold mine, but this time I gave myself permission.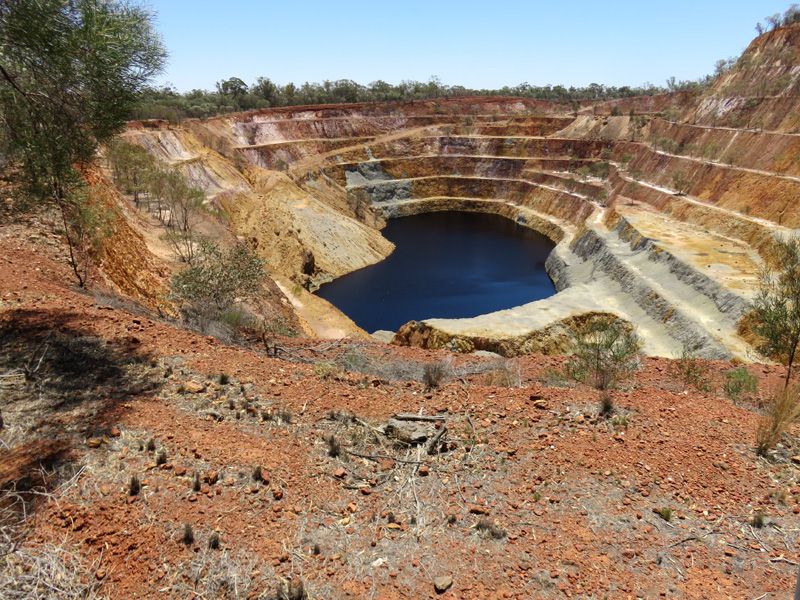 It
is
readily accessible and very well documented- well worth giving it 30 minutes for the short walk from the carpark, and it's
free!
The GPS was determined that I should track via Narrandera but I insisted on Temora, so ignored its imprecations. That meant I could puzzle over this contraption in Barmedman: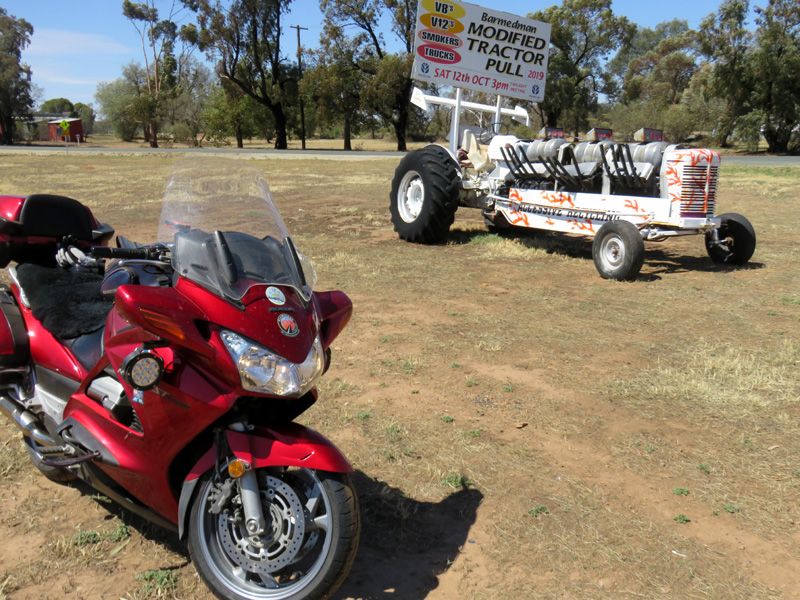 While the fanbelts appeared to be fake, there did seem to be real belts under the trimming, so it's possible the hybrid could work.
I had to get this shot- it tickled me that I came all this way to a town deep in NSW to see a Queensland Hotel! It gets good reviews, but I couldn't find with a quick search of the internet, any sort of history or explanation for the odd choice of name.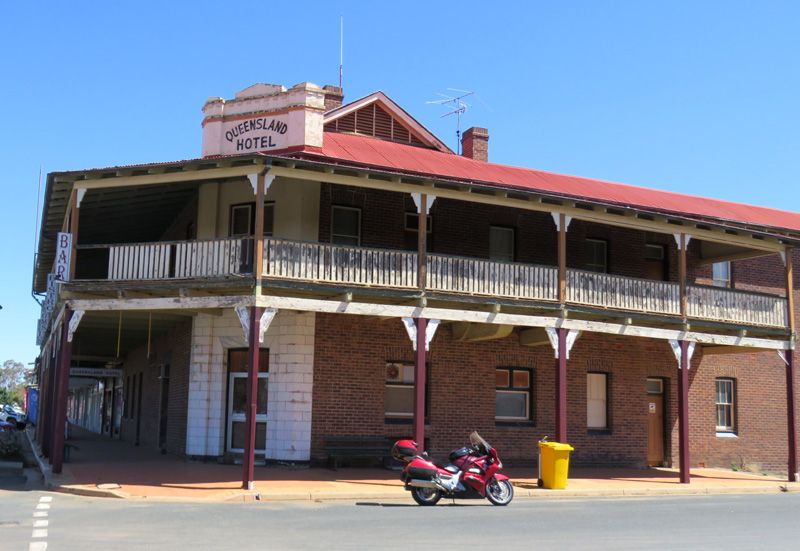 The next port of call was Wagga for fuel.
After seeing bare dirt in the paddocks in Queensland and northern NSW, it was amazing to see many paddocks in Victoria with very big hay harvests. I had passed dozens of semis heading north to desperate farmers with loads of hay.
The servo in Broadford had been checked for opening times, and I was in with a good margin.
I had teed up my motel for a late check-in and the manager had very obligingly left the door unlocked with the aircon warming the room for my arrival. My only bleat was the gravel courtyard. I struggle wrangling the 330 kg bike around on loose gravel and it was a pain trying to back her up in the morning. But here Ruby2sday sits awaiting her next trip.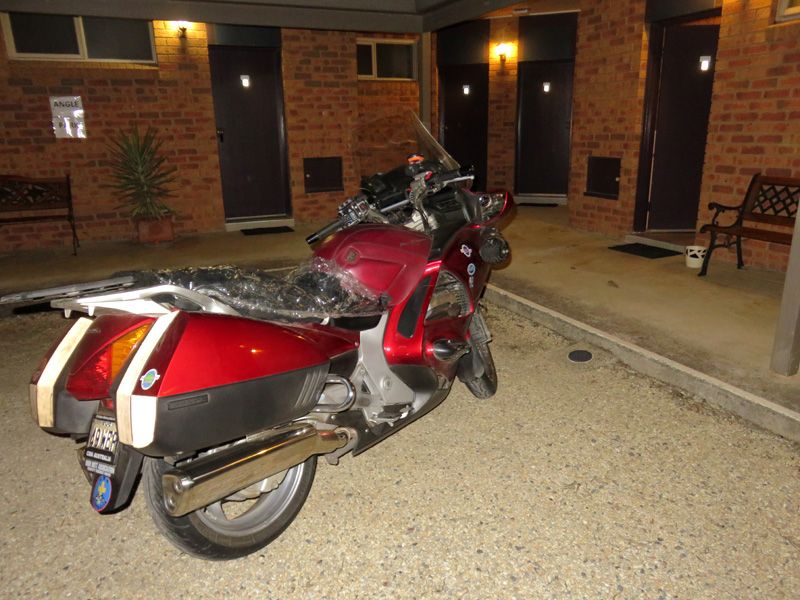 https://spotwalla.com/tripViewer.php?id=20d765dc0b594ec2e5&hoursPast=0&showAll=yes