Premier Member
IBR Finisher
Days -3 & -2 Tech Inspections & visits to Walmart
We had planned to arrive a day ahead of the required pre-rally tech inspections which we duly did, riding into the parking lot on Thursday afternoon before completing check in and settling into the pre-Rally atmosphere. There was a lot of renewing old acquaintances and hellos. Friday, we kept low key including making a few visits to Walmart to stock up on last minute supplies and as an opportunity to walk somewhere. South Carolina was beautiful, not too hot or humid, nice summer weather. The Hotel was busy with Rally staff and riders going about their business.
Saturday 7:30am arrived before we knew it and all riders were assembled and issued instructions for tech inspections along with their ID cards and we then all scattered to the various inspection tasks. Bec and I chose odo check as we felt this best to get out of the way early before it got too hot. I think we were the first bike out and in hindsight it was relatively simple route of 30 miles on the I85, out and back from Greenville. The on ramp to the Interstate held a nasty surprise for riders with what appeared to a long oil or diesel spill in the outside track for the entire curve of the on ramp! Avoid at all costs! Before too long we were back at the hotel having our odo confirmed and logged by the ever-vigilant rally staff of Nancy Oswald and Tim Masterton.
Next up was bike and aux fuel tank inspections. This is where we had the VIN and rego checked and confirmed along with a thorough inspection of the aux tank. Passed all of this with flying colours. Having said that, the level of scrutiny was thorough, with an added intensity of the resident photographer in attendance plus we noticed that if any issue cropped up with a bike an immediate crowd would gather around said rider and bike, therefore ensuring a very public airing of said issue.
The RT flew through tech inspection
Having successfully completed the outdoor items we moved indoors to complete paperwork requirements of camera check, travel insurance and bike insurances, all of which we flew through again relatively easily. The rally staff were great and kept things moving smoothly. Before we knew it, we were done, with the only remaining item to be completed the final interview with Jeff Earl and Mike Kneebone which would be completed on Sunday after Bec completed the Rookie Meeting.
That left the rest of Saturday free, which we used for repacking and collating stuff to be stored at the hotel during the rally and another Walmart visit for last minute items. We also kept a low profile to assist with resting and keeping ourselves in the right headspace for the days ahead.
Day -1 Rider Meetings, Start Banquet & nerves
Sunday morning started with the Rookies Briefing, to which I was not invited, so while Bec was there I continued with the last-minute checking and rechecking of things and generally kept myself busy. Once the rookies' meeting was over Bec and I completed our interviews with Jeff Earls and Mike Kneebone and just like that we were done, passed and ready to start the Iron Butt Rally. That left the start banquet to come on Sunday evening, which arrived all too soon. Dinner flew by and before we knew it the Rally packs were being handed out and we were being briefed on the Rally theme,
"The road less travelled",
along with some critically important supplementary information such as "the electronic waypoint locations only take you to the "general vicinity" of the bonus (you could still be 1-2 hrs away from the actual bonus location) and there are additional written instructions in the rally pack for locating the actual bonus location. In other words, we would have to 'old school' it to find the actual bonus. WOW! This requirement would torment many a rider (including us) in the days ahead. The indicative Leg One minimum point requirement if riders wanted to meet finisher requirements was declared to be 16,000.
Once riders were dismissed, we commenced our routing routine by carefully checking the rally documentation to ensure it was complete and that we understood the instructions then we returned to our room. Bec weaved her magic with Excel to code up the bonus locations before I imported them into Basecamp, and we worked through our route options. We finally selected a route that pushed us but gave us roughly 19,000 points. Satisfied we got to bed for some much-needed sleep.
Looking back now we underestimated the following on this leg;
the amount of time required to go from the electronic way-point to the actual bonus
the retro style of this rally, i.e. sit and ride big distances.
Day 1 – We're off!
The rally started at 10:00am and it couldn't come soon enough, we were over the waiting and just wanted to get started. After an early breakfast and packing of the bike we waited by our bike ready for the 8:00am check in and punching of our ID tags. There was lots of nervous energy in the air and once we had completed the 8:00am check in we returned to our room to rest and finalise checkout. The Rider Briefing was at 9:30am and once completed we all waited by our bikes in the warm sun ready for the start your engines signal. Bec was starting to look a bit overwhelmed with it all and I reassured her it would be better once we got out riding.
Ready to rally! Photo credit to Steve Hobart
10:00am arrived and Warchild commenced waving the riders off, with Cathy Davies on her bright yellow Goldwing having the honour of being first away. Things went smoothly as the riders were waved off and before we knew it, we got out signal and we were off! Out of the Marriott carpark and down to main road where the local police had closed off the intersection to allow riders a smooth transition out into their journeys.
Out the gate heading for Bonus # 1 & yes Bec is there on the back! Photo credit to Steve Hobart
Our first bonus was Chimney Rock in the Smokey Mountains which involved riding a lift to the top of a mountain and then a short hike to a look out from Chimney Rock. The view was quite spectacular, we managed to take our photo of the bonus amongst the holiday crowd but as we were to discover time and again the time required to collect bonuses on this rally was a lot more than originally anticipated. Once back at the bike we took a short rest as we regathered ourselves. Next Bonus was a waterfall that required an additional 30 minutes riding beyond the Waypoint, followed by a 20-minute hike. Almost an extra hour we hadn't allowed for. Bonus collected we then headed for the group photo bonus, which was timed for 4:00pm at a dam in the Smokey Mountains. Originally, we thought we had an hour and a bit up our sleeve to arrive for this bonus, but this had now evaporated due to the nature of the rally requirements and out ETA at the dam was 4:00pm! Not ideal for sure. We made good time and the ride into the dam was sublime lots of corners on a beautiful biker's road. We made good time and we arrived at the bottom of the dam wall at 3:58 only to make a wrong turn (left not right) to ride away from where a small group of riders had gathered at the base of the dam wall for the photo. All too late we realised our mistake, along with another rider who had made the same left turn. We had missed a lot of points from a navigation error at the last moment but also not really appreciating the time required to collect the bonuses from the waypoints given.
Bonus # 1 Chimney Rock in the Smokey Mountains
We felt exhausted now as we had really pushed hard to make it all for no avail. We found a quiet spot to stop and have a rest, and not too long later the first bunch of riders who had been at the photo bonus started coming by, so we got back in the saddle and headed for our next bonus, INGAP, an old Indian Grave Trail located up 4kms of reasonable gravel road. To get there we had to ride the Tail of the Dragon and I found this quite good. We were in company with several other rally riders including Ken Andrews and the Vooks who were ahead of us. We came around a corner to see the Vooks parked on the side of the road and were to find out later they had had a minor off.
In hindsight this bonus was a real waste of time for the points on offer. Anyways, we successfully collected INGAP and then headed out of the Smokey Mountains heading northwest into the evening. As we rode along, we reviewed our progress to date and what was required ahead of us and decided we needed to reroute to best use the available time for getting across to the western states where the big points were. This would mean aiming for a big bonus RUSHM at Mt Rushmore in South Dakota, a daylight only bonus by the end of Day 2, requiring a massive 2,300km day from where we would stop for the evening. Having ridden several 2,000km days I was OK with that but Bec was a little freaked out by the thought of it. Talking it through confirmed we could do it and if we did miss the daylight, we could then easily get this bonus at first light at 5:00am on Day 3. We found our hotel for the night in Kentucky, weary and feeling well off the game, but had no trouble falling asleep.
Bonus # 3 INGAP after 4kms of gravel
Day 2 – Transit Day, a SS2000
3:00am and it was pouring outside. Nothing for it but to kit up and get riding as we had some distance to cover today. The first few hours were spent in the pouring rain on the Interstate, with just the semis and a few early travelers for company. Bec slept on the back, making the most of her recovery time. St Louis came and went in the dark, as we crossed the Mississippi and made our way ever westwards. The darkness gradually lightened into a dull overcast morning. Travelling through Missouri we rode by Kansas City heading for Omaha and Sioux Falls. Later in the morning we were diverted off I29 due the Missouri River flooding and closing this section of the Interstate. The rain had stopped by now and the sun was occasionally out. Despite the detour we continued to make good time, with efficient fuel stops.
Not far from Sioux City we got caught in a heavy downpour which really soaked us. There were also lots of roadworks around Sioux City which slowed our progress but otherwise we continued our trek across country. It was with some relief to finally arrive at I90 and turn due west towards Rapid City in South Dakota and just sit on 85 mph. It felt like the miles flew by, the clouds cleared away and we were able to appreciate the beautiful South Dakota countryside. Bec booked a hotel near the Bonus point location ready for either scenario of collecting the bonus today or at 5:00am on Day 3. As we turned off I90 to ride into the Black Hills, it was dusk and apparent we wouldn't have enough daylight to collect this bonus. The decision was made for us, so we went straight to our hotel, fuelling up along the way. We did feel a sense of achievement having ridden over 2,300km in 19 hrs across country and had no problem falling asleep, once in the hotel! It had been a big day of riding.
Day 3 – Some Big Points at last
Mount Rushmore National Monument opened at 5:00am and we made sure we were there ahead of time. Rolling up to the entry kiosks we were the 2nd rider to arrive with Danny Dossman there ahead of us. We had a few minutes to swap notes with Danny comparing our rides so far, and it sounded like Danny had been having a few challenges as well. Right on time the Rangers opened up and we flew into the carpark and got walking up to the Grand View Terrace to take our photo. This bonus was worth 1,103 points and we made sure our photo was correct before we left! Waving goodbye to Danny we motored off further into the Black Hills, heading for Wyoming and Beartooth Pass. We took the scenic route of Highway 385 to the town of Custer then Highway 16 back to I90, from there it was onto Billings in Montana. It was a beautiful day for motorcycling and the time flew by as we made our way.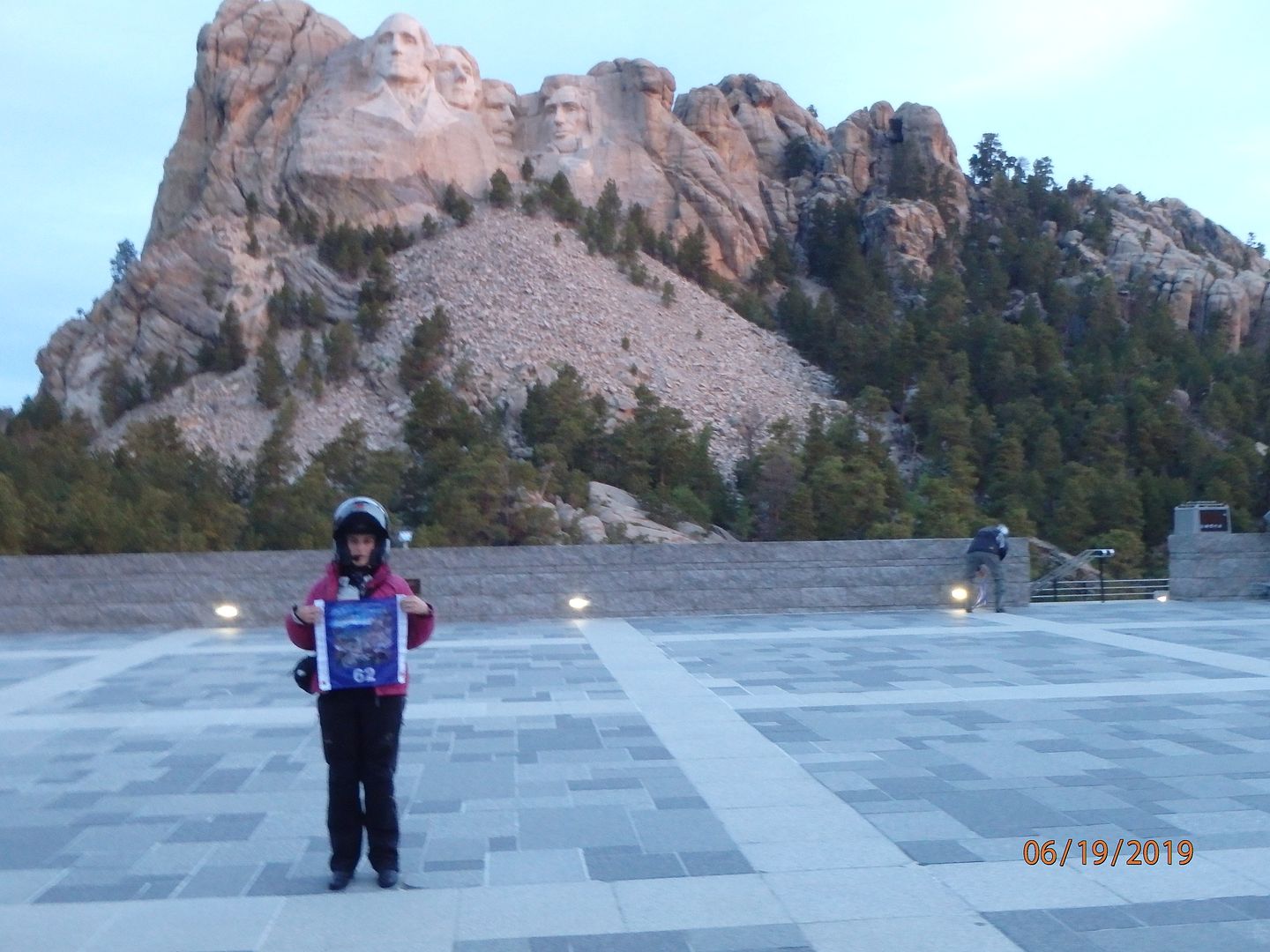 Day 3 and the first bonus of the day, Mount Rushmore. Danny Dossman in the background photobombing
In Billings there was a lot of roadwork on the Interstate, which slowed things down, but before long we were taking the exit ramp for Highway 212 at Laurel and heading south towards Wyoming. The mountains loomed large ahead of us with gathering clouds. As we climbed ever higher the views were spectacular and only got better the higher, we climbed. The wind also got stronger and stronger the higher we climbed, and once we got above the snow line the winds became so strong it made keeping the bike on the snow-lined road extremely difficult. The gusts were the strongest I have ever encountered riding and it was all I could do to keep the bike moving ahead and on the road. Danny Dossman had also caught up with us and he was also battling the wind.
We had a minor panic attack when we thought we had passed the summit, the location of the bonus photo as there were a lot of cars parked, but it was a false summit and the road continued to climb into the heavens. (I was worried that we may have to execute a U-turn in the narrow road and the gale force wind and doubted my ability to do that safely, conditions were so bad). As the road continued its climb, the wind got even stronger, if that was possible! At least the sun was out! Suddenly we were at the summit, with the next challenge being to not get blown over and find somewhere to park the bike safely. Another rider had arrived just ahead of us and he was struggling to find a good spot to park the bike to prevent it being blown over. Eventually, all three of us managed to park, dismount and slog into the wind the short distance to the summit sign to take our photos. It might have been summer but there was plenty of snow on the ground! Photos carefully taken and checked we remounted our bikes and made our way towards Yellowstone National Park, thankful to be coming down off the summit and away from the wind.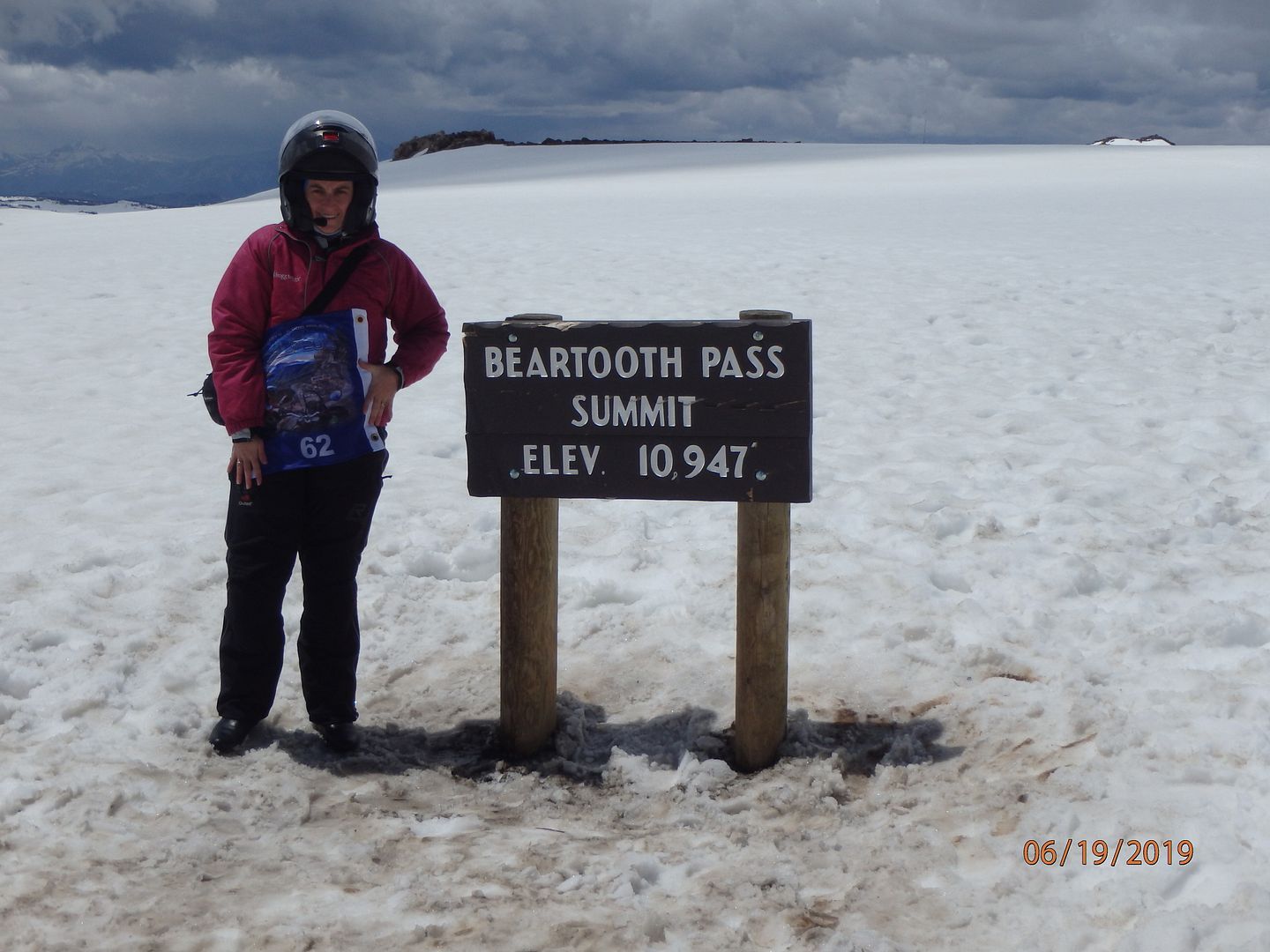 Beartooth Pass, Wyoming. Yes it was cold, but we needed the points!
We now wound our way downhill and towards Yellowstone National Park, our next bonus being Old Faithful Geyser, which we had to photograph while it was erupting. As we entered the park the weather slowly deteriorated into occasional rain and it got cooler. The traffic was heavy and once we got onto the Grand Loop road, we had the joyous Yellowstone experience of the traffic just stopped. This occurs because a car stops on the road to "enjoy" the vista or the local wildlife (Bison) and of course the traffic then banks up for miles. Being from Sydney where we lane filter I was quite happy to filter through to the head of the multiple queues.
As we neared Old Faithful, we were passed by several IBR riders heading away from the bonus, indicating they'd caught the previous eruption (probably within the last 15 minutes or so) and gave us an indication of our wait for the next eruption (about 90 minutes). This allowed us to take some time snack and chat with other riders, Danny, Bucky and Paul who arrived at the same time. Taking up our vantage point near the geyser the wait seemed to take forever but finally Old Faithful erupted, we snapped our photos and then exited hastily so as not to get caught up in the mass vehicle exit. We were now headed for Oregon via Idaho but first we had to get out of Yellowstone and its queues of traffic. As we trickled along in the queue for the western exit, we chatted with Wolfe Bonham who was riding beside us. Wolfe was heading for northern Idaho and the SHAME bonus while we were heading for GRANITE in Oregon.
Old Faithful in Yellowstone, the geyser not Danny. This was a big point bonus
Once clear of Yellowstone and into Idaho we took Route 20 southwards towards the Interstate which would take us to Oregon. We planned to take our Rest bonus tonight somewhere in Idaho, so Bec made our accommodation booking while we rode through the Caribou National Forest. This was very scenic with its many lakes and hamlets. Our rest stop was at Rigby, where we fueled up and obtained our starting receipt for the Rest Bonus. While Bec sorted things out in our motel room I walked to the nearest fast food outlet and got some dinner, well it was the best we could do. Needless to say, we had no problem falling asleep!
Day 4 – Checkpoint 1
What felt like microseconds later the alarm sounded, it was actually 7.5hrs later and we roused ourselves, got sorted and back on the bike. 5:00am in Rigby is quiet but we managed to obtain a receipt from the local general store to confirm the end of our rest bonus.
Our tasks today were simple: collect one bonus in Oregon, then ride to the Prosser in Washington State where we would have new tyres fitted ready for legs 2 and 3, and then ride to Kennewick, Washington, the location of Checkpoint 1. This meant a long leg on I15 and I84 as we covered miles and miles across the bottom of Idaho and then northwards into Oregon. I was semi-familiar with this area having ridden through here on Butt Lite VIII and IBR17. As we turned northwards in I84 we had a strong head/cross wind to contend with plus the temperatures plummeted. I forgot where we stopped but I made an executive decision to stop for coffee and warm up at some truck stop in the middle of nowhere. It was exactly what we needed and reinvigorated us both. At Baker City in Oregon we hopped off I84 to take the country road to Granite. This was a glorious piece of tarmac that followed river valleys and climbed mountains until we had snowflakes falling as we crested the summit. We didn't linger collecting the bonus, a photo of the arch across the entrance to the old mining town of Granite. It was freezing!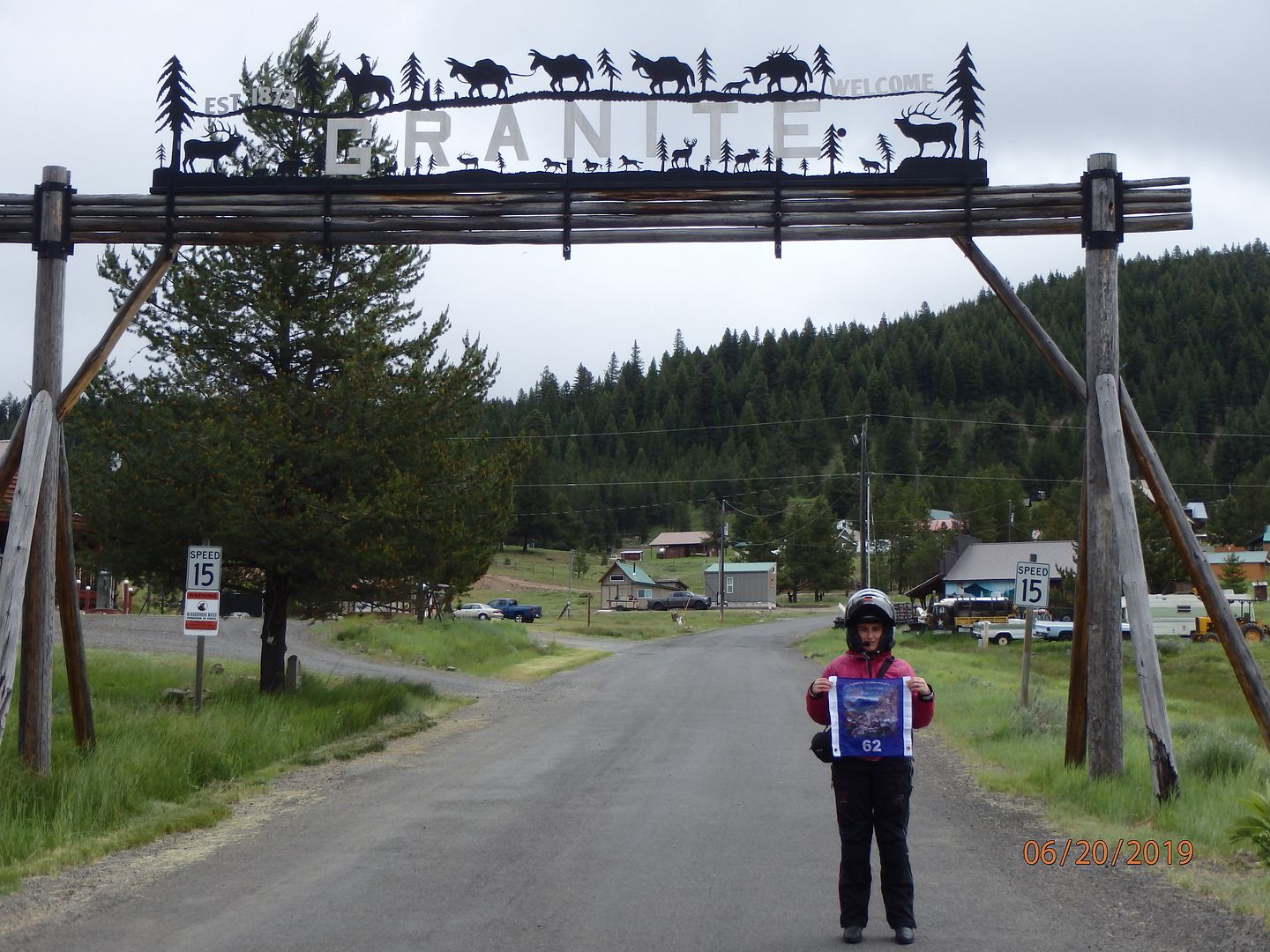 Our only bonus on Day 4 GRANITE in Oregon, sit and twist that throttle!
Leaving Granite it had been our plan to continue northwards on the old road, but as we turned back onto the main road the GPS flashed up as a NF road and we saw another rally rider who had been 10 minutes ahead of us return the other way. Not wanting to end up on an unexpected gravel road we wisely decided to return to Baker City the way we had come in. NF roads are National Forest Roads and can be quite bad, so we erred on the side of caution. This cost us about an hour in time but gave us both peace of mind. Once back at Baker City we hopped back on I84 and made good time to Prosser for our tyre change. Bec had phoned them to say we were on the way, and they had advised us we were one of a few rally riders all coming in that afternoon who were all running behind schedule, so they'd do their best to get us done quickly. We were the first one at about 2:00pm and once the bike was checked in and tyres sorted, we retired to the waiting area to commence cross-checking our log and receipts. This was time well spent as we picked up a major error on our log: we recorded the wrong time for Old Faithful. Thank goodness we checked and cross checked!
The two other riders arrived, both on K1600GT's and we spent some time swapping stories and notes. The bike was completed and ready to go just after 4:00pm and we headed for Checkpoint 1 in Kennewick, arriving just 5:00pm to check in with Rally Staff and ready ourselves for scoring. It was a nervous time for us both as we felt we had not gone that well for Leg 1, but we scored OK, didn't leave any points on the table and were just relieved to have made it through Leg 1. We had only managed to collect 13,306 points for the Leg, against the required 16,000 points. This had us at 77th but as we were to find out later that evening many riders had also had difficulties with this leg, and we were in good company!
Our immediate priority now was sleep ahead of the Leg 2 Bonus Packs being handed out at 4:00am.
Footnote: Bec is writing up her ride report as she saw it from the pillion seat.(or for what really happened!) Check out PillionPiglet.com