Premier Member
IBR Finisher
Day 5 – What the?
Day 5 commenced with the handing out of the Bonus Packs for Leg 2. Or that's what we thought was happening. Having roused ourselves and made sure we were in the hotel lobby well before 4:00am, along with other riders we were as ready as we could be for the commencement of Leg 2. Route Master Jeff Earls dropped a bombshell when he announced that returning to Kennewick on Sunday night was optional! What the?
Sunday night at 8:00pm in Kennewick was now an optional bonus BUT it came with conditions. If riders chose to skip this optional bonus, then they HAD to successfully complete one of the following criteria;
Successfully claim at least one bonus north of 60 degrees north latitude or;
Successfully claim the following two bonuses;
CAPED. Group Photo bonus near Cape Disappointment, Washington
ROSIE. Cap-de-Rosiers lighthouse near Gaspe, Quebec, Canada
If riders failed to complete either the Kennewick Optional Bonus or the other criteria, they would be considered non finishers of the Rally. Talk about or all nothing! You could feel the tension in the air!
We collected our rally packs and retired to our room, where we spent some time reviewing the options and making sure we understood this dramatic change in requirements. Effectively there was now no Leg 3 of the Rally, as we had all of the bonuses for the rest of the rally and there would be no more scoring until we reached the finish in Greenville SC on Day 11. For us taking the optional bonus in Kennewick was a no brainer. It was worth a massive 23,591 points, which we desperately needed. Having made that decision we turned our attention to what bonuses we could collect between now and 8:00pm on Sunday. Once we had completed our coding and uploading into Basecamp, a route stood out immediately to us. There were two very high bonus points in Canada on Vancouver Island along with some others we could collect along the way. This would net us a very high number of points but required two border crossings (into Canada/returning into the USA) and several ferry crossings in British Columbia.
Apart from the ferry crossings this route was also very low mileage which provided an added incentive of recuperation time/less ride time against a very high number of points. We were both worried we had misunderstood the route and we triple checked things. Yes, our original analysis appeared correct. With that we packed up and got ready to ride to Canada.
We rode out of the hotel car park with a renewed sense of purpose, we had a plan and we were going to do this. Our first bonus for the day was LYNN in North Vancouver in Canada. First task ride to Canada! And so, we did, with the next few hours of sitting on the Interstate letting the miles roll by. It got cold over the Snoqualmie Pass but before too long we were back at sea level as we bypassed Seattle and continued on I5 up to the border. At the border we had 10-minute wait to cross and the Canadian Border official was friendly, and we were through in no time after answering a few questions about lack of stamps in our passports.
Once into Canada we navigated our way through Vancouver, with Bec's excellent work on the pillion seat and not too much later we arrived at the car park for the Lynn Canyon Suspension Bridge. Now the walk across the bridge was great fun but clearly there were people on it who should have reconsidered their life choices. Once across the other side we located the bonus, snapped the photo and made our way back across the bridge to the bike, where we wrote up our log before heading off to the next bonus SKOOK, a daylight only bonus.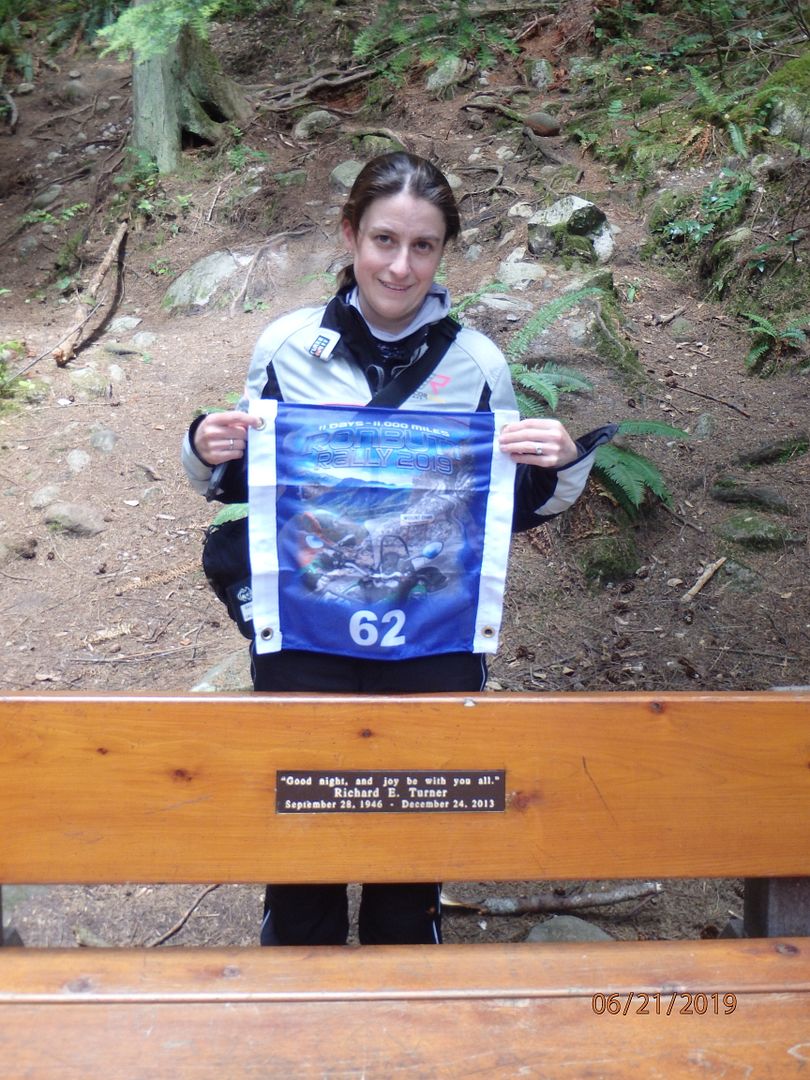 Bonus LYNN after crossing a suspension bridge over a gorge
This involved catching a ferry from Horseshoe Bay, which apart from a minor navigation mishap in taking the wrong offramp we managed to make in time to grab a ticket on the 4:30pm ferry to Hopkins Landing. We had an hour to wait for the sailing which we used to rest and recheck our route calculations. I also rechecked out Spot to find the batteries dead and nonoperational. These were brand new batteries and hadn't lasted a day! We replaced them and the relocated the Spot to my Camelbak where Bec could monitor things. We were worried about losing our tracking bonus!
Waiting for our ferry on a sunny afternoon
The ferry ride was relaxing, on a sunny afternoon and riding off the other side we rode along the sea towards Skookumchuck. Not too long into this section of the ride Justin Long passed us going the other way. What the? He had gone and collected the bonus already and was going back the other way? We couldn't make sense of that and it played on our minds for a while. Anyway, after a glorious ride we arrived at the Park early evening and readied ourselves for the serious hike ahead of us. There were two other rally bikes there, Merril Campbell's KTM and a Goldwing belonging to Mark Beaulac. The bonus instructions stated a 4km hike (one way) was required so once we had jettisoned all unnecessary gear we set off. It was seriously good to get off the bike and go hiking in the woods. I could tell it was helping Bec immensely. Mark passed us on his way back about a third of the way in with some encouraging words and not too much later Merril also passed on his way back.
Life in the fast lane! Our bonus after a 45 minute hike in the woods. This was a BIG point bonus and worth the hike
We made good time to the bonus, snapped the required photo, took a moment to appreciate the tidal rapids which were seriously cool and then hiked our way back to the bike in the early evening. As we arrived back at the bike Merril was just heading off, so we chatted briefly. We didn't linger as we now planned to catch a ferry from Earls Cove about 15 minutes down the road and we weren't certain about the timetables. Arriving at Earls Cove we found Merril patiently waiting so we joined him as we waited for the ferry. It was beautiful twilight which seemed to go on forever.
Waiting for ferry ride # 2 for the day, as twilight settles in. Merril checking if he has cell reception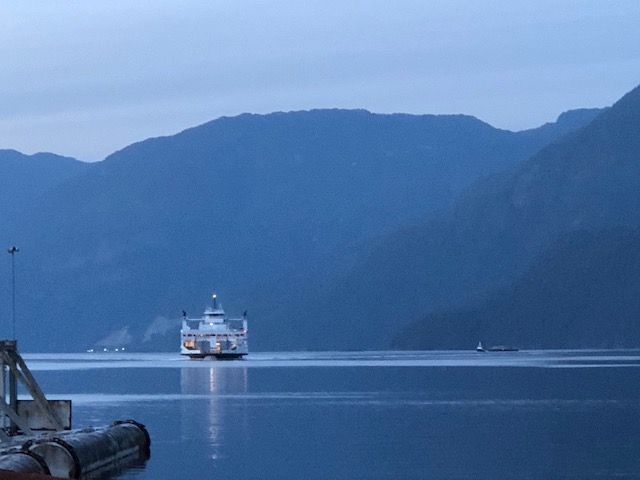 And here our ferry is arriving on time! How beautiful is the scenery of British Columbia?
Sure enough the ferry arrived as planned and we got front row access. This ferry took us to Saltery Bay, and it was another pleasant trip across the waterway. From here we rode to Powell River in the dark where we planned to overnight and catch the dawn ferry across to Vancouver Island. Bec weaved her magic on the back and booked accommodation in Powell River and after a 90-minute ride we arrived at 11:00pm, checked in.
Our last bonus of the day was to complete our Call In Bonus (which was timed to commence from midnight EDT), Bec sounded exhausted doing this and once done we hit the sack for some quality sleep.
Day 6 – Island Dreaming & "we are not a team"
We had booked to catch the first ferry out from Powell River to Vancouver Island at 8:05am, so being the early risers that we are, we (me) were up early, packed and ready to go as the sun came up. This allowed us to have brekkie in town, followed by a short ride down to the ferry terminal via the local gas station. Merril was also at the gas station and followed us down to the terminal where we were waved through to the front of the queue. Not long after Mark Beaulac also joined us, so there we were, three IBR riders waiting patiently for the ferry. A couple of the locals stuck up conversation with us which helped while away the minutes. One of them who worked for the local radio station gave Bec a T-shirt as a memento of our brief visit to BC. At last, boarding time arrived and we were on and sailing towards Vancouver Island.
We now had 90 minutes, so we used this to recheck our route for the day, and to start roughing out a plan for a route after the Kennewick bonus. This was really helpful as it allowed us plenty of "off the clock time" to consider route options. We also made a call to the rally phone to say despite what the little orange dots might indicate on Spotwalla, we were not a team with the other riders (when you're on an island and relying upon catching the same ferries the wrong conclusion could be made!). Today we planned to collect three bonuses: HARDY at Port Hardy which was worth a massive 5,655 points, BOOT worth 489 points and the REST bonus. This would be our day on Vancouver Island. Riding off the ferry we spotted fellow Aussie Jeffrey Gebler waiting to board, we only had time to wave before we passed like "ships in the night" …. sorry about that!
Riding out of town we made our way to Highway 19 where we turned northwards for the 3.5 hr ride to Port Hardy. The ride was great, mixed weather and cooler temperatures but we passed the time away admiring the scenery and chatting away. Our zen was disturbed when we passed (again) Justin Long on his FJR who was heading southwards having obviously collected the HARDY bonus already. Having seen him the day before he had obviously come up with a more efficient ferry schedule for his route. Arriving at the bonus we collected our photo carefully, wrote up our log and spent a few minutes chatting with an interested tourist who couldn't get his head around what we were doing. Mark and Merril were also doing their thing (we are not a team) and we waved them farewell as we headed off for BOOT.
HARDY Bonus - a BIG pointer!
We needed fuel and as we seemed to be tracking on schedule, we shouted ourselves a longer break (15 minutes) for food at the local gas station. Mark and Merril joined us also to fuel up. They were also headed for BOOT, (we are not a team), although Merril was planning on taking the gravel logging road (on his KTM) that would in theory shorten his distance to ride. We would stick to the sealed roads! Fuelled, fed and watered we got back out onto Highway 19 and headed south, with Merril not far behind us. Mark would overtake us not too much further up the road. The sun was out, and we enjoyed the ride southwards to our turn, which would take us to Gold River, (don't you love the name of this town!) the location of the bonus. Taking the turnoff, we rode a magnificent road, early afternoon, with the sun warming us we followed river valleys ever upwards, past mountain meadows and through shade dappled forests. There were sections of the road that were pretty rough and bumpy, but the cosmos aligned to provide the right scenery, temperature and corners to make this truly memorable. Merril passed us on his way down, so clearly his logging road had been quicker by about an hour. We arrived at the bonus to find Mark just finishing up. We snapped our photo, wrote up the log and retraced our steps to Highway 19, all downhill this time. What a ride!
BOOT Bonus @ Gold River BC. The ride in was sublime. Mark's Goldwing photobombing in the background
Back on Highway 19, it was time to settle into the drone on the freeway for 4 hrs to Victoria. The highlight of this was seeing a large black bear attempting to cross 4 lanes of traffic for some roadkill on the opposite side. It was a smart bear as it appeared to be monitoring the traffic and waiting for a break to cross! Bec booked accommodation for us in Victoria, which was eye wateringly expensive, but as this was our Rest Bonus, I figured we should shout ourselves a little, I was feeling upbeat and in a generous mood after a good day's riding. As we neared our hotel in Victoria, we passed Merril again, no doubt he was doing what we were doing. My mood soured a little when we arrived at the hotel as we had planned to collect our start receipt immediately from the ATM in the hotel lobby while Bec checked us in. Unfortunately, the receipt didn't have a legible location on it, and I arrived back at check-in to find Bec caught up in a queue arising from that
one person who has to make a scene with the hotel receptionist.
This went on for what seemed like hours, and while it was only 15 minutes, when you're on the clock time accelerates like warp speed.
Finally checked in, I went to park the bike and source a receipt. My mood was dark, and I was doing my best to retain perspective. Bec to her credit worked out we could obtain a receipt from the bar, texted me to say all in hand and OK, so I made way back to our room relieved, that at least one of us was smart enough to work out something. As both of us were exhausted and starving I ordered food in from room service and it was a welcome highlight and lifted my spirits. Things are always better after food! Needless to say, we slept like logs.
Day 7 – Welcome back to the USA
Day 7 dawned bright and early. Before sunrise we made our way to the ferry terminal wanting to make sure we allowed plenty of time for the US customs processing that would occur this side of the border. This also allowed us to use the receipt for our tickets as the end of our Rest Bonus. Receipt collected, we motored down to the motorcycle waiting area, where we found Wendy Crockett and Ian McPhee already there and working on their routes. Not too long later Merril joined us followed by Mark. It was going to be an IBR19 riders ferry back into the USA!
How do you use your waiting time? Routing of course! Wendy Crockett and Ian McPhee hard at work
We had time while we waited for the US Customs officials, so we swapped notes on our rides to date. Both Wendy and Ian had followed an identical route to us while on the islands, only they'd done it all in one day, ridden through the night to arrive back at the ferry and were using the waiting time to continue routing for the days ahead. Once the Customs official arrived, we attended to answering his questions. His interest was piqued as both we and Ian were aliens (Australians) riding Minnesota-registered bikes. How could that not be more than a coincidence? Our answers apparently reassured him sufficiently, and we were duly processed and cleared for boarding.
Once on board and underway we rechecked our route for the day. Priority number one was to ensure we arrived at the KWICK bonus (worth 23, 591 points) well before the cut off time of 8:00pm, while picking up what bonuses along the way we could. Bonuses WINDY and APE looked attractive due their "relative" closeness to our route to Kennewick but when we rechecked the actual locations of the bonuses versus the electronic waypoint doing both would have us arriving too close to the cut-off time for the KWICK bonus. APE required hiking down into a cave and dealing with other miscellaneous needs such as protecting the cave bats from fungal infections, so this bonus was discarded in favour of WINDY. Decision made we then turned our attention to route options for the return to Greenville, arriving at two possible solutions: stay north and aim for either the Missouri or Mississippi Rivers Combo (or both?) or head south to Utah and the fabulous National Park Bonuses on offer.
Just another ferry ride
About an hour into the ferry ride, there was an announcement about duty free. Not too long later Wendy and then Ian came by, having mistaken the announcement for the arrival readiness, when in fact we still had 30 odd minutes of sailing and therefore sleep time. Bugger! Soon enough we arrived back on US soil and rode off the ferry for a final Customs check on passports, to be waved through. We were on our way! Heading for the WINDY bonus near Mt St Helens, we crossed the Tacoma Narrows bridge. I had great delight in telling Bec about the engineering problems with the original suspension bridge, which to my surprise she had never heard of. This started extensive Google investigations which kept us both entertained well into the day.
Turning off Highway 12, the ride on Road 131 followed by a huge uphill climb on NF99 to the Windy Ridge Viewing area was spectacular! We kept climbing and climbing and climbing. NF99 was not in the best of condition and I was very glad this bonus was a daylight only. The sections along the ridge lines were treacherous with many gravel traps around corners (with no barriers). As we arrived at the viewing area, Benny from Sweden on his rented Harley Davidson was just departing. Waving him farewell we then hiked up the stairs to the Windy Ridge Viewing Platform, where Mt St Helens and Spirit Lake were on display in all their majesty. Well worth the climb! Photo taken we retraced our steps to the bike, wrote up the log and readied ourselves for the ride to Kennewick.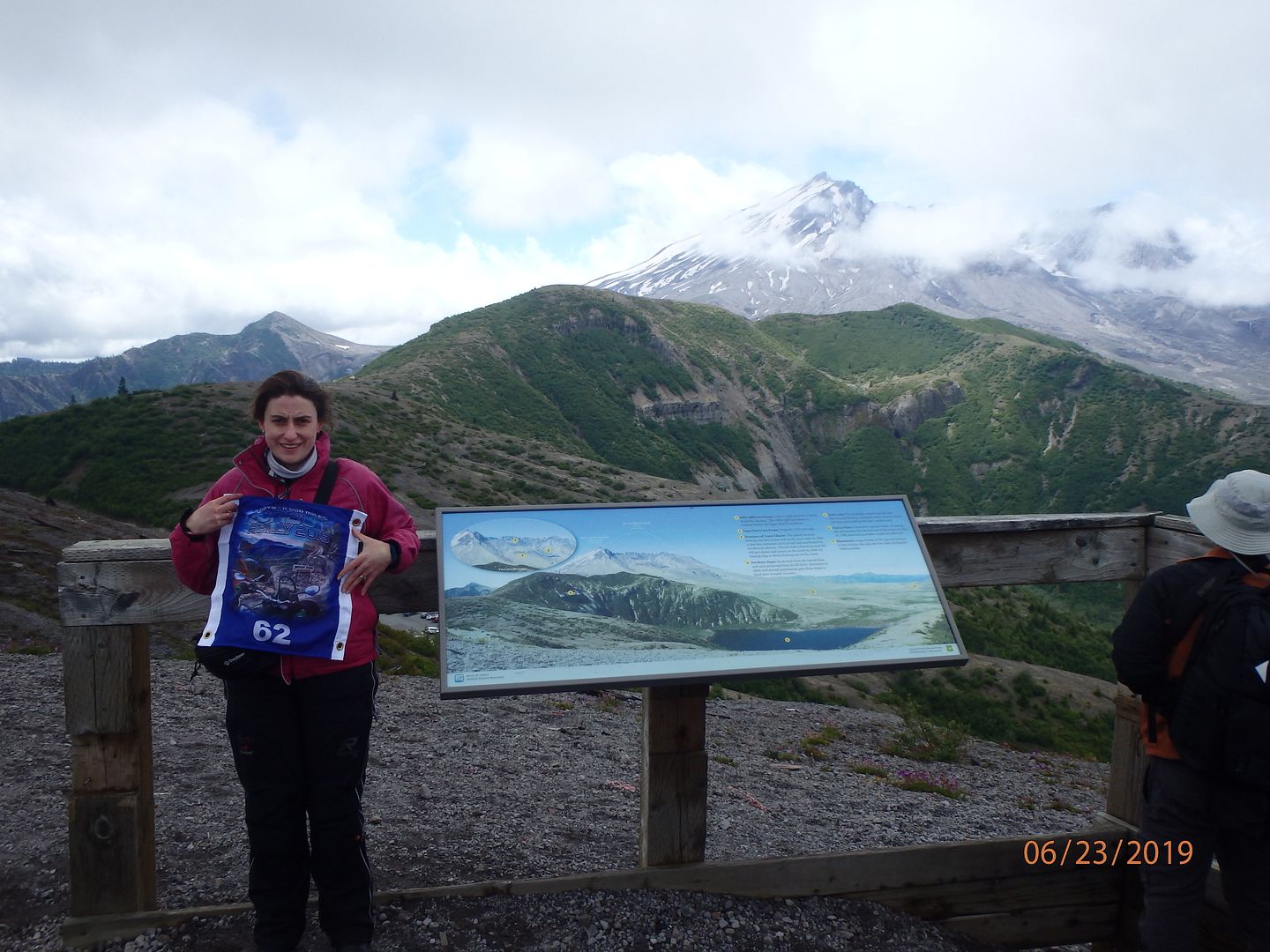 WINDY Bonus (which lived up to its name) Mt St Helens. WOW!
From the parking lot we retraced our route down NF99 to Highway 12 to then head to I82. This was only a 4hr ride and seemed to pass quickly enough without incident and we rode into the Kennewick Hotel about 5:30pm. The first part of the KWICK bonus requirement was to check in with rally staff by no later than 8:00pm which we did straight away. The second part was to check out with rally staff no earlier than 4:00am the following day. This now allowed us the luxury of 9 hrs off the bike to earn 23, 591 points which we needed!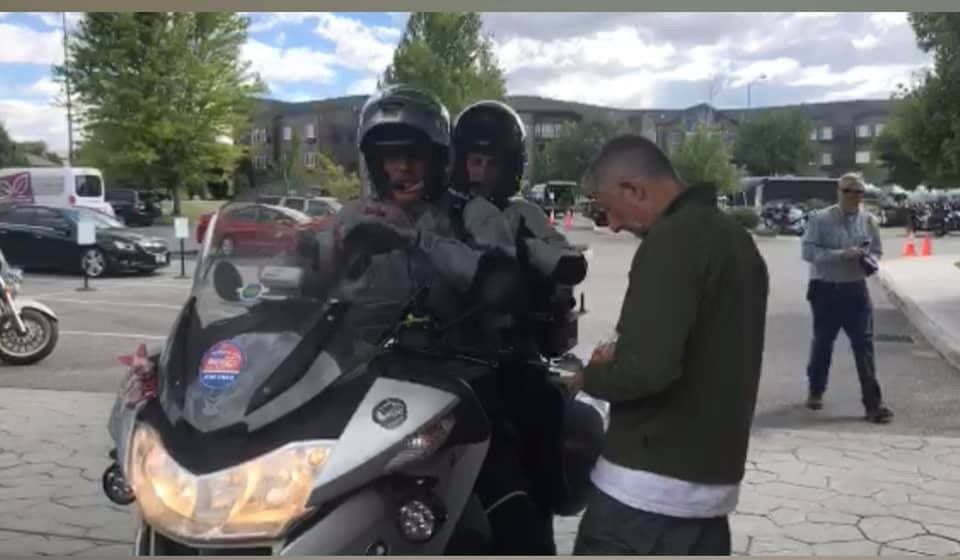 A photo from Leg 1 arrival at Kennewick, but we arrived back again in Kennewick as planned after 3 days of Island Hopping in BC- photo credit to Ira Agins
Once hotel check in was complete, we threw a load of washing on and grabbed some dinner with other riders before retiring to review our day and finalise our route for the ride to Greenville. Our decision to go for WINDY and not include APE had been a wise one, as while we had 2.5 hrs up our sleeve on arrival at Kennewick, it would have been too tight to try for the APE bonus.
After rechecking our points tally for the last three days, we felt a lot better about things as we had stayed on schedule, collected all our bonuses as planned while maximising our points and rest. We can do this!