Back in the Fall, after the Senior Butt Rally, my friend Jack told me he would like to do a ride around Florida, seeing what there is to see. Sounded good to me. The expectation is that I will plan something, and we go do it. Sometime later I made the mistake of going through the BIG ride list to see if there was anything that struck my fancy, and lo and behold, there is a ride called "Lap of Florida". Geez, kill two birds with one stone. As one might expect, Jack's idea of a ride around Florida and mine took different forks in the road.
There are two versions of the Lap of Florida – the generic lap and the Lap of Florida Gold. The ride distance is around 1850 miles and must be completed in under 32 hours for Gold or 44 hours for the basic version. The rides require an average pace similar to the Bun Burner Gold or Saddle Sore 1000. A dated business receipt must be obtained every 350 miles or less AND in the following jurisdictions:
Key West
Marco Island
Perdido Key
Amelia Island
I decided I wanted to do this ride. Since Jack lives on Perdido Key that become my planned start and finish point. It's about 1010 miles driveway to driveway but my plan was to do the trip from Annapolis to Jack's house in two steps – Annapolis to Greenville, SC, and Greenville to Perdido Key. I would leave after breakfast on January 26, hit some BMR bonii on the way to Greenville, and spend the night at the Marriott Courtyard that is across the street from last summer's IBR headquarters (mainly because I got a better rate at the Courtyard). I rolled into the hotel lot at 8PM, read a little, and turned the lights out 10. Forgot to set the alarm so I woke up at 4:25 and was on the road at 5, about 30 minutes later than planned. That meant 30 minutes later getting to Atlanta traffic. Fortunately, traffic in Atlanta has been worse. Survived the rush, hit a few more BMR stops, and got to Jack's about 3. The ride south was cooler than expected and I used my heated liner and gloves almost all the way to Montgomery, AL.
Wednesday morning it was up at 4, and out the door at 4:25. The temperature was about 45 so I wanted to plug in the liner, just in case. Not so fast. Somewhere after Montgomery, when I did not need the heat, I lost my controller. Oh well. 45 is not too bad – I will just gut it out until the sun warms the day. My start receipt was from a gas station 2 miles west of Jack's, almost at the Alabama border. Filled the tank and was ready to roll. Start time 0438.
It's 27 miles from the start point to I-10. It's not too bad as there is no traffic on the streets of Pensacola at this hour. However, warning signs are proclaiming dense fog. 5 miles down I-10 the fog rolls in and the temp drops to 38. I am cold! Eventually I realize I can plug the jacket directly to the battery and have heat, albeit on high all the time. That is better than freezing. Visibility drops to less than 100 feet and I am worrying that this ride may be over before it really gets started. After 50-60 miles, the fog starts to lift and speeds pick up. I get to I-75 and turn south. The idea is to be through Tampa early in the afternoon to avoid rush hour there (I have been bogged down in Tampa during rallies before). Tampa is not a problem. The first required stop is on Marco Island. There are two roads onto the island and my route goes in on one and out on the other. the road to Marco Island, although being a major four and six lane road, has many stop lights and traffic. Today it also has road work and the traffic in the direction opposite from mine is back up over 3 miles. Getting the receipt is easy and my route takes me off the island on the other road. Lots of drivers are aware of the construction I saw on the way in and are also using the second road to escape the island. The back up is almost 4 miles. And since everyone on the road wants to turn left onto US 41 to get back to I-75 traffic crawls. Since there is virtually no inbound traffic on this road, I can use the inbound lane to make long passes, cutting back in when an oncoming car requires it. Finally, I get to US41 and turn right. I am virtually alone for the ride across Florida. I do recognize one bonus from IBR17. It Is getting dark as I get to Homestead and head south towards Key West. Again, construction brings traffic to a crawl. After an eternity traffic flow gets back to normal, I pass through Florida City and head south to Key Largo and the overseas highway. Last March when I did the Key West Krazy it was bumper to bumper from Key Largo to Key West. Today not the case. I am moving along smartly when I notice a motorcycle, then two, in the rear view. The first bike pulls alongside and waves. It's Greg Rice. What is he doing here? Greg pulls off into a gas station and I follow. He and Dan Thaler had been following me on Spot and decided say hello. It was a welcome respite from the ride and greatly appreciated.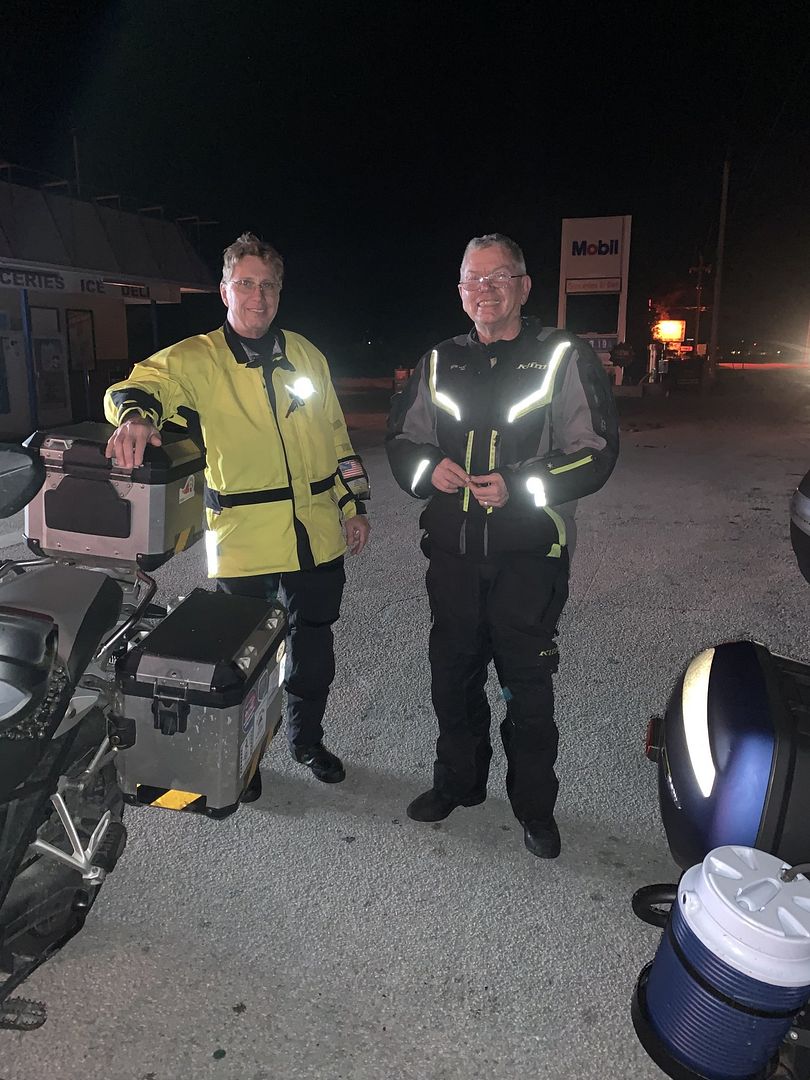 Greg also gave me some advice on avoiding performance awards in the Keys.
Getting to Key West is uneventful. There is a McDonald's about .5 miles after crossing the bridge onto the Key. It was my planned receipt and dinner stop. Amazingly, it took 3 different people to figure out how to get me a receipt. Back on the road and head to Key Largo, where I have a reservation at the Courtyard. 5 hours off the bike and back at it at 5. It is a straightforward ride north on The Florida Turnpike and I-95 to Amelia Island. It also begs the question why I always manage to exit the turnpike at some random spot and then must figure out how to recover. At least this time I got to see the stadium where the Super Bowl was going to be played.
Amelia Island is an island but there is no place that has Amelia Island as the city. As I crossed onto the island I took a picture of the Amelia Island boundary sign and then got my receipt .4 miles up the road at a gas station.
Now it's head for home. The forecast for I-10 is rain all the way to Pensacola. But the weather is moving north and east and somehow I manage to stay out of it except for about 30 minutes as I get close to Pensacola. The longest stretch of the ride is the 27 miles from exit 12 on I-10 to the finish gas stop on Perdido Key. Finish time is 6:18PM.
Final thoughts
Ride was 1830 odometer miles or 1833 GPS miles
Time 37 hours 40 minutes
Even if I had wanted to go for Gold, the construction on Marco Island and Homestead and the fog at the start would have made it very difficult.
A fun ride.
Last edited: