Nevertire Nic.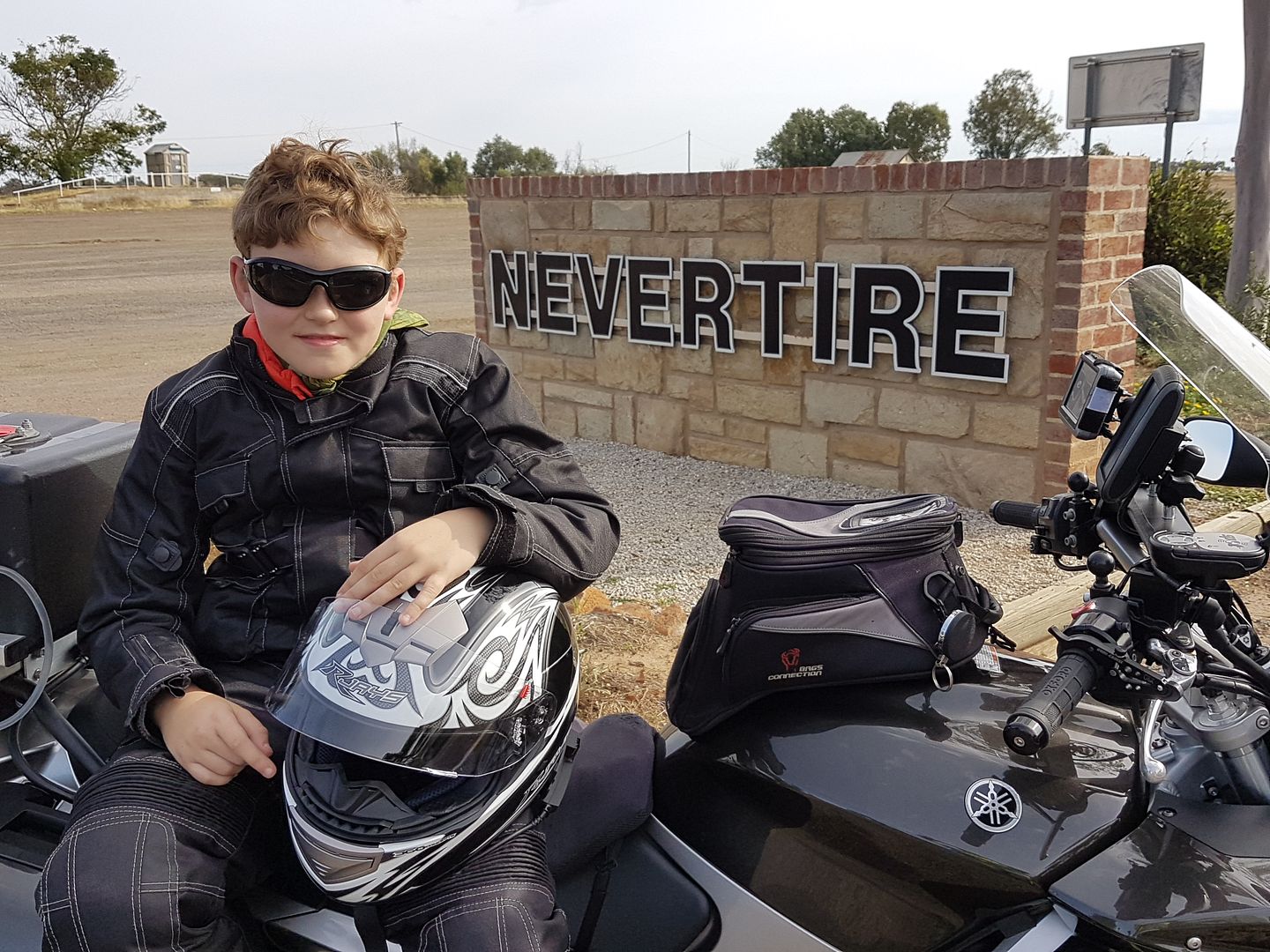 Some of you will recognise this young fella, having met him chatting with Ethan at Urunga during "Ethan's Heart Ride SS1600K" recently.
Meeting Ethan was the catalyst for Nic to step up in his LD riding career and have a crack at a SS1600K. We'd been working on this for quite a while and despite limited bike time, Nic has been putting in the hard work sitting down. Eating, drinking, watching TV, doing homework, playing computer games on the same chair – not allowed to get off the chair for 2 hours minimum. Not much, but not easy for a 9 year old and the best way we could think of to simulate the requirements for a pillion when the rider lives 4 hours away.
That and growing. Long distance riders have as part of the preparation philosophy the mantra to never change anything immediately before a ride. Nic has outgrown his dirtbike helmet. We headed off to the bike shop the afternoon beforehand and picked him up a new lid – a road one this time – and fitted up the Scala comms the night before the ride. Warmer gloves, too because they seemed a likely requirement given the pre-dawn leave and post-midnight return as laid out in the plan. And new boots, on account of the growing.
He'd never heard of Nevertire, until we planned the ride. The adults in the bike shops hadn't either.
Bike shop guy: Where are you guys off to?
Nic: Nevertire.
BSG: Nevertire? Where's that?
Nic: Its at the end of the Oxley Highway.
BSG: Near Port Macquarie?
OX: No, mate, the other end. In the middle of the state. We're riding there and back tomorrow.
BSG: How many days are you going for?
OX: We're riding from Urunga to Nevertire and back here to the BP around the corner in one day. Its 1600 kays.
BSG: But how many days are you riding for?
Later Nic said to me "He didn't really get it uncle Pete".
But we do.
Bike packed and alarms set for 03:50hr, a drink for breakfast and down to the local Banana Coast Credit Union ATM in Urunga for a start docket as it is the only place available in town. (04:26am, odo 69326km, GPS 0km).
Out on to the Pacific Highway and heading south, a hint of fog here and there and a handful of trucks to keep us company on the seemingly endless roadworks. We'd had a quick discussion about 'spelling' our way through the day and in short time made the first stop at Valla Beach.
__V______ ___
Then a quick remount and back into the remaining night. The planned route called for only a few corners and those were to keep the sun at our backs. Port Macquarie BP Gateway – the Donut to its friends – for fuel (06:06am, 130km, 24.24L to fill the front and have 10L in the rear aux tank). So a turn here and 15kms later another pic stop in Wauchope:
__V__T___ ___
And soon after Ellenborough in the last of the fog:
_EV__T___ ___
We're riding up the Ox of course. I had hoped that my brother Jason would join us today for a ride on my old/ his new Blackbird, but a 600km loop is a big day so we'll leave that for another time. A shame really, as the sun was rising and a perfect morning emerged as we started into the glorious dry, empty and relentless twisties of the middle section. I love this road…
Lots of fun through here especially with no traffic around. It was a highlight of the ride for me and only the second time carrying a pillion in about a million laps I've done on this road. We punched out the far side of the bends into the bright open Yarrowich Valley, having picked up a letter on the way out:
_EVE_T___ ___
It really is motorcycling heaven up here. Wide open spaces and varied curves and elevation changes, lovely vistas and mainly letterboxes to mark the progress for the next 40 minutes or so. Rolled in to town under 50, chucked a U-turn and bagged a pic and we were off again:
_EVE_TI__ ___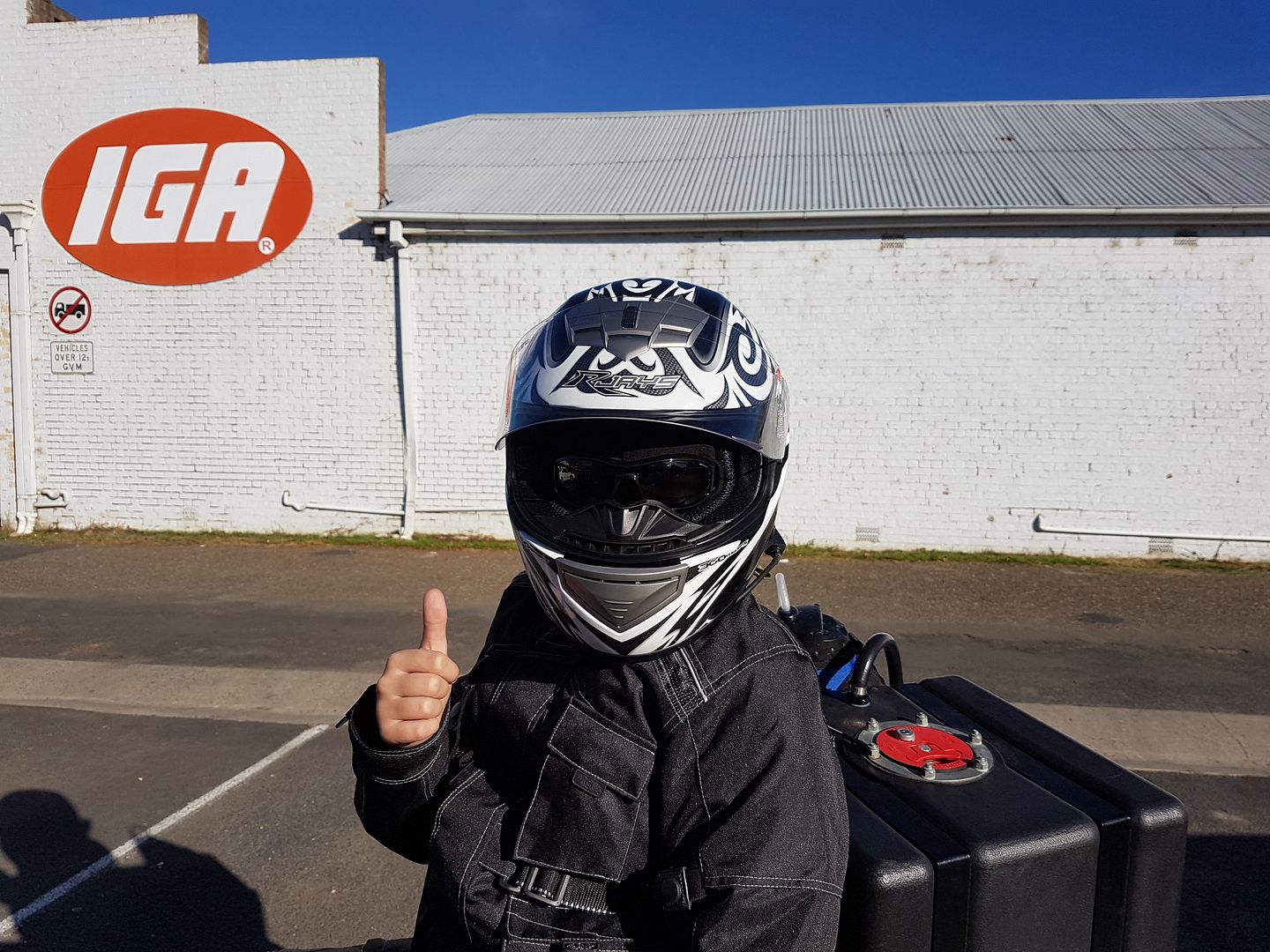 Nic and I were both wired for sound with the Scala Cardo system, but frankly I don't rate it. Its Bluetooth and handy, crystal clear and stereo when stationary, but the performance drops to terrible on the run. I'm used to the wired Starcom system, but hadn't had the chance to wire up Nic's new helmet so stayed with the Scala we've used on shorter rides before. Its main benefit I think is chatting when one or other is off the bike. Anyway, it was fitted but we'd opted to conserve batteries for the run home so made do with the usual yelling, hand signals and well timed thumps to the leg or shoulder to tap out the preset code. Nic was travelling well and having a ball.
Onward west and through the much underrated Bendemeer bends and out onto the shared section of the Ox. Shared as it is the same stretch of bitumen forming the New England Highway round here. Down through Moonbi Range before taking the zig zag back way through to Manilla (09:50am, 426km, 27.93L filled both tanks). Instead of taking TigerBill's preferred gravel Appleby Lane, we cut west from further north, sliding past Lake Keepit Dam and the 4x4s and caravans it was attracting that morning. Back on to the Oxley Highway and the start of the roadkill for the day with 3 black piggies all in a row. Pigs are smart. I don't see many killed this way in my travels, and I can only guess that some big vehicle met with a family on the run one night…