"Y" a Postie?
Ages ago I bought a Postie bike for my wife and toyed with the thought of an IBA ride on it. But after riding my 250cc Derbi scooter Michelle ditched the Postie and kept the scooter so we sold the postie – made a profit, too.
Fast forward a couple of years and I started thinking of a little bike challenge again. My recollection of the first postie was that it struggled to reach, let alone hold the required 67kmh that would be needed for a SS1600K. Around the same time Wombattle cooked up the idea of a group ride on little singles, so Frans and I bought Yamaha YZF-R15s and joined JP on Wom's TTR-250 dirt bike and Wom himself on his KLR650. We had a ball on that ride.
Later Wombattle rode his new CBR125 for a SS1600 and the challenge was on. A week or two after that ride Wombattle and I set off to have a crack at a SS2000K but unfortunately his CBR125 blew up. The YZF-R15 completed the task of riding from Newcastle to Melbourne and back easily. So easily I said to Skidoooo that I thought I could do a 50CC from Newcastle to Perth on it – easy. I made no plans to, but then Karl bought himself an R15 and did a cracker of a ride to complete the 50CC.
With my Iron Butt Rally USA FJR given away and my Aussie training FJR written off when I hit a roo I had a hole in the shed. The Super Tenere is fully farkled so I had nothing to tinker with.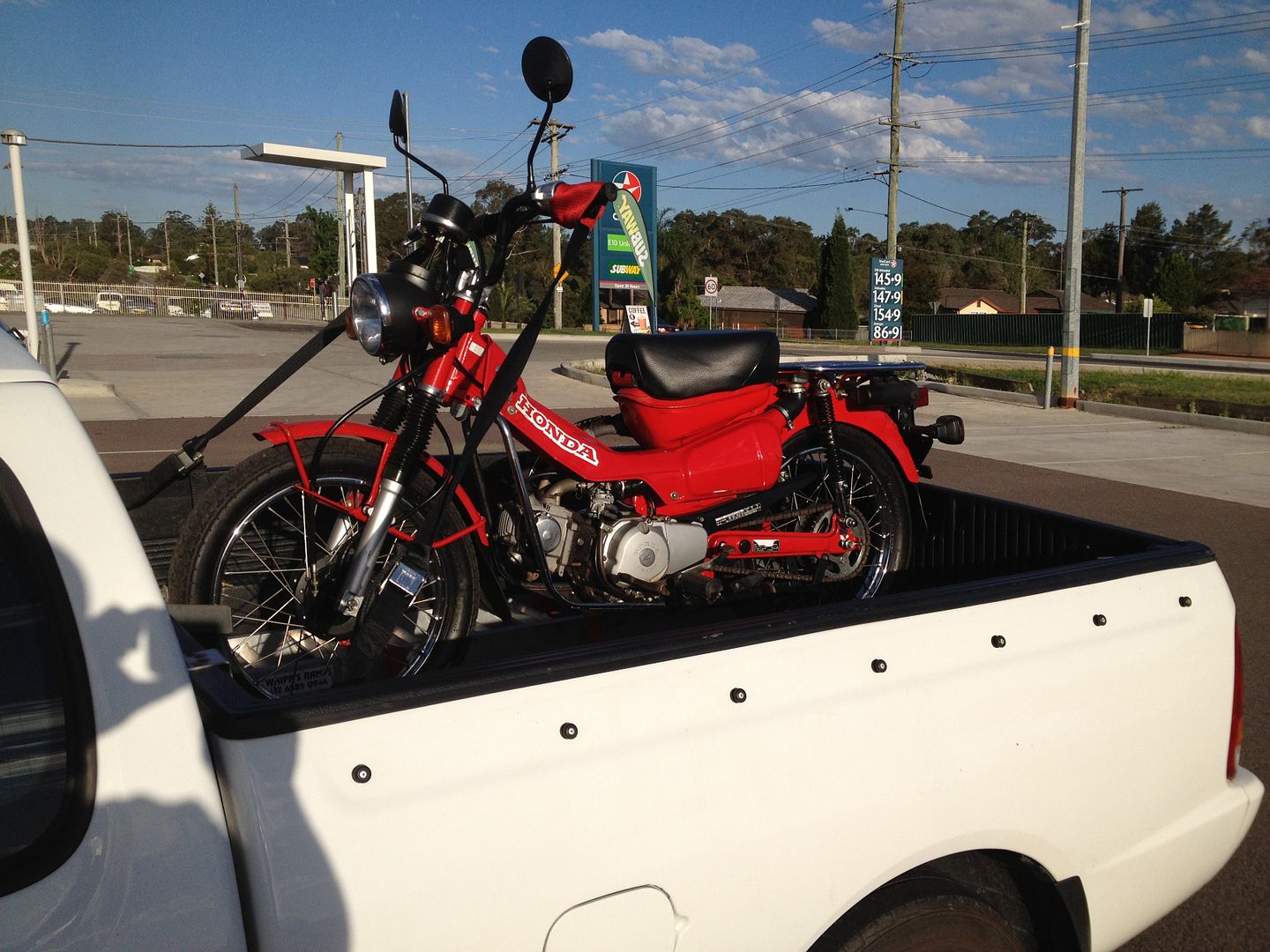 I bought a postie.
In stock form I don't think it could be ridden 1600km in a day. The top speed remains barely adequate and does not allow for an OA of 67+ without sufficient acceleration and overtaking but with a whole heap of fuel stops with the sub-five litre tank.
This bike in particular seemed in good condition. I didn't do any serious checking though. Didn't touch the engine, check compression or any of those things. It started and ran though...
Let the farkling begin. Lights, an auxiliary fuel cell and some mods to get a bit more length in the legs. I had the first 2 sitting in my shed in the form of Twisted Throttle Denali LEDs and my old Blackbird 19litre JAZ tank. I contacted OneTen motorcycles in QLD and placed my order:
- bigger carby
- pod air filter
- exhaust system
- 16 tooth front sprocket and new chain.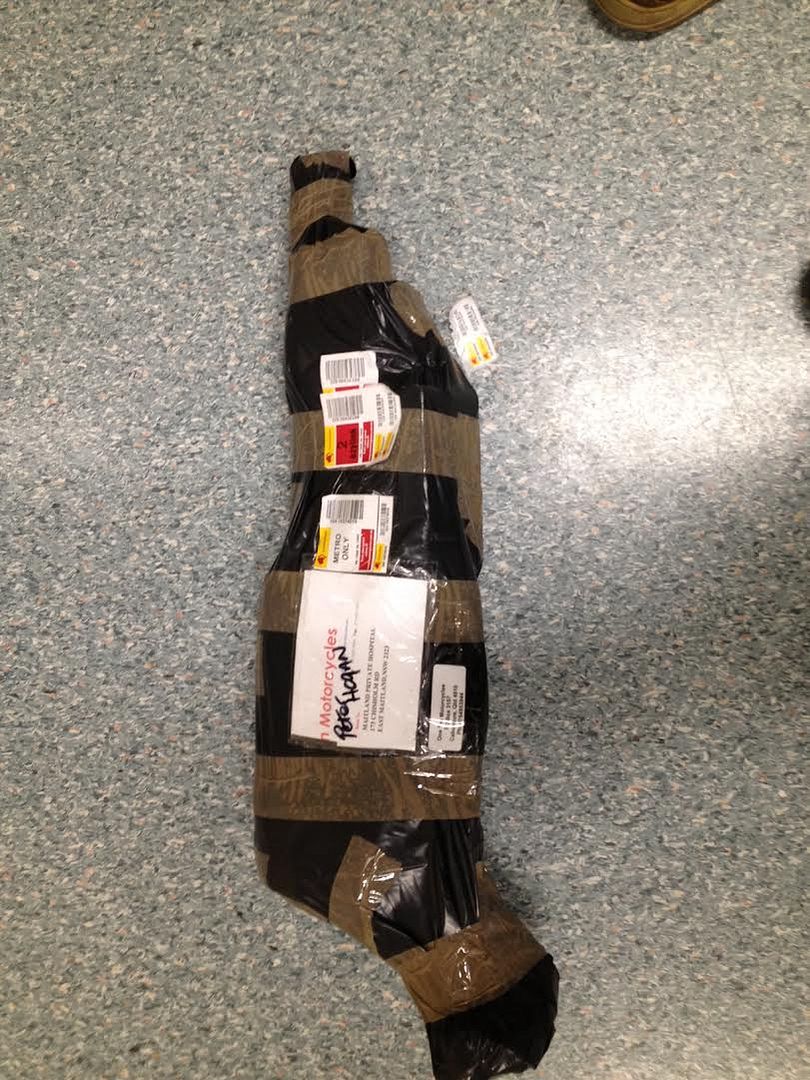 Plus a new battery from Cuddles just make sure there was enough spark.
Most of the mods were straight forward but the LED wiring had me stumped. I've wired them up on a bunch of bikes but I just could not get them to work. I put in a call to TigerBill and he came around with a meter. It still made no sense. The postie bike needs no battery. The battery seems to only exist to keep the blinkers on when the engine is turned off. Nothing else seems to run off it directly. The 'bike' side of the wiring remained a mystery. There are 3 wires heading into the headlight bulb. The book says earth/ high/ low beam. The voltages across all points never gave a true indication of just what each wire was supposed to do. It became just academic because all I was trying to do was trigger the LEDs using the high beam wire and switch and it would not work. Instead we just ran the LEDs straight from the battery, and ran the hot wire and the trigger in the loom also back to the battery red side. A manual switch and I had spots.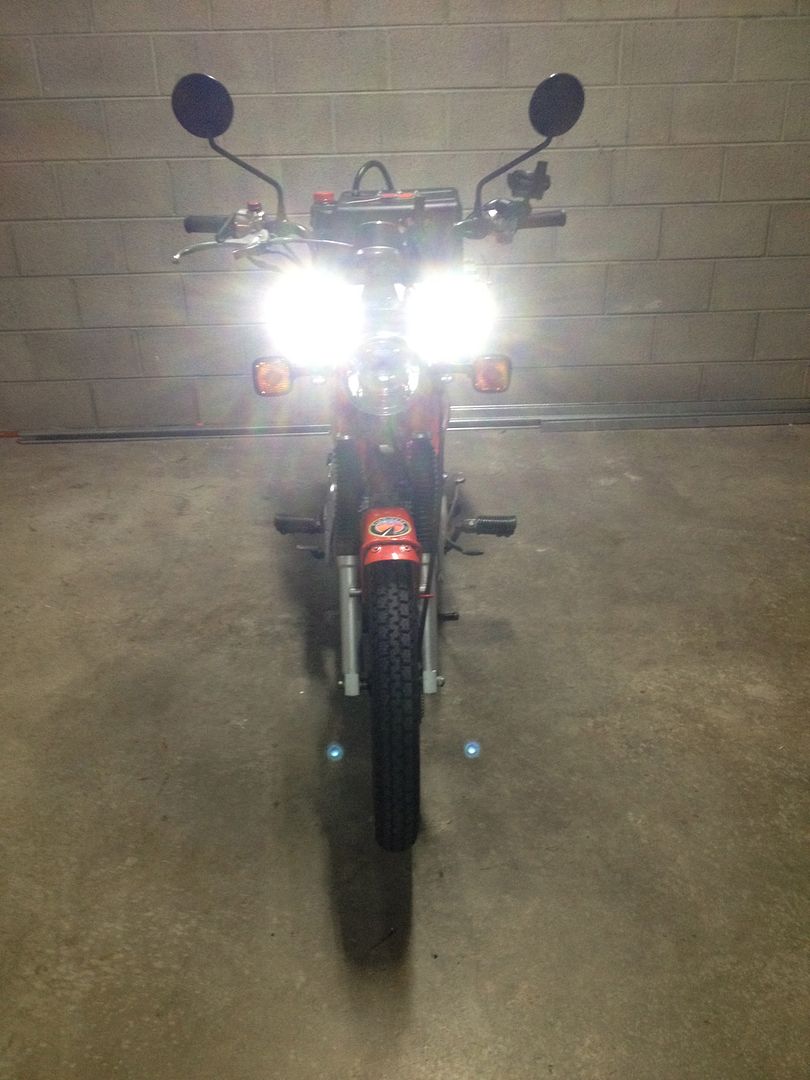 The battery, carby, pod, 16 tooth front, chain and exhaust were simply bolt on affairs. The auxiliary tank took a bit more work. In the end I just bolted the tank to the rear rack with some aluminium angle, used the existing aux plumbing and added a dry break to the line. The aux fed in to the main or 'ON' inlet of the carby, I fed the bike's 'Reserve' line into the carby reserve and blanked off the bike's 'Main' line. I put an extra tap on the bike reserve line and had that turned off to prevent the fuel from the aux overflowing the bike tank.
Once it was back together it was time for a test ride. I'd only ever ridden it once. Thankfully Skidoooo was off on another mad ride toward Perth on the R15, so TigerBill, Wombattle and I got on our bikes dressed and loaded up like we were heading to Perth and went to witness Karl's start. He didn't bat an eyelid and wasn't falling for it and left us in his dust after saying farewell in Newcastle.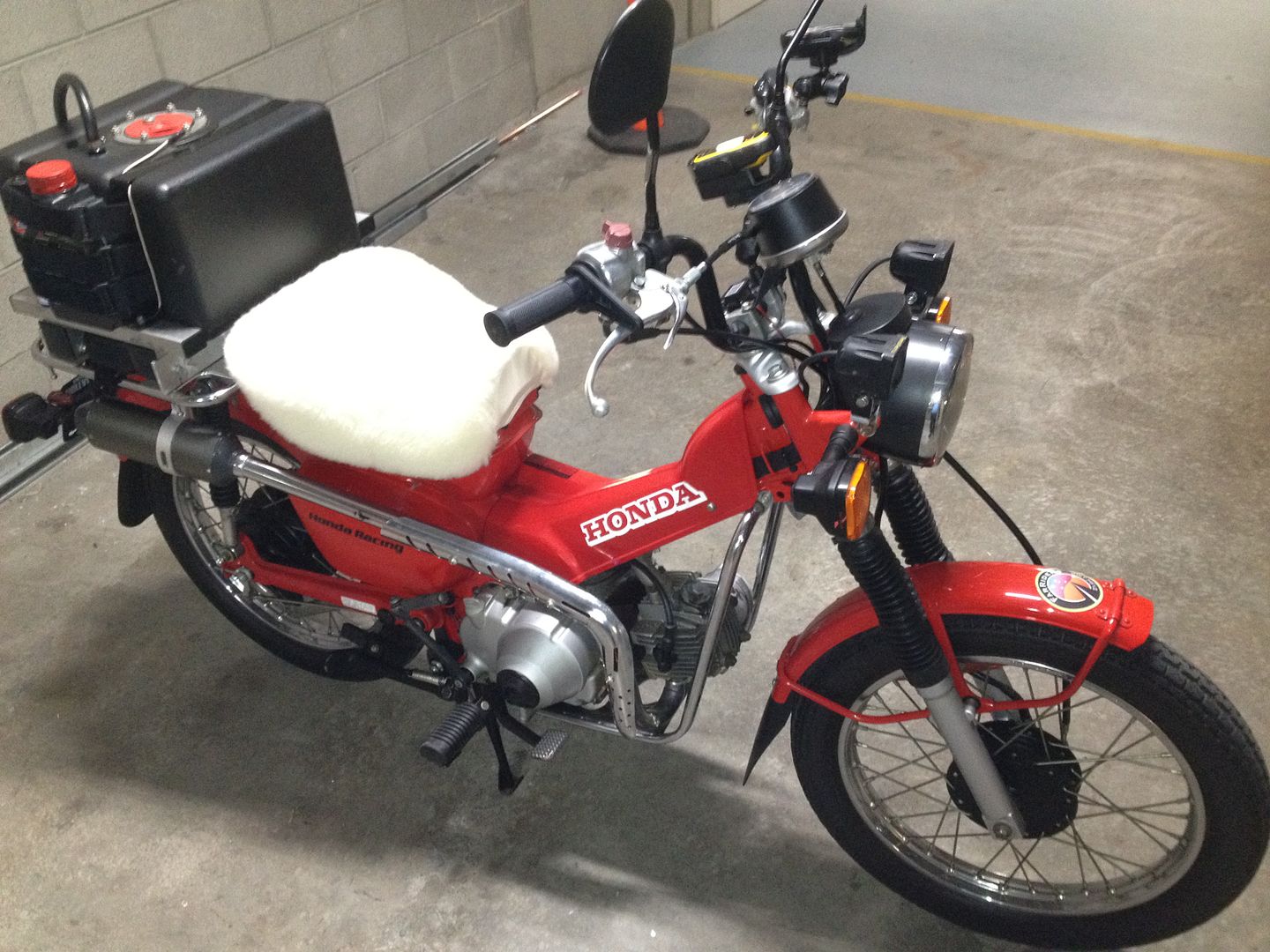 The test went ok for 60km or so. A week or so later TigerBill and I rode a 200km loop through the night and the bike was ready.
However I was not. Holidays in Tassie and a bit of a plan to do a group ride when I got back. After the night time test I assessed that the safest ride would be USA Interstate style. Despite only riding at 80 in the 110s, the dual lanes of the M1 and Hume Highway at least gave the rest of the traffic easy overtaking .
Checking my schedule and checking the weather I brought the ride forward a few days (cutting out a busy TigerBill) and ditched the plans to ride into Victoria's 44C heatwave. Instead, I mapped out a route that would not have me too far from home (Wombattle blew up his CBR125 500km from home before) and still provide decent roads where I could minimise being rear-ended.
"Y" – a postie can be a moving roadblock out there.
Wombattle signed up for the ride. Mad. 1600Km would take almost 24 hours and riding with me meant sitting on 80 if he was lucky. I made a simple plan. Based on an OA of 70 and using familiar roads it maximized my chance of success. We made the simple ground rules that because I was basically going to be stuck between 65 and 80 all day, Craig would ride behind me in formation but free to go ahead or stop longer – whatever – safe in the knowledge he could always catch up. Also if time was running short near the end it was fair for him to get to the finish and complete the ride on time.
Starting at Hexham TigerBill witnessed the start at 03:00 and we headed south down the M1. With a full aux tank I planned as flat a start as possible and we slipped into the stream of trucks on the freeway. Pretty uneventful, I was just settling in to get a feel for the bike and it was time to turn around just north of Gosford. A quick pic of the Ourimbah Post Office when I finally found the right side street, a bit of mucking around to get into the 24 hour servo for a drink docket (no fuel required – even wringing its neck the postie got over 33km/L so had a range of close to 800km). OA about 72 and now heading back north, past Hexham again and a long way to go.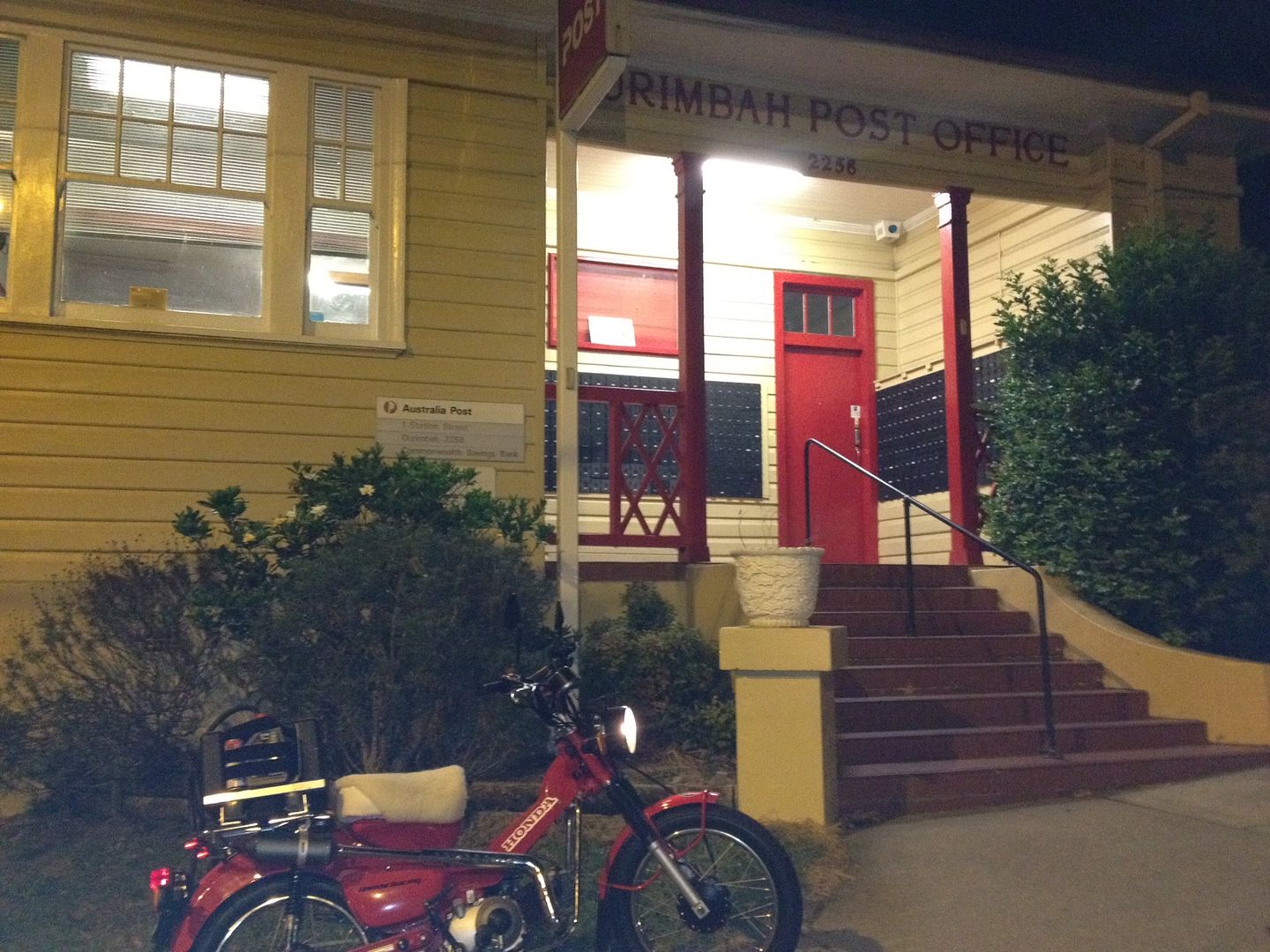 Left turn at the Port Macquarie Donut we rolled in to Wauchope for a corner docket with an OA of 75.5 and I was very pleased with myself (08:12 and 386km). I also realised that heading up the Oxley Highway was a pretty dumb move on such a tight run but it was a glorious morning for a ride up that way. Not too much traffic but limited passing opportunities made it a bit precarious.
Wombattle slipped ahead a snapped a pic as I came past. Unfortunately I didn't have my knee down on that particular corner, but the postie was performing like a champ. I even overtook a couple of cars on the way through, though they got me again before Yarrowitch.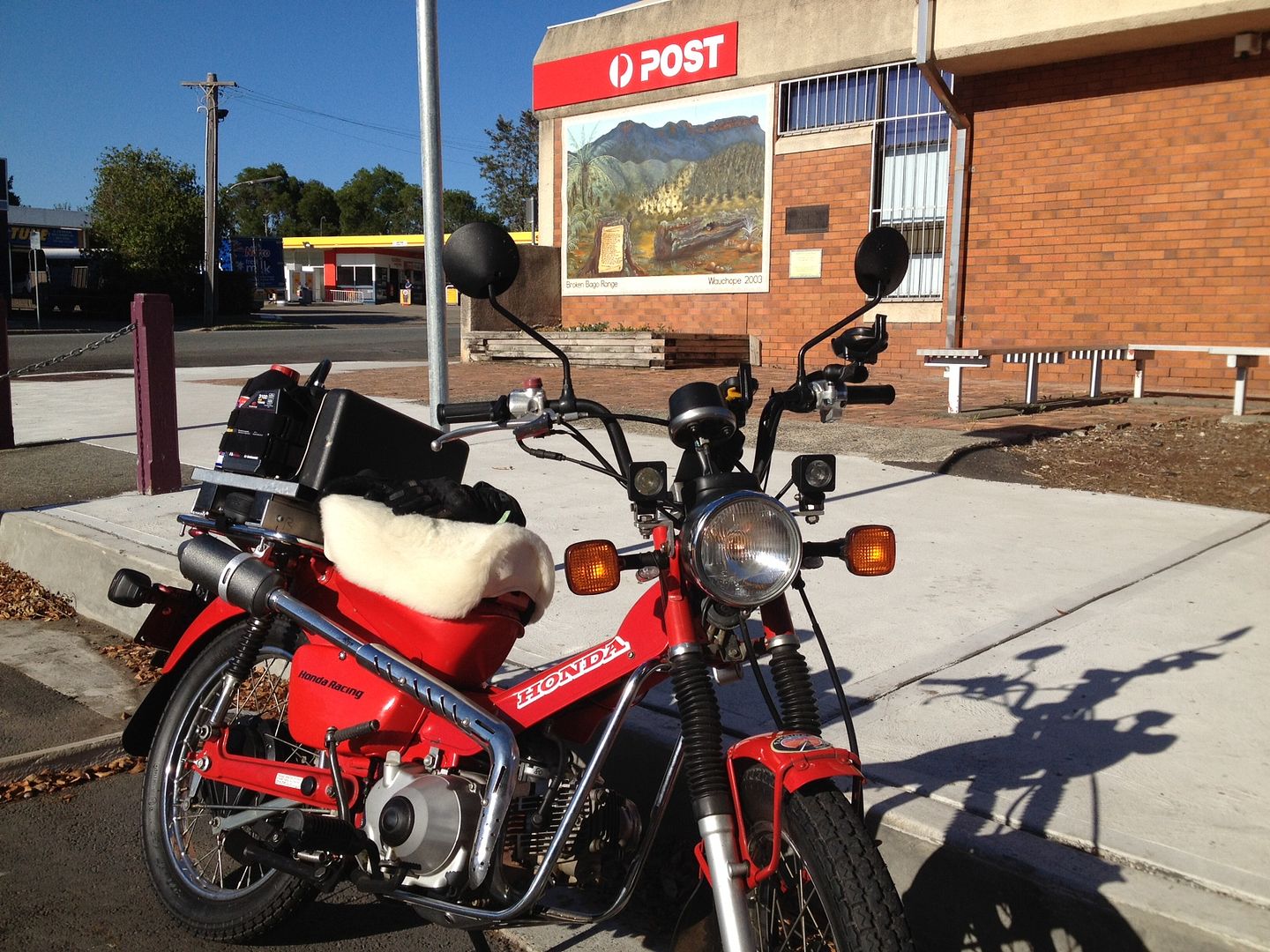 The run over the sweepers to the west saw the bike struggle. 3rd gear for much of the time, those very long hills were a killer. Topped up in town (17 litres, 549km 10:37), Wombattle had a personal care stop and rode around the town a bit
I grabbed a pic at the post office and headed back east with the OA down to about 72.5. Copped a slow car at the beginning of the twisties and could not shake it until well past Gingers. Wombattle cranked up the KLR and made the most of the good conditions. I used the lengthy roadworks stops to advantage by lubing the chain and sweet talking my way to the front of the lines. Even a postie is quicker than most of the 4 or 18 wheel traffic through the Mount Seaview bends, so nobody caught me until the bottom of the hill. I sailed past Wombattle standing outside the Long Flat Pub and soon he was back on my tail. Another corner docket in Wauchope (712km 13:19) and we turned south again on the Pacific Highway with the OA down to 69.9.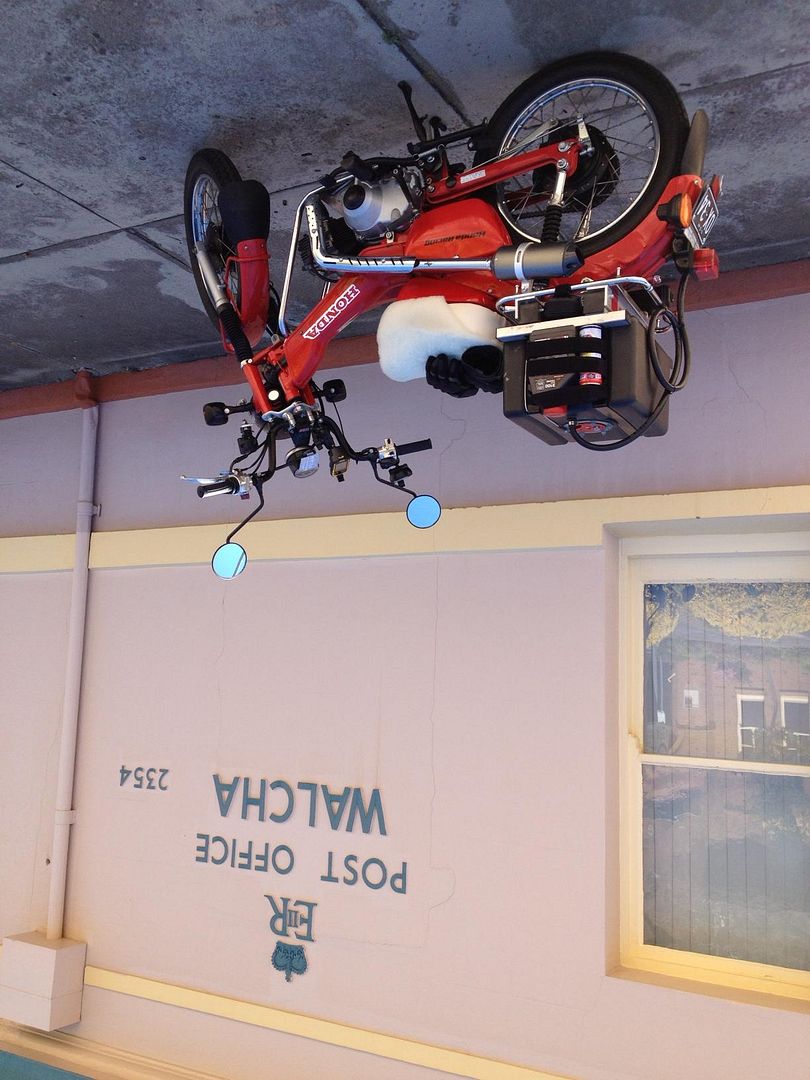 Approaching Taree and who was to pull up along side but Milady Her Majesty Lady Cuddles sporting a GoPro sprouting from the 4x4 carriage driven by none other than Lord Cuddles himself. It was a real hoot as they played leap frog stopping to take pics as we flew past at at least 80km/h. Great stuff.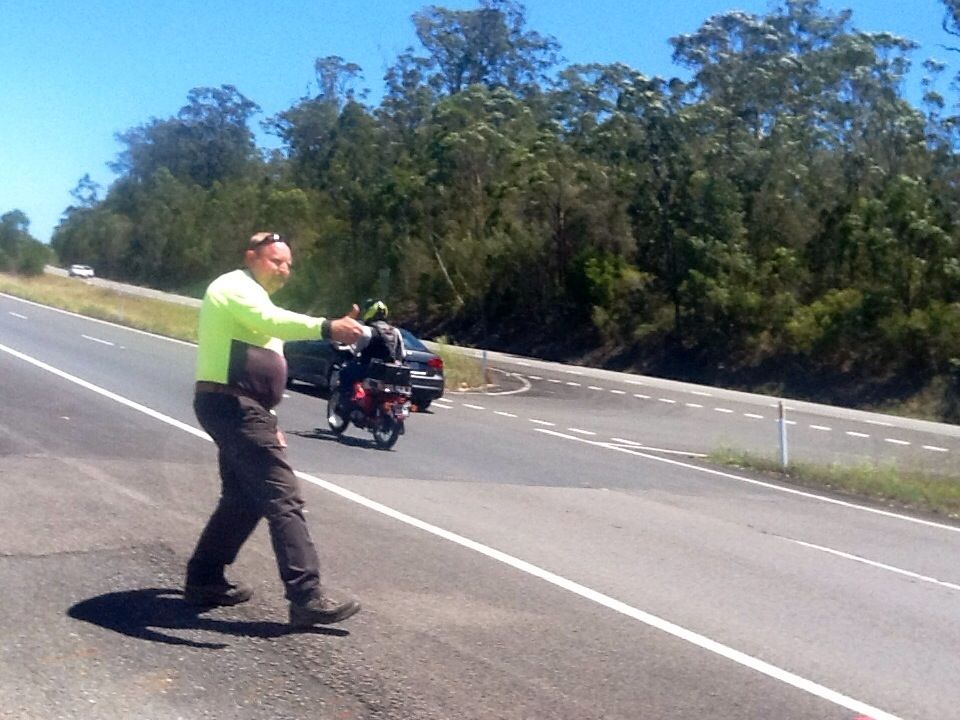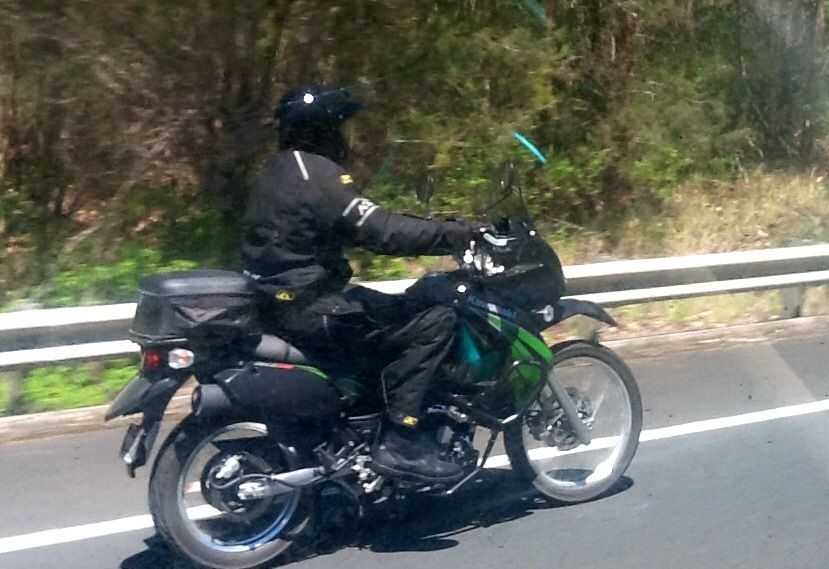 Getting hotter and windy as we headed toward Newcastle, I spied the increased traffic and an ominous pair of new flashing lights telling Sydney bound drivers to take both lanes on the Hexham Bridge. I didn't like the thought of getting stuck in a traffic jam, ran the numbers and signaled to Wombattle to stop in Heatherbrae 8 km north of Hexham (935km 16:09) a good leg and OA back up to 71 or so. I checked and lubed the chain and put in 50 or so ml of oil into the bike, though it hadn't seemed to have used any, grabbed a drink and docket and turned around heading back north. TigerBill had ventured out and followed us for a bit to make sure the change in plans was all ok.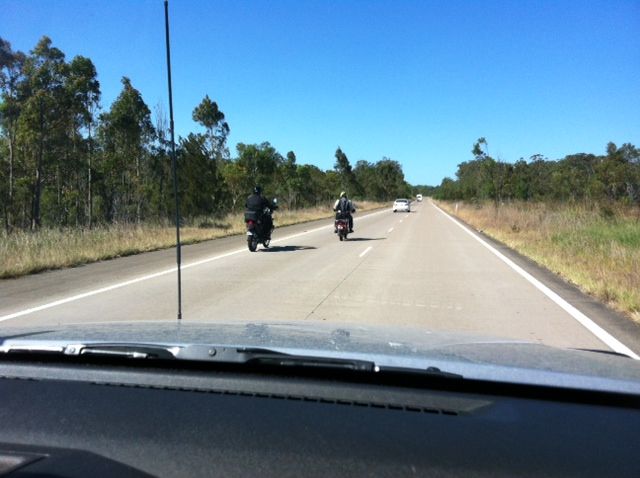 The wind I thought was sideways had really been more tail. Now it was more headwind. Hard work this leg. A bit hot and knuckled down to try and maintain pace, my butt was getting sore for the first time on a ride in years. To sit on it, the postie is comfy. The bars are a bit close, but the seat to peg is fine. I even had the fluffy white seat cover that my Aussie Post employed brother gave me as a present. What it didn't have was room to move. The first time I stood up on the pegs the whole shebang wobbled all over the place. I figured out I had to lean back to grab the front of the seat with my knees to get any stability at all. Stretching was a bit hard in that position but I had to make do. I'd fitted an el cheapo throttle gizmo before the ride and it worked a treat, so at least I could let go of the right bar at will.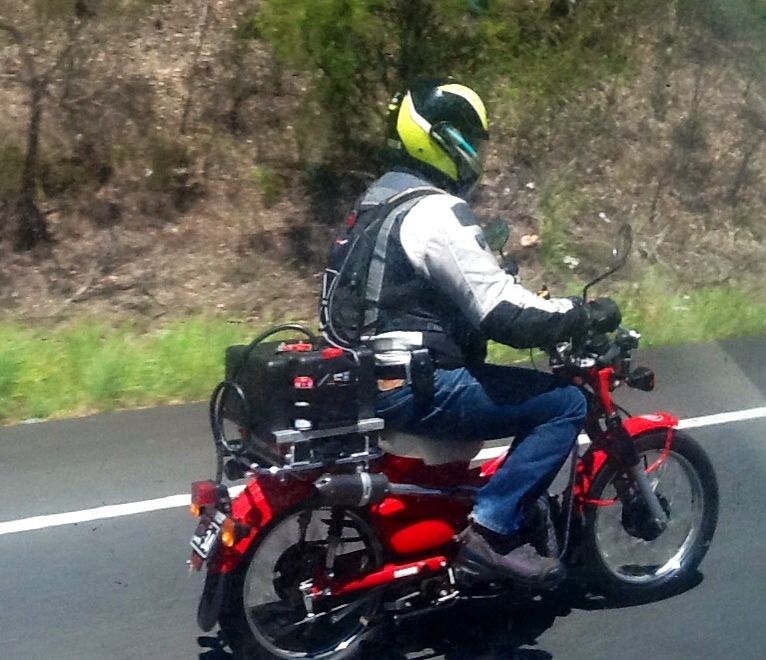 Quick stop at Nabiac for fuel and break (1055km 18:00hr 14.97 Litres), and back into it again. I had to make an unscheduled stop as I'd cross threaded my Camel Bak lid and although it felt nice running down my back I didn't want the whole lot of blue Gatorade to disappear that way. Another stop half an hour or so for us to change glasses, turn on my 6 extra pushbike lights and get ready for the dark.
And the trucks. The road north of the Port Macquarie Donut has the odd overtaking lane, but from here I'd lost the luxury of divided highway. Wombattle settled in and maintained his presence as a headlight off my left hip and into the dark we went. The pair of 10 watters did a good job. Low beam was a joke though, so sometimes I felt compelled to keep the spots on where it didn't seem too bad. Right hand bends for a start.
Made it to the most northerly point – Urunga. (1279km 21:07hr). Just a drink docket and I was gone. Wombattle topped up and phoned home and would catch up. A big bug cloud and I had to make an unscheduled pit-stop at Macksville, riding through the pumps to the squeegee bucket, paper toweled and go.
It took Wom a while to catch me. With the dark came cooler conditions and maybe some tail wind again andI was making good time. The slog north had seen the OA drooping, but now it was slowly climbing again. From my ride plan I was 14 minutes ahead at Urunga and apart from blowing up the ride was pretty safe, time wise.
Wombattle caught me up and from here on in it was just the drone of the pipe and the two of us throwing offset LED light into the night. We covered the last 5 hours without communicating at all. Just riding in sync.
Just north of Heatherbrae (to make sure, maybe?) we passed TigerBill in his ute by the side of the road. Madness. A quick toot of the horns and we made a little convoy. Over the Hexham bridge, no traffic around, U turn to the servo rolled to a stop on Wombattle's 20th IBA ride, a big smile and a handshake and it was done (1630km, 02:06, OA 70.9kmh)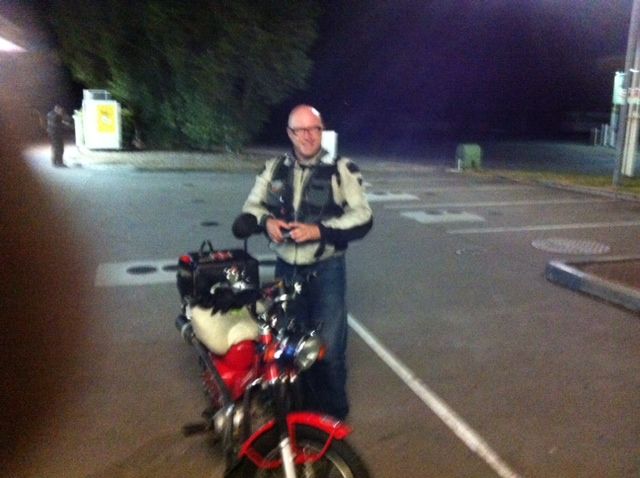 Not quite. Gotta get a docket. The servo attendant Amanda was waiting inside – "you made it!" – having not really believed us the night before that we'd be back in under 24 hours having ridden over 1600km.
"Y"?
We had a ball.