It was pretty short notice, but I realised I had some time off to go for a ride for four days - umm, starting tomorrow. A quick check of the weather, packed a pannier liner with some gear, off to the shed for a bit of eeny-meeny-miny-moe with my stable of bikes and lo and behold its the Valkyrie. Tops. I buckled a 20litre jerry can onto the back and went to bed for some shut-eye.
On the road with a pic across from my place:
Then a start docket at Newcastle West at 04:22hr AEST (22088km odo, 0km on the GPS), a slurp of iced coffee and I was off into the dark heading due west. This time of the morning there is a steady flow of coal miners in HiLuxes for company for a couple of hours, but otherwise not much else. I had heated grips, a heated vest plugged in and for good measure I'd bolted on a spare FJR1300 screen to help keep some of the cold at bay. It was pretty cold early on, too. I even started to fog my visor despite having a pinlock insert in use. I had to pull over, remove the visor and reseat the pinlock because with the fog trapped inside it was terrible for visibility.
A quick pause at Mendooran to pour in 20 litres and soon enough things were feeling routine as I stopped for a pic for Nevertire Nic: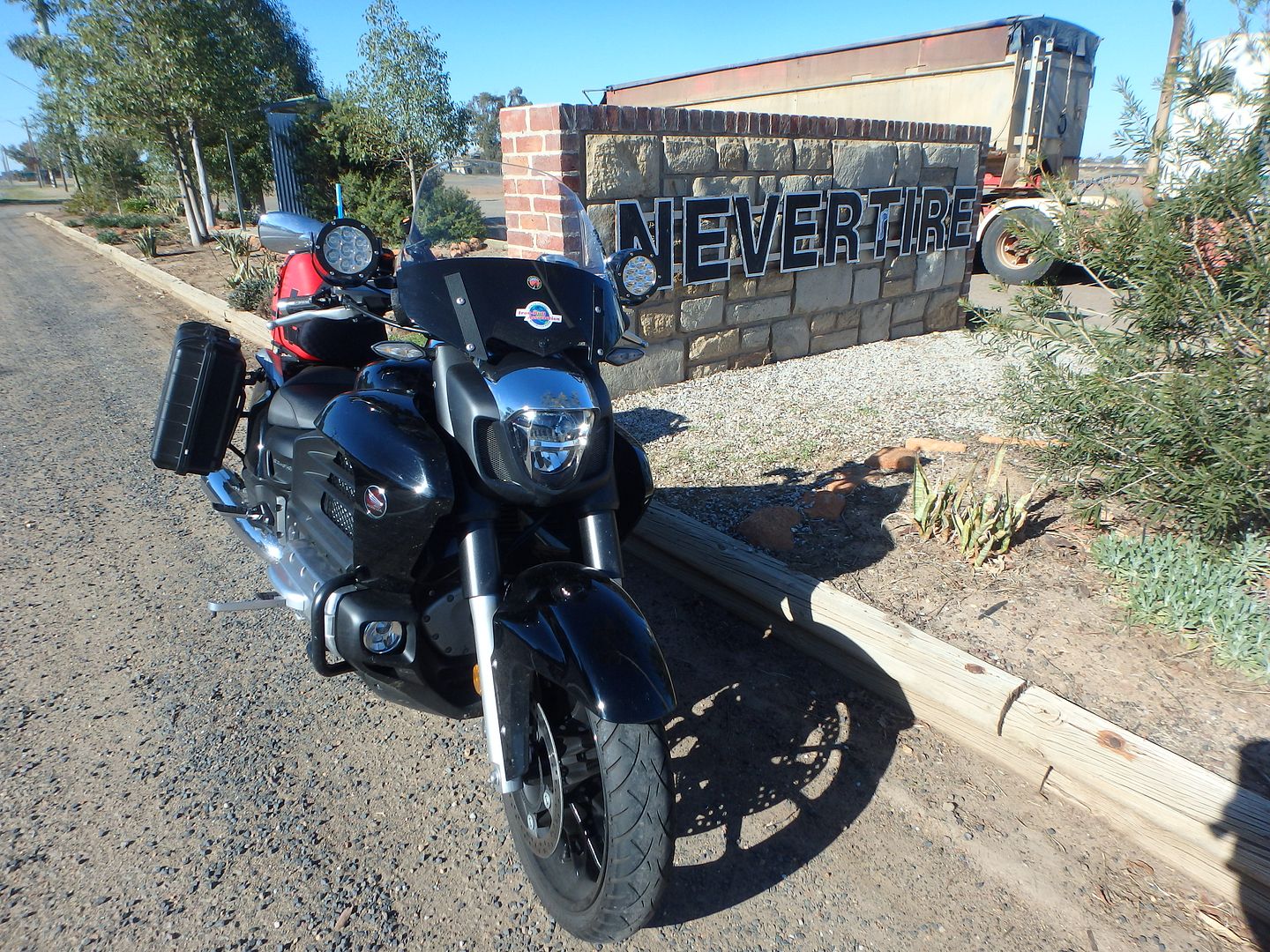 .
First proper fuel stop at Nyngan (11:14hr, 544km, 31.57L)
Then I just settled in to the wide open spaces and 110km/h zones of the Barrier Highway, the Valkyrie just humming along. Another jerry can stop somewhere or other, then Broken Hill just before dark (1742hr, 1134km, 36.0L).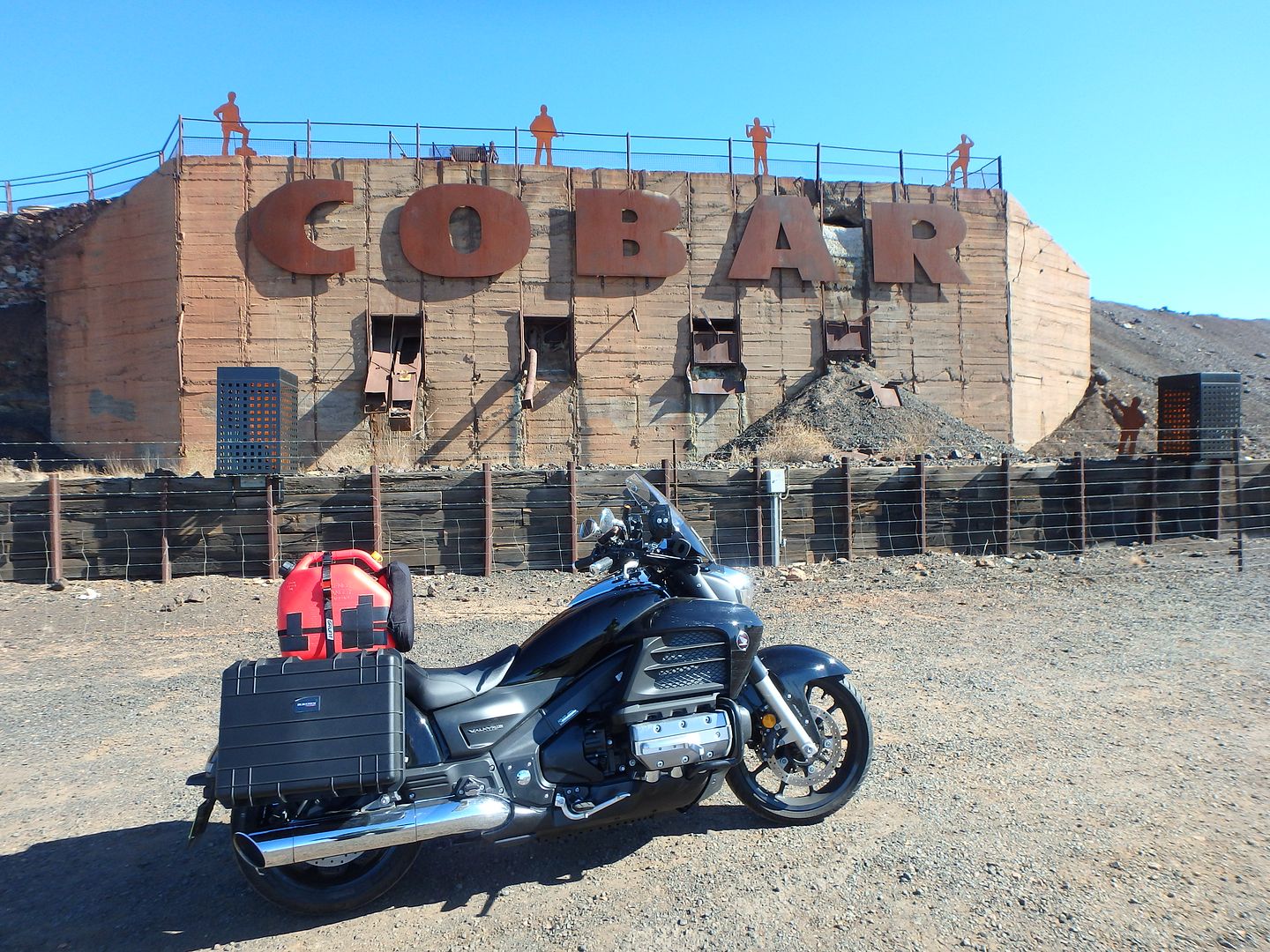 There had been the usual butcher shop array of roadkill between Wilcannia and the Hill and the carcasses continued well into South Australia. I stopped for a leak in Yunta and continued with the fluids theme topping up the tank with 98. I'd fitted a torch on a RAM mount pointing directly down into the filler and I must say it came in handy when wrestling with the 'Airhawked' 20 litre jerry can in the dark.
I passed through Horrocks and had fun in the bends, then with a nod to Davo I was soon enough in Port Augusta (22:47hr AEST, 1543km, 25.18L). It was cold again here and just above zero. I broke my rules and stopped long enough for a hot coffee in the warm servo lounge and pulled my helmet apart again because of fogging. I noticed that there was a huge gap between the pinlock and the visor proper. Is it any wonder it fogged up? I've never noticed that before, but a twist of one of the pins and a more careful placement and it sat down well enough.
At the western end of town I made a right turn onto the Stuart Highway, the only road I'd see for the next 2700km and settled in for a long night of kangaroo spotting. Thankfully there weren't many about. The odd tap of the brakes but no close calls. Just me and a handful of roadtrains out, time passed easily enough and I reached Coober Pedy at 0523hr (2086km, 28.21L). I'd planned to have a longer break here and maybe a nap, but the coffee prevented that. Another hundred kays or so later I did pull over though, into a nice wide open rest area and I could make out a picnic shed in the moonlight as a bonus. Weird shed though. I'd grabbed my little poncho/groundsheet and wandered in to the 'shed' only to find that it only had a gravel floor, no bench and the walls on the shed started a metre or so off the ground.
Basically I was outside inside. Never mind, I slept easily enough and woke to a typically wiiiide outback dawn: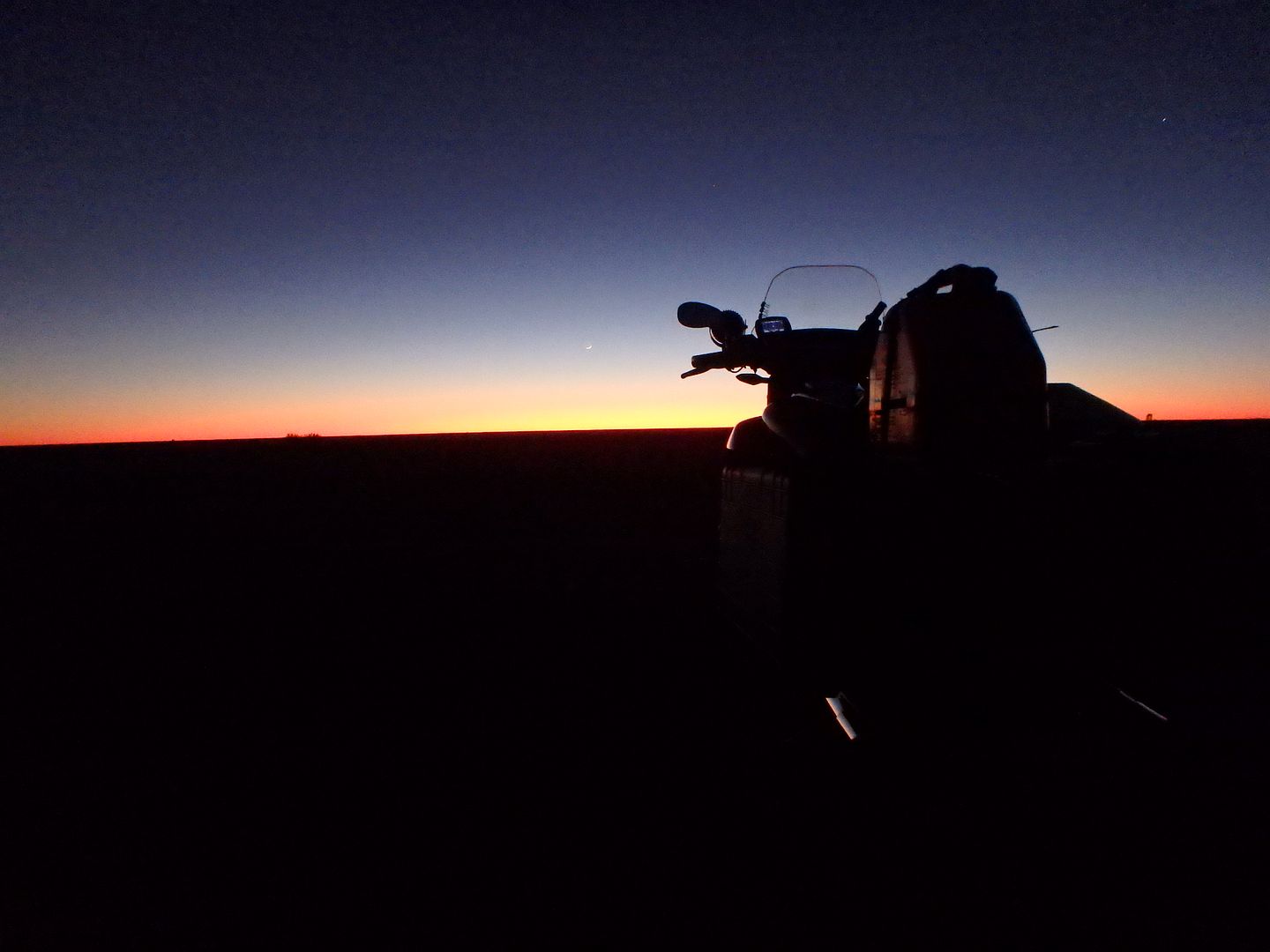 I was glad to be back out this way, its been a while.
.
.
Approaching Erldunda Roadhouse I looked at the huge line of grey nomads with caravans at the fuel pumps and decided to push on through the glorious meandering and even undulating part of the highway through here. I ran the numbers in my head and cut things pretty fine, pulling in to Stuarts Well (12:21hr, 2682km, 37.62L) where it is much quieter.
No need to stop in Alice Springs, I just grabbed a pic instead:
I pulled over just north of town at the Tropic of Capricorn and made a couple of calls home.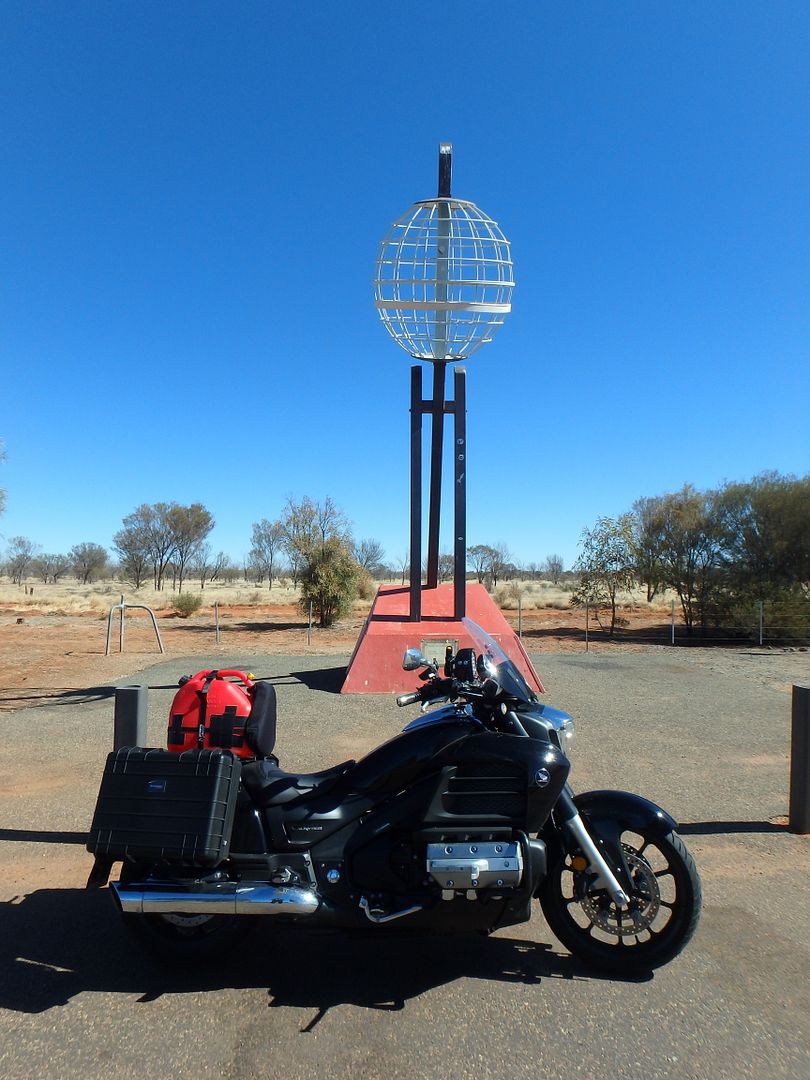 Then rode along enjoying the 130km/h zone for a while. There's not much to say about these sections, but it is great for the head to just kick back and ride. A quick stop for the obligatory shot at the Devil's Marbles, though there seems to be much more fenced-off areas these days.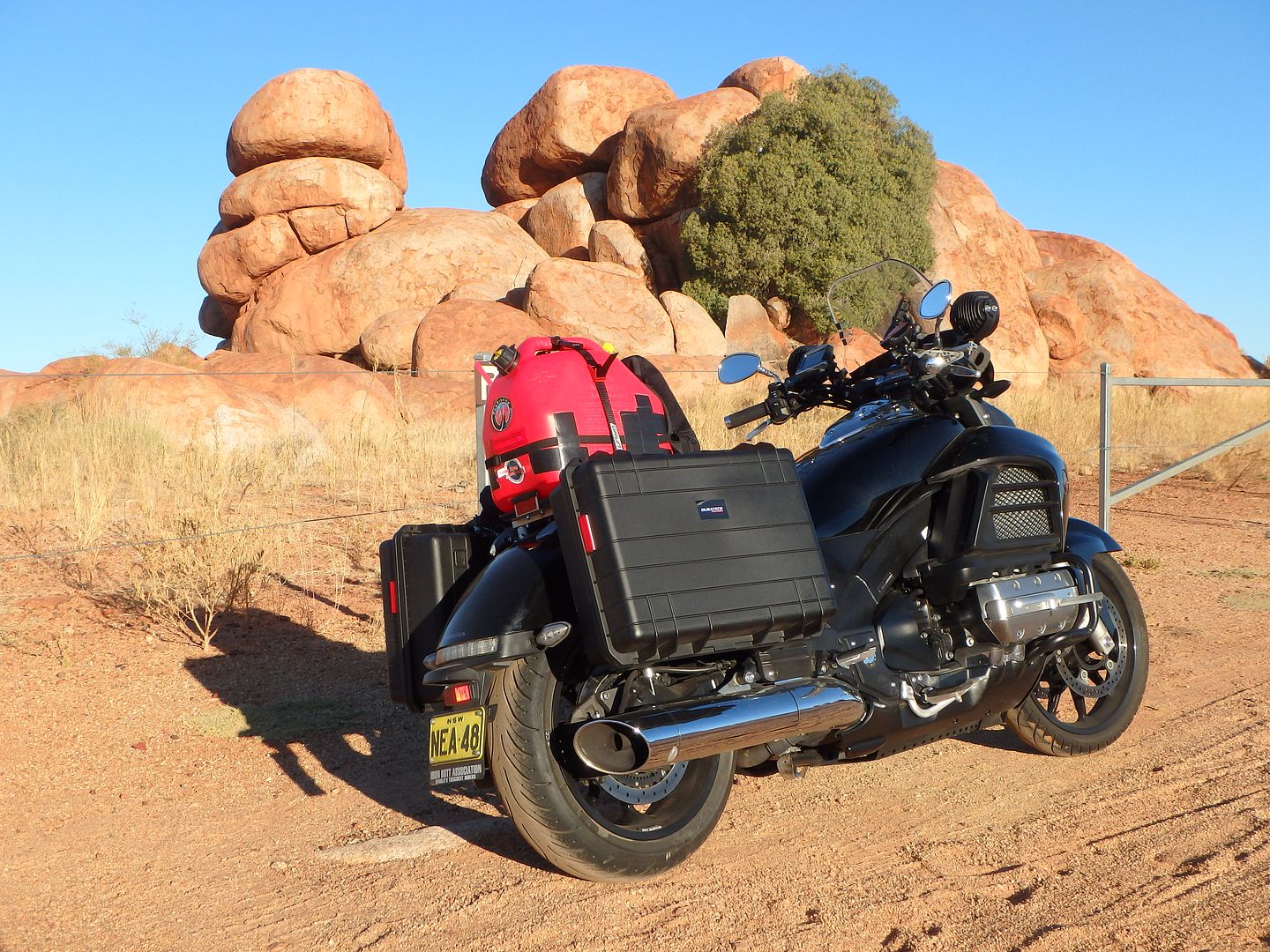 A nap at sundown in Tennant Creek (1850hr, 3280km, 37.58L). The last two fuel legs were barely under 600km and the Valkyrie was sipping fuel at 16km/L. Not bad for a larger bike - well over 370kg loaded and passing through space at 130km/h and much more economical than my skinny KLR650 at 110km/h.
I was surprised by the wildlife out and about. Counting on fingers I think prior to this trip I've ridden up here in the Northern Territory a half a dozen times, covered about 12000km and counted maybe 20 kangaroos. North of Tennant Creek I reckon I saw a couple of hundred just this night. Thankfully the roads have very wide verges, but I was reluctant to sit on 130km/h through the night. I pulled up in Daly Waters to fill the tanks, trying at first to use the auto card pumps but the place was still open so didn't need to (22:58hr AEST, 3678km, 25.69L). I also had to add layers because it was much colder than I expected this far north. A jerry can stop in a carpark in Katherine seemed of interest to the local constabulary, enough for them to pass by for a look a few times.
Back on the road. Its a simple 300km commute to Darwin from here, thankfully a bit warmer by the time I arrived, too.
Darwin (05:24hr AEST, 4268km).
No fill yet, its time for another nap.........