There are certain themes that characterise this distance riding lark, one of which decrees that the first time you do something there shall be wetness. First Documented IBA run, drenched. First FarRide, Nambucket, first DRA gathering, mizzely rain on the way to Jyndabynne.
And so it was that Glen and I mounted our steeds with great optimism and rode out into..... A wet an miserable Doom highway. Don't even try to fight it, it's part of the deal. Still great to be out on the road.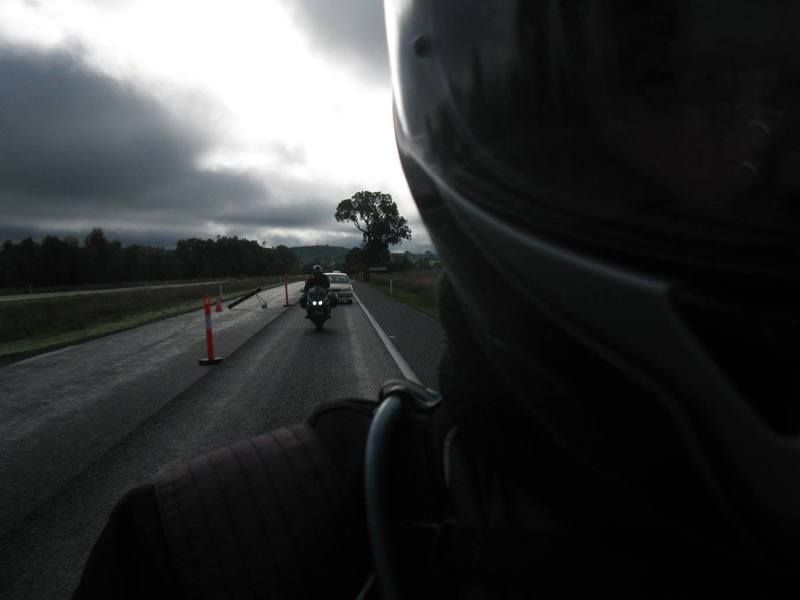 b
The first couple of hours were just like this. Come at us weather!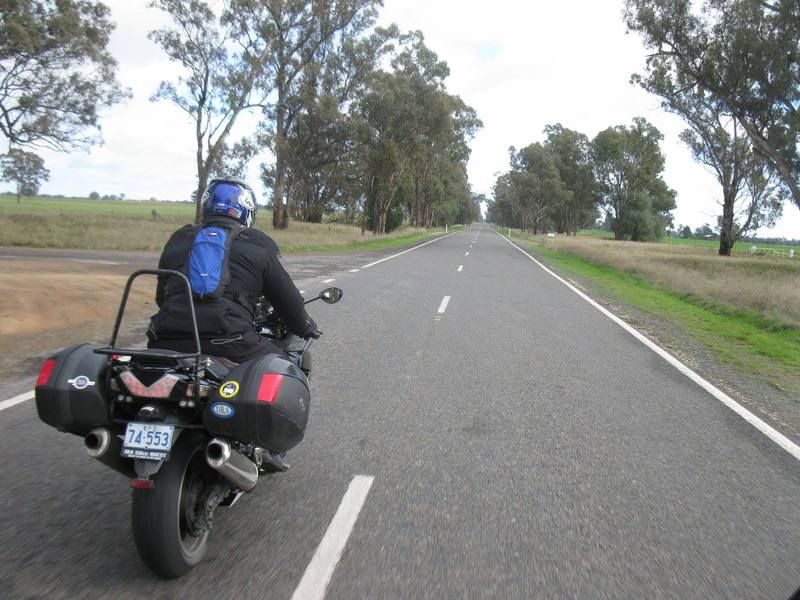 I don't know how many times I've fallen for the old 'there'll be a servo heading West from Albury' and had to turn back into town, but I did it again. For young players there is a little servo in the village about 10 Ks West of Albury on the Finlay Rd, you just have to hold your nerve.
We didn't mind, we needed the corner docket and I always enjoy riding through the Riverina, especially in a La Niña year. We hit Deni right on the button time wise, even if we were a little concerned about the docket saying 'South gate' instead of Deniliquin. Around about this time Glen noticed that he'd left his run plan behind. Meh, let's just head towards Bourke. I swear, my bad influence is rubbing off on him.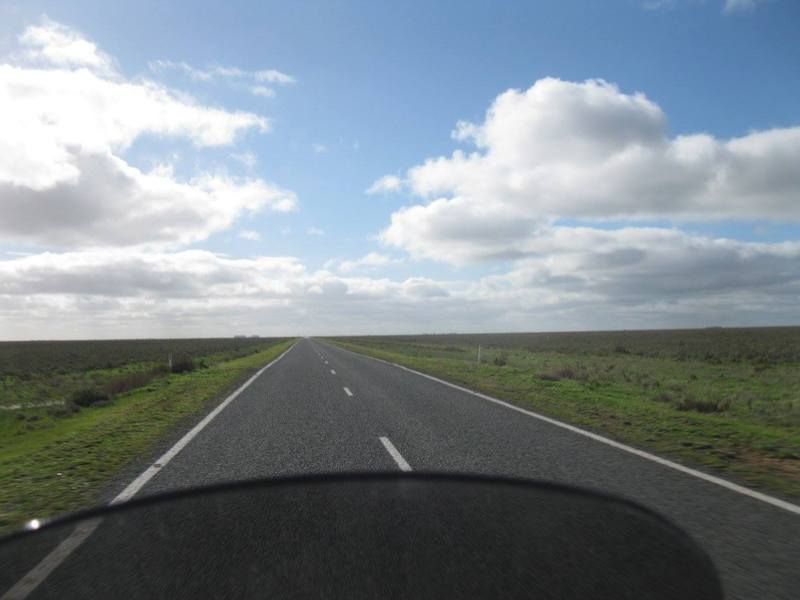 c
No matter, we were about to head out onto the Hay, or the mini Nullabour. Usually we hit this about five hours into a run on the clock, you are just settling into yourself and the bike and it's a good time to get your head on straight and redo your run calcs. Running South North you barely have time to get into the nothingness and it's over!
We were using a fraction more fuel than the plan and decided on a splash and dash at goolgowie. Nothing like a dirt forecourt to give you the impression you're back in the outback.
Onto Hillston and who's that familiar looking bike at the BP? Hello Brother Ed! It doesn't seem to matter how we plan ( or not plan) our runs, we seem to run into each other somewhere. Back into familiar formation we proceeded to Cobar, coming across Ox, Nevertire Nick, Tiger Bill and Gatey on the way. We were also joined at various moments by Skippy, goats, cattle, sheep and even a couple of emus.
After the obligatory photo out the front of Cobar, Ed headed East while Glen and I got some dinner.
,
Proceeding out of Bourke on our way to Nyngen, up front Glen was hitting the anchors every couple of Ks for Skippy. Annoying but not worrying even if there were hundreds of them. Then one skippy, caught in the spotlight grabbed his top hat, cane and put on his best Gene Kelly impression. For the next hundred meters he tried numerous times to throw himself under Glens bike, then had another go at mine. Made us extra nervous at every little thing poking up over the knee high grass the rest of the way to Nyngen. Probably one of the more intense rides we've had in a while.
URL=
http://s142.photobucket.com/user/Ad...ster Parkes 2016/image_zpsvmbqymkl.jpeg.html]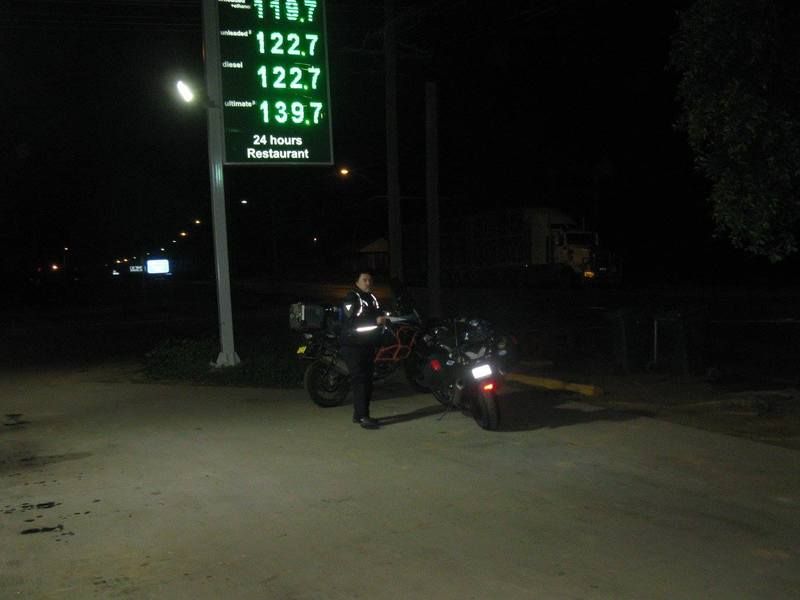 [/URL]
Nyngen was cold and stark in the thick cool air. While we were both a bit cold and second hand neither of us would be anywhere else. 1350 Ks in the bank. 300 to go.
Thankfully Skippy pretty much hit the sack after Nyngen and it was a steady easy run to Parks. Casual run sans ride plan, 1680k in a tick over 19 hours. Hardly BBG pace, but solid.
Zero dark thirty at the BP and we're getting our receipts and decide to ask the attendant to be our end witness. Before I'd even started my speil he responded 'yeah I can sign your form too' We asked him how many he'd signed, to which he replied 'about ten since I came on at midnight'. So, want a well trained end witness? Check out the BP servo in Parkes.
We had a beaut key arrangement with mine host at the All settlers inn, ' look for the key in the pot plant next to the three Pelicans'. Spot on. A cup of tea, closely followed by oblivion.
One of the best bits about the muster this year is the old faces and meeting new people. We wandered around the All Settlers, prodding and poking at various distance bikes and shooting the breeze. Finally got to meet Daisy and Reg when we came back to let Ed into the hotel room. Top stuff.
The conference itself was brilliant, good stories, great presentation form Shane, some frank and open discussion about some of the issues with some good ways forward.
After years of uncertainty, not being able to speak openly about issues and not a little unescesary navel gazing IBA Oz has found a home. Thanks Karl, TJ and team. Amazing how a bunch of ne'er do wells, ratbags and distance riding crazies can do a respectable impression of a conference.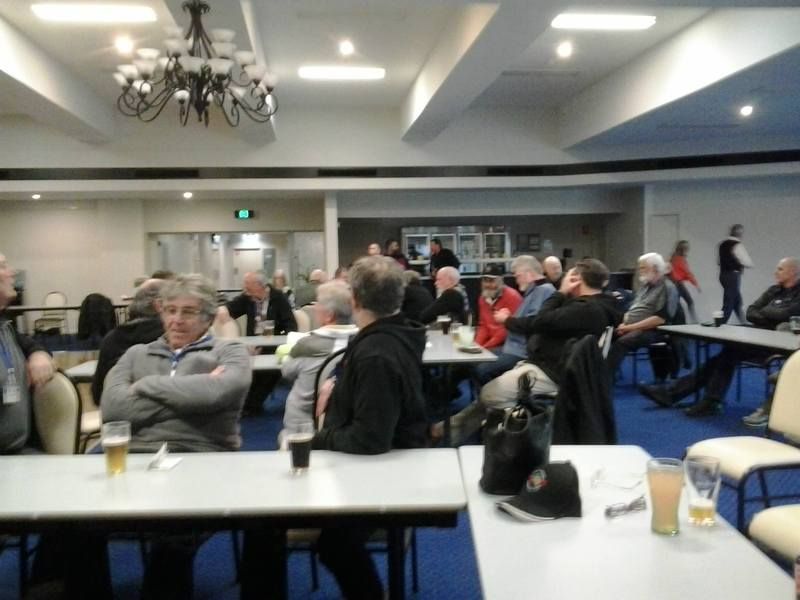 Sunday morning afforded TJ an oppurtunity to hone his cat hearing skills. We all got out to the dish in good order.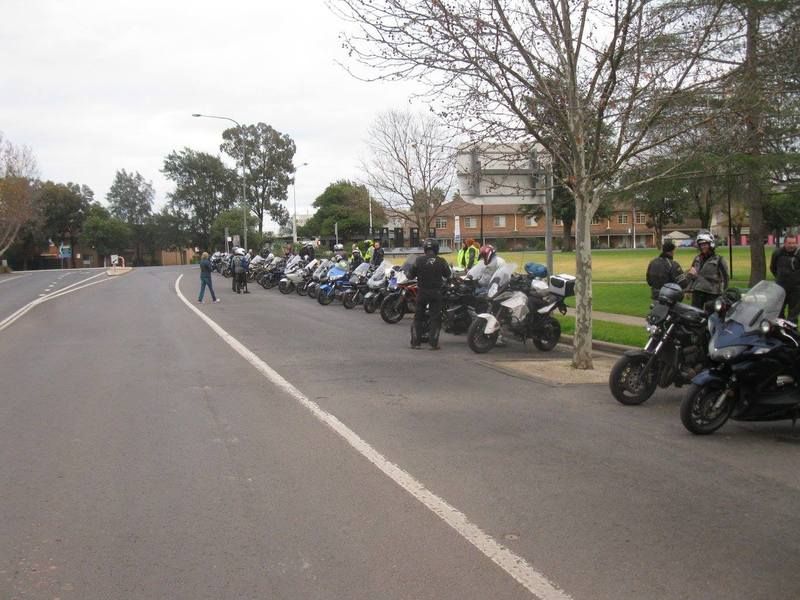 .
This is the dish at about 0830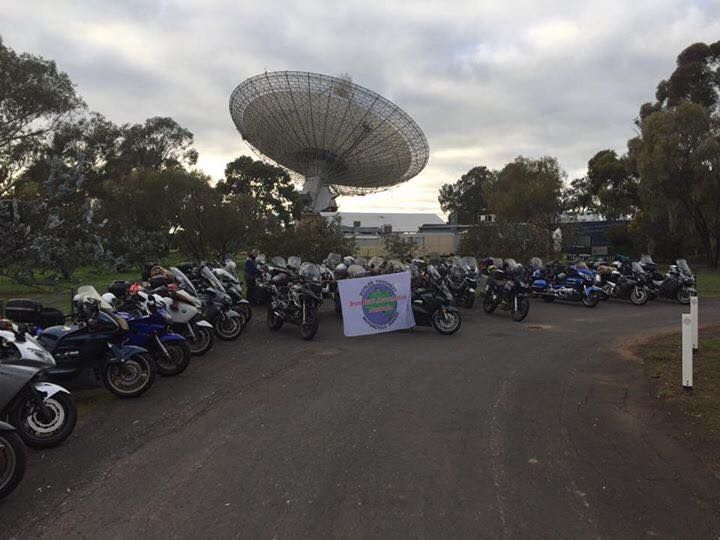 This is Malcolm at the dish at about 0825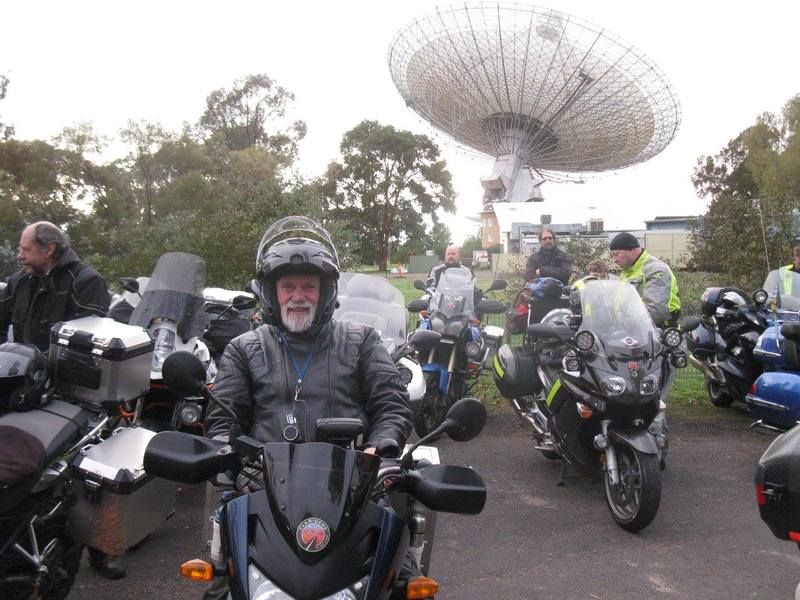 f
And this is the dish about 45 seconds after someone said 'breakfast'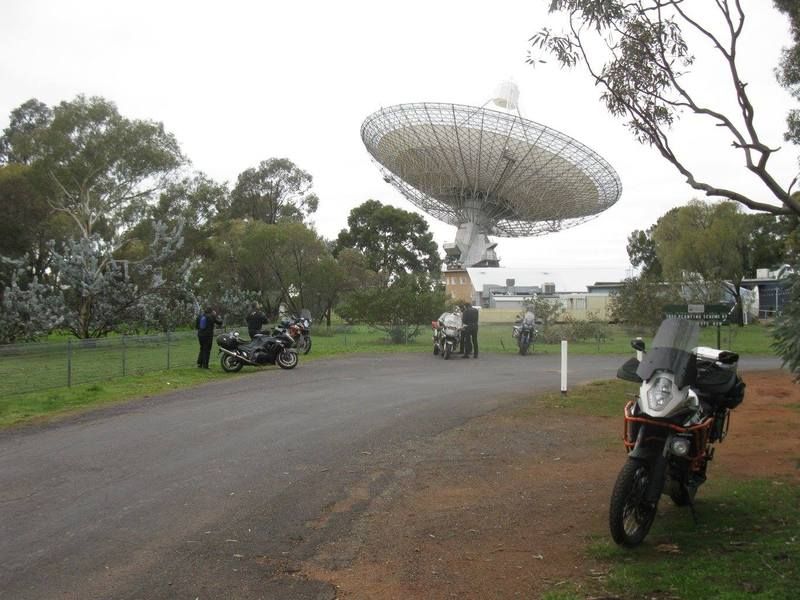 Ed, Glen and I rolled home via breakfast in Forbes and elevenses in Boorawa
Ed. the creeks are running and the Winter green is beautiful.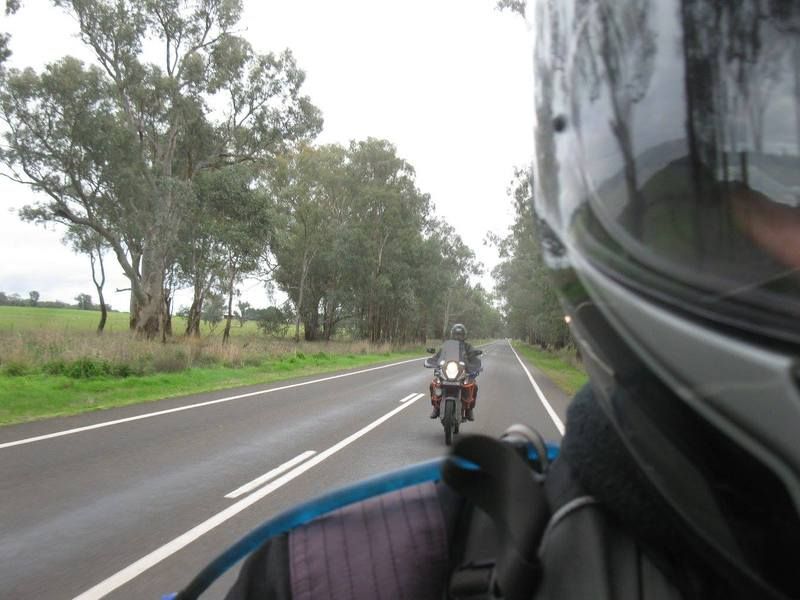 Glen. Just rollin'. After many years and many miles you get pretty good at reading each other's body language on the road and you can communicate intent pretty well without words. This says, tired, sore, loving the easy run home.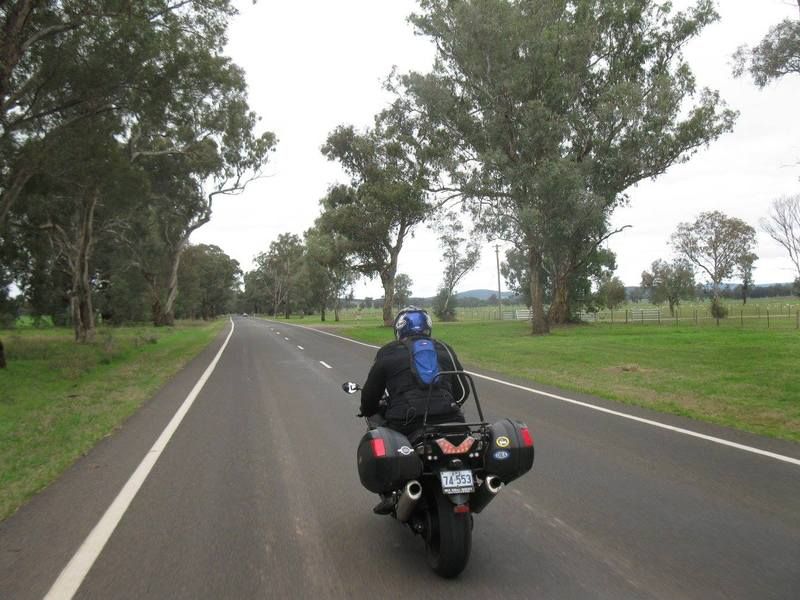 I'm not sure SWMotech had this in mind when they designed the crash bars for my bike, but they work pretty well as foot rests.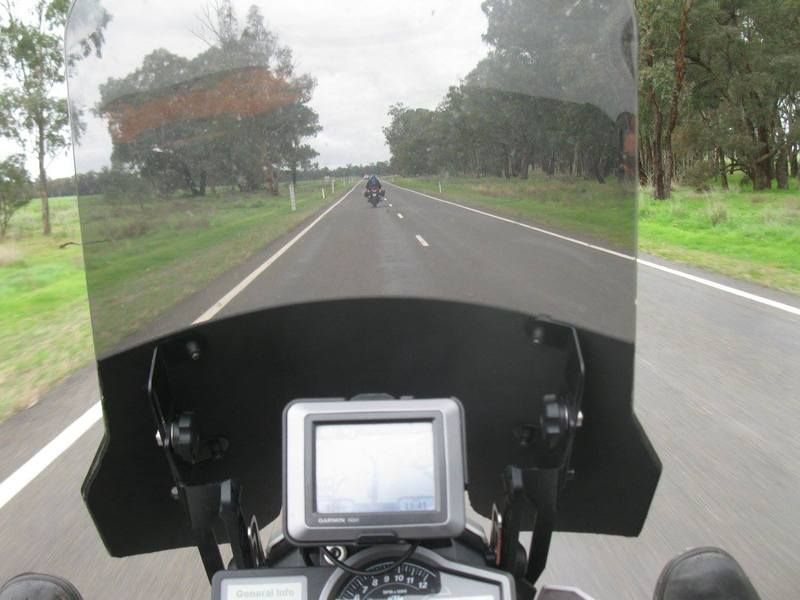 Ed also misusing motorcycle accessories. Won't someone think of the children?
Farewell waves at Murrumbateman and I took some back roads to Queanbeyan. After 2000k things were rolling sweetly, even the sun came out.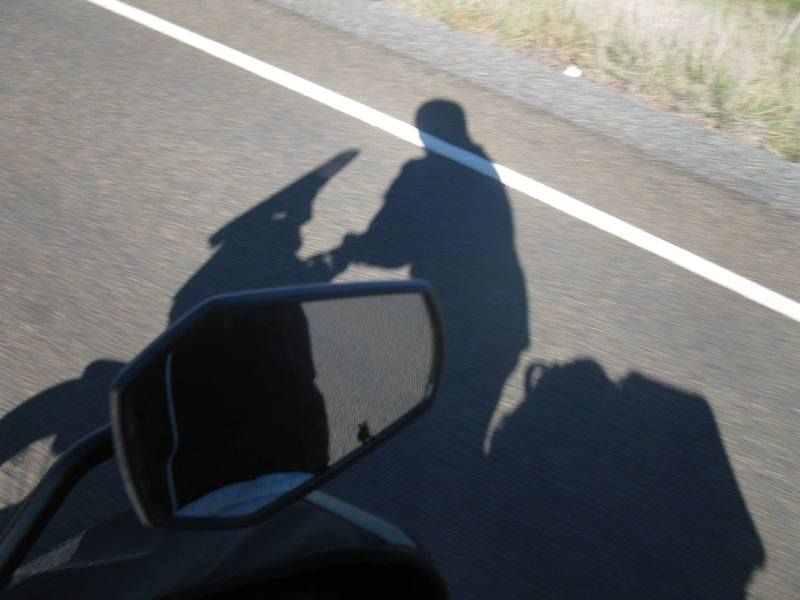 Maybe, after some ordinary days in Australia's distance riding community we can see the sun again. It's been a pretty good start.
Cheers.