Premier Member
IBR Finisher
Copied from the FarRiders forum.
There was a meeting of like-minded people organised and I was quite eager to attend. Unfortunately the location was only about 250 km from home and a little longer of a ride was needed. I thought a well-earned break from the brewery was required to do a little longer of a ride and to clear the head for a few days.
My ride started from my home in the Adelaide Hills and as my bike already had both tanks filled all that was needed was a quick stop for a docket at my local ATM and I was on my way by 02:00.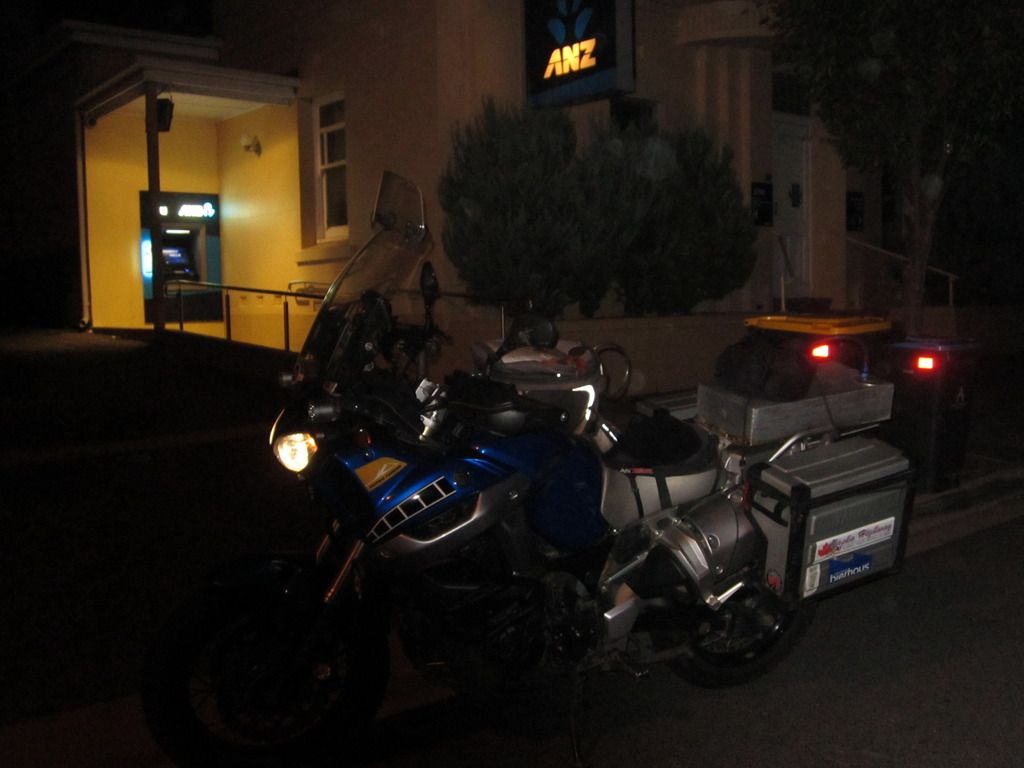 The forecast had an overnight low of 6 so several layers along with some thermals were put on before my departure. At first the extra layers seemed a little over kill but were greatly appreciated by the time I got to Port Wakefield. The ride to Port Augusta was uneventful and cold but the layers did keep me quite comfortable. A quick fuel stop in the dark and I was heading south along the coast to Port Lincoln.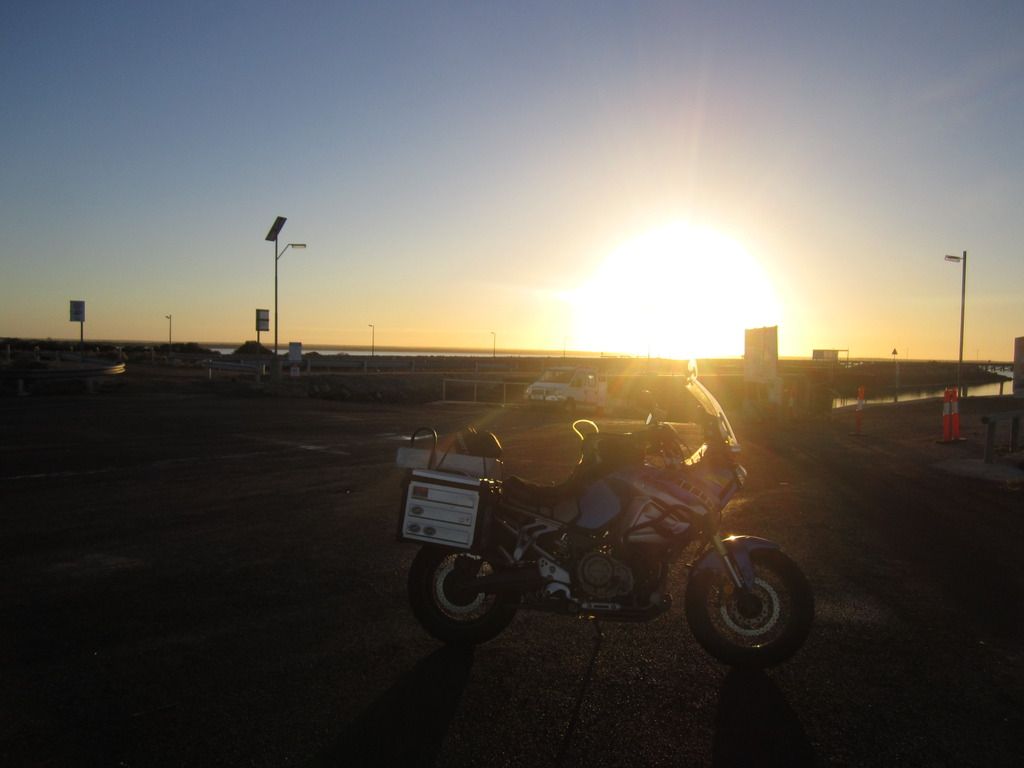 The sun began to rise outside of Cowell and it was beginning to look like a great day of riding was ahead of me.
After Port Lincoln it was up the coast with a quick photo in Ceduna, petrol in Penong and then west across the Nullarbor.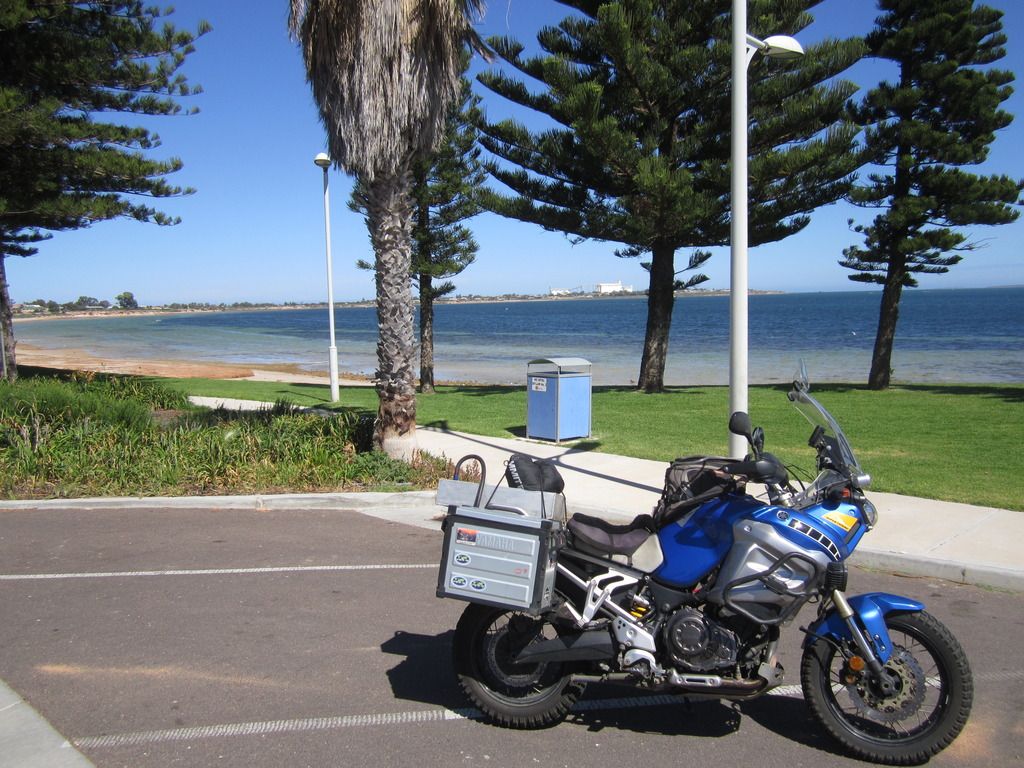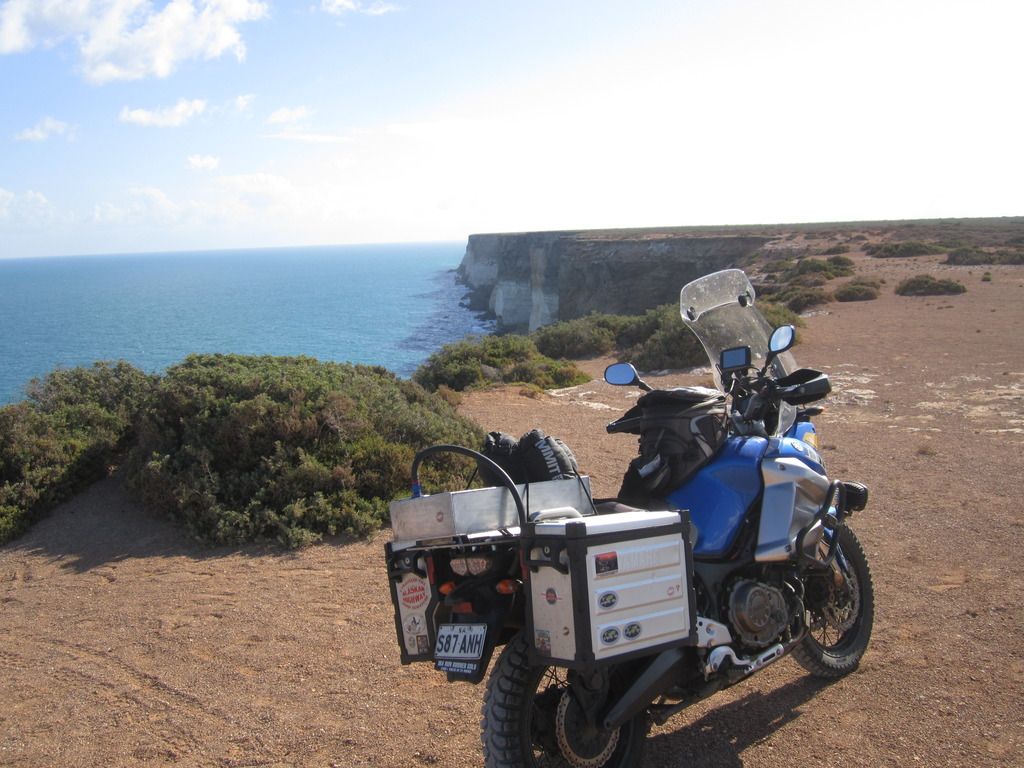 The weather was beginning to cloud over and a little rain and cooler temperatures greeted me as I stopped for petrol at Border village and entered Western Australia. Crossing into some new territory is always exciting and what was to lay ahead of me did not disappoint.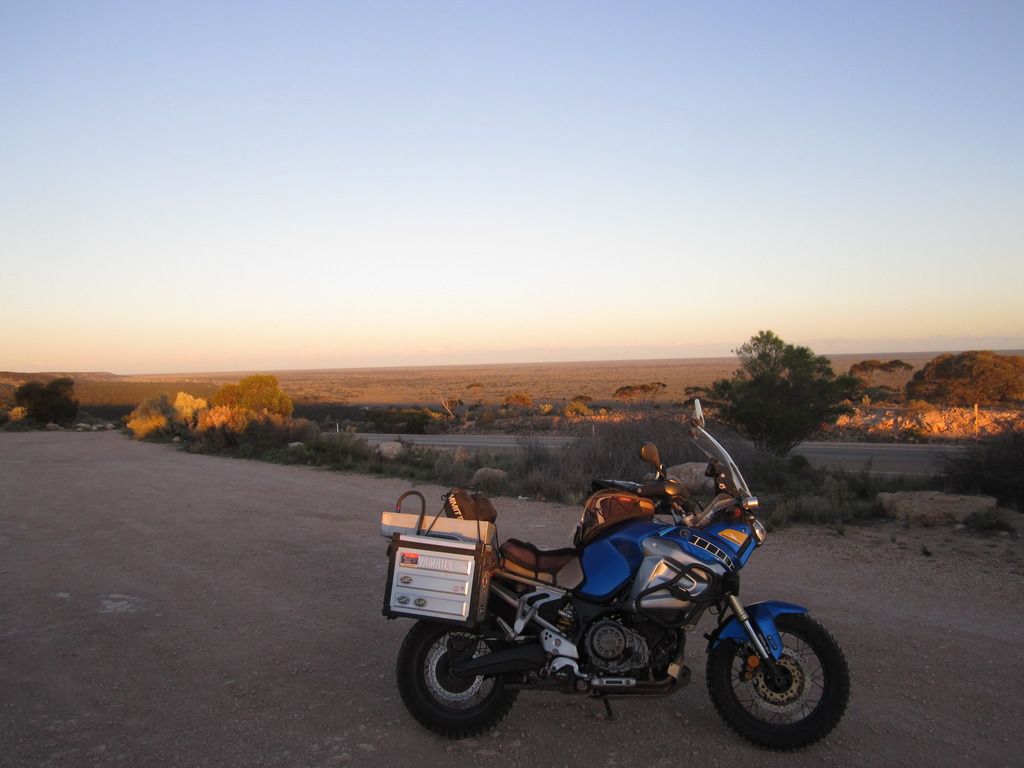 I stopped at Madura pass to have an unsuccessful look for Davo's memorial but was greeted by quite a nice sunset.
I headed west into the setting sun and continued into the Western Australia darkness until I reached Caiguna and the end of the days ride.
DAY 2
I was back on the road well before daybreak and with the warning of wildlife being spotted I took my time across the 90 mile straight.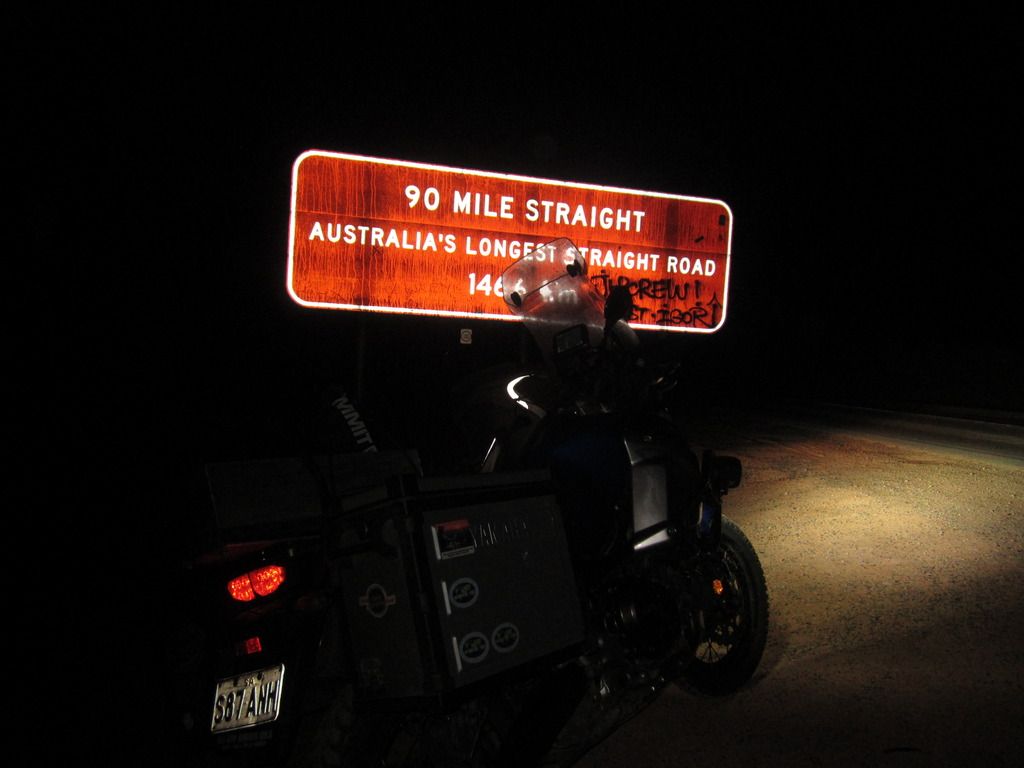 The fog also slowed me down as it engulfed the bike for the next couple of hours. I decided on a short unplanned spot in Balladonia for a coffee to warm me up and to give the fog a chance to burn off with the rising sun. The coffee was lukewarm so the break was even shorter than planned and it was back into the fog.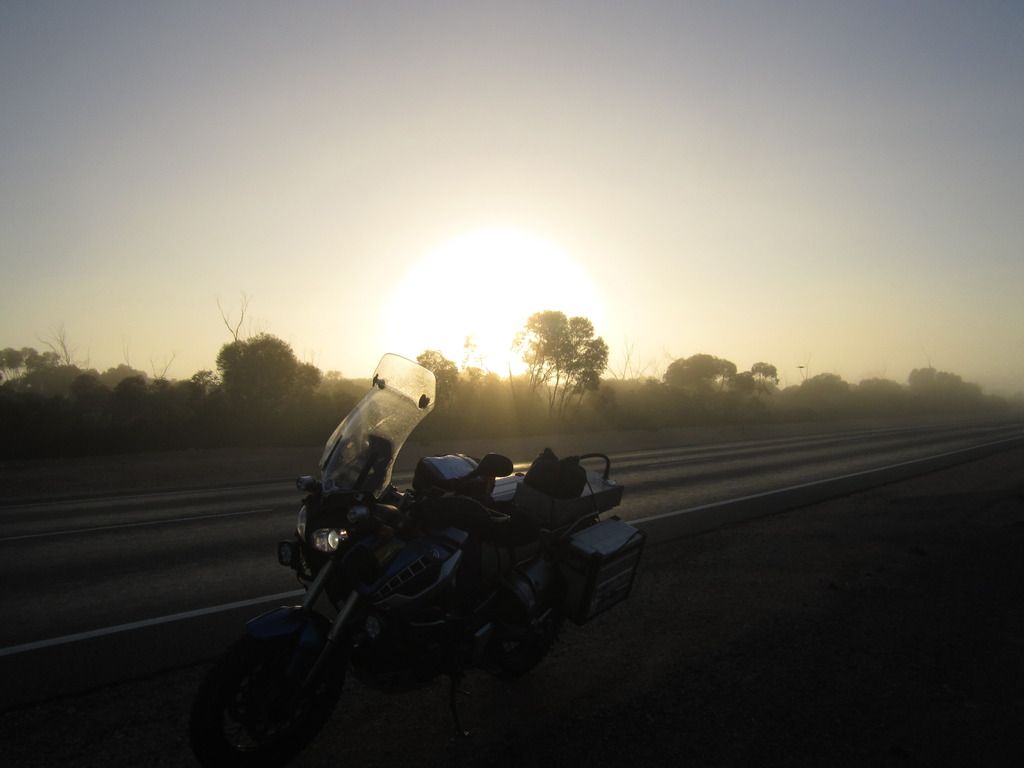 By the time I reached Norseman for my next fuel stop the fog was gone and it was beginning to be another great day of riding. I went south from here towards Esperance and then keeping on the South Coast Hwy it was west to my next source of fuel in Ravensthorpe. I cannot say how much I was enjoying this ride with the perfect scenery and the great road conditions this state had to offer. I did not even mind the two detours that I encountered that did add some time and dirt to today's ride.
I stayed on Hwy 1 as I wound my way further to the south west to my next destination of Albany.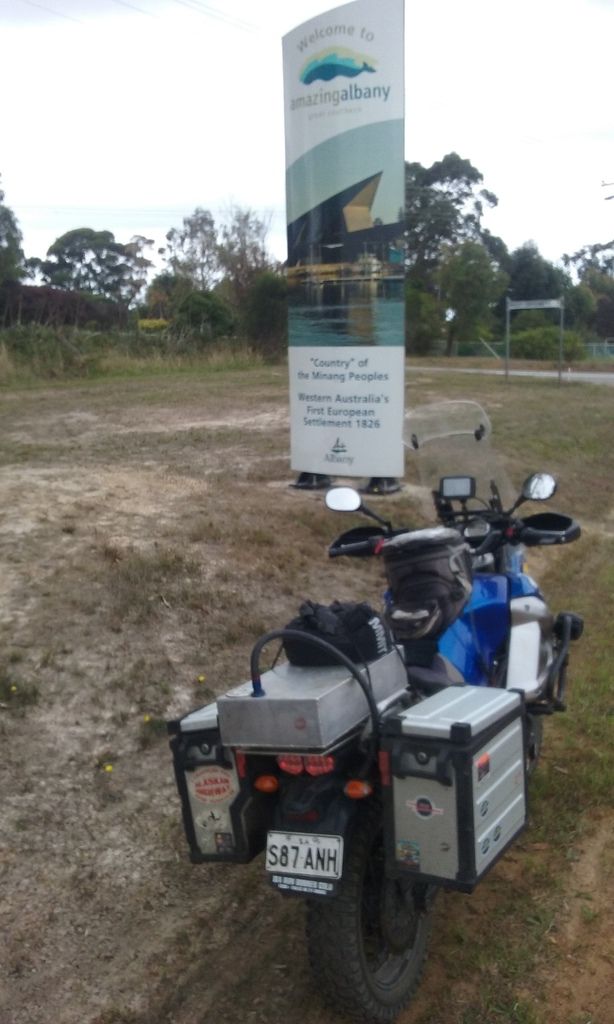 With some clouds approaching I was quickly on my way after fuel and my first meal today of a sausage roll and Iced coffee.
I do have to note that in my packing haste I forgot to charge my batteries on my camera and I did grab a faulty USB cord and was trying to charge my phone with a cable that kept falling out so after this I was unable to take anymore photographs from today's ride.
North to Mount Barker and then across to Mayanup. This had to be the best road of my entire ride as it wound its way through state parks and tree plantations with very little traffic. After refilling in Bunbury and attempting to take some photos with a dead camera and phone I was eager to get back on the road as night was quickly approaching and I had no idea of what the last 220km had to offer.
I was heading back west to today's last stop of Dumbleyung. A great road led me back up into the hills and past multiple mining sights and as night approached the traffic thinned out and I began to notice a red glow in the western sky. As I was reaching the small town of Arthur River I realized the red glow was a burn off that was out of control. With flames about 10 metres from the side of the road I pressed on until I was completely engulfed in smoke. According to my GPS I had 2 km to go until the next road junction. I quickly got a balaclava from my tank bag to cover my mouth and proceeded to ride the remaining distance with no sight except for my GPS. With watering eyes and coughing I made it to the junction and looked back at what I just ridden through. A short break to calm down and to clear my eyes and lungs I eventually reached the small town of Dumbleyung only to find the opening times of the roadhouse was not correct and the pub did not have my reservation for the night. The barmaid sensed my frustrations and from the look of me quickly organised a room for me as I quietly had a beer and had tonight's meal of a bag of chips.
DAY 3
After a good night's sleep in a very comfortable bed I was back on the road in the early hours of the morning. I did not realise that this small town was where Donald Campbell broke the world water speed record and a little time was needed to read about it before the days ride began.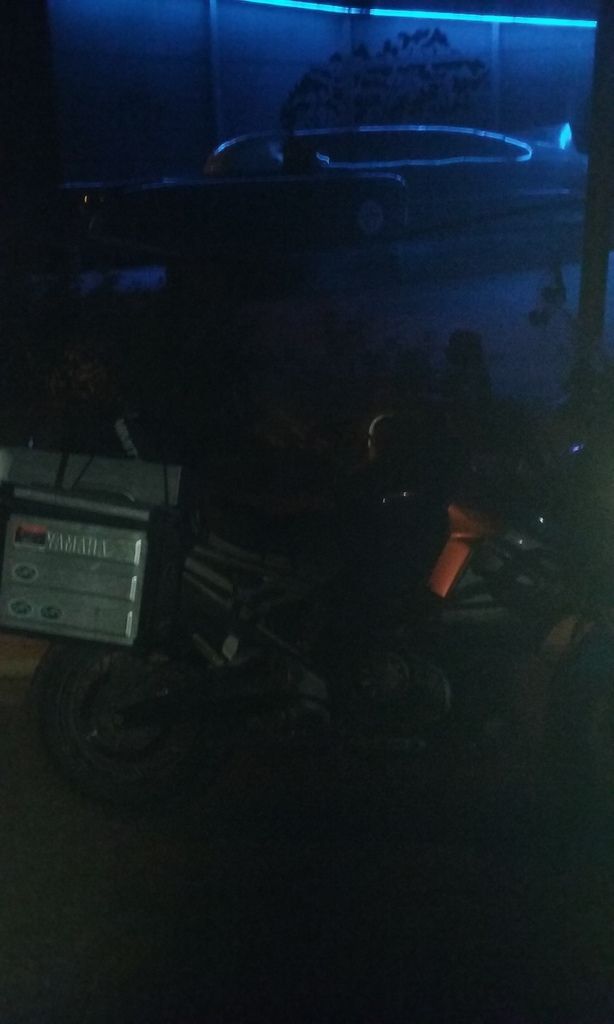 Since the roadhouse was closed I used the fuel from my 5lt jerry can to get me to my first fuel stop. A few hours of predawn riding through an unfamiliar area had me crossing Lake King at sunrise.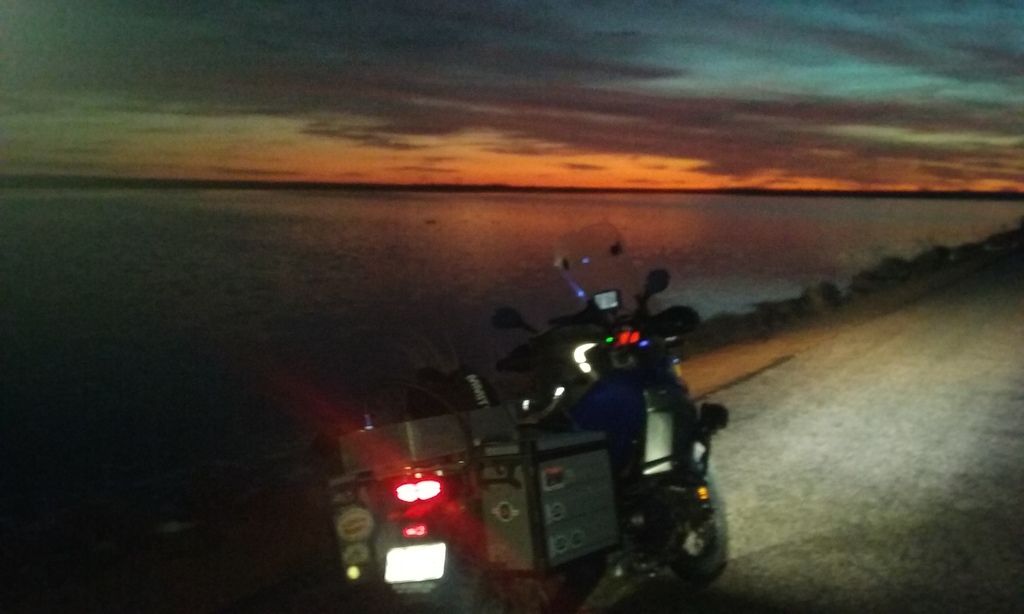 An hour's ride later had me back where I was 18 hours earlier in Ravensthorpe. Fuel, coffee and a breakfast wrap and I was back on the road to Esperance with its two detours. Another great day for a ride with a stop by one of the many road side lakes before refueling in Norseman.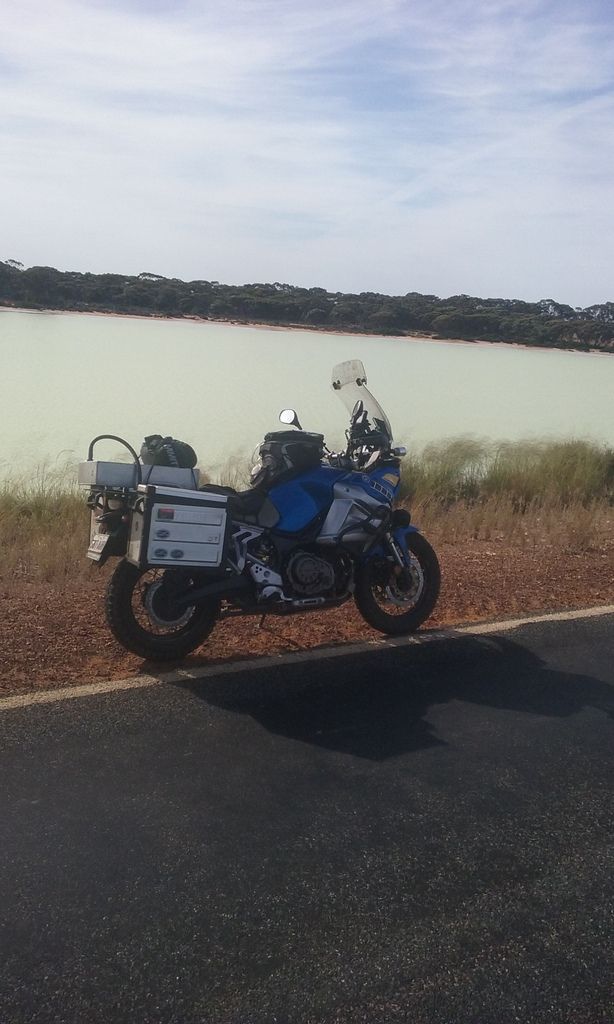 The sun was making its presence known today and was taking some of the energy from me so I had a brief power nap to get me through the next 11 hours.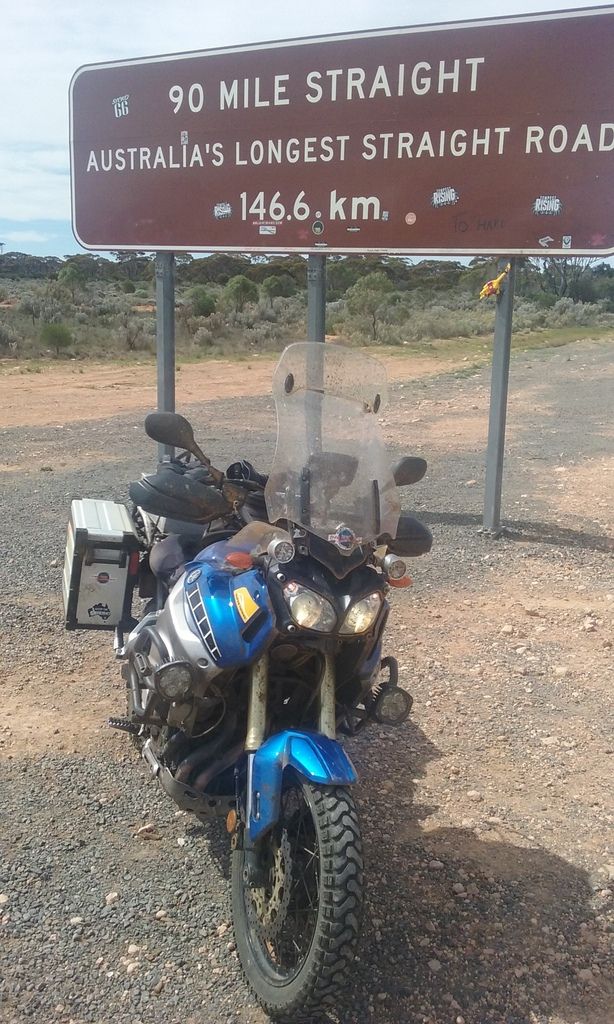 I stopped again at Madura pass to again try to located Davo's memorial, I did have the coordinates and even missed a call from Fat Man who was watching my spot and knew that I had troubles on my first attempt but still no luck on my second try.
I was glad that I was crossing this area during the day as if the number of carcasses that were on the road were any indication of what it was like out there at night I did not want to be there. Eucla was going to be my last fuel stop for the day. The sun was now getting fairly low in the sky and the temperature was beginning to drop. A few layers were added and off across the Nullarbor again but this time mostly in the dark.
As the sun set I have to admit that I was not looking forward to this part of the ride. It was quite a desolate feeling to be out there but the wildlife that I was expecting to encounter never happened. I was swooped by a few birds during the ride and was set upon by many flying insects but did not see one sign of any of the anticipated wildlife. I made Ceduna, got a little something to eat and settled in for the night and forgot to set an alarm.
DAY 4
As I forgot to set the alarm I was off a little later than expected, the sun had already risen as I went to fill up both tanks and then a quick stop at the foreshore. It was then that I understood what the man at the quarantine checkpoint had said to me the night before when he said besides the livestock that I was transporting was there any fruit to declare.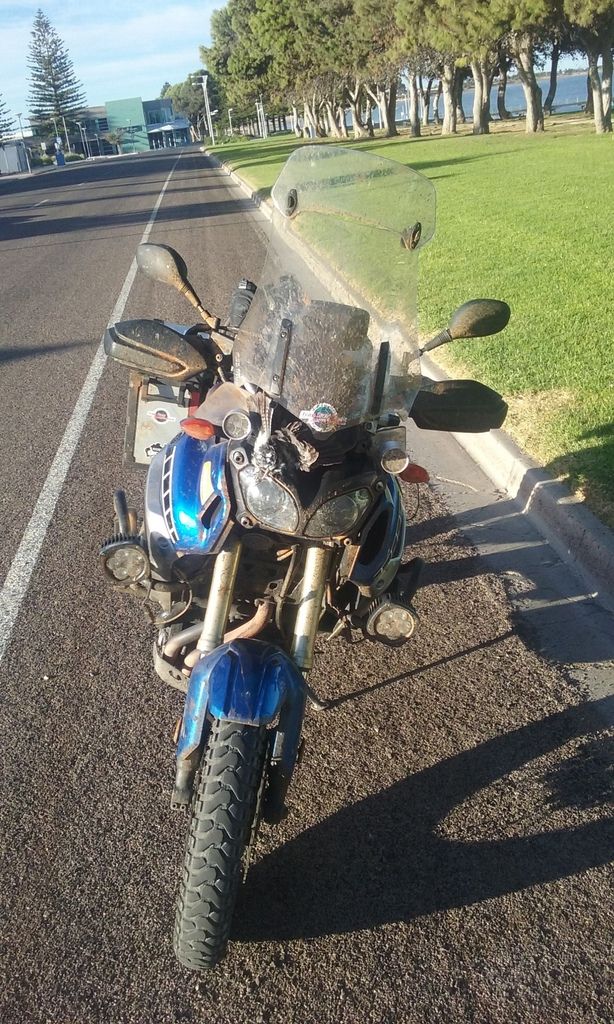 Look above my right head light
As I crossed the Eyre Peninsula I stopped to see what the monument that I had ridden by many times was about.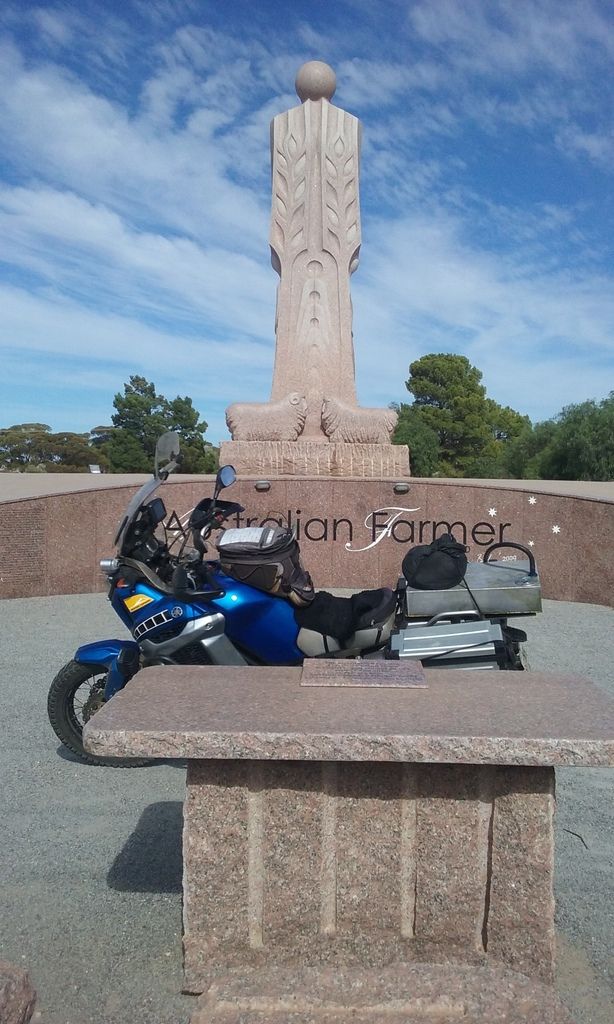 Then back on the road east before a slight detour to Whyalla before refueling again in Port Augusta.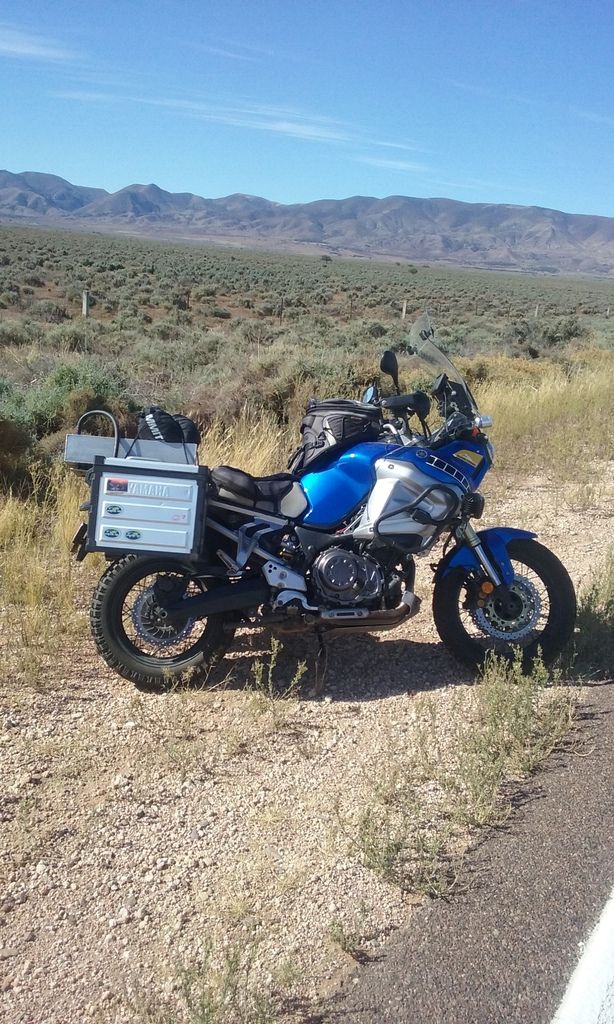 As I missed the memorial twice in the west I stopped at the one that I know where it is.
The rest of today's ride was rather uneventful and as I rode these roads many times in the past, today they just provided a route to take to get me to my final destination.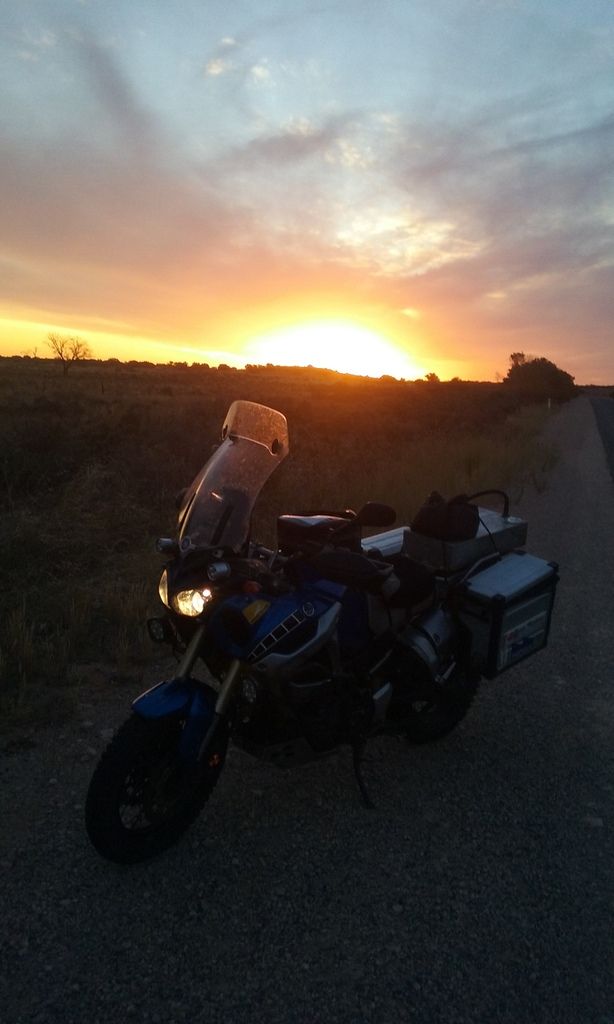 The sun was just beginning to set as I came into the Riverland and I thought it was time for one more photo before the ride ended in Renmark, 3 days 16.5 hours after I left home.