With the OZSTOC Annual Rally in Perth, I figured it was an opportunity to ride another Ironbutt effort. I looked at a CC50 from Brisbane and decided it was beyond my capabilities. A ride to Newcastle to lop 400 kays off it and make it feasible seemed daft. Karl's Contingent's timing was wrong for me. My wife and I had only landed back in Brisbane on Saturday morning and I needed to get away Monday evening to do the distance comfortably by Friday. Needless to say, the lawn needed mowing, the bike needed servicing and everyone needed attention. I tried to get some sleep Monday afternoon, but I might as well have gone jogging for all the rest it afforded.
The plan was to do two SS1600s separated by a casual 800 odd kay day. I figured on a similar run homewards, but that's another story.
An 8:30PM departure appealed to me on the basis it put me at a destination with accommodation at a reasonable time. Not every motel welcomes you after 9:00 and no hotel will. So the plan put me through Cobar and Broken Hill in daylight (with deference to the wildlife) and gave me bail-out options if I wasn't going to do the distance. Unfortunately BH was short of 1600 kays, so I needed Yunta at 1769 (by GPS plan) to qualify.
I do like night riding, and have always been fortunate when things went pear-shaped, so I had no misgivings about the plan. I got my 8:20pm EST docket safely filed and felt the excitement build as I passed through the two tunnels exiting Brisbane. I've decided I prefer the 24 hour Shell at Boggabilla to the BP at Goondiwindi, partly because I use Coles dockets and get FF points (don't laugh- it all adds up!)
Things started to unwind after Narrabri, and I was needing a recharge, so I rolled into a vacant lot in a Coonabarabran backstreet and plugged into a powernap.
Thirty minutes passed in a few seconds and I was ready for the road. However, about 55 km south there was a line of stopped semis. I rode to the front (as you do) and a Firey was there blocking traffic because the road was closed by a truck crash. After some debate, a truckie suggested I go back to the Mendooran road and bypass the holdup and get to Gilgandra without a huge increase in distance. That worked for me, although I didn't get to thank him for the ten kays of dirt that I would have prefered wasn't on the route.
The Shell in Gil is another Coles servo, so that's who I give my petro-dollars to. By then it was daylight and I was ready for breakfast at Warren.




My Ironbutt meals are usually pretty spartan, but on this occasion I had a chicken wholegrain sanger thoughtfully prepared by Missus Biggles. That and a Double Shot Dare from Gil and I was ready for anything. But not to miss an opportunity to grab an interesting plaque. You never know when it might be useful...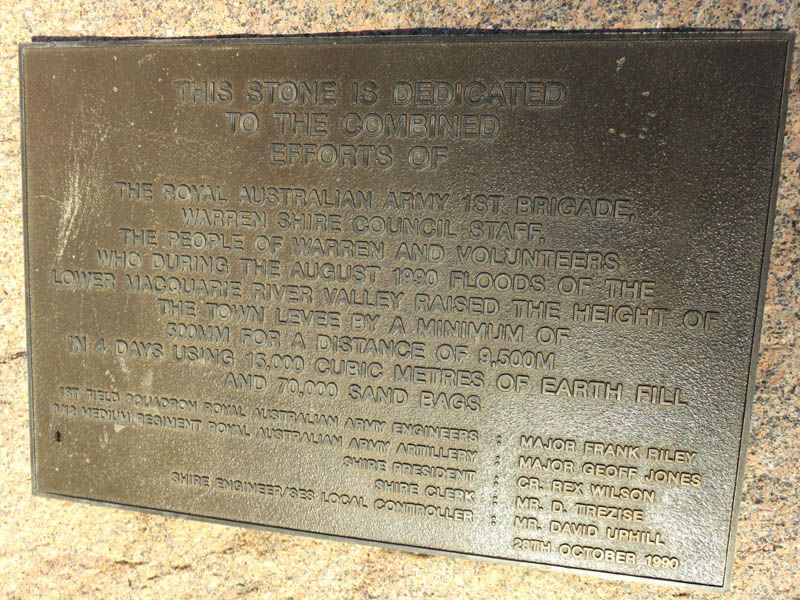 One of the things I was looking forward to on this ride was to see all those iconic locations that folk include in their reports. I wasn't disappointed, and secured my own "I was there too" shots.



One of those "wow" moments happened at the Cobar BP. The lady at the bowser in front of me was washing her rear window and I observed I'd need the squeegee next. Blow me down, she washed my windscreen for me! Don't little gestures like that make your day?
The ST does Cobar to Broken Hill comfortably on a tank, but I figured it wouldn't hurt to spend some money in Emmdale. Apart from that, it was 40o and I needed something cold. The local flies also desperately needed moisture, so I was regarded as fair game. Don't stop in Emmdale for the shade- it's pretty scarce.




Feeling ready for another 500 or so clicks, I rang the pub in Yunta to book a room. They managed to squeeze me in at late notice. (I jest- they have 12 rooms and I was the man of the moment). I rolled in there at 5:00 and asked about secure parking. The publican said it would be fine "under the tree"! There was a concrete slab near the back door that would have been much more convenient, but Missus publican AKA Cook said that couldn't be used. So about 40 metres away, hoping the Gum wasn't going to shed a limb, I parked.




The "Chicken In Pyjamas" dinner was very good, and the bed very welcome.
Wednesday was my tourism day, and I donated an apple at Oodla Wirra, savoured Peterborough and Wilmington, learned about the Goyder Line, Horrocks Pass' history and rode on to Port Augusta figuring I'd get my Banner Shot when I was pointed the right direction (i.e. on the way home).
McDonalds do All Day Breakfast now. How good is that!? So I had my Bacon and Egg Wholemeal McMuffin. The odd thing was, I had to turn right to the opposite side of the road for Maccas and when I left there, in a moment of carelessness, I turned left and wondered why none of the signs pointed to Perth. When I finally did a U-turn, I had this disturbing sense of deja-vu as I saw all the same territory I'm been through. Funny thing, that!
So I got my Kimba pix and Australian Farmer statue and rolled into Nundroo looking for a bed. It seems that "town's" heyday wasn't recent, but the room was clean, even if the bed had suffered many a hard night. Good to see folk being careful about unlucky numbers.




The Whiting, Chips and Salad dinner was excellent and the Toastie for breakfast very tasty. Sweet Glory was happy to witness my IBA paperwork and I was on the road at 8:00 CDST for the run to the Rally. I thought about leaving later to make a better arrival time in Perth, but I can't sit on my hands when there's a challenge out there. Shoulda got petrol in Nundroo, but my calculations said PA to Border Village was a cinch [without any wind]. When the 90 km to BV post past by, my bike's low-level count-down blinked 85 km. Dang, that's unhelpful! Consolation is, whenever I've run the fuel down to zero on that device, I've arrived with a litre (approximately 18km) to spare. The fill at Border Village showed I had 0.7 litres. At least it's consistent, but I would have preferred to live without the stress. I know, I had been warned in rider's advice in this Forum.
The next fuel was at Caiguna. I always use 91 in the ST- no sweat. After I filled up there, a triple tanker road train pulled in. I think that was significant, because 20 kays out of Norseman, the engine started missing badly and needed revving to keep going. In Norseman I added a shot of Moreys to help clear the crap, and didn't encounter the issue until three days later when I had my pillion on and it misbehaved even worse, requiring red-line revs to ensure forward motion. Another dose of salts fixed it. On my return journey I raised the issue with the Caiguna servo owner, but he wasn't having a bit of it. I couldn't have got my dirty fuel there. Hmm. Where else, I have to ask!
The 90 Mile Straight is, but it's not all flat, which helps get a bit of a feel for its straightness, if you follow my drift. On the flat it just disappears over the horizon, but here...




The dry lakes at Norseman have always intrigued me when I looked at them on Google earth, so I was keen to see what they are really like.




It was dinner time at Coolgardie. Time for the next weird meal! I ordered a burger with egg and a Dare Coffee from the young Chinese chappie who had yet to need a razor. He reached into the hotbox and pulled out a package. Well, I'd prefer a fresh one, but I'm not the complaining type. Until I opened it and found it deficient in the egg department. I took it back to him and he was completely bewildered by my discontent. The Manageress came over asked "Wassup?" and when I told her she told newbie to refund my money and she called the Short Order Cook to attend to my needs. I was given $10 (thankyou, the burger was $7.95) and an enquiry from the Cook whether I wanted salad with the egg. Ya gotta win sometimes!
After a refuel in Southern Cross, it was a bee-line for a finish docket near Caversham and a midnight arrival at a darkened caravan park. I established an Ironbutt Hotel under a table on soft sand and had a nice nap. Then I set up office with my lappy and tapped into the free wifi. Around 4:00 one of the OzStockers stumbled over and we agreed an early Maccas was needed.
So what could we report if it wasn't for fuel and food? Well, there are some remarkable people out there in some extraordinary scenery.