Unfortunately, there have been numerous rides from India that we believe are faked, as well as counterfeit certificates - two
recent
examples are below.
Some are fairly good fakes: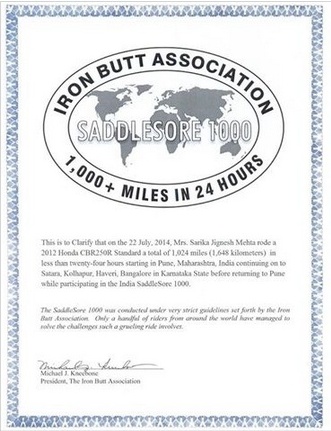 Others are not so good, but still some extensive effort put in on the forgery: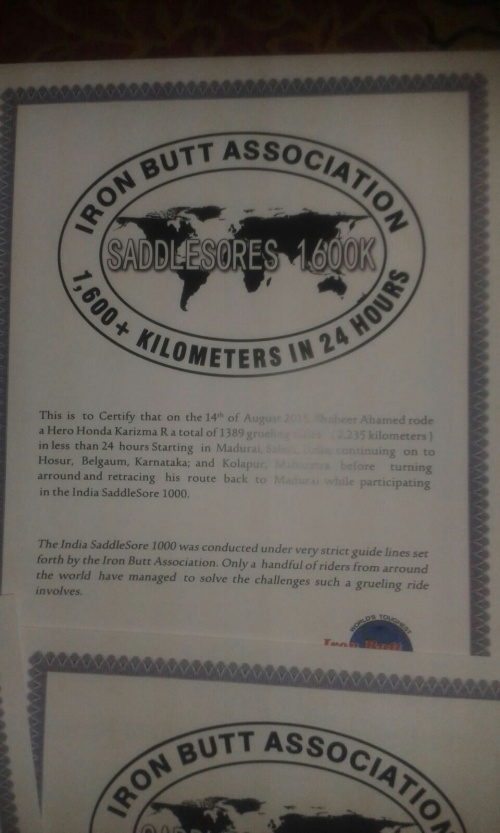 It is important to note, approximately 30 days of a ride approval, ALL ride finishers are listed at:
http://www.ironbutt.com/rides/rideslogin.cfm
the password is right there on the page.

If you can't find a ride, send a note to us, we can check it.
To tackle these challenges, and so riders that rightly did their rides can get their certifications in a timely fashion (right now, because of all the fraud in India, riders can wait up to 18 months to jump through all the extra steps we are putting them through because of a culture of cheating amount certain elements).
Our India members are starting to spread the word, but this post from one our prominent members in India sums up the steps pretty well for now as we develop the web page specific to new rules for riders in India:
Dear brothers & sisters in the biking fraternity, Kindly spread this news.
Due to certain technical constraints, Iron Butt Association is limiting the certification in India. Pre requisites to attempt a ride is 1) Either he/she has to be a member 2) Any rider who is thoroughly tracked by an existing member right from start to end of the ride. I.e At present in India the IBA rides are open only to members and to those attempts which is continuously tracked by an existing member.However this alone will not ensure a certification, this is the pre requisite for sending the application, after which the normal verification procedure from IBA follows. Rides will undergo a tripple check before the certification.

Please remember and please educate fellow riders who are planning to attempt IBA rides to go through the ironbutt dot com website and read the rules and regulations carefully and NEVER transfer or handover money to anybody except to Iron Butt Association payment gateways directly. IBA accepts the fees only after the ride is verified and if found successful.
Nobody is Entitled to demand money/decide on behalf of IBA in India.All correspondences should be carried out directly with IBA and in confidentiality.

Those who have applied and not got your ride approved still will be either because its under verification or it has not got through the verification process. Please note that the odo readings may not be the exact actual distance travelled. All proofs submitted should support your claims & log sheet entries.

All IBA members will have a membership number and their names will be published in the IBA website. So, before you approach anybody to help you in IBA rides kindly make sure he/she is listed in the IBA website.

IBA India Group will not support / post rides of those who do not share their gps link with the group and who does not update the status regularly or meet any of our members enroute the ride.

Mike will get back to us with the updates in this regards.

Inconveniences regretted and these changes are made to avoid discrepancies, delays and fraudulent activities.

Kindly share this if you care for IBA and its smooth operating in India.


Last edited: